Do you know that you can participate in the top world-class golf courses without paying any fees? Yes, it's not a dream anymore. Home golf simulators make this dream come true. There are almost 4 million golfers in the U.S. who use golf simulators. And about half of them have never played on a golf course. It's not my words, the NGF estimates this data.
Seems interesting? You can be one of this unique group too just by taking a golf simulator for your home. We have analyzed dozens of indoor golf simulators and made a list of top 7 picks. You can mix your interest with your passion after going through our review.
7 Best Home Golf Simulators
1. SkyTrak SIG10 Golf Simulator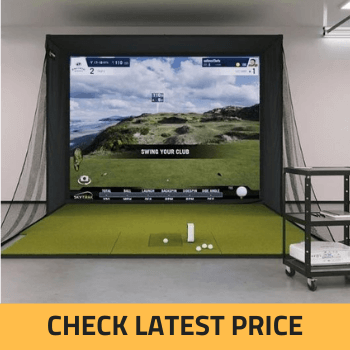 SkyTrak SIG10 is best for indoors because it partners with the most standard softwares that offer renowned golf courses. So you can play anywhere in the world sitting at your own home. And while practicing, you need not mark the ball to find out. Even you need no measuring device to place on the golf ball.
Practicing on large screens gives a better simulation experience. Because it's not about just hitting the golf balls on the screen. It's about how large an area you can cover while swinging and it will only be possible if you have a large golf simulator screen. SkyTrak SIG10 is the combination of such a screen and enclosure that is designed to give you a full simulation experience.
So if you have enough space to place a simulator of 12′ width, 18′ length, 9′ height, SIG10 should be on your consideration list. After having a large screen, you get enough space for swinging with ease. learn how to improve your swing speed. This simulator is for both indoors and outdoors. But it performs best as an indoor golf simulator for home.
Who doesn't want to have instant data feedback? It's cool to see your performance after each of your shots is measured. The SkyTrak launch monitor does exactly the same thing. It lets you know your game level and helps you have a dynamic handicap.
Compared to the trackman, the SkyTrak launch monitor is 99% accurate. Wondering how? Know how accurate golf simulators are. Being so accurate, SkyTrak costs less than Trackman as well as other accurate golf simulators. SIG10 golf simulator is available at around $7k.
Check other golf simulators of SkyTrak
What's exclusive in SkyTrak SIG10 Golf Simulator
SkyTrak Golf Launch Monitor
Metal protective case
Side barrier netting
Landing pad turf
Choice of golf hitting mat
Maxell HD 1080p standard throw projector
Pros
Easy setup
Extreme accuracy
Good quality material
Instant data feedback
Game improvement features
Relatively affordable
Cons
Takes a bit more time to read each shot and display on the screen
Tracks only ball data, doesn't give actual swing measurements
Final verdict
To practice with utmost accuracy and play world-famous golf courses at your own home, we recommend the SkyTrak SIG10 golf simulator. And it's relatively cheap as a home golf simulator.
2. Uneekor QED SwingBay Golf Simulator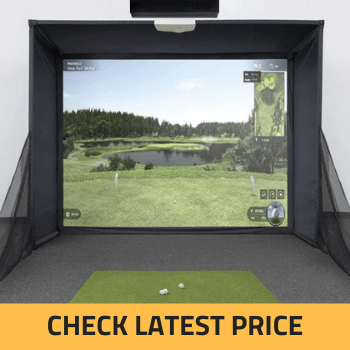 If you are a professional golfer, you can go through this review to do magic with your club. Otherwise, you should skip it and jump to the next. Because the Uneekor QED SwingBay Golf Simulator is ideal for pro golf simulator users. It comes with everything you require to practice as a pro. A complete home golf simulator package!
This home golf simulator is best for indoors because like outdoors, you can see your club while hitting the ball. Thus it will help you know how club path and club face angle create your shots just like it does in a golf course.
Want to challenge yourself about your skill? Absolutely easy in QED SwingBay golf simulator. You get over 100,000 online courses with ultra HD 4k. Play the courses, participate in competitions and this will increase your skill.
You don't even have to take other's help while assembling and setting up. Because the installation process is too easy to do yourself. And it comes with the best turf on the market! Practice as much as you want to get prepared for the next tournament. QED ignite program of this simulator can improve your game brilliantly.
SIG10 comes with side barrier nettings that give you protection with their extra layers. What you should consider is the price. You get what you pay for – this concept works in QED SwingBay.
What's exclusive in Uneekor QED SwingBay Golf Simulator
QED bar
SwingBay simulator screen & enclosure
Optoma 1080p HD short throw projector
Choice of SwingTurf golf hitting mat
Side barrier netting
24 Bridgestone specialty marked golf balls
Pros
Easy to assemble and simple to store
Realistic graphics
Multiple practice ranges
Very accurate
Various playing modes
More than 100,000 golf course choice options
Cons
Requires marked ball to give accurate spin data
Final verdict
Uneekor QED golf simulator is recommended for you if you prioritize your game improvement and budget is not your concern. Whether it's your basement, garage or office, you can set within minutes and play regardless of weather.
3. TruGolf Vista 10 Golf Simulator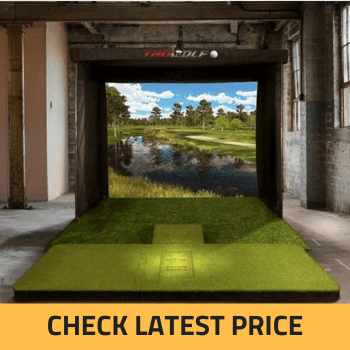 TruGolf offers E6 connect software that is really the best for home golf simulators. You can play virtual rounds with your friends or you can hit on virtual driving ranges. Whatever you like, TruGolf gives the most realistic experience. Not only this, TruGolf always provides upgrades for home setup.
Best graphics can give you exactly the same feeling when you play on a real course. TruGolf Vista 10 is such a simulator that has the most stunning graphics. And this graphic creates realistic images to make you feel natural while swinging. Learn the perfect golf swing guide.
Vista 10 provides one the most precise data measurement quality by its TruTrack 2 tracking system. The more you can make your shots accurate, the more it will develop your mental toughness. This simulator can also act as a teaching tool for your child.
Won't it be cooler to play with your friends and family together than playing alone? Vista 10 has a multiplayer playing option. It's also portable and lasts long. You just need to consider a fair amount of money.
What's exclusive in TruGolf Vista10 Pro Golf Simulator
Complete frame/enclosure
The premium fairway mat system
TruGolf level (1) computer
HD 720p projector
136″ impact screen
TruTrack2 tracking system
Overhead light bar
Pros
Tracks every shot of all clubs
Easy to set up with a good direction
Best for pro golfers
Portable and long-lasting
Al comes in one. A complete golf simulator package
Larger screen
E6 software for the world-class golf courses
Incredibly accurate
Cons
Expensive
Not good enough for putting
Tracking muff and fat shots could be better
Final verdict
To play in the most lifelike environment like a real golf course, TruGolf Vista 10 pro home golf simulator is the one you need most. If you are a pro, we highly recommend it for you because it's not much of a beginner thing.
4. OptiShot 2 Golf in a Box Pro Golf Simulator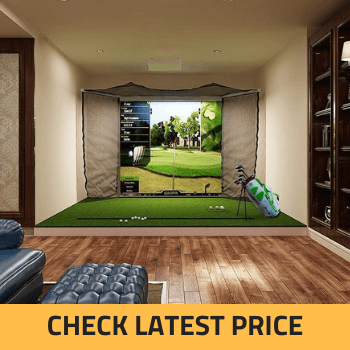 If you are in need of the most affordable option for a home golf simulator, OptiShot 2 Golf in a box pro can be your solution. Not only the cheapest but also the easiest installation. And this indoor golf simulator is ideal for you if you are a beginner. You can learn some fundamental tips for beginners. 
Did you know that the golfers who are the leaders in the golf industry designed and engineered OptiShot? What we like most about this amazing technology is the multiple camera views. Because it helps you watch yourself while playing at home but take the real feel of playing outdoors.
Though it cannot ensure you the higher level of accuracy, yet it can be worth buying for the cost. Besides, instant feedback and real feel make OptiShot preferable to golf simulator users.
OptiShot does give the option to play up to 4 players together. The practice mode shows the data of every shot and helps you analyze your performance.
What's exclusive in OptiShot 2 Golf in a Box Pro
OptiShot 2 infrared optical swing pad
OptiShot 2 software
15 world-renowned golf courses
Retractable screen enclosure and wall mount
Short throw projector and ceiling mount
OptiShot hitting mat
Pros
Easy to install
Analyzes club head angle on each shot
Long-lasting
Large and retractable screen
Excellent graphics
The cheapest price
Cons
Less accurate with irons and woods
Final verdict
OptiShot 2 golf in a box pro can be an ideal choice for you if you are a beginner and looking for a budget-friendly option for indoor golf simulator. Recommended for virtual practice mode and online golf courses.
5. SkyTrak Flex Space Golf Simulator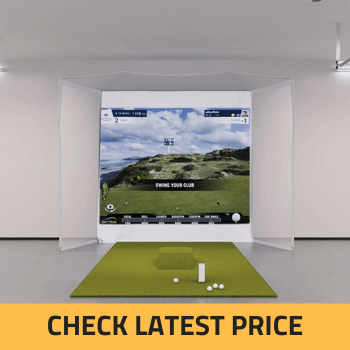 After playing with a golf simulator, if you are given the opportunity of returning your room back to its previous form, how will you react? A cool option to save your space while practicing at your home or office. Won't you grab it? If yes, then you should try the SkyTrak Flex Space golf simulator.
Having limited space doesn't matter anymore. It comes with a retractable screen that you can set anywhere simply just by using a remote. So convert any room into a golf simulator studio and then give it the previous look. Two in one.
Along with it, the accuracy, game improvement features, brightest view, and user manual guide make you love this simulator. And for all of this, you need to consider only around $6K. Really worth the money!
What's exclusive in OptiShot 2 Golf in a Box Pro
SkyTrak golf launch monitor
SkyTrak game improvement software
SkyTrak metal protective case
HomeCourse pro retractable screen
Pro turf mat
BenQ MX825ST projector
Pros
World-famous golf courses
Easy and quick setup
Quick mat rolling after playing
Good projection image
Best for entertainment
Helps to avoid dreaded slice
Accurate ball readings and data
Relatively affordable
Cons
Could be more in height
Need help of another person while setting up
App quality could be better
Final verdict
Highly recommended for you if you cannot place a simulator because of not having extra room. For the easy storage, accuracy, and price, you cannot beat this home golf simulator.
6. Uneekor EYE XO SIG10 Golf simulator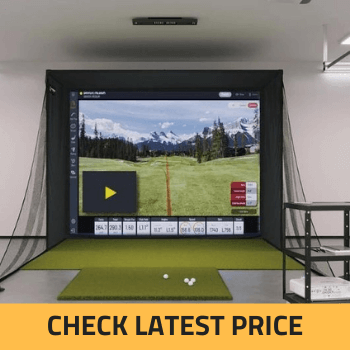 If money is not your concern and going out becomes difficult for you, you should have a look at Uneekor EYE XO SIG10 review. This is an ideal home golf simulator and costs around $15k. It's worth buying because of its indoor features and quality.
The combination of the EYE XO launch monitor and SIG10 enclosure gives you a premium full-screen simulation. It also uses non-marketing ball technology that can really help you in your putting and drives. Because playing the wrong ball may cause penalties.
Some simulators track only the ball trajectory data and some track only the club head data. This simulator does both. You can hit any clubs and it will show real-time visual feedback. Check the best golf clubs on the market and know how to perfect your golf ball hits. It helps you see your game level to ensure whether you should improve more or not.
What's exclusive in OptiShot 2 Golf in a Box Pro
Uneekor EYE XO Launch Monitor
Choice of Simulation Software
SIG10 Golf Simulator Enclosure
Side Barrier Netting
Landing Pad Turf
Choice of Golf Hitting Mat
Maxell HD 1080p Standard Throw Projector
Pros
Large screen and full simulation experience
Most brightness in projector
Bot for left-handed players and right-handed players
More than $100,000 golf courses
Visual ball performance and club head data
Choice of golf hitting mat
Cons
Requires larger space
Relatively more expensive
Final verdict
Uneekor EYE XO SIG10 golf simulator lets you view your shots in high-quality graphics to ensure a real play environment. What you need to consider is the price.
7. TruGolf Vista 8 Pro Golf Simulator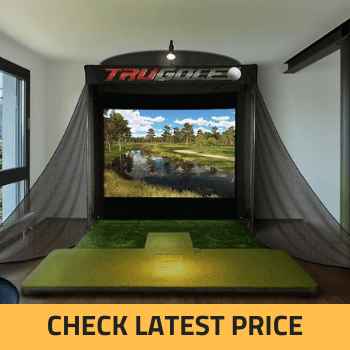 TruGolf Vista 8 Pro is the cheapest golf simulator in the Vista series and requires less space. You won't find any technology for home golf simulators like TruGolf offers. And the use of fantastic technology makes this simulator unique for indoors.
While setting up TruGolf Vista, it requires no tool. So you can easily install it. The innovative discovery of TruGolf is their TruTrack2 tracking system that measures each of your ball flight data. You need no launch monitor here. Because TruTrack 2 works accurately like a launch monitor.
If the best graphic is your navigation list, you should try TruGolf Vista 8. For anything good, you need to consider a fair amount of your money. TruGolf is exactly like that. You need to consider around $13,495 for having a better simulation experience.
Know the other golf simulator of TruGolf.
What's exclusive in OptiShot 2 Golf in a Box Pro
E6 connect subscription
Projector
TruTrack2
Computer (level 1)
Monitor
Premium fairway turf
Pros
Most lifelike experience
High definition graphics
Best choice of professionals
Comes with everything of a complete golf simulator
Requires no attachment in-ceiling or wall
Best software included
Works great as a practice tool
Cons
Not budget-friendly
Setting up process takes time
Final verdict
If a portable home golf simulator with the most stunning graphics is on your search list, consider Vista 8. As an indoor golf simulator, it can meet all of your needs. But it comes with a price. So practice with this simulator if you are not a budget-conscious user.
Buying Guide of Best Home Golf Simulators
Before going through a simulator setup, you need to consider some certain things that can help you figure out the most suitable one for you. Because there are hundreds of simulators available in the market, which one should you purchase? We can answer this question in detail. Let's follow.
Size
For setting a home golf simulator, the first thing you need to check is the size of your simulator. Most simulators require large space to set up. What you should do is measure your room space. What should you measure? The width, length, and height. Then look for the minimum space requirement of the simulator you are going to buy. Remember, you shouldn't select the one that won't match up with your height.
Hitting net or simulator screen?
You can choose either a net or a screen for your indoor golf simulator. Sometimes you can own both. Because a projector will show the data result in a simulator screen whereas a net does this on a phone or computer. But you can hit on both. Now it's your choice whether you like to enjoy your simulation on the big display or you are satisfied with mobile or computer.
Tracking System
The tracking system of your home golf simulator is an important thing to consider. Because some tracking systems incredibly track all the data accurately whereas some do less accurately. For example, the infrared tracking system of OptiShot calculates data less precisely. That is why an OptiShot golf simulator is less accurate than others. On the contrary, the TruTrack 2 tracking system of TruGolf is absolutely accurate in data measurement. So, for accuracy, check the tracking system if it can meet your needs.
Portability
If your golf simulator is lightweight and portable, you can carry it wherever you need to go, even on a trip. Otherwise, the advantage a home golf simulator gives will be missing when you are not at home. You will probably not love this.
Price
The most common thing yet the most important is the price. Match the price with your requirement. If it's beyond your capability, look for an affordable option from the list we mentioned above. But if the budget doesn't matter to you, go for an expensive one. Because you get what you pay for. An expensive one provides excellent features and benefits.
Frequently Asked Questions About Home Golf Simulator
Are home golf simulators worth it?
Yes. Home golf simulators are worth buying because they allow you to play golf at home even in windy, cold and wet weather or in the off-season. You can practice for your game improvement, for getting prepared to join any tournament, or for playing a lot of online golf courses without any fees.
What equipment do you need for a home golf simulator setup?
You need a launch monitor, software, projector, projector screen, and a golf hitting mat for a home golf simulator setup. You can use a putting mat too to take the feel of playing on real grass. And you need a hitting net if you want to have an alternative to the screen.
Learn how to build your own golf simulator.
Conclusion
Buying a home golf simulator is not something difficult. What is difficult is to find the best one among them. And this is why we spent hours researching the best golf simulators for indoors. Finally, this list of the 7 best home golf simulators became our top picks. Select the one you are in need of.