Having the best golf mat increases the chance of increasing your golf swing speed even without practicing at the golf course. Besides, a golf mat is required to protect your floor, carpet, or lawn from damage if you practice at home or in the backyard with a hitting net.
In recent years, golf mats have improved according to the golfers' needs and demands. Unlike before, golf mats prevent wrist injury and replicate the natural grass.
This article is for those looking for the best golf mats for a simulator, home, garage, or backyard. Because in this article, we will be reviewing the 10 best golf-hitting mats for every budget and purpose. Browse through the list and click the link below to access the complete review section.
| Simulator Package Name | Our Rating | Price |
| --- | --- | --- |
| SIGPRO Softy 4′ x 10′ Golf Mat | ★★★★★ | |
| Fiberbuilt 4′ x 7′ Single-Sided Studio Golf Mat | ★★★★★ | |
| Swingturf Golf Hitting Mat | ★★★★ | |
| Country Club Elite Real Feel Golf Mat | ★★★★★ | |
| TrueStrike Golf Mat | ★★★★★ | |
| Fairway Series Golf Mat | ★★★★★ | |
| Fiberbuilt Golf Simulator Mat | ★★★★ | |
| TrueStrike Single Golf Hitting Mat | ★★★★★ | |
| Carl's HotShot | ★★★★★ | |
| Cimarron 4′ x 6′ Ultimate Golf Mat | ★★★★★ | |
10 Best Golf Practice Mat Review
1. SIGPRO Golf Mat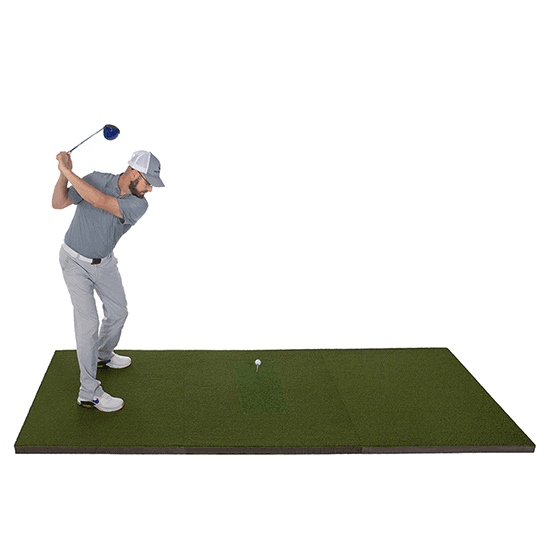 The SIGPRO golf hitting mat is more extensive than SIGPRO mats. It's a one-piece mat. Being large, the mat doesn't move while swinging. Because the more extensive the mat, the more stable it is. The hitting strip on the mat is replaceable.
SIGPRO 4'×10′ is made of soft foam that ensures a comfortable hitting surface. It gives accurate feedback like an actual grass fairway and has a soft feel with the most forgiveness. Not being too firm prevents wrist and joint injury. Also, there is a shock absorber to prevent shock at impact.
The SIGPRO golf simulator mat is very durable. You can hit tens of thousands of shots using it. You can also use any golf clubs from your bag on this turf. Despite being such a quality mat, it costs under $1000, which is relatively affordable for many.
2. Fiberbuilt 4′ x 7′ Single-Sided Studio Golf Mat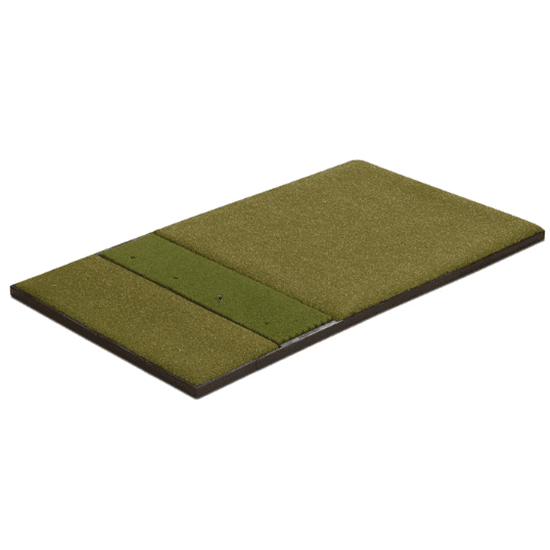 The Fiberbuilt 4'×7′ single-sided mat is medium size among Fiberbuilt golf mats. It's not as large as the first product we reviewed. Yet the size is enough for most golfers' stance on average. Make sure you are also comfortable with your height.
Like the SIGPRO 4'×10′, this is a one-piece mat made of Nylon fiber. There is a rubber base frame. Usually, Nylon fiber and rubber base appear very durable, making the mat more lightweight than other traditional mats.
They support radar doppler and camera-based launch monitors and give a natural fairway grass feel. The hitting strip is easier on the arms and wrists. This golf simulator mat feels solid at impact and doesn't move on the floor. Unlike SIGPRO, it might be a bit pricey for some golfers. The price is $1,149.
3. Swingturf Golf Hitting Mat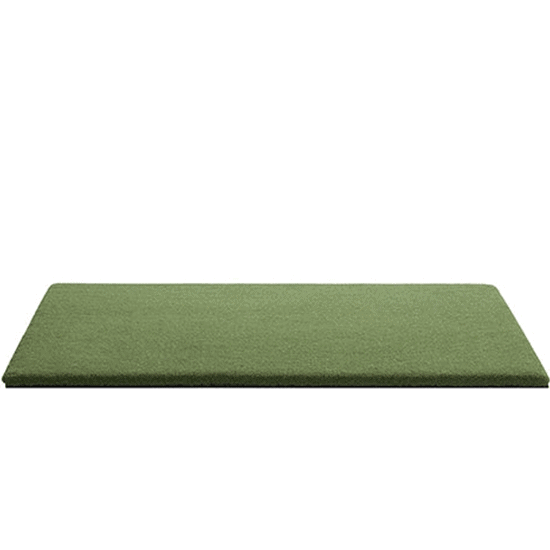 Swingturf comes in 2 big sizes – 5'×5′ and 4'×9′. You can choose any size according to your needs. The 5'×5′ is recommended for frequent use, and the 4'×9′ is recommended to practice with any golf simulator.
Compared to the previous mats, this one appears to be very stable. It won't move during practice. No wear/tear will happen, and no pain in the arms and wrists. You will get a real feel golf mat and feedback on each shot, even on miss-hits and fat shots.
User review also suggests it is very durable. Giving no vibration on the wrist, it feels very soft and forgiving. The quality, feel, looks, and color impressed the users. Surprisingly it doesn't cost much like the previous quality mats. It costs just $530.
Check Price at Rainorshinegolf
4. Country Club Elite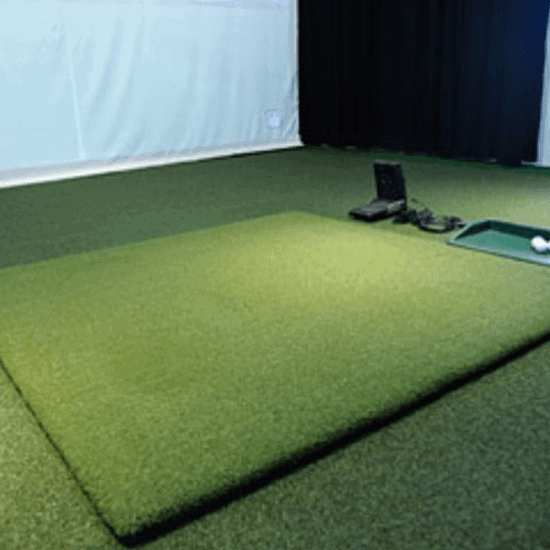 Country Club Elite hitting mat has become one of the best quality and most realistic mats on the market since 2006. It has three major size options – 4'×5′, 5'×5′, and 5'×10′. If you want it for chipping, pitching, or hitting irons, we recommend 4'×5′. But to hit down with the driver, you need the larger sizes.
Compared to the other mats, this one is so tough that it lasts longer than theirs. The nylon fiber makes it solid and sturdy and gives a realistic feel, just like hitting the fairway. The turf won't slip when you strike. It's worth the cost of $489. It is one of the best golf mats for backyard.
You can hit the ball using any club in your bag without hurting your wrists. After hitting hundreds of shots, it will still be easy on your body's joints. Even if you hit fat shots, the club will dig into the mat instead of bouncing off the turf. You won't regret spending money on this quality mat.
Check Price at Rainorshinegolf
5. TrueStrike Golf Mat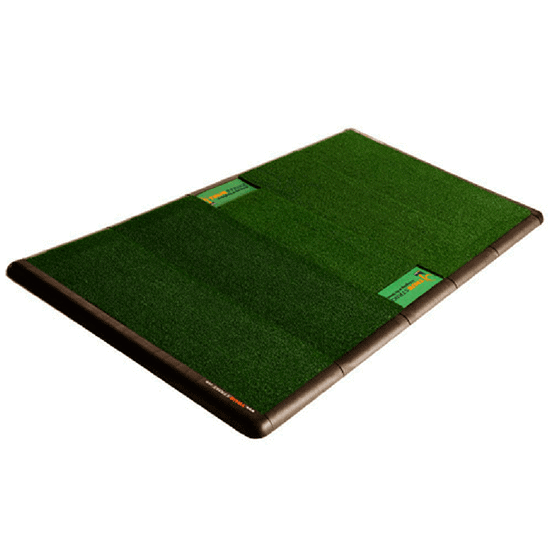 The TrueStrike golf mat is recommended for coaches, club fitters, and professionals. It's a solid and easy-to-put-together mat. If you want an accurate and reliable hitting mat that emulates the authentic grass feel, this mat can be a good choice too.
It feels pure at impact. Like the previous mats we reviewed, this one is as forgiving as the fairway. It's a one-piece mat that makes it stable on the floor. TrueStrike is not as large as SIGPRO or Fiberbuilt. Yet it performs excellent for putt and chip shots and saves space.
The size of this mat is 2″ in height, 52″ in length, and 80″ in width. It weighs just 134 lbs, which makes it portable. It is designed to last long, like the larger mats. Being so comfortable and convenient, it is very cost-effective. The price of this practice mat is $1,018.
6. Fairway Series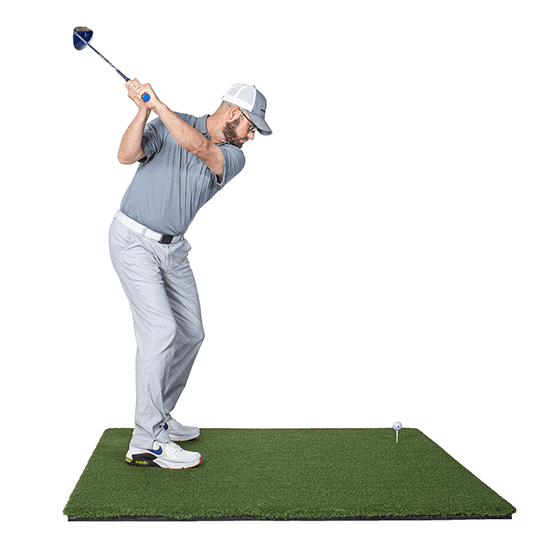 If you are looking for quality within a small budget, we recommend the Fairway Series Mat manufactured by Shop Indoor Golf. Our experience reveals this golf simulator mat makes golfers feel like they are hitting on real grass. It's designed to prevent injury to joints.
The size (5'×5′) is smaller than the traditional mats like SIGPRO or Fiberbuilt. You can use it for a smaller simulation setup. It's solid, durable, and forgiving, yet not unrealistic. But this mat is not as stable as other branded mats.
Use the Fairway Series if you want an excellent hitting surface. Also, you can use it as a stance turf. The turf feels realistic to hit off and looks great. Being a receptive mat, it looks and feels like it won't quickly wear out.
7. Fiberbuilt golf simulator mat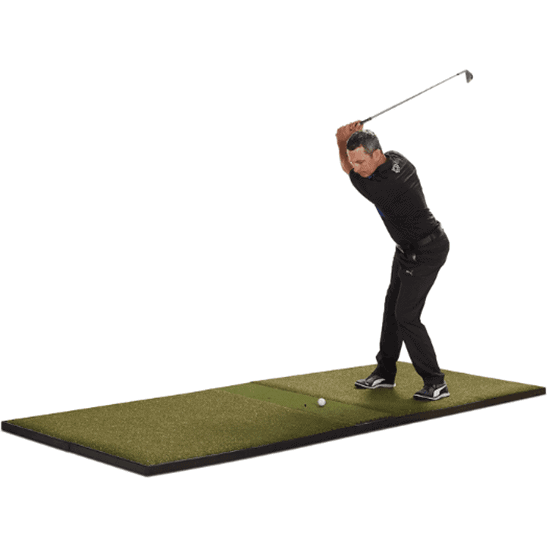 If you are looking for a golf-hitting mat to place in your simulator studio, this practice mat can be an ideal choice. It's sized at 4'×9′, which is more significant than our second pick, Fiberbuilt 4'×7′. The size is perfect for practicing full swing with the longest clubs.
Offering high performance prevents injury better than the other mats we saw on the market. It's very stable and doesn't move on the floor. The manufacturer guarantees 300,000 shots with their Fiberbuilt.
This mat feels excellent at impact and is accessible on the wrists and elbows. It comes in pieces to become lighter and can be moved easily. You don't need to maintain the turf frequently because it's comparatively less maintenance-free. It comes at $1,349.
8. TrueStrike Single Golf Hitting Mat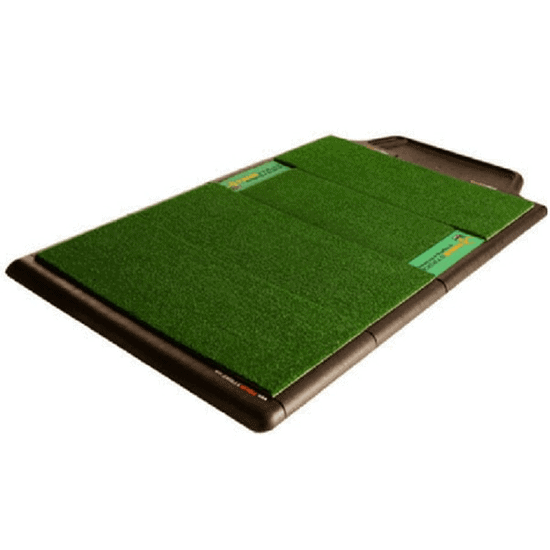 The TrueStrike Single mat is a well-built, sturdy mat. It has one edge trim, ball tray, gel section, and range mat sections. It weighs 112 lbs and is very lightweight. This makes it portable and easy to move around.
The mat won't slip while hitting. Rather like other models of TruStrike, the inserted gel will make you feel like you are hitting on real grass. The gel also works as a shock absorber at impact. Thus it becomes accessible on the wrists and elbows.
The size is a bit larger than the TrueStrike golf mat. It's 77″ width, length 52″, and 2″ height. The TrueStrike is so durable that you will enjoy many years of using it. It costs $928. We recommend it for professionals and amateurs.
Check Price at Rainorshinegolf
9. Carl's HotShot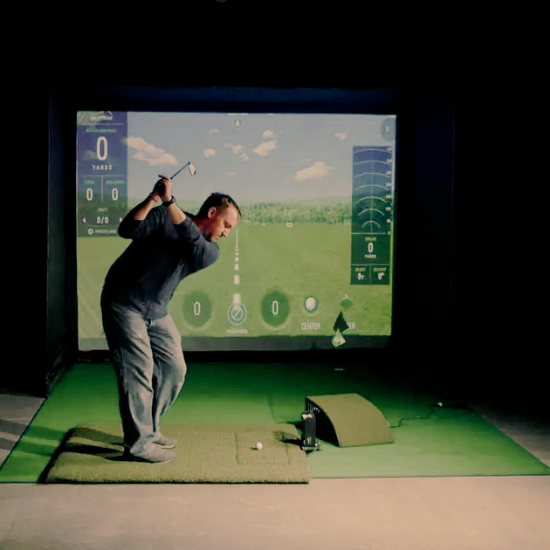 Carl's HotShot™ Golf Hitting Mat is a fatigue-free, low-impact golf mat that allows hours of golf without pain. It has pre-cut, replaceable hitting areas. Just lift and replace. You can choose from 3 different sizes. Choose the one that suits your course. We suggest making room for a 4'x9′ hitting mat to accommodate right- and left-handed golfers.
The Carl's Place HotShot has three rubber tee holder holes. You can use a wooden tee instead if desired. The fiber mat is perfectly compatible with the Carls Place housing system. It is one of the best golf mats for garage. 
10. Cimarron 4′ x 6′ Ultimate Golf Mat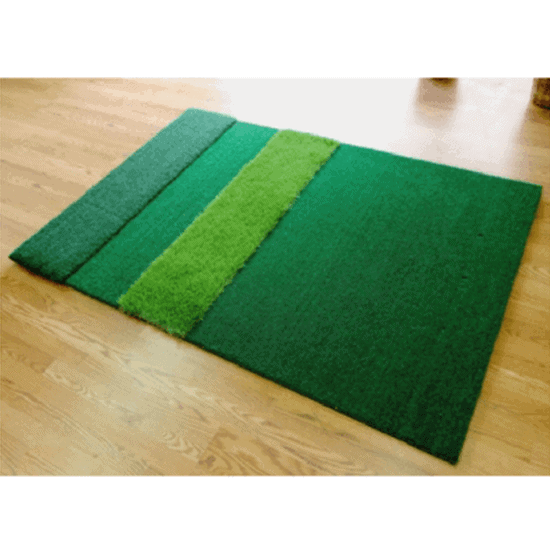 If you are looking for an affordable option among quality golf mats, the Cimarron Ultimate can be a good pick. The combination of three different turfs lets you practice with different clubs. We recommend it, for it's rare to have such a solid turf that allows three different lies at this price range.
You can use the mat both indoors and outdoors with your golf simulator. It can easily and quickly be stored. Unlike the 9 mats we reviewed before, it costs just $200. Despite being affordable, this practice mat doesn't sacrifice its quality and durability.
The size is 4'×6′, more significant than the putting surfaces and smaller than the full-size mats. It includes one rubber tee, tee turf, knitted nylon fairway turf, and semi-rough turf to practice with your woods, irons, and wedges.
Things to Consider Before Buying a Golf Mat
You don't need to break the bank for a golf-hitting mat. You need to choose the one that is within your capability and will give you the best hitting experience. The question is, how will you choose such an optimal option?
Which one will be yours among the many golf mats on the market? You will get the answer after going through this buying guide. Whatever your purpose is, buying one or just looking at the mats, this guide will help you. Let's rock and roll.
Size
The first thing you should know about golf hitting mats is size. Golf mats come in different sizes. To practice with a small hitting net, you can go for a compact mat.
On the other hand, you can have one suitable for your stance. If you can stand and hit comfortably, the mat won't move because your body will be able to adjust to it.
Yet we recommend having a larger one that is full in size. It will help you hit from different angles of your hitting surface. A full-size mat will also fit a large simulator studio if you have one or are interested in having one. But for a large mat, you have to consider a high-range budget.
Before looking for your mat size, don't forget to measure your room width and length. Cover the whole area to where you can swing with your longest club without facing any obstacles. You will get some replaceable hitting strips on some mats. The strips can be one or two feet long. Consider the length too.
Stability
A stable mat will stabilize your foot as well as stabilize itself. That means your foot or the mat won't move during practice. The larger the mat, the more stable it is.
We recommend having a one-piece mat where you will stand and hit from the same hitting surface. On the other hand, in a two-piece mat, you have to stand on one mat and hit from another. It's more likely to move while swinging.
Feel and forgiveness
To be honest, no mat can give the same feel as actual grass. But yes, manufacturers have developed new hitting mats utilizing their innovative ideas. The result is advanced golf-hitting mats that will make you feel close to the natural grass.
Not only the real feel but you should also look for the ones that will prevent joint injuries. We recommend not having firmer mats. They may cause wrist and elbow injuries.
Some golf mats have shock absorbers designed to protect you from injuries. Mats with more fibers can also be a good choice as they offer a soft feel than the hard ones.
The cheaper the mat, the firmer it will be. So avoid using cheaper mats that don't give a consistent feel. Instead of better shots, spend more money and find realistic turf interaction.
Durability
Quality mats are always durable. Less durable mats will bother you after a few weeks of your purchase. But, of course, you won't like your mat to make a divot in the hitting surface and make it challenging for you to hit into.
So how will you know it is durable? It's simple! Go through the reviews and feedback of customers. Look at what they are saying. Their experience will tell you whether you are buying a durable one.
Functionality
Some hitting mats work as different hitting surfaces like putting surfaces, chipping surfaces, etc. Available mats can be used with every golf club. Whether it's golf driver or wood, it ensures a safe hitting area. Make sure you can practice with all clubs in your golf bag.
Besides, hitting mats are designed to emulate different areas of golf yardage. Some mats work as fairways, some as rough, and some work for teeing off. But to have extra functionality, you have to spend more. It depends on your decision about what you will go for.
Budget
Larger mats are expensive. But they are worth buying. Durable mats are also relatively pricey. The advantage is you don't have to spend five figures on a golf mat. All quality mats are available for under $1,000, except for some extra functional mats that cost more.
We want to remind you not to buy a cheap mat. Even if you can't afford the expensive ones, try to keep your budget more than $100. Because mats under $100 are of low quality and less entertaining. Ultimately they won't help you improve your game.
Frequently Asked Questions about Golf Hitting Mats
What are the benefits of a golf mat?
A golf mat is an alternative to real grass that lets you practice anytime. Even if you don't have access to golf courses, you can practice your swing at home. This will help you keep score in golf and gain consistency in the game. Golf hitting mats also perform great as putting and chipping surfaces.
How thick should a golf mat be?
A golf mat should be 1 to ¼" thick. The overall thickness varies in different mats. Whether the mat will move on the floor depends on the thickness and softness. The least width and length of a golf mat should be 12″ and 24″, respectively.
How to keep golf mats from sliding?
Place your mat on the floor using silicone glue, vinyl glue, or high-quality rubber to keep golf mats from sliding. Find out the rubber and glues in your local hardware shop. Or you can use a wood sheet and staple non-slip rubber to the underside of it. Another way is to glue the mat to a plywood board and put removable pins in the plywood.
Are golf practice mats worth it?
Yes, Golf Simulator Mats are worth it. A good golf mat brings absolute benefits to your golf game. It can help improve swing and putting skills. All you need is the right mat, the right setup, and a few tips to use it properly.
Can you put a golf mat on concrete?
Golf practice mats can be put on hard surfaces like concrete, tiles, and wooden floor. But check the build quality before buying because only urethane-backed golf mats can be put on concrete. Thankfully all our listed golf mats in this article can be put on concrete.
Conclusion
Manufacturers made different quality golf hitting mats to keep the golfers' demands in mind. Not just the best golf hitting mats are now made affordable for many of us. If you can carefully look for the things, you need most, finding an optimal mat will be easy.
Now, if you have decided to have any of the above-mentioned golf mats, tell us whether the golf mat reviews helped you and how everything is going there. It will be our pleasure to have your feedback and experience. Happy practicing!
This post may contain affiliate links and we may earn a small commission for no extra cost to you.
This is how we keep NiftyGolf free. Learn more about our affiliate disclosure here.