There have been quite a few new golf iron releases in the last 2 or 3 years. And it's now really a difficult choice to select the best match from them. Top brands like callaway, ping, taylormade wilson and many more have introduced new golf irons in this time period. It is the right time to find out the best golf iron for you.
You can certainly search for the best golf irons and pick one from random choices. But that will never bring positive outcomes. Because the term "Best" can mean different things to different people.
That is why we spent hours researching, analyzing and finding the top golf irons that can match different playing styles. Here we listed them to try and help you find which golf iron is really best for you. Let's explore it without further delay.
Top 10 Best Golf Irons Review
It is obvious that you will tee off with a golf driver to cover maximum distance and putt the ball in the hole with your best putter that provides accuracy. But yet, your opponent can steal the game with the best quality irons in his approach shots. Irons are best for approach shots. And that is why you need to find out the best golf iron too.
1. Callaway Mavrik Golf Iron Set: Best Golf Irons For Ball Speed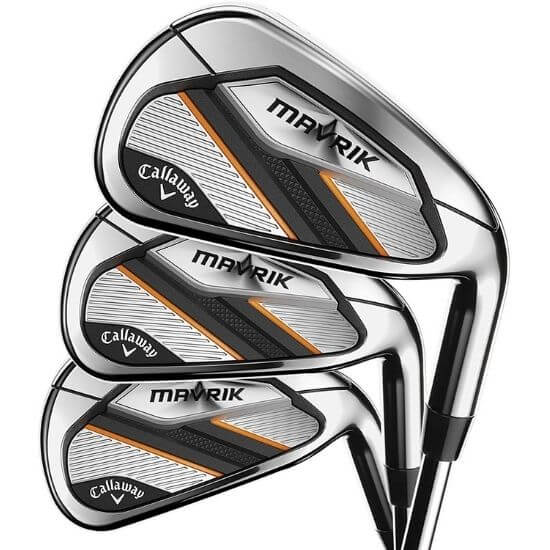 With the A.I technology Callaway has designed Mavrik iron featuring sophisticated face architecture. And this architecture offers uniqueness to every loft, so you can create a significant boost in ball speed and enjoy increased spin robustness off every shot with the iron.
Callaway introduced this Iron in early 2020's and it outplayed the ancestors with features, performance and looks. The custom tungsten-infused weights help you locate the center of gravity (CG) in each iron. And the CG assists you in gaining extraordinary precision with higher ball speed. Users have loved this performance.
The final look of the Iron is lovely and it gives an amazing buttery feel in hand. Most people loved AI design. It's simple but has a premium feel in hand. The orange color adds a new dimension in your golf club bag. Not many clubs have this color.
Features that can benefit you
Easy flexes and releases at impact.
Increased ball speed and spin robustness helps you get more precise shots.
Patented urethane microspheres used to comprehensively absorb unwanted vibration to ensure better feel in hands even while aiming for incredible ball speed.
Things we liked
Provides optimum launch and straight, stable ball flight
Extremely long with good forgiveness
Very affordable
Things that can be improved
Beginners may struggle to control the flight.
Thick club head
Final Verdict
If you love higher ball speed with your golf iron, the new Callaway Mavrik Iron is the one you should be using. It is the best for higher ball speed in recent years.
For Junior Golfer: Golf Clubs For Junior
2. TaylorMade SIM MAX Irons: Best Golf Irons For Mid Handicappers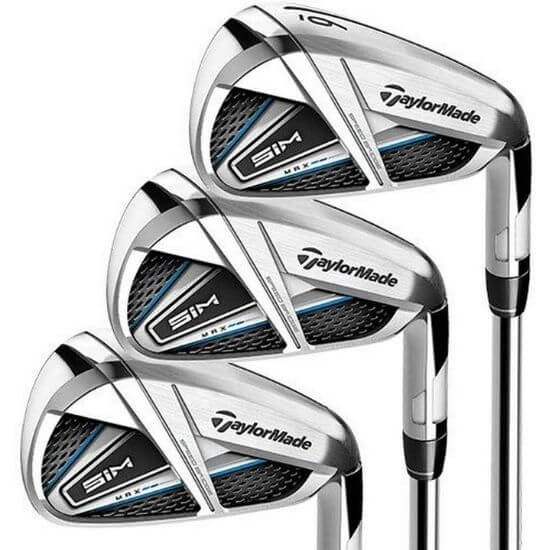 The TaylorMade SIM Max irons are an ideal golf iron set for mid handicappers who look for not just faster ball speed but also high launch and a little more forgiveness.The SIM Max is straight, forgiving, and provides a satisfying sensory experience at impact.
TaylorMade is known for innovation and improved technology in golf equipment such as golf clubs, golf balls, and golf accessories. And the SIM Max irons are the latest offering from them. The SIM iron was introduced back in 2020 claiming that it is a perfect balance between distance and feel. And our research agrees with it.
Features that can benefit you
Ultra thin face design gives you a sleek and stylish look
Progressive Inverted Cone Technology delivers extreme ball speed across
Provides straighter ball flight with enhanced sweet spot design.
Things we liked
Generates more ball speed and forgiveness
Quickly eliminate harsh vibrations
Has improved sound and feel
Things that can be improved
Difficult to control for many golfers
Final Verdict
Highly recommended for golfers with mid handicap. If you are searching for an iron that is good for both ball speed and forgiveness you can have this golf iron as well.
3. Wilson Staff D7 Forged Golf Iron Set: Best Golf Iron For Beginners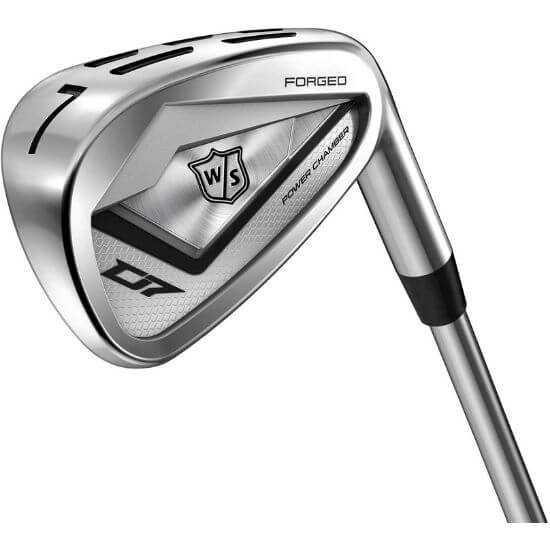 The combination of forged carbon steel and cavity construction provides the look and feel of a traditional forged iron with game-improving distance. Lesser vibration and incredible impact sound gives you confidence on each stroke. And as a beginner, you need that sort of confidence to improve your gameplay
Most of the beginners tend to play aggressive strokes with more power and hit straight. That is why this Wilson D7 Forged is a good match for them. It has been optimized for the forged heads, increasing face deflection and contact time between the ball and the face of the iron for more efficient energy return, enhanced ball speed and greater distance.
Features that can benefit you
You get more ball speed and launch due to the lower center of gravity in the club head.
It gives a crisp sound on good swings. You can understand how good you have hit hearing the impact sound.
Things we liked
Less vibration and incredible sound at impact
Gives enhanced ball speed and greater distance
It has compact head, less offset, higher toe
Things that can be improved
Final Verdict
If your playing style suits with a compact but soft-feeling iron then you can certainly consider the Wilson Staff D7 Forged Iron. Though it has the traditional outlook, you shouldn't mind that against the performance it delivers.
4. Cleveland Golf Launcher Turbo HB Iron Set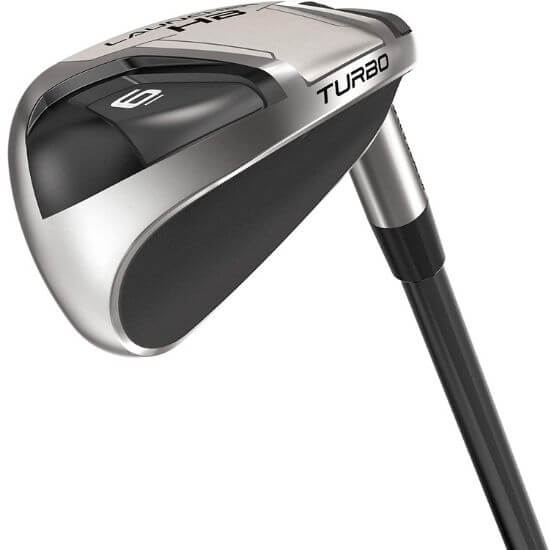 The Cleveland Launcher HB Turbo irons are good for those golfers who like a little forgiving, high launching and straight shots. If you are still struggling to control your shots with golf irons, you can try this Cleveland Turbo HB. Because it is good in providing more accurate, and longer shots.
Even if you fail to hit the center of the clubhead, you will get a good distance with this golf club. The technologies like HiBore profile, hollow construction and so on behind this amazing golf iron provides a balanced performance.
Features that can benefit you
Turbocharged Face provides increased ball speeds and explosive distance.
Hollow Construction with internal stabilizing ribs ensures ultimate forgiveness.
HiBore Crown features low, deep weighting to produce an easy to hit, high ball flight.
Progressive Hollow Shaping adds a smooth transition.
Things we liked
Provides more accurate, and longer shots
Looks great
Things that can be improved
Final Verdict
The outlook of the irons in this set is certainly eye catching. And it's full of many effective features. But being a set, a few more irons would have been appreciated.
You May Also Like: Best Golf Clubs For Women
5. Callaway Big Bertha: Best Game Improvement Golf Iron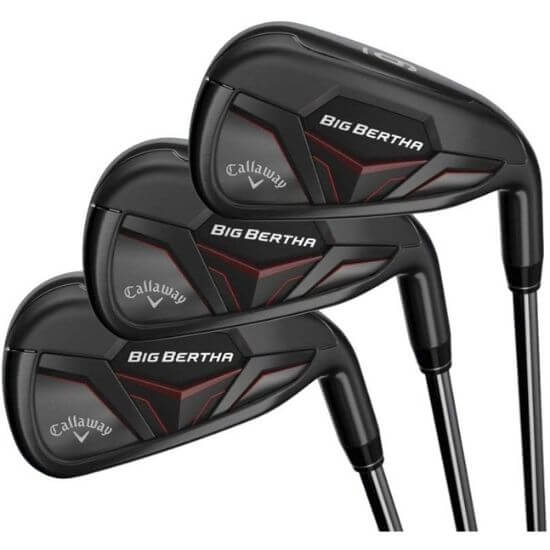 Callaway is known for upgraded technological advantages in golf clubs, and the Big Bertha is no exception. It features jailbreak technology alongside a thin club head and latest OptiFit hosel. The combination of such features make this iron one of the go to golf irons for many golfers.
The performance complements the features offered in this golf club. Besides, the outlook is another factor that amazes lots of golfers. The black matte finish has a premium feel. The lightness in weight is good but not perfect for many. This is the only disadvantage with this golf iron. But once you are used to this iron you will have smooth and perfect swings in the golf course.
It offers an extremely forgiving, anti-slice performance at a very affordable price.
Features that can benefit you
The revolutionary Jailbreak Technology is used in Big Bertha that provides fast ball speed and long distance
You get fast ball speeds due to its Ultra-Thin Face and Hyper Speed Face Cup.
With the new OptiFit Hosel you get this iron in light weight. Though it is still pretty heavy.
Things we liked
Easy Launch, Incredible Sound and Feel
Progressive head shape
Promote fast ball speed and long distance
Things that can be improved
Final Verdict
If you are a high-handicapper or if you are struggling to control slice hits with your golf iron, then the Callaway Big Bertha Iron set can help you. The extra weight in this iron can be a disadvantage but it helps in easy launching and gain longer distance.
6. LAZRUS Golf Irons Set for Men: Best Budget Golf Iron Set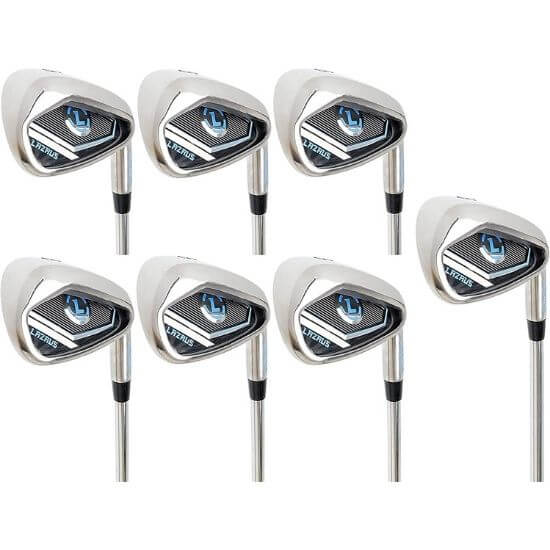 The LAZRUS Golf Irons set includes 7 different irons in the package. And it costs less than $300. Undoubtedly it is one of the most affordable golf iron sets in the market. Moreover, you can buy them individually as well rather than a complete set. Lets learn more about the features and performances of this cheap golf iron.
If you are an advanced player, this golf iron set is not a good choice for you. Only if you are short of a good budget for irons, then you can select this LAZRUS Golf Irons Set. It has some standard features that deliver regular performance. Nothing extraordinary you can expect from it. The best factors that we found in this golf club are the price and ease of using it.
Features that can benefit you
It's a complete set of golf irons that includes 4 iron, 5 iron, 6 iron, 7 iron, 8 iron, 9 iron and pitching wedge. If you have it, you have every kind of iron in your bag.
Things we liked
Very easy to use
Affordable
Things that can be improved
Poor forgiveness and not the best in providing distance
Final Verdict
If you are running out of money but need a set of golf irons then, there is hardly any better alternative to this iron club set. But if you have a better budget for a set of irons, then this club set is not recommended.
7. Callaway Apex Golf Iron Set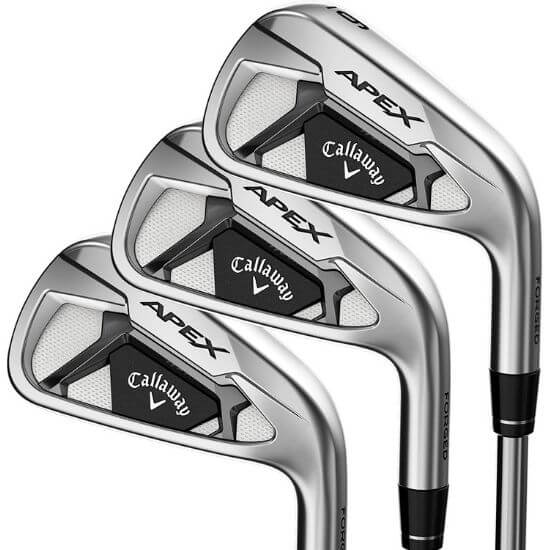 Another Callaway Iron in this list. And the Apex Golf Iron Set is the latest in 2022. Like the previous models from Callaway, it is too designed by artificial intelligence. With the help of A.I. Callaway engineered to deliver superior performance with an iconic feel on every swing. And they have successfully achieved that according to the recent user surveys.
The Apex 21 serves a good balance of everything you need like speed, forgiveness, control, consistency, and looks. And the performance is better from the Apex 19 series irons. If you have already used Callaway 19, you will surely love this upgraded Apex 21 golf iron set. And if you haven't used any callaway irons yet, this model is highly recommended.
Features that can benefit you
The Flash Face technology along with the 360 Face Cup delivers more ball speed.
The forged construction gives a good feel in hand.
Things we liked
Very consistent ball speeds
slim, clean look
Consistent Launch and Increased Forgiveness
Things that can be improved
Too much pricey compared to other brands
Final Verdict
Pricey but effective, that's what we can recommend about the Callaway Apex 21 golf iron set. You would not regret after spending much on this set.
8. TaylorMade SIM2 Max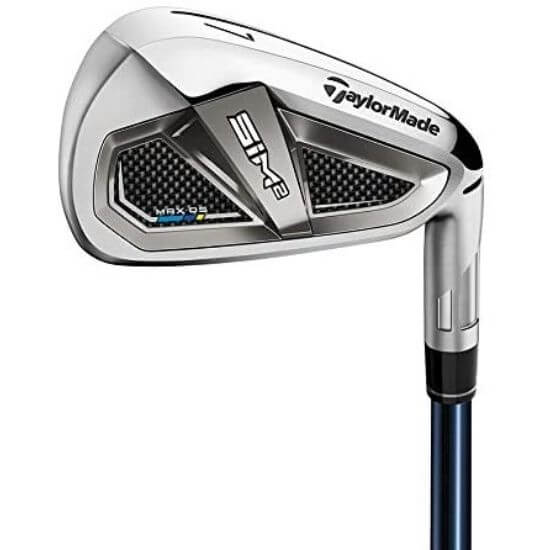 TaylorMade has been popular for best distance golf irons for a long time now. The SIM2 max is another example of their tradition. It is the straightest and longest game improvement irons you can find in 2022. The best feature in this latest model is the in hand feel. It is much much better than the older ones.
You will get an incredible distance with the SIM2 Max Iron. And it is easy to use and gain such distance. It is proven in several tests by many professional golfers that the taylorMade SIM2 Max Irons are incredibly consistent to hit long and straight. You can find such test results on YouTube.
Features that can benefit you
Oversized Head Shape helps you to have stronger lofts for more distance.
Inverted Cone Technology (ICT) introduces increased sweet spot and minimum side spin so that you can have straighter ball flight even if you miss the ball.
Things we liked
Generates a good distance
Feels good in hand
Things that can be improved
Oversized Head Shape is not appreciated by many.
Final Verdict
If the distance of the golf course bothers you, then you should try the TaylorMade SIM2 Max. Once you hit the sweet spot with this iron, no golf course is not large enough.
9. Cobra King Forged Tec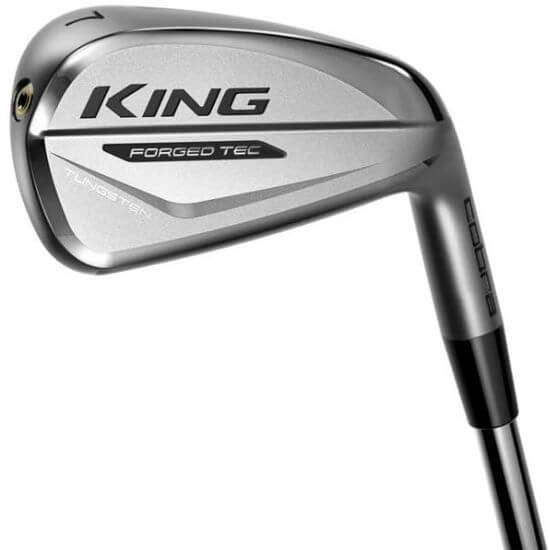 The Cobra King Forged Tec is the best value for money golf iron you will find in 2022. It not just looks fantastic but also provides top class performance. It has a small and compact head that players using this type of iron want to see, with bold features and a clean design.
A hollow cavity is infused with foam microspheres that fine-tune acoustics and create a softer feel. A thin Pwrshell Face and a tungsten toe weight centres the CG behind the hitting area to maximize distance and increase precision, even on off-centre hits. Cobra Connect Powered by Arccos, which allows users to track performance using the Arccos Caddie app.
Features that can benefit you
Hollow core construction provides low Center of Gravity and controlled distance for maximum playability.
Tungsten toe weighting helps in maximizing distance even on off-center hits.
Things we liked
Best in forgiving
Affordable
Visually appealing
Things that can be improved
Flat ball flight and lesser carry distance
Final Verdict
The Cobra King Forged iron is highly recommended because it has a great outlook, best forgiveness and more importantly it is very affordable.
10. Cobra Golf T-Rail Combo Set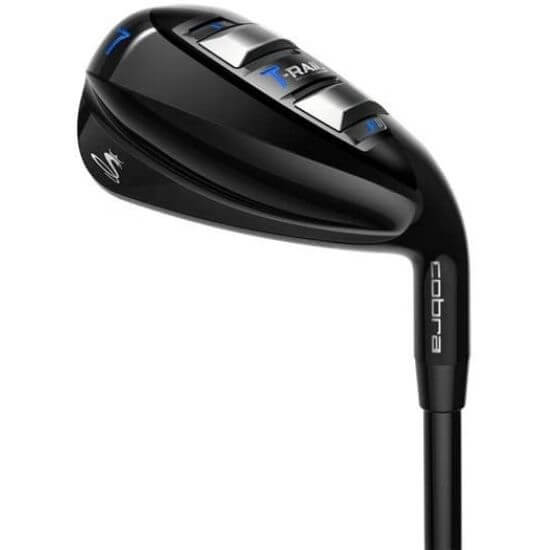 With the Cobra T-Rail golf iron you can experience the ease in a golf course. Playing with this club is so easy that even a beginner can use it. This combo iron set is best for distance and forgiveness.
The set features 4 hybrid and wide-soled hollow irons with an ultra low CG. A hollow design used in this set of irons gives every club the super power of hybrid-like launch and distance. The hybrid-like club head design may not be appreciated by many professional golfers. It is not illegal. So you can have it for its performance.
Features that can benefit you
Baffler Rails allow the club to glide effortlessly through any turf condition.
A hollow design provides hybrid-like launch and distance.
Things we liked
Launches higher and is more forgiving
Effortless gliding on any turf
Black premium outlook
Things that can be improved
Hybrid-like clubhead
Slightly overpriced
Final Verdict
This is one of the best game improvement golf irons. Golfers who love to improve their skill should try this set of irons at least for once to find the difference.
Buying Guide on Golf Irons
It is obvious that you need some sort of expertise before buying a golf iron set rather than a set of all golf clubs. There are a few common features you need to analyze in each golf club such as club head size, shaft length, loft angle, etc. but there are few more features that you need to consider before buying any golf Iron. They are as follows:
Body Construction Material
There is a growing popularity of hollow body irons in recent years. This material is proving out to be the best for golf irons. If you are not using a hollow body iron yet, we recommend you try your hands on it. The hollow construction offers more forgiveness than your regular irons. You can improve your game performance even if you are a good player.
Forged Irons are better
Yes, you read it right. Forged irons are found performing better than regular ones. Forged irons are made out of soft steel which can give you a better feeling and feedback. You might have seen lots of tour players using forged irons. Why not try them in your gameplay?
Emphasis on golf club length
Club length plays a very crucial role in golf clubs. You should not compromise on this feature because it can harm your performance as well as causing several physical discomforts. Many acknowledge the one-length idea of irons. This will allow you to hit with a repeatable swing every time.
What should I look for when buying the best golf irons for mid handicappers?
You should consider the followings prior buying golf irons for mid handicapper:
It is better to have longer golf irons for a mid handicapper alongside pitching wedges and maybe sand wedges.
Irons with wider club heads or at least wider sweet spots are recommended.
Have an offset hosel to promote a straighter ball flight.
Considering such factors, we recommend TaylorMade SIM MAX Irons for a mid handicapper.
How many irons are in a set of clubs?
A maximum of 11 including wedges. They are known as 3 irons, 4 irons, 5 irons, 6 irons, 7 irons, 8 irons, 9 irons, Pitching Wedges, Sand Wedges, Lob Wedges. Carrying a variety of irons is actually beneficial for you because there can be accidental moments any time around when you may need a wedge to get you out of trouble.
According to the club rule in a golf bag by the USGA, you can carry a total of 14 clubs in a golf bag. Though there is no hard and fast rule of carrying any specific clubs in a bag, most professional golfers carry at least one driver, fairway wood and putter. So based on this data, you may carry a maximum of 11 irons in your bag considering wedges as a subsection of irons.
Hybrids vs irons: which one should I use?
You should use hybrids for longer distances and irons for less than 150 yards distances. Select the best between hybrid and irons according to your needs. If you need more than 180 yards to cover, you should use a hybrid instead of an iron. But if you can not hit over 150-180 yards, play with an iron.
Final Thoughts
In this article we tried to cover all the information you may need to select a high quality golf irons and golf irons sets. From individual golf irons of each category to several golf irons sets for beginners, mid-handicappers, best for distance, best for spin and forgiveness and so on have been researched, reviewed by experts and selected top irons from there.
Besides, we shared expert tips to select a golf club as well as golf irons. If you still have any questions feel free to inform us. Our experts will write back to you soon.