Fairway woods is a must for you if you love playing high-lofted shots. The woods are one of the most versatile golf clubs with their unique features and technologies. It can help you hit long and high from tee as well as chip the ball from rough or short grass.
Such versatility makes the fairway woods complicated and a bit tricky to find the best one that serves your purpose. If you are searching for your first fairway woods or if you are looking for a replacement of your old one, read this article before making any conclusive decision. Because here we will be sharing experts' opinions on top fairway woods alongside tips to find the best one.
8 Best Golf Fairway Woods Review
We've researched and reviewed dozens of models to find the best fairway woods on the market. And came up with the following fairway wood reviews that topped the chart.
1. TaylorMade SIM MAX Fairway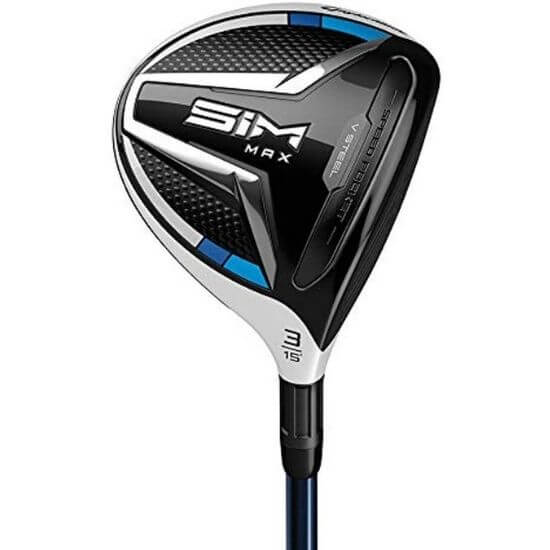 TaylorMade produces top quality golf clubs almost every year. The SIM Max fairway wood was first launched in late 2019. Since then it's been a top priority for most golfers. If you are looking for a golf fairway wood that offers more distance, high launch and mid-low spin, you will love this club too.
The SIM MAX fairway wood is constructed with a carbon crown and steel body. But the club face design is the highlight of this club. You can be pretty sure that you will hit the center of the club face as it offers a 185cc head design with center of gravity (CG) positioned properly in the club head.
Coming to the shafts and flex options, TaylorMade suggests only Fujikura Ventus shafts best for the SIM MAX fairway woods. But you have better flex options for additional ball speed and forgiveness on low-face mis-hits.
Things we liked
Provides more distance, high launch
Carbon crown club head and steel body
185cc club head design
Things that can be improved
Final Verdict
On and on, you will have a complete solution to your fairway woods requirements with this club. Considering the price, it's worth it.
2. Cobra Golf Men's Speedzone Fairway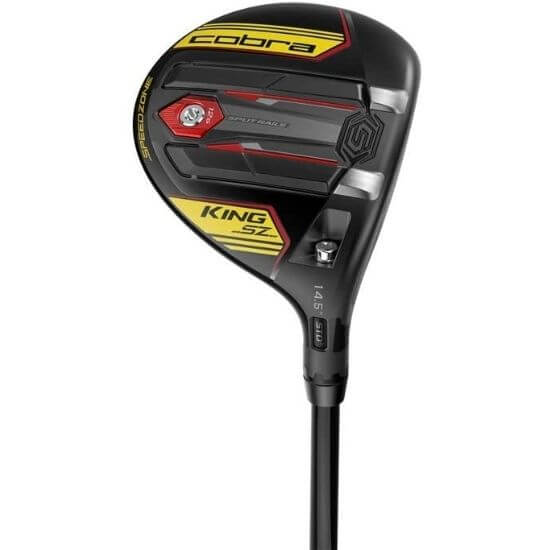 Cobra has done a tremendous job with the 2020 speedzone fairway wood. They introduced some effective features in this club such as CNC-milled face, hollow split rails, carbon fiber crown, dual baffler rails and so on. All these features are a nice blend for its looks and performance.
The carbon fiber crown construction of the Cobra speedzone proved deeper and lower center of gravity. As a result it gets easier to hit the center of the club face and generate a good ball speed. Besides, the CNC Milling is about 5 times more precise than traditional ones. Also you will enjoy an effortless glide of the ball due to the baffler rails and hollow split rails of the fairway wood.
Though you may not be pleased with its outlook, you will love the feel and sound of this golf club. With a MCA Tensei AV Blue 65 or UST Helium 4F2 shaft you can have the best from this fairway wood. The impact sound and feel is as powerful as any top-class fairway wood. Most golfers love this tuning. You can customize the flex from regular to stiff or senior as well.
Things we liked
Satisfying impact sound and feel
Durable built quality
Technologically advanced
Provides good ball speed with effortless glide
Things that can be improved
Final Verdict
Your search for solid-feeling fairway wood can end here with Cobra 200 Speedzone fairway. If the outlook doesn't bother you, you can certainly try this club. It delivers quality performance.
3. TaylorMade M4 Fairway Wood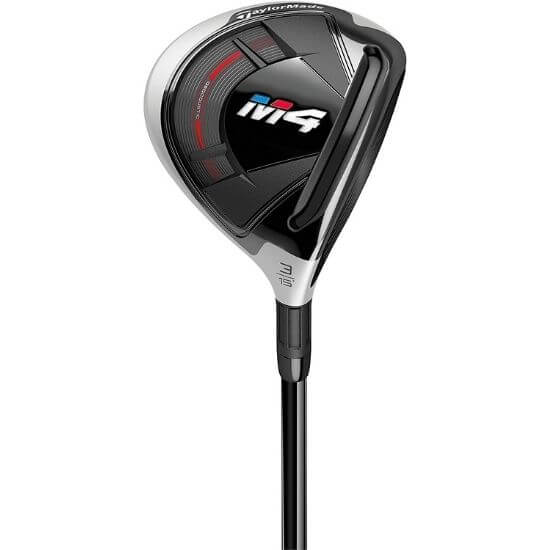 TaylorMade Golf Company has a legacy of breaking from tradition and producing top performing golf clubs. You should not be surprised to see another TaylorMade fairway wood model in our top chart. No, we are not biased by them. TaylorMade has been producing top quality fairway woods for some years now.
The TaylorMade M4 features an enormous number of modern technology that makes this club top performing. Firstly you can see the 176cc sized club head which is made of 5 layer carbon crown and ultra strong NI-CO C300 steel alloy face. The same materials were used in M2 and M3 but this time with M4, the club face is much thinner for a better optimized ball speed. The M4 fairway wood features a speed pocket that creates more ball speed across the clubface for more distance & forgiveness. Besides, it provides a better MOI & weight distribution perimeter due to split weight mass pads.
Not just the club head, graphite shaft is provided with this club. It makes the fairway wood lightweight and provides better swing control. You can customize your flex options too alongside the loft angle. TaylorMade offers several loft angles ranging from 15 degrees to 24 degrees. And the traditional look is appreciated by golfers.
Things we liked
More ball speed across the clubface
Easy to launch and easy to play
You can hit for more distance & forgiveness
Improved sound & feel
Looks good
Things that can be improved
More spin options would have been better.
Slightly expensive
Final Verdict
If built quality and performance is your first priority for a fairway wood, then TaylorMade has the best models for you. Among them the M4 from Taylormade provides a premium look, excellent sound and solid feel.
4. TaylorMade Golf M6 Fairway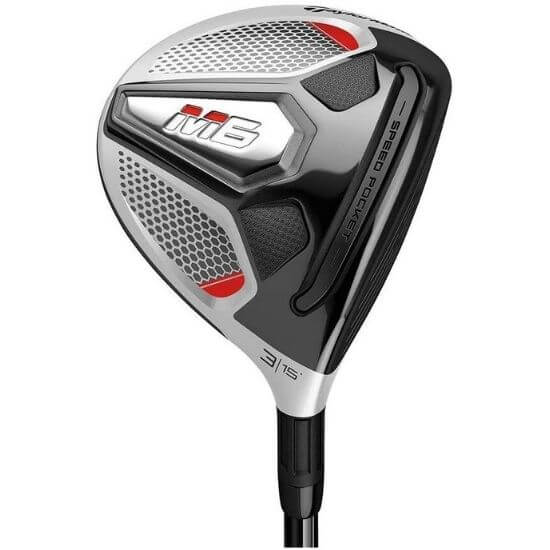 Another Taylormade golf club made it into our top chart. The American sports equipment manufacturing company is really producing some high quality golf equipment such as golf clubs, balls, and clothing. The M6 from Taylormade is an all-round fairway wood. Speed, distance, or playability you name it and you get it in TaylorMade M6 Fairway Wood. The new head design gives a premium look.
Not just the looks, the M6 provides great distance and excellent playability too. It has introduced new Twist Face technology. This technology is a revolutionary one with a corrective face angle on off-center hits. As a result you get reduced side spin and hit straighter shots. It is constructed with multiple quality materials composition like carbon crown and ultra strong NI-CO C300 steel alloy face. As a result the TaylorMade M6 fairway wood is a lightweight golf club. You can easily lift this club and generate swing speed. Practice a few shots with this fairway wood and you will find the difference yourself.
Alongside the premium double color look, the M6 fairway wood feels solid in hand. It sounds like a deep click even if you miss the sweet spot. Even with a mishit you may get plenty of distance to them. Fujikura Atmos Orange 6 shaft is the best match with this club. It is a drawback of this club that you won't get the best of this club if you customize it.
Things we liked
Great distance and excellent playability
Constructed with durable and quality materials
Premium double color look
Things that can be improved
Final Verdict
If you are searching for a fairway wood that offers more forgiveness and a speed boost for added distance, then the TaylorMade M6 is highly recommended for you. It is the latest fairway wood from TaylorMade.
5. Callaway Golf – Mavrik Max Fairway Wood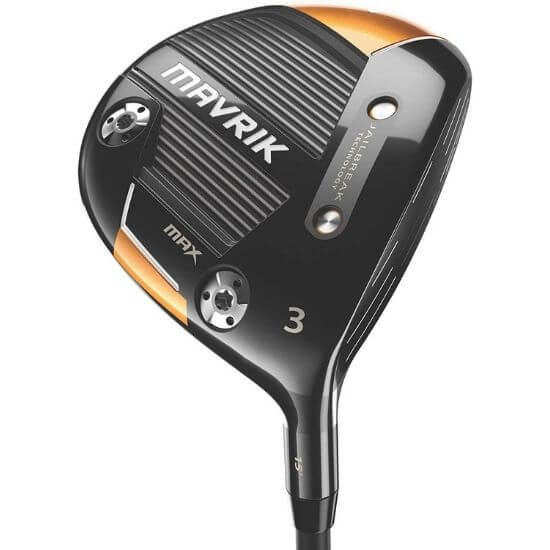 Callaway created a buzz in the market introducing the expensive artificial intelligence in designing golf clubs. And the AI designs have worked for them. The Mavrik series is a good example of it. Whether its a driver, iron or fairway wood, the Callaway Mavrik series has placed themselves in the top list.
Callaway mavrik Max fairway wood is designed with two interchangeable weights perimeter by AI. This weight perimeter helps to provide maximum forgiveness. Not just forgiveness, you will enjoy high MOI with maximum ball speed because of the Flash Face technology used in this club. Moreover, the weighting options allows you different launch angles and spin rates. You can adjust your club according to the game situation.
Like the best performance from the Callaway Mavrik, you get the best look too. The orange and black combination in the Mavrik series clubs looks great at address. Additionally you should have a classic looking headcover with this golf club. And the best part is, you have lots of options to customize according to your preferences. You can customize the shafts, flexes and loft angles to get the best from this.
Things we liked
Maximum forgiveness
Provides numerous weighting options
Looks great at address
Provides high MOI with maximum ball speed
Enough customization options
Things that can be improved
It has oversized clubhead
Beginners found struggling with this.
Final Verdict
If you are okay with the oversized clubhead, then this model can be a better suit for a forgiveness lover. It offers one of the most forgiving shots.
For Junior Golfer: Golf Clubs For Junior
6. MW8 Moon Wood – Premium Golf Fairway Wood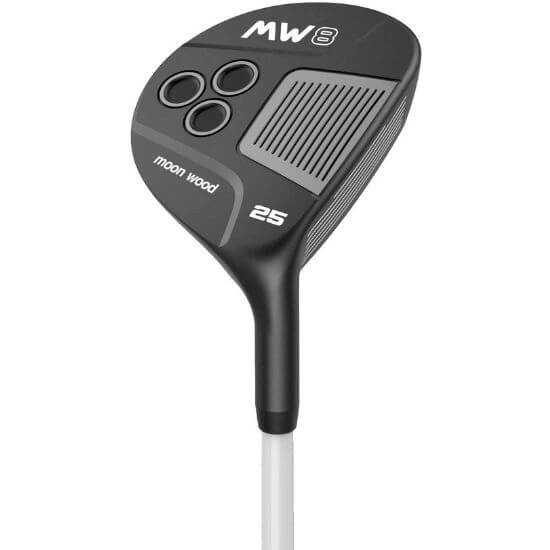 The Moon Wood MW8 is manufactured by the Autopilot Golf. They are a very new brand, producing golf clubs since 2015. And the MW8 has marked its position among golfers due to its quality construction and performance. The MW8 is a better match for beginners who are looking for premium fairway woods that offer better control too.
The club has a premium matte color finish. And the thin club head design is very appealing in eyes. It's a 10 on 10 outlook for a fairway. Apart from the looks, the MW8 Moon Wood benefits you with some very effective features. You can be sure about the clean contact, high launch, and long distance even if you struggle to middle fairway woods. This club is much easier to control than most other fairway woods in the market. And it is made possible due to MW8's shallow clubface and low center of gravity.
You can have various flexes like stiff, regular or senior and lofts to your priority with this fairway wood. Though the MW8 is shorter in length compared to other clubs, it is easier to lift and control. And it is legal for tournament plays as well.
Things we liked
Provides high launch and greater ball speed
Shorter but easier to control
Premium look in affordable price
Things that can be improved
Many golfer may not appreciate the low profile face design
Final Verdict
If you are searching for premium golf fairway wood but in an affordable price range, the MW8 Moon Wood is the right choice for you. You can't imagine the price is less than $200 looking at the club.
7. Cleveland Golf Launcher HB Turbo Fairway Wood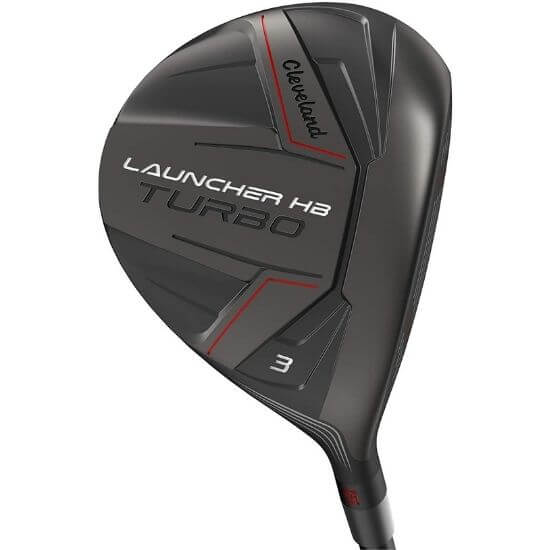 Another best looking fairway wood in our picks. The Cleveland golf launcher HB turbo fairway wood has an appealing look overall. The matte finish black color with black and smoky grey finish shafts simply looks outstanding at address. 
But only looks won't perform for yourself, right? Don't worry, the Cleveland HB turbo performs as good as it looks. The club features a turbocharged cup face, HI bore Crown club head, and ultralight hosel. And the combination of these features reflects in providing a larger impact area for increased ball speeds and more distance, as well as lower CG position for optimal launch conditions. The HB turbo is very user-friendly. It is lightweight and easy to use. Besides the package includes a headcover with the fairway. So you need not buy any headcovers separately.
The HB Turbo offers graphite shaft along with 3 different flex options. But you can only select either 15 degrees or 18 degrees loft angle. The Cleveland HB Turbo fairway wood offers great value against the money.
Things we liked
Provides larger impact area
Lightweight and easy to use
Looks nice at address
Things that can be improved
No flex option for ladies
Final Verdict
If you prefer to have a larger impact area in a fairway wood, you would barely find anything better than the Cleveland golf launcher HB Turbo. It not just looks good, its performance is good too.
You May Also Like: Best Golf Clubs For Women
8. GX-7 "X-Metal" Fairway Wood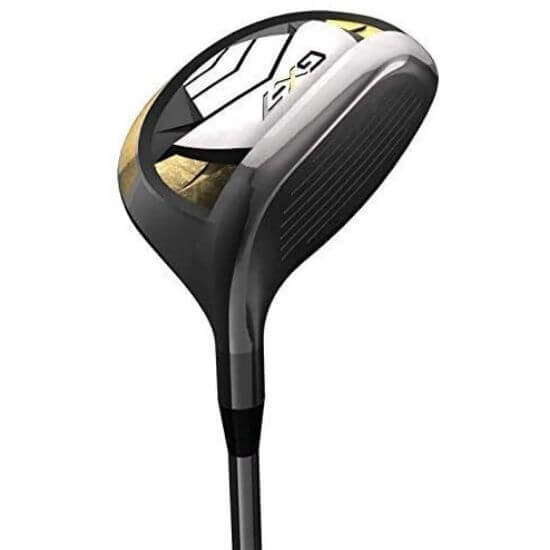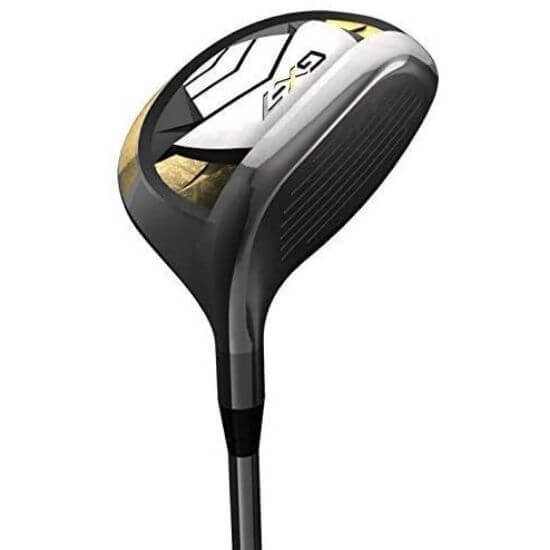 Like the MW8 mentioned earlier, the GX-7 fairway wood is manufactured by the Autopilot Golf. It is relatively a new brand. But in a short span of time Autopilot golf has introduced some top quality golf clubs. The GX-7 is one of those. And it lega a legal tournament golf club.
The GX-7 is capable of producing more control and accuracy than any traditional golf driver. Though it has a smaller club head and shorter length, you won't find it difficult to swing and control. Moreover, due to the shorter length of the club you can be precise on hitting the center of the club face.
Customization opportunities for this club are enormous. You have 5 flex options like Stiff, Regular, Senior, Senior plus, and Ladies to choose your one based on your playing style. But the only drawback we found is the loft angle customization options. You can't choose a loft angle apart from 14 degrees.
Things we liked
Shorter length and smaller club head size
Provides low spin
Looks premium
Affordable price
Things that can be improved
Only 14 degree loft angle
Heavyweight
Final Verdict
If the features like soft angle and shorter shaft length matches your personal preference, then you can select this fairway wood. Else we won't recommend this fairway wood for you.
Things to consider before buying a fairway wood
Using fairway woods is a little tricky and most golfers get confused between a hybrid and fairway wood. There is a very thin line of difference between these two. But, you can't ignore the importance of a golf fairway wood if you are involved with golf. Similarly it is a challenge to find the best fairway woods from the market. Here are a few factors you must consider before selecting your fairway wood.
Loft
With a higher loft golf club you are more likely to travel shorter with the ball but have a higher trajectory. Ultimately it affects the total distance. You can control the ball flight with a different loft. Generally, fairway woods have higher lofts than drivers. And the loft angle ranges from 15 degrees to 22 degrees for a wood.
Fairway woods are also classified based on these loft angles. For example 3 wood features loft angle in between 15 to 18 and a 5 wood features loft angle in between 20 to 22 degrees. A 7 wood is likely to have more loft angles.
Most fairway woods in recent days feature adjustability. Adjustable hosels and weights are common now with fairways. It adds more versatility to fairway wedges.
Length
It is difficult to swing with a longer length golf club than a shorter one. But a wrong length golf club can ruin your play completely. Usually higher number golf clubs have shorter length of the shaft. Choose wisely based on your needs. You can learn how to shorten golf club length if you already own a wrong sized club.
Shafts
There are 2 types of popular shafts available in the market. Steel shaft and graphite shaft. Steel shafts may last longer but it weighs more than a graphite shaft. Due to the lightweight graphite shaft you will enjoy increased swing speed. As a result most golfers love graphite shafts and because of this increasing demand most manufacturers prefer graphite shafts too. But, note that steel shafts are good for better accuracy and solid in hand feel.
Materials
There are 3 types of materials that you can experience for fairway woods. They are stainless steel, titanium or a composition of multi-material. Each of them has its own pros and cons.
Stainless steel is the most inexpensive material for fairway wood. It is the most common material you will find. Titanium is stronger than stainless steel and costs a little higher as well. It is lightweight and provides better distance as well. Lastly the multi-material composition includes carbon with steel or titanium to create ultra-lightweight clubs. It is the best among the mentioned 3 types of materials. The multi material composition costs the highest as well.
Frequently Asked Questions About Fairway Woods
Should I use fairway woods or hybrids?
Yes, you should use fairway woods. And we recommend carrying both types of clubs because both are handy in different situations. Fairway woods have a broader sole and larger head than hybrids and you can hit longer distance shot with it, but the ball will loft lower than hybrids.
Hybrids are more forgiving and easier to hit than long irons or fairway woods. Hybrids are typically used to replace some of the more difficult to hit long irons in the average golfer's bag.
Do hybrids replace fairway woods?
Yes, with the modern hybrids you can replace your fairway woods. There was a time when Hybrids were no longer designed just to replace irons. Modern hybrids are being designed to replace not only irons but also fairway woods, and with 15° offerings, one could argue they're being designed to render the 3-wood obsolete.
Conclusion
Hopefully, you have a better understanding of fairway woods and how to choose the best fairway woods by now. We sketched this article as an information hub for all your queries related to golf fairway woods. We discussed the fairway woods review and shared experts' opinions on what to consider before choosing any golf fairway wood. If we missed out any information let us know.
Share your experience of using any of these aforementioned golf clubs and justify our review.