"We don't quit playing because we grow old; We grow old because we quit playing."
― Sukhraj S. Dhillon
Who told you golf was hard at this age? It's still the most popular game among senior citizens.
But you must know that you are not that young, energetic kid anymore. Things have changed quite a lot. But can it stop you from playing golf, knowing that you're a kid from the heart forever?
The only thing you should change is golf equipment. In today's time manufacturers are aware of the age and type of players playing the game. So, there are lots of options to choose from.
This post will specifically walk you through different balls from different brands that are highly suited for your style of play.
You might have lost speed in these years but choosing the correct ball can make you still look confident and professional while golfing.
Our top pick- Titleist DT TruSoft golf balls
The Titleist DT TruSoft golf balls are the best in this list. These are the best because of the all-around performance and benefits they provide.
Keep reading for comparing the balls. We are sure there is a ball best suited for your game in this list
The 9 Best Golf Balls for Seniors
1. Callaway Supersoft Golf Balls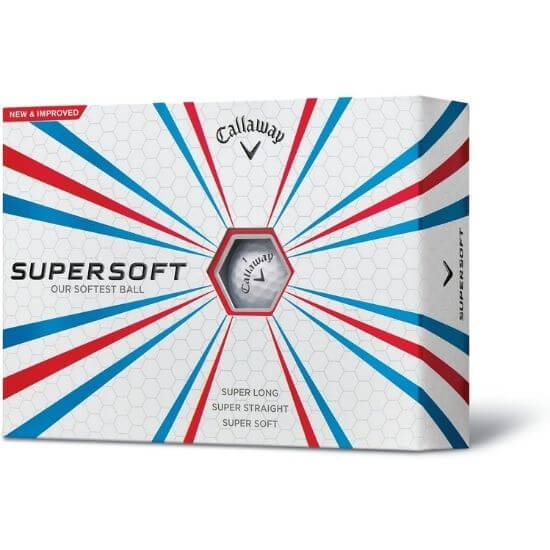 The name justifies what the balls are. They are one of the softest balls available in the market. So, you gain more distance on every hit.
The compression points are only 35 making these balls achieve greater speeds. Highly suitable for senior golfers who are worried about their low swing speed.
The spin is also low, and the ball flight is responsive. Straighter shots with higher accuracy can be achieved with ease.
Things we liked
Offer high accuracy, suitable for skilled senior golfers.
The softer cover makes the ball go further down the greens.
Solve your aiming problems with lower spin features of these balls.
Straighter trajectory and good flight through the air.
Beginner senior golfers can reap most out of its features.
Things that can be improved
Softness can disable skilled golfers to feel the control over the ball.
Final verdict: Callaway Supersoft golf balls are not recommended for very high skilled senior golfers. Because the softness can lower the spin rates on the balls.
But considering the low swing speeds for many senior golfers, it's a good choice.
2. Srixon AD333 Golf Balls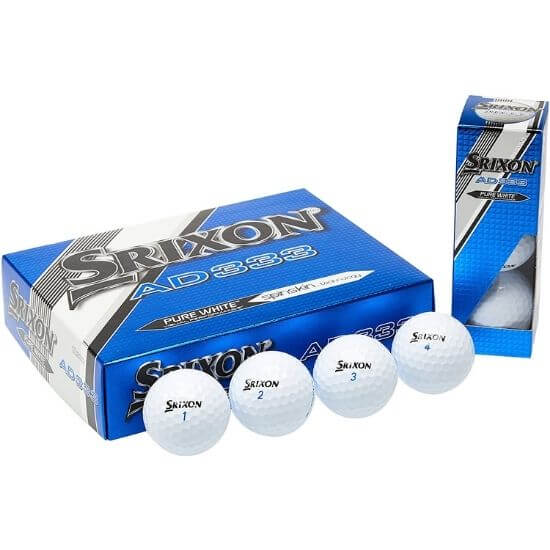 Many golfers have their first priority on durability. If you are one of them, then these Titleist balls can impress you. The panatetra cover of the ball is responsible for this high durability.
Carrying a set of these balls will help you forget about the wear and tear during the games. The quality is unmatched, and the overall performance is also impressive.
Things we liked
The drag is low, so the balls travel straighter in an accurate direction.
The core of the ball is responsible for responsive flight and launch.
Maximize flight time with these balls.
The thin cover gives a soft feel on the hits.
Improved aerodynamics and dimple design give accuracy and enhanced performance.
Things that can be improved
These balls come at a price. Beginner golfers will have a hard time for losing balls.
Final verdict: For an overall value for your money, these Srixon balls are highly recommended. Buying these balls is a good investment in the long run for hardcore golfers.
Other than the expensive part of it, these balls are one of the best quality balls available for you.
For Women: Best Golf Balls For Women
3. Srixon Q Star Golf Balls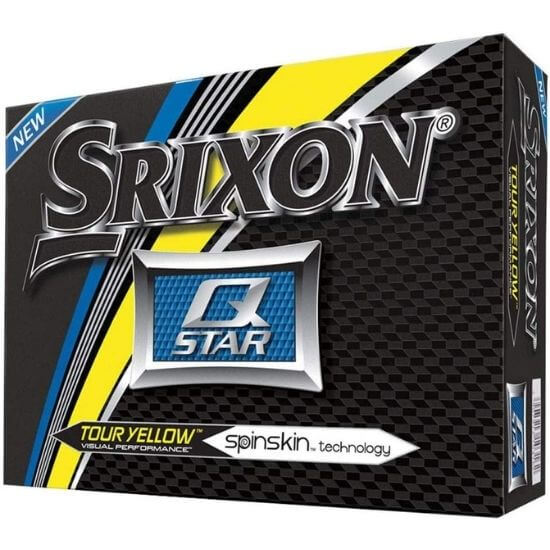 Srixon Q-Star golf balls are best known for providing control over spin. The ball has a low compression score which gives a good feel when hit.
During your driver shots, the spin is greatly reduced. That means your shots will gain more distance and stability.
In windy conditions, the performance of the ball is exceptional because of its 338 dimple design.
The balls are made focusing on spin control. So, they are not the most forgiving ball in our list.
But the urethane cover adds durability which many senior golfers sought after.
Things we liked
Unmatched spin control.
Well crafted for senior players.
Durability can be trusted.
Accuracy is decent.
Things that can be improved
Can't trust the distance generated from these balls. Other balls in this list are better regarding distance.
Final verdict: These balls are very cost effective and durable. So, for practice sessions, these can come in handy. If you buy these balls, you have to sacrifice distance for spin control.
But if spin control is your major need, then these are good balls to have in your bag.
4. Chromax Metallic M5 Colored Golf Balls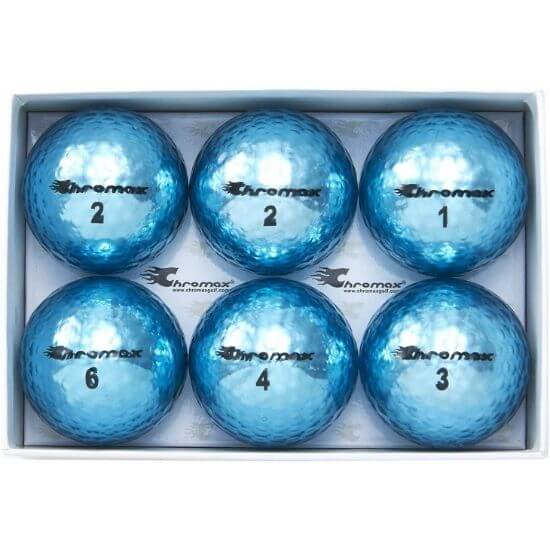 The Chromax Metallic golf balls are great for visibility in low lights. These balls are also durable for their surlyn covers.
For achieving longer distance, these balls are a good fit because of the dimple design. The balls look unique for its metallic color.
The features of these balls are suited for almost all sorts of golfers. But the colors add a unique value to the overall product and is great to have a set of them in your golf bag.
Things we liked
The durability of the balls can help them last many rounds.
Can achieve more distance in the greens.
High visibility is added due to metallic colors.
Playing in low light conditions will be advantageous.
Have strong core that provides greater energy during the shots.
Things that can be improved
Looks fancy for an experienced golfer to use them.
Final verdict: Many senior golfers have problems with ball visibility. If you can't see the balls when you hit them, chances of losing balls are high. Solve your visibility issues with these balls.
5. Precept Extreme Golf Balls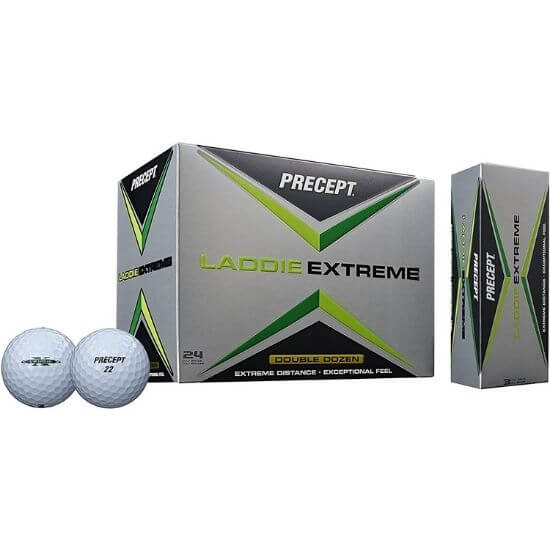 The user reviews we analyzed gave us a common verdict for these balls. It's the longest distance that users have been able to gain using these balls and that too with slower swing speed. Good enough for senior golfers right?
The balls' performance is good with drivers for senior golfers and irons. As with drivers, long and straight shots have been easier to make, while with the irons you can get a softer feel.
These are one of the best balls that are worth the money. You get 24 in a pack at a very affordable price.
Things we liked
Gains more distance than the Wilson Smart cores.
Senior golfers with a slow swing speed can be satisfied with these balls' performance.
Shots with drives fly straight with minimal spin.
Huge value for money, probably the best in the market.
Things that can be improved
The balls wear off quickly, but keeping in mind the price, its worth the money.
Not visually attractive.
Final verdict: Senior golfers can give a try with these balls. From the reviews, we analyzed, most users who tried these balls mentioned about their benefits for slow swing speed. Overall considering the cost and functionality, these balls are highly recommended for senior golfers.
6. MG Golf Balls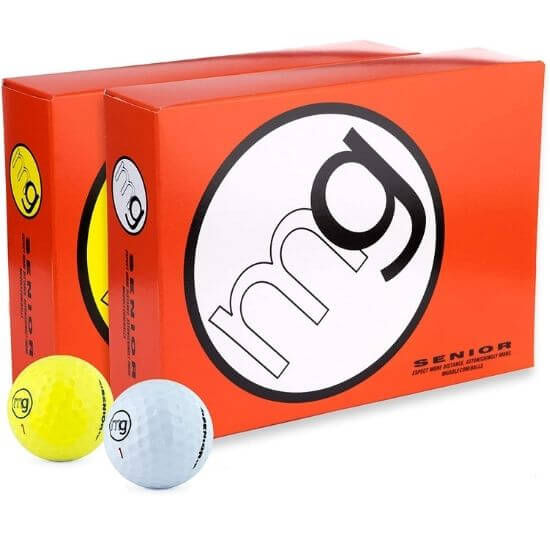 These golf balls are tailor-made for you as you. You get to choose from 3 colors: white, yellow and pink.
For gaining more distance on your drives, these balls are best. So, if your drives are only 250 yards, then we highly recommend getting these balls as soon as possible.
As it's made for seniors, it will definitely be valuable for golfers with slow swing speed.
The soft feel of these balls can make you love them. But the only problem is these balls are not USGA conforming. This means you can't use them in major tournaments.
These are also expensive from most other balls.
Things we liked
Tailor-made for seniors.
Provides more forgiveness and fun to play with.
Gain distance with ease.
The feel of the balls is unmatched.
Things that can be improved
Illegal to use in tournaments.
Expensive.
Final verdict: For recreational golfers looking to spend a good time with shots, these are a 'must have.' And senior golfers can practice with these balls as the balls will suit your gameplay. But avoid them for tournaments.
7. Titleist DT TruSoft Golf Balls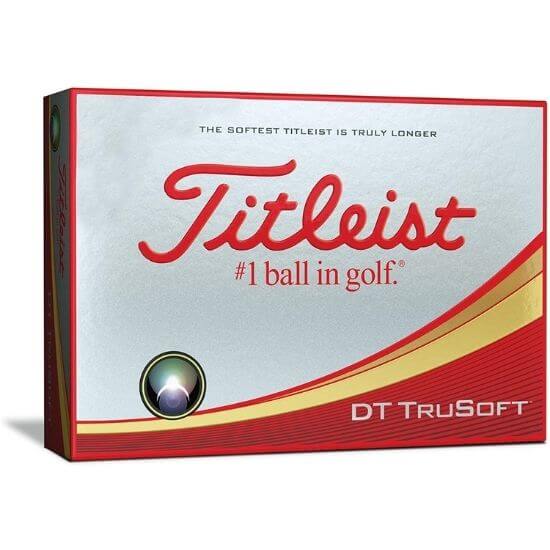 Titleist hardly ever disappoints golfers. From a range of different balls, you can get one that fits your style of play.
These golf balls from Titleist have a great combination of features suited for you.
Making the distant shots are easy and the balls travel faster than many other balls. The softer feel is great to have, and the price is affordable as well.
The balls are lighter but don't compromise the control and responsiveness of your shots.
The balls are designed in a way that golfers with any skill level can reap benefits.
Things we liked
Solid core enables higher speed.
The superbly designed dimples offer more ground control.
For shorter games, the performance of these balls is unmatched.
Things that can be improved
The only issue regarding these balls is accuracy.
Final verdict: Senior golfers who are focused on gaining accuracy are not encouraged to buy these balls.
Other than that all other features of these balls can be a game changer and help you keep your performance level high.
8. Bridgestone E5 High Flight 2-Piece Golf Ball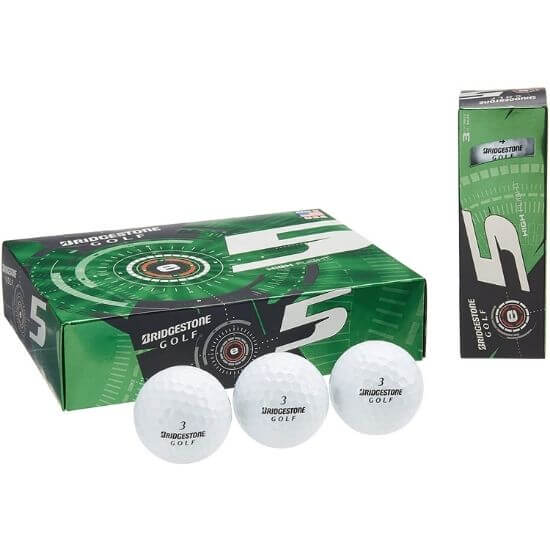 These balls are very penetrative through the air. Double dimple design feature allows superior loft and flight performance.
Most of the features of these balls are suited for senior golfers. Your shots will be more accurate and travel in quick time.
It's popular among senior golfers making it one of the best golf balls for you to consider buying.
Things we liked
Extra distance? Yes. low swing speed? Not a problem anymore. These balls deliver as promised.
Longer flight duration on every hit can be achieved. The design improvement has been revolutionary.
Comes in a budget. Losing a ball will never be a problem again.
The ball rolling is as good as the ball flight. Hitting targets is easier.
326-web dimple design adds improvement in the surface coverage.
Things that can be improved
Need more calculated and well-planned shots. Not recommended for beginners.
Final verdict: Skilled senior golfers will be happy for almost all of the features of these balls. But senior golfers who have just started playing may avoid these balls. But overall, these balls have the high-performance capability if used effectively.
9. TaylorMade Burner Golf Balls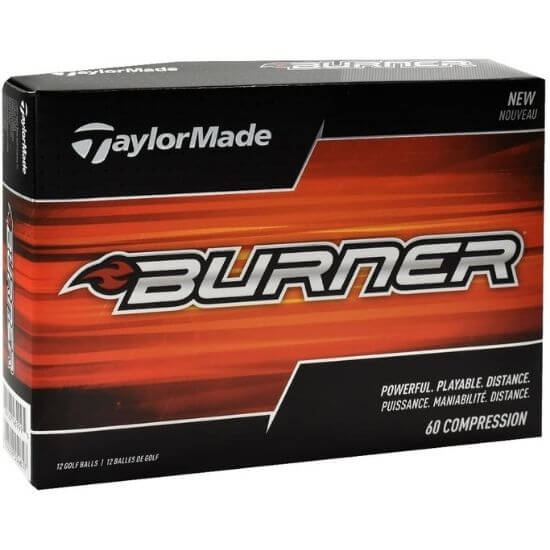 You may have golf balls of various types and from various brands. But these TaylorMade Burner Golf Balls are a 'must have' in your golf bag.
For improving performance level, these balls are best. The two-piece design with 342 dimples and 60 points of compression can offer superior advantages.
The react core technology implemented in these balls provide a softer feel on hits. This can boost the confidence level of beginner golfers.
Things we liked
Superior durability can be gained from these balls.
The high dimple counts lower air resistance for better control.
Achieving greater distance and higher speed is easy with these balls.
Things that can be improved
A distracting sound is generated when hitting with putters. The sound can be heard when the club head hits the balls.
Final verdict: These balls have an all-around good performance. Best suited for senior golfers as the features can help improve the game. The unpleasant sound these balls make on impact can be painful for many senior golfers.
Seniors Golf Ball Buying Guide
The game of golf is different for different types of players. That's the beauty of the game. You get to choose every equipment that you will feel will suit your game.
Dear senior golfers, there are 2 things to consider when buying your golf balls: Price and what you want from your game.
Price
If you are a casual senior golfer, then balls that come in the budget would be preferable. Regular senior golfers should always choose high-quality golf balls or any other equipment in golf. Because at the end of the day performance is what matters.
What do you want from your game? Distance, ball control or spin?
You might have had the fastest swing speed when you were young. But days have changed now! But, it's not hard to change your golf balls and keep your performance optimal.
With a slower swing speed, it becomes hard to gain distance. For those of you who are highly focused on gaining distance, it becomes easier to choose between balls. So, you should choose balls that offer higher distance on slower hits. In that case, soft cover balls are best for you.
Even if you are focused on more ball control or spin, you should decide on it before buying the balls. This will help you narrow down brands and the balls they offer.
Now let's go a little further. We have listed below 4 criteria which you can use to differentiate balls that are made for you from the other balls.
Ball cover: Surlyn or urethane?
For senior golfers, a surlyn cover golf ball can offer durability and are also easily affordable. This is not the case for urethane cover balls.
Surlyn cover balls can give you more control and straighter shots with low trajectory. That seems good enough for a golf ball.
But for enthusiasts looking for higher backspin, urethane cover balls will be perfect.
Construction: two-piece or three-piece?
Two-piece golf balls can do wonders for senior golfers like you. You want more distance, and you want it with average swing speed, go for the two-piece balls.
However, if you want more control and spin, then three-piece balls can be handy. The downside you lose distance.
Dimples
Nah not the dimples on your grandchild's face or your sweet wife! But yes, dimples are an essential part of golf balls.
Dimples help in reducing air resistance and provide golfers with enhanced abilities. For senior golfers, golf balls with wider and shallower dimples are preferable. Because these balls gain more distance.
Avoid: Balls with smaller and deeper dimples
Compression: low or high?
Low compression balls, as many golfers know, tends to have straighter trajectory and travel long distances on hits. So, Senior golfers should go for lower compression balls.
FAQ About Golf Ball for Seniors
Are golf balls for seniors different than other golf balls?
Yes definitely. Younger players have a faster swing speed which enables them to hit long and hard. But as for senior golfers, it's hard to generate speeds like the younger golfers. So, when choosing a golf ball they, have to take into consideration the distance the ball travels, control of the ball and durability. In some cases, visibility can also be major criteria.
Should I be concerned about distance or ball control?
In general, distance should be your top priority. Because with your slow swing speed, your drives will be weak with regular balls. However, using a ball from our list can definitely score better and have more fun.
Does the ball cover make any difference?
Ball cover comes in surlyn and urethane. The surlyn is recommended due to its durability, control and flight response. If you are still playing professionally, then go for urethane cover balls.
Does ball visibility impacts gameplay?
Ball visibility doesn't impact gameplay that much. But when you play in low lights, it's hard to see where your ball lands. Thus, after each shot finding balls become difficult. It can cost time and money as well.
Conclusion
All the golf balls reviewed in this post are one way or the other suited for senior golfers. Some balls can give you more control and some better distance. If you know your game well, you can quickly pick the balls that are made for you. But it's better to have different sorts of balls for multipurpose use. Choosing the right ball will make you look confident on the field as you will get value for your shots. Our reviews are always unbiased and focus only on the needs of the users.