"We don't quit playing because we grow old; We grow old because we quit playing."

― Sukhraj S. Dhillon
Age can't keep you away from playing it if you are a golf lover. Yeah, things have changed quite a lot as you may not have the swing speed like the old days. But can it stop you from playing golf, knowing that you are evergreen from the heart?
Of course not. Instead, the only thing that should change is the equipment to make the game easier for you. In today's time, manufacturers specially design equipment for suiting different types of players.
So, there are lots of options to choose from. This post will take you through the 10 best golf balls for seniors from different brands that are highly suited for your game style. You might have lost speed in these years, but choosing the correct ball can still help you play confidently, just like you used to. So, without any delay, let's get started.
10 Best Golf Balls for Seniors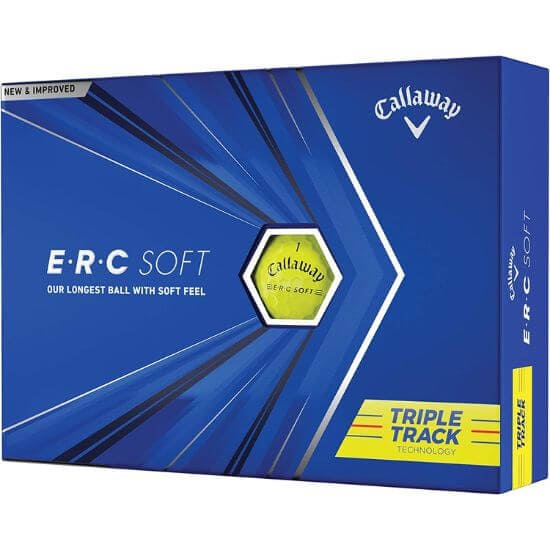 ERC Soft comes with the triple track technology. It not only helps in putting, this make it easier to identify your golf balls. Additionally, you have a yellow color option for finding it easily in the rough.
These golf balls with a 50-above compression rating and 3-layer design offer good distance and spin for slow to mid swing speeds. The high energy core enhances the ball speed that brings added distance.
It offers more control than Callaway Supersoft. But the concern is Erc Soft Triple Track comes at a higher price.
Benefits at a glance
Easier to compress and can gain extra 5-10 yards.
Offers a soft feel around the green.
It flies straight and provides accuracy.
Best for mid to high handicappers.
Drawbacks at a glance
It may roll farther than needed in the short game.
Final verdict
We chose this as the overall best because it offers a balance of distance, control and high visibility. The colored alignment stripe is a plus for senior golfers to spot them easily.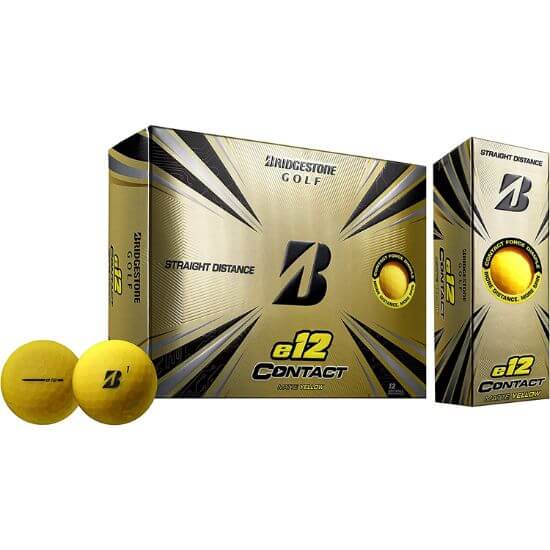 As the name says, e12 contact offers better contact. The contact force dimple is designed with a raised area in the center. It helps to make better contact. That results in faster and straighter shots.
At the same time, this very increased contact offers better friction, meaning more spin in the short game. While the dimple design assists in getting straighter shot by decreasing the sidespin.
It won't provide as much distance as Callaway Supersoft or TaylorMade Distance+. But e12 contact does provide more control than them in short game.
Benefits at a glance
It can offer 8-10 yards or more.
Provides a great feel when you hit it.
Gives out more greenside spin than Callaway Supersoft.
Drawbacks at a glance
It doesn't provide as much distance as TaylorMade Distance+.
Final verdict
E12 contact is for senior golfers who prefer both distance and control with decreasing swing speed. But if you prioritize distance more, E6 might be a better choice.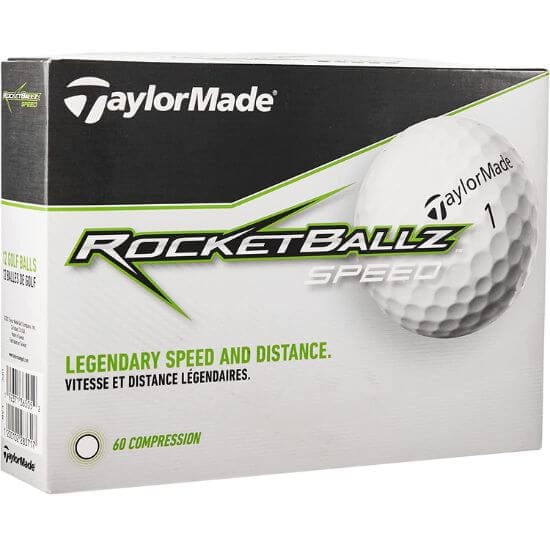 Rocketballz Speed is one of the cheapest on our best golf balls for seniors list. Despite being a TaylorMade golf ball, it comes under $20.
These come with a combination of 60 compression, ionomer cover and 2-piece construction. These features combined makes it easier to compress. That eventually results in better distance.
If you are a high handicapper senior golfer, this one is one of the best choices. But it's not a good choice for low handicappers. These golf balls have very low spin that may hurt the short game for low handicappers.
Benefits at a glance
It's very affordable.
These can add 10 yards or more.
It offers a softer feel.
Drawbacks at a glance
It's comparatively less effective in shot-shaping.
Final verdict
These golf balls are great for golfers with slower swing speed as an affordable distance ball. It won't provide much short-game playability. But beginners or casual golfers are unlikely to feel the difference much.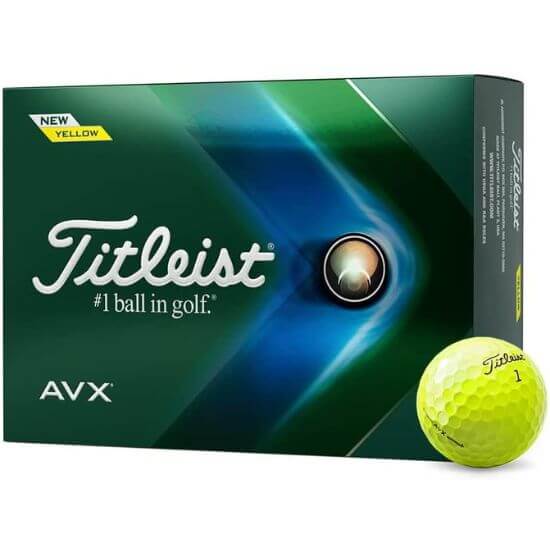 If you have been a Titleist Pro V1 user and losing distance recently, this one is a better choice. AVX being pretty much similar to Pro V1 provides better distance than Pro V1.
AVX with a 70-above compression rating, urethane cover and 3-piece construction provides great greenside spin required for shot-shaping.
However, having a lesser compression than Pro V1, AVX is easier to compress. That makes it a great option for senior golfers who want a premium control with a better distance.
Benefits at a glance
These golf balls offer better distance than Pro V1 with a swing speed from 90mph to 105 mph.
It lessens draw.
The greenside spin is quite great too.
It provides a softer feel.
Drawbacks at a glance
It offers less control than Pro V1.
Final verdict
Like most other premium golf balls, this one also focuses more on the control. What makes it different is, it's easier to compress. That helps you gain more distance.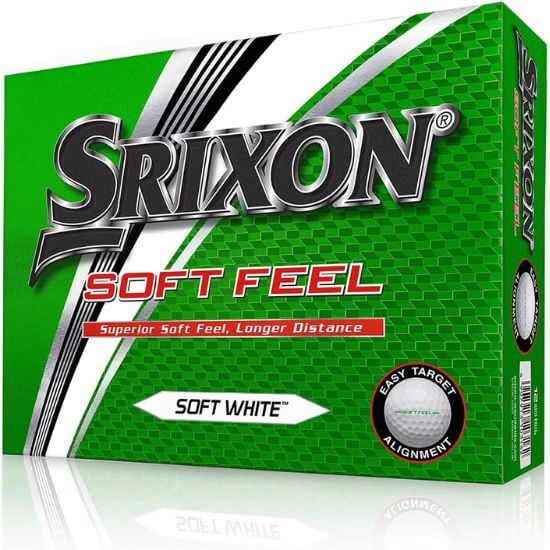 Srixon Soft Feel comes with a compression rate of 60, meaning it can provide both greenside control and longer distance. The specially engineered cover increases the greenside spin. And it helps to give out a softer feel while you are pitching or putting.
These golf balls have a 338-speed dimple design that increases lift. Though it is a softball, it is not as soft as Wilson Duo Soft+ or TaylorMade Soft Response. And as the extra yardage it provides isn't that much, it is more suitable for seniors with mid swing speed.
Benefits at a glance
It offers a good level of greenside spin and control.
Gives out a soft feel.
It provides accuracy and consistency too.
It reduces drag.
Helps to increase ball speed.
Drawbacks at a glance
It is comparatively less durable.
It is harder than Wilson Duo Soft+ and TaylorMade Soft.
Final verdict
Srixon Soft Feel is for senior golfers with 80-100 mph swing speed. And as it doesn't have ultra-low compression for distance or high compression for spin, it suits mid handicappers more.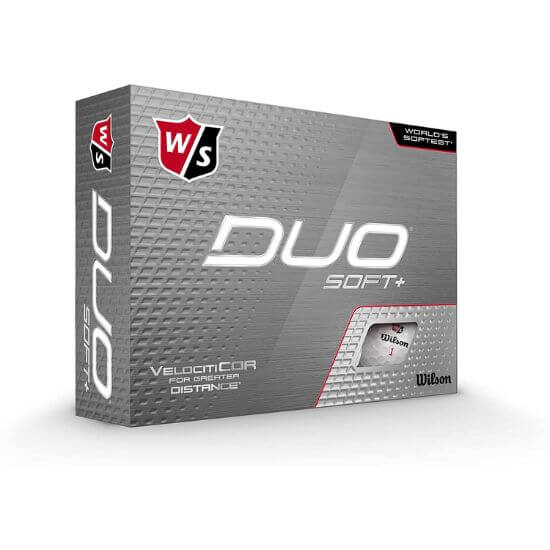 Wilson Duo Soft+ comes with ultra-low 35 compression, Surlyn cover, 2 layer construction, and 302 dimple pattern. All these features combined help to make the golf ball go farther. In addition, the Surlyn cover makes it more durable than other golf balls.
The new core technology helps extract the energy from your swing when you hit the golf ball. Then, enhance it to present you with better shots.
The concern is that the low spin makes it not a good option for short-distance shots and high swing speed.
Benefits at a glance
It provides consistency.
Offers extra yards for every shot.
These are comparatively durable.
Drawbacks at a glance
It's not ideal for short game shots.
Final verdict
Wilson Duo Soft+ is suitable for golfers under 85 mph swing speed. It extracts and boosts up the power of the shot to help score better.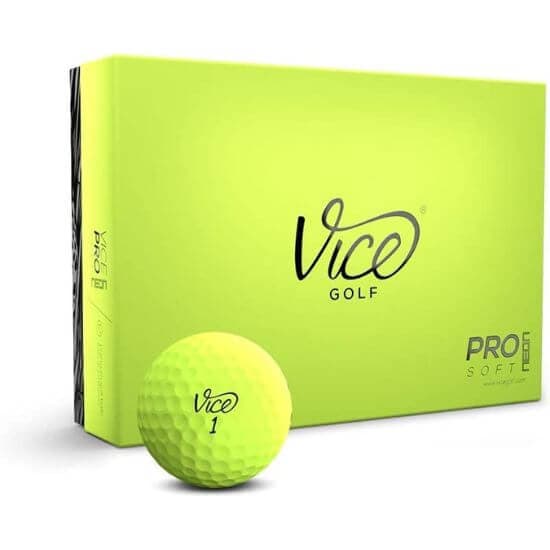 Vice Pro Soft comes with glossy urethane cover. It's easier to spot. The extra-thin cover material and 3 piece construction helps to give out a premium ball-like feel as well.
Unlike Vice Pro, Pro Soft's compression is engineered to give better distance. That offers both extra carry and roll distance. It gives better roll than even the famous Titliest Pro V1. This also means short game playability of these golf balls are less than Pro V1.
Benefits at a glance
It rolls better than Pro V1.
Offers great control and spin on approach shots.
It can gain 5-12 yards or more with drivers.
Drawbacks at a glance
These golf balls tend to get dirty easily. They are also comparatively less durable.
Final verdict
Vice Pro Soft is best for 80 mph to 95 mph swing speed. It's easier to compress and provide plenty of greenside control. The gloss provides higher visibility too.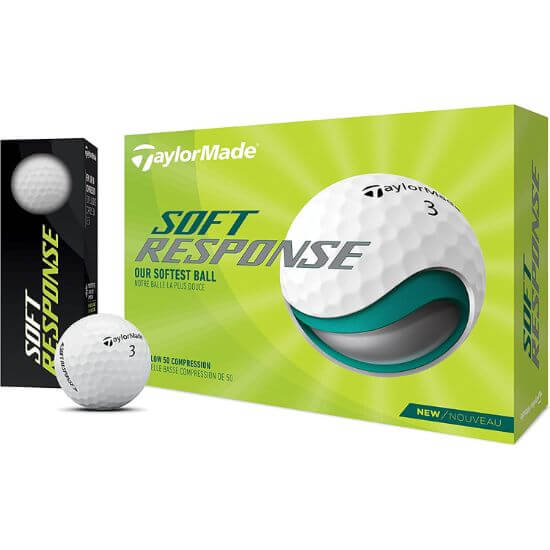 Soft Response is engineered with a low 30 compression core. It gives out a softer feel and lower spin on shots. The extended flight dimple pattern helps these balls to have a better carry distance. That results in extra yards.
These balls combine the 3 layer construction and soft-touch Ionomer to offer you better greenside feel and control.
But that still isn't good enough to be ideal for senior golfers with high swing speed. It is more for the low to mid swing speed.
You might like Tour Response more if you are more into tour-like golf balls. It comes with 3 layer construction too. With 70 compression rating and urethane cover, it offers more greenside spin.
Benefits at a glance
It offers a softer feel.
Provides low spin and travels farther.
Available in different colors to ensure visibility, especially the yellow color option is great.
Drawbacks at a glance
It provides less distance than Callaway Supersoft with slow swing speed.
Doesn't provide much control over shots.
Final verdict
TaylorMade Soft Response is for senior golfers with low to mid swing speed. It gives out a great feel off the iron or while putting as well.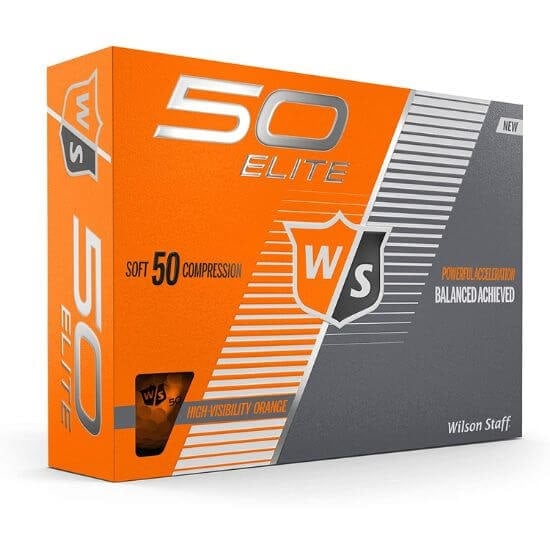 The specialty of these balls is that they provide comparatively lower side spin with a golf driver, meaning a straighter drive off the tee.
Wilson Staff Fifty Elite's 50 compression rate offers better ball speed. At the same time, the dimple design helps to hold out a stable ball flight. This brings extra yardage gain.
The spin rate might not be like Pro V1, Fifty Elite is still pretty good for swing speed under 90 mph. It helps to provides a balance for both distance and shot shaping for that swing speed range.
Benefits at a glance
It helps to make the ball flight straighter.
Generates a lower driver spin.
It offers good visibility with various color options.
Offers more greenside spin than Wilson Duo Soft+ and TaylorMade Soft Response.
Drawbacks at a glance
It provides less distance than Callaway Supersoft with slower swing speed.
Final verdict
Golfers with a swing speed under 90 mph will get the best results from these balls. It offers better accuracy in shots too.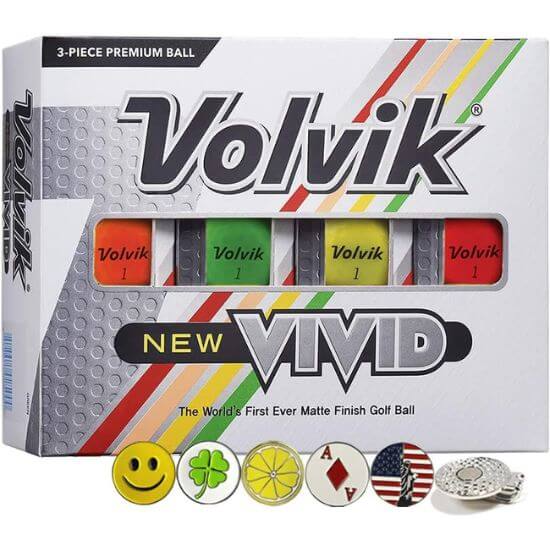 Volvik Vivid stands out for their high visibility. It has more than 6 color options to choose from. They also come with a matte finish to minimize sun glare and increase visibility.
Talking about the performance, it provides more greenside spin because of the compression rating above 65. The 3 piece construction enhances the spin performance.
The best thing about these balls is that they balance both the spin and distance. But neither the extra yardage is as much as Wilson Duo Soft+ nor the greenside spin is like TaylorMade T5.
Benefits at a glance
It has high visibility with different color options.
Offers a balanced combination of distance and spin.
It decreases glare on the ball surface.
Drawbacks at a glance
The greenside spin isn't as much as TaylorMade TP5.
Don't travel as much as Wilson Duo Soft+
Final verdict
The highlight of Volvik Vivid is its high visibility. These balls combine a moderate level of compression and 3 layer design to offer both extra yards and greenside control. That makes it the best choice for above-average golfers with 85-100 swing speed.
Things to Consider before Buying Golf Balls for Seniors
The game of golf is different for different types of players. And that's the beauty of this game. You get to choose every piece of equipment separately that you feel will suit your game. So, dear senior golfers, what considerations should you have while buying a golf ball? Let's find out.
What do you want from your game? Distance, ball control, or spin?
You might have had the fastest swing speed when you were young. But days have changed. And, naturally, hitting with the same speed becomes difficult now. But by changing your balls according to your needs, you can keep your performance optimal to an extent.
With a slower swing speed, it becomes hard to make the golf balls go farther . In that case, it would be best if you chose balls that offer extra yardage even on slower hits, especially for those of you who are highly focused on gaining distance. Soft cover balls are recommended for you.
If you are focused on more ball control and spin, you should decide on it before buying the balls. For that, higher compression balls with urethane covers are good. However, it's important to mention that balls that usually provide longer distance offer lesser spin and control.
We have listed below 5 criteria that you can use to differentiate balls made for you from the other balls. Now let's learn about it in detail.
Compression: lower is better for extra distance and softer feel
Low compression balls usually tend to have a straighter trajectory and travel more on hits. As senior golfers usually have a slower swing speed, they need low compression golf balls to get more distance with less force. Moreover, the lower the compression rate is, the softer it will feel.
But keep in mind that minor differences like 5- 10 compression don't create noticeable differences in most cases. It is because of the expansion of technology. As there is no universal standard to measure it, different manufacturers choose different standards to measure that. But yes, significant differences like 25 compressions or more do matter.
Ball cover: Surlyn or urethane?
For senior golfers, a Surlyn or Ionomer cover offers less spin and extra yards. They also offer you straighter shots. These balls are usually comparatively more durable and affordable.
That is not the case for urethane cover balls. It offers comparatively more spin-on iron or wedge shots for a better short game. Thus, urethane cover balls will be perfect for enthusiasts looking for higher backspin. These are ideal for the low handicappers and fast swingers. However, golf balls with urethane are comparatively expensive.
Construction: two-piece or three-piece?
Two-piece golf balls can do wonders for senior golfers. If you want more distance with a soft feel and you want it with average swing speed, go for the two-piece balls. However, if you want more control and spin, then three-piece balls can be handy. The downside is you lose distance.
Check the differences between piece number.
Visibility
With age, it is normal to have weaker eyesight. Considering this, you need to choose a golf ball that has high visibility in the rough. Bright white is good to go. But bright yellow, orange, pink, peach-colored balls are easier to spot.
In addition, if you are someone who always uses golf balls with markings or alignment aids, make sure to check the visibility of the alignment too. As they are even smaller than golf balls, choose the one that has bright-colored markings. Or you can just draw a sharpie using colored markers.
Dimples
No, not the dimples on your grandchild's face! But yes, dimples are an essential part of golf balls. Dimples help in reducing air resistance and provide golfers with enhanced abilities. For senior golfers, golf balls with shallower dimples are preferable because these balls offer a higher launch. And as a bonus, it offers more durability too.
Frequently Asked Questions
Conclusion
All the golf balls reviewed in this post are one way, or the other are the best golf ball for seniors. Some balls offer you more control and some better distance. Choosing the right ball will make you confident on the course. If you know your game well, you can quickly pick the balls that are made for you. But it's better to have different sorts of balls for multipurpose use.
If you have any inquiries or opinions about the article, feel free to comment down below.
Happy golfing!