This post may contain affiliate links and we may earn a small commission for no extra cost to you.
This is how we keep NiftyGolf free. Learn more about our affiliate disclosure here.
OptiShot2 isn't just a simulator made up of various components. It's the result of extensive research and development. This award-winning simulator is recognized for its extraordinary quality and for delivering accurate results in both swing and ball shots.
OptiShot2 has everything you need. With the ability to play from the comfort of your own home, this simulator features stunning 3D graphics, exciting gameplay options, and the ability to play with up to 4 players. Additionally, it offers multiple camera views to enhance your virtual golfing experience.
But is it the best golf simulator for a limited budget? How can the packages benefit you? We will be reviewing them in this article.
Optishot 2 Golf Simulator Review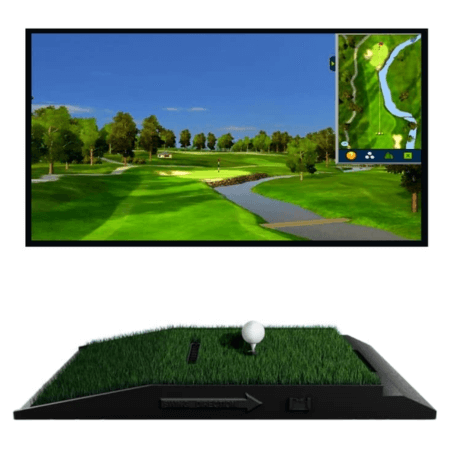 OptiShot2 is a golf simulator that caters to all types of players, regardless of their skill level. It features 15 world-renowned courses and offers a realistic environment for an immersive golfing experience. It's perfect for multiplayer games, accommodating up to 4 players. By subscribing to the OptiShot Season Pass, you can take your game to the next level and compete with golfers worldwide to win prizes.
OptiShot2 is well known for its technology, providing accuracy in swing and feedback on every shot. It's portability and relatively affordable price make it an excellent investment for any golf enthusiast. Also, it can be used with both foam and real balls, making it more versatile.
However, there are some areas where OptiShot2 could improve. Practicing putting can be challenging with Optishot. Additionally, the graphic detail is relatively lower, and the lighting requirements can be strict. It requires good lighting conditions to accurately track the player's swing, which can be a challenge for users with poor lighting in their indoor space.
What's the difference between Optishot 1 and 2?
There are hardly any differences between Optishot and Optishot 2. The major difference between Optishot 1 and Optishot 2 is the updated software. The hardware is almost the same. You can update the software, too, if you own Optishot 1 for $100.
How accurate is Optishot 2?
Optishot golf simulator is slightly less accurate than Skytrak, but the margin of error is too narrow to consider. OptiShot 2 can give you accurate data in ideal conditions. Considering the price of optishot 2 golf simulator is entirely accurate than most other golf simulators in the same price range.
How do I make my Optishot more accurate?
Optishot 2 is developed with infrared sensors technology. The accuracy of this golf simulator depends on proper lighting. Besides the lighting, proper setup and accurate swing are also responsible for better accuracy.
What lighting is best for Optishot 2?
Lighting conditions are crucial in optishot performance as it uses infrared sensors. Fluorescent or LED lighting will work best for OptiShot. Optishot can be used indoors only and away from sunlight. Warehouse lightings like Sodium Vapor or Metal Halide shall also work well. We recommend having overhead lights than side ones to avoid shadows on the simulator, which may affect its performance.
Pros
Affordable but accurate
Easy setup
Multiplayer mode
Multiple courses
Cons
Limited graphics
Requires good lighting
Limited club options, No putting practice opportunity.
How Much Does the Optishot Golf Simulator Cost?
Optishot produces quality golf simulators at an affordable price. As you can see in this article, we have discussed 5 packages from Optishot, and the price ranges from as low as $1000 to as high as $5000. For a quality golf simulator, the prices are worth it. If you wish to buy any of these packages in installments, you can do so. The expense then gets distributed, and the simulator becomes more affordable.
What do you need to set up Optishot 2?
Setting up Optishot 2 is a few steps away once you have fulfilled all the requirements to set it up, like space requirement, lighting requirement, minimum system contents, and package contents. The setup process is like the following:
Hardware Installation
Software Installation
Start, Register & Update
Testing Functionality
Visit here for a more detailed process.
How to make a stance platform for optishot?
There are a lot of stance platforms available on the internet, and some of them are specially designed for Optishot simulators, which costs around $200 to $500. But you can hardly customize them to your preferred size. You can make your stance platform for Optishot by following these simple steps, costing about a hundred dollars.
Materials needed:
Medium Density Fiberboard (MDF) – 1 pcs
Outdoor styrofoam insulation board – 1 pcs
Adhesive – 1 quantity
Indoor/outdoor green turf grass carpet – 1 medium size
Process:
Take an MDF board and cut it into your expected size first. MDF board is suggested as it is strong, plain, smooth, and perfect for absorbing the carpet adhesive glue easily. Cut the insulation board, too, and glue them. Before gluing them, make space for the wire access hole. Now on the MDF side, put some adhesive to attach the green turf. That will do for you. Let the turf set in, and then place it in your place, and you are ready to practice on your stance platform.
How to keep optishot sweet magnolia?
Sweet Magnolia can be downloaded and stored on your computer's hard disk to enjoy this wonderful course offline. Sweet Magnolia is an online course of learning and enjoying golf, primarily for beginners, which is only offered seasonally by Optishot. But if you wish to use it after the season ends, just download it and use it offline. Note that you can not rename it or use it on different devices, or go online to enjoy this course.
Conclusion
OptiShot2 is a golf simulator that offers a realistic and immersive experience for players of all skill levels. With 15 world-renowned courses, the ability to accommodate up to 4 players and accurate swing feedback, it's an excellent investment for any golf enthusiast. Additionally, the OptiShot Season Pass allows players to take their game to the next level by competing with golfers worldwide and winning prizes.
While there is room for improvement in accuracy, difficulty, graphic detail, and lighting requirements, OptiShot2 remains a leader in golf simulator technology. Its versatility in using both foam and actual balls, portability, and relatively affordable price make it an excellent choice for those who want to practice and play golf in the comfort of their own home.
OptiShot2 is an innovative and enjoyable product with a real indoor golfing experience. It offers an excellent opportunity to improve your golfing skills while having fun with friends and family. If you're a golf enthusiast looking for a great golf simulator, OptiShot2 is worth considering.