Do you know that you can afford one of the finest golf simulators even within a very reasonable budget? There was a time when golfers had to consider a fair amount of money to afford a simulator. But today best home golf simulators are available at every price range. Even having one of the best golf simulators for under $1000 is now a piece of cake.
If you want to save your money, you can also start with a golf simulator under $1000. Here we picked the top 4 from dozens of affordable golf simulator options. Because, compared to the price of others on the market, they can really save you a fortune.
4 Best Golf Simulators Under $1000
1. OptiShot 2 Golf in a Box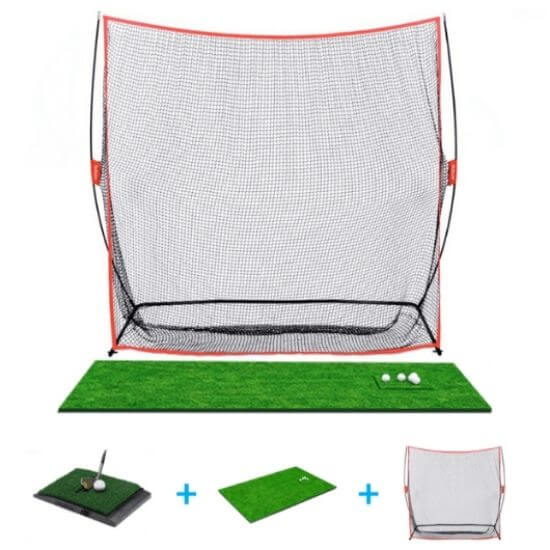 "You get what you pay for" – some simulators prove this concept wrong. Because sometimes you get more of what you pay for. OptiShot 2 golf in a box is such a golf simulator. It costs only around $700 while features the multiplayer playing options, user friendliness, online tournaments etc.
If you are a beginner and a mid or high handicapper, OptiShot is for you. Because it performs best as an entry-level golf simulator. Though OptiShot is not the most accurate one, it can help you gradually lower your handicap. The better golfer you are, the more accuracy you get from OptiShot. See how accurate a golf simulator is.
OptiShot 2 golf in a box simulator lets you do challenging things in a short time like setting up, downloading software etc. So it can be great too if user-friendliness is your concern. If you want to have your own golf simulator, learn how to build a home golf simulator.
There are two important things you need to improve for success in golf – clubface and swing path. This golf simulator focuses on both. Up to 4 players can play together.
Besides practicing with friends and family together, you get 15 renowned virtual golf courses to play! And you are able to play in the virtual driving range either with a real ball or a foam ball or without any ball.
What's exclusive in OptiShot 2 Golf in a Box
OptiShot 2 infrared optical swing pad
OptiShot 2 Software
OptiShot hitting mat
OptiShot full portable hitting net
OptiShot 2 swingPad and software
Things we liked
User-friendly
Realistic 3D environment experience
Weather condition setting option and multiple playing mode
Fun and easy to setup
Multiplayer playing option
Requires no ball to practice
Weather customization
Things that can be improved
Tracks only the club, not the ball
Less precise for low handicappers
Not for outdoors
Final verdict
OptiShot 2 in a box pro is best for training and flexibility. Recommended for lowering your score and ensuring game improvement. High profit with low investment!
Check Price at Shop Indoor Golf
2. Phigolf Mobile and Home Golf Game Simulator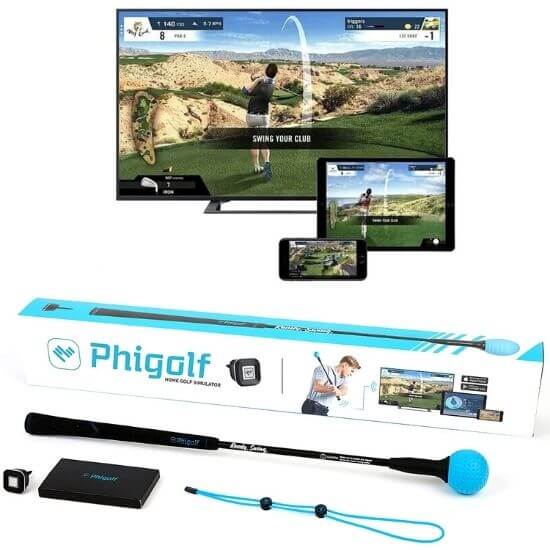 Phigolf mobile and home golf simulator is a wonder in the golf industry. Though this simulator does not have the similar features like OptiShot, it is worth buying for its own benefits. Whether you are a low handicapper or high handicapper, Phigolf is for you.
This golf simulator is very small in size and lets you play only within 2 feet. So if you can just manage a little space in your home or office, you are ready to start. It's not just playing with your fingers on the screen. You can use your real golf swing in Phigolf and see the data in mobile or TV with the help of their mobile app.
Phigolf simulator is both for indoor and outdoor use. It accurately analyzes your swing and gives data feedback. And you know how well you are playing. Besides, this simulator has an option named Phigolf Ability Test. It also informs you how much progress you are making.
There are multiplayer playing options too. A great opportunity to pass your leisure playing with friends and family! While practicing with the club, you can figure out where to place your hand for a proper grip. Because there is a mark on the club. It lets you fix your grip. Learn how to properly grip a golf club from our other blog.
Things we liked
Relatively small to carry out
Easy to set up
Any mobile app can be used to projects on big screen
Play online option
Up to 4 players can play together
Offers monthly online tournaments to join
Fun features
Both for outdoors and indoor
Things that can be improved
Online courses could be free of subscription fees
Sometimes, the putting sensors work less accurately
For the next shot, pause time option would be more preferable
Final verdict
If you are much more concerned about the flexibility of using a golf simulator anywhere around, try Phigolf. Regardless of a beginner or a professional, the Phigolf simulator is recommended for both.
3. OptiShot 2 golf simulator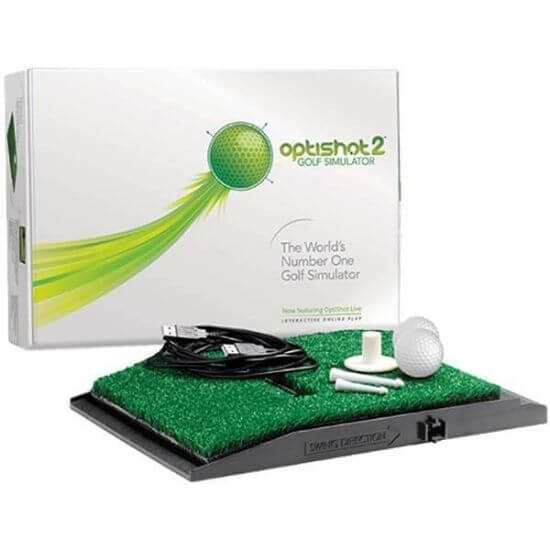 You cannot have any other golf simulators that can compete with the OptiShot 2 for its price. If you have a very low budget, even under $500, you can get the OptiShot 2 Golf Simulator.
This simulator doesn't really sacrifice the quality for the cost. You can see by yourself how it improves your swing, fix your slice and distance off the tee. Learn how to increase your swing skill and how to fix a slice from our other blogs.
When it comes to practice, either you can use a real ball or a foam ball. The most interesting fact is you can even play without any golf balls in the OptiShot 2 golf simulator. Because the sensors pick up the club head when you swing.
OptiShot 2 golf simulator comes with everything you need to start as a beginner featuring easy setup and simple use. Besides, OptiShot always tracks swing stats in a simple way. Free online courses are available too in this low investment. Try to avoid miss-hits. Because the more you can hit right, the more accurate data it will provide.
What's exclusive in OptiShot 2 Golf Simulator
OptiShot 3D golf software
Infrared optical swing pad
USB cable (10ft)
2 foam practice balls
2 adjustable rubber tees
Things we liked
Tracks all the club data
World class golf courses
Real-time feedback on each shot
Dynamic visual display
Multiplayer capability
Multiple camera views and putting options
Weather customization
Easy setup
Things that can be improved
Just for mid and high handicappers, not suitable for low handicappers
Only for indoors
Turf is not much durable
Final verdict
Recommended for mid and high handicappers as OptiShot 2 might be less accurate for low handicappers. Yet it gives a good simulation experience and is worth using at the beginning level.
Check Price at Rain or Shine Golf
4. Rapsodo Mobile Launch Monitor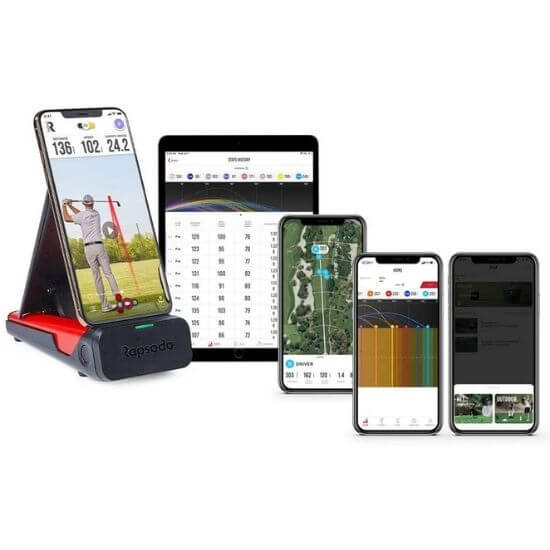 If you want the ease of use with professional level accuracy, Rapsodo mobile launch monitor can be your solution. And for this golf simulator, you just need to pay around $400. It's for both indoors and outdoors. So you can practice with Rapsodo too while hitting into a net.
This simulator gives instant video feedback data of each shot including ball trajectory. The built-in-camera records each of your shots and plays back. And this lets you make sure you are playing on the right track.
It has a GPS Satellite view option that can give you a feel of real golf course playing. Wondering how? Because it lets you see where your ball ends up just like the way you see in real golf.
There is also a flexible option to include the hitting mat with this launch monitor. It can help you play better. Or if you want the feel of real grass, check the best indoor putting greens.
Things we liked
Both for indoor and outdoor use
Easy to use and transport
Requires 4.3" distance from mobile that made the calibration easier
The gps system can locate where your ball ends
Easily tracks stats and shows game performance
Things that can be improved
Inconsistent accuracy
Launch angle seems less accurate
Final verdict
Rapsodo launch monitor is recommended for its ease of simulation, video feedback and shot tracking system. For the price, this is worth having a great simulation experience.
Things to Consider Before Buying
Buying a golf simulator under $1000 doesn't mean it comes with less options. There are still so many things to consider. Within this budget, you may have your own choice. And you should keep some certain things in your mind before buying one, Because there are still dozens of affordable simulator options available in the market, which one is ideal for you? Let's know in detail.
Handicap
You might be wondering how handicap is relevant to golf simulators. A home golf simulator can change your game by lowering your score or giving you a dynamic handicap. It depends on what simulator you are using. Some simulators are for high and mid handicappers, some are for low handicappers and some can suit both. Select the one that goes with your handicap. Otherwise it may bother you playing in your own style.
Size
Size is such an important thing that can help you play with the longest club as well as playing even within 2 feet. So size always matters whether it's an expensive one or a golf simulator under $1000. Check the width, length, and height of your room and match it up with the minimum space requirement of your affordable golf simulator. Sometimes it's just a mobile screen size that can be carried anywhere. It costs less than the big screen.
Tracking System
The tracking system of your home golf simulator is an important thing to consider. Because some tracking systems incredibly track all the data accurately whereas some do less accurately. Even for a golf simulator under $1000, you can have less accuracy if you pay less. So think, for which one will you invest?
Portability
Most golf simulators for under $1000 are lightweight and portable. But yet, some are just mobile golf simulators that are much more easy to carry. If you love the idea of playing anywhere inside or outside your home, you should consider portability.
Conclusion
Golf simulators are now more affordable than they were a few years before. That's why more golfers can easily participate in indoor play that was once out of imagination. Buying a golf simulator under $1000 is a huge opportunity for you to start with a pretty investment. Grab one according to your needs and start enjoying it. For more expensive options, check our top picks of the best golf simulators.