This post may contain affiliate links and we may earn a small commission for no extra cost to you.
This is how we keep NiftyGolf free. Learn more about our affiliate disclosure here.
Did you ever think of playing golf just within 2 feet? Even if you play with the best home golf simulators, you need a space that is at least more than 2 feet. But here is an example of this wonder, Phigolf WGT Edition which requires less space than usual.
Imagine, you are living in a small house. You don't even have an extra room to let your friends stay for one night. Working from dawn to evening, you are too tired to go out for a round of golf. But nothing can relieve you from stress except golf. Now how can you play your favorite sport?
If it is your situation, stop passing an idle time. Phigolf affordable mobile simulator is for you. Get ready to build your own golf simulator and play at your home by managing only a little space and saving your money. Stay with us to know more about the Phigolf simulator review.
Phigolf Mobile Golf Simulator Review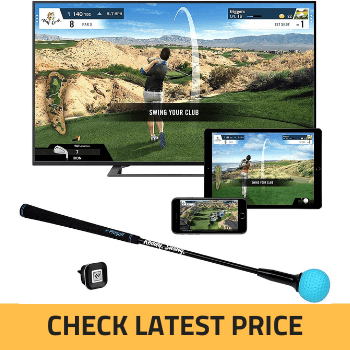 We have researched a good number of home golf simulators and made a list of top-quality affordable simulators. Among them, Phigolf is a notable one. We have analyzed this simulator according to its quality, performance, features, and benefits. And finally, here you get a complete review of the Phi golf simulator. Let's know in detail.
Looks and Performance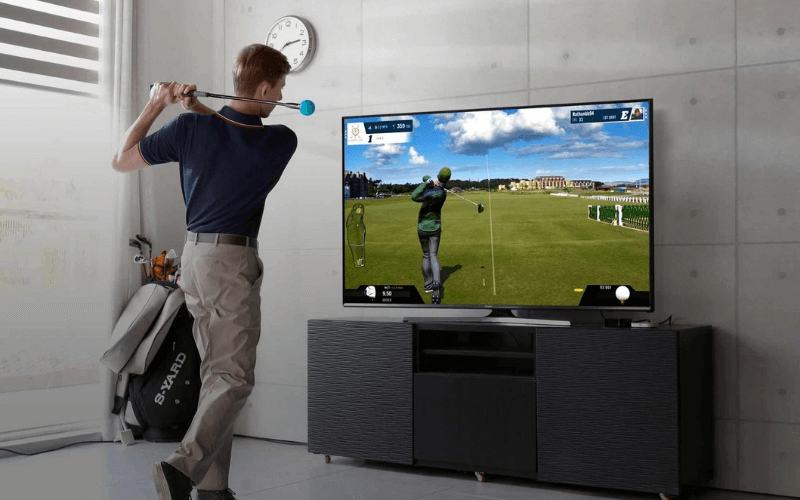 Phigolf mobile simulator looks very small as well as compact in size. An interesting thing you get here. That is you will find a marking in the grip which indicates where you should place your hands for a proper grip. So even if you are a beginner, it will make you clear about how to grip a club properly.
There is a blue ball at the end of your small club. And this makes the club look fairer with a shortened design. You know what? This club won't be as long as a real club. Yes, it's shorter than usual. Hence it will ensure you a comfortable swing and ease your hits. Besides, the sensor will fit your club in such a way that you won't even notice it.
The performance of the Phigolf simulator is worth buying. It offers you an accurate look with high-quality performance. And its "Play online" option ensures this. Another positive thing is that you can play with the Phigolf both indoors and outdoors easily.
The downloaded apps given with the Phi golf simulator will clearly show every instruction step by step. And these options will ease your setting up along with the installation process. If you feel tough using a mobile, you can mirror it with a TV to make it easier. In a word, it will take no time to get used to the Phigolf simulator.
Features and Benefits
Let's talk about the features you are getting with Phigolf. We have researched not only the features but also the benefits of each feature that you are going to enjoy. Because you will be thoroughly satisfied only when you can meet your desires. Like everybody, you might have your own choice and requirements. And we think this one can fulfill those requirements. No more words, it's time to go through the points.
Swing analysis:
You get the data of every distance, ball trajectory, club speed, swing tempo, different angle, etc. These data are necessary for checking how accurately you are playing. If you can track your performance once, improving your game will be so much easier.
Easy setup:
No need to work for extra setup. The instructions are enough to set the whole simulator within minutes. Just find out the swing trainer. It requires no ball or net.
Golf courses:
A lot of options of playing different golf courses in HD. All you need to do is to connect to a TV by using the Phigolf app. You are done. Now enjoy playing courses like in a real environment.
Small space:
We have already talked about it. This simulator requires not more than 2 ft to play with comfort. It's probably the best thing about this simulator. So why delaying? Start playing in your own living room.
PA test:
Don't be confused with the name. It means the Phigolf Ability test. It tells you how well you are playing, how much progress you are making etc. Which simulator can offer you such a test? Phigolf does.
Multiplayer modes:
Who won't love a simulator that has both online and offline multiplayer capabilities. Yes, Phigolf allows you to play with your friends and family. Up to 4 players can play together in this simulation system.
The following video can help you learn more about the Phigolf Mobile Golf Simulator.
Pros
Easy and quick set up
Compact size and portable
Very affordable
The capability of projecting on a big screen using HDMI from any mobile app
Greens offer slope
A lot of online courses
Options to play both individually and in groups
Great tools that ensure different look angles for visualizing a putt
Excellent graphics
Offers monthly online tournaments to join
Best swing analysis and precise data measurement
Fun features
Both for outdoors and indoors
Cons
Some golfers didn't find it interesting to play on mobile
Additional fees for online courses
A system user-adjustable pause time instead of clicking continue for the next shot would be better
Putting sensors don't always give accurate distance
You May Also Like: Best Projector For Golf Simulator
Frequently Asked Questions About Phigolf
Final Verdict
The combination of great tools makes the Phigolf golf simulator a more appealing kit for improving games as well as decorating the home. And if money is your concern, Phigolf will be an excellent choice for you at such an affordable price. If you have any queries relevant to this simulator, drop them here in the comment box. Or if you have any suggestions to add here, tell us. It would be our pleasure to answer you as well as honoring your opinion.