Your wish for golf simulators under $5000 is a reality now. There are plenty of options for this budget nowadays compared to the last decade, such as SkyTrak Training Package, FlightScope Mevo+ Bronze package, etc. Though the best cheap golf simulator may not provide an exclusive simulation experience like the premium ones, they are worth each penny.
We understand the value of your $5000 budget and got you covered. We have spent hours researching and reviewing numerous affordable golf simulators and found the following ones worth considering. Let's have a look at them.
Presenting the lineup of cheap golf simulators featured in this post. Browse through the list and click the link below to access the complete review section.
Review on 9 Best Cheap Golf Simulator
1. SkyTrak Training Package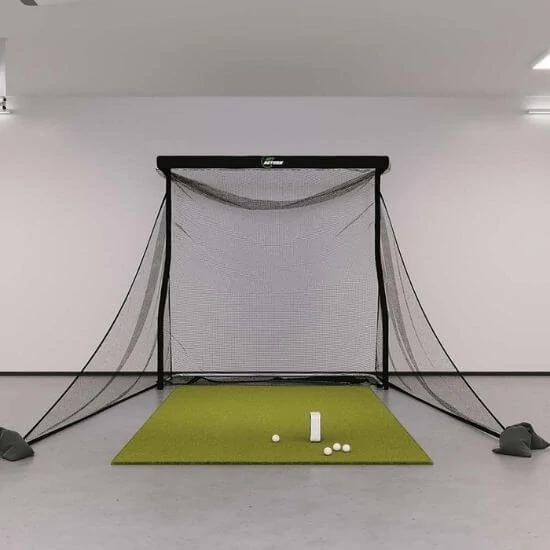 SkyTrak is the best; even Golf Digest has awarded them several times because it accurately tracks the ball. Most golfers want to use an accurate golf simulator like SkyTrak. And if it's available for under $5000, won't it be cool? Yes, besides the expensive packages of this cool brand, we found many affordable simulators. It includes a SkyTrak launch monitor, protective case, golf nets, side barriers, turf, rubber tee, and duffle bag.
Tracking the ball is more important for a golfer. You can quickly figure out where your ball ends. Then using the ball data, SkyTrak estimates clubhead speed. Thus you get the stats of all your shots.
Secondly, it is suitable for both indoor and outdoor use. So you can take this simulator from home to play in the sunshine. You can carry it even on a trip, although we recommend using SkyTrak at home because it's designed to be more accurate for indoor use.
Third, it provides game improvement features to train you to take your game to the next level. And that's why this is named SkyTrak training golf simulator.
Finally, the world-famous courses are available here. But you may need a yearly subscription if you want an extension to more golf courses. The minimum room dimension required for this golf simulator is 14ft in length, 10ft in width, and 8ft 6 inches in height.
Advantages
Portable
Very accurate
Visual feedback and ball performance data
Skill challenge options
A lot of game improvement features
It shows how far you hit your clubs with full and partial swing
One of the best golf nets
The net return feature of the mat works well
Easy to set up and use
Disadvantages
Less adjustable on grass and so less accurate for use outdoors.
Yearly subscription fees for SkyTrak software plans.
If accuracy is your concern, grab the SkyTrak golf simulator training package. Providing accuracy like high-end golf simulators, SkyTrak will give you a great simulation experience. And it's one of the best SkyTrak golf simulators that cost under $5000.
Check Price at Shop Indoor Golf
2. FlightScope Mevo+ Bronze Package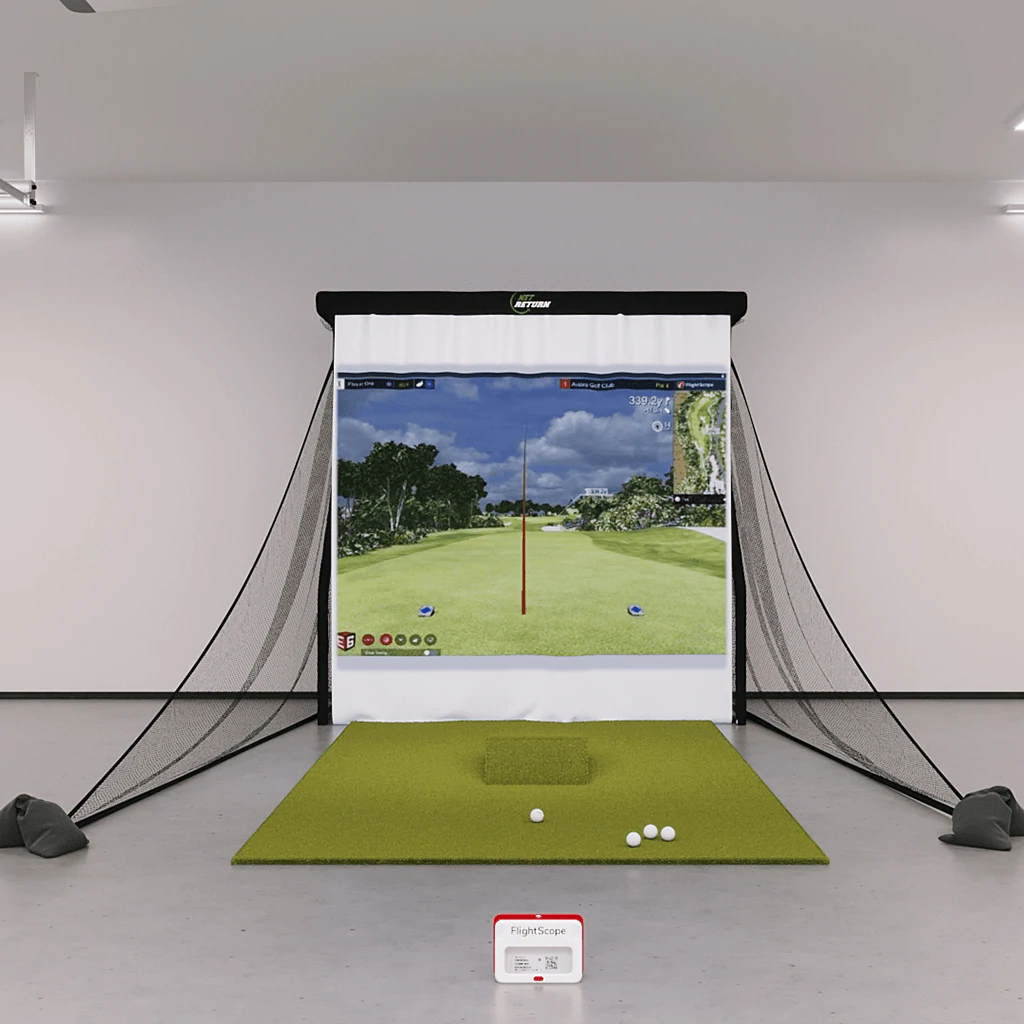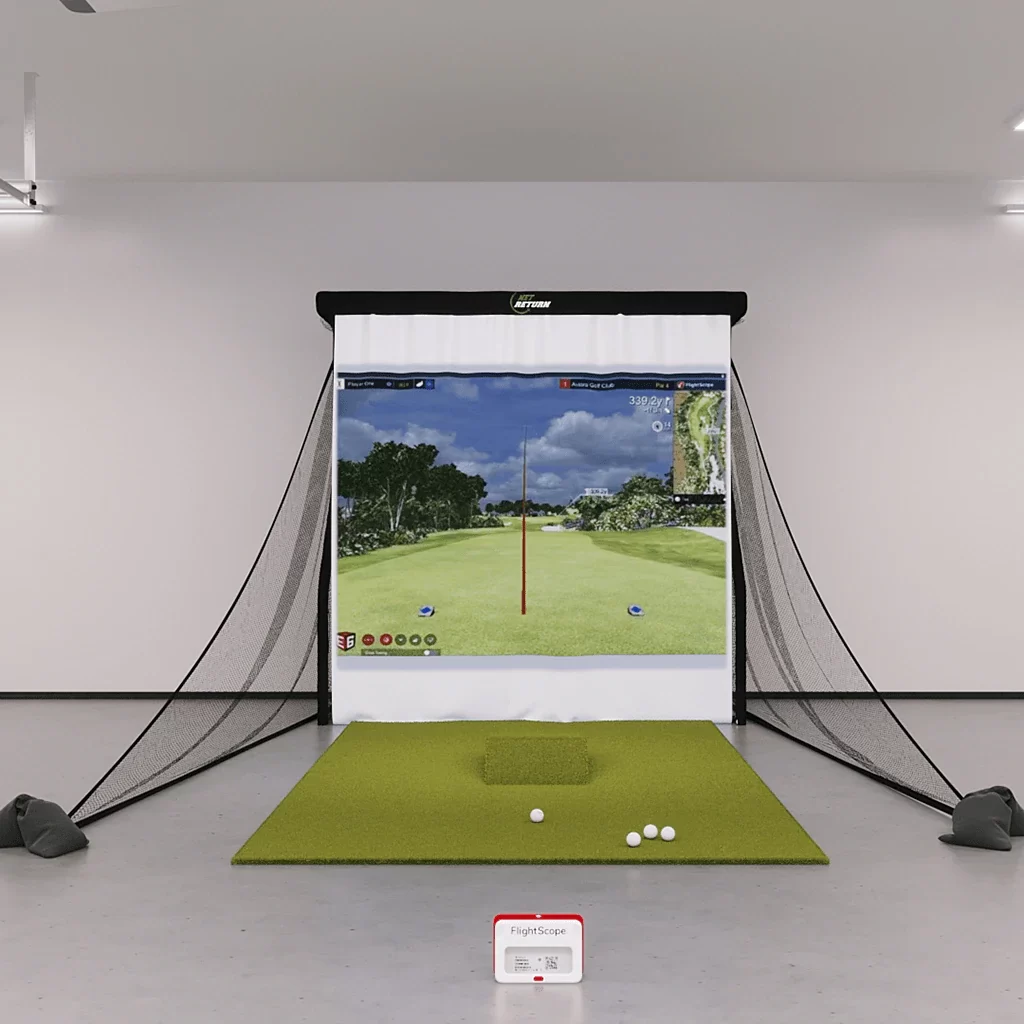 For those who like outdoor golfing besides playing indoors, the FlightScope Mevo+ Bronze can be a good choice. Mevo+ launch monitor uses radar Doppler technology to measure shot data. This tracking system works great for both indoor and outdoor use.
We would like to know what to consider as the required room dimension. You need enough space for this golf simulator setup. The minimum space requirement is 15ft in length, 10ft in width, and 9ft in height. Radar Doppler tracking systems require a large area for data tracking. That's why it's preferred outdoors.
Besides the Mevo+ launch monitor, this package has E6 software, Net Return Pro Series V2 net and frame, side barriers, screen, short-throw projector, projector shield (projector floor mount enclosure), and Net Return 6ft by 10ft Pro Turf mat.
The E6 Connect software comes as a package of 5 golf courses and 17 practice ranges. This golf simulator has two Net Return Home Series and Pro Series net choice options. Both have commercial-grade performance. The Home series net is smaller and less portable than the Pro series. So even though the Pro Series net version costs $5,029, you can spend it for ease of transport.
Advantages
Both screen and net are included
Portable launch monitor and net
Pro Turf mat features a continuous ball return
Five golf courses, 15 data parameters, 17 practice ranges
Accurate tracking system
One of the best indoor golf simulation projector providing 4000 lumens
Portable projector shield enclosure
Entertaining for indoor and outdoor use
Disadvantages
The Pro Series Net version requires $29 more than $5,000
No skill challenge feature
No multiplayer mode
Mevo+ is accurate in data measurement, no doubt. You can use this flex space golf simulator if you are willing to spend more than your budget.
Check Price at Shop Indoor Golf
3. Garmin Approach R10 Bronze Package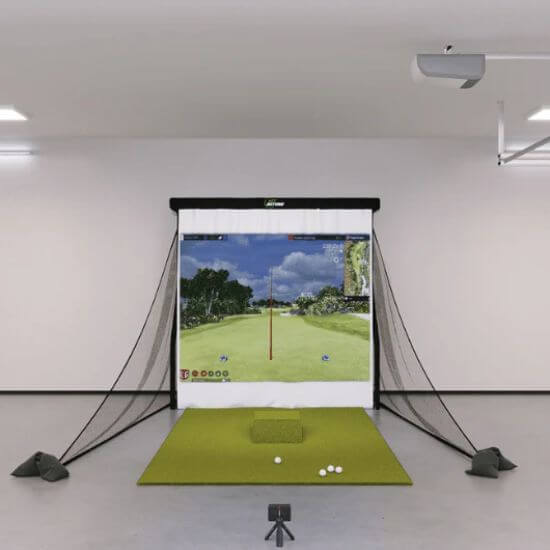 If a golf simulator rocks the industry after SkyTrak in 2014, it has to be the Garmin R10. Shop Indoor Golf has introduced a simulator using the Approach R10 golf launch monitor. After reviewing the simulator package, we found it worth considering for a budget under $5000 budget.
Garmin is known for its GPS and golf rangefinders. Since then, they have mastered the art of tracking. The R10 tracks various club and ball data parameters, including ball speed, club head speed, launch angle, and spin rate. All of these metrics are accurate and show similar results to FlightScope Mevo.
This home monitor can send tracking data to smartphones, tablets, and PCs. Just connect the Garmin app to it. It is compatible with E6 Connect golf sim software. E6 CONNECT is highly customizable and features the most realistic graphics.
It offers dozens of golf course simulations, minigames, training aids, tournaments, multiplayer formats, and more. The Garmin R10 and E6 combination offers the best simulation experience at an affordable price. The Pro V2 golf net is a good match with that combination.
Advantages
The R10 tracks various club and ball data parameters. And the accuracy is satisfying especially considering the budget.
Compatibility with E6 Connect is outstanding.
You can use this simulator both indoors and outdoors.
Disadvantages
The built-in app is only compatible with iOS devices.
You need a subscription to access more golf courses.
SwingBay Simulator Screen and Enclosure will effectively work for every level golfer who wants to enjoy good simulation with quality materials.
Check Price at Shop Indoor Golf
4. SkyTrak Practice Package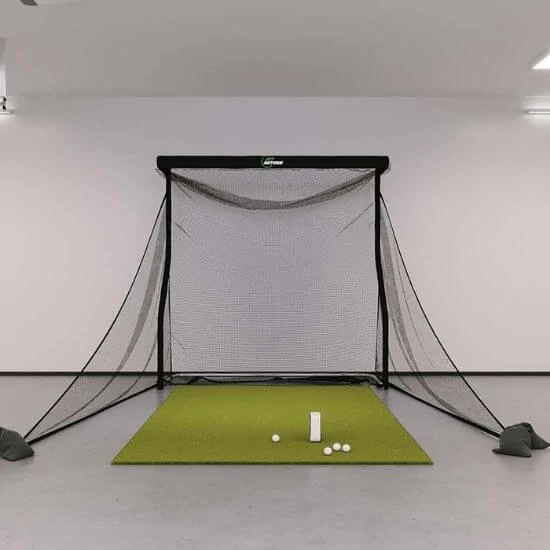 The name of the package describes its purpose. Yes, I am talking about the practice features. Practicing indoors or outdoors, whatever the reason, SkyTrak Practice meets the needs. Starting from $3,961, the price varies according to the customizable materials.
Including the SkyTrak launch monitor and protective case , the package comes with Game Improvement Software, Net Return Pro Series net, side barrier netting, choice of mat, landing pad turf, and gaming laptop. You can skip the laptop bundle with the package cost beyond $5,000.
SkyTrak launch monitor uses photometric technology that tracks data as accurately as the expensive golf simulators without costing much like them. Playing with TGC software in multiplayer mode is available with the Game improvement plan. It offers more features with access to more programs but requires a yearly subscription.
You don't need a large room to place this portable simulator. It requires a minimum of 12ft in length, 10ft in width, and 9ft in height room for the whole setup. There is no simulation screen but a Net Return Pro Series net and the choice of four sizes of SwingTurf hitting mats.
Advantages
Choice of golf-hitting nets
Additional tech bundle option
It doesn't require an ample space
Suitable for indoors and outdoors
Durable mat
Portable materials
Accurate data measurement
Disadvantages
It comes with no enclosure or screen
It doesn't measure club data
We recommend SkyTrak Practice for golfers, especially if the practice is necessary for you to prepare for the next tournament play.
Check Price at Rain or Shine Golf
5. FlightScope Mevo+ Training Package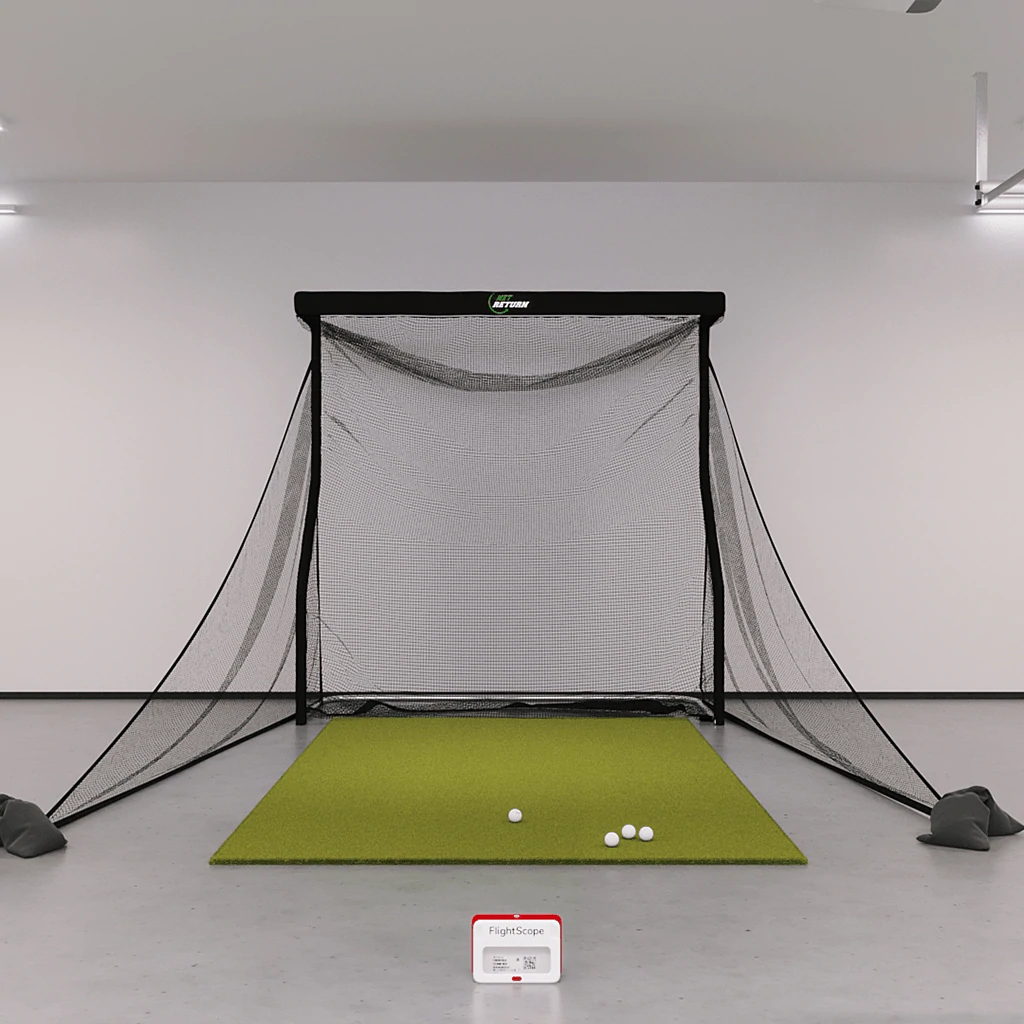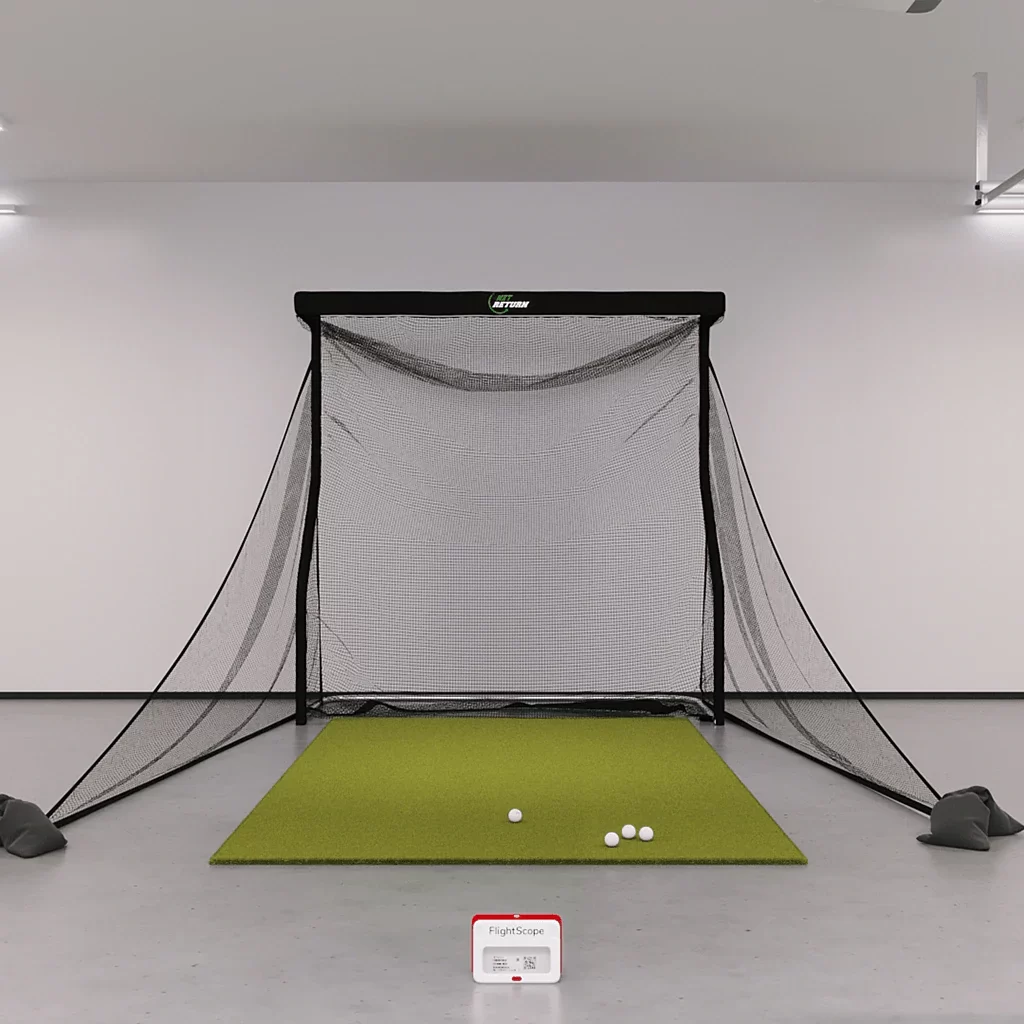 For those who want to consume all training facilities with a budget-friendly home golf simulator, FlightScope Mevo+ Training Package will be a worthy investment for them. Starting from $3,419, it has variations in price according to the net choices.
What you get in the package is a Mevo+ launch monitor, E6 simulation software, a choice of golf net, side barrier netting, and Net Return pro turf mat. Mevo+ is a radar-based launch monitor suitable for indoors and outdoors. Offering real-time visual feedback and 15 precise ball performance data helps train and improve games. E6 Connect software comes with five golf courses and 17 practice ranges.
Instead of a screen, the package has two choices of golf nets: Net Return Home Series V2 and Net Return Pro Series V2 net. Both are lightweight, handcrafted in USA quality, and as large as the traditional nets. The minimum room dimension required for this golf simulator is 15 feet long, 10 feet in width, and 8 feet 6 inches in height.
If you're looking for a complete package with a portable launch monitor, net, and practice mat for home use, this golf simulator has you covered.
Advantages
Lightweight and portable
Choice of golf nets
Large and durable golf mat
Suitable for indoors and outdoors
Automatic ball return feature
Traditional game modes like stroke, scramble, match play, etc.
Disadvantages
No projector or screen included
Limited golf courses
FlightScope Mevo+ Training package will fit any type of golfer who simply wants to be trained and entertained.
Check Price at Shop Indoor Golf
6. OptiShot 2 Golf in a Box 3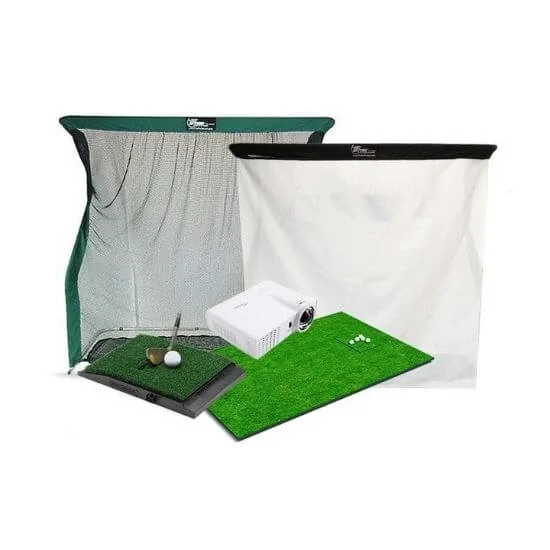 Even under $5000, there is best golf simulator. The Golf in a Box 3 from OptiShot Golf is one of those budget-friendly golf simulators. Including SwingPad, adjustable rubber tee, practice balls, hitting net, mat, projector, and attachable impact screen cost $3,350.
OptiShot golf offers the best affordable golf simulator on the market compared to the other options. It's not the most accurate, yet, it's good for showing swing and distance feedback. Know how accurate golf simulators are .
Until you are starting mis-hits, it will represent accurate ball flight. But there's also a solution to avoid mis-hits. If you can reduce the amount of reflection your clubs produce, it will help with the mis-hits. And to do this, you need to tape the bottom of your clubs.
The online play system is available here. So playing golf courses is a cool breeze for you. Besides, the multiplayer playing option ensures you can play with your friends. We recommend a minimum of 12 feet in height, 10 feet in width, and 9 feet in height for this golf simulator.
OptiShot golf doesn't necessarily require an absolute ball or a foam ball. You don't even need to use a ball. Cool, isn't it? You can check our top picks of best practice balls.
Advantages
Instant data feedback
Best for the double digits players
Requires no tool to install
User-friendly
Flexible to carry
For both indoor and outdoor use
Able to create ball data without a ball
Disadvantages
Not for high handicappers
Less accurate than HD Golf or Trackman
OptiShot 2 golf in a box 3 allows you to reap the benefits within a very reasonable budget. I Recommend this affordable golf simulator for you if you want to have fun and save your money at the starting level.
7. FlightScope Mevo+ Practice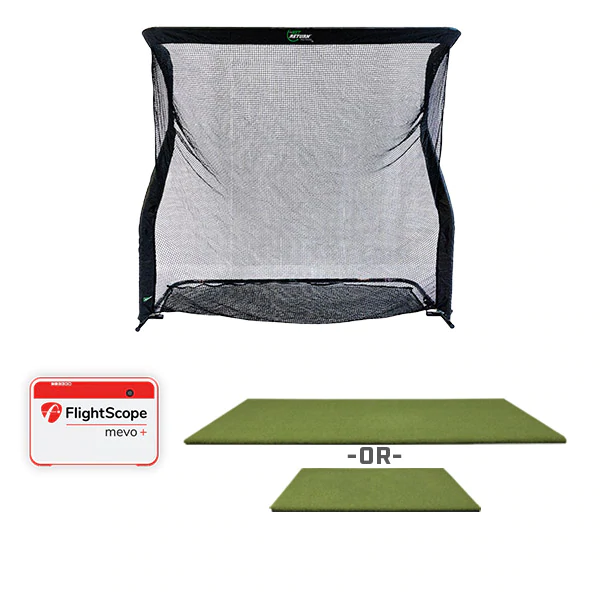 Mevo+ Practice golf simulator has everything you need for a complete setup. Whether included for indoor or outdoor use, the included pieces of equipment will give quality service. You need to buy the projector screen separately if you want the net and screen to hit.
Excluding any iPad or gaming laptop bundle, including the E6 Connect software, the package costs $3, 661. The price also varies according to the choice of golf-hitting mats. It's a portable golf simulator. There is a net included instead of a screen. It requires a minimum of 9 feet high, 11 feet wide, and 17 feet long room for the whole setup.
Here you get a Mevo+ launch monitor and carrying case, the choice between E6 Connect or TGC simulation software, the Net Return Pro Series net, side netting barriers, landing pad turf, iPad Pro, or gaming laptop. Choice of hitting mats includes four large-sized SwingTurf hitting mats (two with landing pad turf, two without).
Advantages
Choice of golf hitting mats with landing pad turf
Easy to carry
Net Return Pro Series Net
Multiplayer game mode
Accurate ball performance data
Visual feedback
Side barriers
Choice of simulation software
Disadvantages
E6 Connect software could have more golf course play options
Whoever prefers practicing outdoors more than practicing indoors will love this simulator package. It's a good choice for practice and improvement as well.
Check Price at Rain or Shine Golf
8. OptiShot Golf in a Box 4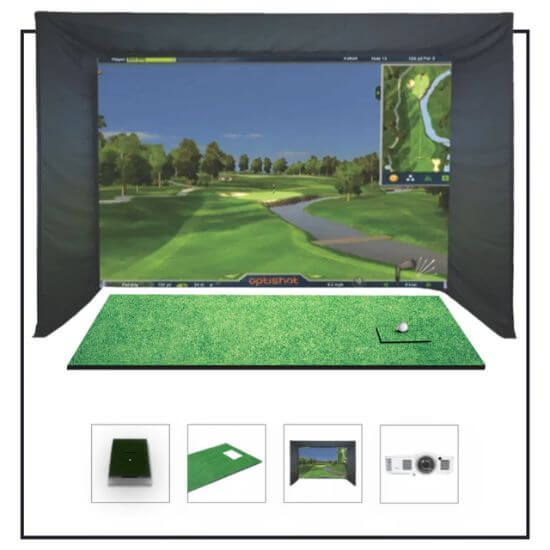 OptiShot is one of the renowned branded golf simulators that works great for beginners. Especially if you are a mid or high-handicapper, OptiShot 2 Golf in a Box 4 is a good choice for you. It's also one of the most affordable golf simulators under $5,000. The Golf-In-A-Box 4 includes everything you need in your golf room. Specifically, the OptiShot2 infrared optical swing pad, an OptiShot Pro Bay, a projector, a mount, and a hitting mat designed for it.
OptiShot Pro Bays are designed to fit most environments and are available in multiple sizes for your convenience. You can also choose different sizes of golf mats and Pro Bay for less than a $5000 budget. Your budget will only exceed if you aim for a 4K ceiling mount projector. This simulator is intended for indoor use only.
OptiShot's software comes with 15 world top golf courses and software updates. Designed with high-quality, dense foam, the OptiShot golf hitting mat gives a realistic simulation feel. A Net Return Pro Series net is included with the premium quality package and requires no trouble to set up.
Advantages
It is a very affordable package, even with an HD projector.
It includes a portable mat and net. They are easy to use
You can play 15 world-renowned golf courses in this simulator. And the graphics are good.
The Net Return Pro is a top-quality, durable net.
The sensors used in this simulator can provide immediate data feedback.
Disadvantages
The accuracy of a few data metrics is not satisfactory.
9. SkyTrak PerfectBay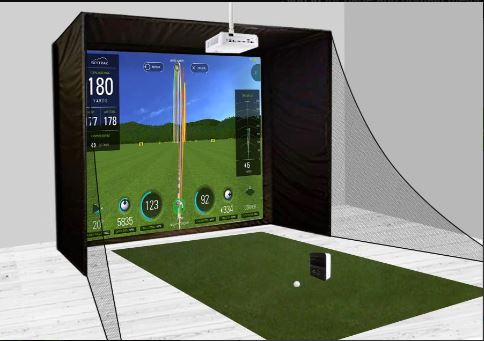 Compared to the SkyTrak Practice golf simulator package, the SkyTrak PerfectBay golf simulator is more expensive with more materials. Including both screen and net, this golf simulator costs $4,849. The price varies depending on the size, software, mat, and projector.
What you get in this package is a SkyTrak golf launch monitor, an essential practice range software plan, PerfectBay golf simulator screen enclosure, side nets, and the Net Return Pro Turf. SkyTrak is a camera-based launch monitor that tracks ball data using photometric technology. The minimum space requirement for this golf simulator is 16ft in length, 12ft in width, and 9ft in height.
There are three software plans for SkyTrak. Details are in the buying guide section. This package has two of them – a basic practice range and a Game Improvement Plan. If you purchase a basic practice range, it will let you practice on the driving range without any golf courses. We recommend having Game Improvement software for more practice features.
Advantages
Durable premium quality impact screen
Crisp, clear and brightest images
Includes both net and screen
A lot of software choice options – WGT, E6 Connect, TGC, Creative Golf 3D, Fitness Golf
World's top golf courses
Portable, compact, and high-quality golf mat
Disadvantages
Less accurate in daylight
If you want a 'all in all' golf simulator package under $5000, this one is highly recommended.
Best Cheap Golf Simulator Buying Guide
Yes, like other best virtual golf simulator, there are buying guides. We don't think the best affordable golf simulator requires no guides to be on your list. Although your budget is fixed, more options in this price range are available now than before. You might get confused about which one you should buy. Some simple guides can make your simulation experience more attractive. On the other hand, without prior experience, you cannot bring an optimal simulator. So let's find out what you should know to practice properly or have fun.
Room size
Size is the first thing you need to have a clear idea of. Playing with the longest club or playing in the smallest space depends on what size simulator you are using. Check the width, length, and height of your room and match it up with the minimum space requirement of your home golf simulator .
Make sure the materials you purchase fit in your simulator room. Also, ensure you have enough overhead clearance to prevent hitting the ceiling with your driver. Playing outside has no such complicated issue with size, as backyard golf simulator are designed to fit into most spaces. You need to be careful of indoor use.
Net or screen?
Both the net and screen can be used with a projector while playing in a golf simulator. A projector will show the data result on the projector screen, whereas, with a net, it will appear on a phone or computer. You can hit on both. Now it's your choice whether you like to enjoy your simulation on the big display by using a projector screen or you are comfortable using a net with a mobile or computer. Some golf simulator packages include both for golfers' playing convenience. You have already gone through the review of some of those above.
Handicap
Handicap is what describes your score. You can change your handicap by practicing on a simulator. If you are a double-digit player, you should better go for OptiShot. For average golfers, SkyTrak will perform better. To lower your handicap by practicing outdoors, we recommend FlightScope Mevo+. Select the one that you need most. Otherwise, it may bother you to play in your style.
Tracking system
The tracking system of a golf simulator is another crucial factor to consider. Some tracking systems incredibly track all the data accurately, whereas some do less accurately. For example, the infrared tracking system of OptiShot calculates data less precisely than the photometric or radar doppler tracking systems. That is why an OptiShot golf simulator is less accurate and not much preferred by low handicappers. On the contrary, a golf simulator's radar doppler tracking system under $5000 accurately measures data. So think, for which one will you invest?
Portability
Among the most home golf simulators for under $5000, some are lightweight and much easier to carry. If you love moving your device and playing anywhere inside or outside your home, you should consider portability.
Besides, many of us don't have the luxury of using a separate simulator studio or keeping the setup permanent. If the simulator is lightweight and straightforward, putting it down after playing will be easier for you.
Not only should your launch monitor be lightweight and easy to transport, but your hitting net, floor mat, and, most importantly, the golf hitting screen should also be portable.
Fun Fact: You can even build your own golf nets .
Software
Different types of game modes and practice features are added to the software. Selecting a software or software plan depends on your choice of game activities. SkyTrak has its own software plans, including Basic Plan, Game Improvement Plan, and Play $ Improve Plan.
The essential Plan doesn't require any subscription fee. It comes with just a virtual driving range, whereas the other two have yearly subscriptions and offer multiple game features. Whether you want WGT courses or play with TGC software will be according to your choice of software plans in SkyTrak.
FlightScope Mevo+ comes with TGC and E6 Connect software where world top golf courses, various practice modes, tournaments, stroke play, skill challenges, match play, and so many features are available. OptiShot has its software and practice features. What are you interested in? Playing top golf courses or practicing multiple game modes? Make your decision based on it.
Budget
Regarding quality, you cannot compromise whether you buy for under $5000 or $1000. Everyone wants quality first. So even if the budget is for golf simulators under $5000, you have plenty of options to choose quality indoor golf simulators. That's when budget matters.
If you are paying $1,000-$2,000, you are not having a complete setup with all the required materials. Besides, you might miss advanced tech and practical features. But if you are willing to spend $2,000-$5,000, you will get quality materials and better setups. Considering more money in your budget will add more bang for your buck.
Check the reviews
Last but not least, check the reviews of each product. Reviews and feedback from users express their experience of playing. And that experience will help you have more ideas about the product. Both positive and negative feedback can be there as a buying guide. You can also ask users if any question appears in your mind. Talk to them, gather more information, take time and then buy.
Conclusion
Best golf simulators give you the best simulation experience. Affordable golf simulators save you money. But the best cheap golf simulator do both. And if it is under $5000, you will reap the benefits. Never miss an opportunity. Know how a golf simulator can help your game . Don't forget to share if the reviews help you make your decision. Also, drop your queries below. We will be there to let you know anything you are interested in!
This post may contain affiliate links and we may earn a small commission for no extra cost to you.
This is how we keep NiftyGolf free. Learn more about our affiliate disclosure here.