A few years back having golf simulators was a matter of cost. But now, while researching the best affordable options available on the market, I wondered how simulators cost under $5000 from over $20,000.
So, in today's world, it really doesn't matter how much your budget is. You can afford any budget-friendly golf simulator according to your needs. You don't need to go to any local club to play a round. We got you covered by revealing our picks of the 8 best affordable golf simulators. It's a result of our long-time research and analysis. Let's dig in.
8 Best Affordable Golf Simulators for under $5000
1. Rapsodo Mobile Launch Monitor SwingNet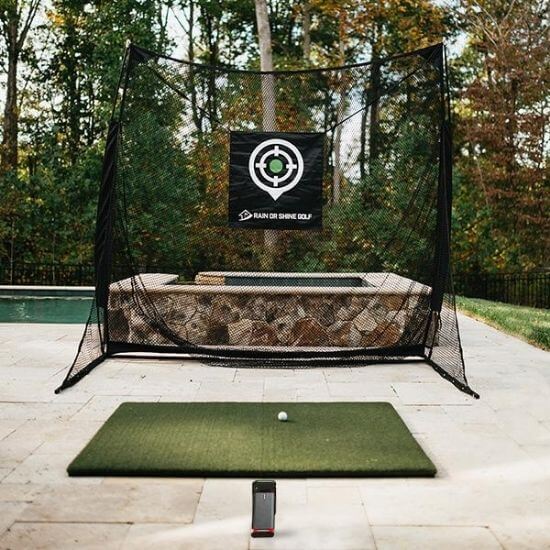 Did you know Rapsodo is the creator of SkyTrak? Yes, first they created SkyTrak. Later, they launched their own branded products. Rapsodo MLM SwingNet is one of them. It's a cheap golf simulator which costs just around $1k.
Along with the Rapsodo's personal launch monitor, you get a quality golf SwingNet and a durable SwingTurf in this package from Rain or Shine. The combination of these two makes it more demanding to the golfers.
It requires no fees to install the Rapsodo MLM app that analyzes every swing data. The most interesting fact is that you can fold it to keep in your golf bag or even in your pocket when you are not playing. Learn how to arrange your golf bag from our other blog.
Rapsodo mobile launch monitor is for both indoor and outdoor use. The setting up process is so easy to do within minutes. No doubt about the accuracy and consistency. But it doesn't offer playing options in the net mode that would add more entertainment.
As Rapsodo is a mobile launch monitor, size won't bother you much. What you need is to set up the 8' by 8' wide feet net. It's also relatively small. You can place it in your backyard, deck, or garage.
Things we liked
Accurate and consistent
Portable
Small size
High-quality hitting net
Forgiving and durable hitting mat
Works indoors and outdoors
Immediate feedback
Things that can be improved
Playing in net mode would be more preferable
Final verdict
I should admit that Rapsodo performs outstanding in measuring accurate data. If you are comfortable with a mobile launch monitor, this simulator can be the bang for your buck.
Check Price at Rain or Shine Golf
2. OptiShot 2 Golf in a Box 3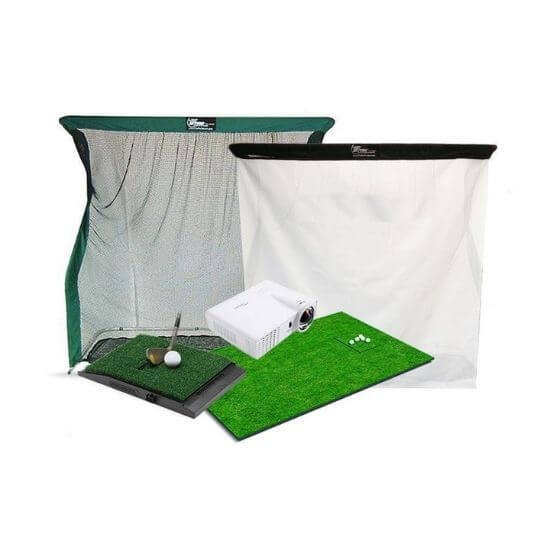 OptiShot is one of the best home golf simulators that works great for beginners. Especially if you are a mid or high handicapper, OptiShot 2 Golf in a Box 3 is made for you. And it costs just around 3k. It comes with OptiShot SwingPad, adjustable rubber tee, practice balls, hitting net, mat, projector and attachable impact screen.
Compared to the other options, OptiShot offers the best affordable golf simulator on the market. It's not the most accurate one, but yet, it's good for showing swing and distance feedback. Know how accurate a golf simulator can be.
Until you are starting mis-hits, this golf simulator will represent accurate ball flight. But there's also a solution to avoid mis-hits. If you can reduce the amount of reflection your clubs produce, it will help with the mis-hits. And to do this, you just need to tape the bottom of your clubs.
The online play system is available here. So playing golf courses is a cool breeze for you. Besides, the multiplayer playing option ensures you can play with your friends together.
OptiShot doesn't necessarily require a real ball or a foam ball. You don't even need to use a ball. Cool, isn't it? You can check our top picks of best practice balls.
Things we liked
Instant data feedback
Best for the double digits players
Requires no tool to install
User-friendly
Flexible to carry
For both indoor and outdoor use
Able to create ball data without a ball
Things that can be improved
Not for high handicappers
Less accurate than SkyTrak or Trackman
Final verdict
OptiShot 2 golf in a box 3 gives you the opportunity to reap the benefits within a very reasonable budget. I Recommend this cheap golf simulator for you if you want to have fun and save your money at the starting level.
Check also: 5 Best Outdoor Golf Simulators for Easy and Quick Setup
3. SkyTrak Golf Simulator Training Package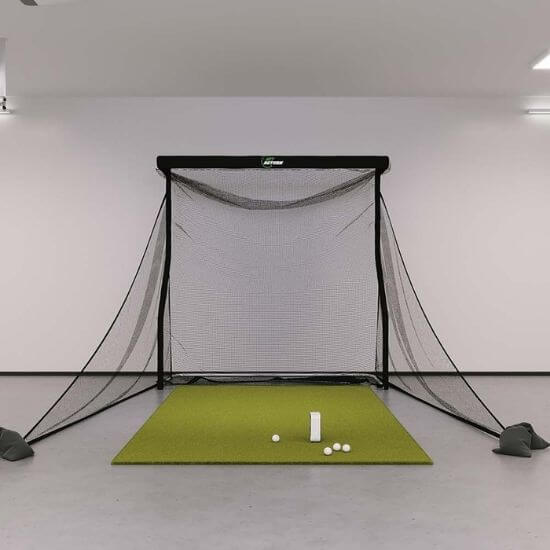 Everyone wants to use an accurate golf simulator like SkyTrak. And if it's available under $5000, won't it be cool? Yes, besides the expensive options of SkyTrak, there are affordable golf simulators too like the Skytrak training package. It includes a SkyTrak Launch monitor, protective case, golf nets, side barriers, turf, rubber tee and duffle bag.
SkyTrak is the best because, first, it accurately tracks the ball, not the club. Tracking the ball is more important for a golfer. You can quickly figure out where your ball ends. Thus you get the stats of all your shots.
Secondly, it is suitable for both indoor and outdoor use. So you are able to take this simulator out of your home to play in the sunshine. You can carry it even when you are on a trip.
Third, it provides game improvement features to train you on how to take your game to the next level. And that's why this is named SkyTrak training golf simulator.
Finally, the world-famous online golf courses are available here. But you may consider the fact that you need a yearly subscription if you want an extension to more golf courses.
Things we liked
Portable
Very accurate
Visual feedback and ball performance data
Skill challenge options
A lot of game improvement features
Shows how far you hit your clubs with full and partial swing
Net return feature of mat works well
Easy to setup and use
Things that can be improved
Less adjustable on grass
Yearly subscription fees
Final verdict
If accuracy is your concern, grab the SkyTrak golf simulator training package. It will give you a great simulation experience. And it's the most budget-friendly option of SkyTrak. Really worth buying!
Check Price at Shop Indoor Golf
4. FlightScope Mevo+ HomeBay Golf Simulator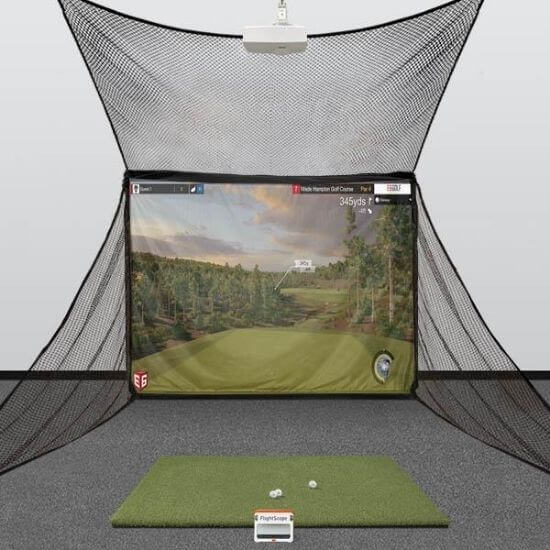 You might love to play virtual golf courses when you are stuck at home. How about choosing from 100,000 golf courses? FlightScope Mevo+ HomeBay Golf simulator offers this big advantage. And it's available for under $5000 including a launch monitor, hitting net and enclosure, hitting mat, projector and ceiling mount.
Here you get access to the driving range functions to play virtual rounds. This will help you improve your golf swing. Learn the ultimate guide to perfect your golf swing from our other content.
Mevo+ HomeBay is easy to carry. Whether it's inside or outside, you can take it anywhere. And without any artificial mat, you are able to play outdoors. Both left and right-handed golfers can play together.
When it comes to data measurement, Mevo+ doesn't only measure the ball data, it also helps with your swing analysis. It uses radar doppler technology that ensures the entire ball trajectory data.
But Mevo+ HomeBay requires a larger space. Because you need at least 2 meters behind the ball and 2 meters in front of the ball to play.
Things we liked
Portable
Both for indoor and outdoor use
Both left and the right handed player can play together
Real-time feedback
Easy to assemble
Turf gives a real grass feel
Things that can be improved
No mark on the golf ball
Doesn't record advanced data like club path, face angle, impact location etc
Final verdict
Mevo+ SwingBay is recommended for you if you want a cheap golf simulator with good performance and a ton of golf courses. For the price, any other affordable golf simulator cannot beat Mevo+.
Check Price at Rain or Shine Golf
5. SkyTrak Bronze Golf Simulator Package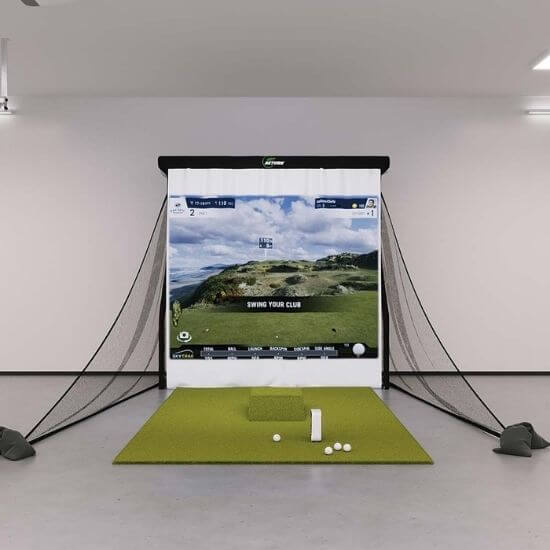 If you are really a serious golfer and want to improve your game, SkyTrak Bronze Golf Simulator package will be a good choice for you. Because it gives visual feedback and ball performance data that will help you know how well you are playing.
This Bronze package comes with SkyTrak launch monitor, metal protective case, play and improve software, Net Return net, side barriers, projector, enclosure, screen and Net Return hitting mat.
More importantly, there is an option to choose the distance you want to play, SkyTrak also targets those distances. It gives you a dynamic handicap after each shot. That's how you can know if your shots are accurate or not.
One of the interesting things is you can select two different distances between where SkyTrak randomly picks targets. It makes your game easier.
Things we liked
Multiplayer golf course play option
Easy setup
World-famous WGT golf courses
Accurate data measurement
Visual feedback and ball performance data
Easy to carry
Things that can be improved
Not so well on the grass
Annual subscription for the game improvement package
Final verdict
SkyTral Bronze Golf Simulator is recommended for double-digit players. So if you are serious about your handicap, try this simulator. It can help you lower your score.
You May Also Like: Best Projector For Golf Simulator
Check Price at Shop Indoor Golf
6. OptiShot 2 Golf in a Box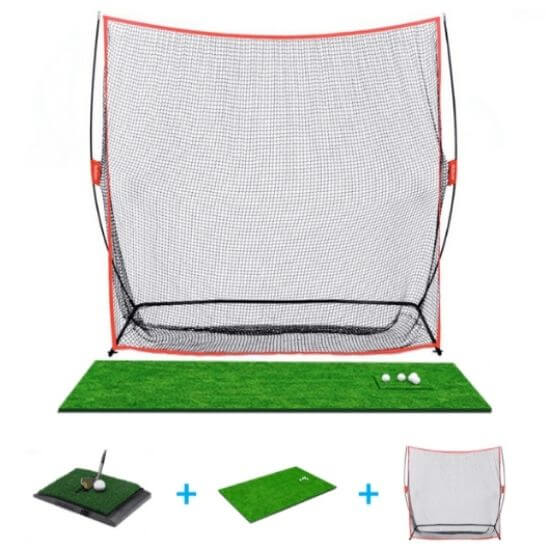 "You get what you pay for" – OptiShot is the opposite of this concept. Because it costs only around $7k. Despite being a cheap golf simulator, it features the most important factors you need to play. For example, multiplayer playing options, user-friendliness, online tournaments, etc.
Though OptiShot is not as accurate as SkyTrak, it tracks accurate data until you start mis-hits. The better golfer you are, the more accuracy you get from OptiShot. See how accurate a golf simulator is.
OptiShot golf in a box 2 includes OptiShot SwingPad, adjustable rubber tee, practice balls, hitting net, mat and software. It offers the easiest installation and user-friendly setup. If you want to have your own golf simulator, learn how to build a home golf simulator.
More importantly, clubface and swing path are the two major things you need to improve in golf. This golf simulator helps you with both. For the multiplayer playing feature, up to 4 players can play together.
Things we liked
Requires no ball to practice
Easy to setup
Multiple playing options
Fun and easy simulation experience
Realistic 3D environment
Up to 4 players can play together
Things that can be improved
Doesn't measure ball data
Only for indoors
Final verdict
OptiShot 2 in a box pro is for you if you want a flexible training option to improve your game. Recommended as an entry-level golf simulator for high profit with low investment!
Check Price at Shop Indoor Golf
7. Phigolf Mobile and Home Golf Game Simulator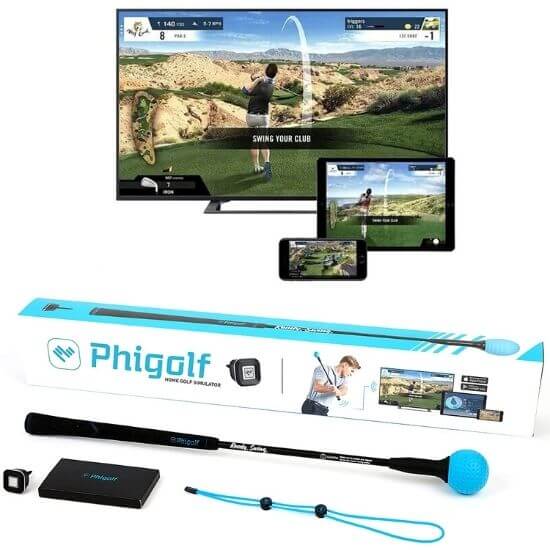 Phigolf mobile game simulator is another best indoor golf simulator. It doesn't matter what digit players you are, Phigolf is for all. It provides a tracking system and comes with a swing stick.
The compact size of this golf simulator lets you play only within 2 feet. Yet you are able to play a real golf swing. You can see the data on your mobile, TV, or a larger screen by connecting with the mobile app.
Phigolf precisely tracks your swing and gives instant data feedback. There you get the Phigolf Ability Test option that lets you know how well you are playing. All these facilities you get only for under $5000.
The multiplayer playing options help you play with your friends and family! And this simulator lets you fix your grip by the mark on the club. Learn how to properly grip a golf club.
Things we liked
Both for outdoors and indoors
Portable
Easy to set up
Play online option
Multiplayer capabilities
Things that can be improved
Requires subscription fees for online courses
Time pause option could be included
Final verdict
If you are much more concerned about lowering your score, try Phigolf. This golf simulator is recommended for both beginner and professional golfers.
8. OptiShot 2 golf simulator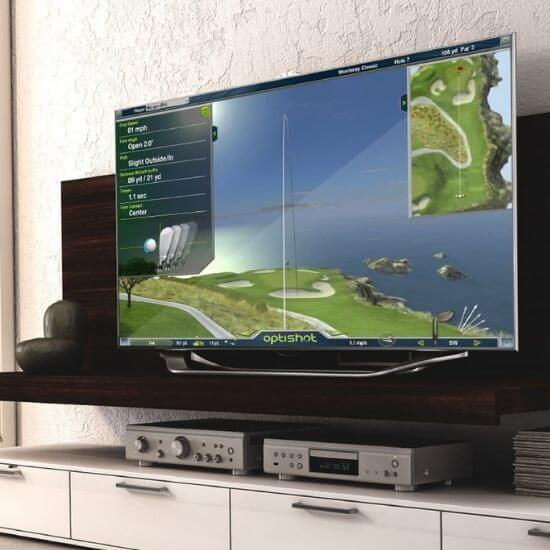 No golf simulators can compete with the price of OptiShot 2. It's not only under $5000, but it's also under $500. But OptiShot never sacrifices the quality for the cost.
This simulator comes with OptiShot 3D golf software, infrared optical swing pad, USB cable, 2 foam practice balls, and 2 adjustable rubber tees.
You can either practice with a real golf ball or a foam ball. OptiShot allows both. But the coolest thing is that you are able to practice even if you have no golf balls.
This affordable golf simulator is best for you if you have just started your game. Because it will help you increase your swing speed and fix your slice as well.
OptiShot measures simply swing stats and give accurate feedback unless you start mis-hits. If you can hit right, you get accurate data.
Things we liked
World-famous golf courses
Multiple camera views
Dynamic visual display
Up to 4 players can play together
Easy setup
Data feedback
Things that can be improved
Not for low handicappers
Only for indoors
Final verdict
Whether you are a mid or high handicapper, the OptiShot 2 golf simulator comes with everything you need to lower your score. A budget-friendly golf simulator for a good simulation experience.
Check Price at Rain or Shine Golf
Things to Consider Before Buying Cheap Golf Simulator
Like other quality golf simulators, there are some certain things to consider before buying the best affordable golf simulator under $5000. Because more options in this price range are available now than it was before. You might get confused about which one you should buy. Let's find out.
Handicap
Handicap is what describes your score. You can change your handicap by practicing on a simulator. If you are a double-digit player, you should better go for OptiShot. To lower your score, SkyTrak will perform better. There are more options available on the market. So select the one that you need most. Otherwise, it may bother you playing in your own style.
Net or screen?
Both net and screen can be used in a golf simulator. A projector will show the data result in a simulator screen whereas a net does this on a phone or computer. But you can hit on both. Now it's your choice whether you like to enjoy your simulation on the big display or you are satisfied with mobile or computer.
Size
Size is such an important thing that can help you play with the longest club as well as play in the smallest space. So size always matters whether it's an expensive one or a golf simulator under $5000. Check the width, length, and height of your room and match it up with the minimum space requirement of your affordable golf simulator.
Tracking System
The tracking system is an important thing to consider. Because some tracking systems incredibly track all the data accurately whereas some do less accurately. For example, the infrared tracking system of OptiShot calculates data less precisely. That is why an OptiShot golf simulator is less accurate for low handicappers. On the contrary, the radar doppler tracking system of a golf simulator under $5000 is absolutely accurate in data measurement. So think, for which one will you invest?
Portability
Among the most affordable golf simulators for under $5000, some are very lightweight and are much easier to carry. If you love the idea of playing anywhere inside or outside your home, you should consider portability. To play golf indoors, learn how to build your own home golf simulator.
Conclusion
Best golf simulators give you the best simulation experience. Affordable golf simulators save your money. But the best affordable golf simulators do both. And if it is under $5000, you are definitely going to reap the benefits. Never miss an opportunity. Know how a golf simulator can help your game. Don't forget to share if the review helps you make your decision. It would be a great pleasure to know.