This post may contain affiliate links and we may earn a small commission for no extra cost to you.
This is how we keep NiftyGolf free. Learn more about our affiliate disclosure here.
Golf simulators are most demanding that can be used both indoors and outdoors. Among them, Flightscope Mevo+ is the notable one. Not only for its multi-use, but you will also love Mevo+ for its size and weight. Yes, this launch monitor is so lightweight and small in size that you can take it in your golf bag with other accessories and carry it anywhere you want to play.
If now questions about accuracy and performance appear on your mind, let them pop up and stop here for a while. This article will tell you more about this amazing simulator because it is designed with every detail on the Flightscope Mevo Plus review. Just stay with us and find the benefits you are going to enjoy.
For Whom Flightscope Mevo+ is?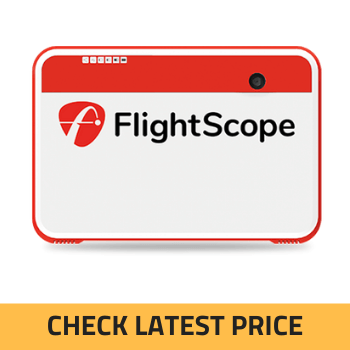 Flightscope Mevo+ is for serious golfers. Yes, no wonder this simulator will ease your improvement if you are a passionate golfer and serious about your performance. Because the world-class technology used in this simulation will only fit you if you can take golf sincerely and use those technologies properly.
When it comes to going for transport and carrying your little companion with you, just arrange your golf bag and put Mevo+ into it. You are ready to go outside for a course. So if you really require a portable simulator, Mevo+ is for you.
Features and Benefits
Versatile:
Multiple uses of Mevo+ will definitely make you feel delighted as you can play with your friends and family together. Even some of the top golf simulators for home lack this multiplayer use feature. So Mevo+ is ideal for versatility.
Portability:
Easy to carry feature, lightweight and small design ensures the portability. Won't it be cool to transport the launch monitor keeping it inside your little bag? Take the advantage of having fun with Mevo+ anywhere anytime.
Golf courses:
Aviara
Stone Canyon
Wade Hampton
Sanctuary
Belfy
Who wouldn't love to have access to these 5 renowned golf courses? Mevo+ offers these with E6N software.
Automatic video clipping:
Mevo+ allows you to enjoy another outstanding feature. It captures your swing and analyzes each of your stats by automated video clipping. You can easily figure out how moderate your swing speed is and what level you are playing on.
17 practice ranges:
Yes, you heard it right. For entertainment ultimate gaming purposes, this simulator offers 17 virtual practice ranges and online events. This feature will help you take on challenges and analyze your skill as well.
16 important data parameters:
To correct the errant shots properly, you get 16 data parameters at your fingertips. This will also allow you to figure out your swing result.
Built-in camera:
A large built-in camera on the screen is required for sensor alignment. And Mevo+ provides this camera to cover the whole area using 3d radar doppler tracking technology.
FlightScope mobile app
Connect your Mevo+ with the included free mobile apps that give exact and real-time performance data while playing. Also lets you have access to skill challenges along with the other practice features. You can automatically save your sessions, swing stats, and performance data by automated video clipping.
Space requirement
If you have enough space to place Mevo+ in your home golf simulator setup, requirements won't matter to you. But if you have limited space, we would like to suggest you consider the space requirements. The minimum distance between the launch monitor and ball flight needs to be 8′. Otherwise, you won't be able to capture the shot accurately. And make sure you have a total 16′ length/depth for placing Mevo+.
Things that will benefit you:
Accurate stats and entertainment experience
Long battery life
Free golf course simulation software
Real-time performance data.
Evaluates your game by helping you upload and share practice sessions.
Optimizes your performance
Mevo+ app automatically records, clips, and saves each video with stat overlay.
Visually shows how each swing affect your stats
Most affordable
Things you need to consider:
16′ depth required that is larger than usual
More golf courses could be included
Check Price at Shop Indoor Golf
Frequently Asked Questions About Flightscope Mevo Plus
Is Mevo plus better than SkyTrak?
Yes, Mevo plus is better than the SkyTrak launch monitor if you count it for outdoors. Besides, it's for both indoor and outdoor use. But for indoors, SkyTrak is definitely the better option. Because you get 12 golf courses in the SkyTrak game and improve package while Mevo+ offers 5 golf courses only.
What's the difference between Mevo and Mevo plus?
The difference between Mevo and Mevo plus is that Mevo calculates less data while Mevo+ measures more data. And Mevo+ allows your phone to be connected from 100feet away that is missing in the original Mevo. Another difference you will find in the case of the front grill. Mevo+ has one, mevo doesn't.
How accurate is Mevo plus?
Mevo plus is very accurate for its advanced technology such as radar doppler tracking technology. Besides, monitoring the performance is another plus point for improving the accuracy with carry distances. Mevo+ is also demanding the most accuracy at such an affordable price.
What does Mevo plus measure?
Mevo+ measures face and ball trajectory such as carry distance, smash factor, ball speed, clubhead speed, flight time, etc. It also calculates the launch angle and spin axis. Mevo+ has 16 important data parameters that give the correction of errant shots. And thus, accurate results come.
Final Verdict
Keep one thing in mind, if you can understand the captured data measurement and be serious about golf, Mevo+ is for you. Otherwise, alternatives can be your options. But to admit, our research found Mevo+ as the most accurate golf simulator within a limited price.
So don't miss this excellent option to enjoy a precise way of tracking every single piece of data. And don't forget to drop your questions. Our comment box is for your queries. Let us know what's going on in your mind.