Who doesn't want to improve in such sports they are passionate about? Golfers often tend to perform better as the sport is highly enjoyable. Being a passionate golf learner or even professionals you must have heard about simulators used to practice golf and improve performance. You can build your own simulators or buy one of the best simulators from the market.
The swinging analyzer is part and parcel of improving golf swing and performance. It is also known as 'golf swing tracker" and 'golf swing speed radar'. You can use simulators (which includes swing analyzer as well) or swing analyzer only to develop your swing and get better in Golf.
10 Best Golf Swing Analyzer Review
Here we have listed out 10 best golf swing analyzers you will find in the market with buying tips that will help you decide the best match for you.
1. Blast Golf Swing Trainer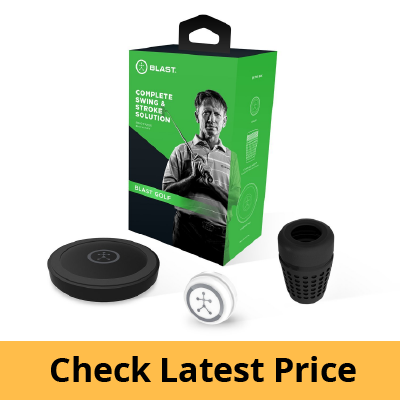 To take your game to another level with accurate metrics and valuable insights, Blast Golf Swing Trainer can be the complete swing and stroke solution for golfers of all levels. Blast Golf Swing Trainer is used and trusted by over 200 best golf coaches and players from PGA, European and LPGA around the world. Blast's natural motion capture allows golfers to swing the club or roll some putts and forget about the technology. It is very easy to use and the results are very easy to understand for a regular golfer.
The swing analyzer automatically makes a clip of each swing after recording. You can view and analyze your swing in slow motion with metrics overlaid. You can take tips and drills to improve your game from expert coaches and PGA Tour Players with the help of the in-app training center. Sharing results with your friends has never been easier—instantly share metrics and videos on Facebook, Twitter, and E-mail through the app.
Features
Analyzes Swing
Tracks Stroke Metrics
Video Capture Creates Highlights
App-Enabled, iOS and Android Compatible
Golf Channel Academy Official Technology Partner
Pros
Easy to understand metrics
Automatically creates videos
Slow-motion feature for analyzing
iOS and Android compatible app
Cons
Inconsistent connection
iOS interface designs can be improved
Final Verdict:
Improve your timing and make more putts with this real-time stroke and swing analyzer from Blast. Whether you are a novice or expert golfer, Blast Golf is the ideal resource to help you improve every shot.
2. Rapsodo R-Motion and The Golf Club Simulator and Swing Analyzer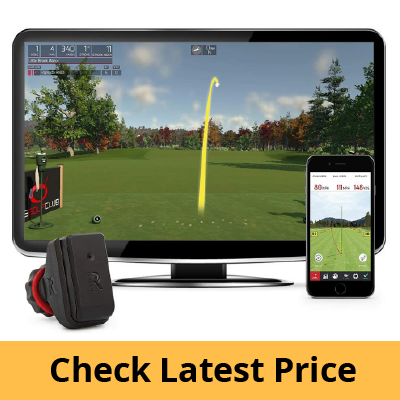 Analyzer plays one of the most crucial roles in a golf simulator. Rapsodo R-motion attaches to your golf clubs, you play your natural game and the analyzer uses its sensor and records data that helps you understand your performance. The best feature of this swing analyzer is you can even use it without any simulator because you can use this analyzer with your PC. The package comes with accessories you may need like sensor clip, USB dongle, and charging cord. With a polished user interface from the award-winning creators of The Golf Club, R-Motion offers instant feedback on all the club and ball related touchpoints you need to lower your handicaps, shot after shot.
Rapsodo R-Motion and The Golf Club Simulator and Swing Analyzer immediately analyzes data of club speed, ball speed, smash factor, swing path, distance, and launch angle with all the data you need to teach yourself how to improve your game. Realistic ball flight trajectory where hooks, slices, pushes, pulls, fades and draws are all taken into account.
Features
Runs on your PC
Includes The Golf Club game for stunning simulation of 15 top courses
Pros
Attaches to your own golf clubs
Runs on your PC – no launch monitor or projector required
Extremely easy to use
Complete package: Comes with one sensor, clip, USB dongle, and charging cord
Cons
Powerful computer needed else it runs slow
Challenging to connect it to the clubs
Final Verdict:
3. SwingTIP Golf Swing Analyzer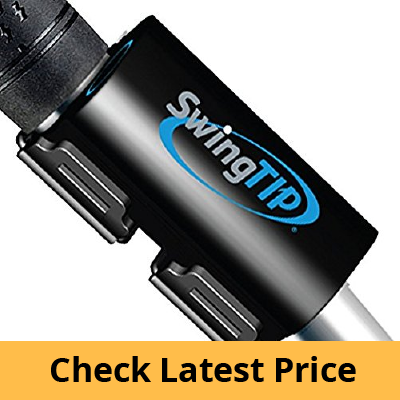 The most advanced, effective and easy-to-use mobile golf swing analysis and training tool on the market is considered to be owned by SwingTIP. The Bluetooth-motion sensor used by SwingTIP has advanced pattern recognition to capture and analyze the full trajectory of your golf swing. It works with a mobile app to transmit real-time golf swing analysis to any iOS or Android mobile device. The analyzer has a feature that allows you hands-free video/audio recording, then you can review and share those for advice or even self-assessment. SwingTIP uses MobiCoach, which is the industry's first live, remote mobile golf coaching service.
Features
3D Swing Analysis and Metrics
Hands-free Video Recording
Pros
Real-time golf swing analysis
Hands-free video/audio recording
Enabled for MobiCoach
Cons
Many users found a connection problem with the app and Bluetooth
Final Verdict:
The features are pioneers in the industry but lots of users found connecting the device challenging. If you sort out the connection this analyzer could be a good purchase for you.
4. Garmin Impact Bat Swing Sensor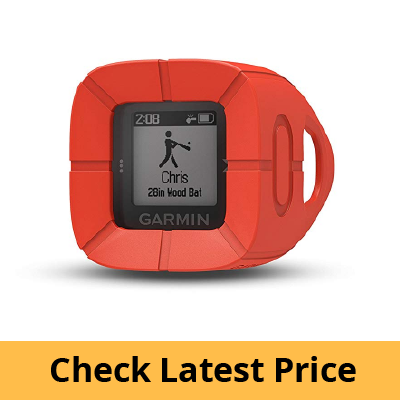 Looking forward to a device that gives you instant feedback on bat speed, hand speed, elevation angles and more? Garmin Impact Bat Swing Sensor could be the ideal match for you. Using this sensor to the knob of your club during hitting drills, you can learn to hit better. The best feature in this sensor is it is capable of providing immediate and accurate swing metrics besides the app provides you to manage multiple players and organize data not only for individuals but also for a team. You can also set up profiles to compare with others as well.
Features
Small, Light and Easy to Mount
Bat swing sensor with on-device display
3-D swing path and video replay
Pros
App provides detailed coaching tips and drills developed by professional hitting coaches
Small and Easy to Mount
Bat swing sensor with on-device display delivers instant metrics, feedback and coaching tips to help shape the ideal swing
Weighs only 1.28 ounces
Cons
The sensor can't be used without the mount.
Questionable durability
Final Verdict:
Garmin introduced 3D swing path and video replay in this impact swing sensor but there are quality issues asked by many users and the major drawback is the sensor can't be used without the mount.
5. VOICE CADDIE SC 200 Portable Golf Launch Monitor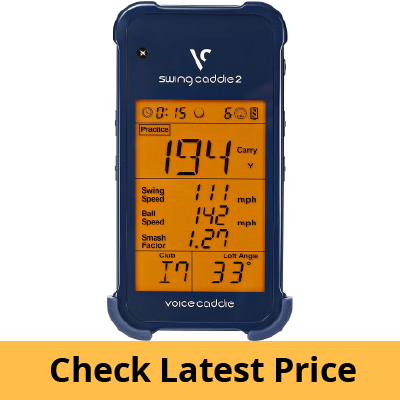 With the small and lightweight remote control, you can take this portable golf launch monitor anywhere. Three different modes available that keep track of each shot, termed as practice mode, target mode, random mode. Overall last 100 shots stats are stored in the device memory. So What Does It Measure? The device measures Carry distance, Swing speed, Ball speed, Smash factor, etc.
Features
Positioning – 1 to 1.5m(40 to 60 inch) directly behind the wall
Measuring range: 30-320 yards. Accuracy +/- 3% ball speed, +/-5% carry distance
Distance voice output: Doppler Radar Sensor
Pros
Three Different Modes to Keep Your Practice Varied and Stimulating
Carry Distance, Swing Speed, Ball Speed, Smash Factor
Barometric Pressure Calibration
Small and light remote controller
Cons
Made of plastics
Outputs are wildly inaccurate
Final Verdict:
Voice output feature from caddle will make your practice effortless as well as informative. Being a plastic product the durability of the product may raise questions for many of you. But the positive reviews from users will help you decide better.
6. Sports Sensors Golf Swing Speed Radar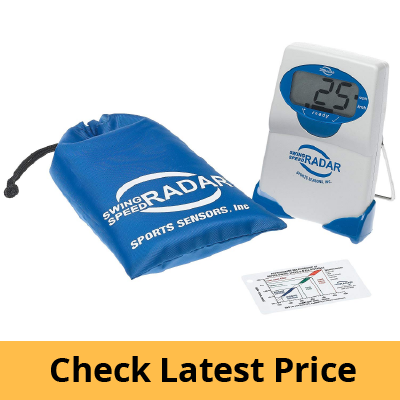 Sports sensors swing speed radar calculates clubhead and bat speed within a range of 20 to 200 miles per hour with an accuracy rate nominally within 1%. The analyzer positions itself about 8 to 10 inches from the tee or suspends from a batting cage or net making it ideal for both players and coaches. Specifications of the product are as follows:
Dimensions: 7.2 x. 5.4 x 4.6 inches
Display Type: 3 Segment LCD
Speed Units: Miles-Per-Hour or Kilometers-Per-Hour
Speed range: Bat Mode: 20-200 MPH; 32-320 km
Speed range: Golf Mode: 40-200 mph; 64-320 km
Accuracy: Nominally within 1%
Power: 3 AA batteries
Battery life: Up to 2 years
Weight: 11.2 Ounces
Features
Small microwave Doppler radar sensor for measuring golf or baseball swing speeds
Transmission level is well within FCC requirements and prescribed safety levels
Pros
Range of 20 to 200 miles per hour
Ideal for both players and coaches/instructors
Small and lightweight
Cons
The readings obtained from this unit are highly inaccurate and inconsistent, across a variety of setup locations, elevations, etc.
Final Verdict:
If you are looking for a less expensive device to help measure swing speed, this can be the best match for you. Easy to use, and fairly accurate and a good tool for understanding your swing speed which helps you to understand when you need to improve or regress.
7. GOLF TAGS Real-Time Golf Swing Tracker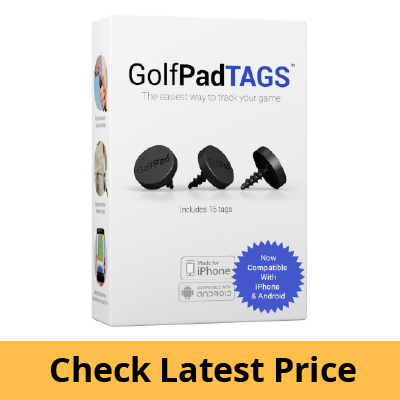 Golf Tags real Time golf tracking system is easy to use and provides you real-time results so that you can have a good analysis. You can use this tracker and tracking system with your android or iOS devices. Turn your Android and iPhone into the ultimate golf tracking and analysis companion which has the simplest of the interface and easy to use. What are the output results you will get from this device? You will get to know how far you really hit each club, get intelligent club recommendations, club distances shot dispersion distance trends fairways hit or missed greens in regulation scoring analysis course strategy putting. The package includes 15 tags but no batteries to replace or recharge. The tracker automatically tracks:
Shot dispersion for every club.
Club distances
Fairways hit or missed
Greens in regulation
Distance trends
Scoring analysis
Course strategy
Putting
Features
Golf Pad TAGS is compatible with the latest iPhones and NFC enabled Android phones.
TAGS come with 15 durable, ultra-lightweight tags. Tags are so light they won't affect your swing.
Top-rated Golf Pad GPS app available at the Apple App Store and Google Play. A simple tap before each shot tracks the exact distance and club choice.
Pros
Easy to use
Compatible with iOS and NFC enabled Android phones
Ultra-lightweight tags
Cons
Less durable tags
Seems a bit overpriced
Final Verdict:
Be sure about the device compatibility before purchasing this as most of the customers have complained against the compatibility with the phone. The tags technology has gained much appreciation and the app is very easy to use.
8. Garmin Approach CT10 – Full Set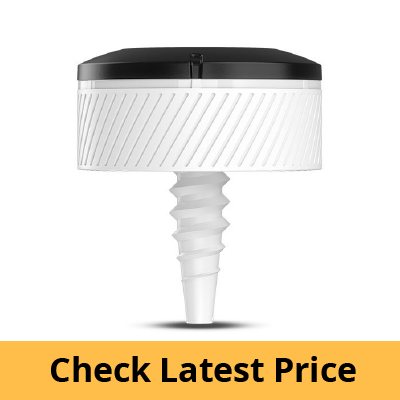 The sensors installed in the Garmin Approach CT10 automatically tracks every shot on any club and keeps score. The sensors are compatible with Approach S20 and Approach S60. Not only your shots it keeps track of location distances and club type as well. Stats for each club with a sensor installed show up on your compatible Garmin golf watch after pulling the club from the bag.
Features
Pair with compatible Garmin golf watches
Approach CT10 club trackers are available in a full set to track all 14 clubs in your bag
Pros
Automatically track every stroke and keeps score
Compatible with Approach S20 and Approach S60
Pair with compatible Garmin golf watches
Available in a full set to track all 14 clubs in your bag
Cons
Compatible with only the Garmin Golf watch
Final Verdict:
Highly recommend for golfers of all levels who take their practice seriously. But make sure which version you are taking prior placing your order as they are offering 2 versions of 3 sensors and 14 sensors.
9. Sports Sensors Golf Swing Speed Radar with Tempo Timer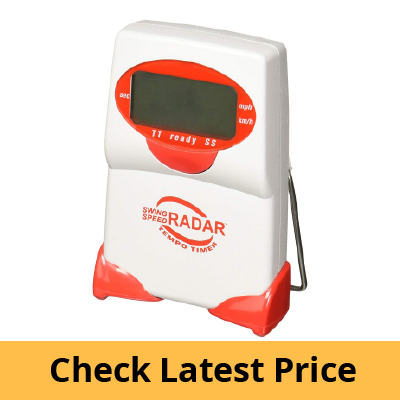 Sports Sensors Swing Speed Radar doesn't need an actual golf ball to get analysis. You can use a wiffle ball, birdie ball or equivalent to simulate a real ball. You can carry this device anywhere as it is very lightweight and portable. It generates results in real time and it measures clubhead swing speed and tempo time to help golfers optimize their swing to increase distance and improve swing consistency. This device can measure speed ranging from 40 MPH to 200 MPH. Immediate feedback provides a basis for golfers to determine swing improvements.
Features
Actual swing Tempo Time
Measures clubhead swing speed and tempo time
Pros
No need to hit an actual golf ball
Immediate feedback
Can be used in indoors or outdoors in a hitting cage, at the driving range
Final Verdict:
Portable and lightweight swing radar that can be carried anywhere to analyze golf swing with immediate feedback. Inconsistency in results may bother a little but they are close to accurate results.
10. Zepp Golf 2 3D Swing Analyzer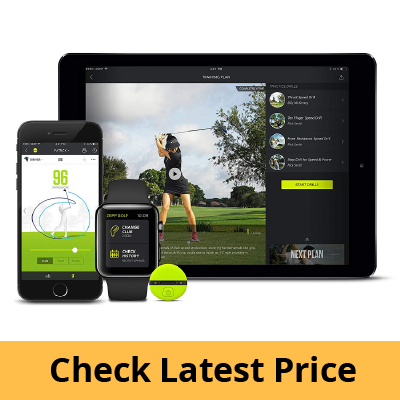 Zepp Golf 2 is the next generation swing analyzer made in the USA and considered as one of the world's most powerful swing analyzers. With the latest features designed to personalize your training, you can improve your game faster than ever. Just attach the sensor and let the sensor and app from Zepp help you become the player you dream to be. The sensor measures the most important aspects of your swing i.e. club speed, club plane, backswing length and so on. You get the outputs in almost real-time. Zepp smart coach offers personalized training programs to make you a better player.

Zepp Golf 2 provides you 2 sensors like dual accelerometers and dual 3-axis gyroscopes for better results. For the Bluetooth connectivity, you don't need any other connection modes and the battery lasts more. With a full charge which takes 1.5 hours to complete, it lasts up to 8 hours.
Features
Sensors: Dual accelerometers, Dual 3-axis gyroscopes
3D swing analysis
Instant Evaluations
Pros
1.5-hour full charge cycle lasts up to 8 hour
Personalized training programs, based on your data from PGA/LPGA players
3D swing analysis, 360-degree output
Instant evaluations
Final Verdict:
Lightest of weight and simplicity in use has made this analyzer stand out. This would be one of our top 3 picks for its accuracy in results and personalized training program feature with 3D swing analysis really helps to improve your game.
FAQs About Golf Swing Analyzer
The following are the frequently asked questions on the internet about golf swing analyzers. Check your question might be in this section. If not, then write to us, our experts will share their thoughts.
Q: Are swing analyzers accurate?
Ans: Most times yes, but depending on devices the output varies. You may not get exactly the accurate results but we have listed the best in the market and they provide almost accurate output.
Q: Do the analyzers really improve your performance?
Ans: Yes. if you are determined to improve your performance will get better. The swing analysis and tips from experts really help you grow and improve.
Q: What is the difference between a launch monitor and a swing analyzer?
Ans: Launch monitors measure a variety of data points that can help assess issues with a golfer's swing. Wearable swing analyzers are different from launch monitors because you can wear these swing analyzers on clothing or even attached to clubs.
Both devices read your swing and are capable of analyzing it. Swing analyzers are easy to carry and move on the other side launch monitors aren't.
How do I increase my swing speed?
Ans: You will be able to generate more swing speed with rotation of your body. With a proper stance position including head position, follow-through and weight transferring ability you can master the skill.

You will get your strength with a firm hold on the ground which can be achieved by having a balanced stance. This coiling of the upper body will lengthen the swing and give you added swing speed and more power. Practicing with heavier clubs will help you while playing with lighter clubs. Read our dedicated post on increasing swing speed here.
How do I know my swing speed? Or How to analyze a golf swing?
Knowing or calculating swing speed can be done using a swing analyzer, launch monitor or golf simulators. Professional golfers often use these technological equipment to measure. But you can know your swing speed without these devices as well. In general, a golf ball travels 2.3 yards for every mile per hour (mph) of club speed. So you can figure out your club speed or swing speed if you know the distance you covered.
You will require a friend to help you in this. Play some shots in your training and note down the distance that the ball travels on each shot. Play 10 shots for easy calculation. Do not count the rolling distance. Only the carry distance should be counted. Calculate the average carry distance first by dividing the total distance by number of shots played. Then divide the average carry distance by 2.3 to find your swing speed.
For example, suppose your average drive distance is 250 yards, your average club head speed will be (250 divided by 2.3) equals approximately 108.7 mph.
Buying Guide: Tips To Choose The Best Golf Swing Analyzers
Before buying a swing speed radar or popularly known as golf swing analyzer, the following tips might help you may get the best product.
Swing Analyzer Types
There are numerous types of golf swing analyzer available in the market. Know each type first and then decide which one will be best for you. Here are most popular 4 types of swing analyzers:
Launch Monitors:
Launch monitors can measure a variety of data which are very important in the development of a solid swing like ball speed, smash factor, spin, launch angle, angle of descent, carry distance, roll, and total distance. It is the most popular and highly recommended swing analyzer.
Wearable Analyzers: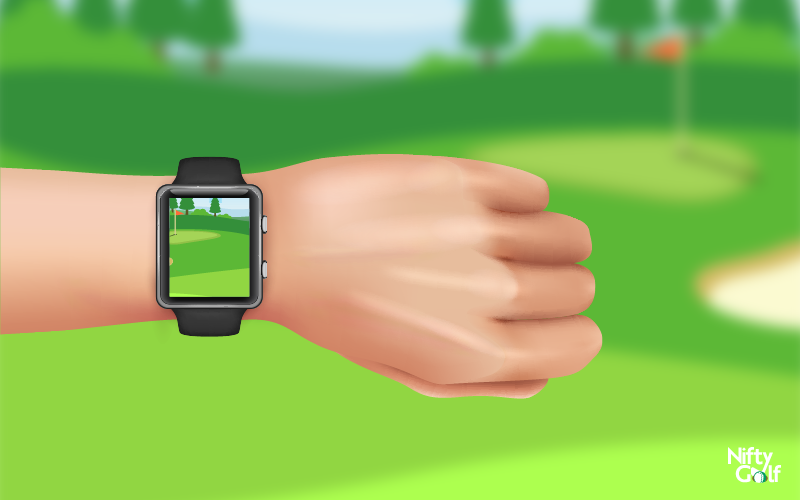 These swing analyzers have attachments to use with either your clubs or somewhere on your body. This is the major difference of wearable swing analyzers from the launch monitors. The other major difference is launch monitors can track and analyze a lot more data than these wearables.
Classic Swing Analyzers:
The most low-cost alternative to expensive launch monitors can be this classic swing analyzer. The classic swing analyzer is a simple HD camera like most of the current smartphone cameras. It takes High Definition video of your swing and is able to produce the video in slow motion. You can post the video then online or provide it to a professional for analysis.
Features
In recent years there have been significant technological advances in the field of golf swing analyzers. It is suggested that you try to get a swing analyzer that has most of the following features.
iOS/Android Compatibility:
It is important that the swing analyzer you are considering to buy is compatible with your device operation system i.e. android or iOS, else it will be difficult for you to get the best out of a swing analyzer.
Latest Technology:
The latest Technology will add more value and ease your life. Try to own those which have the latest technology tested. You want to be sure you're getting the latest and greatest technology to make sure you're moving ahead.
Attachment type:
Be sure about the place you are most likely to use the analyzer. Swing analyzer may have attachments to use. Know whether there is any attachment required or not to install the analyzer. If required then know them and understand that you will be comfortable to use it or not.
Record tracking and data interpretation:
You must consider how good a swing analyzer interprets data and how many factors it can measure before selecting one to buy. The more data it can analyze, the better. Not only the quantity of data it can track matters, but the quality of the interpretations should be focused more. Because better accurate results will help you improve sooner.
Usefulness
Ask yourself first, is this a product you'll find yourself using over and over again through the year, or is this something that'll wind up gathering dust in the basement?
If you're determined to enjoy the game of Golf and improve to satisfy yourself playing this beautiful game or even looking forward to being a professional player, having a swing analyzer will help. Otherwise, you may end up throwing it out after some days.
Value for the money
Does it add value against what you pay for it? Is it within the price range you are looking forward to? Do the cheaper products serve you the same? The answers will decide on your purchase decision.
Durability
You will surely not expect your purchased product to last only a few days. Will you? So, choose the analyzers that have more durability or at least made with such materials that last long.
Concluding Remarks
When you have a good club swing it gets easier to score better in golf. With the help of top swing analyzers, you can understand what your swing lacks and how you can improve. Swing Analyzers are capable of providing near accurate outputs. Besides, golf swing analyzers are portable and very lightweight. You can have your natural swing and the golf swing tracker will track your swing and you can also sync that data to get expert opinions to improve your performance. Lastly, these are very inexpensive.