There is hardly any replacement for golf launch monitors to track your ball and club data to improve your performance on the golf course. Golf launch monitors are a good asset for passionate golfers to take their performance seriously and continually strive to improve. And many launch monitors require compatible apps to provide better features.
But if you are an occasional golfer who likes insight into the shots you play, a portable golf launch monitor or a launch monitor app can help. Generally, you will use the Best-app for the launch monitor you own, though there are launch monitor apps you can use with your smartphone, and they won't require any extra hardware.
If you are looking for the best golf launch monitor app, you are right here. This article will review the five best golf launch monitor apps you can use without hardware. And still get results that help you know your swing data.
5 Best Golf Launch Monitor Apps Reviews
Golf simulator brands like SkyTrak, TruGolf, TrackMan, and many more have introduced launch monitor apps. However, each of them works best with their branded launch monitors. Besides, some launch monitor apps like E6 CONNECT are compatible with multiple brands and models of launch monitors. And then, a few apps can turn your smartphone into a golf launch monitor.
These apps offer different gameplay features and analyze your golf skills deeper. Some work without extra hardware, but which ones are the best? Which one is a better fit for you? Here are the reviews. Let's find out.

TrackMan is one of the best in launch monitor and swings analysis technology. There should be no doubt about it. Experts agree that hardly any other golf simulator brands provide as accurate data as TrackMan.
The TrackMan Classic golf launch monitor app is the most advanced in the industry, used by coaches, equipment manufacturers, club fitters, and Tour players across the globe. It can track more than 25 ball and club data parameters.
With this App, you can enjoy point mapping, 3D graphics overlays, videos, games, and more added features. But you can enjoy this App's features when using TrackMan 4. And a TrackMan 4 is an expensive launch monitor. But it's worth the price if you are passionate about improving your golf skills. The features, accuracy, and performance are so exclusive that you won't get them in other apps.
| | |
| --- | --- |
| Pros | Cons |
| Most accurate data readings. | It is an expensive choice. |
| You can have more than 20 data parameters to know your swing better. | Only compatible with Trackman golf launch monitors. |
| 3D graphics and point mapping features are available in this app. | |
Learn more about Trackman here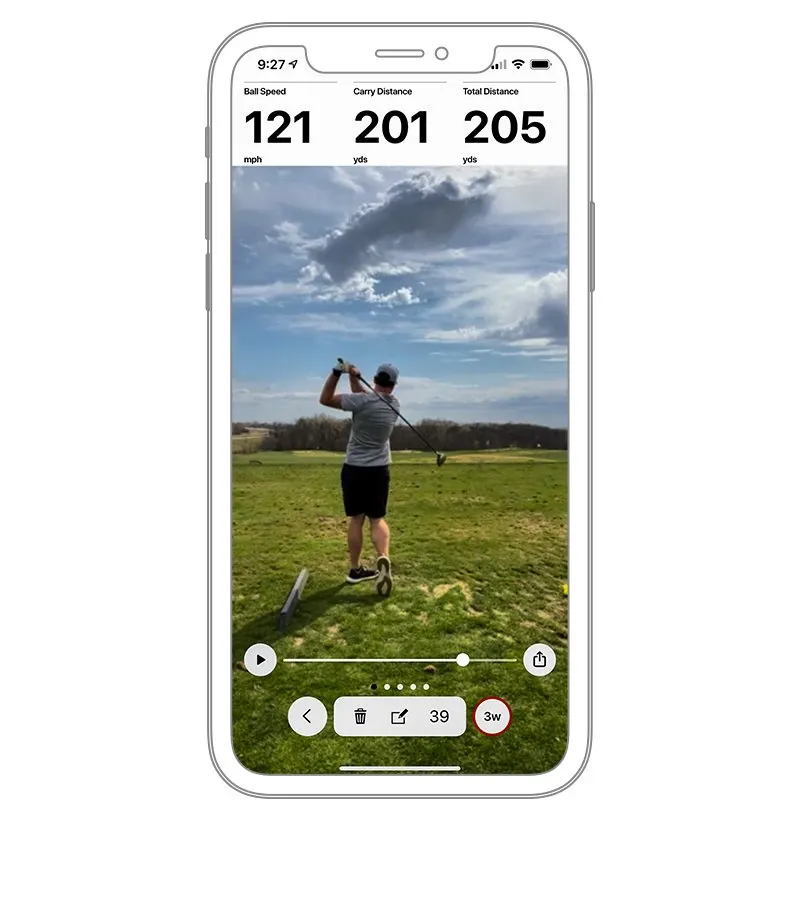 The Garmin Golf App provides valuable club and ball-tracking data to help you improve your golfing skills. But this App needs a Garmin Approach R10 golf launch monitor to operate.
Garmin is a renowned brand for various Golf GPS watches, handheld DMDs like a rangefinder, etc. Recently they introduced the Approach R10 golf launch monitor. This home launch monitor measures and analyzes sixteen data parameters, including ball and clubhead speed, launch angle and direction, club path, angle of attack, and more. The App includes some beneficial features as well. 
You can set up your tournaments and invite friends to compete. You can also enter your score manually or sync it automatically if you have a compatible Garmin device. The Garmin Golf app is available on iOS and Android devices.
| | |
| --- | --- |
| Pros | Cons |
| This app is compatible with iOS and Android. | You need a Garmin Launch monitor with it to track the data. |
| This app can measure and analyze 16 club and ball data parameters. | |
| The App is easy to use. | |
| You can use the launch monitor with the App both indoors and outdoors. | |
Learn more about R10 launch monitor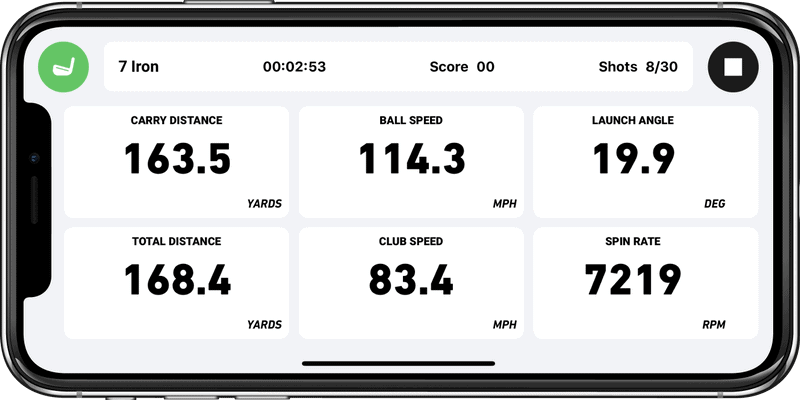 ShotVision is one of those launch monitor apps you can use without any other hardware, such as a golf launch monitor. Instead, it uses your mobile phone camera to track your swing and ball data.
You can use this App both indoors and outdoors. Using this App, you can measure carry distance, ball speed, club speed, spin rate, total distance, and launch angle indoors and outdoors. It uses State-of-the-art technology to detect launch conditions and accurately measure these data.
The App is compatible with iOS devices only. So, if you have an iPhone 4 or a better iOS device, you can install this app for free. We recommend having a paid subscription to enjoy the premium features. Because there are fun games and challenges to practice, enjoy, and improve your golf skills in the paid subscription.
| | |
| --- | --- |
| Pros | Cons |
| You can use this app with your iOS device; no need for other hardware. | There are very few features in the free version. |
| It can track several club and ball data. | Data readings may be inaccurate due to bad light. |
| With proper installation, it provides accurate measurement. | You need proper installation for data readings. |
| | Only compatible with iOS devices. |

The Golf B-FIT is a golf ball fitting app developed by Bridgestone. They provided this App for free so that users could get recommendations about the best golf ball for them. It is available in-app store and compatible with iOS devices. No other hardware is needed to use this App.
But to recommend the best golf ball, the App tracks club speed, ball speed, carry distance, and different spin and launch angles. So, you can use this App as a launch monitor app to track and analyze ball and club data.
The user interface design is not very appealing to many users.
| | |
| --- | --- |
| Pros | Cons |
| The app provides accurate ball speed and distance data. | Available for iOS devices only. |
| It is a free application. | The user interface design can be improved. |
| It suggests a ball for better performance. | There are only a few data parameters the app can track. |
Learn more about Bridgestone Golf B-FIT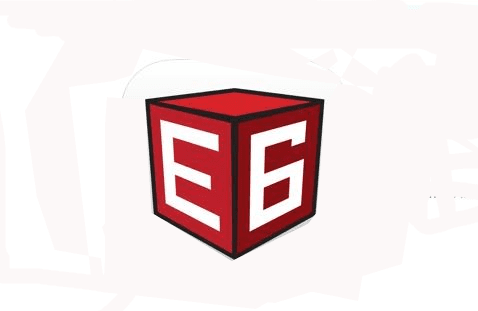 E6 connect complete simulation software is also available in the mobile application version. Though the app is only compatible with iOS devices, you can use this App with launch monitors like SkyTrak, Uneekor, and Flightscope.
E6 CONNECT offers one of the best golf simulation experiences out there. With the E6 Connect, you can play world-famous golf courses tee-to-green and practice driving, chipping, and putting ranges.
Besides all the golf swing analysis statistics, mini-games are also available to make your golf time more enjoyable. With E6 CONNECT, there is also real-time peer-to-peer play, shot replays, player profiles, and local multiplayer.
| | |
| --- | --- |
| Pros | Cons |
| The E6 Connect is compatible with different launch monitors and can provide a complete simulation experience. | Available in iOS version only. |
| It features lots of customization opportunities. | |
| It provides accurate data readings. | |
Final Words
There are many launch monitor brands and models available in the market. And most of them have mobile applications—for instance, SkyTrak, FlightScope, TruGolf, etc.
We recommend selecting the launch monitor app based on your launch monitor selection. However, if you are looking for the best golf launch monitor apart from the apps, we have a detailed review of them as well.
But if you are looking for launch monitor apps that you can use without the launch monitors, we suggest ShotVision for the best results. I hope this will help you find the best launch monitor app that will eventually assist you in improving your golf performance.
Share your thoughts in the comments. And feel free to ask us any questions. We are ready to get back to you with the best possible answers.