This post may contain affiliate links and we may earn a small commission for no extra cost to you.
This is how we keep NiftyGolf free. Learn more about our affiliate disclosure here.
About 27,000 pro golfers throughout the world are on the PGA Tour. And many of them play with E6 software that comes from TruGolf. A wide range of TruGolf simulators are leading the golf industry with their advanced technology in software and sensors.
If you are looking for truly a world-class simulation experience, TruGolf is for you. Here we talked about the features and performance of this simulator. Whether you seek a home golf simulator or a professional golf simulator for commercial purposes, TruGolf can truly meet your needs. Let's find the best one that matches your needs and comes in your budget
Features and Benefits of TruGolf Simulator
Best graphics and real feel can give the most entertaining simulation experience. TruGolf combines these two. What makes this special is the portable simulator and industry-leading software. This is an opportunity to keep your game sharp throughout the year.
While installing TruGolf simulators, no tools will be required. This easy setup system might attract you. But all this comes with a price. You should consider over $10,000. Let's know what's more you are getting here.
TruTrack 2 tracking system
The TruTrack2 Tracking System does the same as a launch monitor. There are optical sensors in this system that tracks data of your shots. TruTrack2 measures all the necessary measurements of both ball and club data.
Optical sensors accurately calculate clubface angle, club path data at impact. And after each shot, these sensors analyze the data to show you on the screen. As you get the measurements of various data, it is easier for you to correct your distance.
The clubface angle gives you the starting direction of your ball flight. It's the key component to make your ball flight data accurate. The more clubface angle on your swing path, the more sidespin on the ball. And the data of ball flight lets you learn how to draw the ball, how to fix a slice, or how to pull.
E6 Connect software
The name of high-quality software that can give a lifelike experience is E6 Connect software. TruGolf offers this software for the world's most challenging golf courses in high definition. E6 delivers 87+ golf courses globally, 23 of which are ranked in "Top 100 Courses in the World".
If you want a lot of courses to play as well as have club-fitting capabilities, E6 connect is an ideal option. Its design can easily ensure your improvement in the golf swing. The more courses you can play, the more experience you will gather. TruGolf simulators always care about increasing your performance and so they provide E6 connect.
Peer to peer connectivity
Peer-to-peer connectivity adds a new network between golfers worldwide. The purpose of this feature is to connect you with the golfers of different countries.
You can compete with golfers by playing head to head and increase your skill. Playing more courses and tournaments will definitely improve your game level.
Skill challenges
Knowing one's performance level increases the chance of improving the game. So how do you know you are improving? That's where TruGolf helps.
They come up with skill challenge features. You can now challenge yourself and practice according to the instructions of professionals. It also covers all the skill-building exercises provided by the PGA teachers.
Multiplayer mode
TruGolf features a multiplayer mode. Up to 8 players can play together. Playing a virtual round with friends and family can reduce your stress. This mode also lets you test your skill against them.
Not just a virtual round, you can also play virtual courses with your game partners. Whether it's a regular round or tournament, you can spend some good time utilizing this multiplayer mode.
TruGolf Simulator Packages
TruGolf creates their own golf simulator packages. This includes all the materials you need to set up the simulator. Nothing requires buying separately. We recommend having the packages instead of individual products. There are mainly 3 simulators each of which has 2 models. Learn which package can save you a fortune.
1. TruGolf Vista 8 Golf Simulator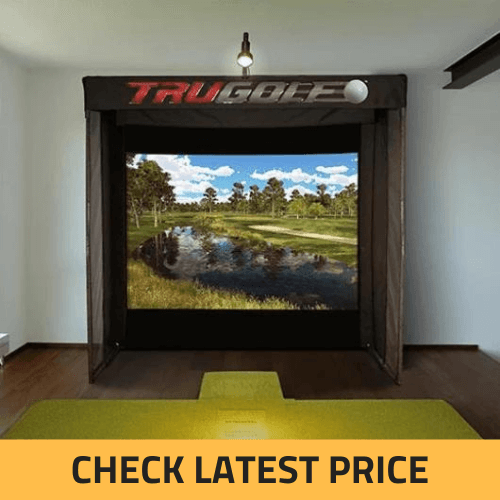 Vista 8 is the most affordable option among the vista series. To have a portable golf simulator that offers accurate data feedback with stunning graphics, we recommend Vista 8. The minimum space requirement is 15'W x 20'D x 10'H.
Vista 8 has 2 models. Vista 8 base unit and pro. Both are designed with a new revolutionary tension system that allows crystal clear pictures on the impact screen. The only difference is Vista 8 pro has a level 2 computer that performs a bit better than level 1 of the Vista base unit.
What's best in this simulator
Realistic simulation
Dynamic graphics
Easy to assemble
Great for practicing
What could be improved
Setting up process could be a bit faster
Check Price at Shop Indoor Golf
2. TruGolf Vista 10 Golf Simulator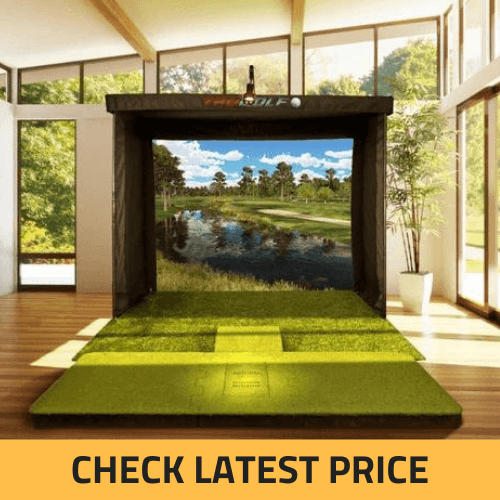 If you are looking for a more lightweight and portable golf simulator than Vista 8, Vista 10 can be your solution. Upgraded core equipment with an enclosure of Vista 10 ensures more entertaining simulation.
If you have just started your game, try the Vista 10 base unit. But for a professional-level player, vista 10 pro is recommended. Both models offer brighter and clearer images.
What's best in this simulator
Larger screen
Lightweight aluminum frame
Brighter images
Multiplayer capability
Courses on the E6 software
Surprisingly accurate
Check Price at Shop Indoor Golf
3. TruGolf Vista 12 Golf Simulator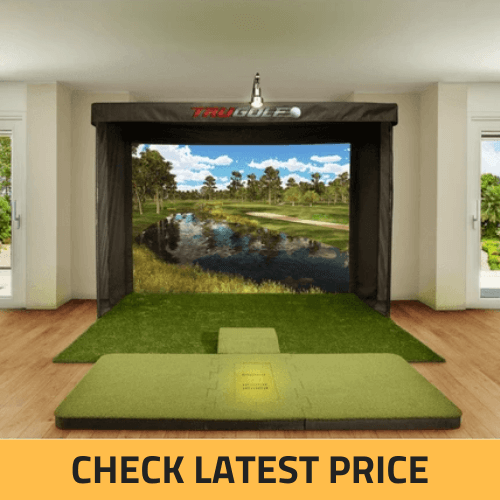 Vista 12 gives the most lifelike experience among the Vista series. Though it requires a large space, you get a full premium screen for a better simulation experience. And it's much easier to set up and take down.
Vista 12 is very portable and for this, it doesn't sacrifice the size. An upgraded core component design ensures this. It's for you if you want both the full-sized screen and easy transport. The minimum space requirement for Vista 12 is 15'W x 20'D x 10'H.
What's best in this simulator
Ultra-lightweight frame
Multiplayer capability
Amazing portability
Brighter and bigger
Requires no tool to setup
Improves the golf swing
Very durable
What could be improved
Ball flight stats need to be a little longer on the screen
Expensive
Check Price at Shop Indoor Golf
TruGolf Simulator Materials
Out of the package, you can buy TruGolf simulator materials separately. Because TruGolf manufactures their own products such as projector, mat, net, microphone etc. You can build your own golf simulator with relatively few materials to start your game. Let's have a glance. You can also check our review of the best in home golf simulator.
Projector:
TruGolf comes with their own projector. This HD Short Throw projector has high-quality features such as more brightness, more contrast ratio, more detailed and crease-free viewing. It provides a new cutting-edge tension system that ensures you crystal clear images on a larger screen.
Frame and bag:
TruGolf comes with a durable aluminum frame. It is so lightweight that you can easily carry it anywhere. You also get a carry bag for storing the frame. This is an extra advantage of this simulator while comparing it to other indoor golf simulators.
Turf:
There is a Deluxe Fairway turf included with TruGolf simulators. It's very soft, smooth, and long-lasting. By practicing on this turf, you can correct your drive, practice with your golf clubs, and work on your pitch.
And as it is designed to be placed anywhere, you can carry it wherever you want to play. It also gives a fairway feel like playing on real grass.
Side net:
TruGolf includes a protective side net. While hitting, the ball will never get lost because of this protective net. Besides, it will protect your simulator from any damage.
Replacement Microphone:
This device catches audio by making electrical signals after converting sound waves. The microphone in the simulator works to improve directional sensitivity for better sound quality.
Frequently Asked Questions
How much does a TruGolf simulator cost?
TruGolf simulators are known for their quality and durability, and their price range typically falls between $10,000 and $20,000. The variation in price is based on the specific features and graphics offered by each model. For those seeking an affordable option, a simulator priced around $10,000 is recommended, providing a balance between cost and functionality.
If you're looking for brighter, more vibrant images, a mid-range simulator priced at around $14,000 is ideal. And for those who prioritize the best graphics and most immersive experience, considering a simulator closer to $20,000 is worth it.
However, if you're concerned about budget constraints, don't worry. We have you covered with our comprehensive reviews of golf simulators under $5000 and golf simulators under $1000. These options offer great value for money while still delivering an enjoyable and realistic golfing experience.
What are the dimensions of the TruGolf simulator?
15'W x 20'D x 10'H is the minimum dimension for a TruGolf simulator. It's enough to swing properly. Also for its multiplayer mode, more than one golfer can play at once in this recommended space. But if you want a wider screen, you need over 20ft depth.
Learn more about golf simulator room sizes.
What projector is used for a TruGolf simulator?
The HD Short Throw projector is used for a TruGolf simulator. It's built-in smart features that can create high-quality images even at a shorter distance. Thus this projector from TruGolf lets you enjoy a brighter and clearer view.
To know more about projectors, check the best projectors on the market.
Conclusion
If you want a more budget-friendly option, try SkyTrak golf simulators (learn more about the Skytrak launch monitor here). But within the $10,000 to $20,000 price range, TruGolf is a better solution. It can really cover your costs. Hope this article will help you decide on purchasing the suitable one according to your needs. If it seems helpful to you, give us a review. Inform every word of your mind freely and make us grateful.