This post may contain affiliate links and we may earn a small commission for no extra cost to you.
This is how we keep NiftyGolf free. Learn more about our affiliate disclosure here.
"SkyTrak helps me to produce my best golf!
Like Ian Harold Woosnam, many PGA tour players gave their feedback after using SkyTrak golf launch monitors that it improved their game skill without any question. How will you feel if you can play with the highest peak of accuracies like Trackman or Foresight without breaking the bank?
SkyTrak is the first launch monitor that claims so. It measures equally precise data like the expensive golf launch monitors but costs like the affordable ones. Making a connection bridge between the luxurious and low-priced launch monitors, SkyTrak is priced under $2000.
But is it really true what it claims? Is it worth buying? What does our experience say?
Well, by the end of the article, you will know this answer. So before pulling the trigger, let's have an overview of our in-house research and analysis of SkyTrak golf launch monitor review, what SkyTrak is, what it does, how it works, and how it compares with other launch monitors on the market.
SkyTrak Launch Monitor Review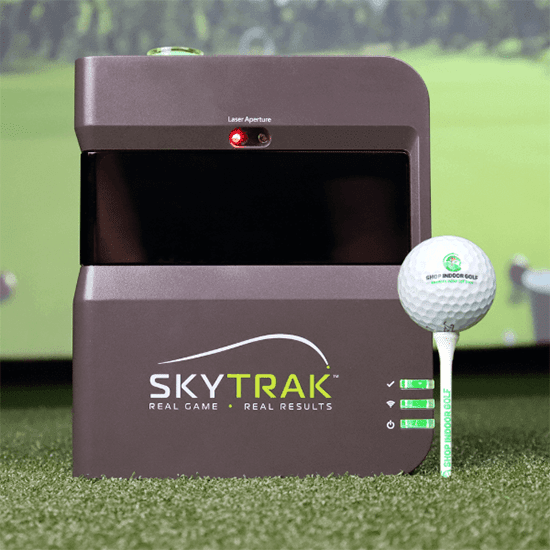 Features and Game Modes
Accuracy
Depicting the real ball trajectory, the SkyTrak launch monitor accurately reads each ball flight data. After comparing it with other industry-leading golf launch monitors like Trackman, Foresight GCQuad, or GC2, we found Skytrak incredibly accurate. But yes, this high-level accuracy is for indoor use. Because while using outdoors, the sunlight can create troubles with the cameras that make the readings less accurate. 
Yet, SkyTrak is very popular for its reliable accuracy and affordability for indoor use. The precise data measurement tells you whether your launch angle and spin rate data are too high or too low. Because if you don't have the correct combination of launch angle and spin rate, you will lose distance.
Learn in detail how accurate golf simulators are.
Tracking system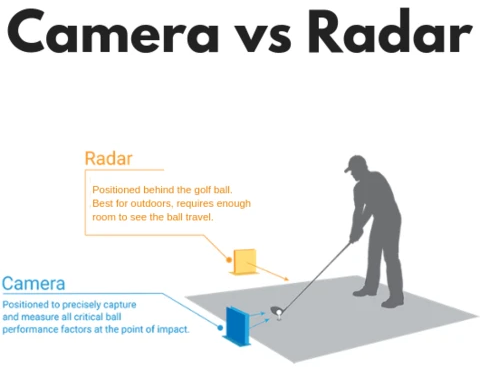 Unlike Flightscope Mevo+, or X3, SkyTrak is a camera-based launch monitor that tracks data by photometric technology. It is different from radar doppler technology which we see in Uneekor QED, EYE XO, Foresight GC Hawk. The difference is in the tracking system. SkyTrak launch monitor tracks by capturing high-speed images before, during, and after impact, while radar-based launch monitors track the entire ball flight, recording the motion of the ball and clubface.
The camera-based launch monitors like SkyTrak sit above the golfer (on the ceiling) or in front of the golfer (besides the hitting mat) so that they can view the hitting area. It just requires the ball movement and the space around it to capture images or take video footage. As it can directly capture the perfect view of the ball and hitting area, it helps them measure data accurately. Here, SkyTrak gives an advantage in that it can track the ball launch data within a limited space. But radar-based systems require wider space.
Data parameters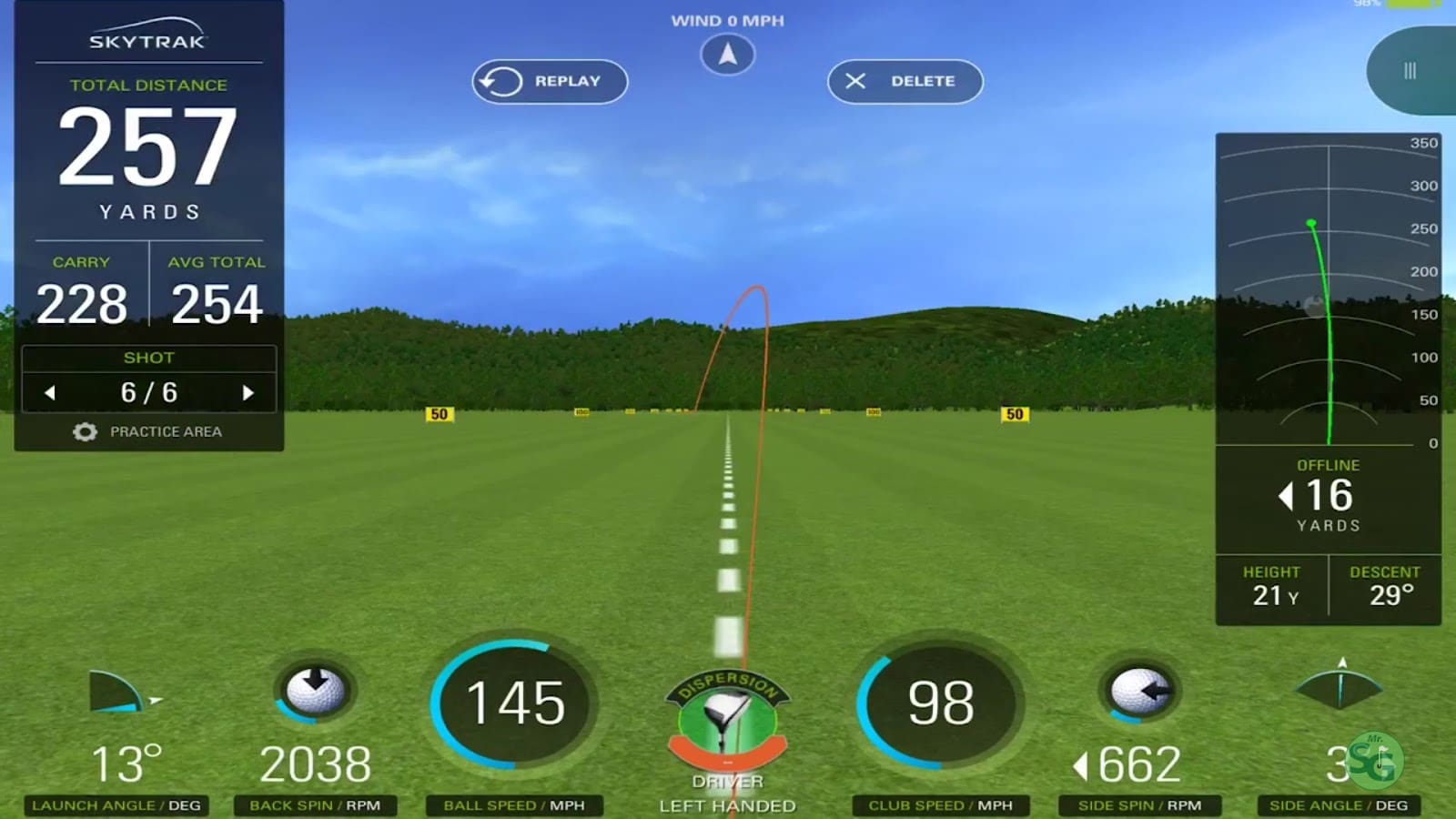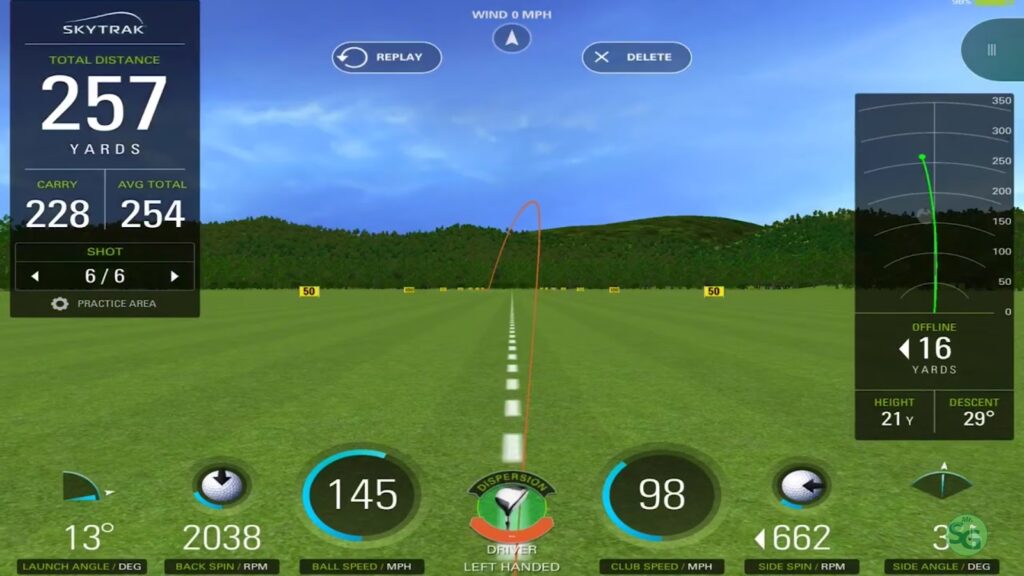 SkyTrak records most of the major data directly and estimates some minor data by calculating those major data. The major parameters that are directly recorded are ball speed, swing speed, launch angle, side spin, and backspin.
Then an accurate approximation of total distance, roll distance, carry distance, and clubhead speed is estimated. Though these data come from estimation, they are very precise and reliable like the parameters directly measured.
One of the considerable factors is that SkyTrak directly tracks only data related to the ball and calculates club data using those ball data.
| What SkyTrak Measures | What SkyTrak Calculates | What SkyTrak Doesn't Measure or Calculate |
| --- | --- | --- |
| Ball speed | Clubhead speed | Club path |
| Launch angle | Total distance | Impact location |
| Backspin | Carry distance | Face angle |
| Sidespinn | Roll distance | |
| Side angle | | |
| Flightpath | | |
| Landing angle | | |
Indoors or Outdoors?
Both! Yes, you can use the SkyTrak launch monitor both indoors and outdoors. It depends on your choice and requirement. The wireless connection makes it easy to carry the device anywhere.
When it's not cold or windy outside, you can go out with your SkyTrak. But while playing outdoors, it won't give as accurate data as it gives indoors because it is designed to be more accurate for indoor use. If indoor accuracy is 10/10, outdoor will be 7/10. So we recommend playing at home instead of going outside.
Easy to set up
The launch monitor of SkyTrak is very easy to set up. Because you get a user manual guide that eases the installation. The apps are easy to operate. It displays swing numbers without any complications.
You can use SkyTrak either with a plug on or off. Even wirelessly! As it's lightweight and portable, it's easy to transport. Just connect the launch monitor to your iPhone, iPad, or computer to play.
Challenge mode
Hitting hundreds of shots may make you feel monotonous. SkyTrak launch monitor has a solution for this too. Here you get a skill assessment challenge that will let you hit several targeted shots. And then it will give you a score according to your performance. Thus you can challenge yourself to improve your performance.
Besides, to increase your golf skill, SkyTrak has more challenge modes like target practice, close to the pin content, ability to adjust to any situation, long drive competition, etc. You can even use multi-colored shot tracers to use different clubs.
[N.B. Challenge mode is available with Game Improvement and Play & Improve Plan. Details about plans are in the latter section.]
The randomizer! What can it do?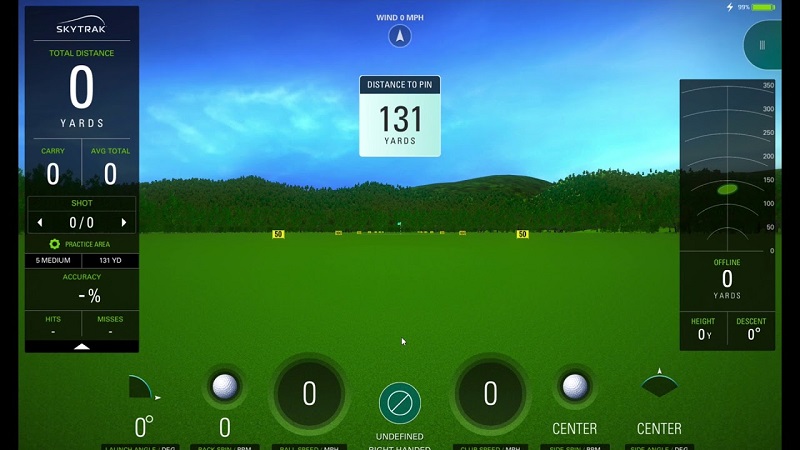 One of the interesting things about the SkyTrak launch monitor is it features a randomizer to randomize the distance. To be more specific, you can select two different distances to hit. SkyTrak will randomly pick targets for you in between those two distances. Randomizer lets you simulate different shots on different shaped greens.
To turn on the randomizer, click on the practice area setting button. Then click on the greens. Now switch to the randomizer. You can set your distance from 10 yards to 350 yards. There are three difficulty levels of greens- easy, medium, and hard. Each of them is shaped differently. You can select any of the yardages.
Battery
You can run the SkyTrak launch monitor for up to 5 hours by fully charging its rechargeable battery. Before starting to pay with SkyTrak, make sure it is fully charged. You can recharge it through the charging cable.
When you connect it to your computer, we recommend using the full USB or Micro USB cable. Because it will give your unit a constant charge to use all day long.
Price and Plans
The SkyTrak launch monitor device costs $1995. The whole unit comes with 3 different annual plans and packages- Basic Practice Range Plan, Game Improvement Plan, Play and Improve Plan.
Basic Practice Range plan
This plan has no extra cost. It gives free access to the 3D driving range app including shot tracer. Instant ball performance data, first-person camera view, and shot replay are also available with this plan.
The Basic Practice Range Plan is recommended for you if you just want to practice on the driving range and check your swing data. But if you are interested in more features and game modes, check out the other two plans described below.
Game Improvement Plan
The Game Improvement Plan comes with a yearly subscription fee of $99 and $299 for every three years. It's an upgrade to the basic practice range plan including the launch monitor device, game improvement package, and SkyTrak metal protective case.
This supports E6 and TGC simulation software with famous golf courses in multiplayer mode. The renewable plan gives access to more programs and game improvement features that are categorized as Standard and Advanced features.
Game Improvement Features
Standard features
Advanced features
Multi-color shot tracer
Club compare
Numeric display
Player skill assessment
Target practice
Player skill assessment
Target practice
SkyGolf 360 cloud storage
Long drive competition
Bag mapping
Closest to the pin
Wedge matrix
Session history
Environmental controls
Multiple cameras angles
The Kiawah Island Course is available with the SkyTrak Game Improvement Package. But if you are looking for more world-renowned golf courses, have a look at the Play and Improve Plan below.
Play and Improve Plan
This plan costs an extra subscription fee of $199 per year and $599 per 3 years with access to World Golf Tour courses. Being an upgrade to the Game and Improvement Plan, it includes everything that the Game and Improvement Plan has. WGT supports integration with iOS only.
In 18 WGT courses, you get closest to the hole challenge option while in 12 WGT courses, a full course play option is available. It supports only single-player game modes.
Full Course Play:
Pebble Beach
St. Andrews
Bethpage Black
Olympic Club
The Ocean Course — Kiawah Island
Chambers Bay
Erin Hills
Pinehurst #2
Congressional Country Club
Merion
Wolf Creek
Royal St. Georges
Game Improvement Plan or Play and Improve Plan?
From our experience, we recommend the Game Improvement Plan for being cost-effective and having renowned golf courses. It lets you train yourself by spending hours with the practice features like target practice, skill test, etc. Yes, the GI plan has limitations in WGT simulation. But that won't harm your training session.
On the other hand, if you are interested in playing a full golf course with more challenges, you can go for the Play and Improve plan. But it will charge you an extra cost and won't allow multiplayer game modes.
Golf Simulator Packages with SkyTrak Launch Monitor
Using the SkyTrak launch monitor, manufacturers created different golf simulator packages with different materials. We have tested a list of premium quality golf simulator packages that provide SkyTrak launch monitors. After research and analysis, we picked the top ones and reviewed them to help golfers know what they have. Check out the list of SkyTrak golf simulators to find out the package that matches you best.
Benefits of Skytrak Launch Monitor
You can see where your ball ends up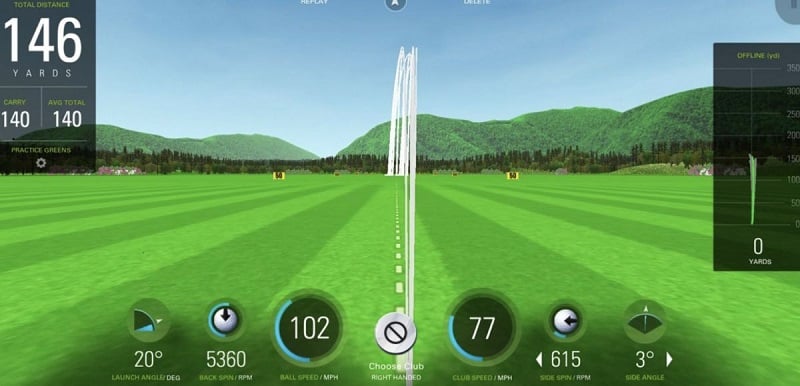 You may ask, "Why use SkyTrak? I can practice golf by just hitting into a net." Here's the difference. Just hitting on a net won't give you the same accurate feedback the SkyTrak launch monitor gives. For example, you can see your ball flight in SkyTrak and know exactly where your ball ends up. It also shows you all the slices you hit. Without SkyTrak, you cannot.
Easy to know how well you are performing
SkyTrak will improve your accuracy. As you can select the distance according to your needs, the SkyTrak launch monitor will also target those distances. This will help you get a dynamic handicap after each shot. And thus it will let you know how accurate your shots are. So once all of your shots are measured, you get an idea of how well you are performing and what level you are at.
The direction of where to put your ball
SkyTrak has a laser to give you the direction of where to put your ball. This laser spot is missing in GC2 or GCQuad. So without SkyTrak, you will not be able to figure out where to put your ball. You can upgrade it and build it into an advanced simulator.
Fixing your 18 hole
SkyTrak launch monitor provides quality software that offers World Golf Tour courses! The more interesting thing is you get some amazing courses and opportunities like E6 connect. This lets you fix your 18 holes sitting at your own home.
For recreation
SkyTrak successfully revealed their launch monitors to entertain golf lovers. Recreational golfers especially love this as a golf simulator for home. As SkyTrak software packages offer world-famous golf courses, you can easily play anywhere in the world staying at your own home. And golf courses don't need club data. You can play just by ball data, which SkyTrak launch monitor measures.
Who is the SkyTrak Launch Monitor for?
Keeping entertainment and improvement purposes ahead, the SkyTrak launch monitor is made for recreational golfers. What we see from our experience is there is no commercial aim behind the manufacture of the SkyTrak launch monitor. Both beginners and professionals can use this launch monitor for recreational purposes.
Golfers who want to improve their game can practice effectively with SkyTrak. Instead of costing an arm and a leg, it offers accurate simulation with the world's top golf courses at an affordable price. That's where SkyTrak succeeds by making it reachable to every recreational golfer.
What's More About SkyTrak?
Hardware compatibility
SkyTrak is compatible with iOS, Android, and Windows (except mac desktop and laptop). It supports the following iOS devices – iPad Air 2 or newer, iPad Mini 3 or newer, iPad Pro, iPad 6 or newer, iPhone 6, or newer.
We recommend these devices for Androids- Google Pixel C, Samsung Galaxy Tab S3, Samsung Galaxy S6, Samsung Galaxy Tab S2, Samsung Galaxy S8, and those devices that contain octa-core processors.
SkyTrak can be run with these Windows- Windows 7, 8, or 10, Intel Core 2 Duo at 2.0 GHz or higher, 2GB RAM or higher. The TGC software from Game Improvement Plan doesn't support Windows.
You can connect SkyTrak to any of the above-mentioned devices via:
wifi connection
internet in Network Mode
USB cable
Dimension
The dimension of the SkyTrak launch monitor is small enough to carry it in a golf bag. Its length, width, and height are 5.75 inches, 2.5 inches, and 6.75 inches respectively. The device is lightweight and portable, which makes it easy to transport. It weighs 1.7 pounds.
Accessories
SkyTrak golf launch monitor comes with these accessories: SkyTrak unit, SkyTrak apps, user manuals, and USB charging cable. When you buy a Game Improvement Plan or Play and Improve Plan, a metal protective case will be added with the accessories that will save your device from scratches.
Drawbacks at a Glance
Everything has some drawbacks along with benefits. SkyTrak is not different from this truth. Yes, compared to its benefits, the drawbacks are minor. Yet we would like to refer to it as we care about honest feedback.
First, SkyTrak sometimes delays around 2-5 seconds to register a swing. That means you may see the ball flight a few seconds later after the impact. If it happens to you, there is a cure for this disease too. Don't let your mind get bored waiting 2-5 seconds. Utilize the time thinking about your shots, how you should hit, where it should go etc.
Secondly, SkyTrak doesn't directly track club data. It only tracks ball data. The clubhead speed is estimated by calculating the ball data. And you will miss club path data that SkyTrak doesn't measure. So if you want a launch monitor that measures both ball and club data, SkyTrak isn't for you. You should look for Foresight GCQuad, Uneekor EYE XO, or QED.
Thirdly, Unlike the high-end launch monitors, SkyTrak won't give you advanced data analysis of your putt shots. Uphill and downhill breaking putts may not be perfectly stimulated.
Things to Know Before Buying
SkyTrak is very accurate. But using a low-quality golf ball and mat may not bring the most accurate result. So to have the best from SkyTrak, use premium golf mats and balls.
Don't forget to buy a flexible mat. The mat should be large enough to stand with comfort and place your device.
We recommend purchasing the SkyTrak metal protective case to protect the device from errant shots or other damages.
Though this launch monitor is both for left and right-handed golfers, it's not perfect for those righties who want to play against the lefties. Because while playing a match, it is required to move the device from one side of the hitting area to the other after each shot. This is critical for righties. But the lefties can play with ease against the righties.
SkyTrak Vs Other Launch Monitors
While comparing SkyTrak with other launch monitors like Foresight Sports GCQuad, GC2, Uneekor QED or FlightScope Mevo+, we see some similarities and some differences as well.
One of the similarities is all the launch monitors provide accurate data in indoor use. SkyTrak, GCQuad, GC2, Mevo+ can be used both indoors and outdoors while QED is only for indoors.
SkyTrak and Mevo+ cost under $2,000 whereas the rest of the above-mentioned launch monitors cost $7,000 to $20,000. There is another similarity between SkyTrak and Mevo+. Both measures only ball data while QED, GC2, GCQuad measure ball and club data.
On the other hand, Mevo+ is different from SkyTrak and others in the case of the tracking system. Unlike other photometric launch monitors, Mevo+ uses radar doppler technology. Besides, SkyTrak differs from its features too. Let see a comparison chart between SkyTrak and other launch monitors.
SkyTrak and other launch monitors comparison at a glance
| Price, Features, and Game Modes | SkyTrak | Foresight Sports GCQuad | Uneekor QED | Foresight Sports GC2 | FlightScope mevo+ |
| --- | --- | --- | --- | --- | --- |
| Indoor/outdoor | Both indoor and outdoor (More accurate for indoor use) | Both indoor and outdoor | Indoor | Both indoor and outdoor | Both indoor and outdoor (More accurate for outdoor use) |
| Data parameters | Ball data | Ball and club data | Ball and club data | Both ball and club data | Ball data |
| Price | $1,995 | $11,000 – $20,500 | $7,000 | $8,400 – $13,300 | $1,999 |
| Compatibility | iOS, Android, and Windows (Except Mac desktop and laptop) | iOS and Android | Windows | iOS and Android | iOS and Android and PC |
| Tracking system | Photometric | Photometric | Photometric | Photometric | Radar dopple |
| Yes | Yes | Yes | Yes | Yes | Yes |
| Live Shot Data | Yes | Yes | No | Yes | Yes |
| Live Shot Data | Yes | Yes | No | Yes | Yes |
| Skill challenge | Yes | Yes | No | Yes | Yes |
| Competitions | Yes | Yes | Yes | Yes | Yes |
| Putting Analysis | No | Yes | Yes | No | No |
| Battery | Up to 5 hours | 6-8 hours | No | 6-8 hours | Up to 4 hours |
Alternatives of SkyTrak Golf Launch Monitor
FlightScope Mevo+ can be an alternative to the SkyTrak launch monitor. With a similar price range, it comes with similar performance. The difference is, unlike SkyTrak, Mevo+ is more accurate for outdoor use than indoor. SkyTrak costs $1,995 while Mevo+ costs $1,999. Like SkyTrak, it is lightweight, portable, and supports TGC software.
Foresight Sports GC2 can be another alternative to SkyTrak from the performance perspective. Though this launch monitor costs more than SkyTrak, it performs great both indoors and outdoors like SkyTrak. The indoor accuracy is also as difficult to beat as SkyTrak. Starting from $8,400, GC2 can be 13,300.
Frequently Asked Questions about SkyTrak Golf Launch Monitor
How much does SkyTrak cost?
The SkyTrak launch monitor unit costs $1,995. It comes with the free Basic Practice Range Plan. Including more practice features, SkyTrak has a Game Improvement Plan that requires a yearly subscription of $99 and $299 after three years. If you want to add WGT with the basic cost, it will cost an extra of $199 per year and $599 each three years.
How to reset SkyTrak?
To reset SkyTrak, keep the power on first. There is a tiny hole underneath the largest hole. It might have a rubber cap over it. Find it because it's the reset button. Pull it down with a needle. You can do it with a diameter paper clip too. Pull down until the lights turn amber. You are done resetting it. It will take around 10 seconds.
How accurate is SkyTrak?
SkyTrak is 95-99% accurate compared to the most accurate golf simulators like Foresight, Trackman, etc. The photometric launch monitors like SkyTrak use high-speed cameras that ensure the consistency of this extreme accuracy. Because of the higher speed cameras in a launch monitor, the more accurate the data measurement is.
What info does SkyTrak give?
SkyTrak gives the information of ball speed, swing speed, launch angle, side angle, carry distance, spin rate, and clubhead speed. SkyTrak accurately tracks the ball trajectory data and lets you know how the ball moves in the air or where it ends. It helps you improve your game.
Does SkyTrak measure swing speed?
Yes, SkyTrak measures swing speed. It also measures ball spin, launch angle, side angle, side spin, and backspin that provide you with more information about your swing. Thus SkyTrak gives a clear picture of your ball trajectory and total distance. And it lets you know how you should swing properly.
Does SkyTrak give clubhead speed?
Yes, SkyTrak gives clubhead speed numbers but doesn't actually measure it. It just uses ball flight data to calculate clubhead speed. SkyTrak gives no club data except the clubhead speed. This speed basically shows how far you can hit the golf ball.
What software is compatible with SkyTrak?
E6 Connect and WGT Golf are compatible with SkyTrak. Both are the most renowned software for world-class golf courses. Besides these two, SkyTrak is compatible with the Golf Club 2019, Creative Golf 3D, and Fitness Golf.
Conclusion
Keeping the high-end expensive launch monitors behind, if you want a budget-friendly but most accurate golf launch monitor for recreational purposes, SkyTrak is what you need. What we really think about SkyTrak, what its features and game modes are, what the benefits and drawbacks are, what to know before buying it, everything we observed in our research is included in this article.
Take your time before going for the SkyTrak personal launch monitor. If you are already playing with one, let us know how it is going. Don't forget to share your simulation experience. If you can't decide because of the questions popping up in your mind, simply drop here. We will be there to answer you regarding your issue.