When affordable launch monitors are mentioned, SkyTrak is a name that can't be ignored. Since the release of the first SkyTrak launch monitor in 2014, it has been truly remarkable for its accuracy and features considering the reasonable price. Now in 2023, they introduced a new model, called SkyTrak+ (ST+).
So you may ask, which model is ideal for your needs? Is the SkyTrak (2014) under $2,000 good enough for you or should you invest $1,000 more in ST+ to make it worthwhile?
In this review, we'll dive into both models, exploring their tracking systems, accuracy, pricing, annual plans, space requirements, quick setup guide, benefits, drawbacks, comparison to other launch monitors, Skytrak simulator package recommendations, and more.
At a Glance: SkyTrak and SkyTrak+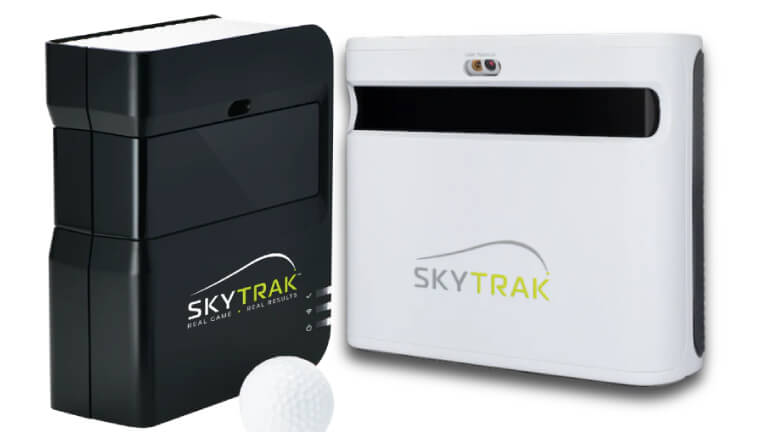 Launch Monitor 
SkyTrak
SkyTrak+ (ST+)
Price
$1,995
$2,995
Tracking system 
Photometric system

Improved photometric and new dual Doppler radar system
Data parameters
(Directly measured)

Ball speed
Launch angle
Back spin
Side spin
Side angle

Club head speed
Smash factor
Club path
Face to path
Face to target

Indoor/outdoor
Indoor
Both indoor and outdoor (with mat)
Accuracy
Within 3% of Trackman's accuracy 
Slightly better accuracy than the previous model
Annual plans

Basic (no additional fee)
Game Improvement or GIP ($129.95/ Year)
Play & Improve or PIP ($249.95/Year)

Same as SkyTrak
Compatible simulation software

E6 CONNECT
The Golf Club 2019
WGT Golf
Creative Golf 3D
Golfisimo
Fitness Golf
ProTee Play

Same as SkyTrak
Main attraction 

Cost-effective
Impressive accuracy
Option to play on top golf courses

Direct club data
Better accuracy than the previous model
Bigger hitting area
New on-board processor for faster shot view
USB Type C charging option

Major concerns

2-4 seconds of shot delay
No directly measured club data

Can't be used outdoors without hitting mat
Costs $1,000 more than the previous model
Benefits and Drawbacks at a Glance
Now, let's take a closer look at the benefits and drawbacks of both the SkyTrak and the ST+ launch monitor models. Understanding these aspects will help you make a more informed decision about which model suits your needs best.
SkyTrak (2014)
The SkyTrak 2014 model was one of the first to offer a balance between affordability and performance, making it a popular choice among golfers. But the shot delay is also something most golfers complained about. So, take a look at both sides of it.
Benefits
Cost-effective
Doesn't need much space
Ease of use
Throws challenges and helps improve
Option to play on top golf courses
Drawbacks
2-4 seconds of shot delay
No directly measured club data
White objects might cause misread
SkyTrak+ (2023)
Building on the success of its predecessor, this model incorporates advanced features and improvements that cater to the modern golfer's needs. With a focus on accuracy, speed, and a range of new functionalities, the SkyTrak+ aims to provide an unparalleled golfing experience. So, what are the benefits and what are the things you need to consider?
Benefits
Direct club data
Better accuracy
New processor for faster shot view
AI-enhanced stats
Bigger hitting area
No clubface sticker required
Improved shot optimizer interface
Tutorials from Golf Digest #22 teacher in the world, Nick Clearwater
Better connectivity with added 5Ghz Wi-Fi capabilities
USB-C for better stability and faster charging
Doesn't require much space
Ease of use
Keeps you entertained and helps improve
Option to play on top golf courses
Drawbacks
Can't be used outdoors without hitting mat
Requires $1,000 more than the previous version
Although not as much as the previous model, there is still a slight shot delay
SkyTrak Launch Monitor Review
Now that we have an overview of both models. In the following section, we will discuss more details about both SkyTrak launch monitor models, starting from how it tracks data to what will be the best choice in different scenarios.
Exploring SkyTrak's tracking system and accuracy
SkyTrak's 2014 model: Impressive accuracy achieved through photometric system
The SkyTrak golf launch monitor series has undergone improvements in tracking accuracy over time. The previous model utilized a photometric system, functioning as a camera-based launch monitor positioned beside the user. It captured high-speed images to measure ball data directly and derived additional metrics from this information.
While its accuracy could be compromised by bright light or white objects, its performance could still match Trackman's precision within a 3% range when used in shaded conditions.
So, if you are going to use the launch monitor indoors only and just want a simple, affordable launch monitor to give you an idea about your performance, then the 2014 version is good enough. Just the photometric system offers quite accurate data and saves you $1,000 too.
Elevated Accuracy: ST+ Tracking System Upgrades
The SkyTrak Plus presents enhanced accuracy through an upgraded photometric system. Unlike its predecessor, SkyTrak+ also has a dual Doppler radar system, allowing it to directly measure club data and make the golf ball data more accurate. At the same time, its proprietary machine-learning algorithms increase accuracy by recognizing data patterns and enhancing result predictions.
The ST+ launch monitor, with its advanced tracking system, stands out as the preferred choice for users seeking increased accuracy and more comprehensive data insights. It's also for those who use the launch monitor outdoors occasionally. The bright light doesn't affect the ST+ results much as in the previous model.
However, even with the upgrades, it still requires a hitting mat to ensure accurate data collection, as it may struggle to gather data from dirty or grassy surfaces reliably.
Data parameters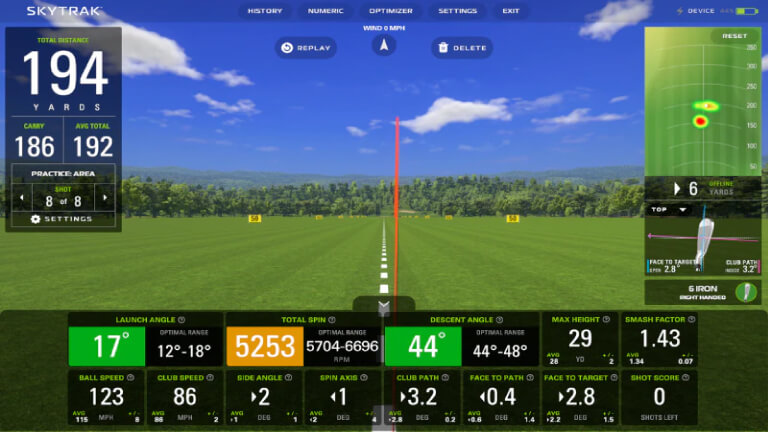 With improved photometric and new dual Doppler radar systems, the SkyTrak+ directly measures club data too. Here is an overview of the data SkyTrak and ST+ directly measure-
Directly measured data by SkyTrak
(mainly ball data)
Directly measured data by SkyTrak+
(both ball and club data)
Ball speed
Ball speed
Launch angle
Launch angle
Back spin
Back spin
Side spin
Side spin
Side angle
Side angle
Club head speed
Smash factor
Club path
Face to path
Face to target
Previous SkyTrak isl good enough for mostly high handicappers
If you are a beginner or high handicapper, the previous model of SkyTrak will work fine to improve your game on budget. You need a simple practice session that lets you know your shortcomings. The previous SkyTrak does that quite well. It offers key metrics like ball speed, backspin, launch angle to give you a clearer idea about your performance. At the same time, the side spin and side angle help you hit straighter shots. You also get a rough idea about the club head speed and smash factor from the calculated data to know how fast or solid your shots are.
Now, what about the other data like club path, face to path, or face to target that the previous model doesn't measure? Well, even when you practice with your local coach with Trackman, they don't share much data as that might be confusing. Additionally, since you are new to the game, you have already spent quite a lot on golf clubs. Now, buying the previous version will hurt your wallet less.
SkyTrak+ is better choice for mid to low handicappers
If you ask about pro golfers simulator choices, Foresight Sports GCQuad, FlightScope X3, Trackman 4, Full Swing KIT, etc. tend to be in the spotlight. For example, Tiger Woods trusts Full Swing KIT. Phil Mickelson and Rory McIlroy are seen using Foresight Sports GCQuad. While Dustin Johnson is seen relying on Trackman.
SkyTrak is less likely to be heard in the same line as PGA professionals or golf instructors. Although SkyTrak Plus isn't going to offer you as much data or putting analysis as the premium options, ST+ does the work when you are on budget. The results are around 98% accurate compared to Trackman.
However, there is a massive number of low handicappers who can't afford that much, but need to keep their game in check or want an affordable simulator option. The SkyTrak Plus is for them. It offers more accurate and detailed data than SkyTrak. With a hitting mat, you can use it outdoors as well.
Additionally, for mid-handicappers or intermediate golfers, ST+ is a better choice. Because you are no longer at the stage where just having an idea is enough. Your basics are already likely to be strong. You must pay attention to every detail to change your status to a low handicapper. ST+ does that better. The data is more accurate with the improved tracking system. The clubhead speed and smash factor are directly measured too.
Moreover, you need to work more on your shot shaping. Club path is one of the most important metrics for that. SkyTrak Plus directly measures that too. You can target to make the club path zero to get straight shots and fix the few slices stopping you from getting a lower handicap. Or you can target to get specific shot shapes to improve your control. The face to path and face to target help you know how much you need to close or open the face relative to the club path and target path to reach the target.
Indoor or Outdoor?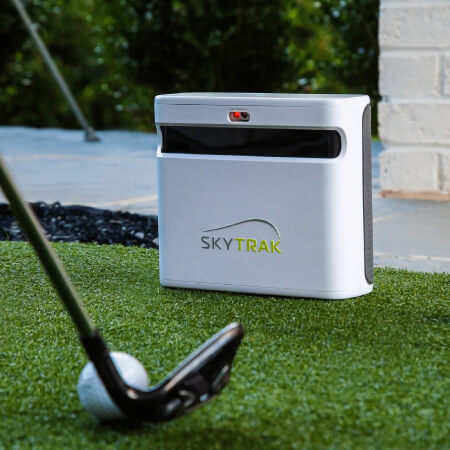 SkyTrak has always been seen more as a portable indoor launch monitor. It's because direct sunlight affects the performance as it's a camera-based launch monitor. But SkyTrak+ is trying to change this image as an outdoor launch monitor too.
Even in daylight, the improved photometric and new dual Doppler radar system ST+ launch monitor works fine. It picks up the shots better than before. You just need to hit it from a golf mat.
Still, it's important to acknowledge that even SkyTrak Plus is best suited for indoor use. It is for those who mostly play indoors but want to practice outdoors once in a while. It is not the best golf launch monitor to play outdoors regularly. But considering its price and accuracy, the ST+ launch monitor's outdoor performance is impressive.
Price and Annual Plans
Without the metal protective case, the SkyTrak launch monitor itself costs $1,995, and SkyTrak+ comes at $2,995. But it's highly recommended to use these launch monitors with a SkyTrak protective case. It prevents damages, and any ball strikes to SkyTrak+ device will not be covered under warranty without the shield.
The latest annual plan is the same for both SkyTrak and ST+. They are the Basic, Game Improvement (GIP), Play & Improve (PIP). The pricing is the same. Know these plans before buying. Here is an overview to help you know the key factors easily.v
Plan Name
Basic Practice Range
Game Improvement Plan (GIP)
Play & Improve Plan (PIP)
Price
No additional cost
or $129.95/ Year
$249 or 249.95/Year
Includes

Ball Performance data
3D Practice Range
First person camera view
Shot Replay

Everything in basic package
Everything in basic package

Skills Assessment
Bag Mapping
Wedge Matrix
Closest to the Pin
Longest Drive
Target Practice
Shot Optimizer
Shot History
Progress Tracking
Practice Randomizer
Custom Environmental Settings
5 Different Camera Views

Everything included in GIP

Closest to the hole challenge on
6 WGT golf courses
15 E6 Courses (IOS/PC)
15 WGT Courses (IOS Only)
Basic Plan: Ideal for Occasional users and new golfers
For those who only use a launch monitor now and then to keep an eye on their swing details, the Basic plan fits the bill just right. It shows the ball flight on a virtual 3D range from a first-person camera view. You can have a simple practice session with it.
Also, if you're totally new to golf and not planning to take lessons right away, all the fancy data stuff might feel like a lot. What you initially need is to understand some key data while you practice at the range. This way, it will be easier for you to focus. Surely, the more advanced plan has more tools for improving, but starting with the simple version is a good idea.
GIP: Elevating practice for Progress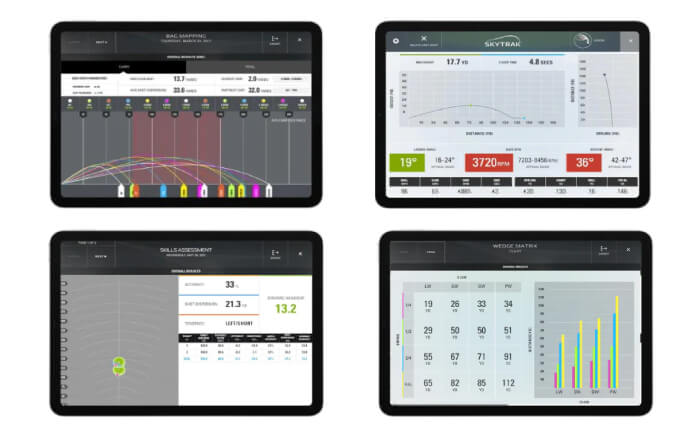 If you are committed to consistent progress in your game, the Game Improvement Plan (GIP) proves to be a valuable investment. The plan introduces many features that significantly enhance practice sessions. Here is an overview of them.
Skills Assessment: This takes you through many target sessions and gives you detailed data on how you are performing overall. It's a crucial step to understand your current strengths and areas for improvement. It sets the foundation for a personalized practice plan tailored to your needs.
Bag Mapping: It helps you know your club distances more accurately. Knowing how far each club can carry helps you make informed decisions on the golf course.
Wedge Matrix: The wedge matrix feature is designed to refine your short game. You take your different golf wedges and hit different lengths to get the insights. It helps you choose the right wedge on the course.
Shot Optimizer: Precise shot placement is key in golf. So, the shot optimizer compares your shots with optimal results and uses color codes to make them easier to understand. For example, green means within the optimal range, yellow means outside it, and red means far from optimal. It aids in fine-tuning your shots and developing consistent and accurate swings.
Shot Score: This option compares your performance to other golfers after hitting 20 shots. It's pretty much like progress tracking. The lower the shot score is, the better player you are.
Practice Randomizer: Replicating on-course situations is vital for improvement. The practice randomizer feature challenges you with randomized distances to reach within the specific distance range you set up. It then tracks the accuracy and makes you better at hitting precise shots.
The GIP also ensures your practice remains fun and engaging with these options:
Closest to the Pin: With this, you can test your accuracy by aiming for the nearest pin on virtual greens.
Target Practice: The challenge is to reach as close as possible to the bullseye. You can enhance your precision by targeting specific spots on the range, refining your ability to hit your mark consistently.
Longest Drive: You can compete with yourself or friends to see who can hit the longest drive, adding an element of friendly competition to your practice.
As these features mainly target accuracy, many might prefer playing full courses. If you go for the GIP membership, you can always include simulation software later, or you can simply choose PIP in that case. But consider whether you'll have the time for full-course play. Also, improving your skills should be a priority, especially in the beginning stages.
Making the call: Should you opt for PIP?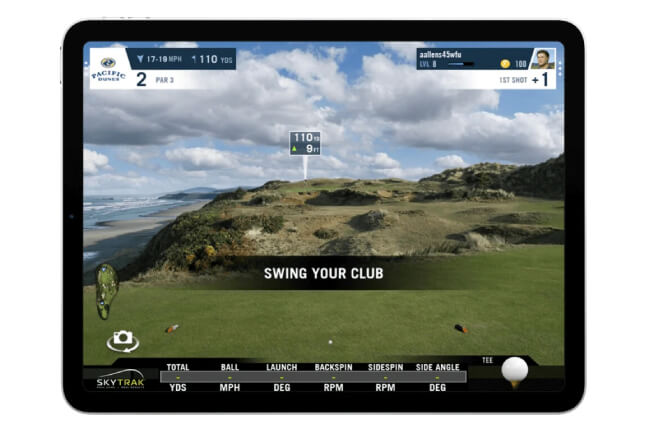 If you're aiming to enhance your game and have enough time for full rounds, PIP could be a smart choice for those who are budget-conscious. You'll at least need a GlP membership anyway to integrate any of the simulator software SkyTrak partnered with.
For just an additional $120 compared to GIP, you can unlock the benefits of a PIP membership. This membership not only includes all the perks of the GIP level, but also provides full integration with WGT Golf and limited access to E6 Connect. Acquiring these two software separately could put quite a dent in your budget. True, it doesn't offer full integration with E6 Connect, but consider this – if you purchase E6 Connect on its own, you will need to set aside at least $300 per year.
So, when you weigh the options, investing a bit more in PIP is just a practical route. It opens opportunities for improved experiences and valuable software without straining your finances.
Moreover, it offers you the chance to experience the feel of playing a complete course within this virtual setup, while still keeping within a reasonable budget. This prevents finding yourself in a situation where you have invested a considerable sum of money in premium simulator programs, only to realize that virtual courses aren't something you enjoy.
But if you have a larger budget and your main goal is to play on different golf courses, then starting with a GIP membership and later adding TGC2019 is going to be a better choice.
Third Party Simulation Software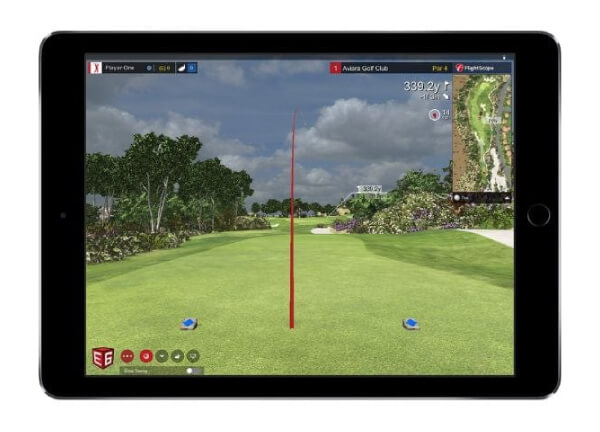 Both SkyTrak and ST+ are officially compatible with 7 third-party golf simulation software. They are-
E6 CONNECT
The Golf Club 2019
WGT Golf
Creative Golf 3D
Golfisimo
Fitness Golf
ProTee Play
After getting membership of GIP, you need to pay additional fees for them. All of them have their unique features, games, and challenges. The choice depends on your preferences and budget. The most popular ones are E6 Golf Connect, Golf Club 2019, and WGT. Let's take a look at the best choice for SkyTrak launch monitors.
E6 Golf Connect or Golf Club 2019: Which one to choose?
If you are going to make an annual payment, E6 Connect is overall the best software to use. It offers short game practice settings, multiplayer capabilities, online events, game modes, and many golf courses. It costs $300/year for Basic, which provides limited access to the software. It takes $600/year for Expanded, which provides full access. It has over 60 additional golf courses to play on. The expanded subscription is a better choice to get the most benefit out of this software. But it's not a good option to pay one time. It costs $1500 for iOS and $2500 for the PC version.
While TGC2019 is a better choice if you want to access many different golf courses or design your own course feature and want to go a one-time payment route. It costs $895 for one time and $479/year.
Taking PIP membership adds more value than getting only WGT Golf
You could simply get PIP membership for $249.95/year, which provides full integration with WGT Golf and limited access to E6 Connect.
For integrating any software, you need the GIP membership anyway. If you take a GIP subscription and then add WGT Golf, you won't get access to 15 golf courses of E6 Connect you get with PIP membership. Also, know that WGT Golf is only available on iOS and doesn't offer a multiplayer option.
Other than these, GSPro is one of the popular choices. It can also be used with both models using a special interface, and it's pretty famous among golf enthusiasts too. But it's still not officially supported by SkyTrak or ST+.
Space Requirements for SkyTrak Launch Monitors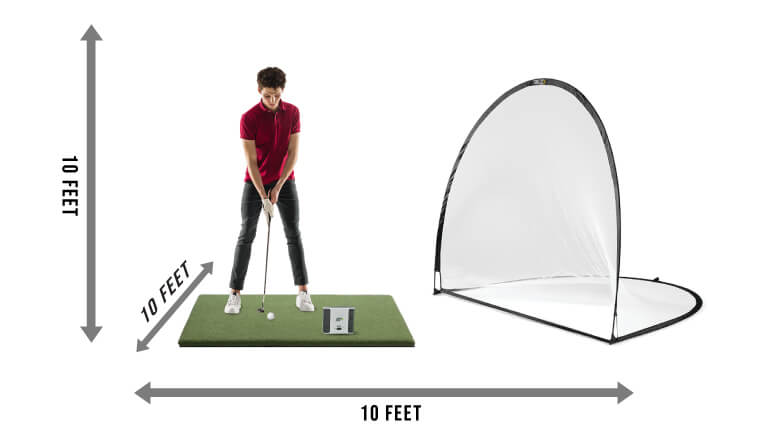 As both SkyTrak launch monitors sit beside you while hitting the golf balls, you don't need as much space behind you as the expensive radar-based launch monitors like Trackman.
SkyTrak recommends a minimum of 10 feet (3.35 m) and 10 feet width for both models. The safe ceiling height depends on your height and the maximum height of the swings. Try swinging with a hybrid comfortably to know the ideal ceiling height. 10 feet height is mostly enough.
But 12-16 feet in length will make things more comfortable. You need at least 1-foot space between the screen and the wall to avoid hitting the wall.
As you might already know, width is more important than the length not to hit the walls while swinging the club. So, for hitting with your hybrids more comfortably, it's better to have 12 feet width.
But if you plan to enjoy a central aim or to accommodate both right and left-handed golfers, 16-18 feet width is recommended.
SkyTrak and SkyTrak+ Quick Setup Guide
Both units have the same setup, and the latest version of the SkyTrak app works with both. Here are 4 steps to set up:

1. Go to the SkyTrak website, create an account, and register the device's electronic serial number (ESN). You will find the number under the barcode at the bottom of the unit.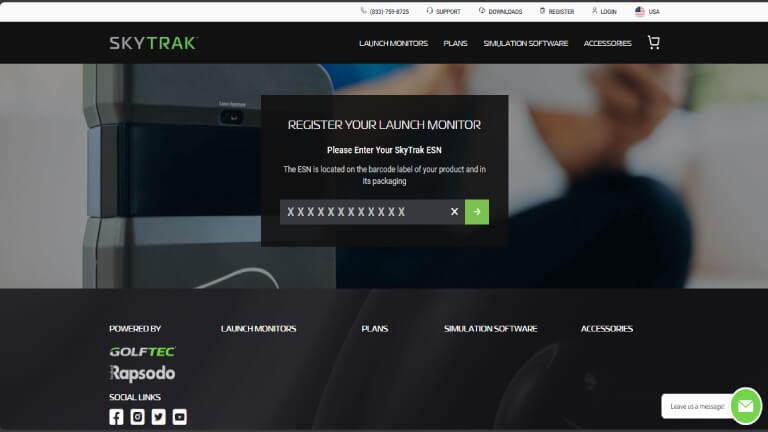 2. Download and install the SkyTrak app or .exe file.
3. Open the app or software and log in to the SkyTrak account.
4. Connect the unit to mobile or PC using USB, direct, or network methods. When you pair the device correctly and are ready to go, there will be a red laser dot on the ground.
Practicing With SkyTrak
You can make the results more accurate and decrease misreads and non-reads by keeping a few basic things in mind. They are-
Put the launch monitor on a different mat if possible. Otherwise, the unit might move or shake when you hit the ball and cause misreads.
Ensure that the device is level with the mat. The bottom of the device and the top of the hitting mat should be at the same level.
Using clean white standard golf balls gets the best results.
Face the logo marking towards the laser.
Avoid using it with white objects like white golf shoes, pants, tee, white background to decrease misreads.
Clean the launch monitor's lens cover from time to time.
SkyTrak vs. Other Launch Monitors
It's crucial to know how SkyTrak or ST+ compares to other options such as Bushnell Launch Pro, Flightscope Mevo Plus, Rapsodo MLM, Rapsodo MLM2 Pro, OptiShot 2, and Garmin R10 in terms of performance.
Are SkyTrak and ST+ still a good choice in these comparisons? Additionally, we'll discuss how SkyTrak holds up when matched against higher-end models like Foresight Sports GCQuad.
1. SkyTrak vs. Bushnell Launch Pro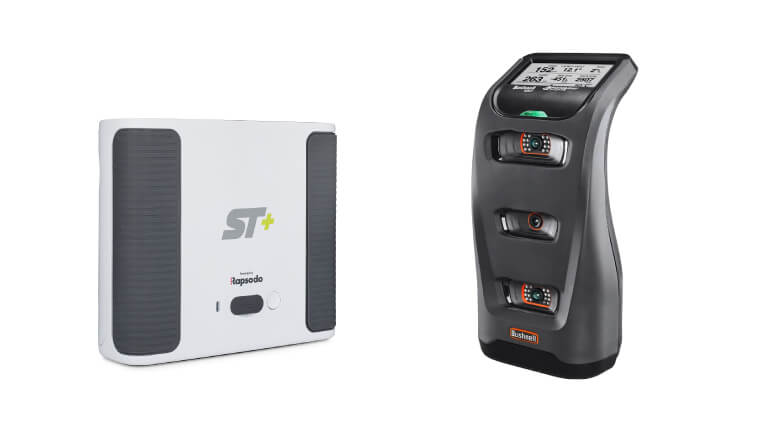 The previous SkyTrak, being a lot cheaper, has more misreads or non-reads and slightly less accuracy than Bushnell Launch Pro (BLP). Given the price point and expensive membership of BLP, many go for SkyTrak to save their wallet from a dent.
But with the recent price reduction of BLP and the release of ST+ with a lesser price difference, what should be the choice now?
Even with the improvement in the tracking system, BLP is still more accurate, offers faster feedback, and less misreads than ST+. It also gives angle of attack data, which ST+ doesn't. Moreover, the display makes it more convenient to use. So, in these categories, BLP is still the better choice.
Then, who is ST+ for? ST+ is still a bit more affordable option. If you take subscription costs into account, ST+ is the choice. It also doesn't need club markers and adds more value if you are looking for simulation experience. It offers face angle data that BLP doesn't provide.
Check price of Bushnell Launch Pro
2.SkyTrak vs. Flightscope Mevo plus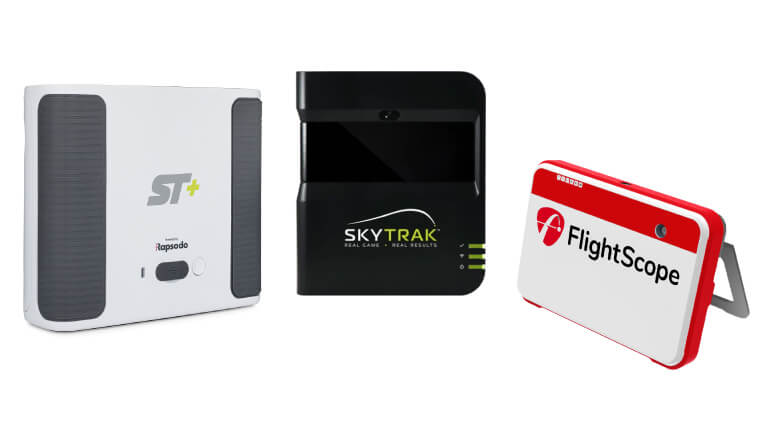 Even when you compare the previous SkyTrak model with Mevo Plus, SkyTrak has better battery life, is compatible with more simulator software, and needs less space. But Flightscope Mevo Plus has better accuracy with the Doppler Radar tracking system, tracks more data, is more accurate than the previous model, and can also be used outdoors.
With the release of SkyTrak+, it becomes more evident that Mevo Plus is surely one of its main competitors, as ST+ model has improved the photometric system and added a dual Doppler radar system. It enhances accuracy and can now be used outdoors with mat. You now get directly measured club data too. The results of ST+ and Mevo Plus are very close.
Then, which one to choose? If you are looking for a simulator-friendly unit that works best indoors and doesn't require much space, SkyTrak or SkyTrak+ is the choice. While for taking the unit to the driving range or anywhere outside, Mevo Plus is the best affordable choice.
Check price of Flightscope Mevo Plus
3. Rapsodo MLM and MLM2 Pro vs. SkyTrak and ST+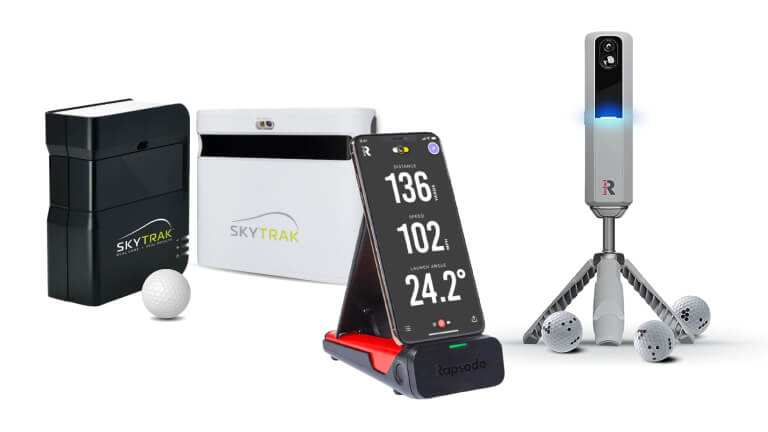 The previous SkyTrak was actually designed by Rapsodo. It was Rapsodo's first successful product. Rapsodo still owns the I.P. Since SkyTrak is now under Sky Golf, the question arises: how do SkyTrak compare with Rapsodo's own branded products like Rapsodo MLM or Rapsodo MLM2 Pro?
When compared, Rapsodo MLM turned out to be less accurate than SkyTrak both indoors and outdoors. But when you compare Rapsodo MLM2 Pro with SkyTrak or ST+, the accuracy is pretty close. That makes MLM2 a better choice considering the price.
But the concern is that these Rapsodo launch monitors require marked golf balls to measure spin and more space behind you to position. Also, the simulation experience is still much better with SkyTrak.
So, if you want a value option, MLM2 Pro is a better choice. Rapsodo MLM is for those on a tight budget. While for great simulation experience, SkyTrak and ST+ is the choice.
4. SkyTrak vs. Optishot 2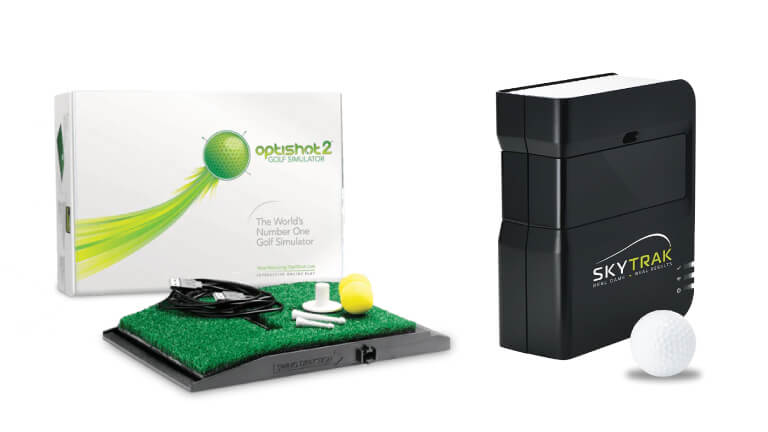 SkyTrak and Optishot 2 both work best indoors and are affordable options. So, what makes SkyTrak and Optishot 2 apart? Well, SkyTrak is much more accurate, has better battery life, and offers a great golf simulation experience. It makes the extra dollars worth it.
Although the accuracy and experience aren't even near SkyTrak, you might want to get Optishot 2 as a cheaper entertainment option. It isn't compatible with third-party simulator software, but the simulation software provided by OptiShot does offer you access to 15 golf courses to keep you entertained. The multi-player ability also makes it a good choice for enjoying golf with family and friends.
5. SkyTrak vs. Garmin R10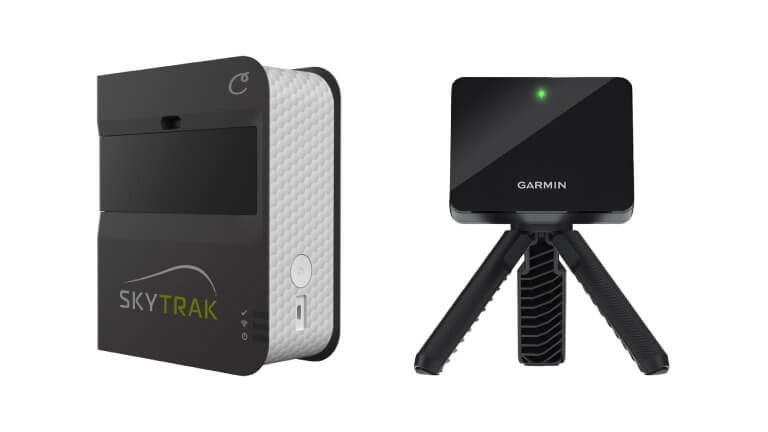 If you want a cheaper option, have a bigger space, or want to practice outdoors, Garmin R10 is the choice. It does show all the key data beginners might need, and it's around $2,500 cheaper than SkyTrak+.
On the other hand, if you have a bigger budget, want a more reliable unit, and want to fit the unit in a smaller indoor space, SkyTrak or ST+ is the choice. Additionally, it has many cool features and simulator software compatibility to keep you entertained.
6. SkyTrak vs. Foresight Sports GCQuad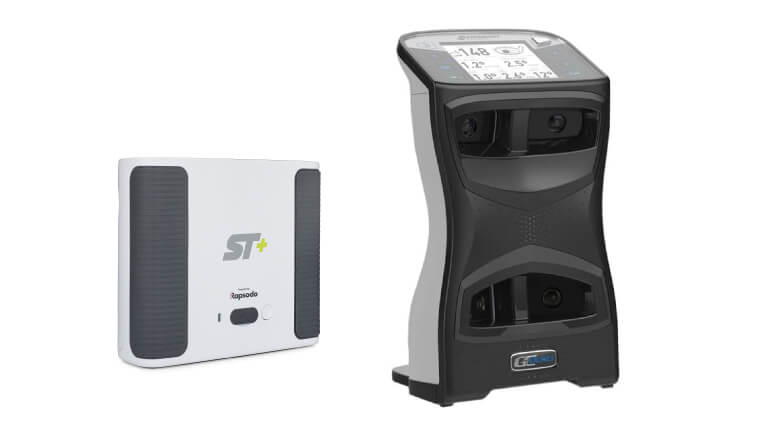 In terms of putting and accuracy, Foresight Sports GCQuad is clearly the winner. But given the price point, the SkyTrak+ launch monitor's accuracy is still close to GCQuad, which is amazing. Especially the club head spin, carry, spin are very close. While the launch angle is likely to be consistently slightly lower in ST+ than in GCQuad.
Moreover, it doesn't even need to be said that even SkyTrak+, which is $1,000 more than the previous model, is much more affordable than Foresight Sports GCQuad. SkyTrak models are also more lightweight and portable launch monitors. It requires less space than GCQuad. So, as a cheaper launch monitor for home, SkyTrak and ST+ is the choice. It's good enough for giving valuable insights and helping beginners and mid-handicappers to improve their game.
Check Price at Rainorshinegolf
Skytrak Golf Simulator Packages
1. SkyTrak Plus SIG10 Golf Simulator Package – Best Choice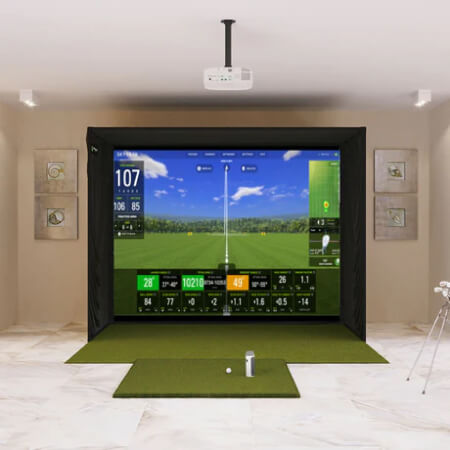 SkyTrak Plus SIG10 is the best for those with a budget of around $10,000 and looking for a full golf simulator experience. It gets everything you need with one purchase.
Talking about the performance of the simulator, it comes with SkyTrak+ launch monitor that now offers both direct ball and club data, better accuracy, bigger hitting area, and a faster shot show ability to enhance your simulation experience.
This package also includes Play & Improve plan, which gives you access to game improvement features like Skills Assessment, Bag Mapping, Wedge Matrix etc. At the same time, you get to play in world-class golf courses.
The PT-VZ580U golf simulator projector offers high quality image and color experience. The image fills the entire screen. There is protective foam padding around the screen and side barrier netting as well. As for the hitting mat, you have different options to choose from.
Recommended room dimensions for this simulator are 12′ W × 16′ D × 9′ H. However, you might need more than 9′ ceiling height depending on your height and swing.
SkyTrak Plus SIG10 includes:
SkyTrak+ golf launch monitor and charging cable
Protective case
Play & Improve software
SIG10 golf simulator enclosure
Side barrier netting
Landing pad turf
Choice of golf hitting mat
Golf simulator projector
Ceiling mount
15′ HDMI cable and HDMI to lightning cable
Check Price at Shopindoorgolf.com
2. SkyTrak Practice Golf Simulator Package – Best Budget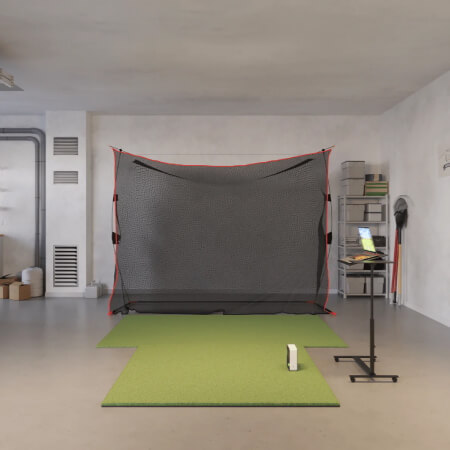 This SkyTrak simulator package is the best for the balance of affordability and value it adds to your practice session. Whereas the SkyTrak+ launch monitor itself requires a budget of around $3,000. This package, with the previous model of SkyTrak, comes under $3,500.
SkyTrak+ might have attracted many with direct club data. But if affordability is the first priority, golf simulators with the previous SkyTrak model are a no-brainer. Even with the previous model, the accuracy is quite good.
This home golf simulator package also includes the Game Improvement plan to make your practice sessions more effective. You can use features like Bag Mapping, Wedge Matrix, Shot Optimizer, Shot History, Progress Tracking, etc. to improve your game.
Although it doesn't come with an impact screen or projector, the included SwingTurf hitting mat designed by Rain or Shine Golf offers you a realistic fairway feel.
You need around 10′ W × 10′ D × 9′ H to set this up. It's very easy to put together, and you can move it around quickly.
SkyTrak Practice Golf Simulator Package includes–
SkyTrak launch monitor and USB cable
Metal protective case
Game Improvement software
Choice of golf hitting mat
Landing pad turf for full turf coverage (optional)
Gaming laptop (optional)
Check Price at Rainorshinegolf.com
Conclusion
Both SkyTrak and SkyTrak+ offer distinct advantages. Whether opting for the simplicity of the previous model or the advanced capabilities of the ST+, golfers can benefit from valuable insights to elevate their game.
If we sum it up, the previous SkyTrak suits beginners aiming to refine their skills without breaking the bank. The ST+ serves mid-handicappers, offering more accurate data and insights for better performance. It also caters to low handicappers on a budget, providing great value. So, choose based on your practice goals and enjoy.