Get ready to explore the exciting world of golf from home. Imagine playing golf on amazing courses, no matter the weather or time of day. It's all possible with Golf Simulator Software. This guide will teach us about the coolest golf software that helps you practice and have fun.
We'll discover how it can improve your swings and let you see your shots. So, if you love golf, keep reading to find out about the best way to enjoy it, even indoors.
Presenting the lineup of golf simulator software featured in this post. Browse through the list and click the link below to access the complete review section.
Simulator Package Name
Compatibility
Our Rating
Price
The Golf Club
Compatible with the SkyTrak launch monitor
★★★★★
E6 Connect
Compatible with SkyTrak, TruGolf, Phigolf,
and other leading launch monitors.
★★★★★
Creative Golf 3D
Compatible with SkyTrak, FlightScope,
and Foresight Sports launch monitors.
★★★★★
Foresight FSX
Compatible with Foresight Sports golf
launch monitors (GC2, GC3, GCQuad, GCHawk).
★★★★★
Jack Nicklaus Perfect Golf
Compatible with SkyTrak launch monitor.
★★★★
Fitness Golf
Compatible with SkyTrak's
Game Improvement Package.
★★★★
Uneekor Refine software
Compatible with Uneekor QED
and EYE XO launch monitors.
★★★★★
WGT Golf
Compatible with SkyTrak launch monitor.
★★★★
8 Best Golf Simulator Software of 2023
1. The Golf Club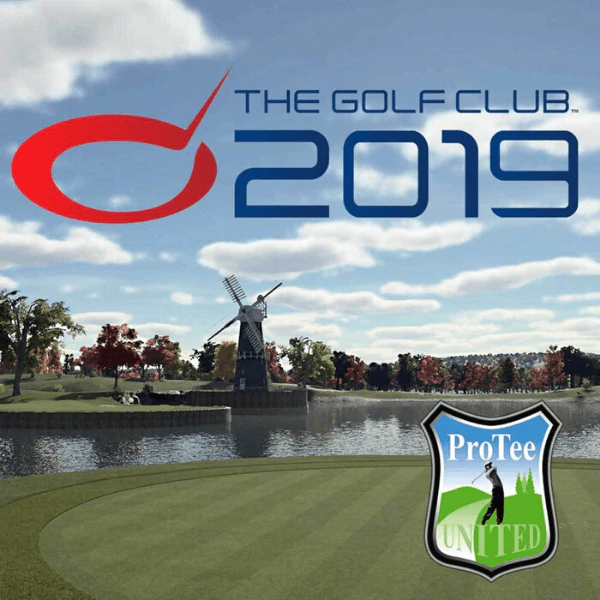 Offering more than 150,000 golf courses, The Golf Club lets you select your own golf course design and join online golf tournament competitions. This helps to create a large online community. Golfers can play with each other throughout the world. That's why it's one of the most interesting golf simulation software.
The Golf Club is compatible with the SkyTrak launch monitor. SkyTrak has three software Plans where it belongs to the Game Improvement Plan. Like OptiShot software, it also requires a yearly subscription for $99 and a three-year subscription for $299 to get access to more features.
If you are interested in a one-time purchase, you will need $895 and it will give you lifetime access to the package. The graphics are high quality and visually stunning.
We recommend this golf simulator software for you if you want to improve your skill by playing a large number of golf courses. Also if you want to build a strong online community by playing in live tours and tournaments.
Check Price at Shop Indoor Golf
2. E6 Connect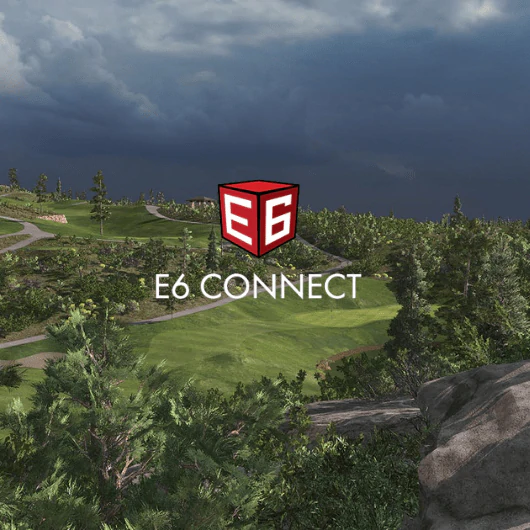 E6 Connect is our top pick among 9 because it's one of the most popular golf simulator software among golf enthusiasts. It lets you use not just new golf courses, but training aids, skill challenge features, and even different types of mini-games. Designed with advanced technology, this golf simulator offers a user-friendly interface, club fitting, and multiplayer capabilities.
It has two subscriptions: A basic subscription and an Expanded subscription. A basic subscription gives access to limited features and mini-games whereas an Expanded subscription gives access to all features and courses. If you want an expanded course play option, you need to pay $600 per year. Otherwise, choose a basic subscription that costs $300 annually.
You need an iPhone, iPad, Android, or PC to run the software. One-time purchase for a PC version will take $2500, whereas, for iOS, it will take $1500. Whether you want to train yourself, or just have fun, this software will meet your needs. You can enjoy the highest quality graphics in 4K resolution. This software will let you customize your own game features.
According to Golf Digest, there are almost 100 golf courses in this software titled "Top 100 Courses in the World". It combines both professional and beginner facilities. Currently, E6 Connect has also gained popularity in the realm of golf simulators for business applications, making it an ideal choice. Interestingly, it's compatible with almost every leading launch monitor like TruGolf, SkyTrak, Phigolf, etc.
Check Price at Shop Indoor Golf
3. Creative Golf 3D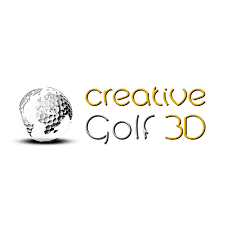 If you have a launch monitor of SkyTrak, FlightScope, or Foresight Sports, Creative Golf 3D can be a good choice for you. Here each new upgrade comes with new golf courses, game features, and a new yearly license subscription module.
Here you get a good collection of world top golf courses that are primarily located outside the United States. There are over 100 golf courses situated in Europe. With SkyTrak's Game Improvement Package, you need a yearly subscription for the software that will cost you almost $199.
Like The Golf Club, you can also have it by one-time purchase at $499. Creative Golf 3D doesn't require a high-end PC to run on. Everything appears in HD quality. The flight model and ball physics are realistic. Though the graphics quality is not as high as other software, for training and entertainment convenience, it's worth buying.
Check Price at Creative Golf 3D
4. Foresight FSX Golf Simulator Software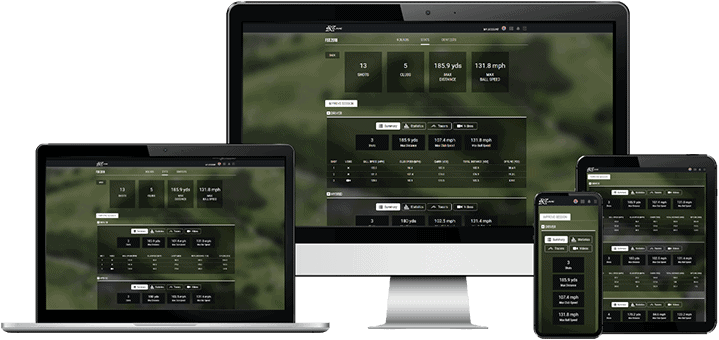 If you have any of the Foresight Sports golf launch monitors, FSX software can benefit you. But compared to the E6 and The Golf Club, it's of less quality software. Yet there are a lot of golf courses, game modes, and skill challenges. It will allow you to join competitions where different level players compete around the world.
The software is only available with GC2, GC3, GCQuad, and GCHawk. Whether it's for practice or club fitting, it provides real-time data. There are more than 100 golf courses included with it. It lets you customize the game features you want to play in stunning 4K resolution.
There are three modes – Play, compete and improve. Three modes make an ultimate process. Because by playing you can join competitions. By competing with different skilled players, you can improve your game. The full purchase of this software package costs $3000.
Check Price at Foresight Sports
5. Jack Nicklaus Perfect Golf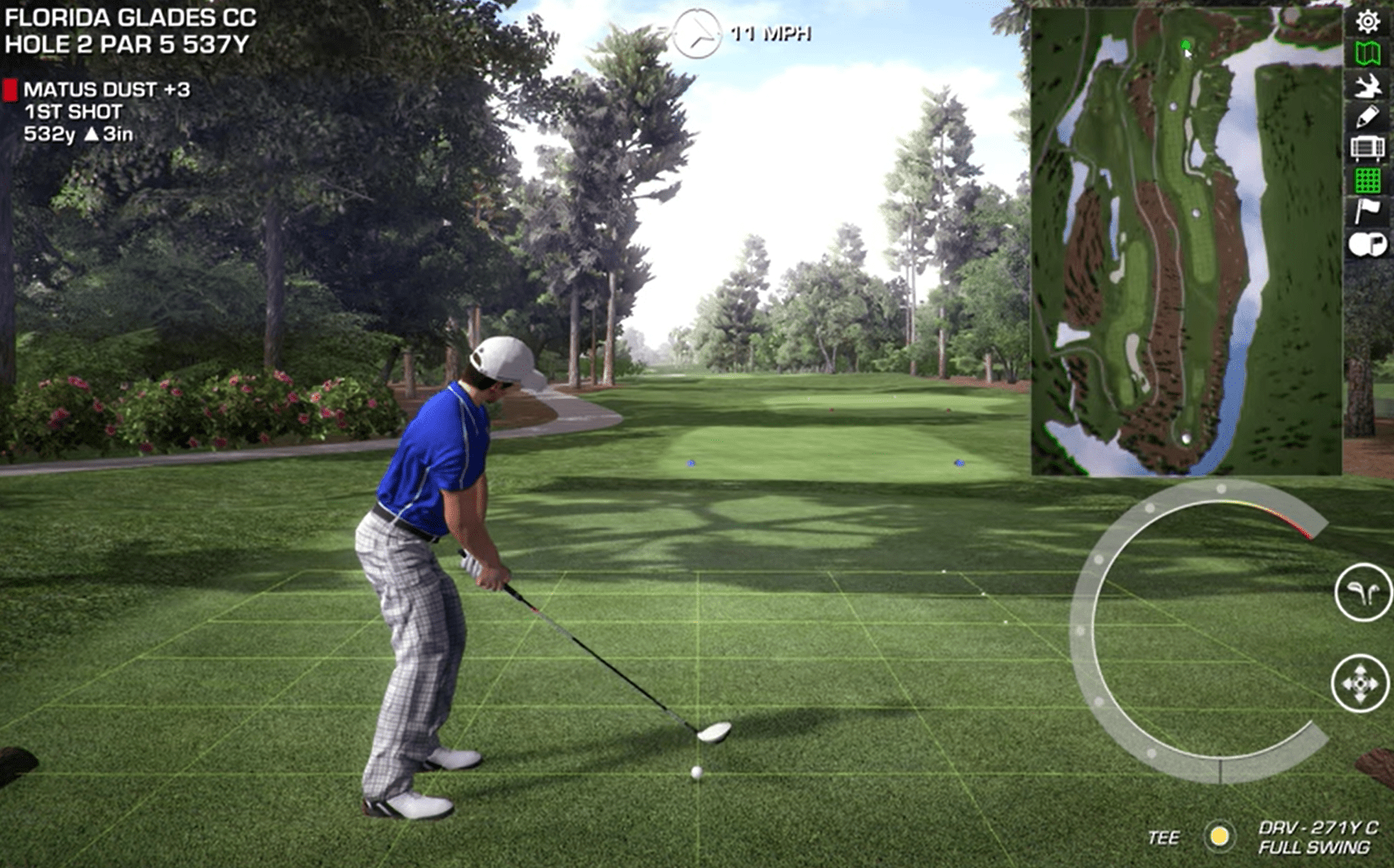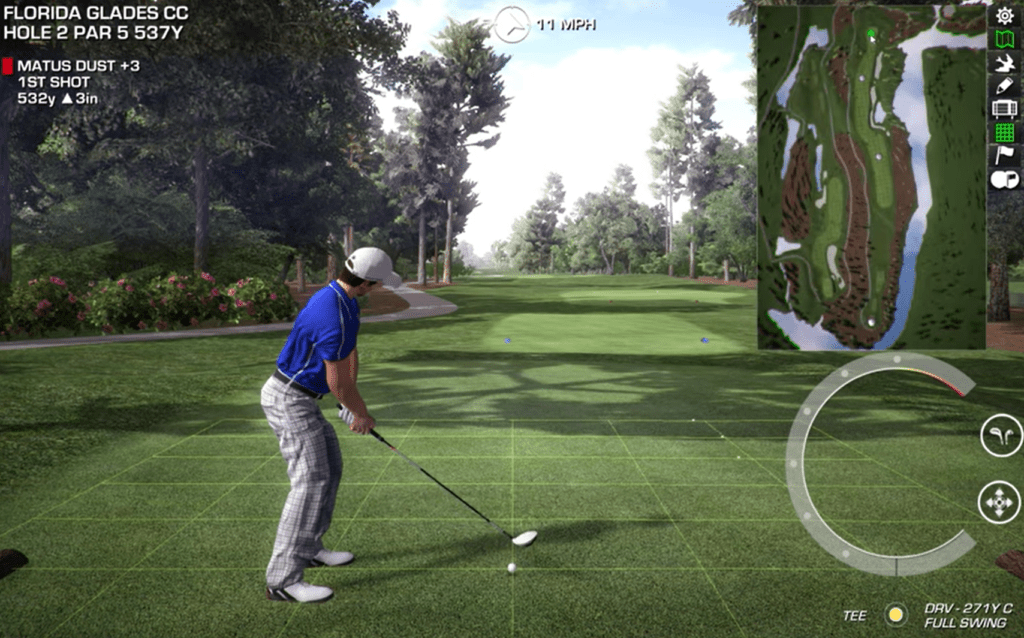 This software from Golden Bear is almost new in the golf industry. It's compatible with the SkyTrak software package. With SkyTrak, it displays stunning graphics. A wide range of different golf courses is available with this software.
SkyTrak online tournaments are also available which only premium subscribers can get access to. There are user-generated designs in their premium package. This premium package comes with a price. It requires a yearly subscription for $249. But with the Game Improvement Package, costs $99/yr.
Unlike the previous two options, this one is only available with windows. We recommend it to give you a good simulation experience at a reasonable price.
6. Fitness Golf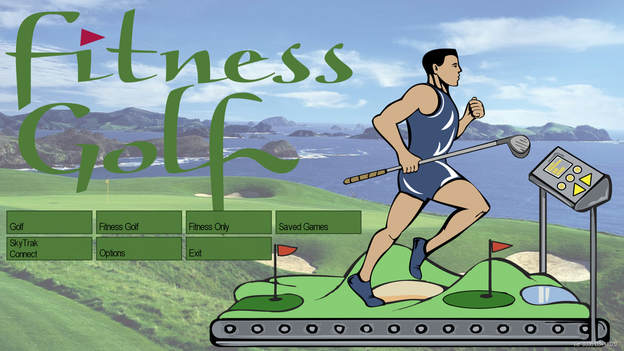 The name tells its significance. Many golfers want to work out to be physically fit but cannot manage. Fitness Golf software is for them. It's mainly designed to keep them physically fit like playing a real round of golf. Wondering how? Yes, it's unique!
Their system works in such a way that the package lets golfers integrate their fitness routine within golf shots. They have to get to their shot before hitting the next one. This helps them follow their fitness routine regularly and in a more lively way.
The software is compatible with the Game Improvement Package of SkyTrak. It will cost you a one-time fee of $399. There are more than 150 golf courses, among which almost a hundred are world-famous golf courses.
7. Uneekor Refine software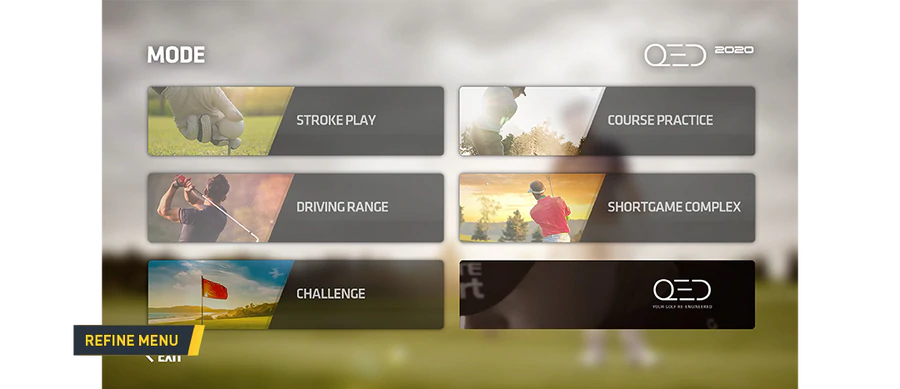 This is one of the realistic golf simulator software that comes with a complete golf practice advantage. Not just practice a round of golf, it lets you join fun competitions with your friends. There are 5 different practice modes and 5 18-hole golf courses that will help you train yourself for the upcoming competition.
What's the practice mode? Short game competitions, driving range practice with putting features, course practices located outside of the US, stroke play, and game challenge features.
Uneekor Refine is available with both Uneekor QED and EYE XO. It's not compatible with non-uneekor devices. Up to 6 players can play together with the software. It will cost you about $1000 for a one-time purchase.
Check Price at Rain or Shine Golf
8. World Golf Tour Software (WGT Golf)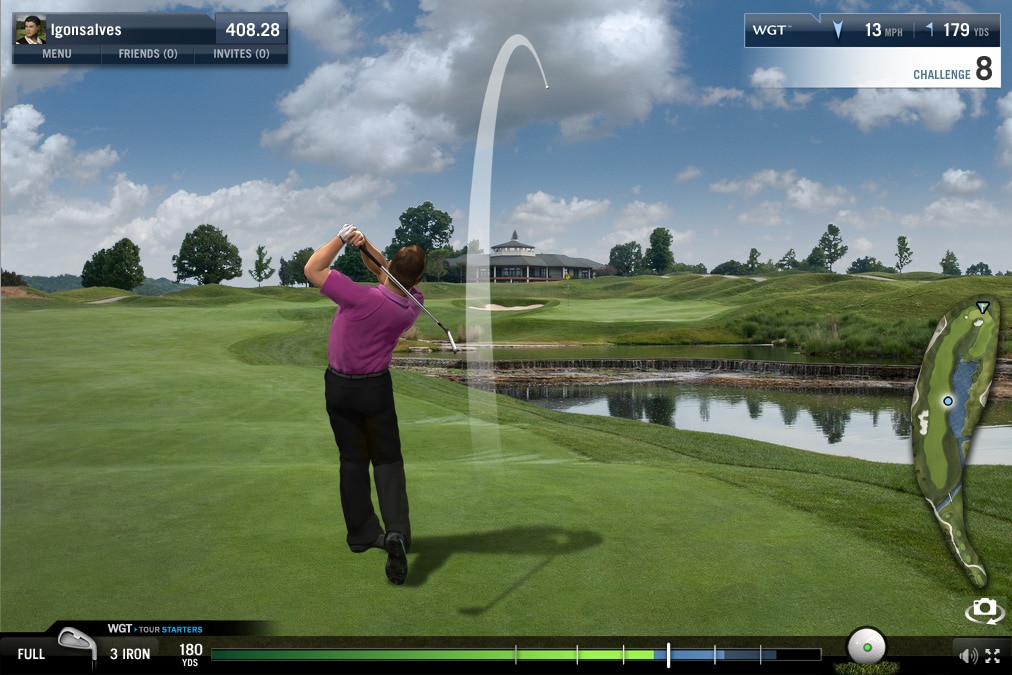 If you are not in need of multiplayer mode and skill challenge features but want other software facilities, we recommend WGT Golf for you. It's one of the finest golf software that works with SkyTrak. There are many game modes like stroke play, practice range, closest to the pin competition, etc.
Unlike other quality software, WGT is compatible with only iOS. It comes with almost 18 golf courses that are designed to improve your game and to provide great entertainment as well. Unlike E6 Connect, this customizable unit is not expensive and doesn't require any additional subscriptions.
The graphics of WGT are very realistic and give life-like simulations. The software requires the Play and Improve Plan of SkyTrak. It will cost you around $199 per year.
Check Price at World Golf Tour
Buying Guide for the Best Golf Simulator Software
Quality matters first. Everybody wants quality within their budget limit. You will probably not sacrifice quality too. Quality software plays a significant role in giving you a good simulation experience. At the same time, it should meet your expectations. Because if it features unnecessary things that you don't need or if it doesn't have enough features that you need, it will be disappointing, isn't it?
So is it possible to find a quality golf simulator software that will meet your needs? The answer is, Yes, it's possible. But the next question comes, how? Simple! Just by following a proper buying guide. And here it is.
Game modes and practice feature
The software of your golf simulator will tell what game modes you are going to play, what practice features are there for you to hone your skill. So pre-knowledge is better than getting bored afterward.
Ask yourself first. Do you want multiple game modes? Or just want to practice in the driving range? If your answer is 'yes' for the second one, then you can see shot tracer, ball performance data, replays, and improve your game by practicing without any added software. We recommend the basic plan of SkyTrak or the Uneekor View that only offers a virtual practice range without any game modes or practice features.
On the other hand, if your answer is 'yes' to the first question, you have plenty of options available with every software. Here you get multiple game modes and features like match play, online tournaments, stroke play, closest to the pin, skill challenges, long drive competition, and so on. First, select what modes and features you need and then match them with the included options of the software you are going for.
Multiplayer capability
Playing together with your friends and family must bring some extra fun. It's possible only if your software supports multiplayer play mode. From up to 2 players to up to 8 players can play together with this system. First, check if your software is capable of letting you play with your friends and then check how many players can play together with it.
Compatibility
For your simulator system, you need software and for your software, you need to check compatibility. Different software is compatible with different golf simulators or launch monitors. For example, SkyTrak has three software choices. Foresight Sports provides only its own software. So does Uneekor. In a word, the compatibility of software limits your options.
The three software plans of SkyTrak include E6 Connect, WGT, and TGC software. SkyTrak is compatible with this three software. Next comes Foresight Sports golf simulators. They have their own FSX software that is only compatible with Foresight golf simulators. Similarly, the Uneekor golf simulator offers Uneekor View, Refine, Succeed, and the combination of TGC with Uneekor View software.
Unlike Foresight Sports and Uneekor, TruGolf doesn't have their own software although they have all pieces of golf simulator equipment of their own brand. So what golf simulator software does TruGolf offer? E6 Connect! Yes, E6 Connect is compatible with all TruGolf simulators.
Some software can be run with iPad, iPhone, Android, PC, and Laptop. Some are compatible with just an iPad or just a PC. So don't forget to match it with your needs before going for one.
Features or graphics?
The title doesn't mean you have to sacrifice one between the features and graphics of a software. It means which one you prioritize most. If the features of the software matter to you more than the graphics, we recommend TGC, Creative Golf 3D, and FSX software. As this software provides more game features, naturally they require more powerful computer hardware to be run on. And yes, along with the practice features, they still have good quality graphics.
But if you prioritize graphics, we highly recommend E6 Connect software that provides ultra-realistic 4K graphics. We also recommend WGT and Uneekor Refine which will give you a realistic experience. Don't forget to match the software with your simulator system.
Budget
It's true that the more you spend, the more you get. But that doesn't mean spending less will benefit you with nothing. Even software with just a virtual driving range will allow you to view your numbers and improve your game accordingly. For example, being one of the best launch monitors, SkyTrak has a Basic software Plan that comes with no extra cost.
On the other hand, software like FSX, Uneekor Refine, and Succeed are expensive. FSX will cost you around $3,000. These are mostly professionals' choices. But the rest don't cost as much as this.
Subscription
Along with the one-time purchase (over $1000+), if you want access to more practice features, you need to sign up for the option which requires a subscription. And the subscription will cost you. The question is, is the cost for a yearly subscription or monthly?
The software you are going to buy will answer the question. The purpose of this question is to know how much time you have and how much money you need after that time. Sometimes software has options of three-year subscription like E6 Connect.
Concluding Words
Your investment will benefit you only when you know the things to do before buying. Bad quality software will ruin your simulation. Similarly, good quality software can change your experience and take it to a great level. To buy one, first, go through the reviews and then follow the buying guides. Nobody can stop you from having the best simulation experience with the best software. Don't forget to let us know how you are doing with your new software package. 
This post may contain affiliate links, and we may earn a small commission for no extra cost to you.
This is how we keep NiftyGolf free. Learn more about our affiliate disclosure here.