This post may contain affiliate links and we may earn a small commission for no extra cost to you.
This is how we keep NiftyGolf free. Learn more about our affiliate disclosure here.
If you are looking for a complete launch monitor that can track and analyze almost all sorts of swing and shot details. And thinking about the GCQuad launch monitor from Foresight Sports, whether it fits in this category or not. This article will help you decide in this regard.
In this article, we are going to cover all the possible pros and cons of the GCQuad launch monitors along with their features, technical specifications, performance consistency, and accuracy by analyzing them with our experts. Prior to going to the in-depth review of the GCQuad launch monitor here, is a brief introduction of the manufacturer of this launch Monitor.
Foresight Sports and Its Launch Monitors

In 2010, Foresight Sports started its journey in producing top golf simulators for home, outdoors, launch monitors, and other Gaming software. They have been a pioneer brand in this industry since then and manufacture the most advanced, most trusted, performance analysis solutions, and overall the best golf simulator materials in the golf industry every year. Foresight Sports is now a very popular brand name among the golf fraternity.
The GC2 and GCQuad launch monitors are helping golfers improve their game with accurate and consistent results. And the list is getting bigger and better every year.
GCQuad Launch Monitor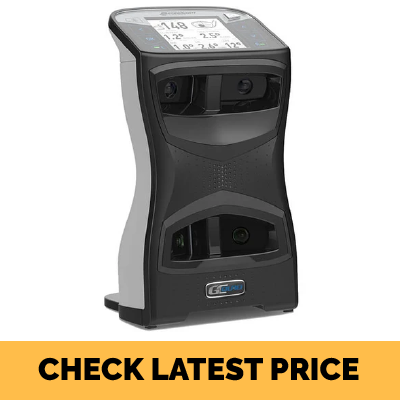 The only launch monitor you will find in the market that has Quadrascopic imaging is the GCQuad launch monitor. Quadrascoping Imaging means 04 (quad) high-speed, high-resolution cameras deliver extra-ordinary image clarity with each and every shot. That is why the GCQuad is unique in the launch monitor market. The GCQuad can provide you a wide range of analyzed results like ball speed, clubhead speed, horizontal & vertical launch angles, angles of attack, Spin, club path, carry distance, smash factor, and many more.
The GCQuad is capable of delivering accurate, versatile, dependable, and comprehensive results of your swing and of the ball & club head performance that barely other launch monitors can produce.
What is in the package?
You will get the following items with GCQuad golf launch monitor package apart from the launch monitor:
Power adapter & cable
USB-C cable
Alignment stick
What GCQuad launch monitor can track?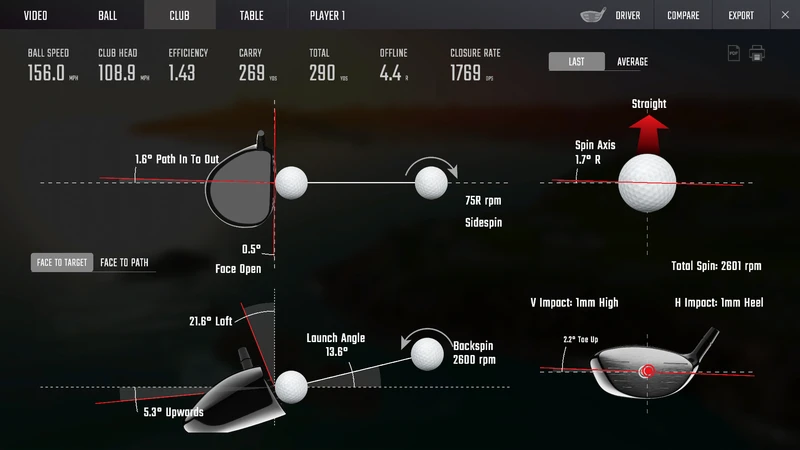 You will get the following results using the GCQuad launch monitor from Foresight Sports.
Carry Distance & Total Distance,
Ball Speed,
Lateral Carry Distance & Lateral Total Distance,
Launch Angle (Launch Direction Angle, Landing Angle)
Spin Rate,
Club Head Speed,
The angle of Attack,
Spin Loft,
Club Path,
Dynamic Loft, etc
With some club add-ons, you can also track loft at impact, lie & face angle at impact, impact location on the club face.
GCQuad at a glance
Let's have a look at the summary of the GCQuad launch monitor in the following table.
| What it can track | Specifications | Features |
| --- | --- | --- |
| Carry Distance & Total Distance | Technology: Quadrascopic high-speed camera system | Compact and ergonomically designed |
| Launch Angle (Launch Direction Angle, Landing Angle) | Dimensions: 7″(w) x 4″(d) x 12.5″(h) | Easy to read outdoor-viewable display |
| Loft at impact, lie & face angle at impact, impact location on the clubface | Battery: Removable Lithium-Ion Rechargeable | The most precise down-range values possible with built-in barometric altitude sensor |
| Spin Rate, Spin Loft | Data Interface: USB Type C / WiFi / Ethernet | Shock-mounted, die-cast aluminum frame |
| Club Head Speed, Ball Speed and Smash Factor | Compatibility: Android, iOS | |
| Dynamic Loft | | |
GCQuad Golf Launch Monitor Reviewed
GCQuad golf launch monitor has the latest technology used in it. It is capable of providing very accurate analysis with the clearest visuals taken from its 4 high-speed, high-resolution cameras. Our experts have reviewed this launch monitor on its look, accuracy, consistency, and many more. Here is the summary of their in-depth analysis.
Looks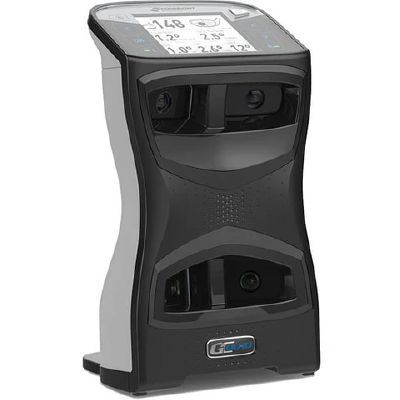 To us, this is probably the best looking quad-camera designed launch monitor in the market. The cameras are positioned very nicely. It stands tall (12.5 inches) and firm (nearly 4 kgs) on the ground. The silver and the black color combination looks very stylish and has a premium feel. The ergonomically designed GCQuad is easy to carry anywhere. You can practice using this even in the golf course.
The GCQuad is about 1 foot tall, as a result, it is very much visible in the golf course. The easy to read outdoor-viewable mini display screen is located on the top of the launch monitor.
Performance
The GCQuad launch monitor can be used both indoors and outdoors. It has the weather-resistant build quality and readiness with an integrated solid-state NIR LED. The GCQuad launch monitor can be discoverable and connected to multiple devices using WiFi and Ethernet.
Foresight Sports have provided a swappable battery feature and a long-life Lithium-Ion battery for better battery performance. The shock-mounted and die-cast aluminum frame provides greater image stability and long-term durability.
Accuracy
The image clarity and quality can't get better than this especially considering the price. Four cameras and each of them has high-resolution, high-speed optical sensors working together. And a combination of these cameras gives an unmatched accuracy and control with any other launch monitors.
You will also get an unusual accuracy. Even it is more incredible than the GC2 launch monitor from the same manufacturers. You will get the most precise readings as four high-resolution, high-speed visual detectors act together to provide exceptional Quadrascopic picture visuality. With proper setup and swing, you can achieve about 95% accurate output.
Pros
Four high-resolution camera
Stylish and premium look with aluminum frame
Weather-resistant
Unmatchable accuracy and control
Easy to carry ergonomic design
Check Price at Rain or Shine Golf
Final Thoughts
When you see the GCQuad launch monitor on the top list of Golf Digests Editors Choice for 3 different years, you can understand the quality and consistency of this launch monitor. Our experts have found it one of the best in the present market too. It's stylish, premium, and easy to carry and the accuracy and consistency of data are unmatchable to other launch monitors. If the price is not an issue for you to have the best golf launch monitor and build your golf simulator you can certainly choose the GCQuad golf launch monitor. You will not regret it, as it is a value for the money launch monitor.
Own it, use it, and let us know your review in the comments. Drop your queries too, if you have any. Our experts will get back to you.