The primary purpose of a golf simulator is to play golf at home. Hence most golf simulators are made for indoor use. Yet many of us want to set it up outdoors because of not having enough space at home, and sometimes playing with fresh air in an open space is more enjoyable than playing in a small room.
Most of the best golf simulators are designed for home golf setups. Still, many quality golf simulators like FlightScope Mevo+ SIG10 and SkyTrak Practice Golf Simulator are optimized for outdoor use. 
Presenting the lineup of outdoor golf simulators featured in this post. Browse through the list and click the link below to access the complete review section.
8 Best Outdoor Golf Simulators Reviews
1. FlightScope Mevo+ SIG10 Golf Simulator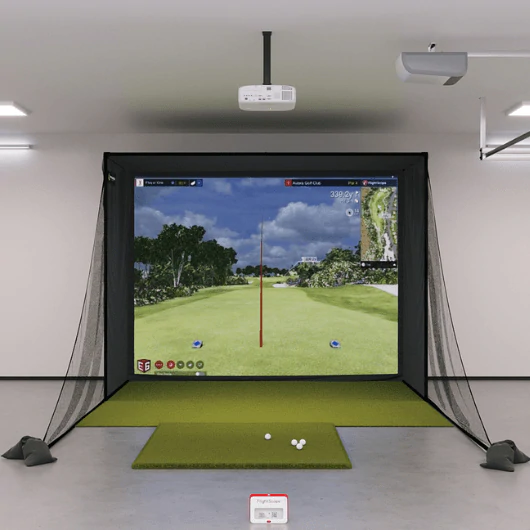 FlightScope Mevo+ SIG10 golf simulator is our top pick for outdoor use. It is the most straightforward and portable package. It includes both the Fairway and SIGPRO mats. Besides, Mevo+ pairs with the SIG10 enclosure, which is very easy to assemble.
Mevo+ requires a minimum of 12′ width, 21′ length, and 9′ height that covers a large area to let you play with the most prominent club. In addition, it uses a radar doppler tracking system to measure ball flight. Mevo+ is the first launch monitor using radar Doppler technology to track data.
The Mevo+ SIG10 golf simulator has a high-quality hitting enclosure, E6 software, projector, side barrier netting, landing turf, ceiling mount, landing pad, and the best golf mat. The whole package is available for under $8,000. Using your iPad/iPhone might not give you a lot of courses. In this case, you can use a gaming laptop or PC for a complete simulation experience.
It doesn't look as elegant as in the promotional pictures, and the battery life is short. Yet its accurate data measurement, real-time visual feedback, and fantastic portability make it an excellent combination. Highly recommended for both beginner and pro golfers.
What people are saying about the Mevo+ SIG10 golf simulator
After using Mevo+ SIG10, people said it is more than "good enough" for its price point and effectiveness. They found it an excellent functioning golf simulator. And the E6 software allowed them to enjoy various golf courses in a complete simulation environment. Users recommend this golf simulator to protect one's investment and ease the setup.
Check Price at Shop Indoor Golf
2. Foresight Sports GC3 Launch Monitor and Golf Simulator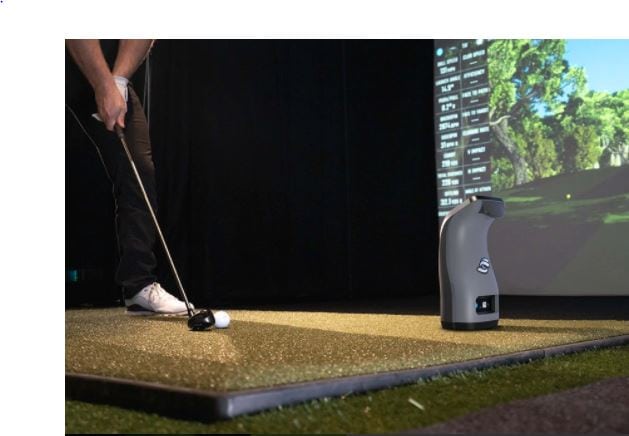 If you want me to say the name of a reliable golf simulator, I would like to mention the 'Foresight Sports GC3 Launch Monitor and Golf Simulator. A GC3 launch monitor is one of the industry's most accurate and trusted golf simulators. It uses advanced photometric technology where three high-speed cameras are set to measure shots.
This package is a combination of FSX software and GC3 launch monitor. The package comes at $7,499. That is almost half the price of the Foresight Sports GCQuad SIG12 golf simulator. You need a net and enclosure additionally to make this a complete setup.
Unlike GC2, the GC3 launch monitor tracks ball and club data. The FSX software offers world-renowned golf courses and multiple game modes featuring life-like graphics. It allows golfers to have a fun simulation experience and participate in skill-building competitions. You need at least 18 ft in Length, 15 ft in Width, and 10 ft in Height to set it up.
What people are saying about the Foresight GC3 golf simulator
Users are talking about how many factors it tracks and how accurate and reliable they are. The experts believe that GC3 is more compact and lighter than GCQuad. There are no complexities in using the unit, and they can customize it following their choices.
3. FlightScope Mevo+ SwingBay Golf Simulator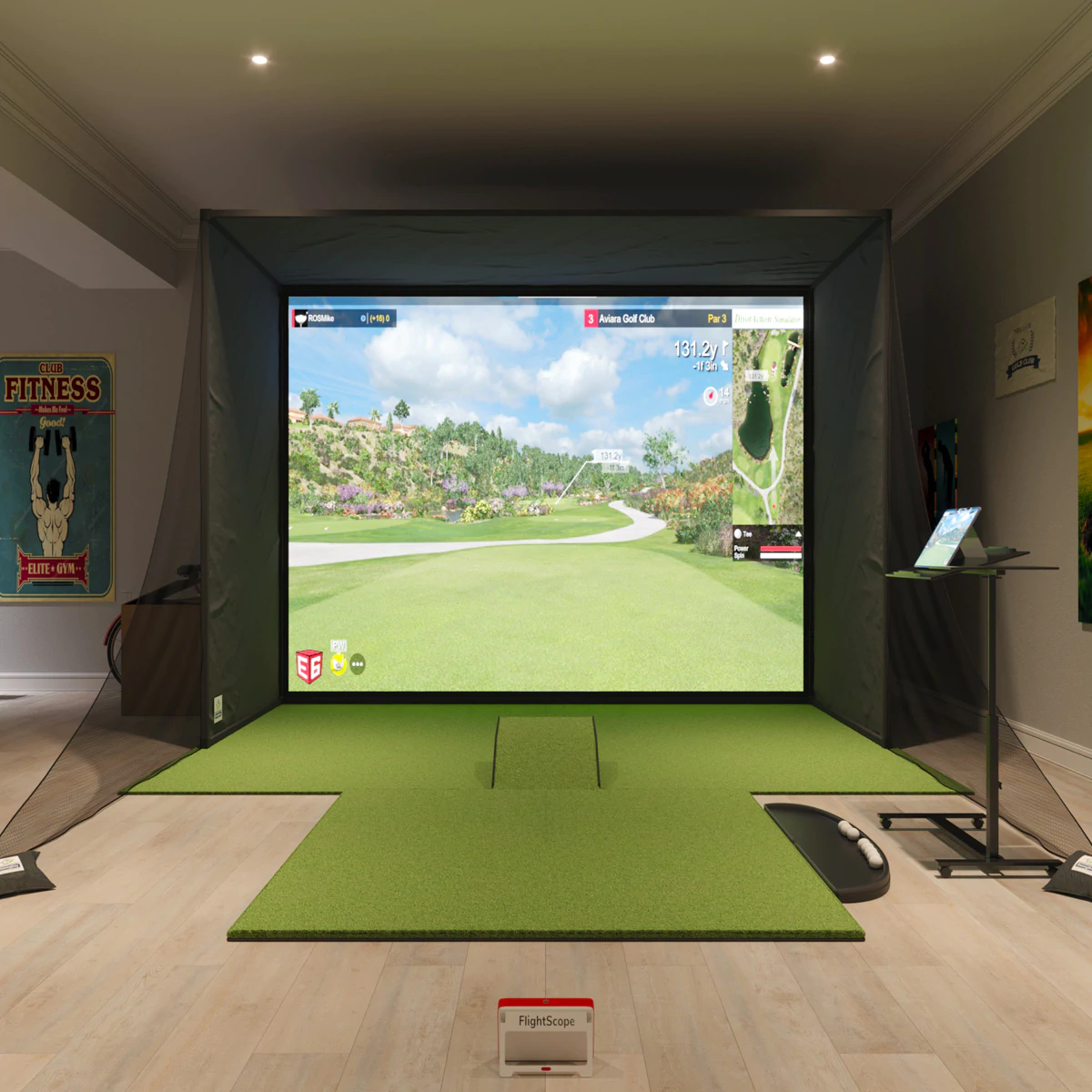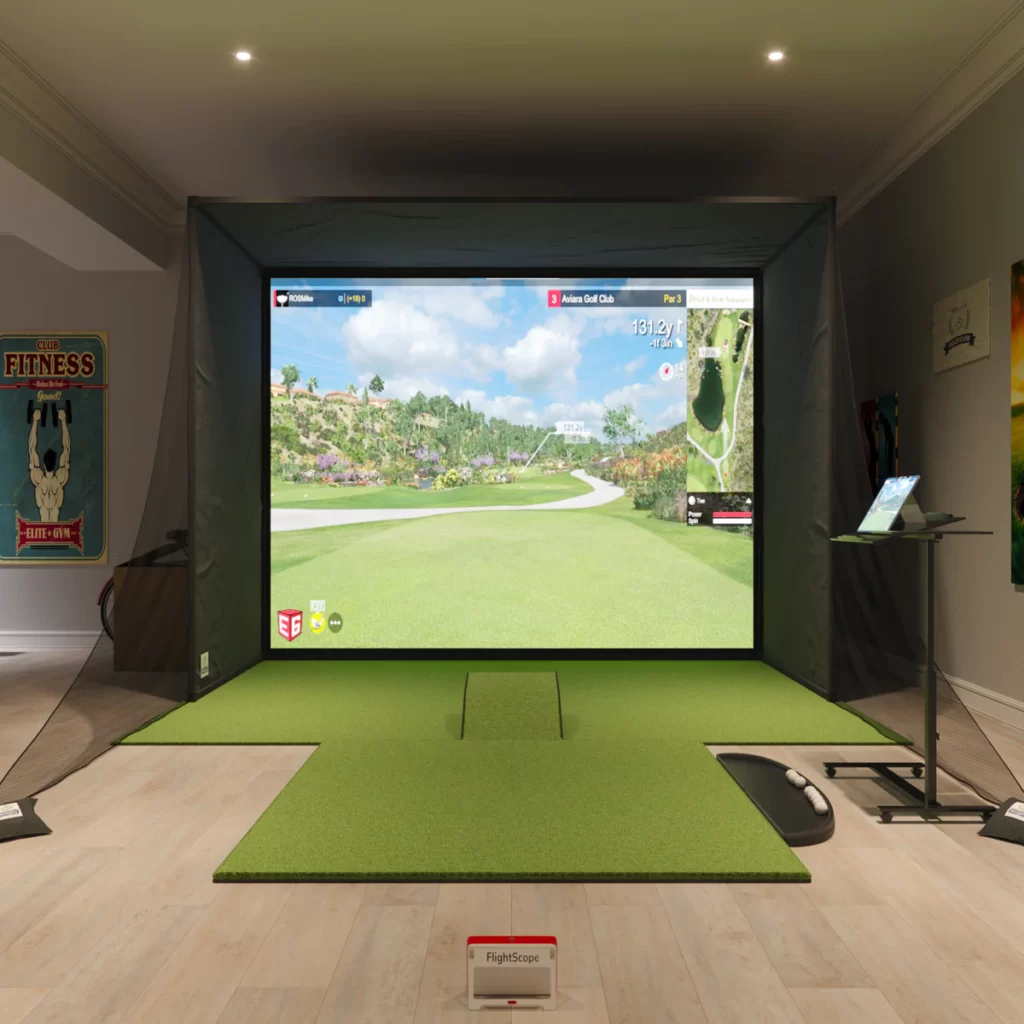 FlightScope Mevo+ SwingBay is another best golf simulator for outdoor use. It's famous for its portable size. It includes a durable and easy assembled enclosure covering 9′ in height and 12′ in width. This lets you play in an open space with your longest club.
The portable SwingTurf golf mat is very stable and long-lasting. It gives the same realistic feel you get on the grass. In addition, some game improvement tools will help you improve your game skill. This simulator provides advanced features like skill challenges, data parameters, video analysis, etc.
Mevo+ SwingBay comes at around $9,100. Though the price is relatively high, it comes with all the required equipment. The best-hitting enclosure, screen, Optoma projector, landing pad turf, SwingBay side netting, flexible golf mat choice option, flexible iPad pro or gaming laptop, and projector floor enclosure are available with the package.
You can even make your own golf mat by following our five steps guide.
Mevo+ SwingBay Golf Simulator comes with TGC software, where five renowned golf courses, Augusta, TPC Sawgrass, and Pebble Beach, are available. The software allows you to play 17 driving ranges too. And it doesn't require an internet connection in driving ranges. You only need to consider that there is no multiplayer playing system. Recommended for high simulation experience.
What people are saying about the Mevo+ SwingBay golf simulator
Users are satisfied with the Mevo+ SwingBay golf simulator for its fantastic outdoor performance. Most users said it's effortless to set up and simple to use. In addition, they found the Mevo+ launch monitor worth every penny. Some considered the golf simulator the best for its technology and price. They recommend this as a consistent golf simulator for those who hit with a slow swing speed.
Check Price at Rain or Shine Golf
4. Foresight Sports GCQuad SIG12 Golf Simulator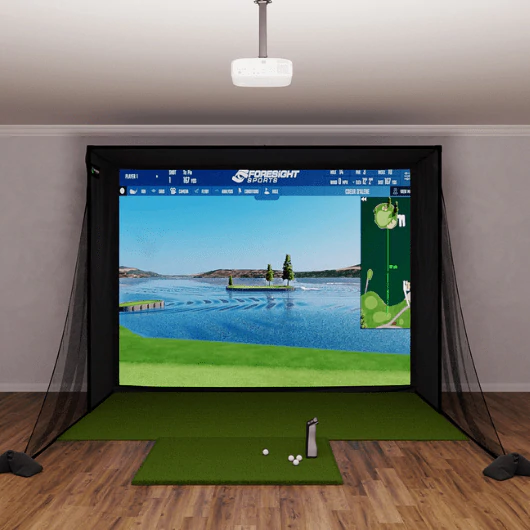 Foresight Sports GCQuad is renowned for its accuracy and versatility. This golf simulator package is a combination of GCQuad with a SIG12 enclosure. And this combination appears to be more appealing to golfers for its easy-to-carry convenience.
GCQuad SIG12 is excellent for indoor and outdoor use but performs better outdoors. If you are looking for a complete simulation experience that delivers ball and club data, this outdoor golf simulator is what you need. It requires a minimum 14′ width, 20′ length, and 10′ height room dimension to set up.
Along with the GCQuad launch monitor, FSX software, and SIG12 enclosure, this golf simulator has a complete package, including landing pad turf, choice of hitting mat, ceiling mount, and side barriers. You need to pay for this high-quality simulator. It costs more than $20k.
The included FSX software and a high-quality projector that gives maximum brightness. FSX includes the world's most exclusive golf courses and lets you practice with the skill challenge feature. Unfortunately, you cannot play with your friends because there is no multiplayer playing option. Yet, we recommend it for the most accurate result.
What people are saying about the GCQuad golf simulator
People shared their opinion that GCQuad SIG12 can fit in an ample space. GCQuad launch monitor is one of the most accurate and versatile launch monitors. It's also the top choice for professional-standard accuracy and feedback. In addition, users loved the durable fiber-built grass mat included with the package. They recommended it as the most advanced model in the market.
Check Price at Shop Indoor Golf
5. SkyTrak Series Premium Golf Simulator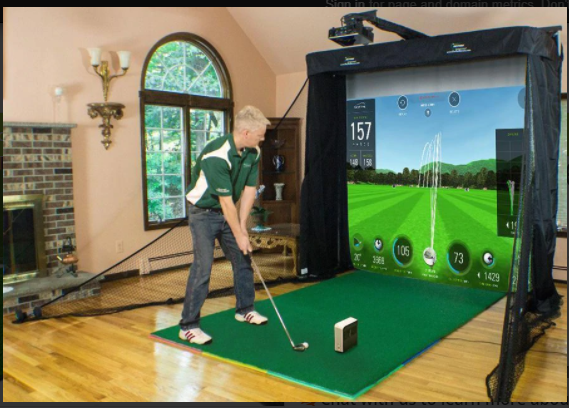 SkyTrak Golf Simulator Series Premium golf simulator comes with the net return series net. And that's the reason it's named so. Here you get a flexible choice of frame width, portable golf mat, and projector.
The package includes a SkyTrak launch monitor, basic practice range software, net return series net, and net return pro turf. All this cost around $5,000.
The pieces of equipment are easy to transport and simple to set up. SkyTrak launch monitor tracks ball data precisely. You can carry it with your regular golf clubs and balls. Besides this, it gives quick shots of data visually, letting you see your errors and improve accordingly.
Golfers use this golf simulator both indoors and outdoors. But it doesn't work great in a broader driving range. So try to use it in a short open space while playing outdoors. Also, you should consider the data tracking system; it only measures ball data, not club data.
And there is no multiplayer playing mode. Yet, for its affordability and performance, it's worth buying.
For a comprehensive guide on the best golf simulators under $5000, be sure to explore our detailed article.
What people are saying about the SkyTrak Premium golf simulator
SkyTrak series premium golf simulator fits the customers' garage properly, and they are amazed at its functionality. They enjoyed the high-quality pictures and expressed their satisfaction with the straightforward assembly. Users find this helpful in giving a realistic simulation experience. In addition, they praised the durable floor-mounted projector that requires no connection from the ceiling. This is the best golf investment, in their opinion.
6. FlightScope X3 Bronze Golf Simulator Package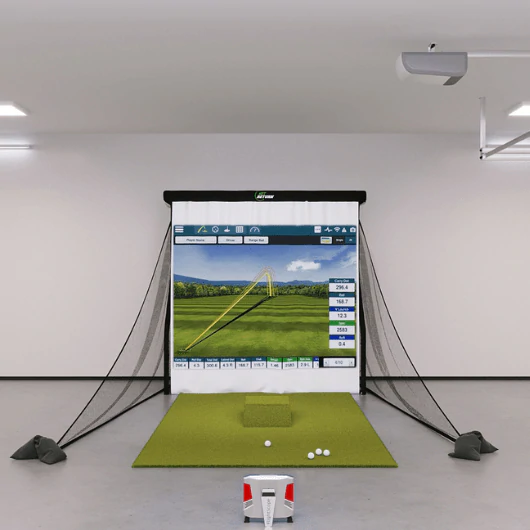 We cannot but keep FlightScope X3 Bronze Golf Simulator in our top picks because of its excellent outdoor performance. Using 3D radar technology, the FlightScope X3 launch monitor gives the utmost accuracy for outdoor use. But yes, the simulator will cost you around $17,000, which might concern many of us. Yet for the quality, you will love it.
X3 launch monitor can track more than 50 data parameters of full swings, ball flight, chipping, and putting metrics. Besides the launch monitor, the golf simulator package includes a Net Return Pro Series V2 net and frame, side barriers, golf simulator screen, 1080p HD short-throw golf simulator projector, projector shield floor enclosure, and Net Return Pro turf mat.
Compared to the space requirements of FlightScope Mevo+ SIG10 and Mevo+ SwingBay, this golf simulator requires less space. You need a minimum 15'length x 10'width and 8'6" height. But like these two golf simulators of FlightScope, this one is lightweight and portable.
The given projector provides 4000 lumens which is perfect for outdoor simulation. You can mount the projector on the floor with the projector shield enclosure. For outdoor use, it's much safer than a ceiling-mount projector. In addition, you get a large-sized Net Return Pro turf mat for practicing in a wide area. We recommend this golf simulator for its perfect combination of quality and performance.
What people are saying about the FlightScope X3 golf simulator
PGA Tour professionals expressed that the X3 golf simulator helped them succeed in the tour. It captures all shots during their practice round. Its accuracy and consistency help every level of golfer increase their golf skill. Bryson DeChambea said, "I use X3 because I trust the data, and it never misses a shot."
Check Price at Shop Indoor Golf
7. SkyTrak Practice Golf Simulator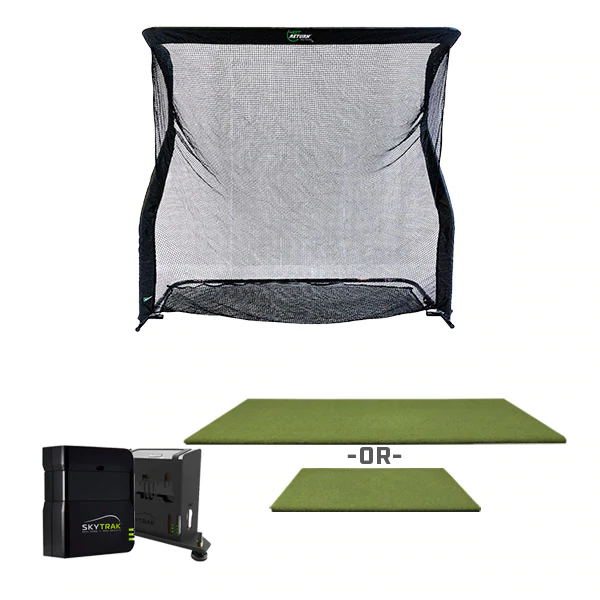 As one of the best outdoor golf simulators, the SkyTrak practice golf simulator is popular among golf enthusiasts. However, compared to the price of the SkyTrak Series Premium golf simulator, it costs a bit more. Yet it's a cost-effective golf simulator that doesn't exceed $6,000.
The package comes with a SkyTrak launch monitor, metal protective case, Game Improvement Software, The Net Return Pro Series net, side barrier netting, and a choice of hitting mat. A high-powered gaming laptop is added with the package to run the app. You need to buy the projector screen separately.
The minimum space requirement of this golf simulator is 9′ High x 10′ Wide x 12′ Long. The ceiling height varies depending on your height. So make sure you are comfortable while playing with the longest club. For its lightweight design and portability, you can easily transport it.
What people are saying about the SkyTrak Practice golf simulator
There are so many reviews of the SkyTrak Practice golf simulator. People are happy they didn't have to spend a fortune for a good practice setup. They could use a quality golf simulator for outdoor golfing without a projector. They didn't feel the lack of a projector while practicing with the Net Return Pro Series net. It was also helpful for the low handicappers, junior golfers, and professionals.
Check Price at Rain or Shine Golf
8. Foresight Sports GCQuad Training Golf Simulator Package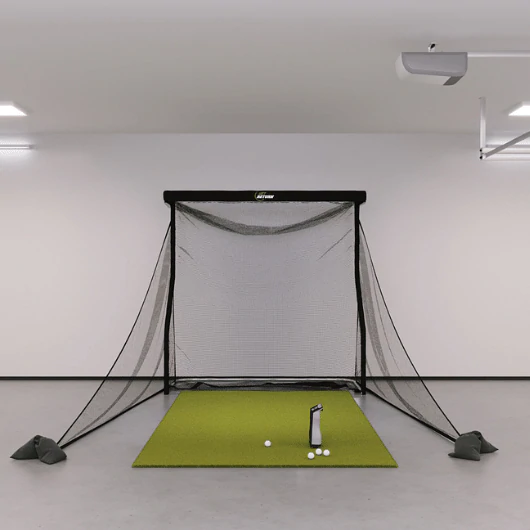 Foresight Sports GCQuad Training golf simulator is one of the top outdoor options recommended for training. It's almost $5000 less than the Foresight Sports GCQuad SIG12 golf simulator. Along with the GCQuad launch monitor, you get FSX software, a choice of golf net, side barrier netting, and Net Return 6′ x 10′ Pro Turf Mat.
Choice of golf net includes the USA handcrafted Home Series V2 golf net and Pro series V2 golf net. Both have the automatic ball return feature, allowing golf balls to speed up to 225mph. The Net Return Pro Turf golf mat is one of the larger sizes among traditional mats. You can use this mat as an alternative to putting greens.
Check the best indoor putting greens.
The minimum room dimension of the GCQuad training golf simulator is 15 ft in length, 10 ft in width, and 8 ft 6 inches in height. FSX software provides top world-class golf courses and closest-to-the-pin competitions. You can hone your skill by the skill challenge feature included in FSX software.
What people are saying about the GCQuad Training golf simulator
GCQuad does not delay between the golf strike and data display- people gave this statement about this golf simulator. Playing with a slow device is very tough and hampers game improvement. They found this device as an instructor who helped them, trained them, and improved their skills. People also talked about the incredible accuracy that was undoubtedly effective for them.
Check Price at Shop Indoor Golf
Best Outdoor Golf Simulator Buying Guide
Going for a golf simulator and investing in it is an important step. If you make a mistake in this step, it can ruin your simulation experience. Your concern shouldn't be only about price. There are more things to consider before buying, especially when you are buying for outdoor use. Don't let my words disappoint you. Multiple suitable options are available to meet your needs. Just be careful about the factors below.
Easy to set up
The first thing you should look for in an outdoor golf simulator is its easy-to-set-up feature. As you will play the outdoor golf game, the weather is the most significant thing affecting your game.
You can set the whole simulator up in ideal weather, but you might need to pull it down from the outdoor golf range when the weather is not in favor.
The simulator should be simple. The hitting net and mat should be easy to assemble so that you can quickly take them down when necessary. Remember, the simpler the materials, the quicker the setup process.
Portability
Find a portable golf simulator for outdoor use, especially the launch monitor. Because if the launch monitor is not simple, lightweight, and portable, you cannot carry it with you from one place to another. Here are some of the launch monitors that are easy to carry.
Also, while choosing the outdoor golf simulator net and mat, go for easily carriageable ones. Check if the best golf practice nets and the best golf hitting mats can help you. You can even quickly build your outdoor golf net and mat following your preferences. Learn, and read these two blogs about how to make golf hitting net in 3 simple steps and how to make a mat and do it yourself.
Projectors and projector mount
Instead of a full enclosure and outdoor golf simulator screen, we recommend full net enclosures that are easier to set up and put down quickly. They can also endure unfavorable weather conditions. Most golfers use nets instead of projector screens. But if you prefer a projector, go for high lumens.
Usually, a 3000-4000 lumens projector can produce enough bright pictures in the dark when used inside the home. But the best projector for outdoor golf simulators should provide at least 4000 lumens. Otherwise, daylight may wash the picture. The higher the lumens, the brighter the projection.
If you're considering setting up an outdoor golf virtual projection system, you might want to explore using a floor mount for added safety. You can also use a ceiling mount by managing a canopy, outdoor golf simulator shed, or just by setting up any outdoor golf simulator tent. Take a look at the best projectors for golf simulators to know in detail.
Space requirement
Next, you should clearly know golf simulator space requirements for outdoor use. Whether you play in your backyard, garage, or anywhere else, you cannot make a full swing with your driver if there isn't enough open space to fill the minimum requirement.
If you're considering setting up a golf simulator in your garage, consider the specific space requirements for a garage golf simulator.
The place you plan to set up should have plenty of open space. Remember, you are playing outside for an extended space simulation experience. So don't let it go in vain.
So check out the minimum room dimension of all golf simulators and select the one perfectly matched for outdoor use. To know more, read this blog about golf simulator room dimensions.
Multiplayer capability
An outdoor golf simulator should be capable of letting you play with your friends and family together because it's more enjoyable to feel the weather in an open space and spend some time with your friends without any restrictions.
From four players to up to 8, players can play in a multiplayer golf simulator. So to have a different simulation experience, check whether it has multiplayer options or not.
Tracking system
Make sure your golf simulator is suitable for outdoor use. Otherwise, it may not track data. We recommend radar Doppler tracking systems that fit outdoors. Camera-based launch monitors like SkyTrak also perform outdoors. But Simulators having infrared or trutrack2 tracking systems don't work outside. Instead, they track data within a limited space and perform less well in sunlight.
On the contrary, a radar Doppler tracking system can track data in a broader range and perform well outdoors. So don't forget to check out the racking system before deciding.
Budget
For an outdoor golf simulator, you can consider under $15,000. It's fair to have an ideal one in an outdoor golf setup. At the same time, we also recommend a price range between $15,000-$20,000.
It's because the more you pay, the more you will get quality materials. And as you move it more, carry it outside or fold it, it may damage the materials. High-quality materials will last long.
Conclusion
The best golf simulator for outdoor use has no alternatives to feeling the environment in the sun. Just make sure you are getting it right before buying one. Here you can read the review of the nine best outdoor golf simulators with a detailed buying guide. But, before that, let me briefly tell you what you should consider before getting a good one.
Portability: Make sure you pick a portable golf simulator that is easily transportable. A lightweight and compact size is preferable in this regard.
Easy to set up: Easy setup process lets you put the materials quickly and pull them down when necessary.
Multiplayer play mode: Playing with friends and family and feeling the weather can be possible at the same time if the simulator has a multiplayer game mode.
Hopefully, through our review and buying guides, we can give you a clear concept of what things you should consider and which is best for outdoor use. If you get us missing something, drop it here. We would like to relate it and answer.
This post may contain affiliate links and we may earn a small commission for no extra cost to you.
This is how we keep NiftyGolf free. Learn more about our affiliate disclosure here.