The primary purpose of a golf simulator is to play golf at home. And thus, most golf simulators are made for indoor use. Yet many of us want to set it up outdoors because sometimes playing with a big screen in an open space is more enjoyable than playing in a little room.
As maximum golf simulator packages are designed for home golf setup, you need to carefully choose ones optimized for outdoor use. Here are the 5 best outdoor golf simulators we picked based on our research and analysis. A detailed buying guide is also there for your convenience.
But first, let me tell you in brief what you should consider before getting one.
Portability: Make sure you are picking a portable golf simulator that can be carried with you wherever you want to set it up. Having a portable one will give you an extra advantage in transport.
Easy to setup: Easy and simple setup process lets you put the materials quickly and pull them down when necessary.
Multiplayer capability: Playing with friends and family and feeling the weather can be possible at the same time if the simulator has multiplayer capabilities.
5 Best Outdoor Golf Simulators Review
1. FlightScope Mevo+ SIG10 Golf Simulator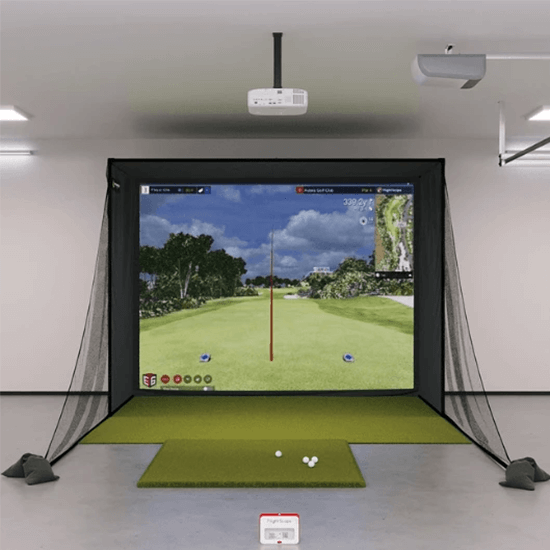 FlightScope Mevo+ SIG10 golf simulator is our top pick for outdoor use. It is the simplest and most portable one among the Mevo+ packages. Because it includes both the portable Fairway and SIGPRO mats. Besides, Mevo+ pairs with the SIG10 enclosure that is very easy to assemble and fits an ample space.
Mevo+ requires a minimum of 12′ width, 21′ length, and 9′ depth that covers a large area to let you play with the largest club. In addition, it uses a radar doppler tracking system to measure ball flight. Mevo+ is the first launch monitor that uses radar doppler technology for tracking data.
Mevo+ SIG10 golf simulator comes with a high-quality hitting enclosure, E6 software, projector, side barrier netting, landing turf,  ceiling mount, landing pad, and best golf mat. The whole package is available for under $8,000. Using your iPad/iPhone might not give you a lot of courses. In this case, you can use a gaming laptop or PC to have a full simulation experience.
You should consider that it doesn't look as elegant as it appears in the promotional pictures, and the battery life is short. Yet its accurate data measurement, real-time visual feedback, and fantastic portability make an excellent combination. Highly recommended for both beginner and pro golfers.
You May Also Like: Best Projector For Golf Simulator
What people are saying about this golf simulator
After using Mevo+ SIG10, people said it is more than "good enough" for its price point and effectiveness. They found it an excellent functioning golf simulator. And the E6 software allowed them to enjoy a large variety of golf courses in a complete simulation environment. They recommend this golf simulator to protect one's investment and ease the setup.
Check Price at Shop Indoor Golf
2. FlightScope Mevo+ SwingBay Golf Simulator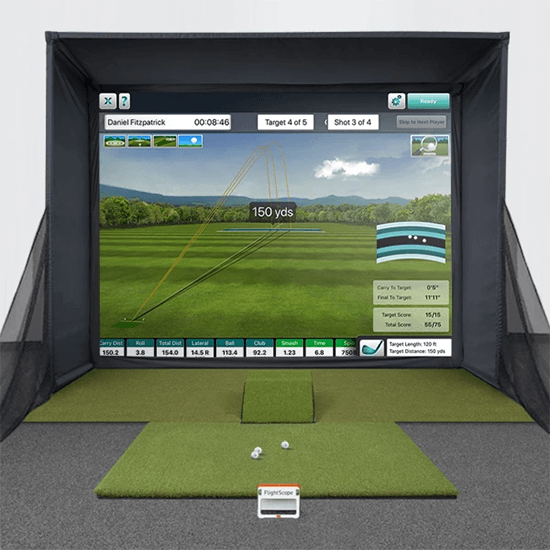 FlightScope Mevo+ SwingBay is another best golf simulator for outdoor use. It's famous for its portable size. It includes a durable and easy to assemble enclosure that covers 9′ height and 12′ width. This lets you play in an open space with your longest club.
The portable SwingTurf golf mat is very stable and long-lasting. It gives the same realistic feel you get on the grass. In addition, some game improvement tools will help you improve your game skill. This simulator also provides advanced features like skill challenges, data parameters, video analysis, etc.
Mevo+ SwingBay comes at around $9,100. Though the price is relatively high, it comes with all the required pieces of equipment. The best hitting enclosure, screen, Optoma projector, landing pad turf, SwingBay side netting, flexible golf mat choice option, flexible iPad pro or gaming laptop, projector floor enclosure are available with the package.
Mevo+ SwingBay Golf Simulator comes with TGC software where 5 renowned golf courses like Augusta, TPC Sawgrass, or Pebble Beach are available. The software allows you to play 17 driving ranges too. And it doesn't require an internet connection in driving ranges. The only thing you need to consider is there is no multiplayer playing system. Recommended for high simulation experience.
What people are saying about this golf simulator
Users are satisfied with the Mevo+ SwingBay golf simulator for its fantastic outdoor performance. Most of them said it's effortless to set up and simple to use. In addition, they found the mevo+ launch monitor worth every penny. Some considered the golf simulator as the best one for the technology it used and for its price. They recommend this as a consistent golf simulator for those who hit with a slow swing speed.
Check Price at Rain or Shine Golf
3. Foresight Sports GCQuad SIG12 Golf Simulator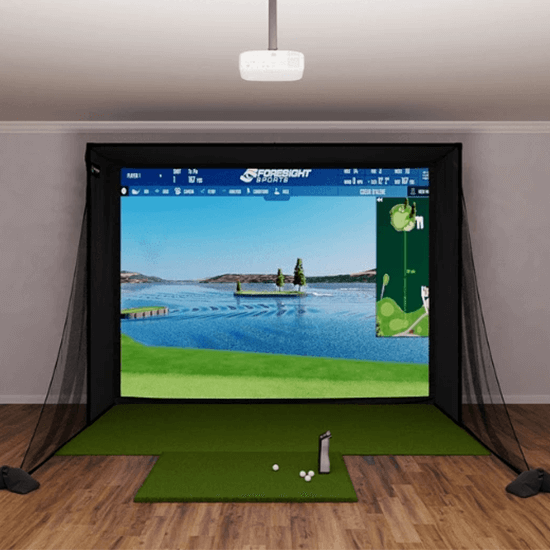 Foresight Sports GCQuad is renowned for its accuracy and versatility. This golf simulator package makes a combination of GCQuad with SIG12 enclosure. And this combination appears to be more appealing to golfers for its easy-to-carry convenience.
Though GCQuad SIG12 is great for both indoor and outdoor use, it performs better outdoors. If you are really looking for a full simulation experience that delivers both ball and club data, this outdoor golf simulator is what you need. It requires a minimum 14′ width, 20′ length, 10′ depth dimension to set up.
Along with the GCQuad launch monitor, FSX software, and SIG12 enclosure, this golf simulator comes with a complete package including landing pad turf, choice of hitting mat, ceiling mount, and side barriers. You need to pay for this high-quality simulator. It costs more than $20k.
The included FSX software and a high-quality projector that gives maximum brightness. FSX includes the world's most exclusive golf courses and lets you practice with the skill challenge feature. Unfortunately, you cannot play with your friends together because there is no multiplayer playing option. Yet, we recommend it for the most accurate result.
What people are saying about this golf simulator
People shared their opinion that GCQuad SIG12 can fit in an ample space. GCQuad launch monitor is one of the most accurate and versatile launch monitors on the market. It's also the top choice for professional-standard accuracy and feedback. Users loved the durable fiber-built grass mat included with the package. They recommended it as the most advanced model in the market.
Check Price at Shop Indoor Golf
4. SkyTrak Series Premium Golf Simulator
SkyTrak Golf Simulator Series Premium golf simulator comes with the net return series net. And that's the reason it's named so. Here you get a flexible choice of frame width, portable golf mat, and projector.
Along with these three, the package includes SkyTrak launch monitor, basic practice range software, net return series net, and net return pro turf. All this cost around $5,000.
The pieces of equipment are easy to transport and simple to set up. SkyTrak launch monitor tracks ball data precisely. You can carry it with your regular golf clubs and balls. Besides this, it gives immediate shots data visually that lets you see the errors you are making and improve accordingly.
Golfers use this golf simulator both indoors and outdoors. But it doesn't work great in a broader driving range. So try to use it in a short open space while playing outdoors. Also, you should consider the data tracking system; it only measures ball data, doesn't measure club data.
And there is no multiplayer playing mode. Yet, for its affordability and performance, it's worth buying.
What people are saying about this golf simulator
SkyTrak series premium golf simulator fits the customers' garage properly, and they are amazed at its functionality. They enjoyed the high-quality pictures and expressed their satisfaction with the easy and simple assembly. Users find this helpful in giving a realistic simulation experience. In addition, they praised the durable floor-mounted projector that requires no connection from the ceiling. This is the best golf investment, in their opinion.
5. Foresight Sports GC2 PerfectBay Golf Simulator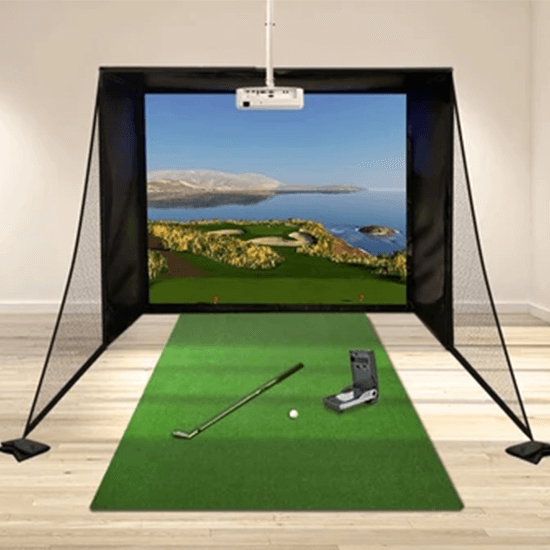 Foresight Sports GC2 PerfectBay golf simulator is famous for the GC2 launch monitor. It's considered the best-selling launch monitor in the golf industry. Most PGA Tour players prefer this because of its accuracy and portability. GC2 mainly focuses on ball flight data that significantly help golfers improve their swing.
GC2 PerfectBay golf simulator comes with Foresight Sports FSX, an enclosure, and a net return pro turf. Besides, there are flexible options of size, mat, and projector selection. For all these, you need to consider around $11,000. You should consider the tracking system. Because it only measures ball data and requires additional software to track club data.
This golf simulator provides game improvement features for both high and low handicappers. The combination of simplicity and portability with stunning graphics, exclusive golf courses, different game modes, and fun features make it one of the best golf simulators for outdoor use.
Recommended for its high-quality simulation experience with long-lasting capability. There are other best golf simulators on the market, but this one offers the best value for money.
What people are saying about this golf simulator
Foresight Sports GC2 PerfectBay is famous for its launch monitor because people commented on it as the 'original game changer.' They found it more affordable than other Foresight golf simulators among the professional lineup. Most golfers prefer the large, outdoor-readable LCD. Besides, its direct data measurement impressed the users.
Consideration Before Bhuying the Best Outdoor Golf Simulator
Easy to setup
The first thing you should look for in an outdoor golf simulator is its easy-to-set-up feature. As you will play outdoors, the weather is the most significant thing that can affect your game.
You can set the whole simulator up in ideal weather, but you might need to pull it down when the weather is not in favor.
The simulator should be simple. The hitting net and mat should be easy to assemble so that you can quickly take them down when necessary. Remember, the simpler the materials, the quicker the setup process.
Portability
Find a portable golf simulator for outdoor use, especially the launch monitor. Because, if the launch monitor is not portable, you cannot carry it outside. Check out the best launch monitors on the market.
We recommend those mat and net that are easily carriageable. You can even quickly build your own net and mat. But, if you want to do it yourself, learn, read out these two blogs about how to make a golf hitting net in 3 simple steps and how to make a mat.
Space requirement
Golf simulator space requirement is very important to know for outdoor use because the wrong size may not effectively work outdoors.
For example, if a golf simulator requires less depth, you cannot meet your needs of playing in an ample open space. And it won't much suit your backyard or lawn. So instead, it will perform better at home.
So check out the space requirement for maximum depth. FlightScope Mevo+ is such a golf simulator. To know more about space requirements, read this blog about golf simulator room sizes.
Multiplayer Capability
An outdoor golf simulator should be capable of letting you play with your friends and family together. Because it's more enjoyable to feel the weather in an open space and spend some time with your friends without any restrictions.
From four players to up to 8 players can play in a multiplayer capable golf simulator. So to have a different simulation experience, check whether it has multiplayer options or not.
Tracking system
Make sure the tracking system of your selected golf simulator is suitable for outdoor use. Otherwise, it may not track data accurately. We recommend having a radar doppler tracking system that fits outdoors most.
Don't be in a dilemma with this tracking system comparing others. Simulators having photometric, infrared, or trutrack2 tracking systems are not suitable for outdoor use. They track data within a limited space and perform less well in sunlight.
On the contrary, a radar doppler tracking system can track data in a broader range and perform well in the outdoor environment. So don't forget to check out the racking system before making a decision.
Budget
For an outdoor golf simulator, you can consider under $10,000. It's a fair amount to have an ideal one in an outdoor golf setup. At the same time, we also recommend a price range between $10,000-$15,000.
It's because the more you will pay, the more you will get quality materials. And as you will move it more, carry it outside or fold it, it may damage the materials. So high-quality materials will last long.
Conclusion
The best outdoor golf simulators have no alternatives to feel the environment in the sun. Just make sure you are getting it right before buying one. Hope through our review and buying guides, we can make you understand what things you should consider and which one is better for outdoor use. If you get us missing something, tell us. We would like to know your opinions.