The best way to practice golf is by hitting the ball with proper golf swings. To do so, you will need to know swing basics, and have a golf net and a golf club, and a ball. A golf net allows you to practice golf regardless of the time and location.
And a passionate golf person loves to have a swing now and then to increase their swing speed. There are plenty of nets available in the market. But which one to choose? It is challenging, especially if you build your golf simulator enclosure or practice area.
If you are one of them and looking for the best golf nets, this article will help you the most. In this article, we will share our review of the top golf nets available in the market alongside a buying guide to help you find the best match.
8 Best Practice Golf Nets Reviews
Many nets available in the market can be used for golf practice. We categorized the most popular golf nets into 3 major categories. Driving nets, chipping nets, and golf enclosures. The driving nets and chipping nets are reviewed in this article. You will find the golf enclosure review in our dedicated article on them as well.
1. GoSports Golf Practice Hitting Net
The GoSports golf net is among the best golf nets under the $150 budget. It is available in 2 different sizes, 10'x7' and 7'x7', and 2 different colors. So you can choose the best match for your space availability.
The net features a bow-type frame that is easy to install and fold, and you can also carry it in the bag provided in the package. As a result, you can use the net outdoors as well. The pro version of this net also features a hex pocket. It is designed to stand out from the other models and neatly collect golf balls during practice.
We recommend the 10'x7' PRO model if you don't have any budget or space-related concerns, as it allows you a larger area to hit. It also has a pocket feature to collect the balls. It reduces the time and hardship of collecting the balls after playing them all around the net.
Pros
2 color options to choose from.
The hex pocket feature helps you collect the balls for yourself.
The price of the golf net is reasonable.
Easily foldable and portable
Cons
Several users complained that the color of the nets fades away with time.
The package weighs about 10 KG.
2. The Net Return Pro Series V2 Multi-Sport Golf Net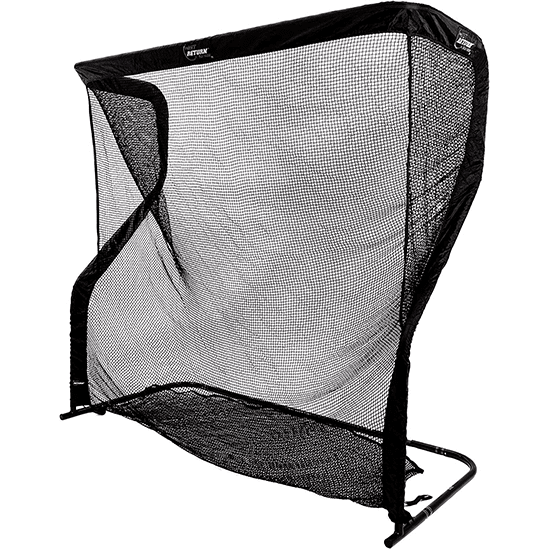 The Net Return Pro is a premium multi-sport net that can also be used for golf. You can use this net in the backyard, basement, garage, and many more indoors and outdoors. It is a good choice if you want a premium golf net with multisport features for you and your kids.
The price of this net can be a concern for many, but its durability is guaranteed. The built quality is top-notch. The commercial-grade – UV-treated black polyester netting looks good in any background. Besides,
It is an 8′ x 7′ 6″ golf net setup that requires a 3 '6″ depth. It is easy to assemble as the structure can be installed using the push button. However, it would take around 5 minutes to set it up completely. The powder-coated tubular aluminum frame makes it even more vital. But the strength of the frame comes with weight. It is one of the best golf driving net you can get in the market.
Pros
The net and the stand are easy to assemble.
It can be used indoors and outdoors for several sports as well, apart from golf.
It is built with top-quality materials that make it durable.
Cons
It takes time to set up
No pocket to collect the ball itself
It is an expensive golf-hitting net.
If you still have any confusion about The Net Return Pro Series V2, you can be more transparent by watching the following video.
3. Nova Large Portable Golf Net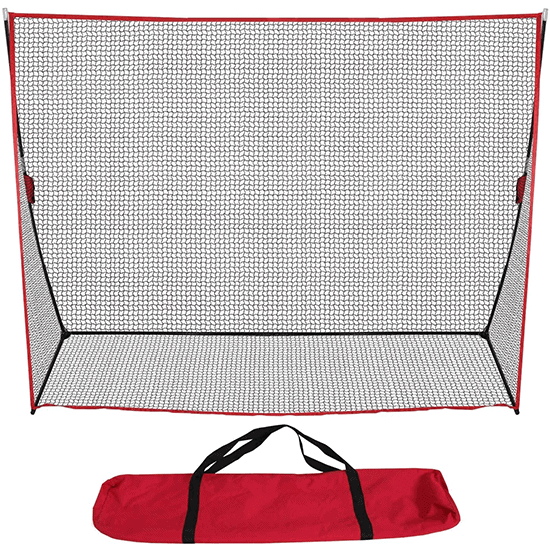 The Nova Portable golf net can be used indoors and outdoors. It is easy to set up, and you can carry it easily in the carry bag provided in the package. It is a 10'x7' golf net. The standard-size net allows plenty of areas to hit using a golf driver or a log wedge.
The Nova golf hitting net is built with a fiberglass pole base frame that you can use for many years. Also, the corner-shaped structure and updated longer ground stakes are used for better stability. However, there is no pocket design to collect the balls for you. But it is designed to return the ball toward you with a unique tilt angle design.
This net is available for less than $70. It is a good purchase from the price point of view, especially considering the durability this net offers. The package also includes a carrying case to store and carry this net outdoors.
Pros
Easy to set up design.
Includes carrying case for transport and storage
Available at a reasonable price.
Standard size net and frame.
Cons
Bulky in shape
Easy but takes time to set up.
4. SIGPRO
The quality and versatility of the SIGPRO Net are impressive and deserve the top of the list. It catches the golf ball quietly and gently. You can make a package of SIGPRO net with impact screens for projectors at affordable prices.
The collapsible design with side barriers is easy to assemble in minutes. The side barriers are connected to the frame with ball bungees. It has the best golf netting system. With the side barriers in place, the frame provides a 7′ H x 8.5′ W x 9′ D space when unfolded.
The SIGPRO golf net can safely handle ball speeds of 225 miles per hour, making it ideal for indoor use. Its high-quality powder coating promotes long-term use. SIGPRO is a versatile strike net that can be placed anywhere and easily integrated with a case-mounted SIG impact screen. It is perfect for golfers who want to use an indoor projector or launch monitor.
Pros
It is a portable net and easy to assemble.
Catches golf balls quickly and safely up to 225 miles per hour.
It can be used for multi-purpose.
Sturdy frame quality.
Cons
The price is on the higher side.
5. Amazon Basics Portable Driving Practice Golf Net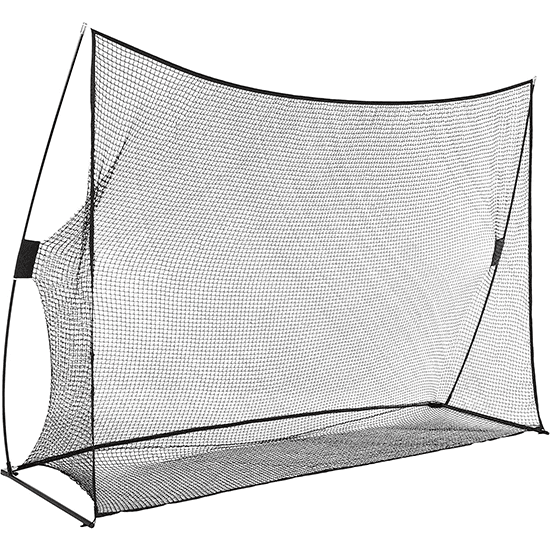 The Amazon basics golf net is a lightweight but sturdy golf driving net made with polyester, and the frame is a metal and fiberglass combination. It is available in 3 size options. They are 7'x7', 8'x8', and 10'x7'. We recommend the 10'x7' for the best result if you don't have any space problems because it allows you to practice driving shots.
With the four metal stakes, you can set up the frame. But we don't recommend it to fold and unfold too many times. The net frame is designed to collect the balls you hit at the bottom. Considering the price, the quality of the net is good. It also features the best golf netting system.
Pros
It weighs less than 18 pounds yet is durable.
Reasonable price
The frame is sturdy.
Cons
The frame is difficult to set up.
6. IUZEAI Golf Practice Net (Best Golf Nets for Backyard)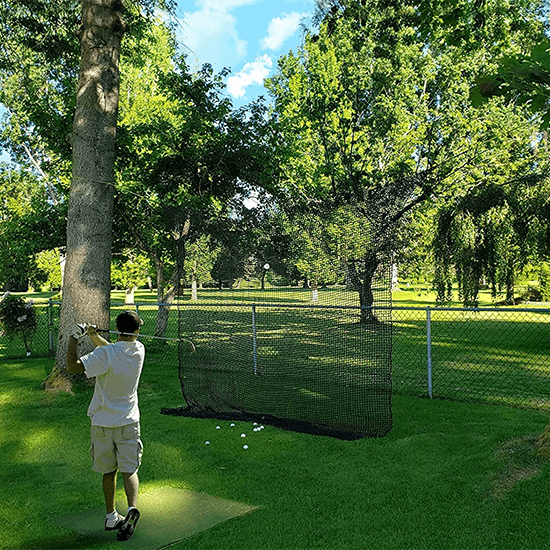 If you are looking for a golf net without any frame, the IUZEAI is a good choice. It is a 25mm square net that can be used for netting in several sports. It is woven with high-strength nylon fiber netting material. There is a 6mm thick border on all sides to attach it to the frame easily.
The nylon fiber is durable enough to withstand high-impact golf hitting and driving balls. The golf ball net material is coated with environmental tar throughout the net, built for long-lasting indoor and outdoor use.
Pros
The net can be used anywhere for almost any sport.
Several size options are available.
Strong built quality.
Cons
You will need a frame to set the net.
7. Rukket Haack Golf Net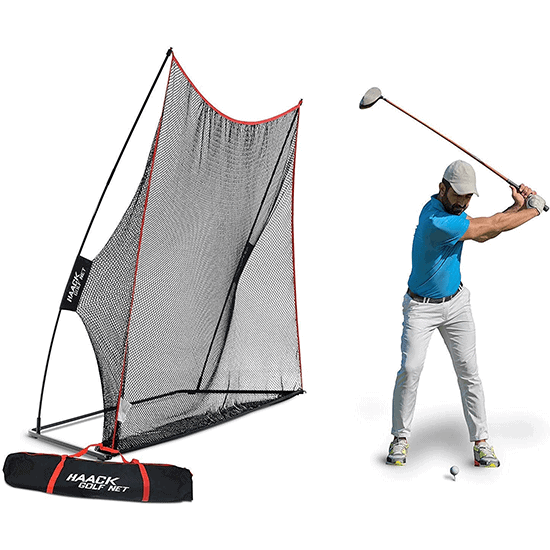 The Rukket Haack Golf Hitting net is available in 2 standard sizes. One is 10'x7', and the other is 7'x7'. Both models are lightweight and portable. You can easily set up and use it as both golf simulator for indoors and outdoors.
The build quality is so strong that it can absorb millions of shots. The stand also features a signature ball return facility. So you can hit the golf ball constantly, and there is no need to collect them here and there.
Pros
It is lightweight and portable.
It can be easily set up.
Strong build quality makes this net durable.
Cons
8. NET PLAYZ Golf Practice Auto Return Net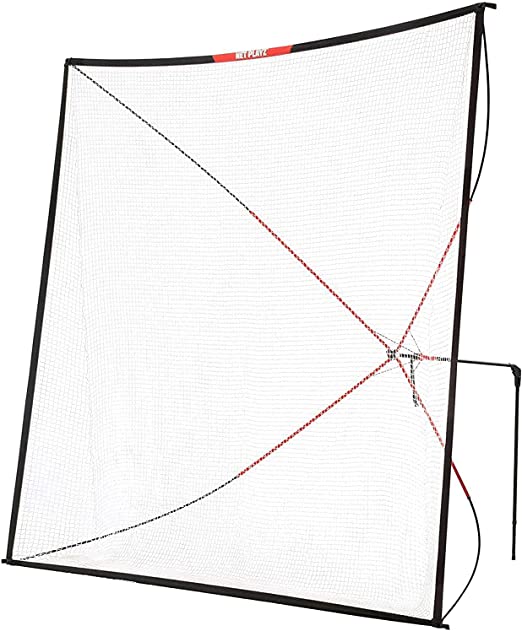 Another top-quality golf practice net on our list is the NET PLAYZ auto-return net. The fiberglass pole used to prepare this net provides good stability. You can easily set it up or break down within a moment and carry it anywhere.
It is available in 10×10 ft size and black color only. The size is the highlight of this golf net. You can practice lofted shots, such as chipping and lob shots, and driving using this net. It is designed so that you will not be required to collect the golf balls every time you hit them. The automatic return design allows you to pick golf balls without bending over too often.
The design and the adjustable angles of the net are also very beneficial. It prevents hitting the ball away and gives you plenty of room to play.
Pros
It is easy to set up and takes no time to install.
It provides more space to hit different shots.
It helps to collect golf balls easily with an automatic return net design.
It gives you a clear view.
Cons
The size is good, but more size options would be better.
It is not a lightweight golf net; the package weighs nearly 9 kg.
Buying Guide on Best Golf Net
There are certain features and factors while selecting any good for buying. When you buy a golf net, you need to consider the following factors to get the best golf net.
Identify your use purpose.
It would be best if you first considered your purpose for using the golf net. Will you use it just for golf or plan to use it for several other sports? Are you looking for a golf net that can be used indoors and outdoors, or do you want to use it indoors only?
To use the net outdoors, you must own one with a frame. Otherwise, you will need to buy the enclosure separately.
Find out the size of your available space.
Size plays a crucial role in golf net buying decisions. When considering a golf net for indoor use, like a basement golf simulator, size, and available space become important factors.
A smaller net may work out for you if you are more likely to play putt shots. But if you plan to play with golf irons or golf wedges, more extended golf nets are necessary. We also suggest having one of the top rated golf simulators and enclosures for a proper simulation experience. 
Polyester vs. Nylon materials
Most golf nets are either made of nylon or polyester. Both the materials are suitable. But the nylon ones are preferred by professional golfers as they are durable and easy to use. Apart from the net material, you should also consider the frame materials. For outdoor use, you should look for golf nets with frame features. And then the frames should be lightweight but sturdy.
Set a budget for the golf net
Fix a budget for the golf net. Golf nets are available starting from $50 and going above $500. Based on your use purpose, available space, and size, determine a budget and look for the best golf net. We have included golf nets of different budget segments in our review section. You can take the price ideas from there as well.
Is a Golf Net Worth it?
Yes, Golf Net is worth using. The most significant advantage of making a golf net or having one is it allows you to practice your golfing skill anywhere, anytime. A golf net can help create a safe playing area and protect your house and surroundings from golf ball hits if you love to play or practice golf at your convenience.
How Tall Should My Golf Net Be?
We recommend a 7ft tall golf net as a minimum requirement. As golf clubs are made to produce lofted shots, you will require a more extended area to hit, especially when you are playing with a golf driver or golf wedge. Stand close enough to keep your shots within the limit of your golf net.
Concluding Remarks
There are plenty of golf nets available in the market. Most of them offer the basic features we analyzed in the buying guide. We considered their features and benefits and analyzed both pros and cons while reviewing. Finally, we picked our top golf-hitting net reviews for this article. We hope these models help you find your one.
You may also like to build your golf nets. We have a complete guideline on DIY golf nets. Share your experience in the comments section, and let us know how we may help you get the best golf products.