"Having the ability to hit and shape shots at home, just allows me to focus on the tournament and focus on winning"

– Tiger Woods
Golf simulators give you the opportunity to play golf at home using accurate swing and ball tracking technology like in a real environment. If you cannot play golf because of off-season or unfavorable weather, play in your own home and spend your leisure time practicing golf. Besides practicing, you can also enjoy your time playing with your friends and family and saving your time instead of going out on a course.
Golf simulator contains speed stimulating sensors, precise data measurement quality, multiplayer capabilities, and portability that will allow you to play smoothly and have a realistic experience. Here you get a list of the 10 best golf simulators along with their prices and features. We arranged this article to help you in your exploration so that you can select the best one and have the best experience. So learn the benefits you need most and choose the best one according to your budget.
The 10 Best Indoor Golf Simulators of 2020
If you want to have consistency and long time service at the same time, you will probably look for the best one that will fulfill your needs. Increasing swing skill and knowing the performance level will help you improve your game. And this advanced system of playing golf indoors does exactly the same thing. Included sensor systems will measure every angle of your swing position and show your performance. Thus you will get the direction of a moderate swing speed and ball trajectory.
We picked the best 10 from the market after researching for weeks to help you find out the effective simulation system. We analyzed the features, build qualities, tracking technology, and other internal things day after day. Stay with us and learn in detail.
1. TruGolf Vista 10 Base Unit (Multiplayer Capabilities)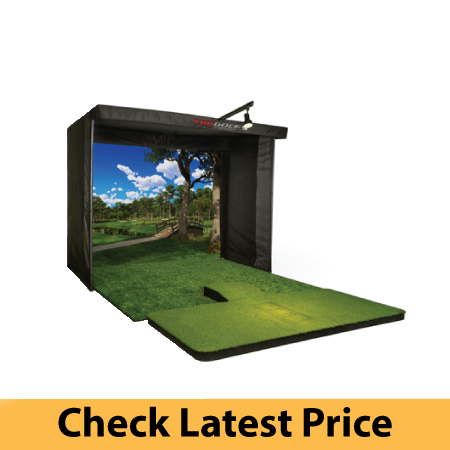 The TruGolf Vista 10 is considered to be the best commercial golf simulator for offering the advantage of precise biometric analysis service and multiplayer capabilities. Besides, you get an easy installation where no tools will be required. If you want additional software and a lot of courses to play as well as have club fitting capabilities, TruGolf Vista 10 is for you. This is designed in such a way that it can easily ensure your improvement in the golf swing. 
If you are a professional golfer, get the Vista 10 to improve mental toughness and score better. Even if you are a beginner, this device will act as an amazing teaching tool. Meet your needs whether it is for recreation or passion.
What's exclusive in the package
HD 720p Projector
TruTrack2 Tracking System
The tracking system will allow you to track a lot of measurements including clubface angle, club path, ball flight.
The light bar is a semiconductor that will project the light of your projector.
Benefits you are going to enjoy
TruGolf Vista 10 package provides multiplayer capabilities including peer to peer gaming.
Provides a large screen that will help you read the display and see your position and performance level clearly.
E6 software included with it measures various data such as launch angle, ball speed, distance, etc.  
The tracking system of E6 software is very accurate. Jordan Spieth who is a three-time major winner and the 2015 FedEx Cup champion plays E6 by Trugolf.
Very simple installation system. You get the opportunity to install quickly and without using any tools.
Hd projector provides crystal clear images.
Things you need to consider
All those above mentioned features come with a price. It's a great choice if you can afford it. But if you want to start at a beginner level, we have covered other affordable golf simulators down below.
Final words:
This package contains all in one. You won't have to buy anything else. As there are a lot of options that play a great role in business, it is also known as the Best Commercial Golf Simulator. Considering its overall performance, we will recommend it for professional golfers. So if you are at that level, you can consider buying this one to practice with your friends or family.
Price
Get TruGolf Vista 10 at $14,395 with a 10% discount. Limited time only! If you are a price-conscious customer, it might not be easy for you to buy as it's an expensive one from the TruGolf brand available on the market. But if you can consider a large amount of your budget, keep this one in your list. Because the amazing courses with entertainment and game improvement features won't make you regret buying.
2. TruGolf Vista 8 Pro (All in one)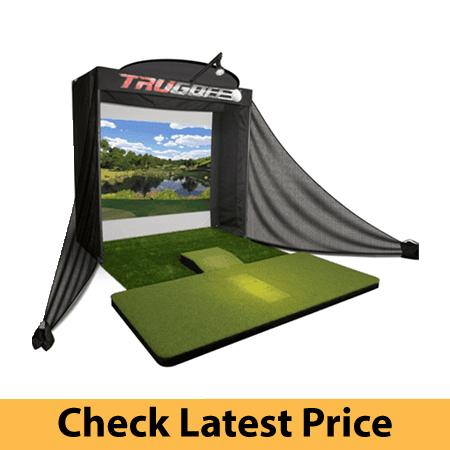 The purpose of TruGolf Vista 8 Pro is to ensure improvement and entertainment at the same time by making you feel like playing real golf. If you are looking for a simulator to get prepared for a tournament or continue practicing to attend the competition against your friend, TruGolf Vista 8 Pro will be an ideal choice for you. It's even heard that Tiger Woods has a TruGolf simulator set up at his home.
Improved golf swing and accuracy in shots of this virtual golf simulator will help you play on the right track like in a real environment. You can play with all of your golf clubs and you can even practice without any golf balls by using this simulator.
What's exclusive in this package
HD 720p Projector
TruGolf Level (1) Computer
The tracking system will allow you to track a lot of measurements including clubface angle, club path, ball flight.
Durable Frame Storage Duffel Bag
Installation Videos:
First, follow the user manual. Check your room size and the ceiling height whether the height is 10feet or not. Now set up the screen frame and unfold your impact screen. Adjust the screen into the frame. Now visit here to see the full process.
Benefits you are going to enjoy
This simulator is carriageable for you as it is lightweight and portable. You can play with your friends by taking your simulator without changing the size. 
Very durable. It's made for giving you a long time service. Choosing a durable simulator is one of the wisest decisions.
The platinum package offers multiplayer capability. 8 players can play at a time in this simulator system.
You can enjoy playing 27 amazing courses that will be given with the package. 
You get a huge screen to see your recorded data clearly. And there are also spectacular graphics to enjoy.
Things you need to consider
Setting up process could be quicker
Final words:
If you want the combination of big size, better quality, and brighter screen in one simulator, consider this one. Practice with the larger screen and know your swing position to avoid mistaken shots. Fun features will make you feel like doing your favorite pastimes in your free time instead of just hitting the club.
Price
The Platinum Entertainment Package can be bought for $12,145 (10% discount). You can buy other simulators at the same price range, but you won't get the same advantages, same features, same building qualities, same service. We researched a lot and that's why we picked this one out of others.
3. Foresight Sports GCQuad Commercial Golf Simulator (Best for Professionals)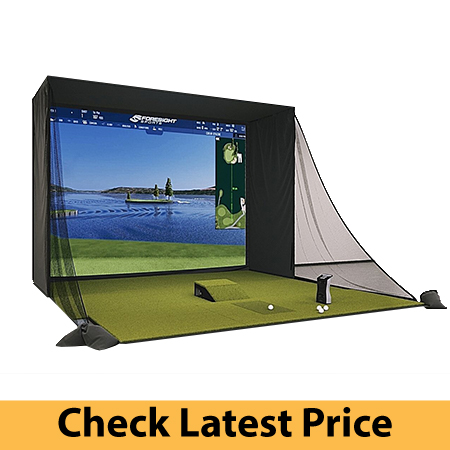 Foresight GCQuad offers easy installation, durability, and high-quality construction with amazing courses. If you are interested in having real-time visual feedback for your game improvement, you need to have a look at the features of this simulator. Indoor to outdoor flexibility is an extra opportunity that you will get from this simulator.
What's exclusive in this package
GCQuad Launch Monitor
FSX 2020 Software
Optoma EH412ST Short Throw Projector
Projector Shield Floor Mount Enclosure
Optional: Club Head Measurement Add-on, Putting Analysis
Benefits you are going to enjoy
It will provide every data accurately as the world's most accurate launch monitor is here. Besides, You will get repeatable and reliable data to make your shots more perfect.
Have indoor to outdoor flexibility and playing both indoors and outdoors.
Without extra hardware, this simulator can calculate the critical club data such as clubhead speed, horizontal club path, smash factor, etc.
You can play the most exclusive courses with its software FSX 2020
Capability to help you join the skill-building competitions and compete with the players around the world.
Things you need to consider
You may require additional software for golf data
Not compatible with third party software
Final words:
You will neither have to buy anything separately out of this package nor face any troubles relevant to accuracy. Foresight GCQuad is popular for its quality products and advanced features. Though it's one of the most preferable simulators by the professionals, yet players of all levels will definitely enjoy this simulation system.
Price
It is priced at $19,999. You get the offer of easy instant financing. You can pay as low as $922.81/month.
4. Protee Ultimate Edition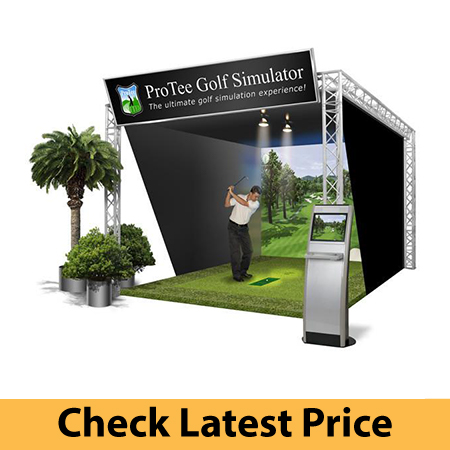 Protee Ultimate Edition offers the most advanced technology and affordability with 3D simulation. If you want professional and commercial use besides home simulation, you will probably like the protee ultimate edition. Make the game more realistic and enjoyable by hitting each shot with your own clubs. Here you get "The next generation gaming software" that allows you to drive off the tee. Besides, this software ensures you to hit fairway shots, pitch, chip, and putt the ball into the hole. After each shot, you get detailed data of your swing and ball trajectory.
What's exclusive in this package
2 software packages: ProTee Golf 2.0 and The Golf Club Simulator edition
Unlimited golf courses
Widescreen Ultra HD
Free remote installation support
Live Tours and Tournaments
Real-Life Physics
Free product lifetime updates
Benefits you are going to enjoy
Protee Golf 2.0 software offers stunning graphical effects
You can play 100+ courses that available out of the box
Larger screen with HD resolutions
Play with your family and friends because you get 'Play online and offline service' with up to 8 players in a flight
Have full swing analysis displayed after every shot and learn about your performance
Things you need to consider
You need to consider a price for all the quality features.
Final words:
To have ball tracking with high-speed cameras, know the swing position with world-class simulation, and the most precision in data measurement, we would recommend Protee Ultimate Edition for you. If you are a pro golfer, it will also be an ideal choice for you.
Price
Protee Ultimate Edition is available at $29,489. You get what you pay for. Though this one is a little bit expensive, it is worth buying for its design, unique software system, quality, building technology, and features.
5. OptiShot GS13 Studio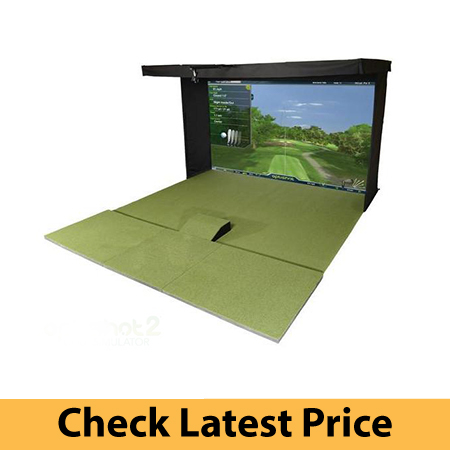 OptiShot GS13 is the combination of OptiShot Infrared and the best portable golf studio. This combination makes the device portable. If you are looking for an easy installation system that won't require any tool to install, and willing to enjoy an amazing HD impact screen, keep this studio in your consideration.
What's exclusive in this package
OptiShot 2 Golf Simulator hardware and software package
Includes 1080 HD Ultra Short Throw Projector
Includes HD Impact Screen7'6″(h)x13'4″'(w)x4′(d)
Includes Ulti Mat 2 Full Mat System
Benefits you are going to enjoy
You get a completely portable device, now get prepared to play anytime, anywhere
Package includes a projector box that removes the need to hardwire a projector
Very easy to use, provides an aluminum push-button frame system
After playing, you can use your studio to watch TV or Movies
Things you need to consider
If you prefer an included computer system, you might need to think as no computer system is included here.
Final words:
OptiShot 13GS allows carrying the device anywhere and at the same time, you get all in one package. Nothing to buy separately. For practicing without any complexity like difficulties in installation, try this one. Make your leisure time more enjoyable with entertainment.
Price
OptiShot GS13 costs $13,531. In this price range, you cannot afford another high-quality simulator like this one of such a manufacturer.
6. OptiShot 2 Platinum Package (Most affordable)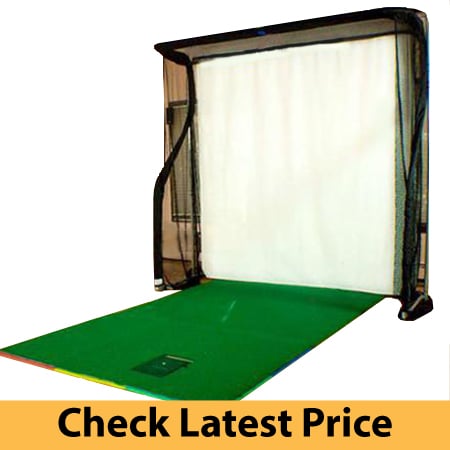 Our continuous study and analysis showed that the award-winning Optishot offers the most swing accuracy and instant precise feedback on every shot. In comparison to other packages of OptiShot, OptiShot 2 Platinum comes with platinum courses at a cheaper price. You don't have to buy the software separately, it's included in the package. If you are a beginner, you should better not choose this package as it will suit a pro in his way of improving game level.
What's exclusive in this package
Sixteen precisely-tuned, high-speed 48MHz infrared sensors are calibrated to track your favorite clubs, before, during, and after contact, giving you precise and instantaneous feedback on every shot 
Includes 15 standard courses and many fun game types
Compatible with Windows and Mac – full systems requirements below
Benefits you are going to enjoy
Relatively affordable and multiplayer capabilities.
Easy installation and setting up.
Realistic feeling and incredible accuracy.
Offers fun courses that will give you relief from your stress after working a long day.
Things you need to consider
Putting seems difficult to some golfers.
Final words:
According to the users, the analysis of this simulator is accurate and scientific. Get all the practice features within a friendly budget. If you are at the professional level, it will be an ideal choice for you. Improve your game and have the experience of playing in a real environment.
Price
The OptiShot 2 Platinum package costs $3642. You are also getting the chance of paying $168.04 per month if you don't want to buy at once.
7. SkyTrak Game Improve Package (Best Choice)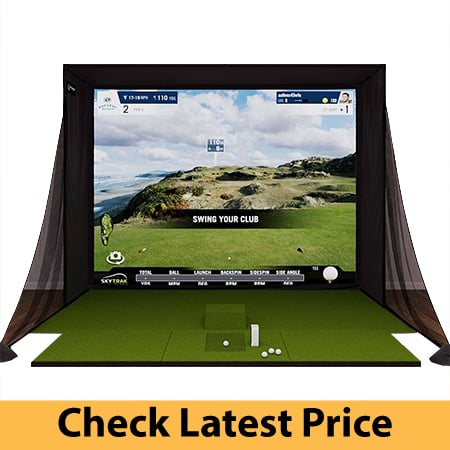 SkyTrak game-improvement package will provide detailed stats and clear information on every shot. It's another top golf simulator of SkyTrak. If you want to have practical distance information to improve your game and have fun at the same time, try this package.
What's exclusive in this package
SkyTrak Golf Launch Monitor, Metal Protective Case, Play and Improve Software
Optoma EH412ST Short Throw Projector
Projector Shield Floor Mount Enclosure
SkyTrak User Manual and Quick Start Guide
Benefits you are going to enjoy
Very flexible to use in a garage, basement, or your living room. 
Every material is lightweight and portable. 
You can easily set up or put it away within minutes.
It comes with the best launch monitor on the market.
accurately measure the key stats like ball flight, distance, swing, etc.
Compatible with iPad Air, iPad Air 2, iPad Pro, iPad.
3D driving range with the software
Larger screen, instant feedback, and real course play.
Things you need to consider
A lot of space is required to set it
Might be a little bit pricey for you if you are not thinking about an expensive one.
Final words:
The game-improvement features include practice mode and challenge mode. Though it's an expensive golf simulator, it is worth the price for its quality and features. Immediate shot launch service can play a great role in increasing your skill. Protect your device from any harm by the given valuable metal protective case.
Price
The SkyTrak game-improvement package costs $7,899. You cannot have another package at the same price range with the same benefits. So grab this package and enjoy all game improvement features through the easy installation.
8. SkyTrak Tee off Package (Realistic Experience)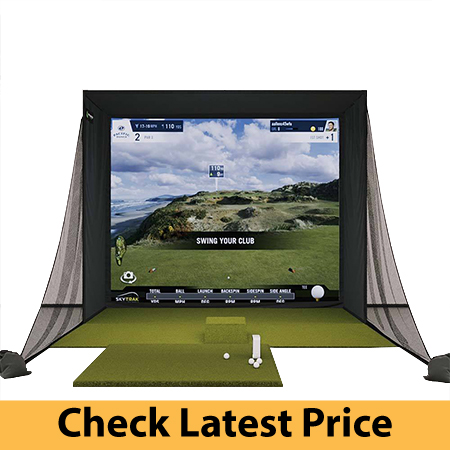 Did you ever miss your shots because of not planning properly? Before playing golf, you need to have a pre-plan of how you are going to hit or how you will swing properly. SkyTrak Tee Off package offers play and improvement plan advantage with their simulator. So if you are looking for a premium full-screen simulation experience with a pre-planned preparation, consider this, 2017 and 2018 Best Value package voted by Golf Digest.
What's exclusive in this package
SkyTrak Launch Monitor: The device will measure your every data of the ball trajectory and make the simulator run.    
Metal Protective Case: It will protect your simulator from mechanical damages.   
Optoma EH412ST Short Throw Projector: This device is used to project your images and videos on a screen.
SkyTrak User Manual and Quick Start Guide
Benefits you are going to enjoy
Requires no hole in your walls. You can easily set it up without drilling your wall.
A great value mat that is perfectly durable.
Offers unbelievable accuracy and unique features for your golf improvement.
Provides amazing portability. You can carry your SkyTrak Launch Monitor anywhere as it works wirelessly.
Well built and capable of serving you for years.
Ability to view the LEDs through the case
Works with iOS, Android, and PC.
Things you need to consider
Better installation system and implementation instructions could add more superior experience
Final words:
The user manual guide and instructions make the installation and practice easier. If you are a beginner, this simulator can be an ideal option for you as it provides the features to play on a starting level. Enjoy real-time visual feedback and ball performance data.
Price
SkyTrak Tee Off Package costs $7499. You cannot have another package combining these fun and game improvement features together. And another package at the same price as a renowned manufacturer isn't available in the market.
9. FlightScope Mevo+ (For Beginners)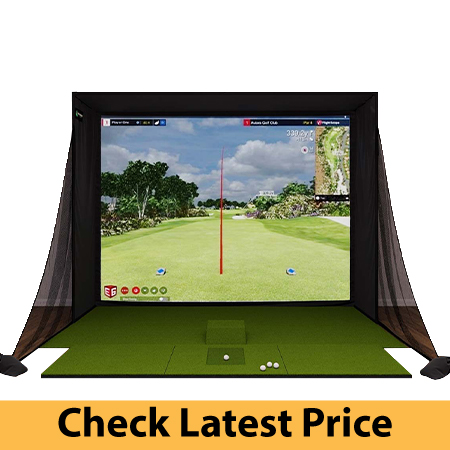 Mevo+ SIG12 combines the Mevo+ with SIG12 and this combination made the simulator more preferable to the golfers who are looking for a budget-friendly option to choose from. Won't it be cool to enjoy real-time visual feedback with every single data of your performance? There are more interesting features available in this simulator. Let's see what the purchase gives you.
What's exclusive in this package
Mevo+ Launch Monitor, USB Charging Cable, Carrying Pouch and Free App for Mobile Device
50 Metallic Stickers
E6 simulation Software Package (5 Courses, 17 Practice Ranges)
Optoma EH412ST Short Throw Projector
Benefits you are going to enjoy
Advantages of improving your game with every club of your bag by having real-time performance data.
Accurately calculates every pinpoint data measurement.
Provides action video clips with data overlay
The image fills up 100% of the screen in HD and gives pleasure to enjoy golfing with utmost satisfaction.
Improves golfing skills by helping you train more.
Premium simulation experience
Things you need to consider
More golf courses for practice can be in your expectations
Final words:
The radar doppler tracking system made the simulator best for some golfers as they are more likely to have this system in their simulators. And we would love to recommend it for you if you are interested in having more visual and accurate results of ball trajectory.
Price
Mevo+ SIG12 is available at $7,699. To deliver a perfect combination of entertainment and accuracy, you cannot have another option like Mevo+ at such an affordable price.
10. Uneekor EYE XO Golf Simulator (More than 100,000 courses)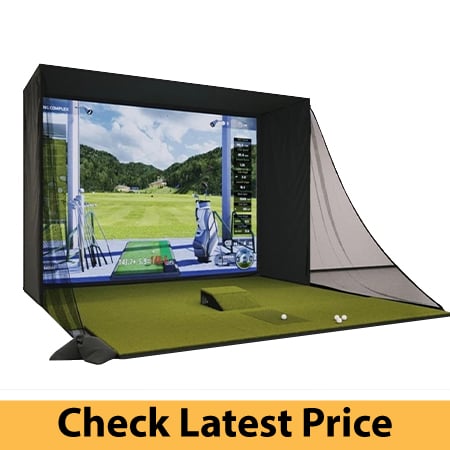 Get a premium full-screen simulation experience Through this simulator system. It is the combination of Uneekor EYE XO and Uneekor SIG10 Enclosure. It offers you real-time visual feedback displaying the ball performance and club head data.
What's exclusive in this package
Uneekor EYE XO Launch Monitor
Choice of Simulation Software
Choice of Golf Hitting Mat
Optoma EH412ST Short Throw Projector & HDMI Cable
Benefits you are going to enjoy
Features non-marking ball technology 
Ideal for both the left-handed and right-handed golfers as it is mounted overhead onto the ceiling
Stronger Optix feature with enhanced resolution
The 
It will allow you to practice with any golf ball of your choice
Premium screen, handcrafted, made in the USA
More than 100,000 courses to practice
The software will allow you to design your courses according to your choice
Ability to build a strong online community
Things you need to consider
You are not getting the advantage of multiplayer playing system
Final words:
If an advanced simulator with new features of practicing 100,000 courses according to your own choice is in your search list, you can consider this unique one. Grab the opportunity of having a simulation system that is capable of performing without any complexity.
Price
It's priced at around $15,499. Don't worry whether you are a right-handed player or left-handed, this simulator suits them both.
Best Golf Simulator Buying Guides
There are some specific things to know before buying virtual golf simulators. If you get the idea of buying guide, you can make a comparison between the products of different brands. You can also make a difference between their price and quality. Now let's go through the instructions given below.
See the features
Look for the features. Different home golf simulators are providing advanced features. Before buying a simulator, you need to check the features that you are looking for to practice your game. For example, features like training modes, quality of the camera, features relevant to swing and graphics, multiplayer capabilities, etc. If the features of a simulator can fulfill your requirements, you might want it on your buying list. Sometimes, if you want, you can search for extra specific features.
Check the package
Check the whole package whether it provides all products of your requirement or not. If something is missing, like a hitting mat or net or some other product, you will have to purchase it separately. And it's not so easy to buy something separately, you may face some difficulties such as troubles with the price, quality, etc. So it's better to have it all in a package. Check whether all of your required products are included or not.
Quality of the products
You need to know the quality of the products. Quality products will serve you for a long time and give you accurate results. Suppose, you need a larger screen in the projector and a clear view but if the quality of your projector is low, you won't get what you expect. Besides, if the launch monitor included with your simulator is not a high-quality monitor, then you won't get accurate results of your measurements. In this case, you can't understand whether you are doing good or not. To help you in your exploration, we can say that some brands provide high-quality products, some don't. Find out those brands and enjoy their products.
Importance of portability
One of the most important things is that you need to find out the portability of the simulator you are going to buy. You might want to play outdoors or you might need to move your simulator if you don't have enough space to keep it permanently in a room. Imagine a simulator which can be carried always with you wherever you are going and you can practice golf everywhere you are going. So look for the screen whether it is portable or not. If it can be carried, you can take it anywhere you want to play.
The size of the room
As a simulator user, you need to know the space required for your golf simulator. First, you should check how much space is available for your simulator. There should be enough space for the screen and sensors as well. To help you select the perfect simulator for your available space, we arranged this section with the details of the room-size required for a simulator. Three dimensions matter in considering your room space.
1.Ceiling height
2.Room width
3. Room depth
Ceiling Height: It will depend on your height and swing. Usually, it is required for a golfer to have a nine feet high ceiling while using a simulator. Besides, some require minimum ceiling height. So if you can't manage the area of 9 feet, look for the models that can fulfill your minimum height requirement.

Room Width and Depth: The ideal room width and depth should be 12 feet. 10 feet is for your practice and extra two feet will allow you to swing your golf club. But some can be used within 5feet. For this, you need to check the screen and sensors of your simulator and how much space they require.
Frequently Asked Questions About Golf Simulator
How much does a simulator cost?
The average price range of golf simulators is from $1000 to $75,000. There are lots manufactured by different brands and different qualities in the market. They vary in price, features, and qualities as well.
Are golf simulators worth it?
Yes, golf simulators are worth buying. When you can practice golf using a golf simulator at your home within a controlled environment, whatever the season or the outside temperature is, if it doesn't bother you playing, then it will obviously be worth buying.
Conclusion
Let's see in brief what you got above. You got the review 10 best golf simulators in detail providing information such as affordability, portability, durability, commercial uses, etc. If you have just started your game, don't consider a complex one. Try to complete your practice session with an easy golf simulator for the home that won't make any difficulties or troubles for you as a beginner and that won't make you suffer in the setting up or installation process.
So does it seem to be useful to you? Did you get what you wanted to know? If it satisfies you, we will be happy to know. Share your views with us. If you find something important to add, inform us. We would like to include more about the top ones.
Now you can decide which indoor golf simulator perfectly suits you. Buy it within your budget and enjoy golfing.