This post may contain affiliate links and we may earn a small commission for no extra cost to you.
This is how we keep NiftyGolf free. Learn more about our affiliate disclosure here.
Looking for the best golf simulators to buy? This article is going to guide you to find the best suitable one for you and get all the answers to your queries.
In today's world, golf lovers have chosen an alternative indoor system to continue their favorite sport in the off-season and it's well known as a golf simulator. But finding the best golf simulator at a reasonable price is not an easy task. A high-end golf simulator for home that PRO golfers like Tiger Woods or Rory Mcllroy use costs more than $50,000 (See the premium golf simulator reviews down below).
That's why we are here with this article providing information about the best golf simulators on the market. We tested, analyzed, and listed all the mentioned golf simulator packages and materials based on the customers' feedback, buying experiences, and expectations. Also made a comparative review of the packages between top providers like Shop Indoor Golf, Rain or Shine, and Top Shelf Golf. Let's dive in.
The 15 Best Golf Simulators of 2022 Reviews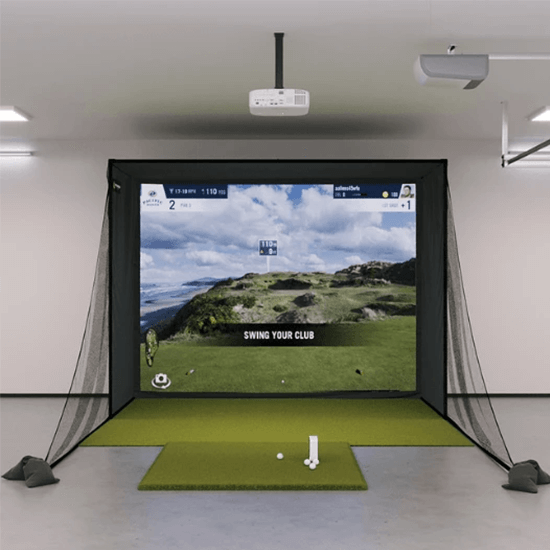 This SkyTrak golf simulator is the highest-selling golf simulator on the market because of its price reasonability and commercial grade accuracy. In this golf simulator, Shop Indoor Golf (SIG) matched the accuracy of Skytrak with their handcrafted materials (made in the USA) at around $8000.
Here you get a larger screen compared to other SkyTrak SIG golf simulators. A minimum of 14 feet in width, 10 feet in height, and 20 feet in length room is required for this golf simulator to set up. (Learn more about the golf simulator room dimension from this post.) We found the package as the best indoor golf simulator for those who want the accuracy of high-end simulators but don't want to spend a fortune. Let's see in detail what this well-regarded golf simulator has to offer.
SkyTrak launch monitor: For being a camera-based launch monitor, SkyTrak ensures you high-grade accuracy. The SkyTrak device is very convenient to carry because of its size and portability. This article will give you details on what data SkyTrak launch monitor measures and what more features it offers.
Play and Improve Software: The golf simulator comes with the Play and Improve software plan that offers 12 world-famous WGT golf courses with a yearly subscription of $199. We recommend WGT if you are comfortable with single-player game mode. A multiplayer mode is also available in this plan that works with other practice features.
Choices of golf hitting mat: With SkyTrak SIG10 golf simulator, you get 3 flexible mat options: Fairway Series mat (5 feet by 5 feet) and SIGPRO mats (4 feet by 7 feet) and (4 feet by 10 feet). The Fairway mat is recommended for golfers below 6 feet in height. It gives ample space to practice with a driver. The SIGPRO American mats on the other hand are best if you want forgiveness and injury prevention. For your convenience, you can build your own golf mat.
Along with these, SkyTrak SIG10 includes:
SIG10 enclosure and screen
Optoma HD Projector
Landing pad turf
Ceiling mount
Metal Protective Case
Check these two golf simulators SIG12 or SIG8 as alternatives to SIG10 where all materials are the same except the enclosure size. Building a golf simulator enclosure is also easy if you know the process.
Check Price at Shop Indoor Golf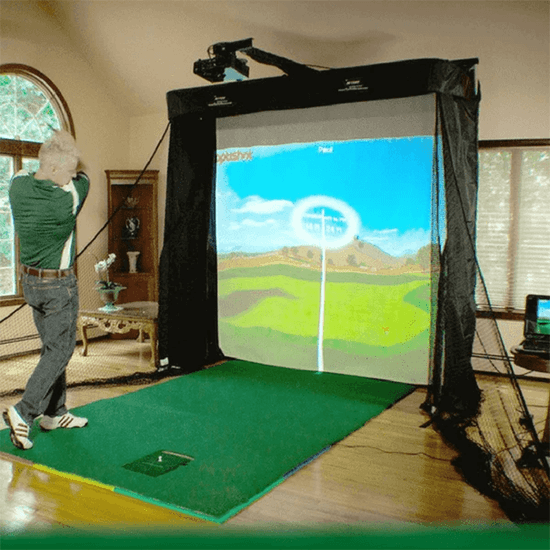 If you are looking for an option to start off, the OptiShot golf simulator can be an ideal pick. Getting a golf simulator of a renowned brand for around $4000 with some best golf courses is like having the cream of the crop.
OptiShot is good for fun and entertainment and not suitable for serious golfers who are actively trying to improve their game level because of its sub-par accuracy. if you are one of those who prioritize accuracy, better to go for GCQuad, TruGolf, or SkyTrak. Learn more about how accurate golf simulators are here.
Shop Indoor Golf created the OptiShot 2 golf simulator series package with their quality yet budget-friendly materials and made it available at a fraction of the price. The minimum room dimension for this golf simulator is 12 feet in width, 16 feet in length, and 9 feet in height.
OptiShot Infrared Optical Swing Pad: There are sixteen precisely tuned, high-speed 48MHz infrared sensors in the Optical Swing pad that provide precise swing analysis. It monitors all the club data before, during, and after the impact and gives real-time feedback. Thus you get precise and immediate swing feedback on every shot.
OptiShot2 software: It tracks 15 popular courses around the world. You can play with various game modes here. In spite of having multiplayer playing options, online courses, and other fun features, surprisingly it won't overpower your PC.
Net Return Pro Series Golf Net: Net Return golf net is a specifically handmade net to ensure authentic quality. It's designed to be compact for carrying anywhere and fit any golf simulator software. Although professional golfers want a sturdier net for their hitting convenience, beginners, and amateurs like it just fine.
Net Return Pro Turf: It's the same mat we discussed in the FlightScope Mevo+ golf simulator.
Along with these, OptiShot 2 Golf Simulator series includes:
Adjustable rubber tee
Two foam practice balls
Projector mount kit
2 black carry bags
Rear and side black nylon
Side barriers
If you want to skip the net, screen, and other accessories, and just get the basic package, try this alternative- OptiShot 2 Golf in a Box.
You may also like the Best Golf Simulators under $1000 post
Check Price at Shop Indoor Golf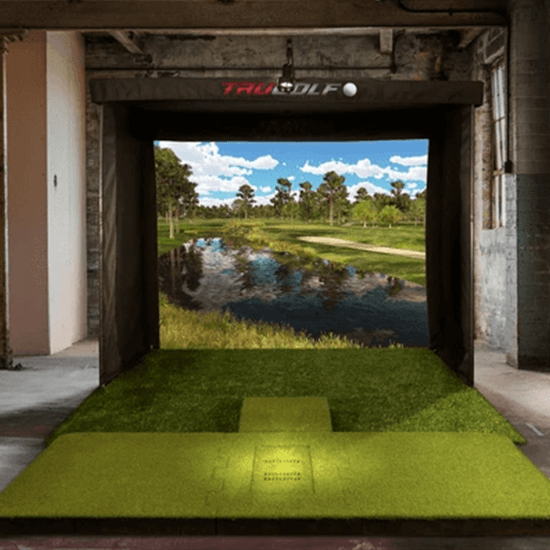 We expect quality materials and stunning graphics from a perfect golf simulator. Unfortunately, most mid-range golf simulators focus on one and sacrifice the other. Compared to them, the TruGolf simulator seems different to us because it has both. PGA pro golfer Mike Malaska said,
"The reality is that TruGolf is no longer a simulator – it is exactly what happened. Real golf with real feedback."
TruGolf has its own packages and Top Shelf Golf added more accessories with it. All these make it a mid-tier golf simulator that costs more than SkyTrak but less than Foresight golf simulators. Recommended room dimension for Vista 10 is 15 feet in width, 10 feet in height, and 20 feet in length. It has two versions – Base and Pro. Let's see what these two versions include.
TruTrack2: While most indoor golf simulators measure only ball data, TruGolf fills the gap here. It measures both ball and club data precisely by the TruTrack2 Tracking System. It provides instant data feedback to let the golfers know their performance and improvement accordingly.
E6 Connect software: Unlike TGC, E6 Connect offers a high definition of the world's most challenging golf courses. It's available for iPhone, iPad, Android, and PC. In addition, you can customize it according to your needs. You need $600 per year for an expanded course play option. But if you want just the basic subscription, you need $300 annually.
Premium Fairway mat: Here you get a soft and smooth premium Fairway mat that is designed to last long and give a real feel. In addition, putting is more consistent on its surface. Hence taking a putting stroke over the sensors without any ball is easy with this mat. In this case, you can take help from different types of putting aids.
Along with these, TruGolf Vista 10 includes:
TruGolf level (1) computer
HD 720p projector
136 inches impact screen
21 inches touchscreen display
TruGolf level (2) computer (with pro version)
Premium fairway turf
Portable audio speaker (with pro version)
Side nets (with pro version)
For alternatives to Vista 10, have a look at the TruGolf Vista 12 which comes with similar materials with a larger impact screen size.
Check Price at Shop Indoor Golf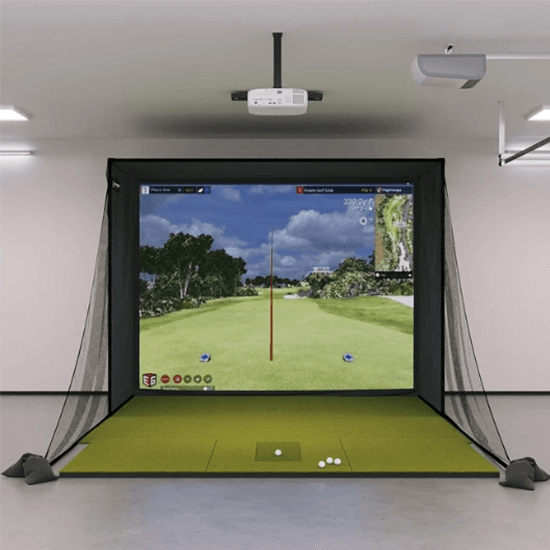 If you are serious about golf speed, accuracy, and performance consistency, Ueekor golf simulators can be a good match. Shop Indoor Golf creates Uneekor EYE XO SIG12 golf simulator package combining the EYE XO launch monitor with SIG12 Enclosure. This mid-range, high features, yet low complexity home golf simulator comes at around $16,000.
We found each of the materials of EYE XO SIG12 very user-friendly and despite being so, it doesn't sacrifice any features. Using the simulator, you can strike the ball from a large hitting area. The required room dimension for this setup is 10 feet in height, 14 feet in width, and 18 feet in length. Let's check what's more on the package.
Uneekor EYE XO launch monitor: EYE XO is a ceiling-mounted launch monitor that lets golfers practice with any golf ball. Measuring the actual ball spin and club path movement, you can land the ball exactly where you intend. The interesting thing is this launch monitor is compatible with major software like TGC, E6, and Creative Golf.
Software: EYE XO View is the base-level software manufactured by Uneekor. Including their upgraded 3 driving range modes, this software shows fitting data and swing analysis too. You get also 2 other software options that come with a short training mode, 20 golf courses, and up to 6 playing modes. Our recommendation is to have their base-level software and TGC that offers 100,000-course selection options.
Choice of hitting mat and SIG12 enclosure: Here you get the same hitting mats and enclosure that we discussed in the SkyTrak SIG10 review above.
Along with these, Uneekor EYE XO SIG10 includes:
Panasonic VMZ50U Projector
Side barrier net
Landing pad turf
15 feet long HDMI cable
EYE XO ceiling mount
For an alternative option, check out the Uneekor EYE XO Retractable golf simulator created by Rain or Shine.
Check Price at Shop Indoor Golf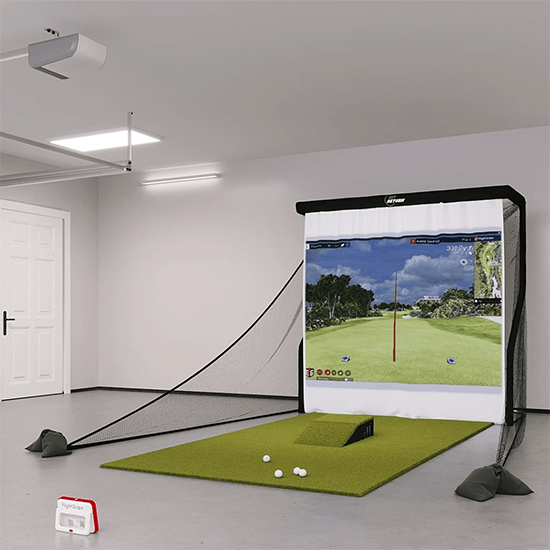 FlightScope Mevo+ is a relatively new yet popular launch monitor based on which many golf simulator packages are made. FlightScope Mevo+ Bronze golf simulator is such a package handcrafted in the USA quality.
Shop Indoor Golf created it for those who are looking for a budget-friendly option. If you are looking for good tracking accuracy and great outdoor performance, this golf simulator can be an ideal option. We recommend a room dimension of 8 feet and 6 inches in height, 10 feet in width, and 15 feet in length for this setup.
The Mevo+ Bronze golf simulator helps train beginners through the essential accessories. Hence the package is recommended for beginner golfers. It costs $4,689 to buy and there are some additional materials choices to add to the simulator. Let's know what it includes.
Mevo+ launch monitor: Launched in January 2020, the Mevo+ launch monitor has become one of the popular portable launch monitors in such a short time. Unlike SkyTrak, this portable launch monitor tracks both ball and club metrics. Though you will miss out on the club path and impact location data here, the 16 most necessary data fill this gap.
E6 Connect golf simulation software: Details about the E6 connect software are given above in the TruGolf Vista 10 golf simulator review.
The Net Return Pro Turf Golf Mat: Net Return Pro Turf (6 feet by 10 feet) is exclusively designed for Net Return Pro Net providing ball return service. It will automatically return your ball and protect it from getting lost. Also, the design will allow you to store it easily for transport convenience. The size is larger than traditional ones. It can be used both indoors and outdoors and with any golf club.
The Net Return Golf Net, Screen, and Enclosure: The name of this net indicates its specialty. There's no other golf net like the Net Return that automatically returns a golf ball back to the golfer. It's able to perform anytime, anywhere because of its very lightweight and portable design. You can also make your own golf hitting net if you once know the process.
Along with these, the FlightScope Mevo+ Bronze package includes:
Optoma EH412ST Projector
Projector shield enclosure
50 metallic stickers
Two rubber tee's – 1.75 inches and 2.25 inches
The Mevo+ SwingBay golf simulator package from Rain or Shine can be an alternative to this package.
Check Price at Shop Indoor Golf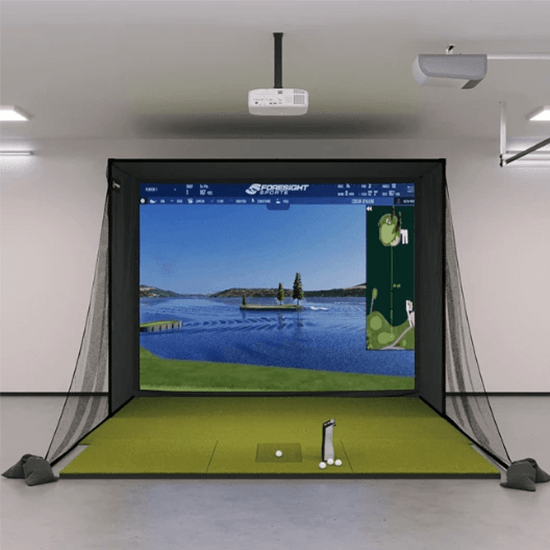 "It's awesome to have a GCQuad. I can use it indoors in what I like to call a 'bubble' – a controlled environment with no real variables."
— Rickie Fowler, five-time PGA Tour winner
When it comes to talking about the most reliable golf launch monitor, Foresight Sports GCQuad is the name that appears first. And when Shop Indoor Golf made a combination of GCQuad with SIG12 and other accessories, it became a complete home golf simulator package.
This golf simulator is on our top 15 list because of its durability, high-quality construction, and easy installation with excellent courses. All of this cost $20,999 which is a bargain when you compare it with the other high-end golf simulators that cost $50,000.
No wonder Foresight got featured in Golf Digest Editors' Choice list three times in a row. You need a minimum of 9 feet and 4 inches in height, 12 feet and 2 inches in width, and 16 feet in length room for this setup. Let's see what the package offers.
GCQuad launch monitor: It's one of the most accurate launch monitors in the golf industry. We found that PGA Tour golfers love GCQuad for its professional-grade accuracy and flexibility. Measuring all the necessary ball and club data, this launch monitor delivers a detailed picture of each shot analysis.
FSX software: Foresight comes with their most realistic golf simulation software FSX which includes a variety of exclusive golf courses. Whether you want to play in a virtual driving range or join in online competitions with golfers around the world, FSX has it all. FSX is compatible with PC only.
Choice of hitting mat and SIG12 enclosure: Here, you get the same hitting mats and enclosure we discussed in the SkyTrak SIG12 review.
Along with these, Foresight Sports GCQuad includes:
Alignment stick
Club marker dispenser
Side barrier netting
Ceiling mount
15 feet long HDMI cable
With the same accurate launch monitor, Foresight Sports GCQuad Flex Space Golf Simulator can be a budget-friendly alternative to this golf simulator.
Check Price at Shop Indoor Golf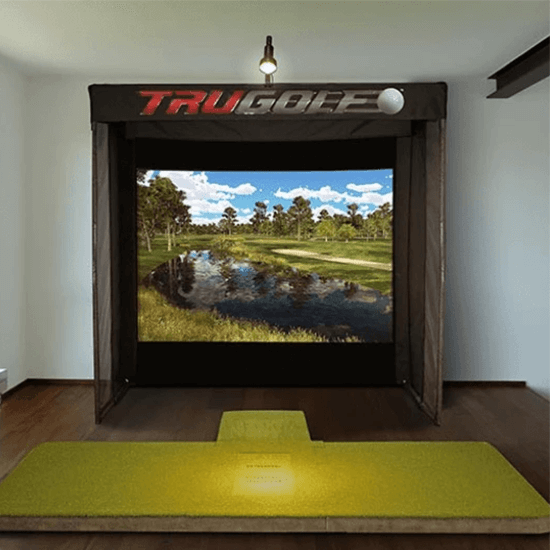 The purpose of the TruGolf Vista 8 Pro is to ensure improvement and entertainment at the same time. Keeping the purpose ahead, TruGolf manufactured Vista 8 golf simulator package where Top Shelf Golf included an additional turf and 116″ impact screen—recommended for you if you are looking for an excellent commercial golf simulator as a cash cow to satisfy the customers.
The whole package costs around $11,000. We recommend a minimum of 9 feet in height, 14 feet in width, and 16 feet in length room for Vista 8 setup. Let's check what features and benefits it offers.
TruTrack2 and fairway turf: This is the same tracking system and fairway turf that TruGolf provides. We have talked about it in TruGolf Vista 10 golf simulator package.
Side barrier net and HD projector: This golf simulator includes a protective side net that protects your screen from shots as well as any damage. TruGolf comes with its own high-resolution projector and gives the brightest view. With this, you get an overhead light bar, sidewalls, and containment brim that ensure better performance overall.
Along with these, TruGolf Vista 8 includes:
116 inches impact screen
E6 connect subscription basic (1) year
TruGolf level (1) computer (with pro version)
21 inches touchscreen (with pro version)
Premium fairway turf (with pro version)
Side nets (with pro version)
Containment brim (with pro version)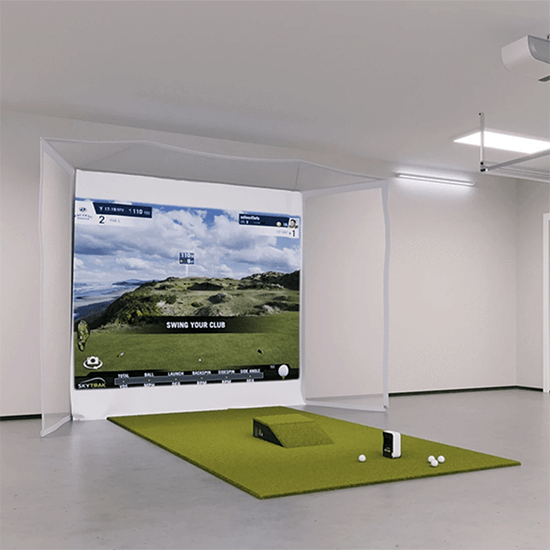 Many of us don't have the luxury to have a separate room for setting up a golf simulator. Regarding the issue, SIG comes with a SkyTrak Golf Simulator Flex Space package that can bring a room to its original form after playing. You can play in your living room, guest room, or in your garage by using its retractable screen.
Including training tools with entertaining materials, the Flex space golf simulator gains one of the top places among beginners and professionals. You need a minimum of 8 feet and 6 inches in height, 12 feet in width, and 12 feet in length space to set it up. If you want good performance to improve but cannot afford Foresight, Trackman, or Full Swing, may have a look at this package. Let's check what it has for $6,399.
SkyTrak launch monitor: This is the same launch monitor we reviewed in the SkyTrak SIG12 golf simulator package.
Game improvement software: The Game improvement plan allows up to 6 players to play together. Featuring a skill assessment feature, immediate ball performance data, closest to the pin competition, and other practice features, it costs only $99 for a one-year subscription.
HomeCourse Pro Retractable Screen: This is the screen the package is named after. Because of its wireless connection facility, it operates with the click of a remote control powered by a battery. All the setting takes not more than thirty seconds. Not just the Optoma, this screen can be used with any projector.
Pro turf mat: Here you get the similar pro turf mat that we reviewed in the OptiShot 2 Golf Simulator package.
Along with these, the SkyTrak Flex Space package includes:
SkyTrak metal protective case
Optoma EH412ST projector
Projector shield floor mount enclosure
HomeCourse accessories included: ceiling mount kit, wireless remote, easy reach pole, charging cables
If you have extra space and are looking for a cheaper golf simulator alternative to this, check out the SkyTrak Practice golf simulator package from Rain or Shine.
You may also like the Best Affordable Golf Simulators post
Check Price at Shop Indoor Golf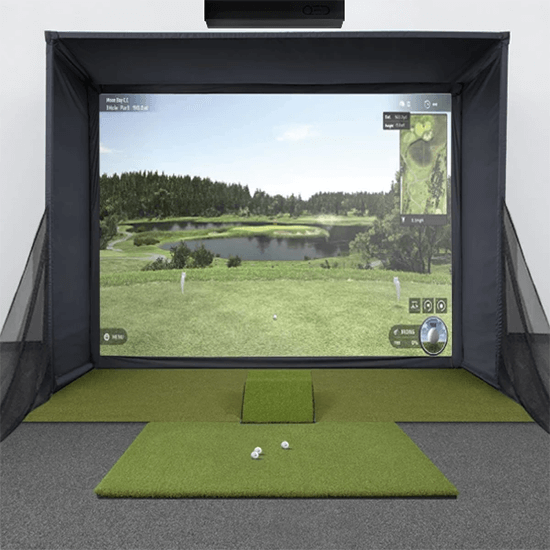 QED is where passion meets precision. Rain or Shine blends the QED launch monitor with TGC software and quality accessories. It makes the whole golf simulator package much more demandable. It can be an ideal pick for high handicappers. If you want to shoot low scores in single or multiplayer mode, try this simulator.
QED SwingBay performs excellently to solve the problem of swing adjustments. The easy installation system helps beginners set it up quickly. Recommended room dimension for this setup is 9 feet in height, 12 feet in width, and 17 feet in length. Let's see what you get here.
QED launch monitor: This launch monitor provides real-time footage that will keep you informed about your performance. It tracks both ball and club data. Featuring multiple game modes, practice ranges, and skill challenges, it gives a great hitting surface.
Uneekor QED VIEW and TGC software: Rain or Shine made a software combination of the Uneekor View and The Golf Club that offers an expanded number of golf courses. The option of selecting golf courses allows one to design one's own golf courses through a designing function. You get multiplayer game mode, high resolution, and a high-performance graphics system.
SwingBay hitting enclosure: Rain or Shine made QED SwingBay package with their new hitting bay that includes a projector screen too. It has black-out walls to ensure better projection, side barriers to protect from miss-hit shots, large dimensions to give the entire screen projection, and so on.
SwingBay golf mat: Evaluating thousands of customers' feedback, Rain or shine designed SwingTurf golf mat crafted meticulously. With a forgiving hitting surface, this mat lets you hit with less vibration. It allows having real feedback on miss-hits and fat shots.
Along with these, Uneekor QED SwingBay imcludes:
Gaming laptop
Laptop stand (optional)
Laptop sleeve & mousepad
10 feet by 10 feet landing pad turf (optional)
Optoma 1080p HD short throw projector
SwingShield projector floor enclosure
Uneekor QED SIG12 and Uneekor EYE XO SIG10 from Shop Indoor Golf can be alternatives of this package.
Check Price at Rain or Shine Golf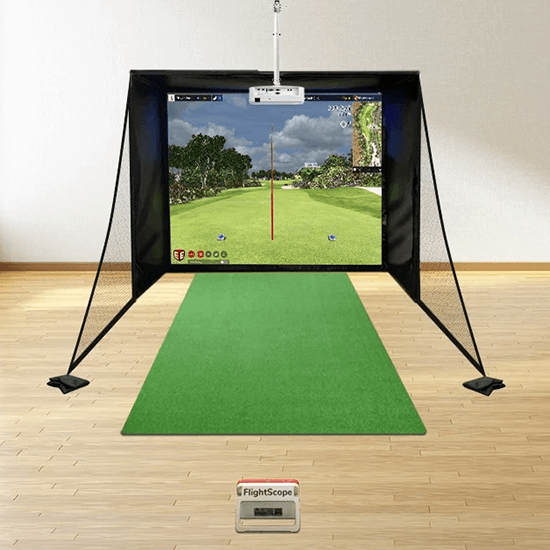 Mevo+ PerfectBay golf simulator is the only package Top Shelf Golf created to give you both gaming and entertaining convenience within $5000. The combination of a well-built hitting screen with durable net return pro turf and high-quality materials makes us pick this golf simulator in our top 15 list.
Here, you can choose the golf simulator size, hitting mat, and projector. TSG also offers additional materials to include with the package. A minimum of 9 feet in height, 12 feet in width, and 16 feet in length space are required to place the Mevo+ PerfectBay golf simulator. Let's know what it includes.
Mevo+ launch monitor: Check out the Mevo+ Bronze golf simulator package for the Mevo+ launch monitor review.
Choices of golf hitting mat: There are two flexible options for mats: Net return (6 feet by 10 feet), and Fiberbuilt (7 feet by 4 feet), (9 feet by 4 feet), (10 feet by 12 feet). The net return mat is made for both indoor and outdoor use providing continuous ball return features. Giving a smooth feel, this mat will give you safe hitting without any pain or vibration in the wrists.
But if you want a long-lasting mat, we suggest Fiberbuilt that is designed to withstand more than 300,000 shots. Offering natural grass feel, the Fiberbuilt mat will let you play without injury.
Along with these, FlightScope Mevo+ PerfectBay includes:
PerfectBay golf simulator screen enclosure
5 E6 golf courses and 17 practice range
Optoma projector
The Net Return Pro Turf
Shop Indoor Golf created FlightScope Mevo+ SIG12, a similar package with more materials whereas Rain or Shine offers Mevo+ Practice Golf Simulator, a similar golf simulator with fewer materials.
Trackman is the name that comes top in the world's best golfers' choice. Even President Donald Trump chose Trackman to install at the White House. Offering an extensive list of features, Trackman proves to be the most accurate and informative golf simulator for $50,000. It also includes online tournaments, club fitting software, swing video software, more than 100 golf courses, skills challenging features, and so on.
"Using their patented technology provides the most accurate ball data allowing me to work on shaping my shots and get back into Championship form."
– Tiger Woods – 15X Major Champion
Full Swing Golf Simulator is one of the best golf simulators mostly preferred by professionals. Being in love with this golf simulator, two world-renowned golfers Tiger Woods and Jordan Spieth said they are with Full Swing. Featuring multisport and gaming mode, more than 93 golf courses, dependable ball flight and data feedback, cinema-quality projector, and energy absorbent diffuser screen, Full Swing Golf Pro Series ensures an exceptional course playing experience between $55,900 to $100,000.
Shop Indoor Golf comes with a new innovative idea to fulfill both the entertaining and training needs of every golfer. And for this, they chose HD golf among various premium golf simulator options. Based on the two purposes, they made the HD Ultimate Training package and Ultimate Entertainment package separately that are priced at $56,420 and $69,035 respectively. HD golf simulator is not only visually stunning and realistic but also offers very accurate and comprehensive measurements for course practice facilities. This statement proves it true-
"I love the HD Simulator because of its incredible realism & pinpoint accuracy. I was amazed at the technology and playing experience."
— Bryson Dechambeau, 5-Time PGA Tour Champion
Curve golf simulator from aboutGolf is made for both residential and commercial use priced over $60,000. One of the reasons why professionals choose this golf simulator to play is it has a larger curved screen that produces stunning high-resolution graphics. A professional golf instructor and TV host Michael Breed said,
"aG platform helps me give my students detailed feedback on their golf game so they can better understand what they're doing and how to specifically improve their game."
"Golfzon helps me keep my golf sense even if I train at home. I can practice any time regardless of the outside conditions. I also practice on Tour golf courses virtually, which has been amazing."
— Sungjae Im, Winner on PGA Tour
Starting from $38,500, most of the Golfzon simulators cost more than $50,000. For the advantage of its lifelike and accurate simulation, it is worth every penny. Hence, Golf Digest named it the best premium golf simulator from the last 4 years. Having over 200 golf courses, the ability to hit on uphill, downhill and sidehill lies, playing on rough, fairway, or sand surfaces- all these exceptional features made it a professionals' pick.
Best Golf Simulator Buying Guide
To have an optimal option, first, you should know how to find it. If you know the way, it will help you select the best golf simulator among various options. We are here to let you know what you should look for in a golf simulator, what will give you a better experience, what you need to consider, and so on. In a word, we will provide a buying guide that may help you regarding this. Stay with us.
Check the size of the room
Before going for a golf simulator, you need to know the minimum room dimension required to place it. First, check how much space you have at your home or garage or the place where you are going to set it up. Then check the minimum space requirement of the package you have selected. There should be enough space for the screen and enclosure so that you can swing comfortably.
To help you select the perfect golf simulator for your available space, we arranged this section with the details of the room size required for a simulator. Three dimensions matter in considering your room space.
Ceiling height
Room width
Room depth
Ceiling Height: It will depend on your height and swing. Usually, it is required for a golfer to have a nine feet high ceiling while using a simulator. Besides, some require minimum ceiling height. So if you can't manage the area of 9 feet, look for the models that can fulfill your minimum height requirement.
Room Width and Depth: The ideal room width and depth should be 12 feet. 10 feet is for your practice and extra two feet will allow you to swing your golf club. But some can be used within 5feet. For this, you need to check the screen and sensors of your simulator and how much space they require.
Software and plan
Look for the software features and plan that is included with the golf simulator. Some software plan offers advanced practice features with a yearly subscription. Some require no subscription fee. Check whether the software has training modes, skill challenge features, course competitions, features relevant to swing and graphics, multiplayer capabilities, environmental setting, etc. Usually, the major software like TGC, E6 Connect, WGT has all these advanced features and game modes. You can keep any of this in your preference.
Tracking system
Based on the tracking system, there are two types of golf simulators: Photometric and Radar doppler. Photometric golf simulators use a camera-based launch monitor that tracks data by capturing high-speed images before, during, and after impact. On the other hand, radar doppler golf simulators track the entire ball flight recording the motion of the ball and clubface.
The camera-based launch monitors like SkyTrak sit above the golfer (on the ceiling) or in front of the golfer (besides the hitting mat) so that they can view the hitting area. It just requires the ball movement and the space around it to capture images or take video footage. Photometric golf simulators can track data within a limited space whereas radar-based systems require wider space.
We see photometric technology in SkyTrak, Foresight Sports GC2, GCQuad, and Uneekor QED golf simulators while radar doppler technology in FlightScope Mevo+ and Trackman golf simulators.
Budget
High-end golf simulators like Trackman, Golfzon, Curve golf simulator, or HD golf simulator cost an arm and a leg to buy. Starting from $30,000, they cost upwards $50,000. These are for those who have a good budget and are looking for high-quality golf simulators.
For those who want golf simulators within a mid-range budget, we recommend Uneekor, TruGolf, and Foresight Sports. The price of these golf simulators may vary between $10,000 – $30,000.
But if you want one from four figures budget, SkyTrak and FlightScope are the best choices. These golf simulators offer accuracy like high-end golf simulators but cost far less than those. And they are available for under $10,000. Finally, for the most affordable option (three or four figures), OptiShot is the ideal choice.
Make sure you have everything
Check the whole golf simulator package whether it provides all products of your requirement or not. If something is missing, like a hitting mat or net or some other product, you will have to purchase it separately. And it's not so easy to buy something separately, you may face some difficulties such as troubles with the price, quality, etc. So it's better to have it all in a package. Check whether all of your required products are included or not.
Importance of portability
One of the most important things is you need to find out the portability of the golf simulator you will buy. For example, you might want to play outdoors, or you might need to move your home golf simulator if you don't have enough space to keep it permanently in a room. Imagine a simulator that can always be carried with you wherever you are going, and you can practice golf everywhere you are going. So look for the screen, whether it is portable or not.
Best Golf Simulator FAQ
Are golf simulators worth it?
Yes, golf simulators are worth buying. When you can practice golf using the best golf simulator at your home within a controlled environment, whatever the season or the outside temperature is, if it doesn't bother you playing, then it will obviously be worth buying.
What golf simulator has the best courses?
Uneekor EYE XO SIG12 has the best courses. It offers more than 100,000 golf courses that are an unbelievable opportunity. EYE XO also allows you to design your own courses. It's up to you which courses you want to play and how to design them.
How do you putt on a golf simulator?
First, select the putting area of your golf simulator. It differs in various simulators. Take your position on the hitting mat before the launch monitor where you want to putt. Feel the stroke. Don't make a stroke that is too big and too fast. It will cause the ball to go too far. So, soften your stroke. 
What golf simulator do pros use?
Professional golfers like to use TruGolf Vista 10 Pro as it offers accuracy and instant feedback along with other game-improvement features. Tiger Woods use Full Swing Pro Series. Rickie Fowler loves to use Foresight GCQuad. Boyd Summerhays used to play with a TruGolf simulator and loved it.
How much does a golf simulator cost?
Typically, a golf simulator of basic level costs around $5000. If you want an advanced golf simulator with higher accuracy, consider $10,000 to $16,000. And the most advanced golf simulators with lots of features cost more than $20,000.
Can you make your own golf simulator?
Yes, you can easily make your own golf simulator in your home, studio, garage, or office. First, know the space requirement. Select the enclosure that fits in your space. Gather the equipment you need such as a launch monitor, projector, net, mat, etc. Follow the user manual, install it and start building up your DIY golf simulator.  
What size room do you need for a golf simulator?
You need 10 feet in length, 10 feet in width, and 7 to 10 feet in length room size on average for a golf simulator. The space requirement depends on the screen you are using. Sometimes you need more space to set up a large screen. Sometimes you can use your small room or basement to place your simulator if it's of small size.
How tall does the ceiling need to be for a golf simulator?
The ceiling needs to be at least 8 feet to 8 feet and 5 inches tall for a golf simulator. Because you should make your ceiling above enough so that you can get an easy movement. The ceiling height depends on what golf simulator you are using. Sometimes it goes beyond 15 feet if the screen setup requires such dimension. 
Conclusion
Let's see in brief what you got above. You got the review of the 15 best golf simulators in detail providing information such as affordability, portability, durability, commercial uses, etc. If you have just started your game, don't choose a complex golf simulator. Try to complete your practice session with an easy golf simulator for the home. It won't cause any difficulties or troubles for you as a beginner and it will make your setting up and installation process easier.
So does it seem to be useful to you? Did you get what you wanted to know? If it satisfies you, we will be happy to know. Share your views with us. If you find something important to add in these 15 best golf simulators for home, inform us too. We would like to include more if it is effective.
Hope you can now decide which golf simulator best suits you. Buy it within your budget and enjoy golfing.