When you seek help to get the best golf simulator, it needs no introduction to your passion and dedication towards golf. We understand how challenging it is to find the best.
You must ensure a high-quality launch monitor with tracking sensors for precise data measurement. Plus, a simulator enclosure, a hitting mat, and a projector with an impact screen to get the best simulation experience. And consider factors like budget, room space, software compatibility, etc, simultaneously.
We have put ourselves into your shoes. After researching, analyzing, and testing hundreds of simulators, we finally developed this article, including reviews, buying guides, FAQs, and many more, to get the best golf simulator based on your requirements.
Here's the list of the golf simulators we reviewed in this post. Take a glance and click the link below to jump to that section to read the full review.
| Best for | Simulator Package Name | Our Rating | Price |
| --- | --- | --- | --- |
| Best overall golf simulator | Foresight Sports GC3 SwingBay | ★★★★★ | $13,599 |
| Best indoor golf simulator | Uneekor EYE XO SIG | ★★★★★ | $16,200 |
| Best outdoor golf simulator | FlightScope Mevo+ PerfectBay | ★★★★ | $4,829 |
| Best value golf simulator | SkyTrak SIG10 | ★★★★★ | $8,250 |
| Best training golf simulator | Foresight Sports GCQuad SwingBay | ★★★★ | $20,299 |
| Best commercial golf simulator | TruGolf Vista 10 SIG12 Pro | ★★★★★ | $17,995 |
| Best affordable golf simulator | OptiShot Golf-In-A-Box 4 | ★★★ | $5,000 |
| Best cheap golf simulator | SwingLogic SLX MicroSim | ★★★ | $235 |
| Best garage golf simulator | Skytrak Retractable Package | ★★★★★ | $6,899 |
| Best flex space golf simulator | Full Swing Kit Flex Space | ★★★★ | $9,750 |
| Most accurate golf simulator | TrackMan 4 | ★★★★★ | $21,495 |
| Best luxury golf simulator | aG Curve | ★★★★★ | $69,500 |
12 Best Golf Simulators Reviewed for 2023
1. Best Golf Simulator Overall: Foresight Sports GC3 SwingBay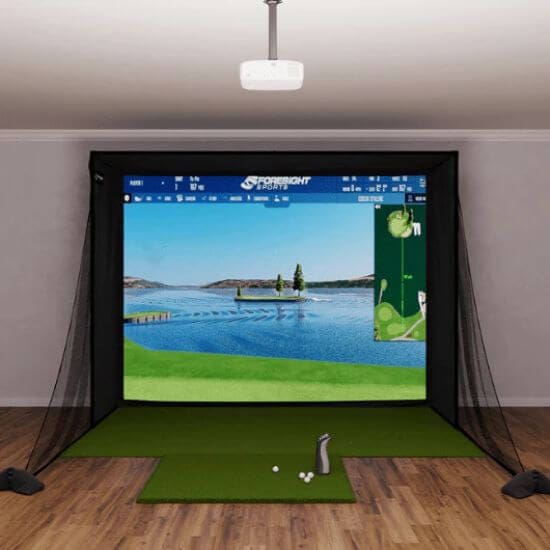 The Foresight Sports GC3 SwingBay golf simulator is the best overall based on performance, benefits, accuracy, game modes, and price. The GC3 launch monitor is renowned for its advanced technology and exceptional accuracy, allowing players to enjoy a truly immersive and realistic indoor golf experience.
The high-speed camera system precisely captures every shot, enabling players to analyze their swing and improve their performance. The tracked data measures critical ball flight metrics such as spin, launch angle, and ball speed. The GC3 is known for its exceptional accuracy compared to the around $15,000 price tag.
The advanced ball tracking technology provides accurate data on every shot, enabling players to make necessary adjustments and perfect their swing. Moreover, the simulator features customizable playing options that can be adjusted for course conditions, wind speed, and other factors, which allows players to develop a well-rounded game and be better prepared for different playing conditions.
The full HD projector and the swingbay package's premium components offer a realistic playing experience with 4K graphics and authentic sound effects. The overall experience is a good value for money. And that is why the GC3 SwingBay is our best overall golf simulator.
Check Price at Rain or Shine Golf
2. Best Indoor Golf Simulator: Uneekor EYE XO SIG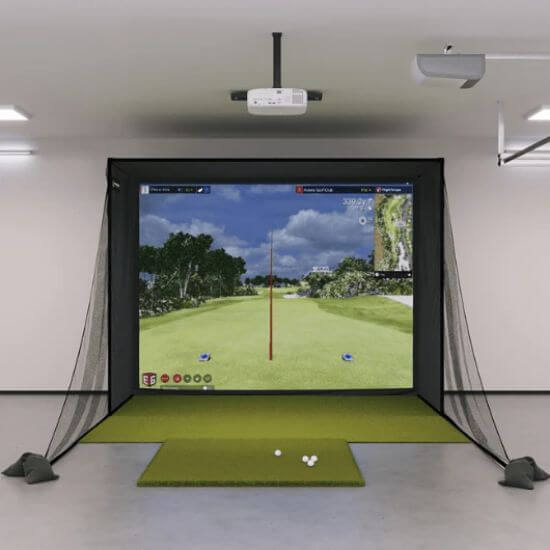 Uneekor is a relatively new brand in the industry. But they have earned the trust of golfers by providing top-quality launch monitors like EYE XO and QED. We picked the EYE XO SIG10 simulator for its premium performance benefits like accuracy, durability, and multiplayer capability. Compared to the QED model, this EYE XO package doesn't require specific golf balls, which is a big plus.
This simulator features a camera-based overhead launch monitor with infrared sensors. The combination can provide fast and accurate data readings such as ball speed, carry distance, total distance, launch angle, club head speed, and many more.
The SIG10 package includes TGC 2019 simulation software. It is one of the most exciting software with more than 100,000 courses. Plus, you can design your golf course in it. Besides, it also offers a multiplayer option.
The accuracy, price, and visual experience indoors make it the best indoor golf simulator. This setup's minimum required room space is 9 ft high, 12 ft wide, and 16 ft deep. So according to the standard room size worldwide, this simulator can be installed in most indoors.
Check Price at Shop Indoor Golf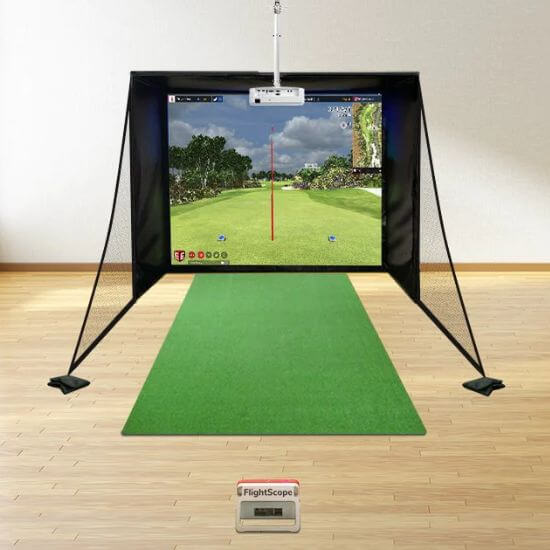 The FlightScope Mevo+ SIG10 golf simulator is a top-notch choice for outdoor use. The Mevo+ SIG10 golf simulator package has a high-quality hitting enclosure, E6 software, projector, side barrier netting, landing turf, ceiling mount, landing pad, and the best golf mat. The package is under $8,000, making it an excellent investment for beginners and pro golfers.
Our research found that users complimented the simulator "good enough" for its price point and effectiveness. They were delighted with the E6 software, which provided a complete simulation environment with many golf courses.
While it may not look as elegant as other simulators like foresight sports GCQuad, SkyTrak, and more, the data measurement and real-time visual feedback make it a fantastic combination. With a radar Doppler tracking system, Mevo+ measures ball flight and is the first launch monitor to use this technology to track data.
It is one of the most portable golf simulators as well. The minimum space requirement for Mevo+ is 12 feet in width, 21 feet in length, and 9 feet in height to cover a large area for play. However, the battery life is not a standard one, the benefits of the simulator more than make up for these minor concerns.
Overall, the FlightScope Mevo+ SIG10 golf simulator is an excellent investment for anyone looking to practice their golf game from home comfort. Its accuracy, portability, and versatility make it a highly recommended product for all golf enthusiasts.
4. Best Value Simulator (Under $10,000): SkyTrak SIG10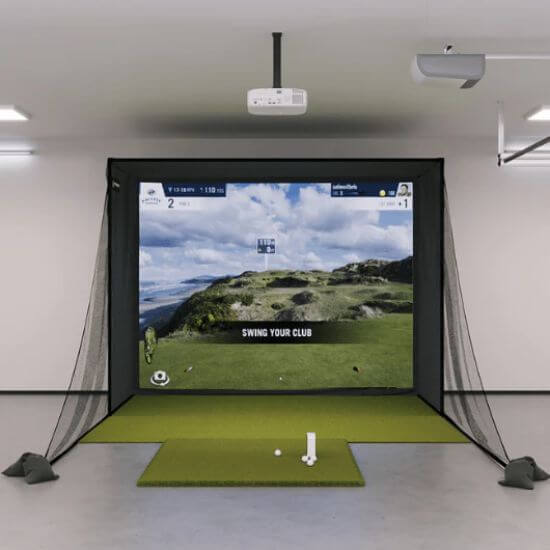 Despite being an older model, the SkyTrak launch monitor is still a top pick for golf enthusiasts due to its accuracy and affordability. Highly rated by numerous authority sites, the SkyTrak launch monitor has won the "Best in Golf" award by Golf Digest for five consecutive years.
The SkyTrak SIG10 simulator package includes an enclosure, HD quality projector, and all the necessary accessories, such as a hitting mat, landing turf, impact screen, and more, all for less than $10,000. While the photometric launch monitor is best for indoor use, it can also be used outdoors if it is away from direct sunlight to ensure accurate tracking results.
With the SkyTrak SIG10, you can get accurate golf balls data such as ball speed, launch angle, spin rate, and more, along with estimated club data like club head speed and swing speed. The package has a metal protective case and a ceiling mount, allowing you to place the launch monitor on the floor or ceiling. However, you must ensure that the room dimensions are a minimum of 9 ft high, 12 ft wide, and 18 ft deep to swing your longest club properly and have enough clearance.
The SIG10 simulator enclosure has four options for selecting your hitting mat, allowing you to choose the ideal one for your available space. While SkyTrak may not have the latest technology or features, its accuracy and affordability make it an excellent investment for anyone looking to improve their golf game from home comfort. Overall, the SkyTrak SIG10 simulator package is a highly recommended product for golf enthusiasts of all levels.
Check Price at Shop Indoor Golf
5. Best Golf Simulator for Training and Most Game Modes: Foresight Sports GCQuad SwingBay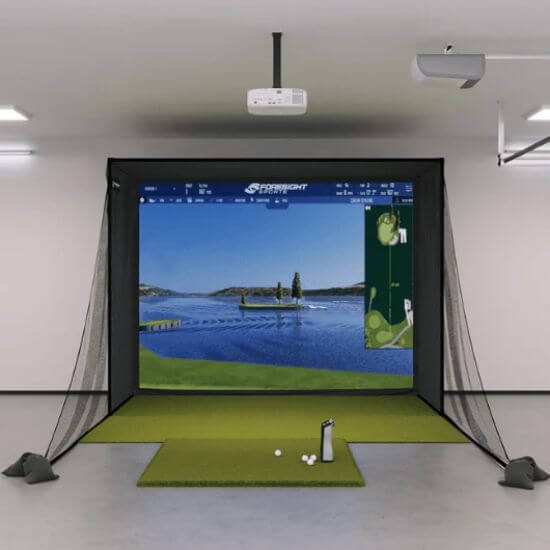 Another top-quality package from Rain or Shine Golf is the GCQuad SwingBay. Foresight was featured in Golf Digest Editors' Choice list three times in a row. No wonder PGA Tour golfers love GCQuad for its professional-grade accuracy and flexibility.
It is one of the most accurate golf launch monitors under $15,000 indoors and outdoors. As the name suggests, the GCQuad has four high-speed, high-resolution cameras that can accurately analyze the most precise visuals and provides results like carrying distance, total distance, ball speed, launch angle, spin rate, club head speed, smash factor, and many more.
The SwingBay package combines GCQuad, Full HD high-lumen projector, SwingBay enclosure, FSX 2020 Software, and other accessories as a complete home golf simulator package. Foresight comes with its most realistic golf simulation software, FSX, which includes a variety of exclusive golf courses.
Whether you want to play in a virtual driving range or join online competitions with golfers worldwide, FSX has it all. It offers all-in 4k resolution and helps you increase your skill with the challenges.
Check Price at Rain or Shine Golf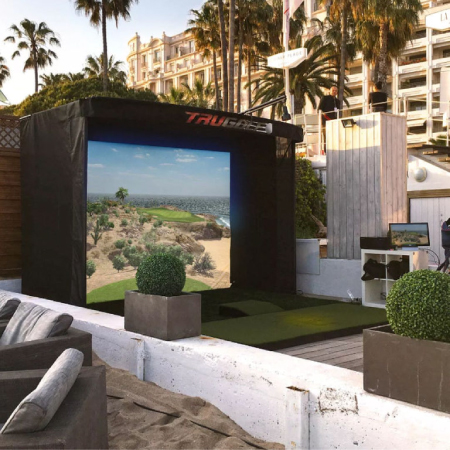 The TruGolf Vista 12 is one of the best commercial golf simulators that offer a realistic golf experience with accurate data tracking and analysis, high-quality graphics, and various game modes and challenges. It is available in two models – Vista 12 base unit for beginners and Vista 12 pro for professionals.
The TruGolf Vista SIG12 Pro has the latest TruTrack2 tracking system, an optical sensor that accurately measures ball and club data, providing feedback on your swing and ball flight. The results are accurate and reliable, reported by most users. The 4K UHD projector and 12 ft screen provide a large and clear image of the course, creating a realistic and immersive golfing experience.
It comes with the E6 Connect software, which provides access to over 90 golf courses, including 20 of the world's top 100 courses. The software also offers various game modes, such as stroke play, match play, skins, and skill-building exercises designed by PGA professionals.
The TruGolf Vista SIG12 golf simulator has a compact design, making it easy to set up in any room of your house. The simulator is also customizable, allowing you to adjust the settings to your preferences and skill level.
Another standout feature is its multiplayer mode, which allows up to eight players to play together, making it an excellent option for family gatherings or golfing with friends. The simulator also has a peer-to-peer connectivity feature, allowing you to connect and compete with golfers worldwide.
The TruGolf Vista SIG12 golf simulator is a fantastic investment if you want to generate more revenue by engaging golfers. The simulator's advanced technology, accurate tracking system, and immersive software make it a top choice for professional and amateur golfers.
Check Price at Shop Indoor Golf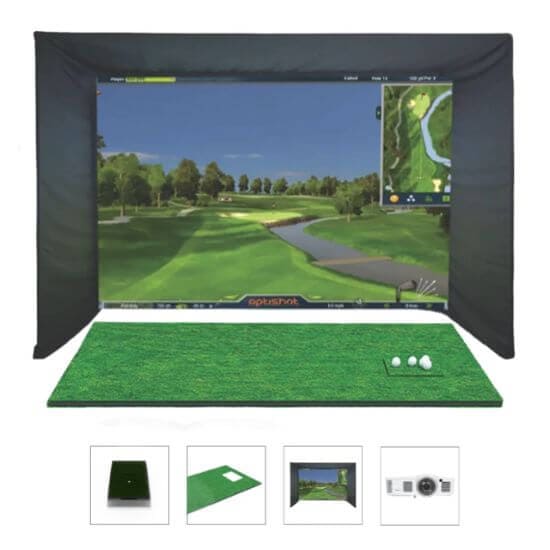 OptiShot 2 Golf in a Box 4 is a budget-friendly golf simulator well-suited for beginners. It includes an OptiShot2 infrared optical swing pad, an OptiShot Pro Bay, a hitting mat designed for it, a projector, and a mount, making it an all-in-one package that provides everything you need for your golf room.
The package also includes a Net Return Pro Series net, which is easy to set up and of premium quality. The only additional expense that may exceed the budget of $5,000 is if you opt for a 4K ceiling mount projector.
The OptiShot Pro Bays are available in various sizes and are designed to fit most environments, making it easy to customize your simulator to suit your space. Additionally, the hitting mat is made of high-quality, dense foam, providing a realistic simulation feel.
The OptiShot Golf Simulator software includes 15 of the world's top golf courses and regular software updates. This means you can simulate playing on world-famous courses like Pebble Beach or St. Andrews from the comfort of your home.
It's important to note that the OptiShot simulator is intended for indoor use only. Overall, the OptiShot 2 Golf in a Box 4 is an excellent option for those looking for a cost-effective golf simulator that delivers a realistic experience and includes everything needed for setup.
8. Best Simulator Under $1000: SwingLogic SLX MicroSim Home Golf Simulator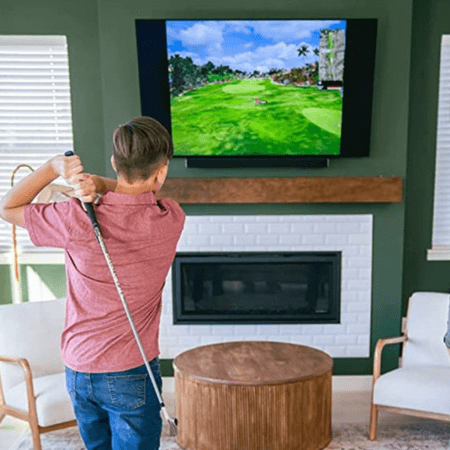 The SwingLogic SLX Golf Simulator is an excellent option for golfers who want to experience the golf simulator for under 1000 USD. The sleek and modern design of the SwingLogic SLX Golf Simulator is impressive, and a golf mat can be added for a more authentic golfing experience. The simulator is also highly customizable, allowing you to adjust settings like ball speed, wind, and course difficulty to suit your preferences.
It uses an optical swing sensor to capture and analyze your swing on TV or a high-resolution projector to display the game on a large screen. The performance of this simulator is top-notch, with a high-performance computer capable of handling the demanding graphics and calculations required for an accurate swing analyzer and course simulation.
The simulator's accuracy is further enhanced by its ability to simulate real-world conditions, using advanced algorithms to calculate the ball's flight, considering factors like wind, temperature, and humidity.
The SwingLogic SLX Golf Simulator also offers a range of game modes. It even includes a multiplayer mode, allowing you to compete against other players worldwide and add excitement to your practice sessions.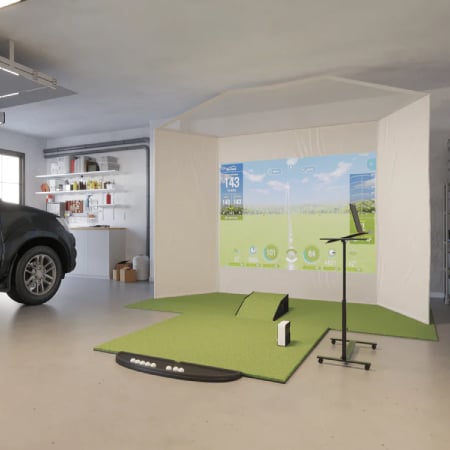 The SkyTrak retractable golf simulator package is a high-end indoor golf simulation system. The minimum space requirements are 9′ High, 11′ Wide, and 12′ Long. However, the retractable design allows the simulator to be easily stored away when not in use. It lets you quickly make space if you need to pull the automobile into the garage.
The package combines with the SkyTrak Launch Monitor. It features a highly accurate and realistic sensor that captures data on your shots and provides detailed feedback on things like ball speed, spin, and launch angle.
A projector, a 10-wide impact screen, and built-in simulation software allow you to review your swing and shot and give data visualization of your shots. Besides, Skytrak is compatible with various golf simulation software, such as The Golf Club, World Golf Tour, and others, which provides a realistic virtual environment with a natural golf course and allows you to play and practice different courses.
Check Price at Rain or Shine Golf
10. Best Golf Simulator for Flex Space: Full Swing Kit Flex Space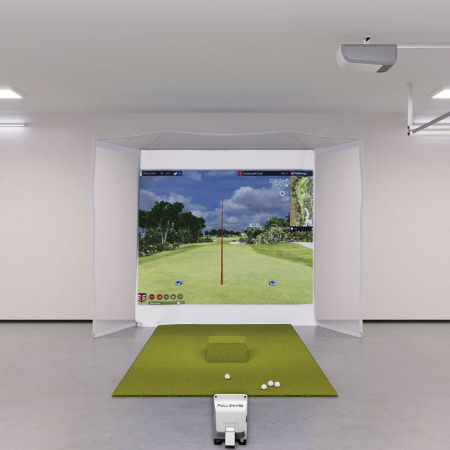 The Full Swing Kit Flex Space is an impressive golf simulator for flexible spaces. It can be set up in spaces as small as 9 feet by 12 feet, making it perfect for those with limited space. Additionally, the simulator can be easily moved or disassembled when not in use, allowing you to convert your space into a garage or playroom.
It features an advanced tracking system with high-speed cameras to capture every aspect of your swing, providing accurate feedback on clubhead speed, ball speed, launch angle, and spin rate.
The Full Swing Kit Flex Space is hard to beat regarding accuracy and performance. It offers realistic ball flight and course simulation, making it an excellent tool for practicing your game. The simulator's advanced tracking system provides accurate feedback on your swing, allowing you to identify areas for improvement and track your progress over time.
The Full Swing Kit Flex Space has a high-resolution projector that displays the game on a large screen, creating a truly immersive experience. The simulator also includes a realistic hitting mat that provides a true-to-life feel for your shots and a net that helps protect your surroundings from errant shots.
Check Price at Shop Indoor Golf
11. Most Accurate Golf Simulator: TrackMan 4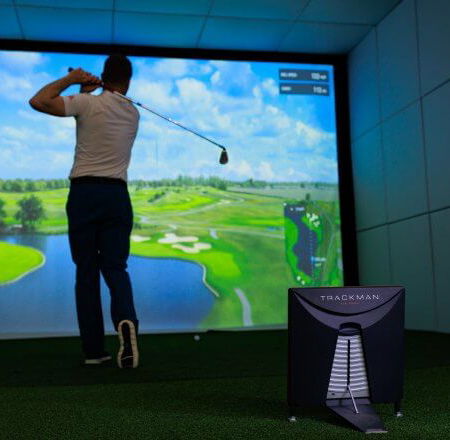 The TrackMan 4 is a highly advanced and sophisticated golf simulator designed for both professional golfers and serious amateurs who are looking to take their game to the next level. It is considered one of the most accurate golf simulators and a popular choice among pro golfers.
The TrackMan 4 features advanced ball-tracking technology. The dual radar system can track the ball from launch to landing, providing highly accurate data on ball flight, spin rates, and other important metrics.
The TrackMan 4 includes other features like video analysis, custom shot shaping, and a vast library of virtual golf courses. The simulator also includes a user-friendly interface that makes it easy to access and analyze all the data collected during gameplay.
While the TrackMan 4 is comparatively expensive, it is a precious tool for serious golfers looking to improve their game. Top professionals and golf coaches often use the simulator to analyze techniques and develop training plans tailored to individual players. With its advanced technology and extensive features, the TrackMan 4 is a must-have for any golfer who is serious about improving their skills and taking their game to the next level.
12. Best Luxury Home Golf Simulator: aG Curve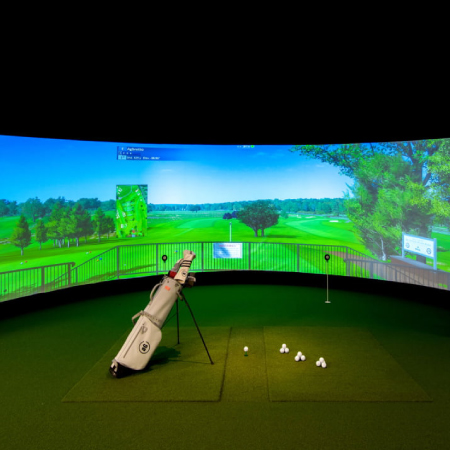 The aG Curve golf simulator is an incredibly advanced simulator specifically designed for the golfers aiming for a premium experience. It is undoubtedly one of the most expensive golf simulators on the market but offers some of the industry's best technology.
The aG Curve golf simulator is accurate, one of the critical factors that set it apart from other golf simulators. It utilizes an advanced camera and sensor technology to track every aspect of your swing, including the club's path, face angle, and impact point. This level of precision allows golfers to receive incredibly detailed feedback on their swings.
It includes access to a massive library of golf courses, so golfers can practice on some of the most famous courses in the world without ever leaving their comfort areas. The simulator also offers a range of practice modes and drills, allowing golfers to work on specific aspects of their game in a controlled and repeatable environment.
The most impressive feature of the aG Curve is its virtual reality capability. The simulator's high-resolution graphics and realistic sound effects only add to the overall immersion.
Top Golf Simulator Brands
SkyTrak was founded in 2010. They offer affordable, accurate, and versatile golf simulators. They are a popular choice for recreational and professional golfers.
Full Swing Golf was founded in 1986 and has become a global leader in golf simulator technology. With five different simulator types, their products cater to a wide range of customers, from beginners to experts. Their patented Dual Tracking technology provides unparalleled accuracy in ball-flight measurement.
TruGolf has been providing golf simulators since 1999. They are offering three different models for various needs and budgets. Their commitment to creating realistic golfing experiences with advanced technology and high-quality graphics makes golfers feel like they are on a real course.
Foresight Sports, founded in 2010, is known for its GCQuad launch monitor and five different simulator models. Its accuracy and data collection give players detailed insights into their swings and ball flight. It is a popular choice for serious golfers and instructors.
aboutGolf was founded in 1999 and offered four different simulator models. Its customizable technology allows users to tailor their simulator to their needs and preferences. Its simulators are also known for their high-quality graphics and realistic gameplay.
FlightScope was founded in 1989 and has since become a leading provider of golf launch monitors and simulators. Their two simulator models with 3D Doppler radar technology accurately measure ball flight and give players detailed analysis of their swings and shots.
TrackMan was founded in 2003 and is a leading golf technology company. With three different simulator models, its unique selling proposition is its ability to measure and analyze ball-flight data accurately, providing golfers with invaluable insights into their game.
OptiShot Golf was founded in 2005 and offered two simulator models, including a portable option. They are good at producing affordable golf simulators, accessible to most golfers practicing at home or in smaller spaces. Its simulators also come with a range of virtual courses and game modes.
Buying Guide for the Best Golf Simulator Package
A golf simulator is an investment for a passionate golfer. It helps a golfer grow faster and develop skills quickly. It's essential to consider all the factors that affect the experience and align them with your goals. Here is our guide for selecting the best simulator that suits your need:
1. Identify the best package that matches your interest
Golf simulators not only improve your skills, but they also make you confident. You can use the data analysis provided by the simulator to perfect your swing, learn how to choose the right club, and shape your shots to improve your skill and consistency.
To identify the best golf simulator for you, answer the following questions.
Do you want to practice and develop your skill?
Do you need realistic graphics indoors and outdoors? Or
Are you aiming for a commercial setup to maximize your profit?
There is plenty of golf simulator variation available in the market. And different models offer different features and benefits. For instance, TruGolf offers one of the finest graphics, whereas Foresight Sports is known for the accuracy and the number of data parameters it tracks.
Based on your answers, you should look for a golf simulator that best matches your interest.
2. Measure your available space and room requirement
You need a minimum space to swing fully to play and practice with a golf simulator. A minimum of 9 ft height and 12×12 ft room size is necessary. It is a challenge to find simulators for smaller spaces. If you have a bigger space, you can always have plenty of choices, such as enclosures, golf mats, and more, to utilize that space.
To help you select the perfect simulator for your available space, we arranged this section with the size required for a simulator—two significant dimensions matter in considering your room space.
Ceiling Height: initially, it seems less important, but critical. There should be enough space for the golf ball to fly without hitting the ceiling. It will depend on your height and swing. Usually, a nine feet high ceiling is the minimum while having a full swing with a golf driver. As a result, we recommend a room height of at least 10 feet.
Room Width and Depth: The ideal room width and depth should be 12 feet or more. Ten feet is the minimum requirement for launch monitors to track the ball, and extra two feet will allow you to swing your golf club properly. There can be exceptions. Check the simulator user guide to learn more about it.
Most importantly, you need enough space to swing your golf club safely.
Caution: Do not swing the club or get too close to lamps, furniture, or other objects. We recommend moving all fragile items out of the way first. Then, stand in the middle of the golf simulator setup to test the course.
3. Set a budget that can get your expected simulator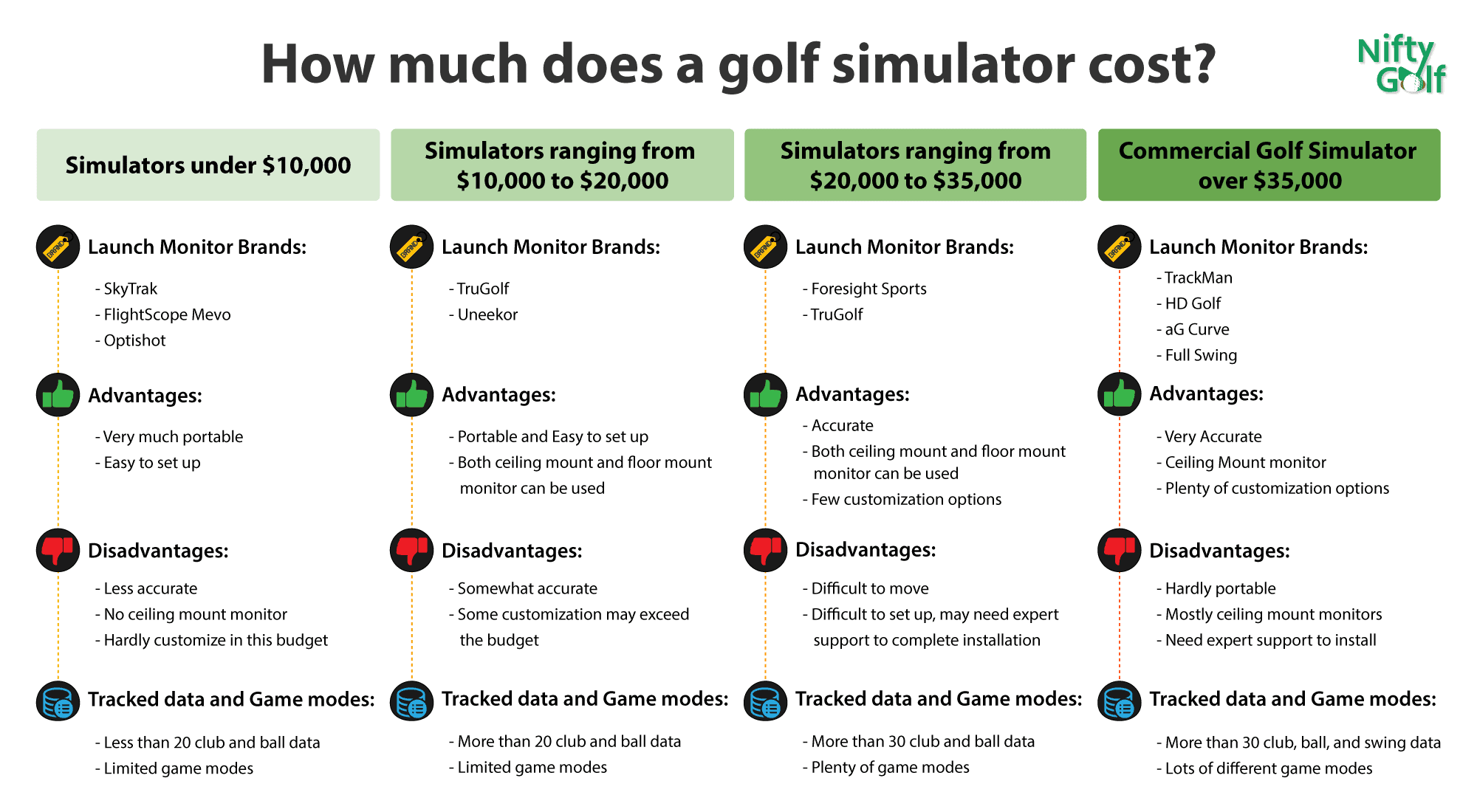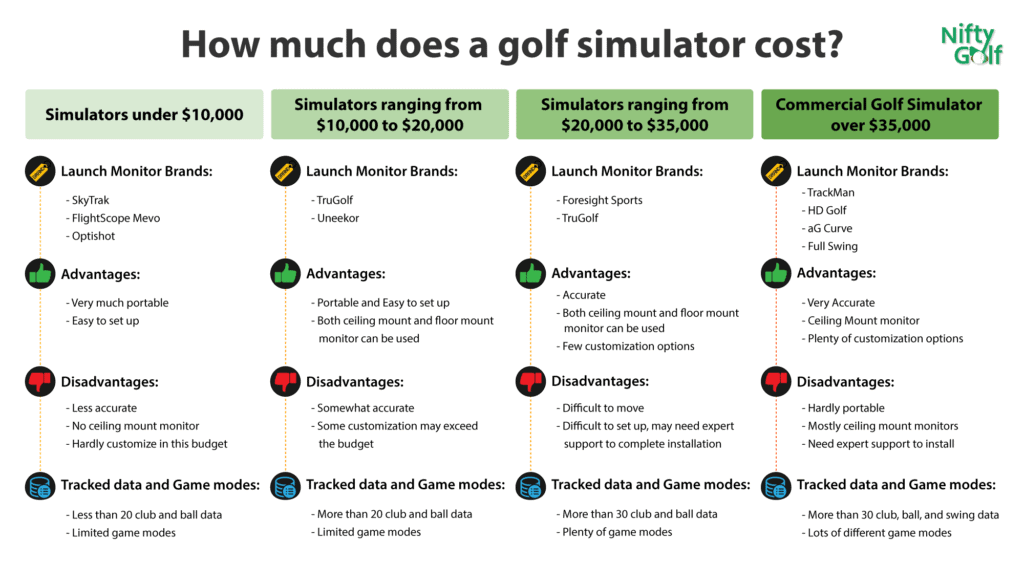 There are golf simulator packages starting from $1,000 up to $70,000. Though cheap golf simulators are available, expensive models are better, especially if you want to improve your golf skills. Because the pricey models often ensure more tracked data with accuracy and better simulation experience. Here are some suggestions for you.
What you can expect from a simulator under $10,000
At this price point, you will get simulators primarily with a Skytrak or Flightscope Mevo launch monitor. SkyTrak has several packages in this price range, including the SkyTrak SIG packages. But note that the SkyTrak system only provides data about the ball, such as speed, spin, and distance.
You can also get a Flightscope Mevo Plus package in this price range. However, FlightScope works well outdoors compared to SkyTrak. The FlightScope system uses radar technology to track the ball, while the SkyTrak system uses cameras.
What you can expect from a simulator under $20,000
For a $20,000 budget, you will have the opportunity to explore more options. TruGolf, Uneekor, and premium SkyTrak packages are available at this price point. If you want a slightly higher quality package, check out the TruGolf Vista. This setup allows us to get more feedback data than the SkyTrak system.
Another option for an indoor golf simulator roughly in the same price range as TruGolf is the Uneekor simulator. The Uneekor golf simulator has two launch monitors. Both models limit your portability opportunity as they are ceiling-mounting models.
What you can expect from a simulator under $35,000
If your budget is around $25,000, the GCQuad is perfect for your home simulator. It gives you all the vital data you need for your golf game. This setup is used by golf professionals such as instructors, pro golfers, and club fitters. They are very accurate, and the amount of data provided will help you improve your golf game and skills.
In addition, foresight Sports recently launched a new sim-in-a-box indoor golf simulator. It is a complete package with all the accessories included in the package.
If you fancy an overhead launch monitor, the GCHawk is the way to go. The latest software update allows it to use in multiple sports, including soccer.
What you can expect from a simulator over $35,000
Premium and commercial golf simulators like Trackman, Golfzon, Curve, or HD golf simulators cost an arm and a leg. Starting from $35,000, they cost upwards of $50,000. These are for those with an expensive budget and looking for commercial or luxury golf simulators.
4. Identify the data parameters you need to know
Usually, a golf simulator tracks numerous data. All these data can be classified into three major categories: ball, club, and swing. However, before buying a golf simulator, you must check the data it tracks. Here is a list of data parameters that your simulator should track at least:
Club Data

Club Head Speed
Club Path
Dynamic Loft
Loft Angle and Lie Angle
Smash Factor

Ball Data

Carry Distance
Total Distance
Ball Speed
Back Spin
Side Spin
Spin Rate
Spin Loft
Launch Angle

Swing Data
Based on the technology, two types of launch monitors are primarily available in the market. They are Photometricic and Radar Doppler.
Photometric golf simulators use a camera-based launch monitor that tracks data by capturing high-speed images before, during, and after impact. On the other hand, radar Doppler golf simulators require more expansive space to track the entire ball flight, recording the ball's and clubface's motion.
5. Check the software compatibility
It would be best if you had software for your simulator. So check the software compatibility before buying a golf simulator to see whether you can run them on your preferred device. Some launch monitor offers branded software, whereas some are compatible with 3rd party software.
6. Portability
Portable golf simulators are ideal if you lack enough space for a permanent simulator setup. For a portable golf simulator,
Choosing a retractable screen that can be moved after use would be best.
Choose a golf mat that is easy to fold and store.
Have a portable projector too.
Golf Simulator Accessories
A simulator refers to a package that includes several accessories. It would be best to have a complete package with all the following accessories.
A golf launch monitor is the most critical accessory for any golf simulator. It measures various data points such as ball speed, spin rate, and launch angle, providing accurate feedback on every shot. The simulation experience can be severely limited without a launch monitor, with little data to analyze and improve upon.
A projector is another vital accessory for a golf simulator, as it projects the simulation environment onto a large or impact screen. A high-quality projector can significantly enhance the simulation experience, providing bright and vivid graphics that immerse players in the game. A poor-quality projector, on the other hand, can result in a grainy or pixelated image, detracting from the overall experience.
A golf mat can give you the feel of hitting off a real fairway. Shots can feel off-balance or unnatural without a proper golf mat, making it difficult to simulate real-world scenarios accurately. A high-quality golf mat can also help protect floors and carpets from damage caused by repeated swings.
An impact screen provides a surface for players to hit without damaging surrounding walls or windows. A good quality impact screen should be durable enough to withstand the impact of a golf ball while also providing clear and sharp graphics for an immersive simulation experience. A poor-quality impact screen may tear or become damaged quickly, resulting in costly repairs or replacement.
A golf net is an alternative to an impact screen, providing a barrier for golf balls to be hit into. While a net is a more affordable option, it may not provide the same level of immersion as an impact screen, and shots may not feel as authentic without a surface to hit into.
An enclosure can help create a more realistic simulation environment by blocking external distractions and providing a dedicated space for golf simulation. It can also provide safety by containing errant shots. Without a proper golf simulator enclosure setup, the simulation experience may feel distracted, detracting from the game's overall enjoyment.
Software is the backbone of any golf simulator, providing the platform for simulation and data analysis. Good quality software should be intuitive and user-friendly, allowing players to customize their experience and track their progress easily. Poor quality software, with limited features and functionality, can be frustrating to use.
Smart Device
A smart device such as a computer, laptop, or smartphone is required to run the software and connect to other accessories. It should be powerful enough to handle the demands of the simulation, with a fast processor and enough memory to prevent lag or other issues. A poor-quality computer or smartphone may struggle to run the simulation, resulting in slow or choppy gameplay.
Frequently Asked Questions
Is a golf simulator worth it?
Yes, a golf simulator is worth buying. A golf simulator can be your best friend if you are passionate about improving your golf skill. Because you can practice golf using a golf simulator at your home, garage, or backyard within a controlled environment.
Golf simulators are a good source of entertainment as well. You can play multi-player golf with some professional simulators. Plus, the ambiance of a golf simulator doesn't let you miss your golf course too often.
What is needed for a golf simulator?
A Golf Simulator includes a golf launch monitor, a golf simulator enclosure with an impact screen and hitting mat, and the actual golf ball and golf club. Additionally, you will require enough space to install it. You can install a golf simulator in your home, studio, garage, backyard, or resort. You can easily make your golf simulator from our DIY Golf Simulator Guide.
Which golf simulator has the most courses?
The Uneekor EYE XO SIG12 has the most golf courses. This package includes EYE XO view and TGC 2019 simulation software together. It allows you to use more than 100,000 golf courses. With this simulator, you can also design custom golf courses and play with your friends.
Which golf simulator has the best graphics?
The aG curve simulator has the best graphics. But at a reasonable price, the APOGEE SIG10 is an ideal choice. The latest APOGEE launch monitor and E6 connect golf simulator software, along with the Panasonic PT-VZ580U that features 5000 lumens HD display, can give you the best graphics experience. It also features various time-of-day conditions.
Which golf simulator is the most accurate?
According to golf experts, TrackMan is one of the most accurate golf simulators. But if you are looking for an affordable option, the GCQuad has the best accuracy. Professional golfers appreciate the accuracy of the GCQuad.
Can you putt on a golf simulator?
Yes, only a few selected golf simulators offer the putting feature. Foresight simulators are one of them. There are several ways to do it.
What simulator do pro golfers use?
Pro golfers like Tiger Woods, Rickie Fowler, and Rory McIlroy use Full Swing Pro Series, Foresight GCQuad, and Trackman golf simulators, respectively. The GCQuad and Trackman are the most popular simulators among pro golfers.
Final Words
We tried to cover all the details you may need about the best golf simulators in this article. If we missed any information, let us know in the comments. We will get back to your suggestions at earliest. Besides, if you find our article helpful, share it with your fellow golfers, and feel free to share your experience in the comments.
This post may contain affiliate links, and we may earn a small commission for no extra cost to you.
This is how we keep NiftyGolf free. Learn more about our affiliate disclosure here.