In 2022, having a golf simulator is kind of a must for passionate golfers. Not only because it gives you the opportunity to practice and play golf but also analyzes your club, ball, and even swing data. With the help of these tracked data, you can easily identify your performance and work on your improvements.
As a result, we see Top PGA Tour golfers like Dustin Johnson, Justin Thomas, Rory McIlroy, Tiger Woods, Justin Rose, and many more use golf simulators. But finding the best golf simulators is a challenge where you should have a high-quality launch monitor with tracking sensors for precise data measurement, a simulator enclosure, a hitting mat, and a projector with an impact screen. These are the major components of a complete golf simulator. Besides, there are certain factors like budget, room space, software compatibility, etc. you need to consider before drawing any conclusion on the best golf simulator.
And we did the hard work by spending days researching, analyzing, and testing hundreds of golf simulators. In this article, we will share our review of the 15 best golf simulators followed by a buying guide to help you find the best match for you. We will also answer those frequently asked questions on golf simulators that may help you in this regard.
Let's start with the reviews first.
13 Best Golf Simulators Review in 2022
A Golf simulator contains several elements as mentioned earlier to play smoothly and have a realistic golf experience. When you search for the best golf simulator it has to be the best as a package rather than an individual launch monitor or an individual projector. Here is our review of the 13 best golf simulators.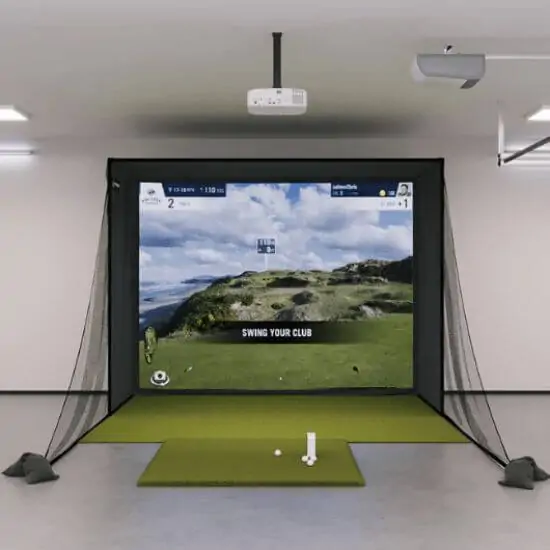 SkyTrak introduced its launch monitor back in 2014. Despite an old model, we recommend the SkyTrak SIG10 simulator package for its accuracy and affordability. Not just us, Golf Digest agrees too. SkyTrak launch monitor has won the "Best in Golf" award by Golf Digest for five consecutive years.
The SkyTrak simulator package by Shop Indoor Golf made it easier for users to get the best out of this launch monitor. The package includes a golf simulator enclosure, an HD quality projector, and all the accessories such as a hitting mat, landing turf, impact screen, and more along with the launch monitor. All of these costs less than $10,000.
As a simulator package, it is affordable in price but provides premium performance in terms of accuracy. Being a photometric launch monitor, SkyTrak is best for indoor use. However, you can use it outdoors too. You just need to make sure that the launch monitor is away from direct sunlight. Otherwise, you may not get accurate tracking results.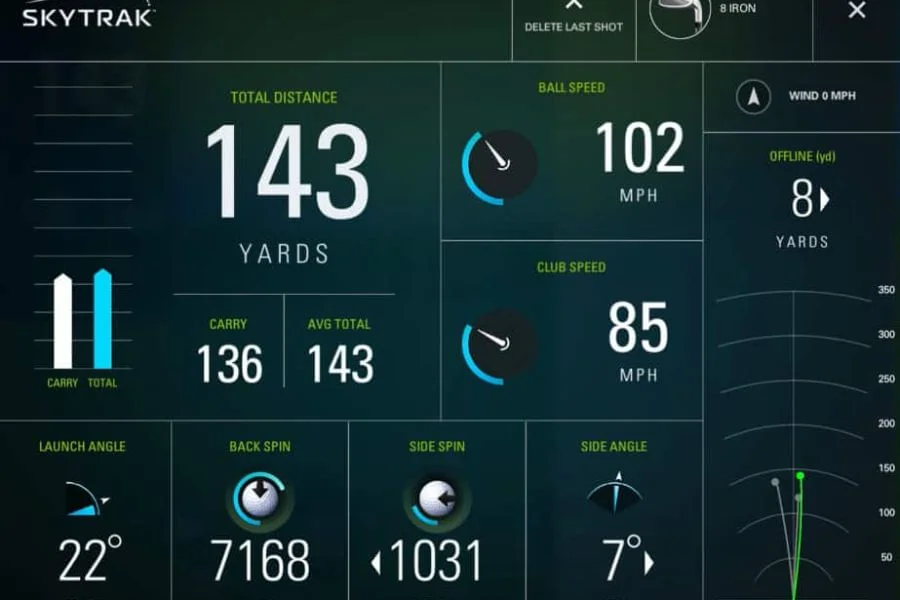 With the SkyTrak SIG10, you can get club and ball data like ball speed, clubhead speed, swing speed, launch angle, spin rate, and many more. Where club data are estimated data, not actual measured data. You can learn more about it from our SkyTrak Launch monitor review.
The package offers both a metal protective case and a ceiling mount in it so that you can place this launch monitor on the floor or on the ceiling. But you will require a minimum room dimension of 9 ft high, 12 ft wide, and 18 ft deep to swing your longest club properly and have enough clearance.
Besides, the package includes a top-quality projector. Though Shop Indoor Golf didn't mention the model, they gave an idea of the expected projector. It would have a minimum of HD Quality graphics with 4000 lumens for bright projection. Considering the budget, it is a good value.
The package also includes a SIG10 simulator enclosure with four options to select your hitting mat. The first option is a 5 by 5 hitting mat from the fairway series, for a realistic golf course feeling. The next two options are the SIG Pro golf mat of different sizes. And the last one is the SIG10 flooring mat. It combines an integrated hitting strip embedded into the floor for full swing shots, surrounded by a putting green with four cups for dialing in your short game.
The price of the simulator may differ a little based on your flooring mat selection. We recommend you figure out your available space for the simulator and then choose the best hitting mat for available space. However, For professional golfers, the last option would be ideal.
Things we liked
The Simulator offers both options to place the launch monitor on the floor and ceiling.
This package can be installed indoors, in a garage, and outdoors. We recommend using it indoors.
A high-quality HD projector is included in the package. You can experience premium simulation from it.
One package, multiple hitting mat options. Also includes an option for compact space.
Things that can be improved
Some of the data it shows is estimated, which is not as accurate as the measured data.
E6 Connect is a better option as simulation software than SkyTrak Play and Improve software that the package comes with.
If you want a premium simulation experience with high-quality equipment, the SkyTrak SIG10 will be one of the best golf simulators for you. And for this, you need to consider a budget of around $10k. You can also enrich your simulation experience with different simulator software as the SkyTrak Launch monitor is compatible with E6 Connect, WGT, and the Golf Club 2019.
Check Price at Shop Indoor Golf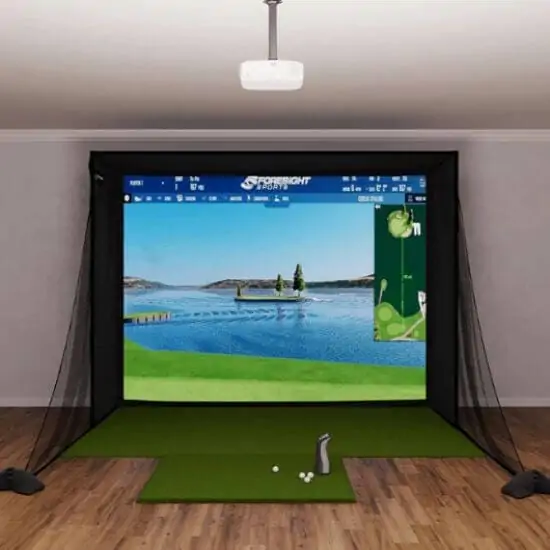 Our next simulator in this review article is the new Foresight Sports GC3 SIG12. This package by Shop Indoor Golf is just less than $14,000 which is very good value considering the benefits it provides. It includes the GC3 launch monitor with a full-screen, high-quality SIG12 enclosure with landing turf and side barrier net, an HD projector, and FSX software.
The GC3 is the latest model introduced by foresight sports in 2022. And has already gained appreciation from golfers for its performance. It features three high-quality cameras that track details of your swing, club, and ball data. The last two launch monitors from Foresight Sports were the GC2 and GCQuad, both are renowned for their accuracy. The GC3 is no exception. The major difference is the number of cameras used in them and the price. The GC3 is cheaper than GCQuad with 3 cameras but provides similar output.
The GC3 produces several ball data like speed, launch, spin, and carry distance. It also tracks club head data like speed, efficiency, club path, and angle of attack. Not just these, you can get data metrics if you put the stickler to the club face. Besides, with the help of the FSX simulation software, you can enjoy a realistic simulation experience. Also, the package allows you to add a player-plus version of FSX where you can enjoy playing in 10 more golf courses.
Moreover, the Panasonic Projector included in the SIG12 helps you get the best experience with its 5000 lumens brightness and HD quality output. You can place this projector on the ceiling or on the floor, the package includes both options. Other accessories in this package are the same as the SkyTrak SIG10 package that we discussed earlier. And you will require a similar room space to install this simulator as well.
Things we liked
The GC3 launch monitor has 3 high-quality cameras that track the details with accuracy.
The SIG package includes a projector that is capable of projecting bright visuals.
It can track club and ball data within seconds.
You can use this simulator indoors and outdoors and it is very lightweight and portable.
Things that can be improved
This pack lacks options to use other simulator software except for FSX2020 while FSX has limited golf courses to play than others.
The GC3 launch monitor is one of the best golf launch monitors to capture, measure and analyze ball and club data. Shop Indoor Golf has made it even better with the SIG12 enclosure and Panasonic projector. At the $15,000 price point, this package offers valuable benefits.
Check Price at Shop Indoor Golf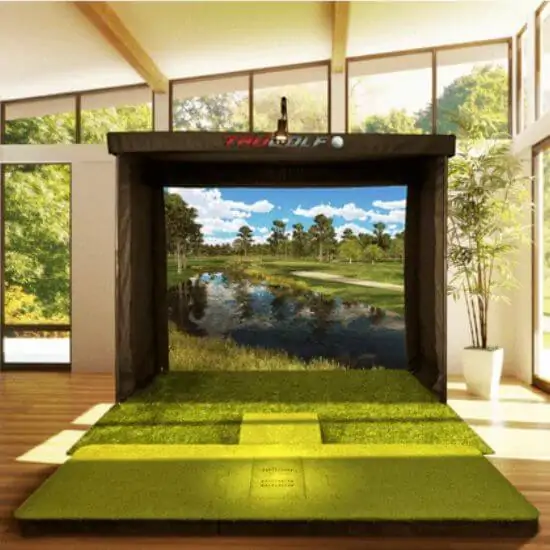 The TruGolf Vista 10 is chosen here for its graphics, durability, and commercial-grade accuracy. TruGolf is a renowned brand of simulators now, and their products are highly appreciated by professional golfers too. PGA pro golfer Mike Malaska once quoted,
This Trugolf simulator makes practicing and playing easy for me. It's right here in my house. I have access 24 hours per day. And the numbers I get from it are as good if not better than any launch monitor.
TruGolf has its own golf simulator packages made with a TruTrack2 launch monitor, short-throw projector, E6 connect, and other materials. Shop Indoor Golf added side walls and overhead light bars with it without extra cost. That made us choose the package from them. All these costs just over $15,000 which is a good value for the benefits it offers.
The TruTrack2 Tracking System is the alternative to launch monitors. It calculates both ball and club data precisely by using high-speed optical sensors. After analyzing each shot, the sensors display a clear picture of the data on the screen. You may get the results on your android or iOS device by using the E6 Connect software.
E6 Connect is an advanced software offering a high definition of the world's most challenging golf courses. It also offers several game modes, tournament modes, and practice modes. In addition, you can customize your own game mode.
Additionally, TruTrack2 provides instant data feedback to let the golfers know their performance and improvement accordingly. It's an ideal choice for those looking for many courses to play and have club-fitting capabilities.
TruGolf offers a soft and smooth premium Fairway mat. It's designed to last longer, giving a feel of playing on real grass. In addition, putting is more consistent on its surface. Hence taking a putting stroke over the sensors without any ball is easy with this mat. Besides, this package also includes a simulator enclosure that features a 136 inches impact screen and 21 inches touchscreen display. It also has a TruGolf level 1 computer and an HD 720p projector included in the package.
Things we liked
The data readings are accurate as it calculates them by using high-speed optical sensors.
The simulator includes E6 simulation software. E6 Connect is currently offering the most beneficial features.
The fairway mat provided in this simulator is a top-performing one.
Side walls and overhead light bars are included in this package without extra charges.
Things that can be improved
Due to its size and installation difficulties, it is a challenge to set up outdoors.
Even if you set it outdoors, the tracking results are not as accurate as indoors.
TruGolf Vista 10 simulator is a combination of a TruTrack2 launch monitor and E6 software that provides accurate results with the opportunity to practice on several golf courses. Also, an enclosure built with quality materials, a projector that provides stunning graphics, and more.
Check Price at Shop Indoor Golf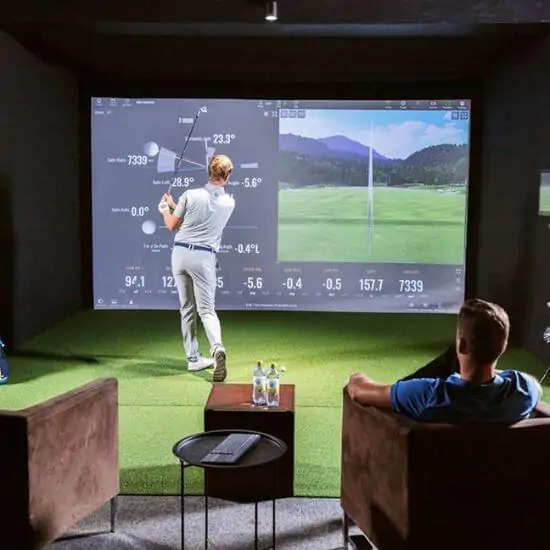 TrackMan is one of the most talked-about golf simulator brands for its accuracy and premium features. It uses dual radar and camera technology to measure ball and club data. And it tracks almost everything a golfer needs to know to improve your swing, lower your score, and make the most of every minute you spend practicing the great game of golf. For such a performance, TrackMan made it on our list.
As mentioned earlier, TrackMan uses dual radar as a tracking mechanism. One tracks the club-related data such as Club Path and Face Angle to Swing Direction and Spin Loft and the other tracks ball-related data. For example Launch Angle, Spin Rate. These radars track everything the club does before, during, and after impact. That is the reason the tracked results are accurate.
TrackMan 4 includes their built-in app TrackMan Go, which is easy to use and compatible with iOS. But all these features come at a price. With custom TrackMan simulator pricing starting at nearly $50,000. But for this price, TrackMan does offer a lot of features and benefits.
Things we liked
Trackman has industry-leading accuracy in data tracking.
It has both radar and photometric technology to track club and ball details.
You can get the maximum type of data analysis with Trackman.
Things that can be improved
One of the most expensive golf simulators.
The simulator is compatible with the trackman app only. You can't use other third-party simulator software with it.
If you are a tour player, instructor, or fit for golf clubs, the Trackman may be worth the investment. It is definitely a system that is designed for professional needs – and the price tag reflects that.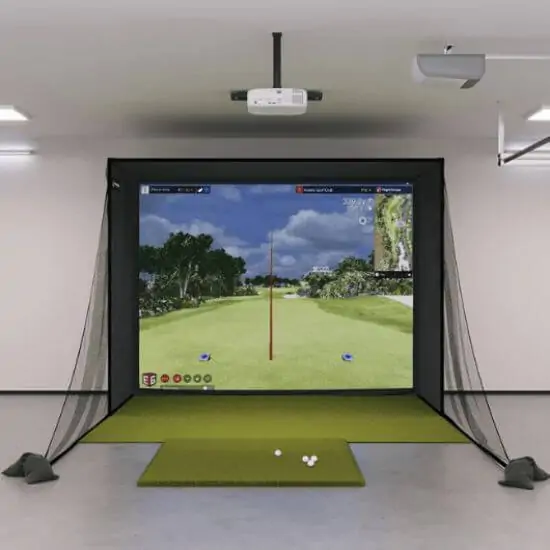 Our next simulator package in today's review is the Uneekor EYE XO SIG10. Uneekor is a relatively new brand in the golf simulator industry. But they have earned the trust among golfers by providing top-quality launch monitors like EYE XO and QED. We picked the EYE XO SIG10 simulator for its premium performance benefits like accuracy, durability, and multiplayer capability.
The Uneekor EYE XO is a camera-based launch monitor with infrared sensors in it. The combination is capable of providing fast and accurate data readings such as ball speed, carry distance, total distance, launch angle, clubhead speed, and many more. Have a look at our Uneekor EYE XO Launch Monitor review to learn more.
Being an overhead launch monitor, it will be a challenge to use this launch monitor outdoors. Also, it requires more room space than many other golf launch monitors. So, we recommend this simulator only if you have a minimum room space of 9 ft high, 12 ft wide, and 16 ft deep. And of course, the budget should be a minimum of $16,199.
At this price, the package includes an EYE XO launch monitor, a SIG10 simulator enclosure, a fairway series 5 by 5 golf mat, EYE XO View simulation software, a Panasonic VMZ50U Projector, and other accessories. But the package offers choices of different golf mats and simulator software. The choice of golf mats is similar to the other SIG10 packages we discussed earlier.
The simulator software can play a big role in your simulation experience. The TGC2019 golf simulator software is one of the most interesting golf simulation software with more than 100,000 courses. Moreover, you can design your own golf course with this software. The TGC also offers a multiplayer option which is also applicable with the EYE XO. Watch this video to learn more about the TGC2019 golf Simulator Software.
To make your simulation experience more realistic Shop Indoor Golf included a Panasonic VMZ50U projector. This projector is a premium option for golf simulators with 5,000+ Lumens for maximum brightness. Besides, this package includes a side barrier net, landing pad turf, 15 feet long HDMI cable, and an EYE XO ceiling mount.
Things we liked
This simulator includes TGC2019 simulator software, which provides you an opportunity to play in more than 100,000 golf courses.
It is capable of providing precise data measurements.
You can play different games in this simulator. And you can play with multiple players at the same time.
The EYE XO doesn't need any marked ball to measure ball data like the QED.
Things that can be improved
For being an overhead launch monitor, you need to install the EYE XO at the ceiling. And it makes it difficult to move once installed.
It is a heavy-weight simulator and you need others' help to install it properly.
The major upgrade in EYE XO from Uneekor QED is the technology. EYE XO can track any ball while QED needs specially marked balls, which is a major disadvantage. If you have budget concerns and are willing to accept the marked ball issue then Uneekor QED SIG10 can be a good option for you. On the other side, if you want a retractable screen for more convenience, have a look at the Uneekor EYE XO Retractable golf simulator from Rain or Shine which will cost $18,000.
Check Price at Shop Indoor Golf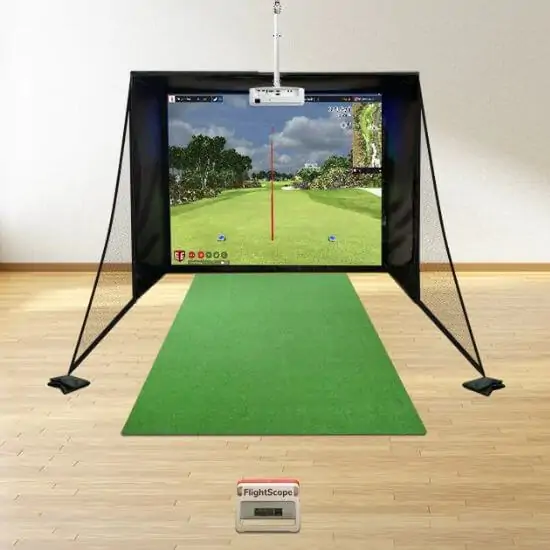 When you search for the best golf simulator under $5,000, FlightScope Mevo+ will be on the top chart. And the Mevo+ PerfectBay golf simulator from Top Shelf Golf is one of the most affordable golf simulators you can find. The combination of a well-built hitting screen with durable net return pro turf and high-quality materials makes it in our list of best golf simulators.
The Mevo+ is one of the most portable golf launch monitors with simulator software integration. You can take this launch monitor only and track your ball and club data. Our research found Mevo+ as the most accurate golf simulator for under $2,000.
The base simulator package includes a perfect bay golf simulator enclosure and net return pro turf along with the FlightScope Mevo+ launch monitor only. No projector is included in the basic package. And you need to have one of the best projectors for the golf simulator besides this package as well. But It has flexible options to choose the golf simulator size and hitting mat.
There are two flexible options for mats. It includes a 6 feet by 10 feet net return and 3 different sizes of Fiberbuilt. The net return mat is made for both indoor and outdoor use, costing $500 and providing continuous ball return features. The 10 inches length of the mat makes it a great putting green whereas the traditional mats are 4 or 5 inches long.
But if you want a more durable golf mat, we suggest Fiberbuilt for which you need to consider above $900. It's designed to withstand more than 300,000 shots from the same spot where a traditional mat will be worthless with just 50,000 shots. Offering a natural grass feel, the Fiberbuilt mat lets golfers play without injury.
Things we liked
The package offers multiple options on the mat, software, and enclosure to choose from.
You can use this simulator indoors and outdoors as it is lightweight and easily portable.
The simulator can provide several ball and club data using its Radar technology.
Mevo+ is a very accurate golf simulator at an affordable price.
Things that can be improved
It is a basic package, and you need to spend more for better benefits like projector, simulator software, and more.
The base package has the primary features for a beginner to play with a golf simulator and you can always upgrade it with different simulator software and hitting mat with a projector for professional use. We recommend the Mevo+ PerfectBay if you are a beginner and not willing to spend big the first time.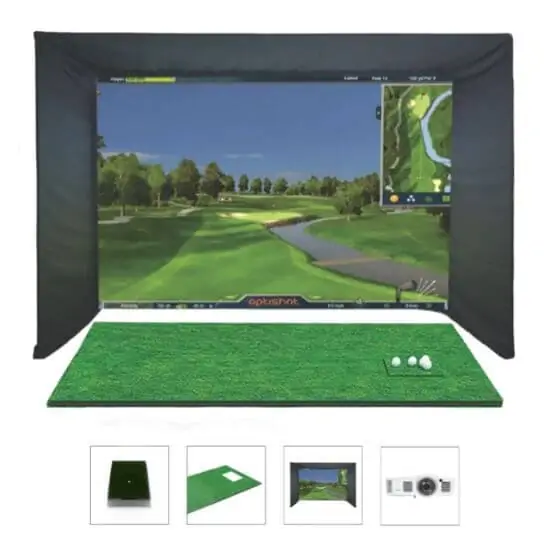 It is a difficult choice to choose an OptiShot simulator as all the packages are pretty similar. We chose this Golf-in-a-box 4 because it offers multiple customization options that can match your needs. As it includes an enclosure, impact screen, and projector, which are missing from the earlier packages like Golf-In-A-Box 1,2, and 3. Getting a golf simulator of a renowned brand for around $4000 with some best golf courses is like having the cream of the crop.
Obviously, the Golf-In-A-Box 4 includes the famous OptiShot2 golf simulator. It is a simulator known for its accurate result in swing & ball shots. And the reason behind such accuracy is the high-intensity infrared sensors used in it. This sensor can track key information such as club speed, carry distance, face angle, path, face contact, and tempo.
Another top feature of the OptiShot2 is the graphics. The high-quality, HD short-throw projector and 3D graphics of the golf courses in OptiShot2 create a real golf-like atmosphere. It offers multiple camera views as well. But you have access to 15 golf courses only. More golf courses would have been great.
Apart from the simulator and projector, the package includes a simulator enclosure with a stance mat. You have six size options to choose from and two hitting mat variations. The 5' by 4' stance mat is made of high-density foam and top-quality turf on it provides a better golf experience than most other hitting mats in this price range.
All these features and benefits make the OptiShot Golf-In-A-Box 4 an ideal choice for those who are looking for an affordable golf simulator to start off.
Things we liked
It offers multiple customization options such as mat size, enclosure length, and more
The high-intensity infrared sensors in this simulator track swing details and show accurate results.
The graphical representation from the OptiShot2 is top-notch.
Good value for the price.
Things that can be improved
The Optishot is not designed to use outdoors.
The OptiShot Golf Simulator is relatively affordable to other golf simulators on the market. In addition, OptiShot is so reliable that golfers have been playing with it for years, and it never disappointed them by giving a real feel. And if you want to skip the net, screen, and other accessories, and just get the basic package, you can check the cheaper options.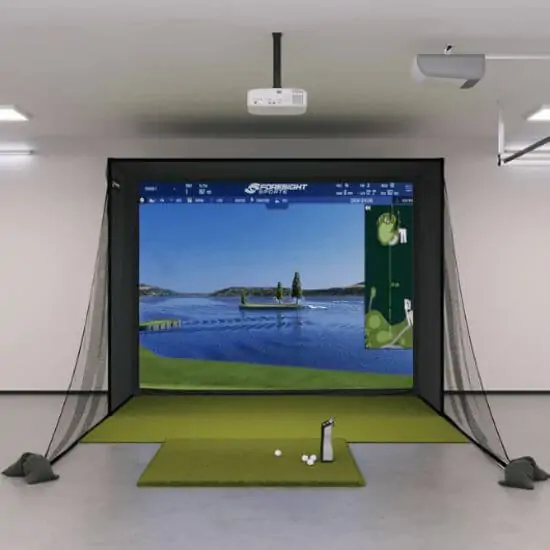 Another top-quality golf simulator package from Shop Indoor Golf is the GCQuad SIG10. In fact, You might be surprised to see GCQuad so late on our list. As we mentioned the GC3 is the latest from foresight sports and we believe GC3 can outperform the legacy of GCQuad. No wonder Foresight got featured in Golf Digest Editors' Choice list three times in a row. PGA Tour golfers love GCQuad for its professional-grade accuracy and flexibility.
It is one of the most accurate golf launch monitors under $15,000 for both indoors and outdoors. The GCQuad from foresight sports has four high-speed, high-resolution cameras that can accurately analyze the most precise visuals taken. And provides results like carrying distance, total distance, ball speed, launch angle, spin rate, club head speed, smash factor, and many more.
Shop Indoor Golf introduced the SIG10 with a combination of GCQuad, Panasonic VMZ50U golf simulator projector, SIG10 enclosure, FSX 2020 Software, and other accessories, as a complete home golf simulator package. The GCQuad SIG10 is recommended for golfers who want to reach the professional level.
Foresight comes with their most realistic golf simulation software FSX which includes a variety of exclusive golf courses. Whether you want to play in a virtual driving range or join in online competitions with golfers around the world, FSX has it all. It offers all in 4k resolution and helps you increase your skill with the challenges.
The rest is the same as the GC3 SIG10 that we reviewed earlier.
Things we liked
The simulator has one of the most accurate golf launch monitors.
It can be used both indoors and outdoors.
Four high-resolution cameras analyze the visuals taken with precision.
It offers all in 4k resolution graphics too.
Things that can be improved
Only compatible with FSX software. More software integration would have been better.
You need to buy additional equipment for putting practice.
The GCQuad SIG10 can be your perfect choice because of its durability, high-quality construction, and easy installation with excellent courses. With Quadrascopic imaging, this golf simulator gives real-time visual feedback both indoors and outdoors.
All of this is for $20,999 which is a bargain when you compare it with the other high-end golf simulators that cost $50,000.
Check Price at Shop Indoor Golf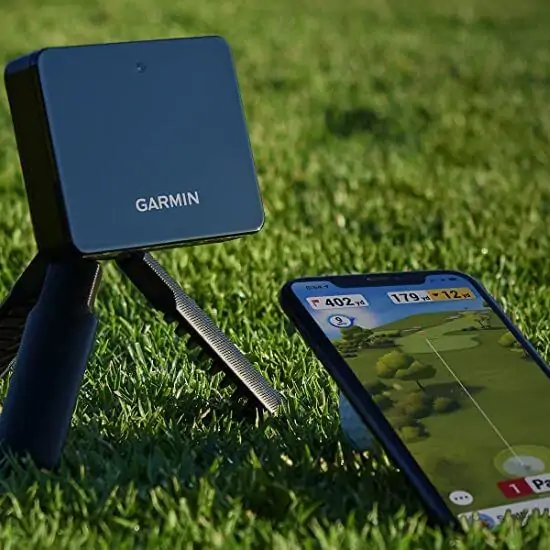 After SkyTrak in 2014, if any golf simulator has created a buzz in the industry, it would be the Garmin R10. And it was just introduced in 2021. Though it is a launch monitor only, we found it worth sharing the best golf simulator list. You need to build your own golf simulator with the Garmin R10. you can take the help of a SIG enclosure or SwingBay enclosure from Rain or Shine to make it a simulator package.
Garmin is known for its GPS and golf rangefinders. They have been mastering the tracking technology since then. The R10 tracks various club and ball data parameters such as Ball speed, club head speed, launch angle, spin rate, and many more. All these metrics are accurate and show similar results to FlightScope Mevo.
Using this launch monitor you can get the tracking data to your smartphone, tablet, and PC. You just need to connect the Garmin app there. Its compatibility with E6 Connect is remarkable. E6 CONNECT is highly customizable and has some of the most realistic graphics. It offers plenty of golf course simulations, minigames, training aids, tournaments, multiplayer formats, and more. The combination of Garmin R10 and E6 connect will give you a premium simulation experience at an affordable price range.
Additionally, a SIG10 enclosure package will provide all the accessories you may need to set up your simulator.
Things we liked
The R10 tracks various club and ball data parameters.
It is compatible with E6 Connect golf simulator software.
You can use this simulator both indoors and outdoors.
Things that can be improved
You need to buy other accessories separately to make it a simulator package.
Read more about Best Portable Golf Simulators.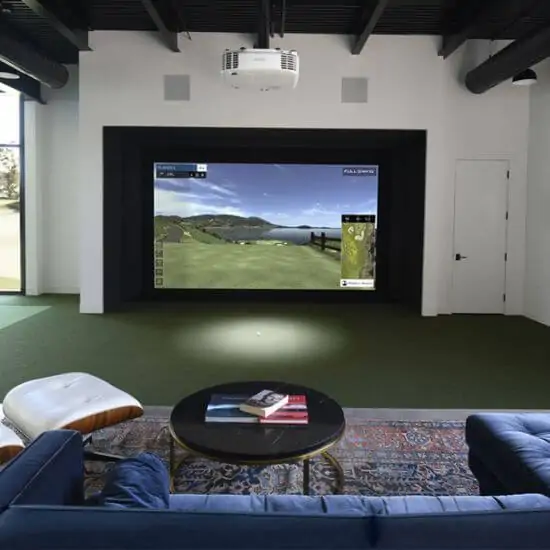 When legendary golfer Tiger Woods credits a simulator for his comeback after his surgeries and physical issues it needs no further introduction. His testimony says it all. But the $55,000 plus price tag is the reason we brought this simulator late in our list. If you are looking for a commercial golf simulator this would be a top choice.
This flagship golf simulator is also used by John Rahm and Gary Woodland. So if you ask which golf simulator do professionals use? This is one of their favorites. It's the only simulator that works with a combination of high-speed cameras and infrared lightwave technology. When both these technologies track your club and ball data, you can be very sure about the tracked results. Data parameters such as ball speed, launch angle, carry ball direction, backspin, and smash factor are precise.
The Full Swing Pro Series simulator also includes a solid wood enclosure and platform, a cinema-quality projector, an industrial-grade carpet and hitting mat, and a lot more. You can choose from 60 different size variations of the enclosure, hitting mat, and screen.
Things we liked
It works with a combination of high-speed cameras and infrared lightwave technology.
It offers premium features.
There are lots of customization options available for this simulator package.
It includes a multisport feature and many gaming modes.
Things that can be improved
Highly expensive. Only for those who can consider a high budget.
Not suitable for outdoor use.
Full Swing Golf Simulator is one of the top leading golf simulators mostly preferred by professionals. Featuring multisport and gaming mode, more than 93 golf courses, dependable ball flight and data feedback, cinema-quality projector, and energy absorbent diffuser screen, Full Swing Golf Pro Series ensures an exceptional course playing experience between $55,900 to $100,000.
Read more about Best Commercial Golf Simulators.
Check Price at Full Swing Golf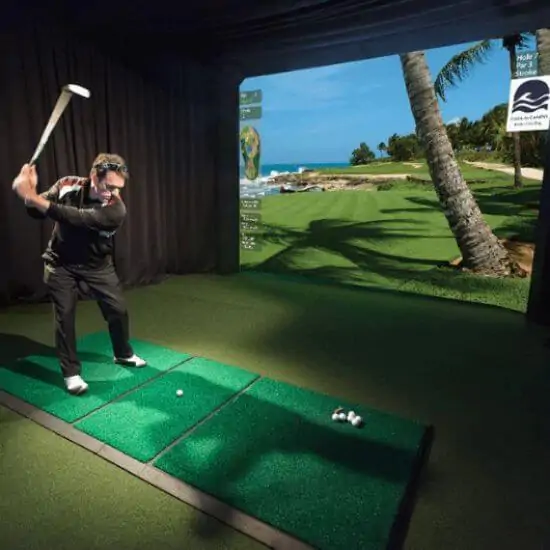 If you are a golf instructor or trainer and looking for a simulator to help you analyze golf swing and measure club and ball data too, the HD golf simulator is recommended. It is one of the best commercial golf simulators.
The HD golf simulator ultimate training package from Shop Indoor Golf is a challenge to set up, though this package includes all the tools. An installation team will be there with the delivery to help you install it properly. You can expect to receive the best service from purchase to post-installation too. The simulator features real-time visual feedback and ball performance data with direct-to-screen output.
The package we are reviewing here is priced at $56,420. It includes a bundle of the best quality equipment. Here is the highlight of the package:
Flat Standard System (10ft H x 13ft W x 19ft L) with Area Golf Turf in Green (15ft x 20ft) & Stance Mat
HP Computer Business Workstation with Computer Vision Club and Ball Tracking System
Video Swing Analysis System (With Sony Audio 250W Stereo Receive & Paradigm Speakers Package)
Sony 4300 Lumen Projector & Mounting Bracket
22in Wideview LCD Touchscreen Monitor
HD Golf Software Package (Deluxe Package), and many more.
All these elements help you get pinpoint accuracy with amazing graphics and realism. And you won't need extra space to place this simulator. The HD Golf Simulator Training Package is able to fit into most spaces. You will need a space with minimum dimensions of 15′ Width by 20′ Length by 10′ Height. With all the accessories being installed, it provides plenty of data parameters including video swing analysis and balance transfer analysis. These data tracking facilities are hard to get from any cheaper simulators.
Things we liked
It provides video swing analysis and balance transfer analysis along with club and ball data.
It includes a wide range of famous golf courses to play.
The simulator features real-time visual feedback.
Things that can be improved
It is one of the most expensive golf simulators.
The HD golf simulator software is another stand out of this package. It includes a wide range of famous golf courses such as Pebble Beach, Bethpage Black, Rich Harvest Farms, Doral Blue Monster, Quail Hollow, PGA National Golf Club, and more. Not only the courses, but it also includes several games and competitions to play with.
Check Price at Shop Indoor Golf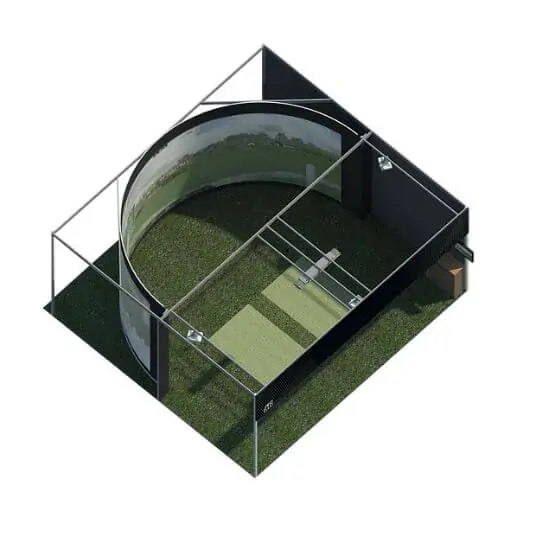 Another commercial golf simulator in our best golf simulator list. And we chose this for its unique Curve display feature. Not many golf simulator manufacturers offer it. As suggested by the name, Curve includes a 180-degree screen curved around the player, giving a broader vision of golf courses that would leave you wondering in surprise.
Apart from the curved display, the aG simulator has other features to make it stand out from the rest. Firstly, the Curve simulator utilizes the selective 3Trak camera global positioning framework. Many pictures are caught of your swing, and exact ball and club information are estimated through machine vision innovation.
An aG Curve simulator requires quite some space to install. Because it includes a 4K HD projection, with custom lighting (programmed and dimmable), an elite exhibition PC, turf, and a tee box. You can check several size options and talk to their sales team for further assistance in measuring the space.
Additionally, the curve simulator alternatively accompanies a couple of strong extra highlights, including aG Flix, and aG Balance.
aG Flix: a coordinated video recording framework that permits you to dissect your swing from various points.
aG Balance: a golf equilibrium and weight estimation framework that actions the heaviness of each foot continuously all through the swing.
Things we liked
It feels amazing to play with the curve display.
Tracking results are precise.
It can track many details from every swing.
Things that can be improved
Good for commercial use only and with high expense.
Requires huge space to set up.
Difficult to install and shift it when necessary.
Maybe you've seen or caught wind of those golf simulators with dreamlike, super-vivid curved screens and cutting-edge equipment. Assuming that sort of simulator intrigues you, look no farther than the Curve simulator by aboutGOLF.
Obviously, technology comes with a price. The cost of the aG Curve is more than $60,000. If you are planning to spend that much on a golf simulator, you'll have the option to receive serious benefits from it.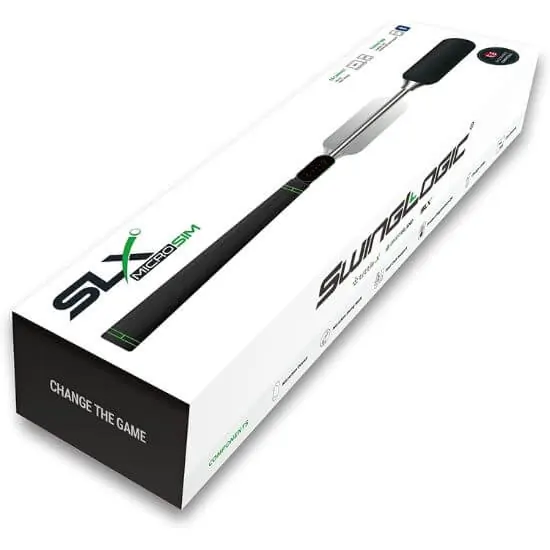 If your budget doesn't fit any of the aforementioned simulators then you can check the SwingLogic SLX Micro Sim. It is a micro simulator and costs just about $250. Yet, it is compatible with iOS, and Windows.
It includes a smart stick and a detachable cradle in the package. The cradle is for use with your personal golf club on the golf course. On the other end, the smart stick offers the ability to play golf at home. Wherever you use this micro simulator you get the tracked data within seconds. And those data are accurate too. Moreover, its lithium-polymer battery backs you for 8 hours straight.
You can also connect it to the E6 golf simulation software. And enjoy playing on 4K ultra-high-definition graphics. You can also play in various practice models on realistic golf courses.
You can play with it almost anywhere as it doesn't require any specific room space. All you need is to swing your club properly. The major disadvantage of this simulator can be its limitation to track swing data only. This golf simulator is a good choice for beginners rather than professionals. So, we recommend it for recreational golfers.
Things we liked
You can install and use this micro simulator anywhere you want to play.
It is an affordable accessory to measure your swing details.
It is compatible with iOS, and Windows too.
It can be connected with E6 simulator software.
Things that can be improved
Not a proper simulator.
Can't measure enough data parameters.
In short, it provides you options to experience a complete simulation experience at a cheap price. Another simulator in this category is the PhiGolf simulator. You can learn details about it from our review of the Phigolf simulator.
Buying Guide for the Best Golf Simulator
It is always wise to spend time knowing the factors that determine a product as the best before buying. Here are some factors you must know and judge before buying any golf simulator.
1. Identify your purpose,
First of all, identify your need for a golf simulator. Whether you want to use it for fun gameplay, or you would take it as an analyzer and improve your golf skills. Whether you wish to use it indoors or carry it outdoors occasionally. Based on such answers, you should look for a golf simulator that best matches your interest.
2. Find available space to install it.
The golf simulator requires some space to play with it. You need a minimum space to have full swing. As a simulator user, you need to know the space required for your golf simulator.
First, you should check how much space is available for your simulator. To help you select the perfect simulator for your available space, we arranged this section with the details of the room size required for a simulator.
Three dimensions matter in considering your room space. Ceiling height, room width, and depth.
Ceiling Height: It will depend on your height and swing. Usually, it is required for a golfer to have a nine feet high ceiling while using a simulator. Besides, some require minimum ceiling height.
Room Width and Depth: The ideal room width and depth should be 12 feet. 10 feet is for your practice and extra two feet will allow you to swing your golf club. But some can be used within 5 feet.
3. Allocate a budget for the simulator.
Budget plays another crucial role in a golf simulator buying decision.
High-end golf simulators like Trackman, Golfzon, Curve golf simulator, or HD golf simulator cost an arm and a leg to buy. Starting from $30,000, they cost upwards of $50,000. These are for those who have a good budget and are looking for high-quality golf simulators.
For those who want golf simulators within a mid-range budget, we recommend Uneekor, TruGolf, and Foresight Sports. The price of these golf simulators may vary between $10,000 – $30,000.
But if you want one from a four figures budget, SkyTrak and FlightScope are the best choices. These golf simulators offer accuracy like high-end golf simulators but cost far less than those. And they are available for under $10,000. Finally, for the most affordable option (three or four figures), OptiShot is the ideal choice.
Though there are cheap golf simulators available in the market that you can buy for less than $5,000, the expensive models are worth the price. Especially if you want to improve your golf skills. Based on your purpose and number of the data parameters you need to track, set a budget.
4. Identify the data parameters you need to know
A golf simulator can track ball data, club data, and sometimes swing data too. Before buying a golf simulator you need to identify your need. Because most golf simulators have their limitations on data tracking.
There are two types of launch monitors available mostly in the market based on the technology they use. Photometric and Radar doppler. Photometric golf simulators use a camera-based launch monitor that tracks data by capturing high-speed images before, during, and after impact. On the other hand, radar doppler golf simulators track the entire ball flight recording the motion of the ball and clubface.
The camera-based launch monitors like SkyTrak sit above the golfer (on the ceiling) or in front of the golfer (besides the hitting mat) so that they can view the hitting area. It just requires the ball movement and the space around it to capture images or take video footage. Photometric golf simulators can track data within a limited space whereas radar-based systems require wider space.
We see photometric technology in SkyTrak, Foresight Sports GC2, GCQuad, and Uneekor QED golf simulators while radar doppler technology in FlightScope Mevo+ and Trackman golf simulators.
5. Know the accuracy and check the other features
Check the whole golf simulator package whether it provides all products of your requirement or not. If something is missing, like a hitting mat or net or some other product, you will have to purchase it separately. And it's not so easy to buy something separately, you may face some difficulties such as troubles with the price, quality, etc. So it's better to have it all in a package. Check whether all of your required products are included or not.
How We Picked
The process is a challenging one and you must have an idea by now. We have been continuously working with simulators for the last few years now. And kept updating this article by considering the best for different types of users and the latest models introduced in the market.
For example, we introduced the GC3 simulator and Garmin R10 to this list. They are relatively new launch monitor models with high potential to satisfy its users. On the other end, we still have SkyTrak, OptiShot, and TruGolf in this article.
Despite old models, they are still providing good value for the price it takes. Similarly, we included TrackMan, aG, and HD golf for people who are aiming for the best commercial golf simulators.
If any better option appears on the market, we will keep looking for it to justify based on our research, users' experience, and their reviews so that we can bring it here to help you in the best possible manner.
Frequently Asked Questions
Final Words
We tried to cover all the details you may need to know about the best golf simulators in this article. If we missed out any information let us know in the comments. We will get back to your suggestions at earliest.
Besides, if you find our article helpful do share it with your golf fellows so that they get the best simulation experience. You can also share your experience with golf simulators in the comments.