If you once get the most accurate data from a launch monitor, you will probably not look for another one. SkyTrak is the name of such an indoor golf playing system. It can entertain you with its complete simulator tools that will precisely reflect your golfing skill.
Along with the accuracy, there are more features that make it best. Despite being a renowned brand, the SkyTrak launch monitor comes within a reasonable price range. But the question is if those features can really meet your needs or not.
To know this, just give 5 minutes, go through the SkyTrak launch monitor review based on our long research and analysis. It will give you the answers to all your queries properly.
Skytrak Launch Monitor Features and Benefits
Accurate yet affordable
To have the most accuracy, you must pay more. And to save money, you need to go for a less accurate one. This concept is not applicable anymore. Because the SkyTrak launch monitor gives very accurate numbers. Yet it is cheaper than Trackman, TruGolf, or GCQuad. So if money is your concern, SkyTrak is for you.
The SkyTrak launch monitor offers precision in measuring launch angle, backspin, carry distance, and other things. This precision measurement tells you whether your launch angle and spin rate are correct or too high or too low. Because if you don't have the correct combination of launch angle and spin rate, you will lose distance.
Learn in detail how accurate golf simulators are.
Photometric launch monitor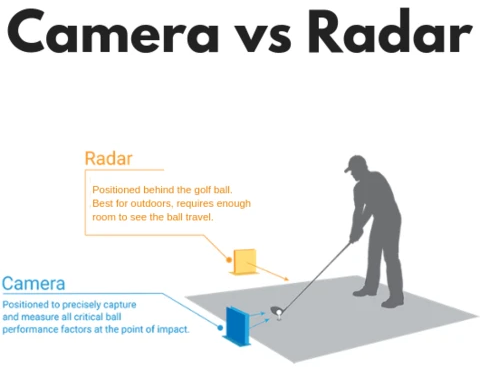 SkyTrak is a photometric launch monitor. Photometric technology is different from radar doppler technology. The difference is in the tracking system. SkyTrak launch monitors track just by capturing images after impact while radar-based launch monitors track the entire ball flight. Here SkyTrak gives an advantage that it can measure the ball launch data within a limited space. But radar-based systems require more space.
Easy to set up
The launch monitor of SkyTrak is very easy to set up. Because you get a user manual guide that eases the installation. You can use it either with a plug on or off. Even wirelessly! Just connect the launch monitor to your iPhone, iPad, or your computer to play.
Challenge mode
Hitting hundreds of shots may make you feel monotonous. SkyTrak launch monitor has a solution for this too. Here you get a skill assessment challenge that will let you hit a number of targeted shots. And then it will give you a score according to your performance. Thus you can challenge yourself to improve your performance.
The randomizer! What can it do?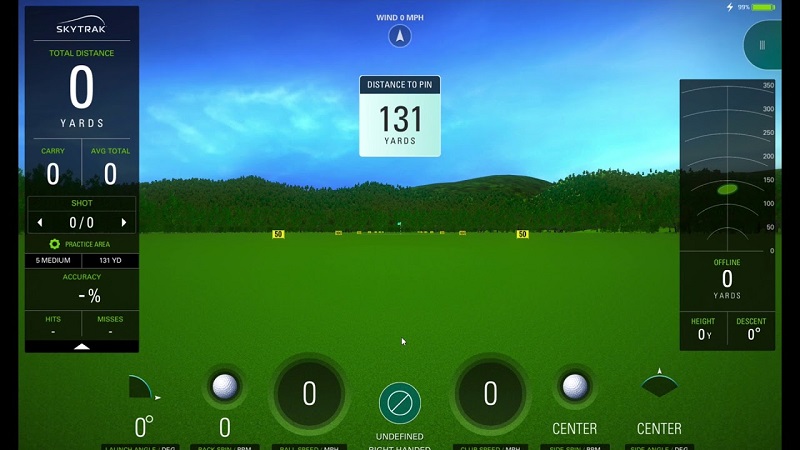 One of the interesting things about the SkyTrak launch monitor is it features a randomizer to randomize the distance. To be more specific, you can select two different distances to hit. SkyTrak will randomly pick targets for you in between those two distances.
Indoors or Outdoors?
Both! Yes, you can use the SkyTrak launch monitor both indoors and outdoors. The wireless connection makes it easy to carry the device anywhere. When it's not cold or windy outside, go out with your SkyTrak. But it is designed to give more precise data indoors. So we recommend playing at home instead of going outside.
See where your ball ends up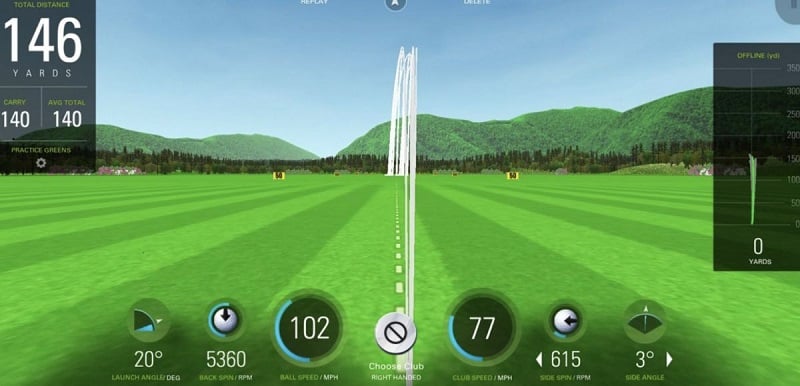 You may ask, "Why use SkyTrak? I can practice golf by just hitting into a net." Here's the difference. Just hitting on a net won't give you the same accurate feedback SkyTrak launch monitor gives. For example, you can see your ball flight in SkyTrak and know exactly where your ball ends up. It also shows you all the slices you hit. Without SkyTrak, you cannot.
How well are you performing?
SkyTrak will improve your accuracy. As you can select the distance according to your needs, the SkyTrak launch monitor will also target those distances. This will help you get a dynamic handicap after each shot. And thus it will let you know how accurate your shots are. So once all of your shots are measured, you get an idea of how well you are performing and what level you are at.
Where to put your ball?
SkyTrak has a laser to give you the direction of where to put your ball. This laser spot is missing in GC2 or GCQuad. So without SkyTrak, you will not be able to figure out where to put your ball. You can upgrade it and build it into an advanced simulator.
Fix your 18 hole
SkyTrak launch monitor provides quality software that offers World Golf Tour courses! The more interesting thing is you get some amazing courses and opportunities like E6 connect. This lets you fix your 18 holes sitting at your own home.
For recreation
SkyTrak successfully revealed their launch monitors to entertain golf lovers. Recreational golfers especially love this for having a fun simulation experience. As skyTrak software packages offer world-famous golf courses, you can easily play anywhere in the world staying at your own home. And golf courses don't need club data. You can play just by ball data, which SkyTrak launch monitor measures.
What You Need to Setup SkyTrak Golf Simulator
You cannot play only with the SkyTrak launch monitor. There are more materials to setup the simulator. Though the launch monitor measures each of your data and works as the main part of SkyTrak golf simulator, it cannot project the result. Besides, you need to hit your shots into something. So let's know what you need to set up a SkyTrak golf simulator.
Plenty of space
You need at least 12" L x 10" W x 8.5" H space for SkyTrak. This is the minimum space required to have a proper swing. But the larger space, the more comfortably you can swing. Though a smaller room allows tracking swing and shot data properly, it cannot give you the same comfort zone as a larger one.
A metal protective case
To prevent your device from any mechanical damage, you need a metal protective case. Through this case, you will face no trouble viewing the LEDs. SkuTrak has their own metal protective case. Most simulators don't have this facility. That's where SkyTrak differs from.
Projector
You should have a projector to see your shots on the screen. The more lumen a projector provides, the brighter images you can enjoy. And the more contrast ratio it has, the more clear view you get. Check the best golf projectors.
Hitting net or screen
A hitting net or screen is required to hit off. You can have either one of the two or you can buy both. If you hit off a screen, it shows you the projection on it. Hitting into a net doesn't do that. Learn how to make a golf hitting net.
Mat or Green
You need a mat or putting green to hit off. The SIGPRO is ideal as a traditional mat. To have a realistic feel, the Fairway Series mat (5' x 5') is best. I suggest a (10'×4′) mat for a flexible setting. To have a quality putting green, check out the best indoor greens from our other article.
AV cart or projector mount
If you want easy transport of your projector, you need an AV cart to place it. Otherwise, the ceiling projector mount is your option for a permanent setup.
A gaming PC
To run the SkyTrak golf simulator, you need a gaming PC. It's also compatible with iOS, Android. That means you get a wireless connection in any flexible place.
Landing pad turf and side barrier nettings.
These two materials are optional. Landing pad turf smoothly softens the landing of your ball after hitting. Thus it lets you protect your floor from ball strikes. So it's better to have one. And if you want the miss-hit balls not to pass the hitting area, you can use a side barrier net.
SkyTrak Golf Simulator Packages
Buying the above-mentioned materials separately will cost an arm and a leg. To save extra money, you can simply buy a package! All are available in one package. Nothing requires buying extra. It will be a piece of cake for you. Though SkyTrak has their own golf simulator packages, there are more popular ones in the market. Let's know the best SkyTrak golf simulator packages at a glance.
Best choice:
SkyTrak SIG 12 golf simulator package is the best choice for all-level golfers. Shop Indoor Golf made this package that includes all the required materials. And all these come at around $7,800. A combination of accuracy, performance, and affordability makes this package the best. So if you want a high-quality experience, SIG12 is recommended for you.
Best Portable:
After practicing with SkyTrak Retractable Home Golf Simulator, you can make your room just like before. That's easy! So if you don't have extra space and want a retractable screen, try this package of Rain or Shine. It costs only $6,099.
Best for home:
If you are dreaming of the best home golf simulator, the SkyTrak HomeBay golf simulator will help your dream come true. You can have a realistic simulator setup within $5k. Recommended for high-quality graphics and accuracy.
Most affordable:
SkyTrak Practice golf simulator is the most affordable option among the SkyTrak packages. It costs only $3,399. You can play throughout the year without breaking the bank. Being a budget-friendly golf simulator, it has the best golf mat and net. Really worth buying!
Best for beginners:
SkyTrak Home Golf Simulator Training package is best for beginners. The visual feedback and ball performance data will help you see your performance level and improve your swing accordingly. So if you are at the starting level, start with this entry-level package.
Best Commercial:
SkyTrak SwingBay Home Golf Simulator is best as a commercial golf simulator. It can be your revenue-generating powerhouse if you want to invest about $7k. Because of its quality and features, it can easily attract your customers.
Frequently Asked Questions About SkyTrack
What info does SkyTrak give?
SkyTrak gives the information of ball speed, swing speed, launch angle, side angle, carry distance, spin rate, and clubhead speed. SkyTrak accurately tracks the ball trajectory data and lets you know how the ball moves in the air or where it ends. It helps you improve your game.
Does SkyTrak measure swing speed?
Yes, SkyTrak measures swing speed. It also measures ball spin, launch angle, side angle, side spin, and backspin that provide you with more information about your swing. Thus SkyTrak gives a clear picture of your ball trajectory and total distance. And it lets you know how you should swing properly.
Does SkyTrak give clubhead speed?
Yes, SkyTrak gives clubhead speed numbers but doesn't actually measure it. It just uses ball flight data to calculate clubhead speed. SkyTrak gives no club data except the clubhead speed. This speed basically shows how far you can hit the golf ball.
What software is compatible with SkyTrak?
E6 Connect and WGT Golf are compatible with SkyTrak. Both are the most renowned software for world-class golf courses. Besides these two, SkyTrak is compatible with the Golf Club 2019, Creative Golf 3D, and Fitness Golf.
Conclusion
SkyTrak golf simulators are recommended for both high handicapped and low handicapped golfers. The packages are also available at all price ranges. So what level player you are or how much budget you have doesn't really matter for SkyTrak. Besides, we found SkyTrak comparable to no other launch monitors available on the market.
Check it yourself by comparing the best launch monitors.  But if you want to try other branded golf simulators, visit this list of the 10 best indoor golf simulators. Don't forget to tell us whether we can make this article helpful for you or not.