Does choosing the right golf balls matters?
The answer is- YES! In fact, choosing the best golf balls is a factor that can help you achieve the highest number on the scorecard. Almost all professional golfers will agree to that point without any doubt.
The right golf ball will help you tailor your swing style and the flight of your golf balls. It will help you on the green to an extent as well.
Golf Ball Technology has changed a lot over the years. In earlier days, the most ancient materials of golf balls were wood, leather or sometimes feather. Those materials are long gone. The entire golf ball technology has changed. There are still many variations in the types of golf balls.
Golf ball variations can be based on a number of factors such as practice golf balls and professional golf balls, the material of golf balls, how many dimples it has on its surface, or can be based on how many pieces the golf ball is made of.
If you just have started your career as a golfer, then you must have confused. Don't worry! You are going to figure it out soon enough.
Practicing with your golf buddies, you will learn which type of golf balls when suits its best. Additionally, for your convenience, we have included golf balls buying guide in the last section.
But if you have already discovered everything about golf balls, then you must have been looking for the best golf balls in the market.
So here we go! We have reviewed 12 best golf balls which will amaze every time you make a shot. Let's have a quick look on our top picks and get your best chosen.
12 Best Golf Balls Reviewed
1. Callaway Supersoft Golf Balls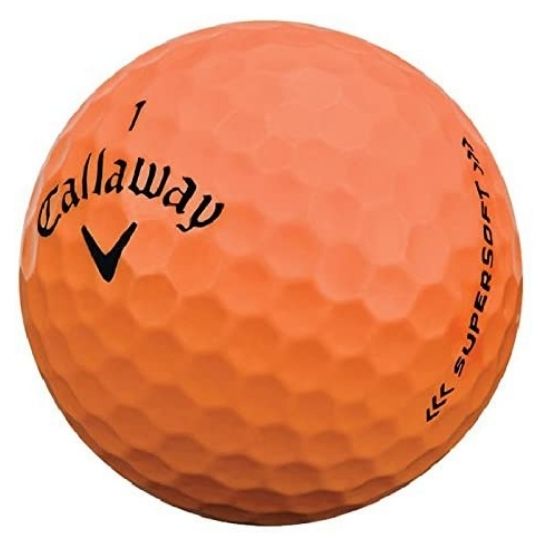 Callaway has always been in the top 10 list whenever it comes to buy the best golf balls. With that continuity of a reliable brand for golf balls, Callaway launched the Callaway Supersoft Golf Balls in 2017.
The Callaway supersoft golf ball is a lower compression golf ball which will offer you a straight and longer distance ball with the most possible soft feel with its HEX Aerodynamics technology.
This is the softest golf ball ever by Callaway, and it features the lowest compression as much as 38. On average, it is 20 lower than Callaway's most other popular Two-Piece balls.
The Callaway Supersoft golf balls are constructed with an improved core which has been persistently designed to promote a faster speed at low spinning. This make a perfect golf ball for those golfers who consider a ball that would offer him a straight and longer flight when it's hit.
The HEX Aerodynamic technology helps to reduce drag and enhance lift offering a longer distance.
The cover of Callaway supersoft golf balls is constructed with the new tri-ionomer formulation, which adds the extra softness to the feel and provide more control at the same time.
Things we liked
Super soft feel
Reasonable price
High quality
Suitable for senior golfers
Things that can be improved
It's a two-piece golf ball. If you expect it as soft as a one-piece foam golf ball, then it might disappoint your expectation.
Final Verdict:
This ball has been the best seller on Amazon. Almost all customers gave positive feedback on this particular Supersoft Golf ball. According to their reviews, you cannot get such quality at this price very easily. So, if you are looking for a golf ball that would offer you longer distance and soft feel, then you might not find any better option than this one.
For Seniors: Best Golf Ball For Seniors
2. Callaway Chrome Soft Golf Balls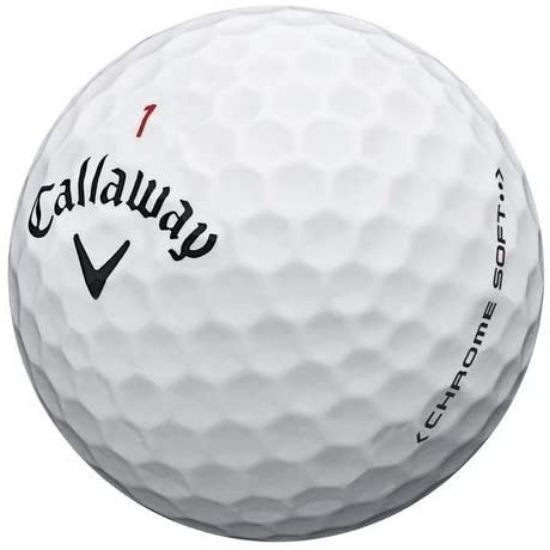 The second one is another Callaway golf ball in our list. The Chrome Soft Golf Balls by Callaway also offers you more distance and soft feel, though not as soft as the Supersoft Golf Balls by Callaway.
The Chrome Soft golf balls are designed for those golfers who enjoy both irons and driver performance with a soft feel. The Chrome Soft golf ball is best suited for short game control. But, nonetheless, it also helps in longer game as well.
If you are the type of golfer who is not comfortable with soft golf balls, then you should not pick this one. But if you still want to practice and get used to with a soft ball, then this might help your performance.
The main attraction of this golf ball is its new graphene Dual SoftFast core. This dual-core includes a thin outer core and a larger inner core. This Dual SoftFast core helps to increase the ball's speed while reducing the long game spins for greater distance. So, the soft feel and dual SoftFast Core technology would help you for both short as well as long games at the same time.
Callaway Chrome Soft has an X version for the players who swing faster and like to maximize the distance. The Chrome Soft though gives you a soft hand-feel, but it doesn't feel soft on the pitches or chips. And it lands with noticeable grip.
Things we liked
Soft feel
Gives short game control
Also offers longer performance
Things that can be improved
The softness is not suitable for everyone.
Final Verdict:
Callaway has earned a good name for manufacturing golf balls that performs in almost all areas of the golfing game. And Chrome Soft is definitely a must-try golf balls for short gamers. It's much less softer than the first product on our list.
So, you might give it a try even if you aren't that much comfortable with the soft golf balls.
For Women: Best Golf Balls For Women
3. Nike Mix AAAA Golf Balls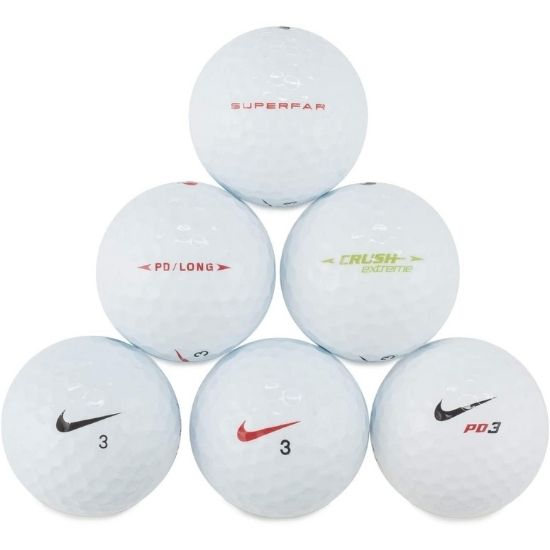 Nike is one of those very few brands who specialize for ensuring the quality while manufacturing used golf balls. Not to mention, that though Nike Mix AAAA are used golf balls, they don't have any sign of wear or tear. For exploring more reasons for these golf balls being in our 10 best golf balls list, stay with us.
Used balls, which can ensure you quality, is quite a good investment for beginners. And if it is the Nike Mix AAAA then, you can be extra sure about it.
Let's talk about the most common query about this golf ball- whether these are manufactured form the same golf balls or different.
As its name suggests, the Nike Mix AAAA is the mix of different golf balls from various brands including Ignite, Crush, Karma and etc. more. But this might cause different experiences for different golfers when they hit it. Better keep that mind before buying them.
On the contrary, this mix golf balls set gives a golfer the chance to try out some of Nike's many different golf balls. If you are the kind who is going to have a practice set to explore different experience, then this is a must go for you without any doubt. Because each of these practice mix golf ball set will give you a different effect.
The most freaking cause of why you should buy this Nike Mix AAAA is that the entire set comes at a very worthy price. Beginners and all those golfers who practice their regular golfing at home or at the course, should at least once give it a try.
Things we liked
Good way of practicing with different golf balls
Trusted brand
Great quality
Best for amateur and beginners
Offers different experience with just one set.
Great stuff to gift to a golfer.
Things that can be improved
Not good as a new set obviously.
Mix golf balls might not give you consistency in shots.
Final Verdict:
You must not expect the quality of a brand new set. As a beginner, once you have settled with this fact, this is going to be the holy grail of your everyday practice.
4. Wilson Smart Core Golf Balls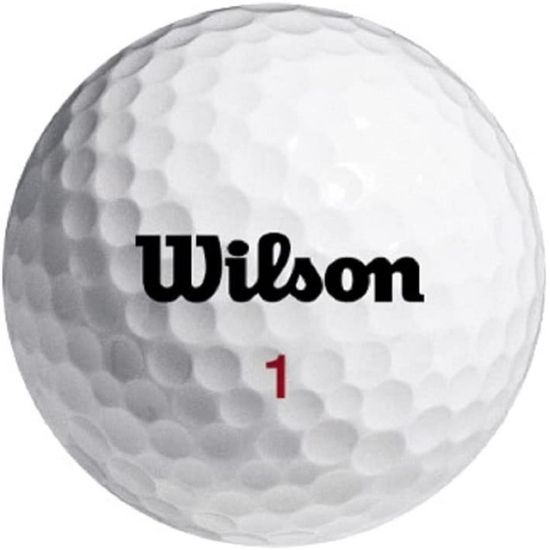 Wilson has been a well-known brand for their expert craftsmanship and amazingly designed items. The next set of golf balls is another such creation by Wilson.
The Wilson Smart Core Golf Balls set comes with some additional benefits with amazingly designed golf balls implying the smart-core technology. Now, the matter of question could be that 'what is the smart-core technology?'
With this golf ball, every time you swing with your golf ball, you are going to have a reactive experience. It defines that this particular golf ball delivers unique spins and distance reacting with the style and speed of a swinger. This is what they call smart-core technology. Because this smart-core golf ball reacts very smartly with every different and unique swing.
The Smart-Core has the perfect design by minimizing spins. A quality golf ball will help you have a great practice session. And, the Wilson Smart-Core is exactly what you need in your Golf Course. This ball is designed in such a way that minimizes spins allowing you to get a long distance shot with more accurate swinging.
When it comes to the price and value, you must bear it in your mind that this is one of the best golf balls by the term of golf ball designing. This is a super durable golf ball that suits the best for novice players. Counting on that fact, I hope you will not bother having this fascinating golf ball at a little higher price.
Things we liked
Smart-Core technology helps it to react individually with each different swing.
Accuracy on long shirts
Minimizes spin
Perfect brand for novice golfers especially
Offers better distance
Firm response action from the tee
Things that can be improved
Some of the users mentioned that this ball lacks distance.
A bit expensive
Final Verdict:
Best designed golf balls come at the best price. Although it is a little too costly, what performance you are being offered worth the price.
5. Volvik Vivid Matte Finished Colored Golf Balls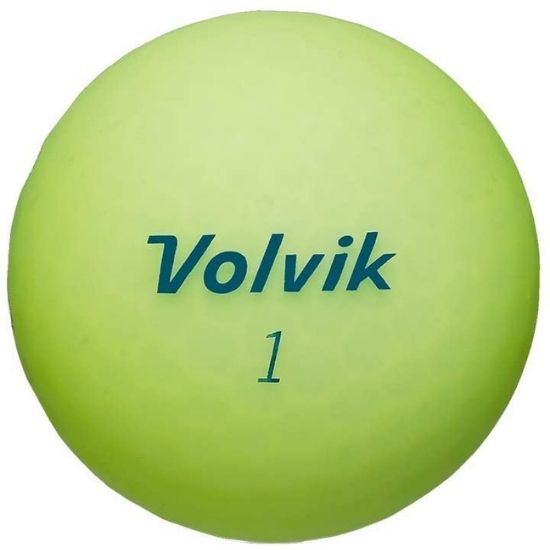 The next best golf ball is from Volvik. Volvik has been on the hype for their uniqueness in product design. The Volvik Vivid Matte Finished golf balls also have its own uniqueness in its appearance. As the name suggests, its matte finished colored look is its main attraction. But don't worry! You are not going to pay just for the matte finished look only.
Volvik Vivid Matte Finished Colored balls are expertly crafted with quality, comfort, and design. It offers a premium feel while allowing you to make distance shots with more accuracy. The Vivid Matte is a super durable golf ball. With saying that, its high price should not make you feel unworthy since you can enjoy a long lasting golf practice with this ball.
The color variations of Volvik Vivid are the cherry on top for these balls. They created eye- soothing yet contrasting colors with the green. The best part is, even if you don't like it, you can personalize them.
The Volvik Vivid Matte golf balls are definitely one of the most expensive golf balls from this brand. But the counting fact is that the brand always ensures that they provide you with the premium quality products. They presented a specialized series of quality golf balls, each time with unique features. With its stylish look, the Vivid Matte makes the best gift item for your buddies.
Things we liked
Unique Design
Rolls perfectly on the green
Don't fade out
Great gift item for golfers
Things that can be improved
Final Verdict:
The Volvik Vivid Matte Finished Colored golf balls allow you golfing with style. Its unique design and vibrant matte finished color emphasizes its attractiveness alongside the great quality of the brand. If you have set your mind, then treat yourself buying this beautiful golf balls.
6. Nitro Maximum Distance Golf Balls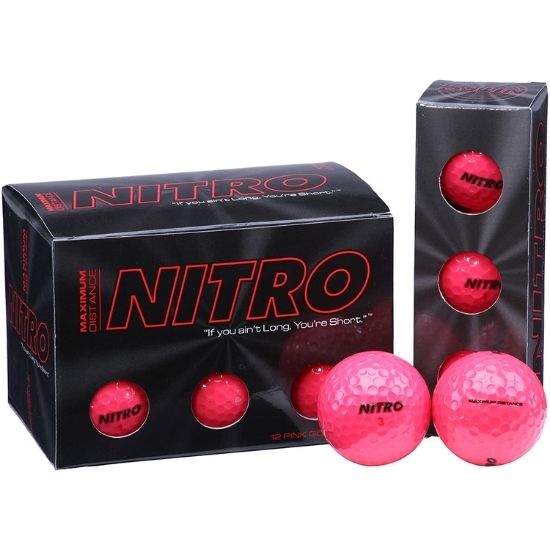 The brand Nitro is known in the golfers' realm as the highly touted golf ball manufacturer when it comes to the combination of quality and affordability. It's still a matter of wonder that how they manage to offer such quality for a least winning deal. Especially the Maximum Distance by Nitro. It is one of the most affordable golf balls by Nitro which is designed with the maximum distance feature, just as the title suggests. We are just discussing the product highlights here for you.
This kind of amazing golf gears must need a high-end quality with a perfectly designed exterior. And the Nitro Maximum Distance golf balls didn't fail in that perspective at all. The aerodynamic technology and symmetrical dimples on the surface of the Maximum Distance golf balls feature an extraordinary lifting while reducing the drag of the balls during its flight. This implies that the Nitro Maximum Distance gives you a faster travel and longer distance.
Besides a wonderfully designed exterior, these balls also have a reactive interior design that maximizes the energy faster than the other golf balls available in the market. Thus, the ball reacts at the instance the clubhead hits it.
Things we liked
High end-quality.
Offers more distance
Super affordable
Aerodynamic and symmetrical exterior makes an attractive design.
Increases lifts for the longer shots.
Things that can be improved
Specially designed for amateurs.
Absolutely not for professionals
The logo fades away with time
Final Verdict:
With the Aerodynamic exterior and a reactive interior design, this golf ball offers the best quality at the cheapest price. So, amateurs! It's your time to get yourself a quality golf ball featuring maximum distance.
7. Bridgestone e6 Soft Golf Balls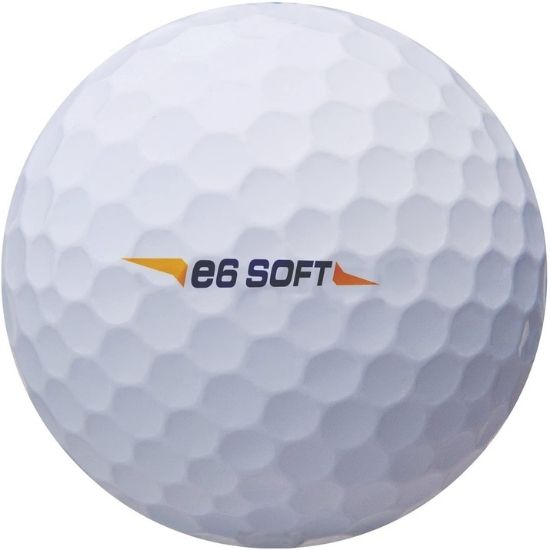 The Bridgestone E6 Soft Golf Balls are made with advanced technology and Mantle Layer Design. This three-piece golf ball is incredibly soft and gives a straighter flight. This golf ball manufacturer claimed that the E6 Soft provides 9 yards longer and 31% straighter flight than the other similar and competitive golf balls. True to say, the entire E series golf balls by Bridgestone are amazing to play with. But the latest E6 Soft has replaced the need for E5 and E7 versions.
The Bridgestone E6 Soft Golf Ball is designed to provide you straighter flight. And for straight distance, you need to control its spins. The ball performs well when it is hit with moderate swing speed. But you may have trouble while keeping your drivers on the grass to create spin. The E6 Soft golf balls have mantle layer which helps them to achieve low driver spins and higher launch.
The mantle cover is responsible for the straighter ball flight while initiating the tour, whereas the Delta dimple patterns make sure that it keeps straight longer. Researching on the ball fitting data given by other golf ball manufacturers, Bridgestone made this perfect piece for the mid to high handicap players for improved performance.
Things we liked
Advanced Mantle Layer Design
Provides more distance and flies straight
Surlyn Cover with Delta Dimples
Improved Performance
Things that can be improved
Gets Scratches very easily
Final Verdict:
This incredibly soft golf ball is dedicated especially to the improvers. This golf ball helps you to improve your performance by controlling the spin of the balls and providing straighter golf ball flight. So, if you fall in that category of players then go with it.
8. TaylorMade TP5X Golf Balls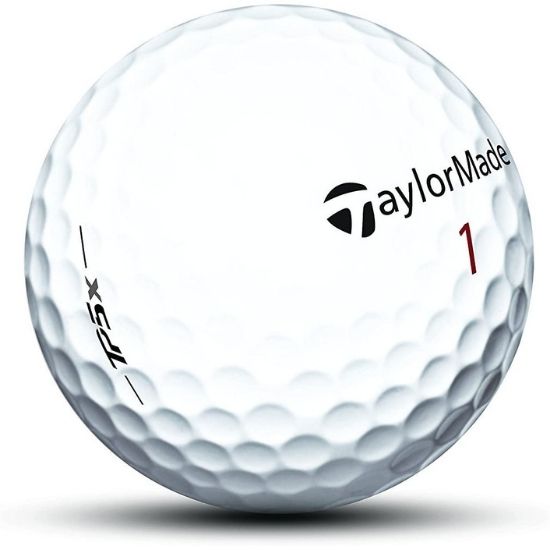 The key difference between the TP5 and TP5X by TaylorMade is the 4th layer. Both versions almost comes with the same quality. But the TP5X is a little improved than the previous version. The 4th layer of this five-piece golf balls is more durable and 30% stiffer than the TP5 version.
For the additional stiffness, the fourth layer is made with the High Flex Modulus (HFM) technology which makes it more efficient at converting the deflection of the ball while making an impact on its velocity.
TaylorMade designed the TP5X with the rare combination of higher ball flight and more distance. That means, it is capable of providing the low-handicappers with 10 to 15 yards more distance off the tee, and an average gain of 10-15 yards per club for each level golfers.
The TP5X seems somewhat more solid than its previous version. It also has higher compression than the TP5 which is 90 and 83 respectively. The higher compression results with less spin on longer shots, which helps you improve your performance with this amazing five-piece golf ball.
Things we liked
Almost the same quality as the TP5 model
Affordable
Less Spin
High ball flight
Gives more carry
Things that can be improved
Not suitable for golfers with severe slice or hook problems.
Final Verdict:
The TaylorMade TP5X is one of the best golf balls for the short gamers just as the TP5. But if you have severe slice problems then better switch your choice with other golf balls on our list. If not, then we highly encourage you to buy and try the TP5X.
9. Srixon Soft Feel Golf Balls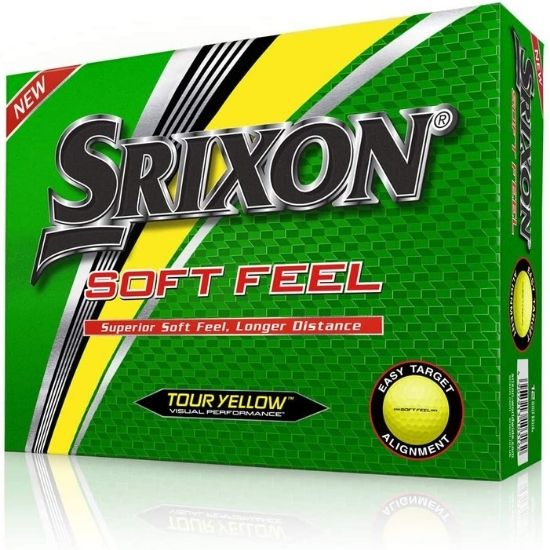 For the golfers who are searching for the best golf balls providing the perfect swing with very less spins, there's great news for you. The Srixon Soft Feel Golf Balls are may be the perfect fit for your choice. The Srixon Soft Feel is the best golf ball also for putting. Let's discuss more about this amazing golf ball to learn what an individual is supposed to expect from the Srixon Soft Feel Golf Balls.
The Srixon Soft Feel is constructed with very softer and thinner ionomer cover which is 5% softer than the other material made golf ball covers. This feature of Srixon Soft feel allows you slew of great features.
Its Aerodynamic dimple design allows to provide you a better and more consistent experience alongside with offering you good speed. 324 dimples are expertly crafted providing better surface coverage which ensures an expert shot every time. This two-piece ball also ensures low spins while traveling. With that said, this ball will allow you better control over your shots.
All these incredible features you are being offered comes at a really affordable price. So, clearly, it's worth your money for such quality of a ball.
Things we liked
Softer feel
New Aerodynamic design
Lower compression
Low Spin
Soft and thin cover
324 dimples
Things that can be improved
Some complained about its quality being unworthy
Final Verdict:
This is probably the best golf ball in the industry for an amateur. It gives you the best quality at the cheapest rate. So, if you are also an amateur, you should be ordering for this one at once.
10. Wilson Staff Fifty Elite Golf Balls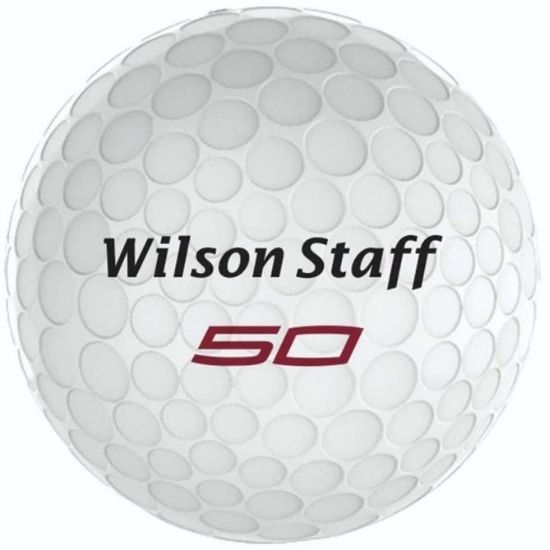 The topmost factors in a high-quality golf ball are distance, feel and durability. The Wilson Staff Fifty Elite golf balls pass all of these factors and much more than these.
Wilson Staff Fifty Elite Golf Balls are two-pieces golf balls by construction. And this two-pieces golf ball strikes the exact balance between the high greenside spin along with lower driver spin, which allows you to get some explosive distances and softer feel.
This 50 compression golf ball offers you long carry and a quick stop which suits best both with an amateur and a pro golfer at the same time.
These balls come in a 12-balls pack with 4 color variations, which are white, pink, orange and yellow. But some of these colors won't help while playing on the green. However, the guaranteed explosive distance will help your performance even better. Most of all, you are getting all of these at a good deal.
Things we liked
Soft feel on hand
Highly responsive cover
Great deal for a 12 balls package
Explosive distance guaranteed
Lower drive spin balls
Durable
Good control and balance
Produces high Greenside Spin
Things that can be improved
Some colors are not contrasting with the green. So it's hard to spot the ball.
Not so good off the tee
Gives clear shots while hit with long clubs
Doesn't roll good enough as other high-end golf balls.
Final Verdict:
Whether you are an amateur or a pro, this golf ball will go well with your practice anyway. Though this golf ball will not satisfy you with its quality if you expect them as other high-end golf balls, yet this is the best deal you are having at this price range. So let's give it a try and buy it now.
11. Titleist Pro V1 Golf Balls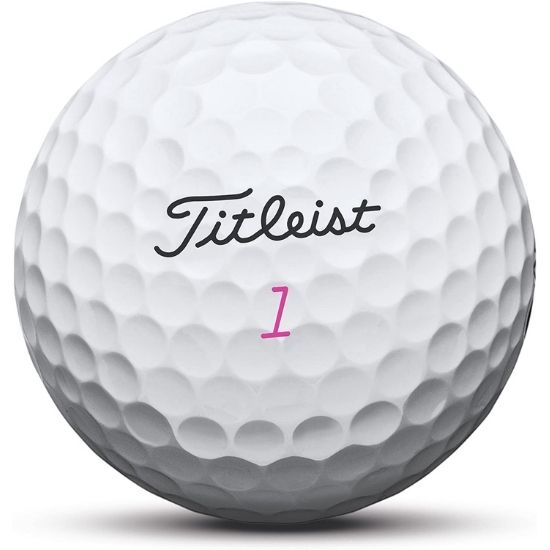 Titleist is a popular brand for amateur golfers. But not for this product. They claimed that their Titleist Pro V1 Golf ball matches with golfers of all skill levels. That means, it doesn't matter if your swing speed is high or low, this golf ball will match various styles.
The last upgraded version of Pro V1 and Pro V1 came with some improvements based on its users' feedbacks. So it demands a new review over the upgraded version. The upgraded Titleist Pro V1 golf ball offers you the great driving distance and superb short game control.
The Pro V1 allows you more, and enough driving lengths than any distance oriented ball will offer. Thus it provides you great control over your short game.
Alongside providing great distance, it also offers longer spins with solid shots. The Pro V1 lands very firmly on the green after you shot for a long hop.
With the single core and soft cover, the Titleist Pro V1 will offer you a very soft feel with good control. But, since some golfers prefer dual-core technology in golf balls, they also implied the ZG process dual core technology in its V1x version.
However, the durability of Pro V1 will just amaze your golfing experience. You can enjoy a prolonged use with this Titleist Pro V1 with its whiter and brighter look undamaged. There are a lot more about this particular golf ball that should motivate you to give it a try. So, let's have a quick look at the pros and cons of this fantastic and one of the best golf balls in 2021.
Things we liked
Provides exceptionally great distance
Good consistency of shots
Soft and flexible feel
It creates a gratifying sublime sound
Great durability
Things that can be improved
A little too expensive but it worth the money.
Designed for High-Level Amateurs only. Though they claimed that it matches all skill levels.
Final Verdict:
With a little too high price, this amazing golf ball will worth your money. So, if you were planning for getting one of these Pro V1, then don't hesitate much and try it out.
12. Titleist Velocity Prior Generation Golf Balls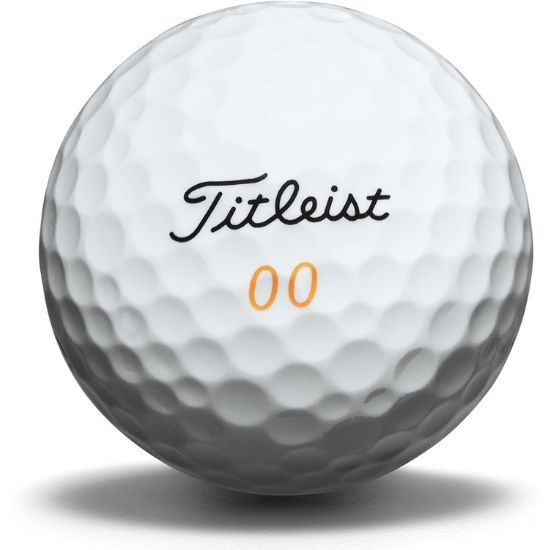 After the 2016 version of Titleist updated the Velocity Golf Ball in 2018. The latest version of Titleist Velocity Golf Ball offers higher speed than the previous one. This two-piece golf ball has a high-speed LSX core, which is made even softer than it was in the 2016 version. The core sits under the improved cover which offers you more durability. The most fun part is that now it is available with some color variation. So you can choose any color that will help you visualize in the green.
The number of dimples remained 328 tiled with a tetrahedral design as it was in the previous version, it gives a high flight with more speed. Another noticeable improvement Titleist added in its latest version is SPIN REDUCTION. The new Velocity Golf Ball will give you more draw spin than the previous version. On this account, the new Titleist Velocity Golf Ball makes one of the longest golf balls you can get for your golfing.
All of these features you are getting at a very cheap rate, which is definitely a big deal for every golfer. But before considering it as your best golf ball, note that the Velocity Golf Ball is not suitable for you if you are searching for a spinny ball. Its control is not that sharp on the chips as other spinny balls.
Things we liked
Improved Speed
Improved Ball Flight
Various Color Options
Cheap
Things that can be improved
Less control on the chips.
Final Verdict:
A professional golfer can generate enough spins even with a premium golf ball. And this ball is for those expert golfers for whom spin control of a golf ball doesn't matter a lot. After all, which manufacturer would offer you such speed and height features at this cheap price?
Buying Guide For The Best Golf Ball
Golf balls are at the sharp edge of the ethical and economic battles. Some golfers fear that progress in the team can make some of the legendary golf courses outdated (even if you do not hear them nagging about those extra yards off the tee.).
Still, we can hope because it hasn't happened yet. St. Andrews didn't stop entertaining and challenging the golfers like it has been doing for centuries.
After all, golf will always be the game of consistency and not just distance, whether or not it is filled with liquid, feathers or rubber. Golf balls flying farther doesn't always mean they fly straighter.
Golf technology and golf club developments are progressing faster. Most people believe that golf ball technology hasn't advanced so much.
But the true fact is that golf ball technology also has progressed tremendously in these recent years. So, choosing the right golf ball has become as tricky as choosing the right golf club in present days.
Many golfers are loyal to one brand when they want to get the best golf balls for themselves instead of trying different ones. You should try at least.
But before trying out, you need to learn many specifications that you need to consider while choosing the best golf ball for yourself.
In this buying guide, we are going to explain which factors defines which golf balls are the best golf balls.
Construction
Construction of a golf ball means not only the material of a golf ball but also how many pieces construct the ball and how many dimples it has on its surface. There is a lot to understand about the construction of a golf ball.
The followings are what you see most commonly around-
1. One-Piece Golf Balls
The most basic form of golf balls is the one-piece golf ball. This is specially designed for the beginners, unsuitable golf courses and driving ranges. These kinds of golf balls are often known as playing balls or practice golf balls. Usually, this basic construction of golf balls is made of solid pieces of Surlyn molded with dimples on its surface. This is the most inexpensive of all types of golf balls.
One-piece golf balls can be made of foam or plastic also. These golf balls are soft but durable. But it will not give you the distance and desired swing when you hit it due to its lower compression.
However, if you are a beginner or a backyard-golfer (for practicing purpose) then, you better buy a one-piece golf ball.
2. Two-Piece Golf Balls
Two-pieces golf balls are the go for your everyday golfing like most other golfers because it is durable while delivering the maximum distance. This type of construction is formed with a single solid core, usually with hard plastic, covered with the dimpled surface with is called ball's cover.
The core is usually made from a high-energy acrylate. Combining with a hardcover, the two-piece golf balls will make sure to deliver more distance than any other golf balls with a firmer feel. So, it doesn't matter what level of proficiency you have achieved in golfing. You will always need these golf balls for your regular golfing.
3. Three-Piece Golf Balls
The core of a three-piece golf ball is made of either a solid rubber piece or liquid. The other layer is made of enhanced rubber or liquid under the durable Surlyn or Urethane made molded cover.
If you are expecting your golf balls to spin more, then this type of golf balls are the best choice for you. These balls are highly recommended for the good golfers, offering them more control over the ball flight.
Actually, it's like a formula. The more layers a golf ball has, the more control it will offer you over the ball flight. Each layer makes a spin separation which lets you control the ball flight and deliver a more accurate shot.
4. Four Piece Golf Balls
In four-piece golf balls, each layer serves a different purpose, and work together to make sure the longest hitting and the softest feel at the same time. The main difference between a three-piece golf ball and a four-piece golf ball in the middle cover.
This middle cover is responsible for increasing driver distance producing mid spin at the same time. So, if that's what you are looking for, then switch for a four-piece golf ball.
5. Five-Piece Golf Balls
The Five-Piece Golf balls are for those who are looking for the ultimate control over their spin and ball flight. It is not much different than the three or four piece golf balls. The extra layer just adds some more spin separation that benefits the performance a little better than all others.
Honestly, it is not recommended if you are a highly professional golfer. Otherwise, it might feel like a luxury afterward.
Spin
What is the benefit of spending your money over a golf ball if you don't get the desired spin while hitting the ball? So, you already know how important to check about the spin of the golf balls you are paying for. Categorizing based on spinning level, there are 3 types of golf balls.
Low Spinning Golf Balls
These Balls reduces the side spin of a shot and assist the golf ball in flying straighter. Low spinning doesn't mean to give you longer distance, but it will allow increased rolling while landing. If you tend to slice the ball, then you should opt for the best low spinning golf balls.
Mid Spinning Golf Balls
As the name implies, the golf ball connects the gap between a low-spin golf ball and a high-spin ball. These balls are trying to integrate better to feel and distance both. Focusing on a wide range of players and keeping it suitable for most players, the mid spinning golf balls will provide a solid distance with different feel and softness as per the brand offer. Almost every golf ball manufacturer will produce a mid-spinning ball which is suitable for all golf players.
High Spinning golf balls.
Another one is a high-spinning golf ball. This ball has been designed to increase the spins it would take in the air. When you hit the golf ball, it is thrown into the air with a specific degree that causes backspin.
A high spinning golf ball tends to increase this backspin and create a longer flight. If you are that golfer who hits it from right to left straight, then a high spinning golf ball is the best pick for you.
The out-of-control-hook shots are produced by a spinning that protrudes from the rotation of the ball. Increasing the impact of backspin will help to straighten the hook.
High-spin golf balls may not work its best on the fairway like a low, or mid spinning does. It may be a ball in the middle or down, but the biggest advantage is around greens.
A high spinning ball will increase the feeling around and around the greens, which will help the players to improve control.
Compression
The pressure is the measure of the deviation of a golf ball when it is hit. Measured between 0 and 200, where 200 is the ball that is not compressed, and 0 is the ball that exits 5 mm (1/5 inch) or more. Most golf balls vary between 50 and 100 per click.
A good way to understand the pressure is to look at the rubber band. Imagine wrapping a rubber band around three fingers. Now imagine a flap around the same 3 fingers, only this time when folded up so you can wrap it three times. You will obviously feel a difference in pressure on your fingers. This is the pressure which is termed 'compression.' It uses the same amount of material and occupies the same area, but produces different pressures. This compression is the result of pressure, and it is exactly how the pressure works inside the golf ball.
Lower compression golf balls tend to be smoother and more compressive to create greater distance. High compression golf balls provide more control and are used by the best players who can produce higher speeds to compress the ball.
Frequently Asked Questions About Golf Balls
How do I pick the right golf ball?
While other factors like the amount of losses and price are taken into consideration, the different construction of golf balls technically means that one can get a golf ball to improve his performance. Many golf ball manufacturers run its test sessions at local golf clubs or in their own fitting centers, so we recommend that you get a golf professional to advise you if possible.
Or, try some brands you like playing on the course and follow those that offer the best combination of distance, control, and feeling on the greens. And then practice more with your golf balls. Changing golf balls every time you play will not help you improve your performance.
How do dimples make the difference?
The reason why golf balls have dimples on its surface has to do with the drag. The moment you hit the ball, it slows down. Good golf strokes drive the ball around 120 miles per hour across the air, adapting humidity and pressure in the air with action and slows down the ball.
The less space you have on the top of the golf ball, the less the area must be affected by the air. The dimples on the golf ball affects the air particles that affect the flight of the ball. The dimples help the golf balls bouncing and create turbulence in the air on the surface of the ball.
Smooth golf balls will go much faster because its region is more susceptible to air pressure. In the early years of golf, feather filled were used, not even scraped and deformed, as players discovered that a soft ball would travel further.
Does the lake ball provide the same experience as the new ball?
There is no doubt that lake balls look like an attractive investment, but are they as good as new ones? Well, NO, IT'S NOT!
Water-effects were tested on the balls that were settled in the bottom of the lakes, and the balls that spent time in the water were much less than the new balls, or simply the dry golf balls.
Balls that spend 8 days in water produce six yards less than the reference point ball. The balls that were submerged in the water for 3 months traveled 12 yards less, and the balls that were kept in water for 6 months were traveled 15 yards less.
This may sound like a big difference, but for a regular golfer, the ball in the lake can be a good investment. Given the price of new golf balls on the market today, buying lake balls is an inexpensive way to enjoy the game. The ability to pay much less for some of the best balls in the world is one that many golfers take and do not regret.
Many lake balls companies recover the balls with a bright shine that makes them look new. This cover will be worn, and the ball may fade slightly, but it will not affect flying or throwing balls.
How are X-Outs golf balls different from other golf balls?
The X-Outs are factory defects or balls with aesthetic flaws, but they are also new unlike the used balls or lake balls in some shops. Those that have logos from companies or brand names are the best of the group because they must be new balls should not have drawbacks.
Sells X-out balls much less than first-line models. Some golfers believe that price is a kind of problem with the ball, but for the average player, they will almost resemble a new version of the same ball.