Bridgestone Lady Precept is our first choice for women golf balls. But many brands believe that women don't need a specific ball for their game. Is that true?
The truth lies in the physiological difference between men and women. Because you as a woman have a low swing speed on an average, it becomes essential to look for balls that can help you gain most leverage.
If there are specific balls that can aid taller and shorter women, then there must be balls that are tailor-made for you.
You are special, and there are brands who value your efforts and time for the game with passion.
So, we have got the best women's golf balls reviews for you in 2021. But first, let's have a look at the factors that are important for women golfers. If you know your preferences and style of play, choosing a ball becomes easier.
Best Ladies Golf Balls for Women in 2021
We have a list of the best 10 golf balls for you so that you don't have to face any trouble while hitting the ball and having appropriate shots. You can even easily improve your game using these balls. One or the other will definitely fit your preferences. Let's have a look.
1. Bridgestone Lady Precept Golf Balls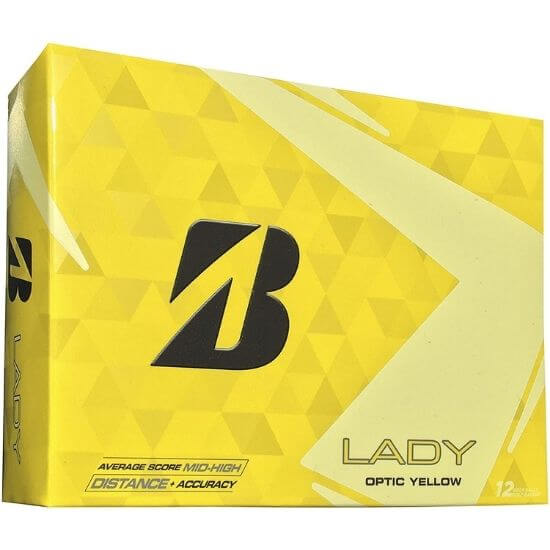 Here is the number 1 ball in our list. And it's number 1 for many reasons. The Bridgestone lady precept balls have served lady golfers successfully since its introduction.
For women its best because of its soft feel and low compression. The outer layer is thinner than most other golf balls.
These balls are very accurate as there is less spin on the balls. It comes in various colors which means you get more visibility and chances of losing balls are less.
It has high dimple counts, so you get more height and distance on your hits.
It is easily the best golf ball available for women. The feel is amazing on hits and also the speed you can generate from your shots is unbelievable.
Things we liked
High visibility is created by color variations. Colors come in white, pink and yellow.
Prices are low enough for beginners to practice. Lost and worn out balls won't trouble your budget that much.
Higher distance and height is what you get with softer balls.
Higher control over your shots.
Very soft and excellent feel around the green.
Brighter color, easy to find in deep grass
Great ball flight.
High launch & low spin
Incredible firmness
Various colour options
Things that can be improved
Low durability because of softer cover.
Driving distance is relatively less than that of others.
Not perfect for professionals
Final verdict: If you want to ignore the hassle of searching for balls that are made for you, you can get these in a budget. These balls have almost all the features that women would need.
2. Callaway Supersoft Ladies Golf Balls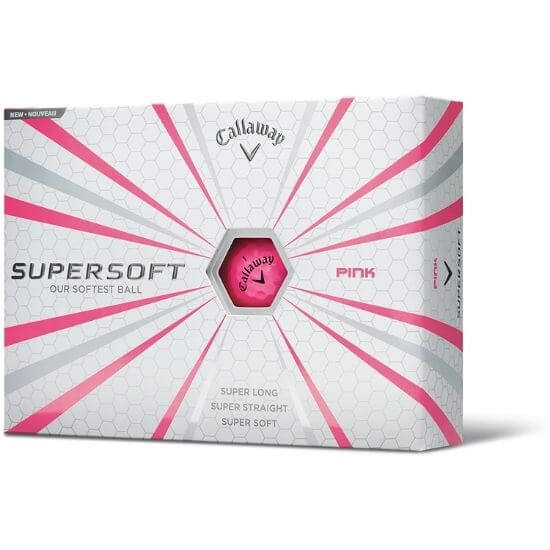 Callaway super soft golf balls have the lowest compression rate in their brand series. So, if you are a Callaway fan, then these balls should be your first choice.
Low compression means you get distance and height. While most women golf balls have low compression, these balls travel more.
The Hex aerodynamic design is also included in these balls. Thus, resistance to air is also low.
Women golfers who prefer ball control as a number 1 factor for buying golf balls, these balls will do the job.
Tri-ionomer outer cover will provide a softer feel when you hit. Also good for hits with the wedges.
Things we liked
Provides softer feel and confidence upon hit.
Yes, these balls will cover more distance courtesy low compression.
Comparing the price, it's worth the money.
High quality design.
Very durable.
Different color options.
High quality cover.
Improved shots & accuracy.
Soft balls & great feel.
Reduces drag on surfaces and lower spin.
Straighter ball flights.
Things that can be improved
The balls are found to be quite hard even though they feel soft.
Not suitable for all
Doesn't include a significant distance
Final verdict: Women who are looking for a softer feeling but a touch harder balls can take these balls home. Though you still get the distance, odd spins can trouble you sometimes. But that can be good too if you can control your shots.
3. Srixon Soft Feel Lady Golf Balls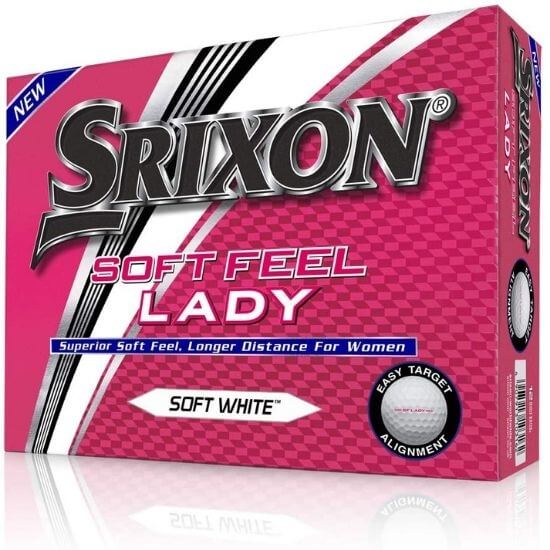 These balls are manufactured by one of the world's leading golf manufacturers. And it's needless to say these balls are good.
Professionals have kept their trust in Srixon for a long time now. So, for women golfers, it won't be much of a problem to find a suitable ball from Srixon.
You want the soft feel as well as distance. But most often you have to sacrifice one or the other. With these balls, you get both feel and distance.
The Core construction helps transfer energy seamlessly through the ball and hence greater leverage on each shot.
Things we liked
Gain distance with each shot you make.
Never sacrifice on distance and feel with these balls.
Extremely well-constructed core offers high-speed ball trajectory.
Maximizes performance for women golfers.
Two pieced golf ball
Best ladies golf balls
Contains 344 dimples for excellent speed
Improved spin & softer feel
Reasonable price
Clear visibility
More control over shots
Things that can be improved
They are Low compression balls, so durability is low.
Only pink color available
Too little spin for some women
Final verdict: Whichever balls you grab from Srixon, you will never be disappointed. Keeping in mind that Srixon values its women customers, these balls are amazing. These balls deliver what they are promised to do.
4. Volvik Crystal Women's Golf Balls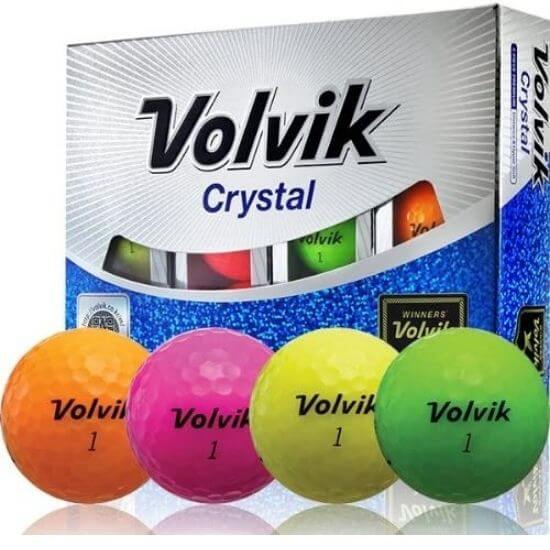 Volvik Crystal balls can be one of those balls which you would like to experiment with. Because of its popularity as having the softest impact on hitting. So, while many other brands claim the same, it's best to know it yourself.
The color ranges are fantastic in this Volvik series. If you are fancy about colors, then go for it. From Orange to Yellow and other colors, your game will become tasteful on every hit.
The surlyn and zirconium outer cover provide a superior feel. You will get a feel of rebound when you hit with these balls. This means your hits are amplified many times.
These balls are best for senior women golfers but can also be as much good for the beginners.
Things we liked
392 dimples provide lower resistance in the air and hence more speed.
Comes in a budget for everyday golfers.
Can gain very high visibility with these balls because of color variations.
Great flight & longer distance.
Soft feel & impact
Pleasant visibility & brighter colors
Soft & durable cover
Suitable for slow & intermediate swing speeds
Long compression
Things that can be improved
For women golfers who have high-speed swing, these are not the ideal balls for you.
Seems to chip & wear easily
Cannot be seen the blue colored balls
A little bit hard while hitting off the tee
Final verdict: For Slow swingers, these balls are absolutely perfect. But might not suit you once you gain higher speed and force.
5. Wilson Staff Zip Women Golf Balls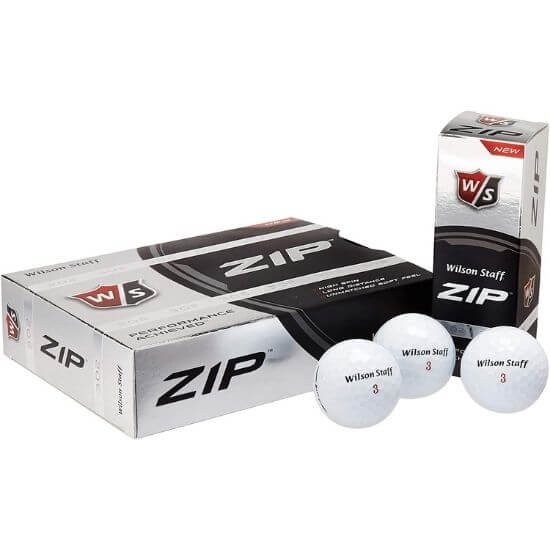 These balls are best for beginners. You can read our post 'golf balls for beginners' to know why it is the best ball for beginners.
But is it as good for women as for beginners? Generally, beginner level balls tend to suit women golfers quite well because of their softness and control.
The Panhead dimple design which is also known as PhD cover design helps in decreasing the drag when the ball is in the air. This means you are going to get a lot of control over your shots.
These balls can be used professionally and that too in a budget.
Things we liked
Interior blended core increases durability.
The unique dimple design creates a low drag.
Makes shots easier and offers great feel on hits.
Cover has the ability to increase speed.
Percolates the air better.
Very durable.
Shallow dimples reduce air drag.
Compression rubber core for better energy transfer.
Better distance.
Great flight trajectory
Things that can be improved
Could find hardly any cons in this budget.
Doesn't feel soft enough.
Seems to be cheap design.
Spin on short iron isn't much better.
Final verdict: The balls are very affordable keeping in mind their premium features. These are must-have in your golf bag.
6. Wilson Staff Fifty Ladies Golf Balls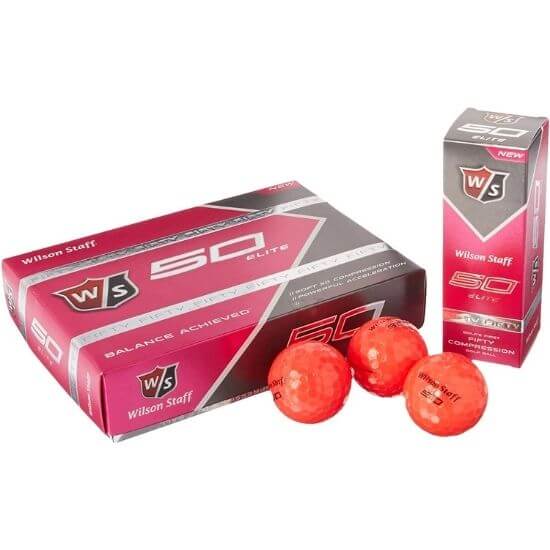 Struggling with your swing speed? Try these golf balls. These balls are known to travel pretty well and are popular among beginners.
Low dimples can help in getting nice flights on slow shots.
Things we liked
Air pushes to the inside of the low dimples, so you get higher ball flight.
Ball speed is high, and air resistance is low, making these balls ideal for women.
One of the softest balls in the market, good for gaining distance.
Highly durable.
Extremely responsive cover.
Longer distance.
Really cheap for the pack of 12 balls.
Lower drive spin
Has the ability to control balance.
Multi-color options.
Things that can be improved
Controlling in the greens is pretty hard.
Shots with a putter are not easy.
Bunker shots can decrease the durability of the balls.
Not good enough off the tee
Final verdict: These golf balls can be handy for any beginners. For women, there are better golf balls than these which we have covered. But overall its a moderate ball that is highly durable.
7. Callaway Golf Solaire golf balls for women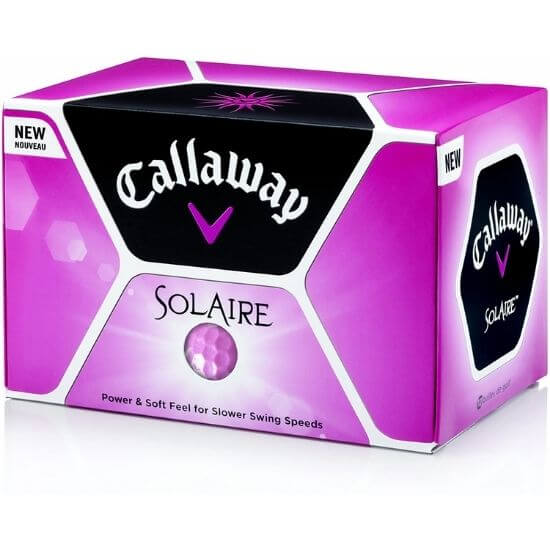 Callaway Solaire golf balls are known for control and distance. The soft core adds a softer feel and enhanced performance.
Though you can not get the softness that the Bridgestone balls offer, these balls have superior design specifications. These come with a HEX design that can accelerate the aerodynamic flight.
The balls have lesser resistance from the air which means your balls will fly easily to the target you want it to reach.
These balls can help you improve your performance quite a lot because of its design. Low-speed club swingers can definitely have a go with them.
Things we liked
Gain more distance with the low compression rate of the balls.
Best value for money.
Bright colors can help visibility when the ball lands on the greens.
Straighter shots are easier with these balls.
Perimeter weighted game improvement clubs.
Perfect for beginners.
Left-handed clubs are available.
Fashionable, solid golf bag and headcovers.
Soft feel & goodlook
Great distance & spin
Accurate trajectory
Things that can be improved
As usual, softer balls will not be very much durable.
The 13.5 degree loft isn't liked by some golfers.
A bit pricey for some players.
Limited color options
Final verdict: Beginner women golfers will definitely find these golf balls worth the money. It's best for practicing from the tee box. As you increase your swing speed, you can explore other balls.
8. Chromax Metallic I Golf Balls for Women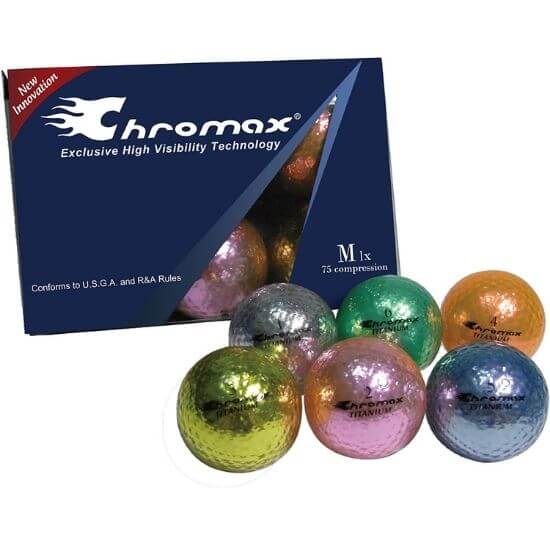 As the name suggests, the balls look metallic. The unique color blend is by far the best feature of these balls.
When you play in low light conditions, these balls can be the best ball to have in your golf bag. The mirror-like inner coating creates the metallic effect and makes the balls so unique.
It looks fancy, but the balls are certainly durable. The dimple counts are very high which can help in superior aerodynamics and control.
The core is extremely strong and flexible as well.
Things we liked
Helps to hit better shots around the greens.
432 dimple design is good for superior control and force.
Easy to see.
Flies well & long lasting.
Metallic color aids in high visibility.
Good performance even in low light conditions.
Surlyn outer layer provides durability. So your ball lasts longer.
A strong core helps in seamless energy transfer from shots.
Multi color options.
Things that can be improved
Looks fancy and unprofessional.
Some golfers found it too expensive.
Accuracy may not be liked by some players
Final verdict: Get these balls if you prefer high visibility and high durability. The inner core is very large which is a unique feature many golf balls lack.
9. Wilson Hope 12 Ball Ladies Golf Balls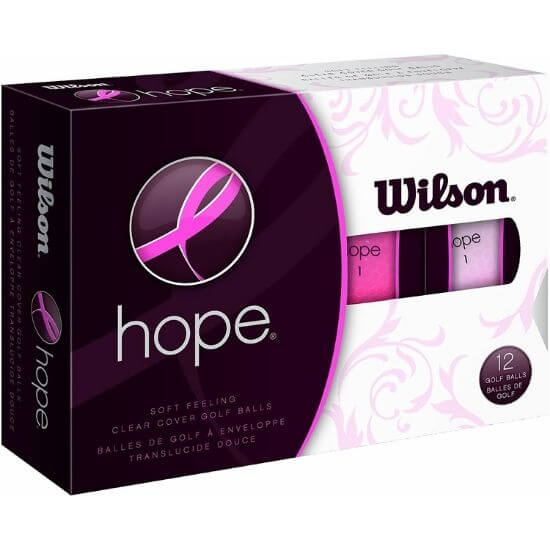 Wilson products are known to be of high quality. These golf balls for women are best for re recreational women golfers.
Not much unique features to talk about, but overall you can get a soft feel with these balls. Straighter drives are great.
The hot pink variation is awesome for visibility. So, lost ball counts are minimized.
If you are a supporter of breast cancer research, then go on to buy some of these balls. The brand is focused on spending for breast cancer research from the sales of this series. The iconic pink ribbon you see on the balls represents the cause.
Things we liked
Easily visible in pink or hot pink variations.
Can be helpful for shots around the greens.
Can cover moderate distance upon hit.
Buying these balls can aid breast cancer research.
Affordable
Impressively light
One year warranty
Soft feel
Each purchase adds contribution to Breast Cancer Research Foundation
Easy to find
Quite suitable for a beginner
Things that can be improved
Not suitable for professional golfers.
Some golfers found it lost in water
Not much durable
Final verdict: For golfers who are not highly focused on winning PGA tours, these balls can help you gain fun from the game. You can play and mimic good beginner level shots with these balls. Also provides good value for money.
10. Wilson- Ladies Tour Velocity Golf Balls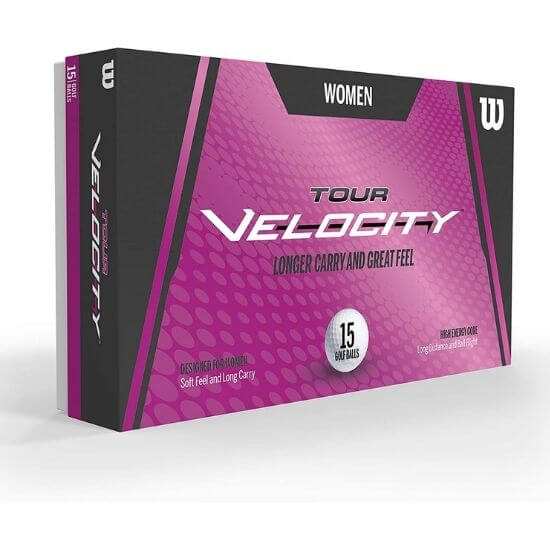 These two piece balls are customized to women golfers' needs. So, you don't have to worry about your swing speed. The inner core is energetic as such the ball will gain the speed on its own.
The unique dimple pattern it has helps in lowering air resistance and hence your balls will fly fast towards the target. These unique dimples also reduce spin for longer hits.
You need to get the feel as well along with distance hits. These balls have all in it. The softer core provides this feel when you play.
Shot accuracy is higher with these balls. What more do you want in golf balls?
Things we liked
Feels soft on the hit and are great for learning.
Slow swingers will find these balls effective.
Covers a good amount of distance.
Advanced two-piece design
Offers longer distance with incredible feel
Lots of speed
Relatively cheap
Low-mid compression core
Improves women's swing speed
Great spin
Things that can be improved
Less control
A bit on the dense side
Only suitable for beginners
Cannot offer best spin on shorter wedges & irons
Seems to scuff very easily
Final verdict: For everyday golfers, these balls are highly suitable. Although the features are not extraordinary but if you are concerned about dimples and believe that dimple design can affect your game, then these are best for you.
Buying Guide for Women's Golf Ball
For women buying golf balls can be hectic. This is because the game focuses mostly on men. So, all the equipment has been curated based on the style of men. But as we have covered there are good brands who are serving this segment of the game.
So, dear ladies what should you look for when you go on to buy golf balls? Let's find out.
Compression rate
Different golfers have a different style of play. And hence manufacturers have developed balls that have a specific compression rate and features.
So for ladies out there, you must know that balls that are tailor-made for you have lower compression rate.
You can get a very good idea if you compare shots made with typical balls for men and balls made for you. Your ball will be a lot softer, and it will require less force to gain distance. But balls for men tend to be a lot harder and thus requiring more force to gain distance.
So, when you go on to buy golf balls look for balls that are soft and have compression rate between 45-70. These balls will be easier to hit and take your game to the next level.
Dimple
Next up is the dimples on the golf balls. These dimples might not have a high impact on men's golf, but for you these dimples are significant.
And why is it significant?
Because the design and the number of dimples on a golf ball can impact the distance your balls travel.
Look for high trajectory dimples in balls and also the number of dimples. This should help you to hit good shots that travel the distance even with slower club swing.
Design
Golf balls made for women are quite different than those that are made for men. They come in various colors and outer coverings. So, the ball becomes more visible and attractive to play.
Spin
Unless you have developed speed in your golf swing, it's better to look for balls that have low spin. Because high spin balls are hard to control and especially with low club speed, backspin is hard to generate.
So, low spin balls provide better control over your shots and will be easier to hit straights.
Ball construction
You should know that most women golf balls are two-piece balls. This means that these balls have only two layers and the outer layer is made of surlyn. The two piece balls are easier to hit and often goes the distance.
But they have their cons too. It's not so great in the greens. But overall for beginner women golfers, two piece golf balls should be the first choice to buy.
Important Factors for Women Golfers
Swing speed
Most of you out there have a 60-70 mph swing speed. So, this factor comes into play when you are playing golf. It's not something to be shy of. Because golf clubs for men are heavier and often help in gaining higher swing speed.
Better control
As a woman golfer, you should look for more control and landing the ball in the right area.
So, when you go for the 50-yard hit, distance is not what you want, you want more control. Surlyn covered women golf balls can be suitable for better control.
Ball flight
Gaining good ball flight is a major problem for most women. Because of the low swing speed, most women complain they can't hit the ball high and far. So, Gaining good ball flight should be in your consideration as well.
The feel
When you hit, you should get a good feel. Whether you like it hard or soft will depend on your preference. So, when if you think that they feel is important to you, buy the balls accordingly.
FAQ About Women's Golf Ball
Do women's golf balls go further?
Yes, women's golf balls definitely go further if her swing speed is good enough. If your swing speed is relatively low, then you should practice more those balls that can maximize the distance.
What is the difference between a men's and women's golf ball?
The major difference between a men's ball and a women's ball is the swing speed and the compression rate. Women have a lower swing speed than men. Also, their compression rate is 45 while the men's is 70.
What golf ball should a woman use?
A woman should use high performance golf balls whether they are softer or hard balls. And for this, the balls of Callaway, Nike and Srixon can be an ideal choice for ladies.
Do I need different balls or I can use balls made for men?
This is a specific choice you should make. Assuming that you have a lower swing speed than average men, it's best to look for balls that are specifically made for you. These balls will be quite different in shape, size, and color. So your game results will also be different.
How can colored golf balls help me?
You must have seen that women's golf balls come in various colors. It's best to use a color other than green. Because it will be easier to identify yours from other men in the golf course.
Also, when you hit and the ball lands where it's hard to find, these colored golf balls can come handy. You will have to waste less time finding them.
I have a low swing speed. Is it common or am I the only one?
No. There is more like you. In fact, most women face problems gaining distance with men's balls due to their swing speed.
The solution is chosen balls and clubs that are tailored made for you.
What compression rate should I look for?
It's best to find balls that have a compression rate of 45-70. You can feel the softness in these ladies golf balls when you hit. Great for gaining distance.
Should I use hard balls or softer balls?
You can use any type of balls you like so long you know your strengths and weaknesses.
Use hard balls if you have a high swing speed. But for low swing speed, it's best to stick with softer balls.
Can I use white balls instead of the colored ones?
Yes, you can use white balls that are tailored to you. But most golf balls that come in white are made for men. So, if the features of a white ball meet your preference, you can always use it.
I love the features of a white ball but want them in colored versions. What can I do?
Yes, there are brands who make balls that can cater to women golfers. But the sad part is these come in white color.
You can reach golf.com and they will provide you personalized golf balls. So you find a white golf ball that you need in red. They can do that easily.
Conclusion
We have talked about these 10 best ladies golf balls above. We hope one or another might be in your consideration after getting introduced with all the best balls. We provided necessary information to help you take your decision as a woman while choosing the right golf balls for ladies. We also included the positive sides as well as negative sides of each ball. Now it's on you to consider which ball will perfectly fit you and which won't. Choose the suitable one and start playing. Don't forget to let us know your opinions.