The golf ball is the only equipment you need for every shot, making it essential to your golfing performance. To improve your game, you must start with a high-quality ball that works with your swing and stroke.
If you've got the best golf ball, every shot will give you a fascinating experience. All major golf ball makers have produced new versions of their premium models and a plethora of newbies and next-generation models for the new season.
And choosing the ideal golf ball brand is challenging and time-consuming due to the abundance of available options. Fortunately, you've come to the correct place. This article will look at the 7 best golf ball brands and see if they fit your swing.
Factors To Consider In Golf Ball Brands
Before we get into suggestions for the best golf ball brands, it is best to determine what factors to consider that will help you choose the best golf ball for you.
Distance
Golf ball brands create balls to maximize driving distance off the tee. Consider a ball brand explicitly designed for distance if you want to add distance to your game.
Spin
Spin is essential for golfers, as it can affect the ball's trajectory and ability to stop on the green. Golf balls with low spin are generally better for distance, while balls with higher spin are better for control.
Construction
Today's golf balls can be two or three pieces and have multiple layers. Three-piece balls are popular among golfers because they allow for additional backspin. So choose the golf ball brands that provide your specific needs.
Brand reputation
Some golf ball brands have a reputation for producing high-quality balls that perform well on the course. A well-established brand guarantees you'll get a high-quality, long-lasting product because they know what they're doing.
You can make an informed decision by researching the popularity of several brands.
Compression
Golfers measure the hardness and tightness of a golf ball's core by its compression, which is a number on a scale from 1 to 200. Lower numbers indicate a softer and easier compressed core, while higher numbers indicate a harder and firmer one. For example, 80 compression is typically the lowest compression rating found in golf balls, while 100 compressions is considered the average compression rating.
Covers
The cover of a golf ball can significantly affect how well it plays. Golf balls often have a cover made of Surlyn or urethane. Surlyn golf balls are highly durable and resilient against scratches. The flight of these balls is low, but they can have greater spin.
But the urethane golf ball cover is much softer and gives its users a better feel and response. It's a multilayer ball designed for pros, but Surlyn is more durable. Nevertheless, these golf balls provide more spin and control in short-distance games and fly high in the air when struck by a club.
Best 7 Golf Ball Brands
Callaway

In the 1980s, Callaway got its start making golf equipment. For many years, Callaway has been producing premium golf clubs and accessories. However, the first golf ball came out in 2000. They've since perfected their techniques and released new golf balls like the Chrome Soft, Chrome Soft X, and Supersoft.
Callaway golf balls result from extensive creativity and cutting-edge technology. The balls' high-energy, low-density cores allow optimal HEX aerodynamics and maximum flight distance. In addition, the balls have a trionomer cover and high-spinning wedges that help you stop the ball quickly.
Pros
Wide variety of balls for the average golfer.
You can choose from different colors.
They have options for every price range.
Cons
Low handicappers with rapid swings have few options.
Best Callaway Golf Ball
Chrome Soft
If you are a beginner or a high handicapper with a slow swing, the Callaway Chrome Soft golf ball is your best bet. With a well-known 4-piece construction, Chrome Soft has been around since 2015.
The ball is medium in compression at 70, giving it a soft feel. It is designed to perform best from tee to green, which means long distance off the tee, high launch with irons, and plenty of spin control around the greens.
Callaway's Precision Technology is the most notable innovation in the new Chrome Soft. This allows ultra-precise design fabrication down to 1/1000 of an inch, improving ball speed, dispersions, and performance.
Callaway Supersoft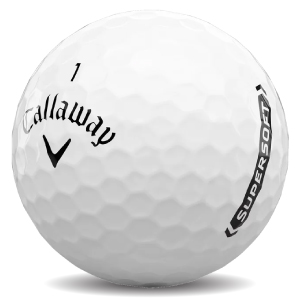 When Callaway introduced its SuperSoft golf balls in 2014, it was a game changer. It is designed for the average golfer with a low compression rating of 38 and promotes explosive speed, leading to a high launch and low spin, making it a good choice for low to medium swing speeds.
It increases carry distance, benefiting long-game performance for golfers with higher handicaps.
Warbird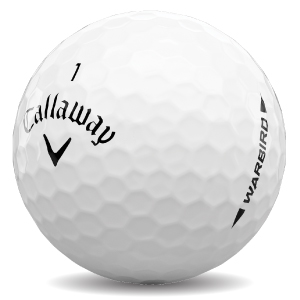 The company released the ball in the early 2000s and marketed it as an affordable distance ball for golfers of average to above-average skill who hit the ball less far than the average player. It was created as a two-piece ball to increase distance and durability.
Because of its low spin and high launch velocity off the driver, this ball proved to be the longest one from the tee. So anyone searching for a long-lasting, budget-friendly golf ball that won't break the bank might choose the Warbird.
Bottom Line
Callaway produces golf balls for players of all skill levels, from the slowest 30-handicappers to the fastest tour pros. In addition, they offer reasonable choices to ease your budget.
Titleist

In 1930, Phil Young founded Titleist, which has since gained recognition as a manufacturer of premium high-performance golf balls. The golf balls' high launch speed allows them to travel further in less time. In addition, each ball has a steady and exact flight path because the core is aligned correctly.
Almost every golfer wants the greatest Titleist ball to keep up with their skills. These cutting edge facilities will provide you with tour-level play and help you vastly increase your skill and score.
Pros
They are known for their versatility because they comprise high-quality rubber and plastic.
Extraordinary levels of quality control
Experience making golf balls for 90 years
Cons
They don't have anything available for mid- and high-handicappers.
Best Titleist Ball Series
Titleist ProV1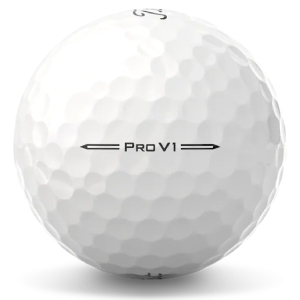 When Titleist released the ProV1 golf ball in 2000, it revolutionized the sport. Since its release, golfers have considered Titleist ProV1 as the number 1 ball. The Pro V1 golf ball was created for players with medium to fast swing speeds prioritizing long drives, low spin, and a plush feel on the greens.
With a compression rating of 87-90 is the most-played ball on the Tour. And it features a softer feel and a more deep trajectory.
And the most visible change is the new cover for the 2.0 ZG Process Core, designed to improve long-range performance. After extensive testing and trials, dimples were increased from 352 to 388 to provide maximum range and flight stability.
Titleist ProV1x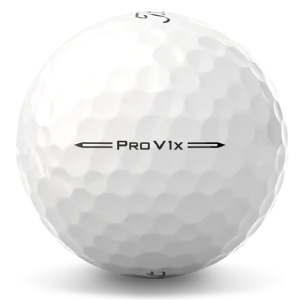 Everyone, from beginners to pros, can benefit from this ball's strong launch and low spin. Designers created the ProV1x for maximum long-range performance, including the industry's lowest spin on long shots and improved flight consistency.
Its compression rating of 97-100 features a thin, sensitive monomeric case layer that boosts speed and delivers excellent spin control.
Golfers with faster swing speeds who prioritize spin and control on the greens can choose the Pro V1x. The ZG Dual Core in these Titleist golf balls allows for a great carry on every swing.
Bottom Line
Titleist is still going strong after all these years because of their experience making golf balls; many of the game's greatest pros trust their balls. Because they produce low long-game spin while increasing ball speed and greenside control, they are chosen by the pros and ranked first on the top golf ball brands list.
TaylorMade

In 1979, when it released the first metal wood golf club, TaylorMade became a leading company. Since then, they have been producing elite-level golf clubs and equipment.
TaylorMade balls are the only ones of their sort, and they always come in the classic white color with the company's name printed on the side. Engineers designed the ball to maximize performance with a low-drag, basic pattern, and a fast-react core. Therefore, college and professional sporting events widely use the balls.
Pros
They provide golf balls for all skill levels.
The material has a fluid feel because of the material's unique iothane cover design, which melts on the clubface during impact.
Energy storage and release efficiency
Cons
It is mainly for faster-swinging golfers.
Best TaylorMade Ball Series
TP5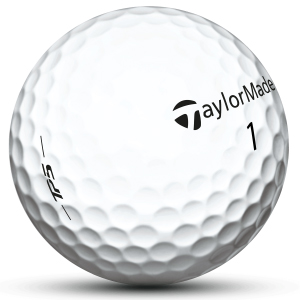 To maximize the potential of your swing, you need efficient passage of energy from your shaft to the club head and the ball. If you have a fast swing, you should try the Taylormade TP5 Golf Balls. The 5 layer construction efficiently transfers energy, keeping your swing's force intact. In addition, the TP5 balls' softer cover and mid-compression make them more flexible.
Its compression rating stays 85, so the TP5 best suits moderate to fast swing speeds. However, the TP5 line designs its softest ball to give you a lot of spin around the greens.
Distance+ Golf Ball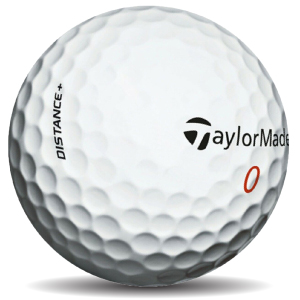 Golfers widely recognize TaylorMade Distance+ golf balls as among the best.
It has a moderate compression rating of 77, making it a good choice for a wide variety of players, and it's soft REACT Speed Core is designed for easy compression for those with slower swing rates. As a result, it gives comparable performance to high-end balls at a considerably lesser price.
Bottom Line
TaylorMade caters to a wide range of golfers by selling a broad selection of the balls that have a wide range of technology and design preferences. Their finest goods provide optimal outcomes from tee to green, while their entry-level golf balls make the game more accessible to the average player.
Bridgestone

Bridgestone is the oldest of the golf ball manufacturers on this list. It was in 1932 when Phil Young, founder of Titleist, opened the company to create the best golf ball possible. The company initially produced branded golf balls in 1935. Since its start, the company has been producing high-quality items using innovation and cutting-edge technology.
The Bridgestone golf ball allows quick movement due to its gradational compression core, and its improved aerodynamics helps to keep the ball on course. In addition, the dual-dimple design reduces drag and gives you the most control over spin. For more grip, the balls have a SlipRes urethane cover technology.
Pros
They make exquisite golf balls from tee to green with maximum distance and accuracy.
It lasts a long time.
They make golf balls for various skill levels.
Cons
They charge more than some of their rivals for their entry-level golf balls.
Best Bridgestone Ball Series
Tour B X Golf Balls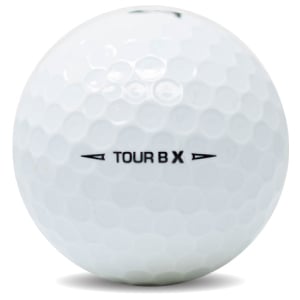 Bridgestone's TOUR B X golf ball has the most compression of any tour ball. The Reactiv Uretante Cover used in the construction of the Tour B X provides superior performance to that of a standard urethane cover.
This premium ball was for players with 105 miles per hour swing speeds. Because of how they spin, they are best for professional players.
The ball's compression of 98 is comparable to that of other high-end "X" balls and makes it reasonably firm.
E6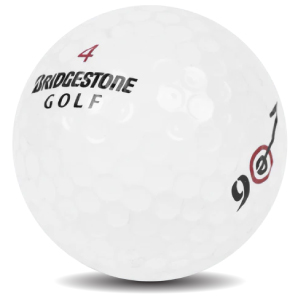 If you're a golfer looking for maximum distance without breaking the bank, go no further than the Bridgestone e6. With its low-compression core and ultra-supple exterior, the Bridgestone e6 is an excellent choice for anyone seeking a smooth journey. In addition, they're a good option for golfers with medium to high handicaps who don't want to shell out for a premium ball.
Nothing beats the feel and control of a thin Surlyn with seamless cover technology for a greenside spin. In addition, there are 330 dimples on each brand-new E6 ball, which helps to keep the ball flying in the same straight line no matter how hard you hit it.
Bottom Line
Bridgestone makes it simple to select the right golf ball for your swing. Balls available will work for any player and any stage of golfing ability. Their golf balls are high-quality and suitable for players of all abilities.
Srixon

One of the longest-running and most successful golf brands is one you have yet to hear of. The Japanese company began making golf balls in 1996.
Regarding Srixon golf balls, the Soft Feel has always been the favorite among amateurs because of its high compression and fast-rolling speed.
The golf balls have a great feel and are long-lasting. In addition, its ionomer cover ensures outstanding durability and a longer driver's life. And these golf balls are often utilized in tournaments and come with high praise from pros.
Pros
The golf balls are great for the game because of their soft feel.
A wide range of options for the average golfer
The ionomer coating on the case is highly durable.
It provides excellent cutting resistance and longer drives.
Cons
Only one range matches faster-swinging golfers.
It covers a short distance.
Best Srixon Ball Series
Z Star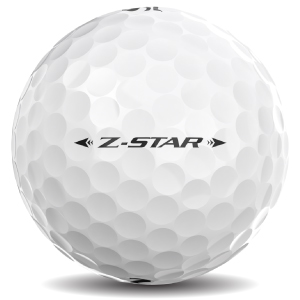 The Srixon Z-Star golf ball, is one of the most popular high-end options from the company. The ball has three layers, including a cover made of urethane.
Additionally, the Z-Star's cover protects the Slide-Ring (SeRM) macromolecule content.
This makes the ball more resistant to damage from impact vibrations and allows it to more easily return to its normal shape after being hit. The Z-Star golf ball compression rating is 90 making it more suitable for low handicap golfers while still being playable by average golfers.
Q Star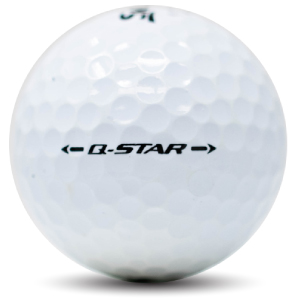 The Q-Star golf ball's design targets players with average swing speeds and handicaps. Because of its two-layer construction and lower compression rating compared to the Z-Star, the basic Q-Star is best suited for moderately slower swing speeds.
With a compression rating of 72, the Q-Star is ideal for mid-handicap players with swing speeds of 75 to 95 MPH.
Bottom Line
Srixon Golf Ball's extraordinary craftsmanship delivers an unbelievable level of performance. The 324-speed dimple configuration, which is superior from an aerodynamic point of view, provides an accurate and penetrating trajectory. In addition to this, the ball's ionomer covering makes it exceptionally long-lasting.
Wilson

Since 1914, Wilson has operated as a sporting goods seller in the Chicago metro area. In 1954, Wilson Staff invented the golf ball that carries their name. Power and speed were two of the selling points of the ball. And the ball quickly gained a solid following and became a fan favorite.
Wilson could sign professional tour players due to the brand's claim that it produced forty percent more velocity than its rivals.
These golf balls have a solid titanium core that allows for a mighty swing and long distance. In addition, the surlyn coating on the ball makes it suitable for players of all skill levels, from novices to seasoned pros. With a powerful core and a durable, cut-proof Ionomer cover, Wilson golf balls provide unmatched driving distance.
Pros
Balls that are within one's budget
The high handicappers can benefit from these balls.
Making professional golf balls for the past 68 years
Golf balls for all skill levels
Cons
Few options for lower handicappers.
Best Wilson Ball Series
Wilson Staff Model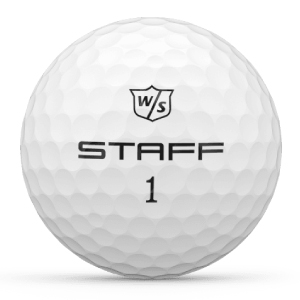 This model is Wilson's top-tier offering, intended for seasoned pros and skilled amateurs. It is an excellent ball for speedy swings because of its high compression rating and 4-piece construction.
It is a wonderful choice for golfers who regularly play in windy circumstances thanks to its smooth 362-dimple design, which helps produce a controllable trajectory.
Wilson Duo Soft+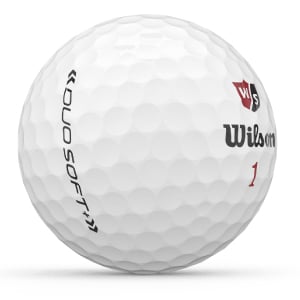 With a compression rating of 35, this Wilson ball is among the best for average players.
The distance capabilities of two-piece balls are often superior to those of one-piece balls because they create lower spin rates on wide shots.
Moreover, the Duo Soft+'s distance component is a performance attribute, as Wilson develop its VelocitiCOR technology, which offers additional speed at impact. It also surpasses expectations in the distance and feels greenside control.
Bottom Line
There is no denying Wilson's commitment to producing long-distance, forgiving golf balls for the average golfer, and they have produced a fair number of them. And they're promoting brand-new Tour-caliber balls, which puts them in direct competition with Titleist and TaylorMade.
Mizuno

Mizuno is a sporting equipment manufacturer based in Osaka, Japan. The business first opened its doors in 1906, but they started selling golf balls from 2003. They designed golf balls to maximize driving distance. The mid-trajectory is usually 360 dimples, but this varies from ball to ball.
Due to the optimal size of golf balls, golfers use these in various national and international competitions. The golf balls have a high-repellency butadiene rubber core and a repellent ionomer cover to move quickly and steadily. In addition, the dimple pattern on these soft balls helps minimize drag and maximize spin.
Pros
Low compression ratio
Cover made of micro-dimpled ionomer.
Strong and long-lasting
Cons
Not suitable for golfers with a slower swing speed.
Best Mizuno Ball Series
Mizuno RB 566V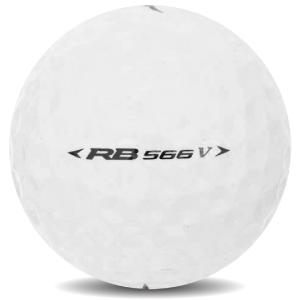 The Mizuno RB 566V, came out in 2020 but is still highly recommended for 2023 thanks to its low aerodynamic drag and high spin rate. It is a high-energy compression ball with a soft compression. As a result, this low-compression ball travels longer and with greater accuracy due to the decreased drag caused by the absence of air.
The dimple pattern of this ball is specifically made to provide the ball a higher and longer trajectory. This ball works well for moderate to low swing speeds in hot and dry conditions and all speeds in cold and wet weather.
Mizuno RB Tour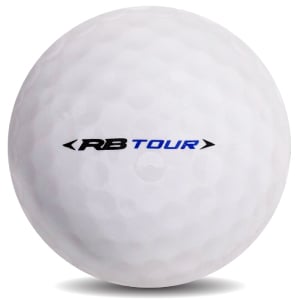 Regarding golf balls, the Mizuno RB Tour has a unique selling point. Golfers who play in windy situations or who like to lower their flights will appreciate the ball's flatter and more stable flight, while golfers with mid- and slower-speed swings may find the ball too challenging to control.
A four-piece ball with a compression rating of 91, the RB Tour is an excellent option for your game. In addition, the 360 Dimples on the cover decrease drag, leading to a flatter, deeper flight without sacrificing distance.
Bottom Line
Mizuno is a well-known brand when it comes to sporting goods, and their golf balls are in a league of their own when it in terms of competition. Because there are 512 different dimple patterns on the ball, it is able to travel further and has improved aerodynamics.
Let's Wrap It Up
Golfers have a wide variety of options when it comes to selecting a golf ball brand. This article describes the top golf ball brands so that you can play with balls that are a good fit for your swing and playing style, leading to better overall performance.
Whether you're a professional golfer or a recreational player, it's important to do your research and try out different brands and models to find the perfect ball for you.
With the right ball, you'll be able to improve your game and enjoy the beautiful sport of golf even more. So, go out there and find the best ball for your game and have a great time on the greens!