Cold weather isn't just a challenge for golfers because of the need for an extra sweater. It can really throw off the performance of your golf ball. With the chill in the air, your trusty ball doesn't travel as far, and its usual predictable flight becomes more like a wild guess. That's because cold air is denser, changing the dynamics of lift and drag. Add a less responsive ball in colder temperatures, which can be frustrating. But don't pack up your clubs just yet!
Meet the Callaway Supersoft. It's not just another golf ball—it's your cold-weather ally. With a distinctive low compression of 40, it's designed to deliver top speed even when Jack Frost is nipping at your nose. Its special hexagonal dimple pattern keeps your shots steady, no matter what winter throws at you. Combine that with its resilient hybrid cover and a Paraloid Impact Modifier, and you've got a ball that's cold-resistant and perfect for spin control. And its bright colors come in handy for those darker winter days.
So, are you ready to conquer the golf course even when the temperature drops? Stick with us as we explore the best cold-weather golf balls, ensuring you're on top of your game.
Comparison of Cold Weather Golf Balls
| Product Name | Best For | Compression | Cover | Construction | Price |
| --- | --- | --- | --- | --- | --- |
| Callaway Supersoft | Players with average swing speeds in colder conditions | 40 | Hybrid cover with Paraloid Impact Modifier | 2-piece | Check Latest Price |
| TaylorMade Noodle Long & Soft | Players whose swing speed is between 80 and 90 mph | 34 | Sturdy Iothane cover | 2-piece | Check Latest Price |
| Bridgestone E6 | Players with low to medium swing speeds in cold/rainy conditions | 50 | Thin ionomer cover | 3-piece | Check Latest Price |
| Srixon Soft Feel | Players in cold weather or on a budget | 60 | Tough abalone-elastomer cover | 2-piece | Check Latest Price |
| Bridgestone e12 Contact | Players in rainy or winter conditions | 61 | Thinner ionomer coat | 3-piece | Check Latest Price |
| Wilson Staff Fifty Elite | Players seeking performance in cold weather without straining budget | 50 | Ionomer | Ionomer | Check Latest Price |
| Titleist DT TruSoft | Players seeking performance in cold temperatures | 60 | Proprietary cast thermoset urethane elastic cover | 3-piece | Check Latest Price |
| Titleist Tour Response | Players with moderate to fast swing speeds in cold conditions | 70 | Soft yet durable cast urethane | 3-piece | Check Latest Price |
| Titleist Pro V1 | High-swing-speed golfers in cold climates | 87 | Proprietary cast thermoset urethane elastic cover | 3-piece | Check Latest Price |
| Vice Pro Plus | Players seeking a low-flight trajectory in windy conditions | 95 | Thin cast urethane cover | 4-piece | Check Latest Price |
Top 10 Best Cold Weather Golf Balls Review
1. Callaway Supersoft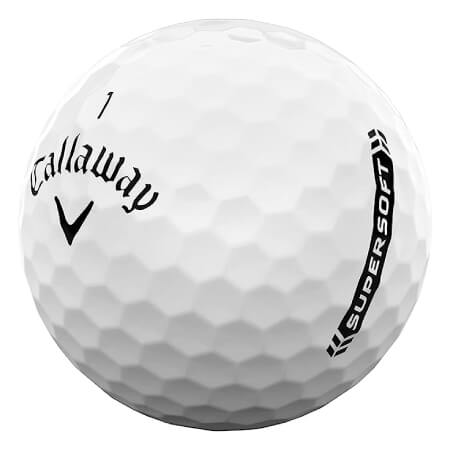 Callaway's Supersoft ball with low compression is one of the favorite golf balls because of its fast ball speed, quick launch, and low long-game spin. It is perfect for players with average swing speeds who seek the softest golf ball in colder conditions.
It has a low compression of 40, which makes it easy for golfers to compress it, providing maximum speed even on the coldest winter days.
The hexagonal dimple design is one of the standout features of Supersoft. This dimple pattern on the ball makes it fly better through the air, so your shots stay on target even when the weather isn't great.
The Callaway Supersoft ball stands out because it has a hybrid cover with a Paraloid Impact Modifier that makes it more durable and resistant to cold weather; when this unique material is combined with a larger, softer core, it results in increased speed and optimal spin control, enabling players to enhance their overall performance in cold weather conditions.
Due to its high-quality cover, you won't have to worry about scuffs or damage if you use this ball often. These golf balls come in many bright colors, making it easy to find them even when dark, foggy, and cold.
Pros
Impressive distance off the tee
It offers a remarkable soft feel to every club
Easy to see on golf courses
Gives an exceptionally soft feel around the green
Especially suitable for players with slow swing speeds
Cons
Not recommended for higher swing speeds
Final Verdict
The Callaway Supersoft golf balls are the best choice for players who want faster ball speed, less spin on long shots, and the best spin control around the greens when it's cold. With these high-quality golf balls made for the difficulties of winter golf, you can improve your game and play better than ever before.
2. TaylorMade Noodle Long & Soft Golf Balls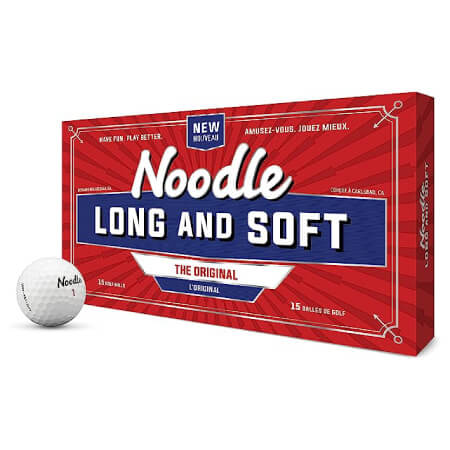 The Noodle Long and Soft golf ball is an excellent choice to work well in cold weather. No matter the weather, it helps players hit the ball farther and straighter.
Because they are made of two pieces and have a sturdy Iothane cover, these balls feel soft and last long.
The Impact Propulsion Core in the Noodle Long and Soft golf balls releases energy with greater force and generates higher ball speeds. With a compression rating of 34 and this core, the ball feels very soft, making it perfect for players whose swing speed is between 80 and 90 miles per hour. These golf balls travel a long way so that players can hit longer shots right off the tee.
Noodle golf balls are more aerodynamic thanks to their proprietary 342-dimple design, resulting in a straighter ball flight and increased distance. The low spin rate off the tee helps you get the most distance and keep control.
The Noodle Long and Soft golf balls also offer a good balance of spin and feel around the green, making them versatile for various shots and approaches.
Even though the Noodle golf balls might not play as well as expensive golf balls, they feel and spin about the same as other value golf balls. The ball is long-lasting thanks to its anti-sheer cover and cross-linked materials, which help it stay in good shape through multiple rounds of play.
Pros
The cover is soft and sturdy.
Increased load capacity through central impact propulsion
Superior feel and spin on or around the greens.
An innovative dimple pattern that aids in a more straight trajectory
Affordable
Cons
Not a good fit for the fast-swing golfers
Final Verdict
If you are on a tight budget, you will appreciate the Noodle Long and Soft golf balls because of their affordable price. These golf balls are very cheap and come in packs of 15 or 24, making it easy for players to replace lost or worn-out balls without breaking the bank.
3. Bridgestone E6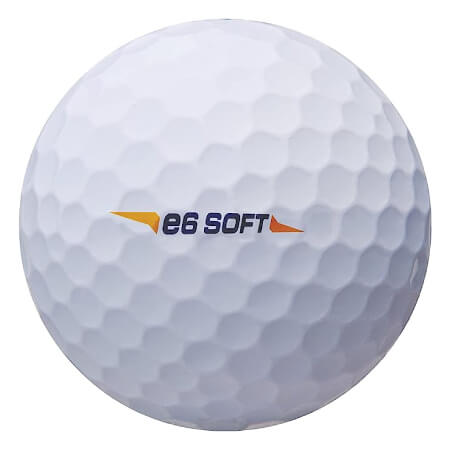 The new Bridgestone e6 golf ball is the best choice for cold weather. No other multilayer golf ball is as soft as this one. And it comes in two colors, has a low-compression core, and meets most average players' distance and feel needs.
With its low compression core of 50 and excellent thin ionomer cover, the Bridgestone e6 excels in delivering exceptional distance by efficiently absorbing and transferring force into the core. It's an excellent choice for players with low to medium swing speeds because it gives them the best control, even when it's raining or snowing.
And Bridgestone's innovative Dual Dimple technology offers enhanced surface coverage for improved ball flight and increased distance, effortlessly cutting through the dense cold air.
Even though the E6 goes as far as possible, it may not have enough spin around the greens, making it harder to control in the short game. But its powerful launch, extended carry, and steep angle of descent enhance shot-stopping ability, particularly on narrow greens.
With all these perks, you wouldn't want to miss out on winter golfing the next time it comes around.
Pros
Low spin for better precision and control
Steep descent angle for quick stopping force on approach shots
Strong material which lasts a long time
Good length from the tee
High visibility allows for easy tracking.
Cons
Low ball spin makes green-side spin difficult.
Final Verdict
The Bridgestone e6 golf balls work well, so pros like Tiger Woods use them. They are great for the winter because they have a great feel, good distance, and low driver spin. Plus, they are a good choice because they are not too expensive. This will help if you drop your expensive ball in the lake because you won't lose as much money.
4. Srixon Soft Feel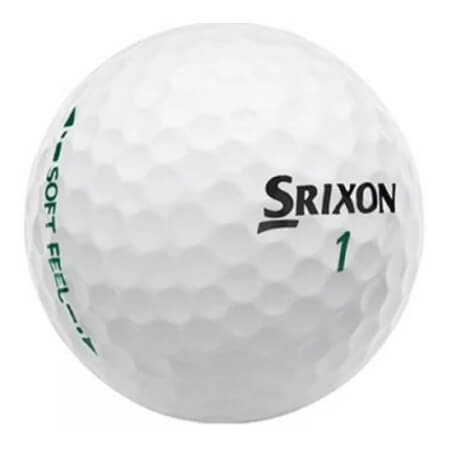 Srixon soft feel is the best choice for players who play in cold weather or are on a tight budget.
It has two layers and a low compression rate of 60; these balls make golfing in cold weather a great experience.
The Soft Feel has been designed with aerodynamic "Speed Dimples" to increase the ball's velocity when hit. With the added velocity, your ball will fly down the fairway and toward the green much more quickly.
With 338 dimples and a "Hit Straight" alignment aid, the tough abalone-elastomer cover helps the ball travel more straightly by reducing air resistance. Srixon Soft Feel balls are responsive and forgiving, making it easier to keep hooks and slices under control.
The ultra-thin ionomer coat improves touch, velocity, and green-side spin. While ionomer covers are typically associated with long drives, the material on the Soft Feel has been modified to improve green-side spin and short-game control.
And this ball stands out for its brilliant yellow color and innovative side stamp design. They make aligning and tracking putts easier for players.
Pros
The core creates the ideal balance between great distance and ample softness.
Dimples provide additional yardage on tee strokes.
Generates a great deal of spin for putts and chip strokes
Helpful for setting alignment
Cons
The thin coat gets easily scuffed.
Final Verdict
The Srixon Soft Feel golf balls are affordable and made in a way that works well for golfers with a medium to high handicap. They have a good mix between distance and spin. Their low compression makes them great for optimal performance in cold weather. This means you can easily take on the challenges of winter golf and play with skills around the greens throughout the colder months.
5. Bridgestone e12 Contact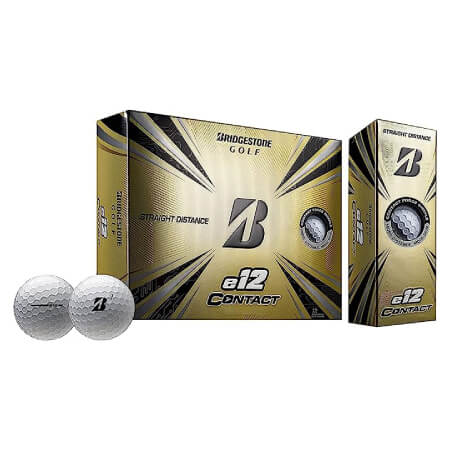 Bridgestone e12 Contact golf balls are ideal for rainy or winter conditions because they prevent slippage and provide more control.
These balls have a three-piece design. And the ionomer coat is improved by making it thinner compared to before. It has the potential to provide more advantages than the standard ball cover.
When you hit the e12, the Gradational Compression Core causes the face of your wood to burst while reducing spin. These parts are crucial for maximizing your long-game yardage to counteract the impacts of the chilly, dense air.
Its mantle's ability to reduce sidespin was critical in helping the hit the ball straight and at a faster clip. While the e12 isn't the highest-spinning ball, it does produce decent drop and stop distances because of its carefully designed dimple pattern.
Bridgestone e12 comes with a Contact Force Dimple, which is the best feature because of the extra spin and friction it provides around the green and the more spring it provides on longer shots. It's not like the previous iteration or any regular ball.
These dimples also helped reduce drag, allowing your ball to move more freely. Even water has a hard time penetrating them.
With color options including green, red, yellow in a matte finish, and white gloss, you can choose the ball that suits your style while enhancing ball flight visibility and easy tracking on the green.
Pros
Allows for straight flight without significant spin
Better transmission of energy
You had better go around the greens.
Extremely strong stuff
Less drag due to aerodynamic design is a significant plus in the winter.
Cons
Not the golf ball with the highest spin rate.
Not appropriate for swings with higher speeds.
Final Verdict
The Bridgestone e12 Contact golf ball is a good choice for cold weather because it increases friction on short game shots and springs off the tee. It is made to reduce spin and speed up the ball, which can help players hit the ball farther in cooler weather.
6. Wilson Staff Fifty Elite Golf Balls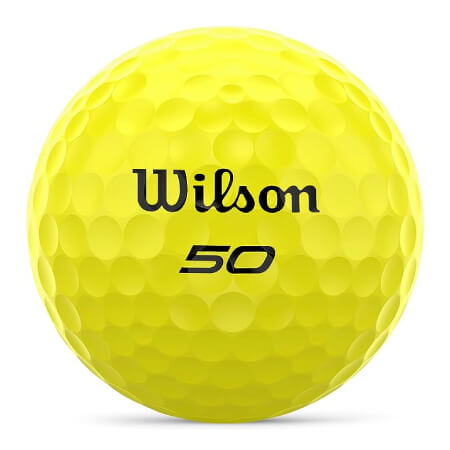 The Wilson Staff golf ball was the first one of its kind and was made to perform well in cold weather. This golf ball does a great job without straining your budget.
Its low compression grade of 50 ensures consistent shape and feel, so even when it's cold; you can still enjoy a round of golf.
The Wilson Staff Fifty Elite has a core that is 22% softer than other balls because it is made of two pieces and has better rubber chemistry. The 302 dimple has narrow, flat-bottomed dimples that help it move through the cold air, which reduces drag and lets it go farther and roll better.
These golf balls come in a plastic slide pack to ensure they don't need to be replaced often. It balances distance and feels thanks to its strong core and responsive cover.
Even though they might not give you the most spin on the greens, they give you enough control to get the ball close to the hole.
The Wilson Staff Fifty Elite golf balls come in orange, pink, yellow, and white to suit different tastes and make them easier to see on the course.
Pros
Useful for golfers who want to gain some extra yardage.
Improves the ball's velocity
Long-lasting
Affordable
Advanced aerodynamic dimple pattern
Enhances carry distance to maximize your shots
Cons
It doesn't have the best spin.
Final Verdict
If you're an average golfer seeking a club that can adapt to different conditions and still provide great value, go no further than the Wilson Staff Fifty Elite. These are fantastic all-around balls with low compression that can keep their form and feel during many rounds of play. Not only do they function admirably, but they're also quite reasonably priced and may be used throughout the year.
7. Titleist DT TruSoft Golf Balls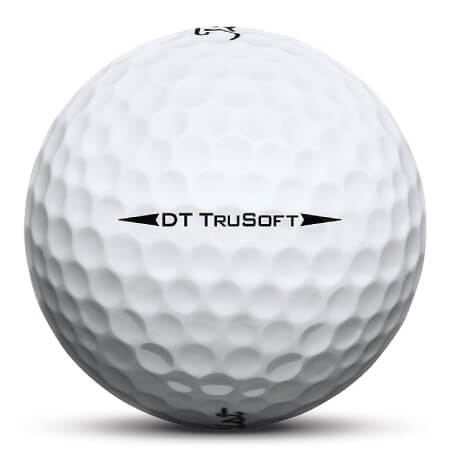 Titleist DT TruSoft Golf Balls were made for colder temps and had several features that make them great for playing in cold weather.
The low compression rate of 60 ensures minimal energy loss upon impact, resulting in longer distances off the tee. It is especially helpful when cold outside because the golf ball loses some bounce.
And it features a 3-layer construction of the TruSoft golf ball, including a Trutouch core, Truflex cover, and Trusoft flight. The Trutouch core, with its low compression and larger size, minimizes spin and maximizes distance.
The Truflex cover, incorporating Titleist's patented technology, delivers a soft feel and enhanced control around the green. The redesigned dimple pattern on the cover enhances aerodynamics, resulting in a better ball flight.
The patented Truflex cover by Titleist is designed to provide an incredibly soft feel on the green while enhancing short-game spin. The aerodynamics of the redesigned dimples contribute to a better flight, even in chilly conditions. The 376 cuboctahedron dimple design ensures consistency even on cold, frosty mornings.
And other than that, it stands out from other clubs because it has a 4CE bonded cover. You have excellent control over the green because of the Titleist technology that created this incredibly thin, strong cover.
Pros
The 4CE trademark grafted cover is flexible; the ultra-thin cover increases short-game control and distance.
The ball does well on the green; it's easy to control and stops quickly.
Dimple shapes aid in increased distance and a more stable, straight trajectory.
The golf ball remains on its intended course even in gusty conditions.
It features the largest core ever, improving reaction and feel for all of your shots, helping you improve even in the worst winter conditions.
Cons
Not as soft as it advertises
Final Verdict
The Titleist DT TruSoft golf ball features modern technology to deliver superior performance in all temperatures. Regarding materials, structure, performance, and consistency, the DT TruSoft is unrivaled. Also, you can select between yellow or white that best suits your preferences.
8. Titleist Tour Response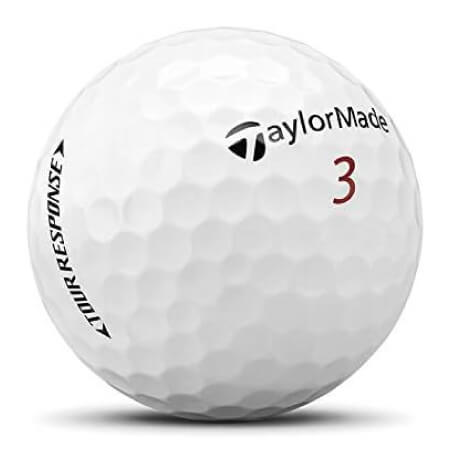 The Tour Response has all the features to maximize your distance from the tee, on approach, and increased amounts of spin around the green.
A compression rating of 70 and a soft yet durable cast urethane cover make them a fantastic alternative for those searching for a cold-weather ball.
There are three parts to the TaylorMade balls. Tour cast urethane makes up the entirety of the first layer. This extremely thin coating has a significant effect on the ball's softness. The Speed Mantle is an additional protective layer that facilitates rapid energy transfer.
The ball can travel in a straight line and at high speeds because of the spring's increased absorption force and speed transmission. The Tour Response's dimples of 322, in conjunction with the design, can facilitate the production of additional backspin, facilitating the ball's easy landing on the target.
Its ultra-low compression core and chemical cross-linking that forms an irreversible connection provide superior resilience. That's because it helps control the swing and boosts ball velocity.
Pros
Designed to withstand harsh environments
Great for green-side spin control and feel.
Extremely durable
High launching to enhance carry distance
Cons
Not ideal for fast-swing speed players
Final Verdict
The TaylorMade Tour Response Golf Ball was created for those looking for a ball that offers both distance and control. This ball is ideal for players with moderate to fast swing speeds due to its three-piece structure, which results in high ball speed off the clubface. Whether you're playing in the cold or the rain, the TaylorMade Tour Response balls will not disappoint.
9. Titleist Pro V1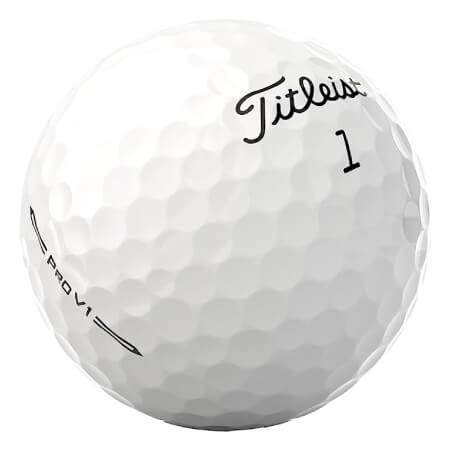 Titleist Pro V1 Golf Balls are an excellent option for high-swing-speed golfers who want a tour-level ball's extraordinary performance and playability, especially in cold climates.
Featuring urethane construction and a proprietary cast thermoset urethane elastic cover, the Pro V1 delivers a soft and responsive feel.
Manufactured with 87 compressions and featuring 352 dimples, these golf balls are engineered for optimal performance and stability in cold weather conditions.
The air is denser in cold conditions, making it more difficult to compress the ball. A harder ball may not compress much, decreasing distance and accuracy. But Pro V1 is designed to deliver a soft feel and low spin on long shots, allowing players to attain better distance and accuracy in cold weather conditions.
Moreover, the ball is designed to give a steady flight and trajectory, which can assist golfers in maintaining control and accuracy in lower conditions.
And these golf balls have the Drop and Stop feature. This feature solves the problem of landing on the green and the ball rolling into the bunker. When the ball arrives on the green, it remains in the same position, allowing for more greenside and high-quality game control.
Pros
Makes long tee shots while staying soft around the greens
Extremely long-lasting compared to previous models
Mid-compression design
Dimples produce considerable spin around the greens.
Cons
Best for players with a medium to low handicap.
A bit expensive
Final Verdict
The Pro V1 golf balls shine in chilly weather, providing exceptional distance coverage and consistent flight. These golf balls are more expensive than standard models because of their superior technology, but their superior performance in cold weather makes them worth every penny.
10. Vice Pro Plus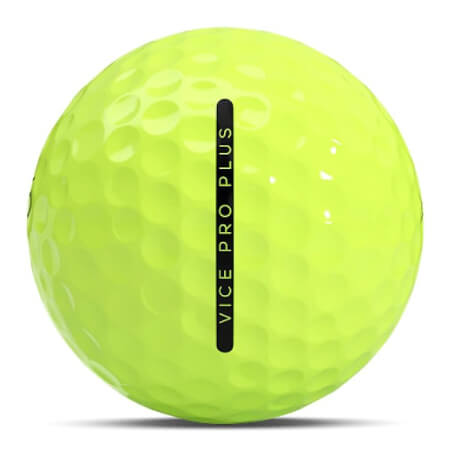 Hitting the ball on a lower trajectory is preferable while playing in windy conditions. The ball can go differently with a higher trajectory as it gets caught up in the air. You can get a long, low shot with Vice Pro Plus balls, designed for a low-flight trajectory.
The Vice Pro Plus golf balls have a thin cast urethane cover and a four-piece design to give a tour-level performance.
The first and second components' dual-case structure increases longevity and reduces launch for longer irons like drivers, giving you greater control and consistency in cold weather.
A big, high-resilient core combined with 336 dimples on each ball can result in a faster-transferring process, improving energy absorption and a more responsive ball flight. And these dimples reduce wind resistance or aerodynamic drag, allowing for a more stable trajectory and higher ball speed.
The lower ball flight trajectory of these golf balls can be useful in cold weather since it helps shots avoid the impacts of wind, decreasing ball loss and allowing for greater target adjustment without causing slices or hooks.
Besides that, the Vice Pro Plus golf balls have a unique design that will get you noticed on the green. The BJ13 coating on the pearl-white cover ensures that your balls keep their original color long.
Apart from that, you don't have concerns about your balls turning yellow after consistent use. The lime-colored alternative is a good pick for individuals who need enhanced visibility. You can spot your ball in any lighting condition because of its fluorescent green color.
Pros
Fantastic feel on the green
Significantly long tee shots
You have excellent shot control when putting and chipping.
High visibility
Cons
The cover can get easily damaged.
Final Verdict
Vice has made a name for itself in the golf ball market, and its Pro Plus model is a great choice for players with faster swings, especially when it's cold. With less spin in the long game, these balls fly far and straight, which is great for when it's cold and windy. Even though they focus on distance, they don't lose feel, control, or consistency around the greens. This makes them great for playing in cold weather to beat tough conditions.
Factors to Consider Before Buying Cold Weather Ball
When choosing the best golf ball for cold weather, it's essential to think about a few things that will significantly affect your game.
Some average players may not realize how vital the ball they use is, but the right ball can make a big difference in how far and accurately their shots go in colder weather.
Here are some essential things to look for in a cold-weather golf ball:
Compression
The wind is usually stronger in colder weather, so choosing a ball that maintains a lower trajectory is essential.
Low-compression balls are best in this way.
High-compression balls are great for hot weather but might not be the best for cold winter weather. As the temperature drops, the core of any golf ball gets harder, which could affect how well it plays. On the other hand, low-compression balls feel softer and are better for cold weather because they can keep their performance and distance even when it's cold.
Feel
A golf ball with a supple feel is easier to control while you play and provides more precision on the greens. On the other hand, a hard golf ball on a chilly day can be challenging to keep under control.
When the temperature drops, golf balls become more difficult to hit. To avoid this, look for golf balls with a softer cover or that are naturally softer. With these balls ' increased feel and responsiveness, you'll have more command of your shots.
In addition, the greens are in different shapes over the winter and summer. During the winter, there is often less grass on the greens, making it more difficult to stop the golf ball fast with short irons and pitch shots. A golf ball with a softer cover and lower compression can produce more spin and give you more control, which is very useful when pinpoint accuracy is crucial. Therefore, soft-cover, low-compression golf balls are preferable in chilly conditions.
Cover
Even though urethane coverings are commonplace on high-end golf balls because of their softness and thinness, which improves control on chips and approach shots, you still need to think about the unique challenges of playing in the cold.
A good option is Surlyn, such as Wilson Staff Fifty Elite, which is widely famous for its durability and long-distance improvements.
But an ionomer cover is ideal for cold weather since it satisfies the need for softness, control, agility, and distance.
Construction
Different companies use different materials and methods to make golf balls. But the key is to choose a construction with many layers. More layers help with compression, spin rates, and a warmer core.
Multiple layers in the ball's shape help keep the right amount of compression, so the ball works well even when cold. It lets more of the ball's energy be passed to the ground when it hits, making it go farther and faster. Also, the layers make it easier to control spin, so you can shape your shots and keep their accuracy even in challenging weather conditions.
Also, a ball with many layers and a warmer core can help compensate for how it performs when it's cold outside. It is essential because it can get stiffer and less easily move when the ball gets cold. When it's cold outside, a ball with many layers and a warmer core in the middle will help you keep your aim and get good bounces.
Dimple
When picking a golf ball for cold weather, the design of the dimples is a big part of how well it will fly and how well it will play overall.
A well-designed dimple pattern can help the ball cut through thicker air and stand up to stronger winds so it doesn't get messed up by swirling gusts. By reducing drag and increasing lift, the right dimple shape makes it possible for the ball to stay lower and straighter off the tee, even when the weather is terrible.
Also, the shape of the dimples affects how the ball stops or spins on the greens, which is especially important when the greens are wet. The correct dimples can give the ball the grip and control to stop quickly on the putting platform.
Price
Golf balls for cold weather come at various prices, just like premium golf balls for summer. Prices can range from around $15 to $60 per dozen. If you want to play your best even when it's cold, you must find a ball with excellent performance, good speed, and a nice flight.
Compared to performance golf balls used in warmer weather, cold-weather golf balls are cheaper because golf balls for beginners with less tension tend to work well in colder weather. These balls give you the best mix of distance and feel, so you can play your best even when it's cold outside.
Color
There isn't much sunshine during the winter, and cloudy skies can make it even harder to see. Finding a white ball can be even harder when the fields are wet or frost.
If you choose a color other than white for your golf ball, you'll be more likely to find it quickly and keep up a steady pace of play.
When this happens, a bright-colored ball can make seeing and finding your ball on the course much easier.
Bottom Line
Choose the right golf ball for cold weather to play your best on the course. Even when cold outside, low-compression cores in golf balls are the best way to transfer energy.
When picking a cold-weather golf ball, it's essential to think about your tastes, how you play, and what the weather calls for.
By looking at the top 10 best golf balls for cold weather and considering what they offer, you can find a ball that fits your needs and helps you play in harsh conditions.
Just because the weather is cooler doesn't mean you can't enjoy a peaceful round of golf. You have to have the right gear. So, ensure you have the right golf ball and maximize your autumn or winter playing.