Ah, the notorious slice—a rightward curve for the right-handed players and its pesky leftward twin for the lefties. If you've ever questioned why those slices plague your game, reasons might range from grip issues to that ill-fated open clubface. While diving into these underlying causes is essential, did you know that the wrong golf ball could exacerbate your slice woes? Let's streamline your journey to a straighter shot by introducing the Best Golf Ball For A Slice.
Enter the Bridgestone e12 Contact. Its claim to fame? Increased surface contact, thanks to its revolutionary FLEXATIV cover technology. This means solid contact, straighter drives, and fewer slices for you. Its low compression and surlyn cover keeps the spin in check, while the 3-piece construction ensures it doesn't slack in the short game department. Impressively, the e12 Contact promises a straighter and longer shot even at slower swing speeds. But if your speed's below 60 mph, take note—it might be a tad challenging.
In the upcoming sections, we'll explore why the e12 Contact could be your ticket to conquering slices. Understanding this ball's prowess is a game-changer for anyone eager to tame that unruly slice. Your straight-shot future awaits!
Comparison of Top Golf Balls for Addressing and Reducing Slices
| Product Name | Best For (Audience) | Compression | Cover | Construction | Price |
| --- | --- | --- | --- | --- | --- |
| Bridgestone e12 Contact | Golfers with under 90 mph swing speeds | 60 | Surlyn | Three-piece | Check Latest Price |
| Callaway Reva | Golfers with swing speed under 60 mph | 30 | Ionomer | Two-piece | Check Latest Price |
| Titleist AVX | Slicers with mid handicap | 77 | Urethane | Three-piece | Check Latest Price |
| TaylorMade Kalea | Female golfers | 60 | Soft Ionomer | Two-piece | Check Latest Price |
| Polara Ultimate Straight Self Correcting balls | Recreational golfers | 85 | Ionomer | Two-piece | Check Latest Price |
| Srixon Q-Star | Golfers with swing speeds around 75 to 100 mph | 72 | Ionomer | Two-piece | Check Latest Price |
| TaylorMade Soft Response | Golfers with under 90 mph swing speeds | 50 | Ionomer | Three-piece | Check Latest Price |
| Titleist Velocity | Golfers with swing speeds under 100 mph | 65 | Fast NaZ+ | Three-piece | Check Latest Price |
| Wilson Duo Soft | Golfers with slower swing speeds | 40 | Ionomer | Two-piece | Check Latest Price |
| Piper Green | Beginners and high handicappers | Low | Surlyn | Two-piece | Check Latest Price |
10 Best Golf Ball For A Slice
A low spinning golf ball helps to fix slices by curving comparatively less. They won't do magic overnight. But they do go straighter and gain better distance than usual. Low spinning balls usually have 2-piece construction, lower compression, and Ionomer or Surlyn cover.
However, the concern is that having too low spin might hamper the short game. Different golfers require slightly different features to fix slices and balance other parts of the game for a better score. So, in this post, we have selected the 10 best golf balls for a slice keeping different needs in mind.
1. Bridgestone e12 Contact (Best overall)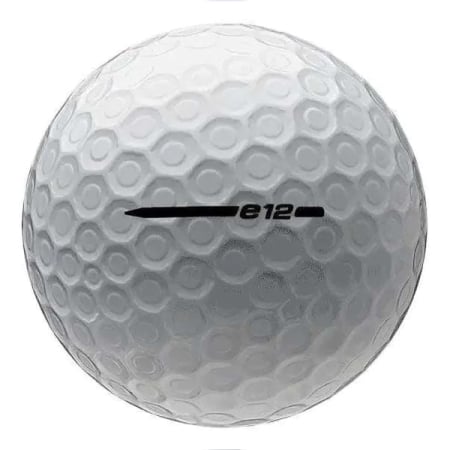 Compression: 60
Cover: Surlyn
Construction: 3 piece
The main attraction of Bridgestone e12 contact is increased surface contact. The FLEXATIV cover technology and contact force dimple design combined made it happen. How does it help? This makes it easier to have solid contact with the golf ball and get straighter drives. The comparatively lower compression and surlyn cover assists in offering low spin off the driver.
What makes it our overall best is the friction it produces with golf wedges. Low-spinning golf balls typically have low compression, making them not a good option for short game. In comparison, these golf balls with the 3-piece construction and specially designed cover technology are a good choice for short-game as well.
When compared, E12 balls are easier to hit straighter, longer, and offer higher greenside spin with slower swing speeds than many other golf balls reviewed in this list. This impressive combination makes Bridgestone e12 our first choice in the list of golf balls for a slice.
Pros
Maintains consistent and straighter ball flight
Offers a soft feel off the putter
Comes with a simple alignment design
Cons
Harder to hit straighter and longer with swing speeds under 60 mph
Final verdict
With its increased forgiveness and lesser sidespin, Bridgestone e12 Contact is great for straighter long-distance shots. It works best for under 90 mph swing speeds. Since golfers who struggle to fix slices mostly have a swing speed under 90 mph, it's suitable for a majority of golfers who want to fix slices.
2. Callaway Reva (Best for under 60 mph swing speed)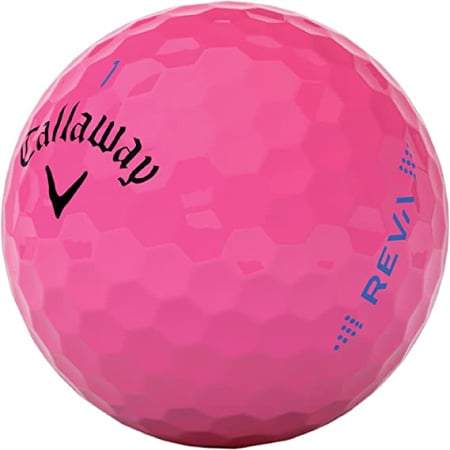 Compression: 30
Cover: Ionomer
Construction: 2 Piece
Lower compression rated golf balls usually spin less. The less the spin is, the less the chances of a slice. Callaway Reva, with a 40-under compression, comes with a pretty low spin that lessens the number of slices.
The cover and construction also assist in offering less sidespin on the drives and long-distance shots. It results in straighter shots, meaning less number of slices. In addition, the bigger size of the ball decreases mishits. It lets you have better contact and control the ball's direction well.
When set side by side, the Callaway Supersoft Max offers the same performance. Just the appearance of these balls is a bit different. They both work best for male or female golfers for swing speed under 60 mph.
Pros
Oversized construction offers enhanced forgiveness
Helps get higher launch
Provides increased ball speed
Cons
Might feel too soft, especially around the green
3. Titleist AVX (Best for slicers with mid handicap)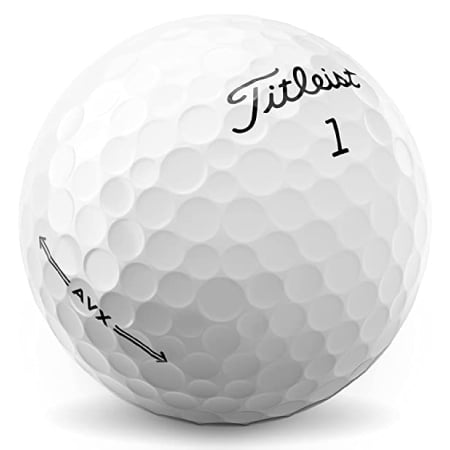 Compression: 77
Cover: Urethane
Construction: 3
Slice is a big concern for many mid handicappers too. It might not be as much as high handicappers. But not enough to not think about it at all. They might be the reason why you still can't break 90 consistently. Titleist AVX ball is one of the best choices for those who already broke 100 and are targeting to break 90 consistently. It lessens the number of slices and missed putts too.
The reformulated core and high-flex casing layer aid in decreasing sidespin, leading to fewer slices. These balls are easier to gain distance even with under 100 mph swing speed. In addition, the urethane cover, 3-piece construction, and overall design help provide better control than Callaway Reva balls.
Titleist AVX is often compared with Titleist Pro V1, the most used golf ball by pros. Although AVX gets better distance with slow swing speeds, Pro V1 still provides more greenside spin.
Pros
Maintains a balance of distance and greenside spin
Has a durable cover
Comes with simple alignment aid
Cons
Not a good choice for low handicappers or above 100 mph swing speed looking for added spin
Final verdict
AVX balls are most suited for a mid handicapper with above 80 mph swing speeds wanting to fix slices and focus on the short game. Titleist AVX lets golfers with mid swing speeds enjoy the similar feel of a tour ball without losing distance. In addition, these balls are easier to make straighter shots with than Titleist Pro V1.
4. TaylorMade Kalea (Best for female golfers)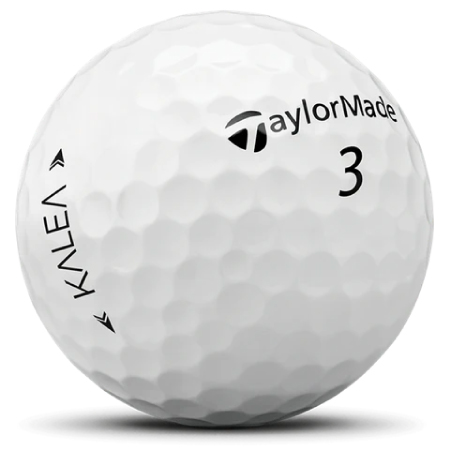 Compression: 60
Cover: Soft Ionomer
Construction: 2 Piece
TaylorMade Kalea is designed to offer maximum distance to women golfers. The lower compression and high-energy REACT core aid in making that happen. Being low compression rated, it provides less spin off the driver as well. This means less backspin and sidespin too, which makes the shot go straighter. The soft ionomer cover and overall construction of these balls contribute to that and make it easier to fix slices.
When compared, both Callaway Reva and TaylorMade Kalea balls are 'women' labeled golf balls. They have low compression, ionomer cover, and 2-piece construction. But Reva balls are easier to compress. Because of comparatively higher compression, Kalea balls are harder to hit farther with a 60 mph swing speed. That results in less distance than Reva balls.
However, this also means that Kalea balls provide increased greenside spin for a better short game. To maintain a balance between distance and spin, these TaylorMade balls are suggested to be used at swing speeds around 65-90 mph.
Pros
One of the most affordable golf balls
Land softly on the green
Help get a higher launch
Cons
Quite tricky to find the purple balls on the fairway
Final verdict
Since most women golfers' swing speed is around 65-90 mph, we chose this as the best golf ball for women golfers to fix a slice and balance short game. But for swing speeds under 60 mph, Callaway Reva balls are better for hitting straighter and longer.
5. Polara Ultimate Straight Self Correcting balls (Best for recreational golfers)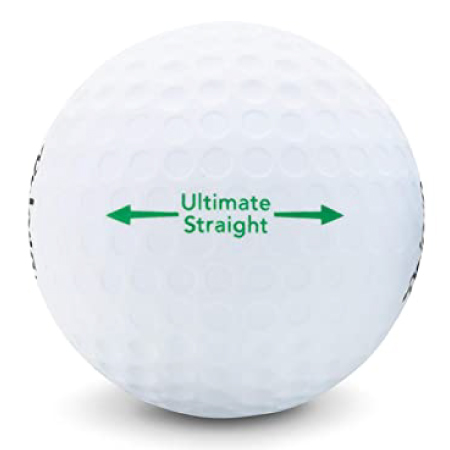 Compression: 85
Cover: Ionomer
Construction: 2 Piece
Many golfers like to enjoy playing golf with family and make the younger ones more interested in golf. But the balls constantly going way out of target line can be quite frustrating and discouraging for the family members. That might make them not want to play golf again. Polara US Self Correcting balls are the solution in this scenario.
The specially designed dimple pattern helps fix the slices by decreasing the lift and drag. It comes with an arrow alignment. You can get more accurate shots by lining it with the fairway or toward your target. The arrow actually helps to line up with the dimple design correctly. They work best with higher-lofted golf drivers. In addition, these balls provide a good amount of greenside spin too.
Know that this ball is to encourage and boost the confidence of slicers. Playing with it for long is not a good idea if you intend to advance skills. These balls don't fly as much as standard golf balls. It's also too pricey for a non-conforming golf ball.
Pros
Assists in correcting ball trajectory and slices
Alignment design help get the best performance
Cons
Not a USGA conforming golf ball
You might lose distance on drives
Final verdict
Polara US Self Correcting balls come with slice-fixing technology and a self correct arrow alignment system to help you hit the sweet spot. However, if you struggle to gain distance and have a under 80 swing speed, TaylorMade Kalea might be a better choice.
6. Srixon Q-Star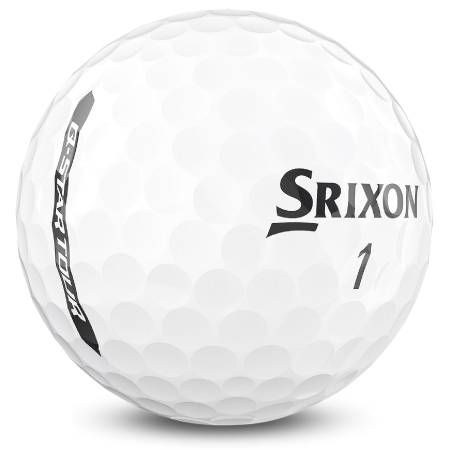 Compression: 72
Cover: Ionomer
Construction: 2 Piece
As a low-compression labeled ball, Srixon Q-Star might not be the softest. But its under 80 compression, FastLayer core, speed dimple pattern, 2-piece construction combined provide higher ball speed and less spin off the driver. It eventually helps to keep the drives near the target line. Additionally, flexible molecular bonds coating offers better greenside spin than Srixon Soft feel balls and assists in improving short-game too.
You might wonder what the difference is between Srixon Q-Star and Srixon Z-Star. Why did we choose this one for our best golf ball for a slice? Well, the main reason is Z-Star balls come with more greenside and are designed to work best for skilled golfers. In comparison, Q-Star makes it easier to hit straighter and farther for golfers with comparatively slower swing speeds.
Pros
Helps gain increased overall distance
338-speed dimple pattern maintains stable ball flight
Performs well on windy days too
Cons
Won't offer much added distance to swing speeds under 70 mph
Final verdict
It's best for golfers with swing speeds around 75 to 100 mph, looking to improve approach shots and fix slices. This swing speed range and highly visible yellow-colored balls' option makes it a great golf ball for senior golfers too.
7. TaylorMade Soft Response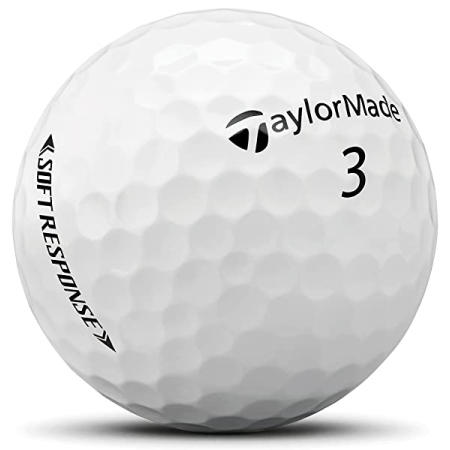 Compression: 50
Cover: Ionomer
Construction: 3 Piece
The combination of 10 points lower overall compression in this Taylormade Soft Response than the previous generation and extended flight dimple pattern help offer lower spin on the long game. And as we know, lower spin typically helps fix the slices, as does this golf ball. It makes the shots go straighter than TaylorMade Tour Response balls. The ball speed is higher too, which makes Soft Response balls go farther.
Soft Response ball also provides good spin on pitch shots that helps improve the short game as well. In addition, the arrow logo makes it easier to line up the putts and reduces the number of missed putts.
But those with swing speeds above 70 mph need to be careful on the short game with these balls. As Soft Response spins comparatively less, it might go past the hole.
Pros
Offers soft feel and smooth contact
Good option for cool weather as well
Great feel off the putter
Cons
Harder to control distance with putter
Final verdict
TaylorMade Soft Response provides straighter and longer drives to golfers with under 90 mph swing speeds. The enhanced feel off the clubface is a major attraction of these golf balls too.
8. Titleist Velocity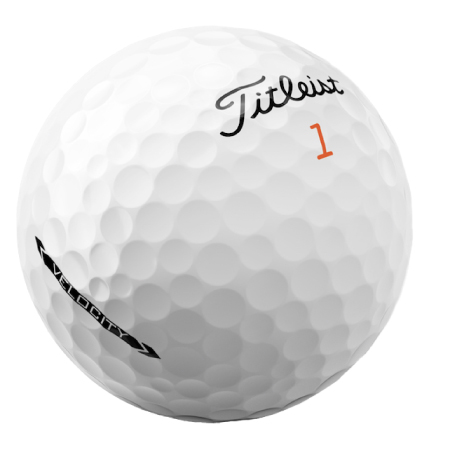 Compression: Mid
Cover: Fast NaZ+
Construction: 3 Piece
Titleist Velocity balls are designed focusing on the low spin off the driver, easier launch, and faster ball speed to make longer and straighter shots.
The high-speed LSX core mainly helps produce low spin to get better distance on long game. And the slices are fixed to an extent because of the low spin. In addition, it comes with an alignment aid to lessen the number of missed shots.
When compared with other Titleist balls, it provides straighter and longer drives than Pro V1 and AVX balls. Velocity balls also feel better than Titleist TrueFeel balls around the green.
Pros
Helps to make higher launch
Offers more control than Titleist TrueFeel balls
Available in matte colors
Cons
The greenside spin is quite low
Final verdict
Titleist Velocity balls work best for swing speeds under 100 mph. It maintains a balance of straighter shots on long game and greenside spin on approach shots for this swing speed range. Additionally, it is one of the best golf balls for distance.
9. Wilson Duo Soft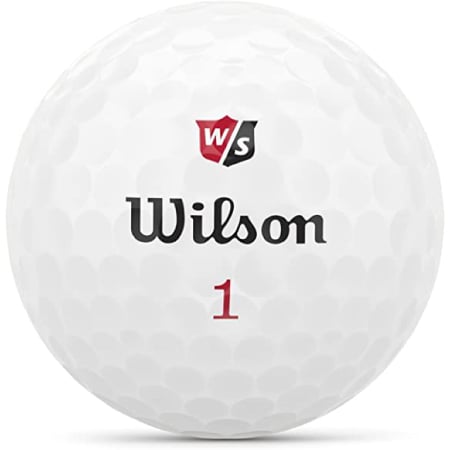 Compression: 40
Cover: Ionomer
Construction: 2 Piece
Wilson Duo Soft is one of the softest golf balls on our list. Just seeing the ultra-low compression, Ionomer cover, and 2 piece construction in the specifications gives you an idea of it being a low-spinning ball. And low-spinning balls tend to go straighter. What's more, the aerodynamics is specially designed to decrease spin in the long game. So even when there is wind, the ball stays pretty straight.
For soft balls, the short game is always a concern. Although the spin and direction control is good for many, you might need to target shorter than usual for short-distance shots. Duo Soft balls aren't an exception in that. Especially in summer, you need to be more careful not to make the golf ball go past the hole.
Pros
One of the best golf balls for winter
Comes at an affordable price
Offers higher ball flight
Cons
Not a suitable choice for greenside spin, especially in summer
Final verdict
Along with fixing slices, Wilson Duo Soft balls offer soft feel, higher and easier launch. The specially formulated core helps gain better distance with slower swing speeds too.
10. Piper Green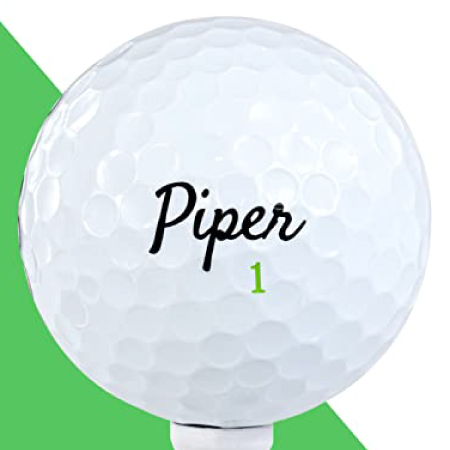 Compression: Low
Cover: Surlyn
Construction: 2 Piece
Piper clearly states what golf ball you should be choosing. Green, Blue, Black, and Gold are to shift from one skill level to another gradually. Piper Green here is labeled as a beginner's golf ball. It's the lowest-spinning one. This one aids in making the drives straighter and go further than the other options.
However, like most low-spinning golf balls, Piper Green balls also provide less control on wedge shots. As we already know, it's to help make the shots straighter. If you are looking for a slightly better greenside spin, Piper Blue might be a better choice for you.
Pros
Offers a stable ball flight
Comes with 3 line alignment aid
Cons
Might get hard to control approach shots
Final verdict
Piper Green balls is the cheapest ball of the Piper family. It also has the lowest spin among them, making it a great choice for beginners and high handicappers to fix slices.
Things to Consider Before Buying Golf Balls for a Slice
The best golf ball is different for everyone. Even when looking for a ball to fix slices, the best-suited one might be different for you. It's because your swing speed or your other preference is unique. Going for a golf ball fitting is the best way to select a golf ball. But not all of us have access to it.
So, this buying guide is to help you understand what will make an anti-slice golf ball the right one for you. Your priority here is to find a low-spinning golf ball that matches your requirements.
Remember that one factor can't define the overall performance of the ball. Any advanced technology can change certain feature to an extent. To get the best performance most of the time, you need to consider the overall design and build. Here are some factors given below to give you an idea on what to look for in the overall ball quality.
1. Low spin
Sidespin makes the golf ball curve away from the target, and backspin can be a reason for slicing the golf ball too. Golf balls that have overall lower spin, have lower sidespin and backspin too. So, it gets easier to hit a straighter shot or fix a slice with these.
Low-spinning golf balls usually come with 2-piece construction, harder cover and lower compression. They are mostly Surlyn or Ionomer covered balls. Because of the lower compression, these are typically great distance gaining golf balls for slow swing speeds.
2. Compression: Match with your swing speed
The general rule for ball compression is to match it with your swing speed. If your swing speed is 'X' mph, the compression rating should be around 'X' too. Something lower than 'X' is expected to offer lower spin and better distance. Above 'X' typically offers more control.
Lower compression balls usually have a lower spin rate that reduces the sidespin and backspin. But it's also a fact that lower compression balls provide lesser control on the green. So, it's good to find a balance. It's better not to go lower than 30 compression of your swing speed number.
For example, if your swing speed is 75 mph, try not to go lower than 45 compression. In comparison, the 50-65 range is expected to offer a better balance in fixing the slice and balancing short-game as well.
Here keep the temperature in mind too. A 65 compression golf ball is more likely to perform like 55 compression in summer. And the opposite happens in cold weather.
3. Construction: 2-piece vs. 3-piece
2-piece golf balls offer lower spin than 3-piece. So, typically 2-piece construction is more suitable for fixing slices. Then, why the debate? It's because 2-piece golf balls are harder to stop when you are hitting short-distance shots.
Here 3-piece golf balls provide better control on the green to stop the ball. So, 3-piece balls with lower spin are a better choice when you are trying to focus on both fixing slices and stopping the ball on green.
4. Cover
Ionomer and Surlyn covered balls spin less, meaning lower sidespin too. That helps the golf ball to stay straight to the target. They give out a firmer feel and are considered harder cover with better durability.
You might like Urethane-covered balls' soft feel and better control on green. But they are less likely to be suitable for fixing slices. They produce higher spin and usually come with comparatively higher compression. It creates more chances of hitting a slice. However, urethane-covered golf balls with comparatively lower compression and low spin can be a good choice to fix slice and have better control on pitch shots.
5. Dimple
Golf balls don't spin well without dimples. That doesn't necessarily mean lesser dimples will create less spin. It can be anywhere from 300-500 dimples and still offer lower spin. The overall design of the dimple influences the spin of a golf ball. Every brand uses different patterns for different models. It's hard to put a standard. So, it is better to match your requirements with the golf balls' dimple pattern description provided by the brand or manufacturer.
6. Visibility
Just changing the golf ball won't fix the slices overnight. It prevents it to a certain extent. So, you still need to find the golf ball when it misses the target. Color of the ball makes it easier for you to find it after hitting slices. Yellow, orange, lime green colored golf balls are easier to find on the golf course.
7. Budget and brand
Slices make you lose more golf balls. Thus, buying an expensive pack might not be something you prefer. A good news here is most golf balls designed to reduce slices, meaning low spinning balls, come at a cheaper price.
You can find them in the range of $18-$30 per dozen even from well-known golf ball brands like TaylorMade, Titleist, Bridgestone, Srixon, Callaway, Wilson, etc. These are the very balls known as distance or soft balls. They are also typically suitable for slow swing speeds.
8. Conforming golf ball
Now, you must be thinking, why are we mentioning it here? It's to give you a reminder that you need to check it, especially while buying anti-slice balls. Some of them might not be legal. For example, Polara Ultimate Straight Self-Correcting Golf Balls help to fix slices to a good level. But they don't conform to the rules of the USGA.
USGA has a separate list for conforming golf balls. It's also usually mentioned in the product description if it is for tournament play or not. It might even get you disqualified. It's legal to buy them, of course. You can use them for casual play.
Related Questions
1. What type of golf ball is best for a slice?
Low-spinning golf balls are the best for fixing a slice. They usually have lower compression, 2-piece construction, and Ionomer or Surlyn cover. They are more forgiving and help to make the shots comparatively straighter. These types of golf balls are also easier to gain a few extra yards with.
2. Do soft golf balls reduce slices?
Yes, because typically softer balls offer less spin. That makes the golf ball go straighter. Sidespin is one of the major reasons for slicing a golf ball. And lower overall spin means lesser sidespin too. That's why lower-spinning soft balls prevent slicing up to a certain point.
3. Why does my ball always slice?
There can be various reasons for slicing the golf ball. Open clubface is one of the most common reasons. Poor grip, bad golf ball position, incorrect alignment, bad posture, arms disconnecting from body, lack of flexibility, etc. are also some of the causes why you might be slicing the golf ball.
Have a proper grip and correct golf ball position at first. Make a proper shoulder turn and square the clubface. Transfer your weight toward the back foot and return toward the front foot at the beginning of downswing. Keep the downswing path inside-to-out and hit the ball.
5. Will more expensive golf balls slice less than cheaper ones?
No, it won't in most cases. Typically expensive golf balls offer higher compression and more spin. They give better control over the golf ball. Those who frequently hit slices are mostly high handicappers or beginners. They need low-spinning golf balls, and these types of balls usually come at a lower price.
6. How to hit a slice intentionally?
First, weaken your grip. Then, open the stance. Keep the clubface open when you enter the impact position and strike the ball. Here your target is to make the ball go left to right if you are a right-handed golfer. And right to left for left-handed players.
Summing it up
Taking lessons from a golf instructor is the best way to find the causes of your slice and what you should do to fix it. These best golf balls for a slice are just to solve the problem up to a certain point and boost your confidence. Don't get discouraged. Strengthen your basics and keep practicing. The slices will be gone soon. Happy golfing.