High-spin balls may offer control once they hit the ground, but did you know they often struggle to cover longer distances due to increased air friction? Enter the low-spin balls, game-changers that give golfers precise scores while reducing spin. Amidst a sea of choices, which one stands out?
The Callaway Chrome Soft X LS 2022 sets the benchmark. With its dual mantle design, this four-piece wonder offers unparalleled control over speed and distance. But what sets it apart? It's not just about the spin rate; it's about precision, from tee to green. While it retains Callaway's standard 332 dimple count, its innovative dimple placement ensures an optimized trajectory.
Adding a touch of magic, the Urethane cover provides a solid grip around greens and minimizes spin-off the tee. However, this ball might pose some challenges if you have a lower swing speed.
Dive into our article to discover why this golf ball tops our list and explore other contenders for the title of best golf balls for low spin. Every golfer deserves a ball that truly complements their game. Are you ready to elevate your game?
Comparison of 10 Low Spin Golf Balls
| Product Name | Best For | Compression | Cover | Construction | Price |
| --- | --- | --- | --- | --- | --- |
| Callaway Chrome Soft X LS 2022 | High handicappers, distance from the tee, decent spin rate around the green | 94 | Urethane | Four-piece | Check Latest Price |
| Bridgestone Golf e12 Contact Golf Balls | Straighter flight, better short-game spin, good speed at a lower spin | 61 | Ionomer | Three-piece | Check Latest Price |
| TaylorMade Project (a) | Distance off the tee, minimal spin with a hard-outer core | 70 | Cast urethane | Three-piece | Check Latest Price |
| Titleist AVX | Extra spin producers, more distance, long distance and less spin | 80 | Thermoset cast urethane | Three-piece | Check Latest Price |
| TaylorMade Tour Response | Longer distances with appropriate spin around the greens | 70 | Cast urethane | Three-piece | Check Latest Price |
| Srixon Soft Feel | High flight capacity at moderate swing speed, super flexibility | 60 | Ionomer | Two-piece | Check Latest Price |
| Snell MTB X | Distance off the tee, smooth dimple pattern | 96 | Cast-urethane | Three-piece | Check Latest Price |
| Vice Drive Golf Ball | Novice players, better control around the green | 90 | DuPont Surlyn | Two-piece | Check Latest Price |
| Mizuno RB566V | More control, extended flight-taking capacity | 75 | Durable Ionomer | Two-Piece | Check Latest Price |
| TaylorMade Distance Plus | Soft feel, longer distance off the tee, aerodynamic dimple design | 60 | Iothane | Two-piece | Check Latest Price |
When Do You Need a Low Spin Golf Ball?
Finding the perfect golf ball for your game is more crucial than you think. In most cases, making this choice will come down to facts like control, distance, and pricing. You might also need to change the ball if you cannot complete an entire round with a single ball.
If you don't know whether you need a low spin ball or not, the below points will give you a better idea:
To hit farther: If you pick a low spin ball, it will lower the flight height and reduce its offline distance.
To reduce the height of the ball's flight: Using a lower spinning ball will reduce the peak height, but the ball won't stop after its fall.
To save time: Playing with a low spin ball spares golfers who used to play with high spin balls from learning different techniques to get lower height, extra distance, etc.
To cut the cost: Comparatively, low-spin golf balls are more cost-saving. One general reason for that is low spin balls are two-piece.
Golfers need to know the optimal spin for different shots, and this spot is determined by the player's swing speed, the contract conditions, and the course conditions.
10 Best Golf Balls for Low Spin in 2022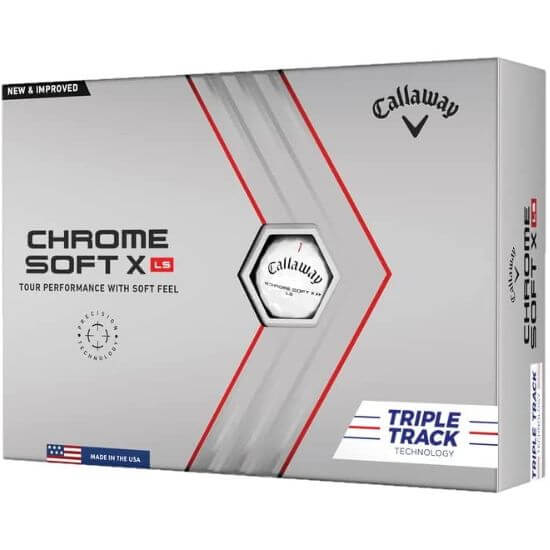 The Callaway Chrome Soft X LS is a benchmarking low-spin golf ball. It's a four-piece golf ball with a dual mantle design. It assures more control over the speed and spin rate. Covering long distances is possible with such efficient control.
Though the dimple count is the same (332) as the other Callaway balls, the company claims the geometry of the dimple placement has been altered to offer a more optimized trajectory.
Around the green, you will feel quite a high spin level, thanks to the resilient Urethane cover that holds the spin down on a long shot. This extraordinary combination of a resilient cover and planned design offers you low spin off the tee and excellent grip all around the greens. It's a signature quality of a premium softball. Chrome Soft XLS should be your pick if you know your game and want to spend money on a low spin ball with overall performance.
Strong Aspects of Callaway Chrome Soft X LS
Undefeatable performance for a distance driver golf ball
The combination of different spin rates from the tee and around the green sets a unique benchmark
Best for high handicappers, people who want distance from the tee, and a decent amount of spin rate around the green.
Weak Aspects of Callaway Chrome Soft X LS
The ball flies higher for a low spin ball
Performs less with a lower swing speed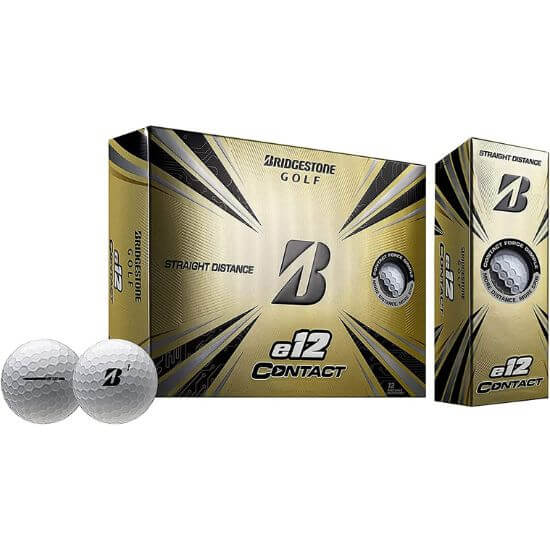 Bridgestone e12 is one of the most versatile golf balls in 2022. It installs the unique Contact Force dimple structure. It features a raised middle part and a unique exterior component to prevent horizontal rotation. This makes the balls follow a straight trajectory.
With a compression rate of 61 and an ionomer cover, a low spin performance is highly expectable. The inner mantle uses Polymer material to provide thrust and velocity from the impact.
Both ionomer covers and Contact-force dimples on the balls increase the level of friction during low-impact shots. Consequently, they linger on the clubface for a more extended period. It helps the grooves deliver a more significant amount of RPM. If you are looking for a ball that provides good speed at a lower spin, this ball can be a good choice.
Strong Aspects of Bridgestone Golf e12 Contact Golf Balls
Lowers spin rate to gain straighter flight
Boosts friction to ensure better short-game spin
Features extra velocity while keeping the spin narrowed down
Durable and high launching
Weak Aspects of Bridgestone Golf e12 Contact Golf Balls
It costs a bit more if compared to other similar category balls
The compression might feel a little high to the slow-swing players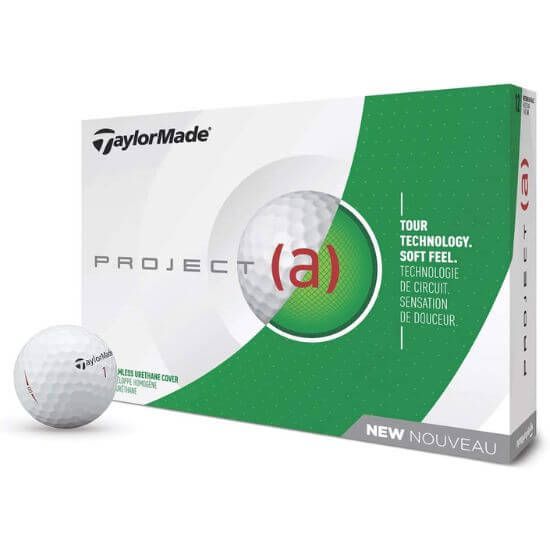 The TaylorMade Project (a) ball is one of the most fabulous three pieces. Known for its potential in short games, the ball hasn't brought much change from its past versions. With the same 322 dimples, 70 compression, and cast urethane cover, it still strikes players with awe by providing incomparable service, especially for a mid-price range ball.
A softer core is notable among the few changes in the latest version. The inner core has a 25 compression, while the exterior is firmer. It contains the energy created at the core level and boosts the overall speed.
According to the company's claim, the balls can now reach even 250 feet per second speed. So, speed lovers who want more energy and less spin will love them.
Strong Aspects of TaylorMade Project (a)
It provides an excellent distance off the tee
Smooth dimple pattern
Ensures minimal spin with a hard-outer core
Weak Aspects of TaylorMade Project (a)
A little pricier for modest handicapped balls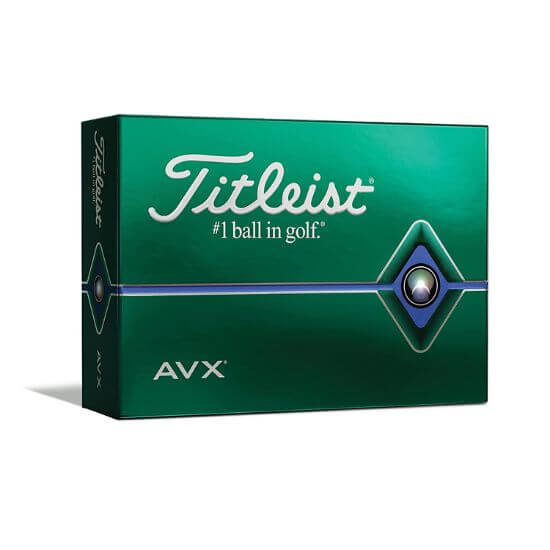 The Titleist AVX golf ball can astound you with its ability to make a ball go straight. They are specially designed to have a low trajectory. It is a super low spin ball. Players who produce extra spin or need more distance should use this ball.
On chips and pitches, these balls feel soft. They become firmer as you get longer clubs, giving you absolute control. They have a compression rating of 80. So, they are considerably softer than other expensive balls.
These balls have a thermoset cast urethane cover. This single feature has made them unique. It also features a high-flex casing layer and a low-compression, high-speed core technology. All these features contribute to the ball's ability to go farther with less spin. So if long distance and less spin are what you are seeking, go for Titleist AVX.
Strong Aspects of Titleist AVX
The latest upgrade gives a reformulated core and high-flex causing layer to ensure a much longer distance off your tee
348 dimple patterns deliver a comparatively lower and straighter ball flight
Offers reasonable control over short games
The cover of the ball is super durable, even being soft
Weak Aspects of Titleist AVX
A bit expensive to pick
Iron shots get less spin, which can be turned off for some golfers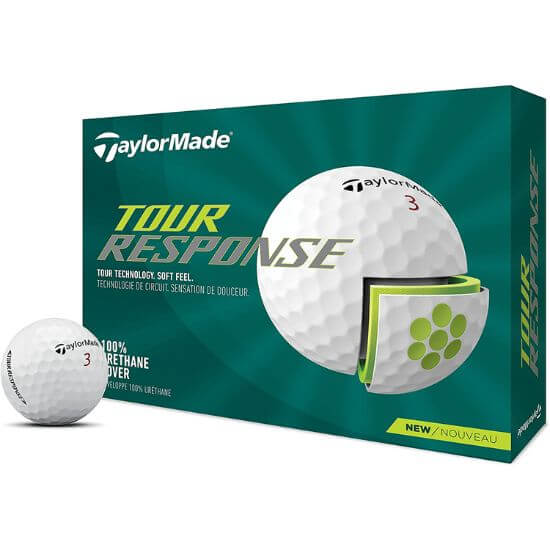 These are three-piece golf balls covered with 100% cast urethane. Compared with other materials used as a golf cover, this is 12% softer and more flexible. Durability comes just as a by-product.
A lower compression rate of 70 is another factor that demonstrates the softness. These balls use a hi-spring inner core to enhance the softness without compromising the speed. A 22 mm lime green digital band wraps the latest ball version to make it faster and easier to line up across the green.
With a three-piece structure and moderate compression, these golf balls are well-suited for those seeking longer distances with an appropriate spin around the greens. This golf ball's trajectory will appeal to you if you like softer balls with a more penetrating trajectory.
Strong Aspects of TaylorMade Tour Response
It gives much efficacy with the alignment off the tee and on the grass
The stripe lets you be more committed with the putts
Weak Aspects of TaylorMade Tour Response
A little off-putting to look down, especially in the fairway
The green color doesn't make any contrast against the grass, so the ball gets lost easily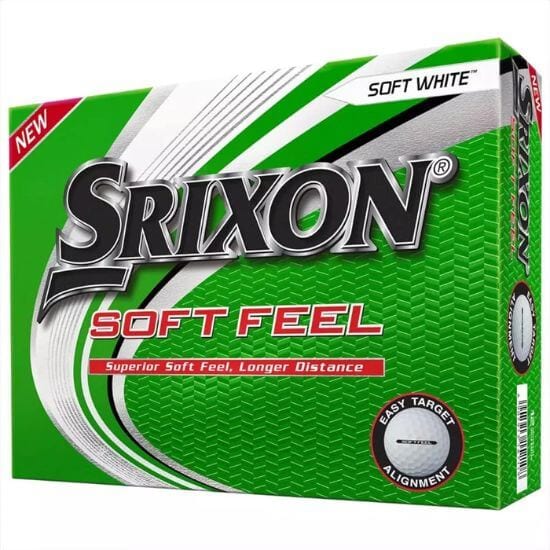 The Srixon Soft Feel will be the perfect ball for you if you desire an excellent feel in the green with a higher shot capacity and a swing speed under 100 mph. This two-piece, FastLayer Core softball with a thin ionomer cover is promising and has the potential to improve your game.
With a 0.063-inch cover and a 60, compression fusion offers a reasonable distance off the tee and boosted greenside spin. 338 Dimple Speed Pattern reduces the drug at the launch. This results in an extended lift.
Due to such flexibility, These balls are satisfyingly durable. Though the balls are not the cheapest in the market, they will cut almost 60% cost compared to other balls with similar quality and performance. If you seek super flexibility, you can rely on these balls as their inner cores give you that by returning to their place swiftly after the impact.
Strong Features of the Srixon Soft Feel
A super-performance low-spin golf ball at a mid-level price
Super durability with flexible cores and covers
It provides a tremendous high flight capacity at a moderate swing speed
The low compression attribute helps the ball go farter
Weak Features of the Srixon Soft Feel
Not suitable if you are looking for a high-compression ball
You won't find results if you are more habituated to playing 110 mph or more swing speed.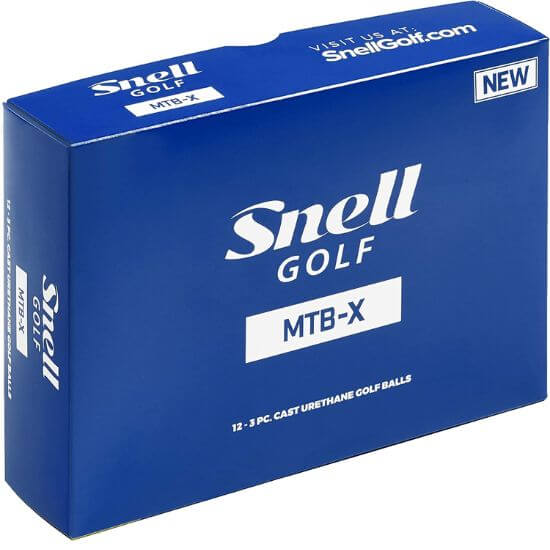 Snell marks their MTB-X ball as a medium launch ball. These three-piece balls have 360 dimple patterns and cast-urethane covers, making them one of the market's most elegant and smooth balls. The average compression is 96, and the balls are also known to have extra firmness.
These balls categorize themselves as tour balls as they are smaller in size. However, the balls always passed the USGA test of the weight limit. These 3-piece golf balls are thicker than most and boost spin on the short game. The consistency of the core is excellent and doesn't have any swirls, unexpected material, and inconsistent mixing.
The consistency, weight, and diameter are generally within limits and have no concerning issues. The MTB X features a firmer, thicker mantle layer which gives reasonable control around the green. However, the control over spin isn't muchly noticeable in short games.
Strong Aspects of Snell MTB X
It provides an excellent distance off the tee
Smooth dimple pattern
Strong and durable
Weak Aspects of Snell MTB X
The ball flies much higher
It looks a little tired after one or two rounds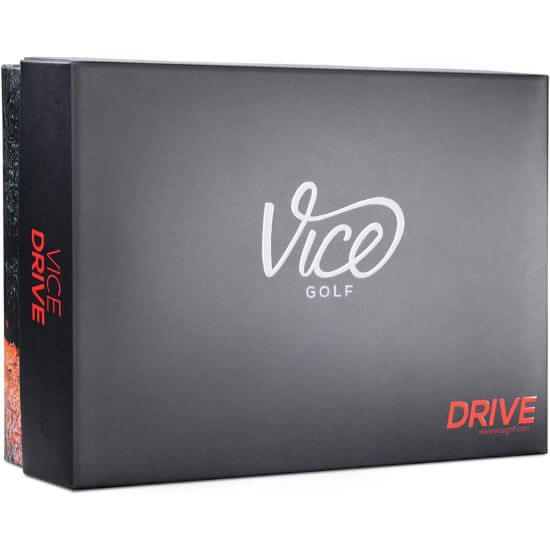 The Vice Golf ball has a cover made of DuPont Surlyn and two separate sections. Its core is pliable and offers superior carry. They also provide swing speeds ranging from moderately slow to moderately fast.
Vice Drive is simple to control when hit by the driver, thanks to the unique dimple pattern. It also has incredible distance potential. Being Vice's least expensive ball, these balls are a more feasible choice for novice players who are likely to drop a few more balls over the course.
Because of the more rigid outer layer, the ball flight is a bit higher, and it helps compensate for the rock surface. The balls roll out a bit rather than halting and spinning backward as they had been doing before. Because of the greater launch angle, these golf balls performed far better around the greens. If you want better control around the green and don't want to spend much on the balls, Vice Drive would be the best choice.
Strong Aspects of Vice Drive Golf Ball
The price is meager
These balls are highly durable
Weak Aspects of Vice Drive Golf Ball
Not great for higher swing-speed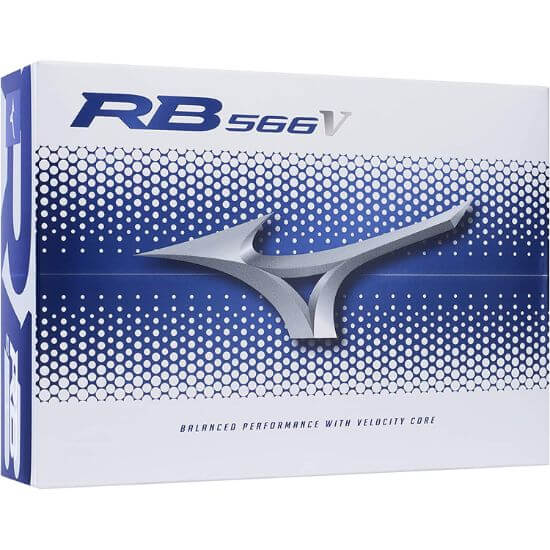 The Mizuno RB566 has a unique appearance in comparison to other balls. Every divot seems to be encircled by several little micro divots, giving the impression that it has been pin-pricked many times.
The name of the ball came from its distinctive appearance. Mizuno claims that their unique micro-dimple design has 566 dimples. They all work together to slow the fall rate after the ball has passed the top of its flight and provide extra distance.
Combined with a more significant, high-energy core, it decreases driver spins while increasing launch to gain a better ball flight. It has a more balanced performance and a more excellent hang time. They are considerably shorter yet manage to go the same distance as similar balls. If you want more control, these balls will be perfect.
Strong Aspects of Mizuno RB566 Low Spin Golf Ball
The balls have super soft ionomer cover
Durability seems quite good
Its more extended flight-taking capacity makes it the perfect choice for Winter and Autumn
Weak Aspects of Mizuno RB566 Low Spin Golf Ball
The ball flies much higher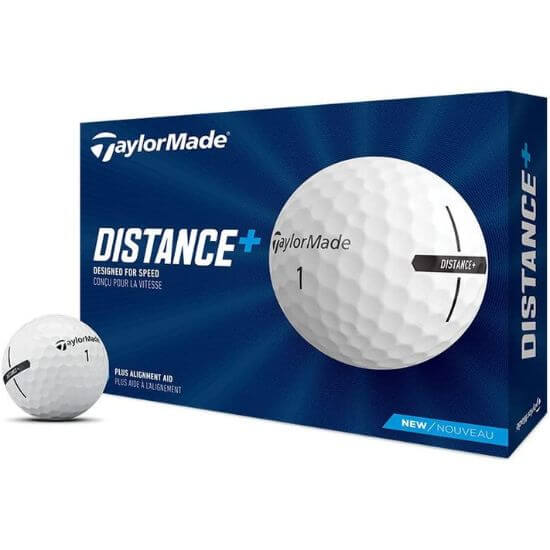 TaylorMade 'Distance+ provides a high-velocity experience for all distance shots. Golfers get an efficient speedball for the combined REACT Speed Core and low-drag aerodynamics design. Featuring the company's own Iothane cover, these balls give you better control, especially around the greens. They can achieve incredible distance due to 60 compression, which marks them softer than other similar balls.
342 dimple pattern and the simple two-piece construction make these balls ideal for beginners. High-handicap players will also find these balls great.
Strong Aspects of TaylorMade Distance Plus Golf Ball
These balls feel soft for their low compression.
Aerodynamic dimple design gives a longer distance than many premium options.
Offers excellent experience at a highly affordable price
Weak Aspects of TaylorMade Distance Plus Golf Ball
To provide extra distances, these balls fall short of maintaining accuracy
What to Know Before Buying the Right Ball
Golf balls come in different sizes and shapes and with loads of different features. Every feature contributes to the experience and performance of your gameplay. To get the right ball to boost your performance, you must clearly understand the features of a golf ball and how they impact its behavior. Here are a few common characteristics of an ideal golf ball that you should check.
1. Durability
Cheaper balls will only last for a while as they cut up, and the covers are low quality. Both of which contribute to the overall lifespan of the ball. Stick to different models with more challenging coverings resistant to being cut if you want premium value. If the way something feels is more important to you, you should go for balls with soft coverings.
2. Spin
Several balls now claim to offer lower spin-off drivers and long clubs. Combined with a higher launch, these balls will help you cover more distance. But most of the time, this will come compromise your short-game spin and control. So you must get the best overall package that lets you play, boosting your critical abilities.
3. Distance
Do you need a golf ball that travels the farthest possible distance? Or the one that improves your short-game performance by giving you a better feel and allowing you to play better? If you want to go farthest, you should get a higher swing speed golf ball with a reasonable distance. Otherwise, get a ball with the softest feel to improve your short games.
4. Bulk Purchasing
When you purchase large quantities, the possibility is high that you will receive a cheaper price overall. This is especially true with brands like Vice Golf. If you buy five dozen at once, you may save thirty pence, equivalent to twenty percent off the price of each ball.
Frequently Asked Questions
Conclusion
Now it's your time to pick carefully. If you want to hit the balls high and have unique spin but longer tee shots with confidence to get closer to the target, pick a ball with better accuracy.
If you want to hit the balls low and slow swing speed, you should go for balls that roll more after falling on the ground.
Get your requirements straight and find the balls that offer the most. You will be surprised to see how your performance improves after selecting the right ball.