"The most important item in the bag is the ball."

– Tiger Woods
When one of the best in the game says golf balls are essential, then it's time to think about getting some good balls in your golf bag.
If you are a beginner, it might be a bit challenging for you to decide which ball to use. It's harder to find the best golf ball. But the more you play and experiment with different balls, the more you will know about your preferences. As a general rule, ball construction, spin, compression, and cover should be the primary criteria when buying golf balls.
It's best to learn how to hit straighter shots first. The best golf balls for beginners should provide straight hits, low spin, greater distance, and come at a lower price. However, the choice may differ with your game style and preferences. So, let's explore 10 best golf ball options that are likely to match beginners' style.
The 10 Best Golf Balls for Beginners Reviewed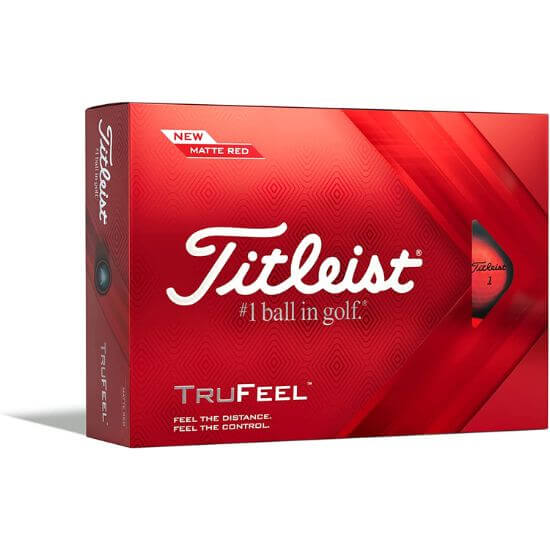 What makes Truefeel ball apart is its larger TrueTouch Core. It helps to increase the golf ball's speed with slow swing speed. That eventually results in more distance.
The low compression, 2- piece construction, and the special dimple design combined help to make the golf ball go higher and add extra distance to your golf drives.
The Trueflex cover works to give you better shot-shaping abilities in short games, which makes it pretty responsive around the green. The greenside spin won't be as good as the company's popular Pro V1. Instead, Truefeel aims for a comparatively low spin to get more distance. And so it does with slow and mid swing speeds.
Pros
It offers accuracy.
These golf balls feel soft when you hit.
There is a red-colored alignment aid to help you position the golf ball correctly.
It makes a softer sound than Titleist Velocity.
Best for high to mid-handicappers.
Cons
It isn't the best choice for those looking for better greenside spin.
Final Verdict
We chose Truefeel as the overall best of our best golf balls for beginners' list. The comparatively lower price point with good distance, feel and responsiveness around the green makes Truefeel a good choice to break 100 in golf. The alignment aid is a plus.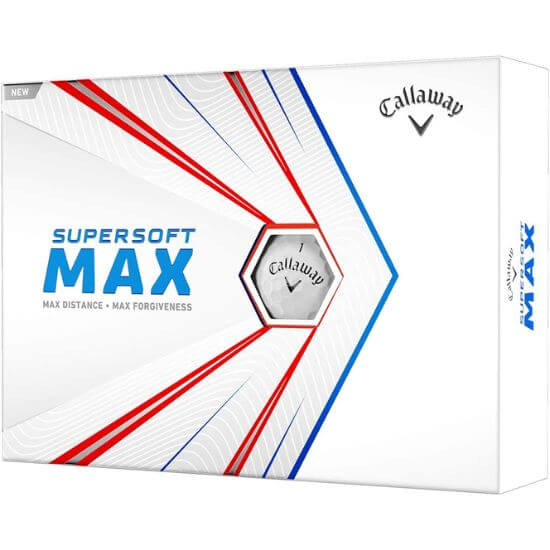 Solid contact with the golf ball is the first thing needed for a perfect shot. And that's the specialty of Supersoft Max. It's bigger than the Callaway Supersoft, which makes it easier to make consistent shots. Despite the bigger size, it's USGA legal. That lets you use it in competitive rounds as well.
The Tri-Blend Ionomer cover works to make the ball go higher and faster. In addition, the combination of low compression along with the ionomer cover and 2-piece construction helps to take the ball farther.
But you might lose distance if you have 90 mph or more swing speed. It's because the ball already works to make it go high and fast. Your swing speed added makes it go higher and starts lessening the roll from a point.
Pros
It offers forgiveness.
This golf ball can increase drive distance by 10-30 yards.
Helps to make straighter shots.
It gives out a soft feel.
Cons
Golfers with a more than 90 mph swing speed might lose distance with these golf balls.
Final Verdict
Supersoft Max made its way to the top 3 because of its forgiveness. It helps to make solid contact, which can be game-changing for many beginners.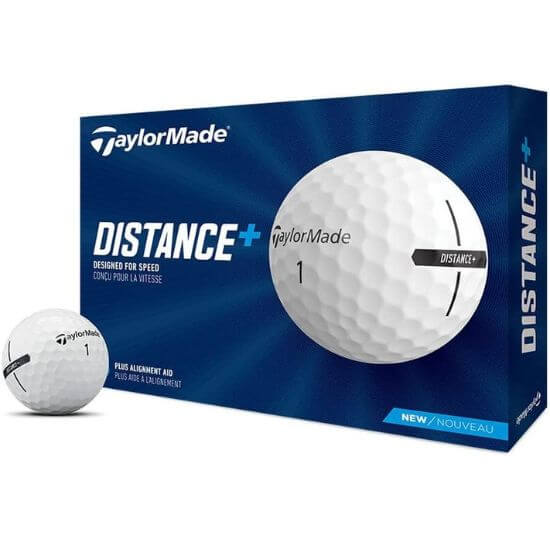 It's one of the cheapest golf balls on our best beginners' golf balls list.
It comes with new plus alignment aid that helps to correct the ball position and make the face square to line. You immediately get to know whether your golf ball is rolling on the targeted line or not. The putting gets easier with these golf balls. It makes these golf balls more attractive for beginners.
You might have guessed from its name that it's a distance golf ball. With a combination of 77 compression, REACT™ Speed Core, Ionomer cover, and 2-piece construction, this golf ball enhances speed and offers distance in all shots. But they don't provide as much distance as Callaway Supersoft Max with slower swing speeds.
Pros
You can expect to add 15 yards or more to the drive.
Offers a great feel while putting.
These balls come at a very affordable price.
Cons
It may get damaged easily with your wedge.
Final verdict
A golf ball that is easier to gain distance with and comes at a lower price is attractive to most beginner golfers. Distance+ does that pretty well. It offers distance and assists in alignment that too at a lower price range.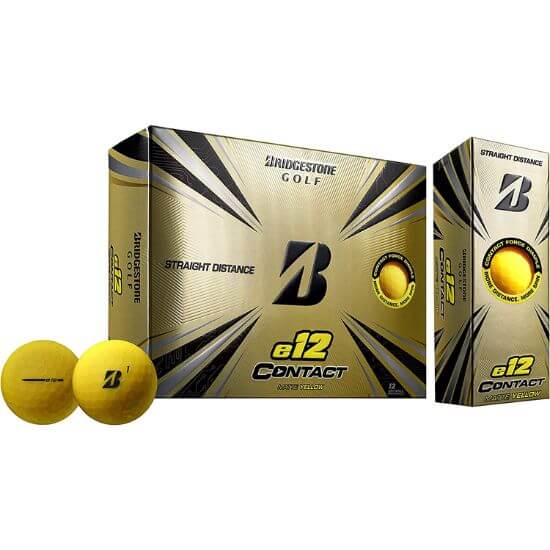 For those golfers who are struggling to make straight shots, e12 is a great option.
Of course, it won't make the shot straight itself. No golf ball will. But e12 helps to make the shot easier if you are close to doing that. The contact force dimples are designed to do that. The raised area of this design helps you to make better contact and transfer energy effectively. This eventually results in more ball speed and straighter shots.
Though it might not provide as much distance as TaylorMade Distance+, the control is better with e12. But you will get better greenside spin than Distance+ golf balls, meaning more chances to make putts with E12 golf balls.
Pros
It can gain 10 yards or more to your drives.
These balls offer a great feel at contact.
It rolls nicely on the green.
Offers more control than TaylorMade Distance+.
It helps to make straighter shots.
Cons
It provides less distance than Callaway Supersoft.
Final verdict
Most beginners face difficulties in making a straight shot. That's very common among beginners. E12 contact balls help to solve that. It is for better control and straighter shots. But if you prefer a bit more distance at a more affordable price, you might like Bridgestone e6 golf balls more.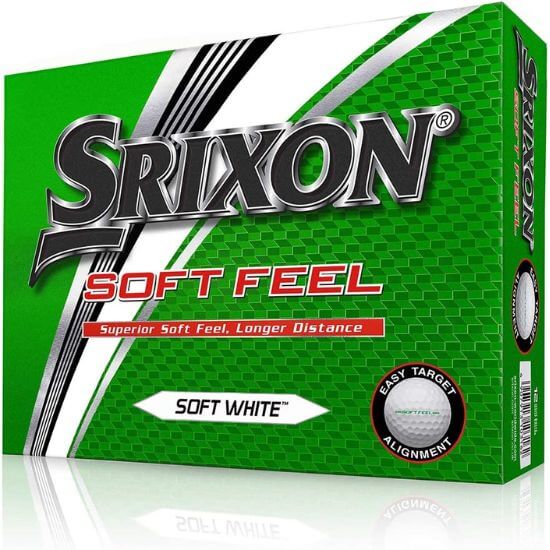 60 compression, 2-layer design, Ionomer cover, and FastLayer Core combined helps to add distance to your drive. The 338-speed dimple pattern mainly works to cut through the air and offer you increased carry. That eventually adds distance as well. You can expect to gain 15 yards or more than your usual drives.
While the thinness of the cover offers short-game playability. So that along with the good drive, you don't miss your putts as well.
As the compression is 60, it will work best for golfers under 95 mph swing speed. However, these golf balls might feel too soft if you have a higher swing speed.
Pros
It assists in getting straighter and longer shots.
It offers a consistent flight.
The sideline helps to line up the ball.
It gives off a soft feel.
Cons
It offers less control than Callaway Chrome Soft.
Final verdict
If your swing speed is from 70 mph to 90 mph, these golf balls will offer both good distance and greenside spin. Coming under $25, it helps to improve your long game and short game as well.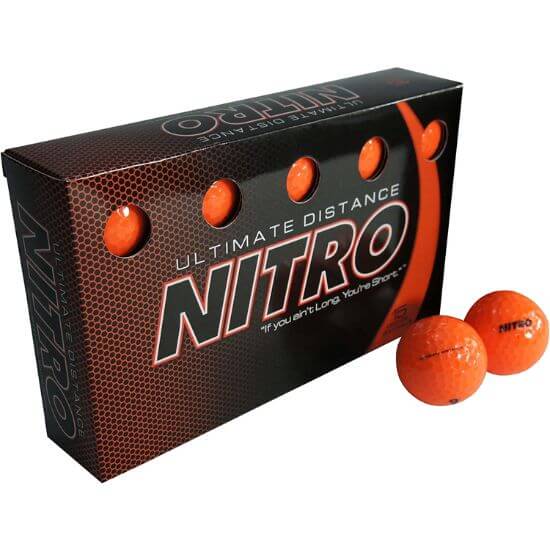 This one is the cheapest golf ball on our best golf balls for beginners list. You get 15 golf balls for under $13. This makes it reachable for most golfers. It's for those who lose golf balls a lot or want to use it as a better alternative to practice golf balls.
These golf balls mainly work to add extra yards to your drives. The 2-piece titanium core helps to increase the effective energy transfer from your golf clubs. Additionally, the dimples are placed systematically. It increases the height and helps to increase distance.
These are harder golf balls that are great for distance and come at an affordable price. If you are not comfortable with the harder golf balls, this might not be a good choice.
Pros
The cheapest golf balls on our list.
It offers better distance than Callaway Chrome Soft.
These golf balls go straight.
Best suited for high handicappers.
Cons
It isn't good enough for shot-shaping with higher swing speeds.
These balls get cuts easily.
Final verdict
Nitro Ultimate Distance is for those who have just started their journey in golf. It offers increased distance with a slower swing speed and an affordable price.
Soft Response comes with a 30 compression core. But the overall compression being 50, it offers both distance and spin for slow to mid-swing speed. The combination of the overall compression and Ionomer cover makes it easier to compress. That assists in getting a faster and longer shot.
The 3-layer construction and overall design help to provide a moderate level of spin. If we compare, the spin rate is lower than Callaway Chrome Soft golf balls. But it's still quite suitable for beginners considering the price.
Pros
It can get more distance than Callaway Chrome Soft.
These balls provide good spin with short irons.
It offers a great roll on the green.
It's comparatively durable.
Cons
If you have a slower swing, it's harder to compress than Callaway Supersoft.
Final verdict
This golf is for the golfer who prioritizes the ball's speed and distance. It provides quite a good spin as well, considering its mid-price range.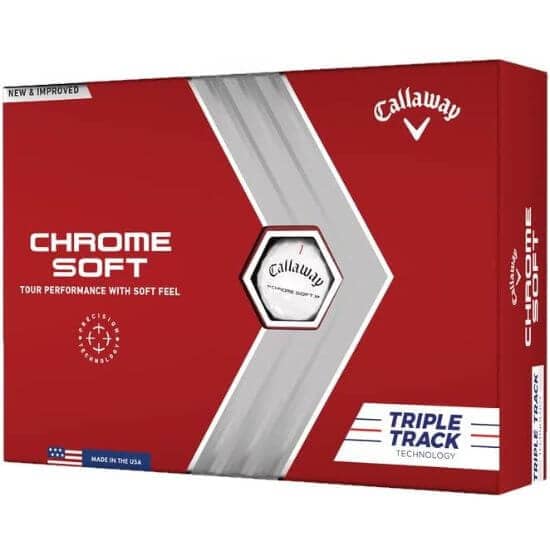 If you are one of those beginners who prioritize short-game from the very first, Chrome Soft is a good option. It's a premium golf ball that brings out a combination of distance and spin. While the spin is still a priority, it offers more distance than Titleist Pro V1.
Now, coming to the question, why would a beginner buy Chrome Soft with the same price range as the famous Pro V1? Well, Pro V1 surely offers better control. But the thing is, V1 requires 95 mph above swing speed to not to lose distance with it. In comparison, Chrome Soft coming with a mid-compression rate, helps to provide more distance. And the urethane cover and 3-layer design offer control.
In addition, Chrome has a triple track version. That features alignment to make the putting easier.
Pros
It offers good direction control.
These golf balls provide a great feel off the tee and with putters as well.
Chrome Soft balls go comparatively higher.
It helps to make consistent results.
Cons
The provided distance is less than Callaway Supersoft Max, with slower swing speeds.
Final verdict
For those who want to get used to premium golf balls and have a grip on the short game, Chrome Soft is a good choice.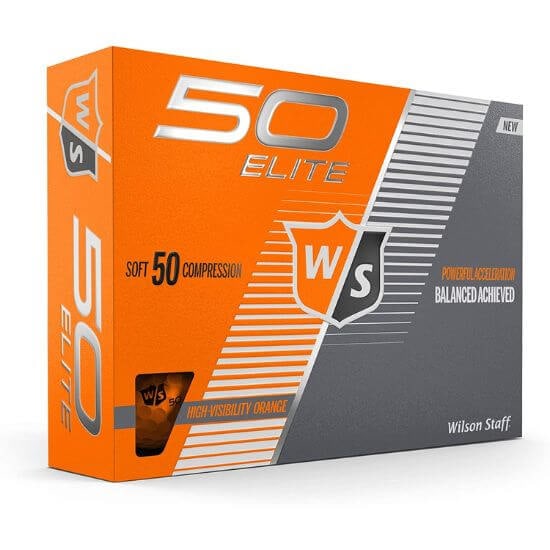 Fifty Elite with Surlyn cover, 2-layer construction, and 50 compression help to make the golf ball go farther. Golfers with 70 mph to 90 mph swing speed will get the most distance from it.
Coming to its performance with the golf clubs, this golf ball offers lower sidespin with golf drivers. It assists in making the drives straighter and lessens draws, hooks, or shots that go out of bounds.
If we compare it with other golf balls on our list, it offers more distance than Chrome soft with slower swing speeds. But less distance than SuperSoft Max balls.
Pros
These golf balls provide accuracy
It helps to increase distance.
Gives out a great feel around the green.
It offers great sound.
Cons
It provides less distance than Callaway Supersoft Max.
Final verdict
Fifty Elite offers longer and straighter shots. It's best suited for golfers with low to mid swing speed. Golfers with a more than 100 mph swing speed might lose distance with it.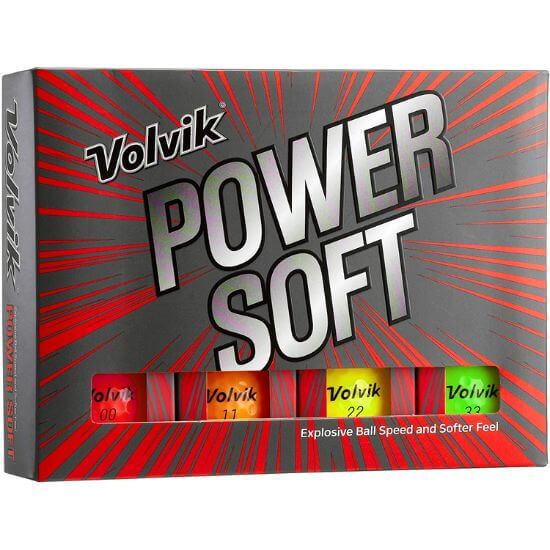 Thanks to the gloss finish and different color options, Volvik Powersoft is easier to spot in rough.
But that's just an add-on. What mainly makes it attractive is the oversized power core. This helps to increase ball speed. That eventually turns into distance.
The 2- piece design and Ionomer cover, combined with comparatively lower compression, assists in transferring the energy from your golf swing. So that the ball goes faster and farther. Since it's a mid launch golf ball, it won't cut down the carry distance as well. This helps you add extra yards to your drives.
It's not a premium golf ball. So, it's a fact that it won't offer much control like Chrome Soft. But Volvik Powersoft still has enough greenside spin for high to mid handicappers.
Pros
These balls work great with drivers.
Offers solid contact with woods and golf irons as well.
It's more durable than Callaway Supersoft.
It's available in 5 different colors.
Cons
Power Soft golf balls aren't as soft as Callaway Supersoft. Instead, it feels firmer like Callaway Warbird.
Final verdict
This comparatively affordable golf ball is for those golfers who prefer a firmer feel and prioritize distance. The glossy appearance of these golf balls makes them easier to spot too.
Things to Consider Before Buying Golf Ball for Beginners
You have got the reviews. But how do you actually know if the balls you are buying are suitable for you or not? Which golf ball to choose? Are they worth the money?
For beginners, the significant confusion is getting a high-end ball or a low-end ball. It's all about your skill level and what advantage the balls will provide you.
Modern golf balls have evolved from feathers to rubber and liquid or anything that meets the technical and design requirements. So, it is obvious these days balls are becoming a crucial piece of equipment too.
There are a couple of things you need to know and consider before getting your hands on your first golf ball. But first, let's get a more precise concept.
1. Golf ball construction: Which one is best for beginners?
Golf balls are made in different layers and core properties. This can often be termed golf ball construction. Usually, the layers can be one to five. And all of them work differently, depending on your play style. Let's get a clear idea.
One-piece golf balls
For beginner golfers, a one-piece ball is the best for getting started. It has one layer of Surlyn. As a one-piece golf ball is much harder than a multi-layered ball, it lasts long. This ball comes at the lowest price too.
But it doesn't travel as much as multi-layered golf balls. Thus, a one-piece golf ball is not really a good choice for playing in a competitive game. Instead, it is a good option as a range ball.
Two-piece golf balls
Two-piece golf balls can produce more distance with a core and a layer of Surlyn. As a result, it's the most popular golf ball among beginners and high handicappers. Why? Because these golf balls help you gain extra yardage without putting much force.
Three-piece golf balls
From here on, you get the spin-separation advantage that was absent in the one or two-piece balls. So these balls will provide greater control and spin.
Four-piece golf balls
These golf balls might be tough to handle for absolute beginners who have just started. But if you have been playing for some time, you can get an added advantage in both long and short-game with these golf balls.
Five-piece golf balls
The latest ball technology is the five-piece golf balls. These balls are the most expensive golf balls available. And so a high number of advantages are associated with these. But beginners are not recommended to buy this type as they are usually higher in price and require more efficiency to control them.
2. Spin
In general, beginners struggle to put backspin on golf balls. And the type of spin generated from a golf ball can significantly impact gameplay. For example, golfers can choose between low, mid, or high spin balls.
Low-spin golf balls
Beginners should learn to hit shots straighter first. Low spin balls do that exactly. It also helps to make the golf balls travel farther. You usually get this feature in two-piece golf balls. But the concern is that these golf balls provide less control around the green.
Mid-spin golf balls
These balls have the good of both worlds. That means you get distance and spin in a balanced way. These balls are suitable for all sorts of players. Beginners with a bit of experience will benefit from these balls more.
High-spin golf balls
These high-spin golf balls add an advantage when you are playing on the greens. Due to their high spinning ability, the balls produce greater distances. And for beginners? We don't think it's an ideal choice. It is more suitable for professional or low handicappers.
3. Compression: the lower, the farther the ball goes
Regarding compression, different manufacturers measure it with different standards. So one particular compression can't be stated as the ideal choice for beginners. But in general, lower compression ratings are going to get some extra yards. And it feels soft too. As beginners usually have a slower golf swing speed, lower compression is better. Compression under 80 is more suited for beginners with slower swing speeds.
But if you are a beginner with a high swing speed, then mid or high-compression rated golf balls are for you. Those will give you better control around the green.
4. Ball cover: Surlyn or Urethane?
The golf ball cover may not make a big difference. But it affects the performance too. The choice is mainly between Surlyn and Urethane. Surlyn cover is usually suggested to beginners as it provides less spin and helps the golf balls to travel farther. Whereas, Utherane kind of does the opposite of Surlyn covers. Another word you might hear is 'Ionomer'. It's the same as Surlyn.
Frequently Asked Questions about Golf Ball
To Sum It up
Beginner golf balls have several features that might disadvantage professional golfers. At the same time, tailor-made golf balls for professionals may make the game harder for beginners. Hope our reviews of the 10 best golf balls for beginners come in handy.
But as your learning curve becomes higher, you can shift from one ball type to another. Or you may play with different golf balls to know the difference. With the increase in your skill level, you can use this buying guide to change your ball or feel free to visit our overall best golf balls post to fit your style. You may also like to see our reviews on the best golf ball retrievers to spend less on golf balls.
Share your opinions and inquiries in the comments section. And let us know the name of the golf ball you finally picked.
Happy golfing.