"The Most Important Item In The Bag Is The Ball"
– Tiger Woods
When the best in the business says golf balls are important, then it's time to get some good balls in your bag.
For beginners like you, it's tough to decide what is the best golf ball to buy. But the more you play and experiment with different balls, the more you know about your preference. As a general rule, the ball construction and spin should be your major criteria for buying golf balls.
It's best to learn first how to hit straighter shots. So, balls that provide straight hits, low spin, greater distance and comes in a budget will be best for you.
If you want us to name the single best golf ball for beginners, here is it- Wilson Staff Zip golf balls.
Why?
Let's continue reading.
The 10 Best Golf Balls For Beginners Reviewed
1. Wilson Staff Zip Golf Balls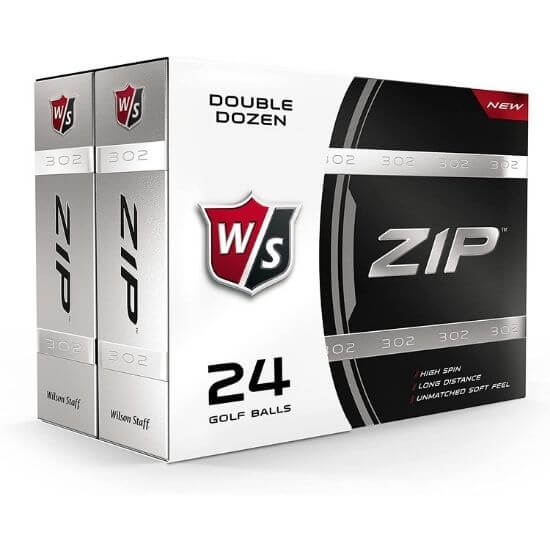 Here is what we were talking about. Users have loved using balls from Wilson and so do us.
In any quality golf ball, the outer cover controls the speed of the ball. With that being said, these balls have a PhD cover design. The PhD design refers to 'Panhead Dimple' design.
And how that's going to help you? When you hit the ball in the air, there will be less drag with this type of cover. So, your balls will glide easily through the air with more control and traction.
These balls have an interior blended core that increases durability and also provides low compression.
Things we liked
High-quality design both internally and externally
Low drag induced by shallow dimple
Have high durability and endurance
One of the best golf ball for beginners
Things that can be improved
We could hardly find any cons for these balls, but there are better ball sets from this brand. We have covered the other two, check them out.
Final verdict: If you want golf balls that you can regularly use in cheap price, then this is it. You get a 24 ball set which is very affordable. Thus making these golf balls very suitable for beginners.
2. Wilson Staff Fifty Elite Golf Balls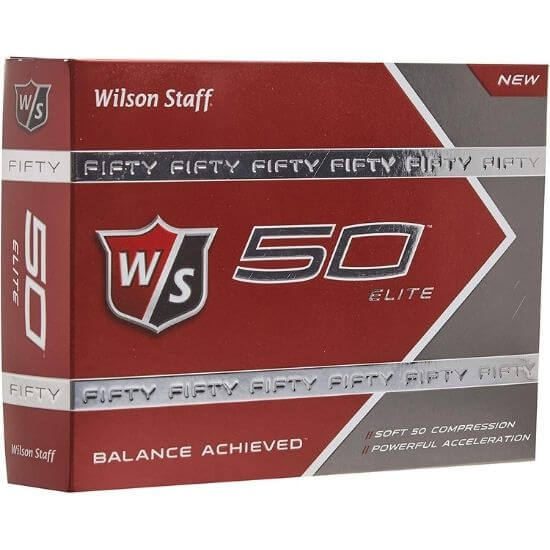 You are a beginner and yet looking for balls that travel well. These balls from Wilson offers exactly what you need. These golf balls come with low dimples which make them suitable for good flight in shallow shots.
Things we liked
Better ball flight which you can always get with low dimples as air can push more inside.
Air penetration and speed are added aerodynamic features giving a superior advantage.
The softest ball in this category, so you get a softer feel with these balls.
The softer feeling is well balanced with the distance it can cover.
It's durable and lasts longer. So your miss-hits and hard hits are not punished.
Things that can be improved
Low spin requires more control in the greens especially. For beginners its quite hard.
Can be hard to hit with a putter as balls roll off fast.
Shots made from sand bunkers can cause damage to the ball.
Final verdict: It's a moderately positioned beginner golf ball. You get an excellent advantage like covering distance, but at the same time disadvantage like fast hits putter can be painful. But depending on your preferences these balls are suitable for beginners.
For Women: Best Golf Balls For Women
3. Wilson Smart Core Golf Balls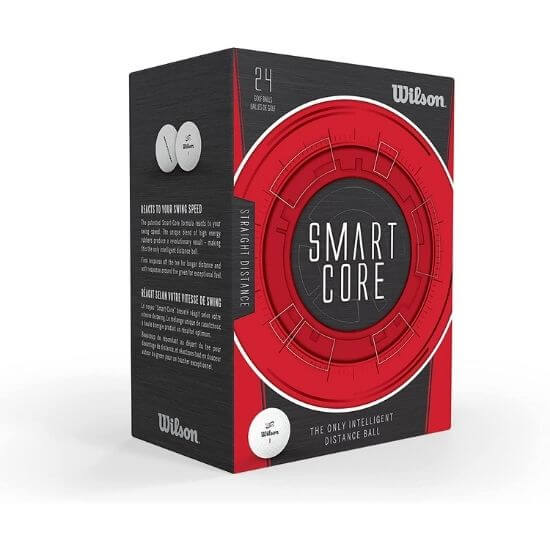 Don't be surprised to see a Wilson ball third time in a row. Yes, the balls from this brand are that good.
These balls have a mind of their own. And why we are saying this? It's because of the responsive design resulting from the smart-core technology. This means these balls will react to your club swing and offer better accuracy and speed.
The ionomer exterior can provide durability. So, whatever conditions you play in will have less impact on the ball quality.
Things we liked
Responsive design allows a specific reaction to the individual playing style.
Lower spin offers better control.
Accuracy and distance is a major advantage of these balls.
The exterior cover is highly durable making it suitable for beginners.
Things that can be improved
Many user reviews suggest that the carry is not up to the mark or what they have promised.
Final verdict: These golf balls are best for regular use keeping in mind the cost and value. So, for beginners, these would come handy.
4. Nike Mix AAAA Golf Balls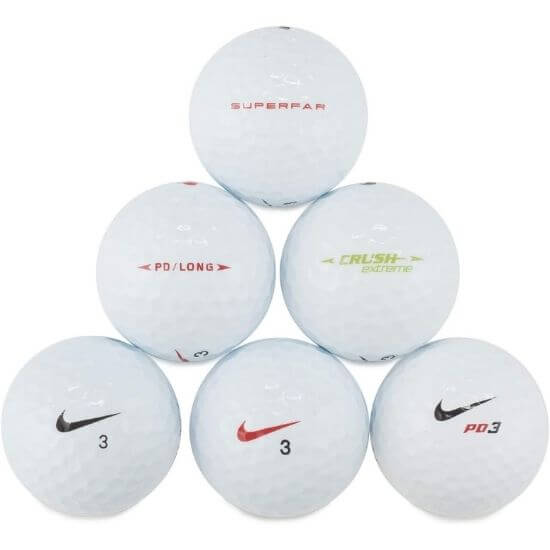 If you don't know about mixed ball golfs, then here is Nike mix AAAA golf balls. This golf ball set provides the best value for money. Mix golf ball kits usually have balls of different varieties and styles from a particular brand.
You get 50 balls in this kit from Velocity, Crus, IGNITE, etc. All of this from Nike.
If you get mixed ball kits from other brands chances are that you can get cracked or degraded balls in it. But in this kit, you get almost new balls that have low wear and tear.
So, all of you who are under budget should get a set of these balls from Nike. It will be a great help to your learning curve.
Things we liked
These balls have high speed and travel straight.
You get 50 balls at a very low price.
Balls are in good condition.
Things that can be improved
One or two out of this 50 ball pack can be bad balls. Still pretty good.
Final verdict: If you have just started learning golf or you need more balls to practice all day long, this is what you were looking for. It's the perfect beginner level golf ball set.
5. Bridgestone E6 Soft Golf Balls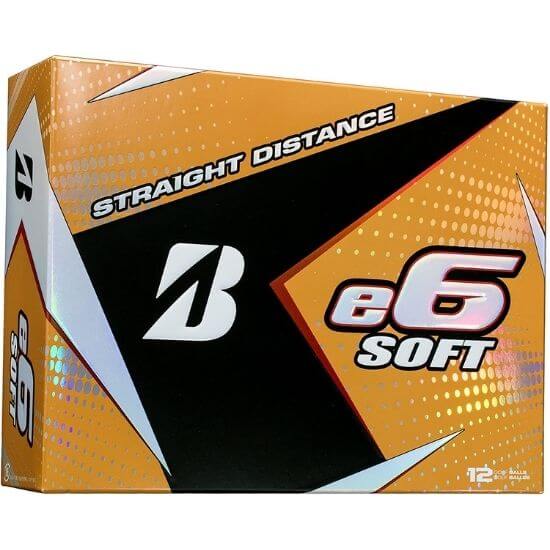 Here is another ball in our list that can help you hit straight shots. These balls have Delta Dimples which allow smooth air resistance.
These balls have the high-performance capacity. So you get accuracy as well as distance as major features of these balls.
When you hit with these balls, you get a low driver and long iron spin shots. This means straighter shots.
Things we liked
Very suitable to play in the greens.
Has a soft feel along with high-performance capabilities.
Accuracy and distance are what you get.
Things that can be improved
Price is a bit on the higher side
For beginners, these golf balls can be bit high priced. But for a professional feel and steep learning curve, we recommend experimenting with these balls.
6. Polara Golf Balls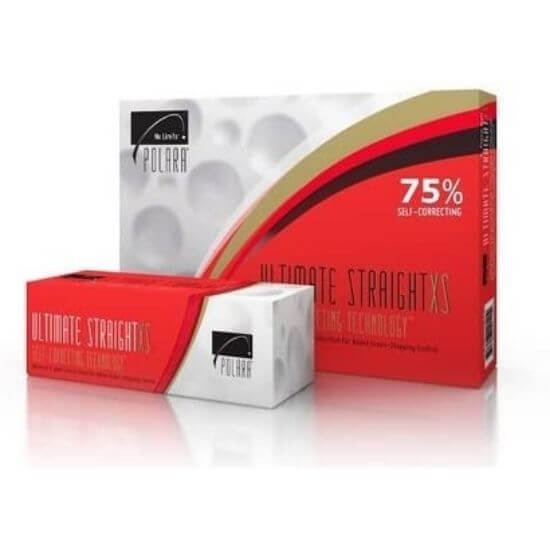 Tired of hooks and slices? The Polara Ultimate Straight XS golf balls can reduce your hooks and slices as much as 75%.
Some users had issues hitting straight with this golf ball, but the majority of the users have praised its game improvement benefits.
For recreational use, we would say these balls are best. Beginners may fancy as well.
The outer layer is Ionomer covered. So you get durability as well.
Things we liked
Can produce extra spin-off shorter irons.
Suitable for ball stopping on the greens.
75% Self-Correcting Technology.
Suitable for hits in the fairway.
Things that can be improved
Can lose distance on the tee shots
Final verdict: Great for beginners and recreational golfers. These golf balls come in a budget and good for a low slice and low hook shots. If these criteria meet your preferences, then don't wait any longer to buy them.
7. Callaway Supersoft Golf Balls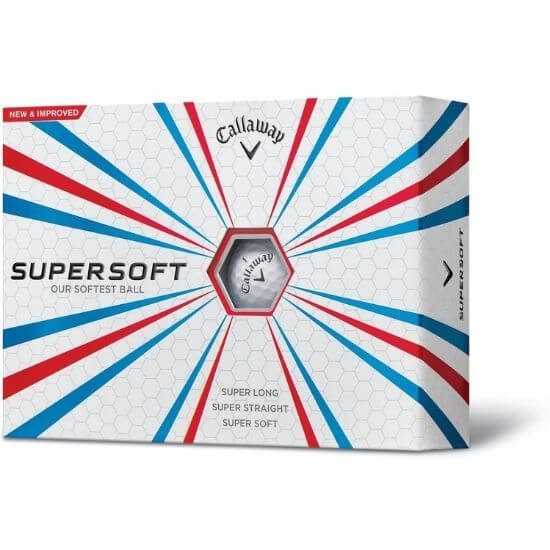 One of the softest of its kind, these golf balls from Callaway is truly made for beginners.
It has a surlyn construction and has a softer feel that you can hardly get on any balls. So, when you hit you get good compression on the ball.
Low compression creates less spin and more control. This is what you want when you have just started your game. Because you get to master your strokes easily.
Things we liked
Requires less effort to gain good control and hitting straight.
The balls have good carry because of low compression.
You get all of these three elements in the ball: control, carry and the feel.
When used with wedges produces better results and optimal performance.
Reduces your expense, durable surlyn outer cover, last longer, best for beginners.
Good color options to choose from which can increase your visibility for high range shots.
Things that can be improved
Not good for hits with the putter as rebounds can happen. Requires good control.
Moderate speed shots are amplified. Requires a good understanding of speed and distance.
Final verdict: If you are looking for balls that can be hit easily with low impact, these balls are for you. For beginners with a moderate skill level, these balls are best.
8. Srixon Soft Feel Golf Balls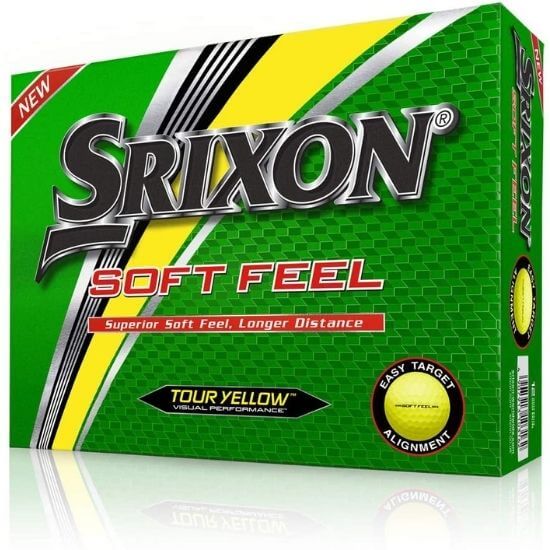 The Srixon soft feel golf balls as the name suggests offers a softer feel when you hit. But you get a good value for your money because these balls have better carry. There is a moderate amount of dimples on these balls that help in better carry.
Things we liked
The design specifications of these balls allow for high launch even if you low launch conditions.
The soft feeling that these balls provide is because of the low compressed core and the soft outer cover.
For beginners who want to take your game to the next level, these balls are a good option.
The ball is designed to cover distance after a high launch and have a better penetrating trajectory.
It's a low compression ball which means more forgiveness and higher control.
The arrow sign on the ball can help beginners position the ball correctly for straighter hits.
Things that can be improved
The balls are priced a bit higher and a little expensive if you are just a beginner looking to experiment and learn.
Not suitable for playing on the greens due to low spin.
Final verdict: For beginners who can spend a little bit over the budget, we think it's a good buy. More precisely, if you have a good swing speed, these balls are exactly what you want. Because when you hit hard, these balls can take the impact.
9. TaylorMade Golf Burner Golf Balls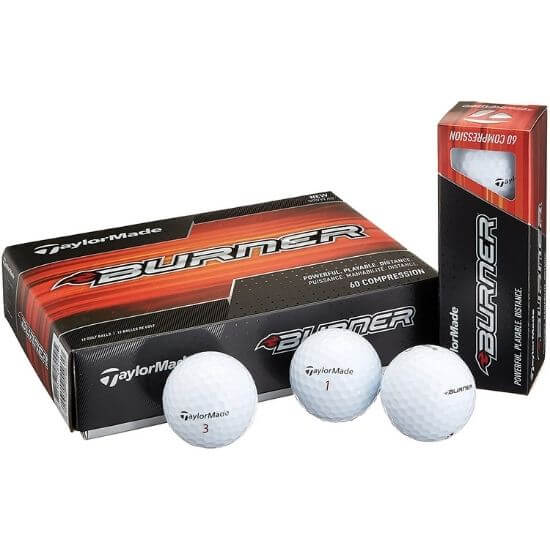 If you search around, you will find TaylorMade right at the top for golf equipment in 2021. Most of you might know how brilliant their designs of iron are. But their golf balls are equally good enough.
It has 342 dimple in its design specifications which gives you an added advantage of hitting good shots from the fairway and the tee box. Because you get more distance and also a bit of softer feel when you hit.
Things we liked
Low ball players can be highly benefited because they halt their shots.
Gameplay on the greens can be enjoyable with these balls.
Beginners can take advantage of the high and long feature of this ball. This means, with each hit you get height and distance.
For players with low swing speed, these balls can be helpful.
Suitable to hit with the putts. Gives a good feel when hit.
Things that can be improved
Low backspin.
Difficult to spot when high in the air.
Low performance for hits with wedges.
Final verdict: Senior citizens who are golf beginners can find these balls pretty handy. Low swing speed will not impact your gameplay much. For young beginners, it's a good buy because you can improve your game quite a lot because of the features these balls have.
For Seniors: Best Golf Ball For Seniors
10. TaylorMade RBZ Soft Golf Balls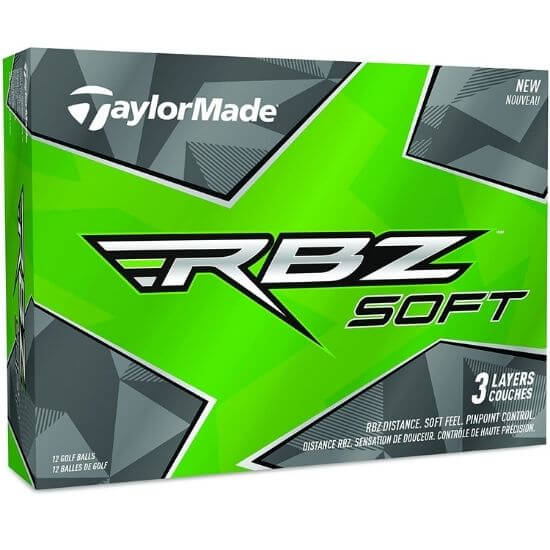 These golf balls from TaylorMade can also be added to the budget golfer list.
It's a 3 layer golf ball which needless to say is soft and offers a good feel on the hit.
Most users have praised the control these balls offer. Although you get a low spin with these balls, shots are straighter and feel effortless especially using the driver.
For irons, these balls offer good carry, but there are chances of a spin-off. This is very common with mid-level golf balls like this. But if you are a beginner, it's hard to complain about what you are getting in this price range.
Things we liked
The ball provides a great feel on every hit you make.
Great for the hit with drivers.
Provides good carry and control.
Things that can be improved
Spin off can be seen if hit by irons.
Final verdict: Beginners who are looking for good drives, these balls are just for you. It's a budget golf ball, so you get a good value on your money.
Things To Consider Before Buying Golf Ball For Beginners
You have got the reviews. But how do you actually know if the balls you are buying is right for you? Or are they worth the money?
For beginners, the major confusion is getting a high-end ball or a low-end ball. It's all about what your skill levels are and what advantage the balls will provide you.
Modern golf balls have evolved from feathers to rubber and liquid or just about anything that meets the technical and design requirements. So, it is obvious these days balls are becoming as crucial is the golf clubs.
There are a couple of things you need to know and consider before getting your hands on your first ball. First starting with the construction of golf balls.
Golf ball construction
Golf balls are made in different layers and core properties. This can be often termed as golf ball construction. Let's have a look:
One piece golf balls
For beginner golfers, one piece ball is the best for getting started. It has one layer of Surlyn and hence the softness. Also provides the best control for shots.
To simply put, one piece ball has lower compression and can be stated as cheap golf balls. But these are inappropriate for a real game.
Two-piece golf balls
With a core and a layer of Surlyn, two price golf balls can produce more distance. Its the most popular golf ball among beginners and newbies. Why? Because these golf balls are virtually indestructible.
Three piece golf balls
From here on, you get the spin-separation advantage that was absent in the one or two piece balls. These balls will provide greater control and spin.
Four piece golf balls
For beginners, the absolute beginners who have just started, these golf balls might be tough to handle.
But if you have been playing for some time, you can get added advantage hitting with your driver in the tee box. Because, the design of these balls allow very long range hits, especially with the driver.
Five-piece golf balls
The latest in the golf ball technology is the five-piece golf balls. These balls are the most expensive golf balls available. And so the high number of the advantages associated with these.
But beginners are not recommended for buying this type.
Spin
The type of spin generated from a golf ball can impact gameplay quite a lot. Golfers can choose between low, mid or high spin balls.
Low spin golf balls
For any beginners, it is best to learn to hit shots straighter first. Low spin balls do that exactly. You get this feature in one piece or two piece golf balls.
Mid Spin golf balls
These balls have the good of both the worlds. This means you get distance and spin in a balanced way. These balls are suitable for all sorts of players. Beginners with a little experience will be benefitted from these balls.
High spin Golf balls
These high spin golf balls add an advantage when you are playing in the greens. Due to high spinning ability, the balls produce greater distance.
For beginners? We don't think it's suitable at all.
Look at the spin and construction of the ball. Features of your ball based on these two factors will impact your gameplay. For novice and beginners, the two piece golf ball can be the best ball. You get a more distance with more ball control.
As you increase your skills level, you can use this buying guide to change your ball buying preferences.
Frequently Asked Question About Golf Ball
What are the dimples in the golf ball for?
The dimples in the golf ball is a very unique design principle. The dimples help in reducing air resistance and hence giving the balls better distance.
With dimples, the air that hits the ball gets less area to impact and thus bounces from the dimples. Once players discovered this design principle, dimples have been part and parcel of the golf ball.
"I'm a beginner and what ball construction should I choose?"
If you have read the buying guide, you should know by now what to choose.
But as a general rule for beginners, its best to choose a ball with less spin that provides more control. That makes two piece golf balls the perfect match. But upgrade to three piece as soon as you feel confident and have control over the ball.
"Should I buy new or recycled balls?"
For beginners, it would be of great advantage to have lots of balls on hand. But the prices of golf balls are not inexpensive. If you think you can save a lot, you can start with recycled balls.
There might not be any massive difference in gameplay with the recycled balls. But who doesn't want brand new golf balls especially when it's the beginning?
"Which golf brand should I choose?"
There are lots of high-quality brands out there. Many golfers stick with a particular brand like TaylorMade or Callaway.
But we recommend buying golf products based on your requirements and preferences. If you like TaylorMade, but you see that Callaway offers a better ball, then feel free to switch and buy.
Here's a list of favorite brands preferred by professionals and also good for beginners- Wilson, TaylorMade, Bridgestone, and Callaway.
What is the significance of the numbers on golf balls?
Different brand uses numbers on a golf ball for a variety of reasons.
The one-digit number you see like 1,2,3 etc. on golf balls are used to differentiate golf balls when you are playing with another golfer.
The two-digit number provides the compression rating of your ball.
The three-digit number simply provides the number of dimples you have on your ball. Its a marketing tactic used by brands to create higher product value. But we don't find any significant difference due to varying dimple number on the golf balls.
To Sum It Up
Beginner golf balls have a number of features which might be a disadvantage for professional golfers. But as your learning curve becomes higher, you can shift from one ball type to another.
If you are totally novice and want to learn the basics, then the Nike Mix AAAA Golf Balls should be in your arsenal. But as overall value for the money, the Wilson Staff Zip Golf Balls are the best beginners golf balls.