Launch monitors are inexpensive!
Yes, you read it correctly. There are several cheap golf launch monitors available in the market that costs less than $500 and yet, provides enough accurate data to practice and improve your golfing skills.
But, many people get puzzled about the quality of the cheap launch monitors and are indecisive about whether they should invest in these budget launch monitors or not. If you are one of them as well, we can help you.
In this article, we will be reviewing 5 golf launch monitors for the money in 2022. We have categorized them into 3 major segments.
Launch monitors under $500
Launch monitors under $2000 and
Cheap mobile launch monitors
Let's start with the most affordable ones first.
Most Affordable Golf Launch Monitor (Under $500)
If you are not willing to spend more than $500 for a golf launch monitor, there is nothing wrong with it. You can still get a high-performing launch monitor in this price range. Voice Caddy and Ernest Sports are the two popular brands for this budget. And we reviewed both.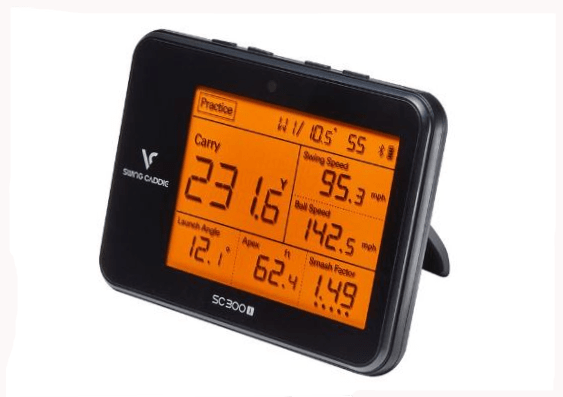 The SC300i is less than 7 inches in dimension yet provides more than 90% accurate club and ball tracking data in a 350 yards range. This is one of the most amazing golf launch monitors we found in the under $500 price segment.
The SC300i is limited to tracking only carry distance, ball speed, swing speed, launch angle, and smash factor. But the accuracy of the tracking results is satisfying. It's been possible for the doppler radar sensor technology, used in this launch monitor. Another limitation of this launch monitor is it can track the ball up to 370 yards only, though you can hardly hit more than that.
Apart from these limitations, the SC300i offers some useful benefits to you. Firstly, the SC300i features a voice output. You can connect an earphone via Bluetooth and get the tracking results through voice besides the LCD screen. The SC300i can save up to hundred shot details so that you can see the swing details later.
It is a lightweight, portable launch monitor with a Li-Polymer battery in it. You can use this launch monitor for more than 10 hours once fully charged. It features 3 modes to play with. Even if you are not planning to practice golf, you can play games using the SC300i.
Pros:
It provides more than 90% accurate tracking results.
It is portable.
It features different modes of playing.
Cons:
It tracks only a few club and ball data
Available in only black color
Another Swing Caddie golf launch monitor you can consider in this segment is the SC200. Read our review of the SC200 here.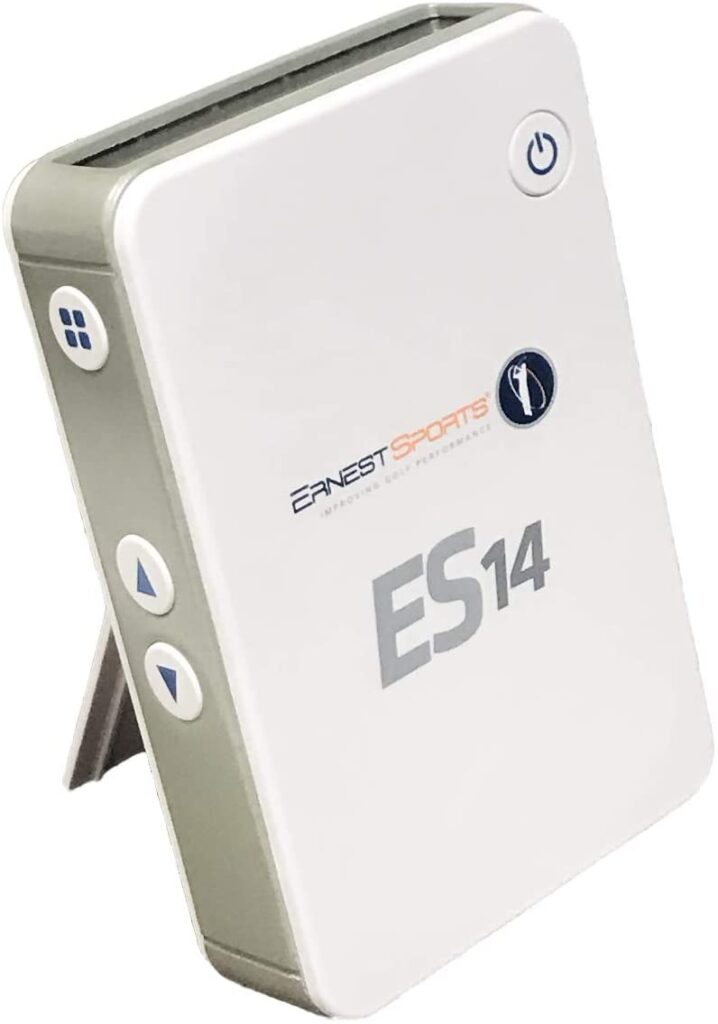 Earnest Sports has a goal to provide every golfer with an affordable and reliable product line. Their ES14 is another top-performing golf launch monitor under $500.
The ES14 can track club head speed, launch angle, ball speed, smash factor, spin rate, carry distance, etc. And it immediately displays the results on the LCD screen. ES14 will not provide you results like what SkyTrak, Foresight Sports, or TruGolf does, but for the price you pay, you will get pretty accurate tracking results.
The ES14 also uses Doppler radar technology like the SC300i but the ES14 features 2 sensors rather than 1. It enriches the accuracy and also allows for the tracking of more data. The device is compatible with iOS, windows, and android.
Pros:
It is lightweight, portable, and easy to use.
It can track many data like clubhead speed, spin rate, and smash factor.
It is compatible with iOS and Android devices using Bluetooth.
Cons:
The ES14 lacks a tracking horizontal launch angle.
It is not a weather-resistant device.
Learn More about the ES14 Launch Monitor Review here.
Best Budget Launch Monitor (Under $2000)
Our next price segment is designed for advanced golfers. For those of you who are considering a golf launch monitor with in a good budget to practice hard and improve their golfing skills on a regular basis, $2000 is a good budget for them. Here are the best golf launch monitors under $2,000.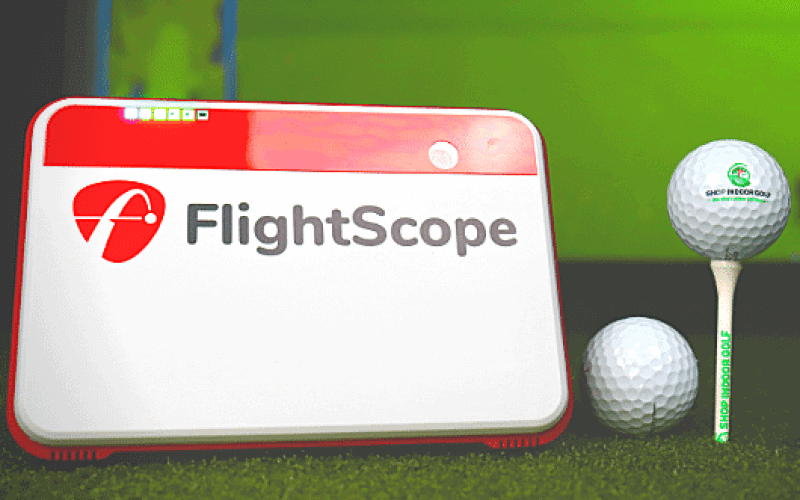 When you are ready to go outside for a course. And require a portable golf launch monitor, Mevo+ is for you. If you are serious about your golf performance, no wonder the mevo+ will help you in a good manner. 
The Mevo+ uses a 3D Doppler radar sensor to track several club and ball data. It can track clubhead speed, ball speed, carry distance, roll distance, angle of attack, smash factor, and many more. You can use this launch monitor for your golf simulator setup as it is compatible with simulation software like E6, and TGC2019.
While using it indoors, the Flightscope Mevo+ offers 5 different courses to play. Though Skytrak is a better option in this regard as they are offering 17 golf courses in a similar price range. For outdoor purposes, the Mevo+ is better than SkyTrak for its multiplayer versatility and portability.
Mevo+ allows you to enjoy another outstanding feature. It captures your swing and analyzes each of your stats by automated video clipping. You can easily figure out how moderate your swing speed is and what level you are playing on. And you connect it to your mobile using the free mobile app.
Pros:
It provides real-time performance data.
Tracking results are accurate
It offers different playing modes for an entertainment experience
It allows you to upload and share your swing videos with experts and evaluate your skill.
Cons:
For indoor golf simulation experience, more golf courses would have been better.
Read the detailed review of FlightScope Mevo+ launch monitor from our dedicated article on them. You can also consider the Flightscope Mevo as a cheaper option.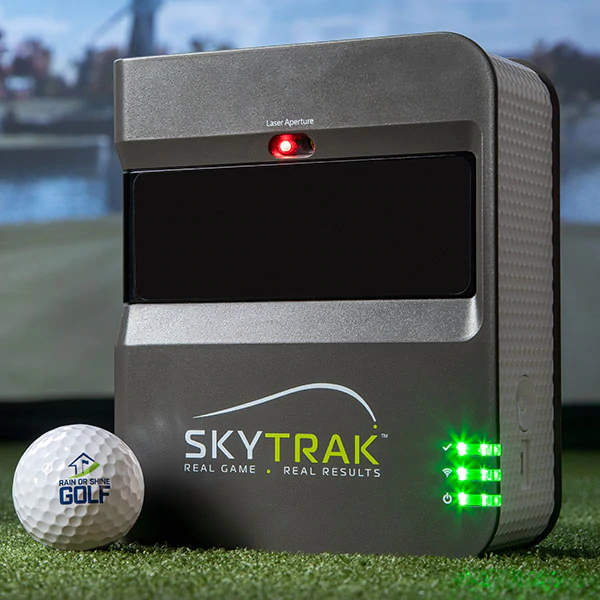 SkyTrak launch monitor is a good fit for recreational golfers. No matter if you are a beginner or professional, you can use this launch monitor for practice and recreational purposes. If you're looking for a launch monitor that is perfect for home use, the SkyTrak launch monitor is a fantastic option.
SkyTrak is a camera-based launch monitor. It can track ball speed, clubhead speed, landing angle, launch angle, carry distance, and a lot more. SkyTrak launch monitor tracks data by photometric technology. This technology has both advantages and disadvantages of its own.
The SkyTrak launch monitor using this technology provides very accurate tracking results. For indoor use the accuracy is remarkable. But, while using outdoors, the sunlight can cause less accurate data readings. You can use the Skytrak launch monitor for an indoor golf simulator. As it is compatible with E6, and TGC as well. And it has 17 pre-loaded golf courses too.
Pros:
It provides accurate data readings using photometric technology.
It is lightweight and easily portable.
You can avail of premium features while using it with golf simulation software.
Cons:
It may provide inaccurate results while using it outdoors
Check Price at Rain or Shine Golf
Mobile Launch Monitor
We segmented this launch monitor into different categories for its usability. Because the mobile launch monitor actually is connected to a smartphone. It uses your smartphone camera and tracks the ball data with the help of it. It is cheap if you already have a smartphone and are willing to use it with the launch monitor. Else if you had to buy a smartphone dedicated to the mobile launch monitor, then it may not be that affordable.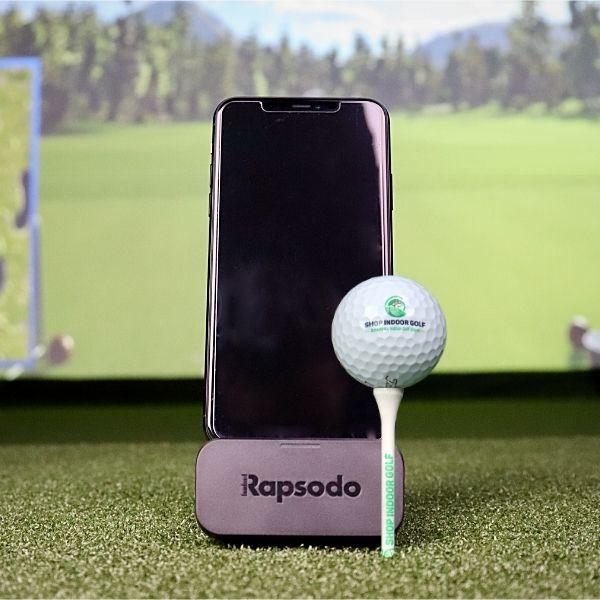 Portable Launch Monitors are often appreciated by golfers as they tend to practice both indoors and outdoors. The Rapsodo MLM has earned much appreciation from a lot of PGA golfers for this user experience.
The Rapsodo mobile launch monitor can track shot distance, ball speed, clubhead speed, launch angle, launch direction, shot shape, etc. it uses Doppler radar technology to track these data. The tracking results are not that great but they can serve your purpose.
The biggest limitation of the Rapsodo mobile launch monitor is you need an iOS device to use this. Because it is not compatible with android. Also, it is not a heavy-duty launch monitor.
Pros:
It is very easy to set up.
There are shot tracer and data overlay features.
It provides a GPS satellite view.
You can get instant video feedback
Cons:
Compatible with iOS devices only.
Not a durable, heavy-duty launch monitor.
Learn more about the Rapsodo MLM review here.
Check Price at Shop Indoor Golf
Conclusion
There are not many brands that market cheap launch monitors. But we found the best affordable launch monitors and reviewed them in this article. It is now obvious that you need to spend more on the premium features and accurate data readings. But the budget launch monitors are also capable of providing enough accurate data to help you understand your swing, club, and ball data.
Share your experience with any of these launch monitors. Do read the detailed reviews if you feel interested in that product for better understanding. We are continuously working to update you with the latest reviews.