This post may contain affiliate links and we may earn a small commission for no extra cost to you.
This is how we keep NiftyGolf free. Learn more about our affiliate disclosure here.
There is hardly any other way you can improve your golfing skills without the best golf simulator. Most golf beginners tend to have an entry-level launch monitor rather than a more expensive one, as they are not sure about how a simulator works and helps improve your game. 
The SC200 from Voice Caddie is a very popular entry-level launch monitor that costs less than $350. You may find the ES12 from Ernest Sports only under the same price point. If you are in doubt about its worth against its value and whether you should buy it or not, this article is the one that will help you get your decision. In this article, we will be reviewing the SC200 golf launch monitor based on its looks, features, performance, and overall pros and cons. You will also find 3 different modes that can be operated using this launch monitor in this article.
Voice Caddie Portfolio

Voice Caddie doesn't have a wide range of product portfolio like Foresight Sports, Ernest Sports, Skytrak, etc. Voice Caddie is doing its business with a limited type of product. But they are providing a quality product line to satisfy their customers. Voice Caddie has segmented its products in two (02). They are "play and practice". Here is the list of their product line:
Play
Practice
Voice Caddie
GPS Watch
Laser
Swing
Putting
Green Caddie

Models
Models
Models
Models
Models
Models
Voice Golf
GPS VC200
G1 Golf GPS
Watch w/
Green
Undulation
and Slope
GL1 Hybrid
GPS Laser
Rangefinder
Swing Caddie
SC100
PT30 Putting
Trainer
GC200 Green
Caddie
Voice Golf
GPS VC300SE
G2 Hybrid
Golf GPS
Watch With
Slope
and Slope
SL1 Active
Hybrid GPS
Laser
Rangefinder
With Green
Undulation
Swing Caddie
SC200
L4 Golf Laser
Rangefinder
with Slope
Swing Caddie
SC300
SC200 Golf Launch Monitor Review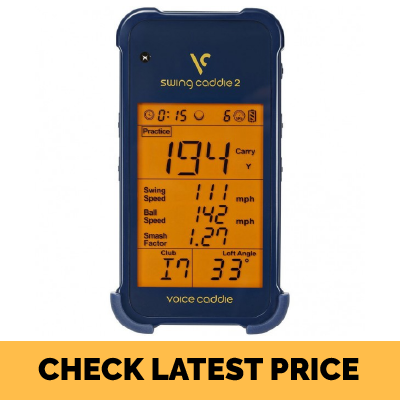 Do you know what the dimension of a smartphone is these days? The SC200 golf launch monitor is the same as an old iPhone and smaller than the latest ones. The dimension of the SC200 is 5.9(h) x 3.2(w) x 1.2(d) inches. And weighs only 8 ounces. So it has an amazing feature of portability. This SC200 should easily fit in your pocket and you can even carry it in your hand.
The swing caddie 200 runs with four (04) AAA batteries. You need not worry about the charge though as AAA batteries are available to the nearest shops. Or you can certainly carry a few extra batteries with it. The SC200 can be controlled with a remote controller too, which you will get in the package. You can change between modes, stats, and clubs using the remote controller. The LCD interface is simple to read, and the black numbers are legible against the orange screen color, even in bright conditions.
The SC200 can measure factors like; carry distance, ball speed, smash factor, swing speed, and so on. The launch monitor stores average stats for each club and overall stats for the last hundred shots. There are three different modes to choose from SC200, which will keep your practice varied and stimulating.
Practice Mode: It displays your shot distance, swing speed, ball speed, and smash factor as well as your time played and total shot count.
Target Mode: This mode allows you to set a target distance to challenge your consistency. Set the distance you plan to hit and once you hit the ball it will give you a score out of 10 to show how close you were to your target as well as all your other stats.
Random Mode: The Swing Caddie gives you random targets and again marks you out of 10 for accuracy and then provides you with another target distance.
What SC200 can track
The SC200 golf launch monitor can measure the following outputs:
Carry distance
Swing speed
Ball speed
Smash factor
Stores average stats for each club
Overall stats for the last 100 shots
What does the SC200 look like?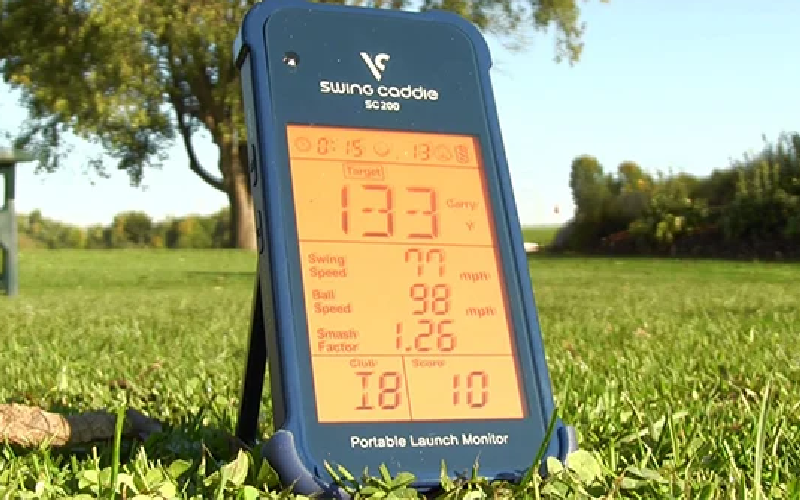 The SC200 looks like a cellphone in the hand. It is stylish, small, and lightweight. The orange color LCD screen is very much visible even when under sunlight. Navy blue color body and orange LCD screen combine nicely.
Cellphone alike
Small
Lightweight
Stylish
Bright display
Features that SC200 has
Features of the SC200 from Voice Caddie can be highlighted like the following list:
Lightweight and Portable
Can be controlled with a remote
No charging worries; can be operated with AAA batteries
Three (03) different modes
Voice output
Performance
The very first question that comes prior to choosing the best indoor golf simulator is how accurate the golf simulator is. When you see there is a launch monitor that costs $50000 and some launch monitors also available under $500. The question gets bigger and most important criteria to choose a launch monitor. The SC200 uses radar technology to measure the ball factors, unlike Foresight and SkyTrak launch monitors where they use photometric technology. 
After several swings, and analysis we found the outputs pretty consistent. And the results were consistent in 2 different modes (practice mode & target mode) as well. In random mode, the results were a little inconsistent. Besides, when the same strokes were measured using Skytrak, the accuracy also found different by a minimal margin. Considering the price, the SC200 launch monitor provides satisfying accuracy and consistency.
Note: No launch monitors provide 100% accurate results on each shot.
What is the difference between swing Caddie SC100 and SC200?
SC200 is the next version of SC100 from Voice Caddie. The SC100 is less expensive than SC200. Mentionable differences are:
Ability to adjust the loft of each club for more accurate readings
Upgraded/more accurate sensor
Voice output after shots
Pros
Affordable
Lightweight and Portable
Bright Display
Pretty accurate and consistent results
Cons
Can not be connected to other devices
Only 100 shots can be stored
Check Price at Shop Indoor Golf
Conclusion
If we summarize our review on SC200, we would say it is small, portable, affordable, and value for money launch monitor. You can certainly own SC200 if you are short on budget or don't wish to spend more on a golf launch monitor to build your own golf simulator. Drop your queries here (if any) and our experts will get back to you. Leave your comments on SC200 too, if you are using this golf launch monitor.