What if you don't have a good course in your area or even within a short distance? What if you're stuck at the workplace and don't have time to play a full 18 holes? Well! Even a few decades ago, it was a concern for many golfers who used to pass boring time in the off-season. Then golf simulators appeared in the golf industry creating a buzz among golf enthusiasts. Golfers seem to have Aladdin's magic lamp that lets them play whenever they want.
Now you might know a golf simulator can help you not to miss golf! But at the same time, you might wonder how a golf simulator works. What do you need to operate it? Is it just a single piece of equipment? Or a collection of materials? Stick around, this article will let you know the answers.
What is a Golf Simulator?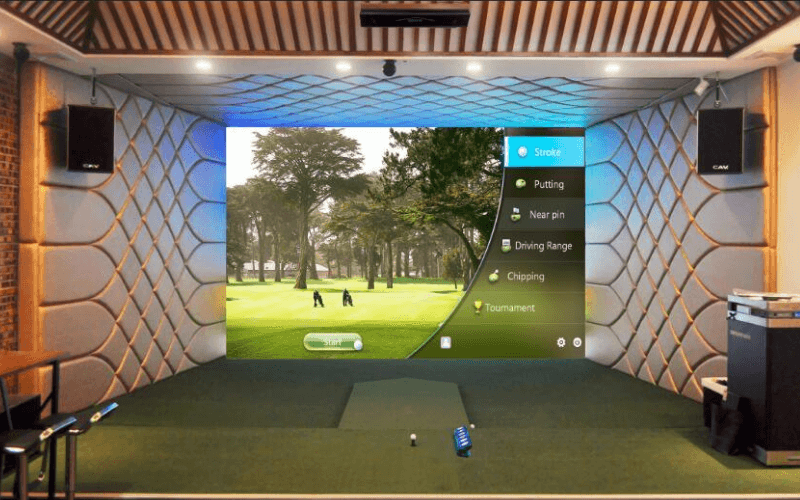 A golf simulator is a complete home golf setup to play golf at home. Playing in a golf simulator is different from playing a video game. It lets you play with a regular golf ball or golf club in a realistic virtual driving range.
The days might not be too far when augmented reality will be used in golf simulators. Just like Computers, PlayStations, or even Telephones, Golf Simulators have come a long way with technological advancements.
Before moving towards today's major topic 'how simulators work, if you are looking for more pieces of information, we have a dedicated article on what a golf simulator is.
How Do Golf Simulators Work?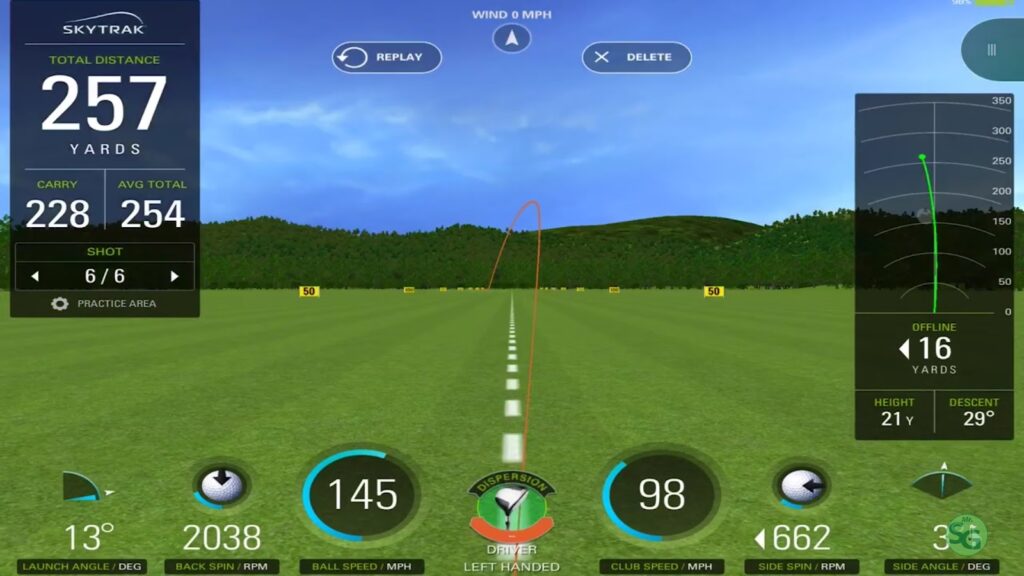 A golf simulator works by processing and analyzing every shot data through sensors and cameras. The way golf simulators function is known as the simulation process. There is a net or projector screen where you can hit the ball like hitting in a real driving range. In front of it, you need a golf mat or swing pad as an alternative to actual grass.
To measure shot data details, you need to run the software with sensors. To run the software, you need a smartphone or PC. Then what's the role of cameras? They record every activity of your strike and send it to the processor.
Finally, after analyzing shot data, the processor sends it to the golf swing analysis projector to project and you see the shot details on the projector screen. 
Some simulators will allow you to check the shot data on your smartphone. But yes, not all simulators can analyze swing data. Some use infrared optical sensors that monitor your swing movement.
Process breakdown
A golf simulator takes shot and swing details as input. Then processes, and analyzes those data, to provide an analyzed output. It lets you know the distance of the green, the hole you are playing with, and where your ball is going. In a word, a golf simulator depicts a complete picture of your data result.
Takes input
Input devices like sensors or radars work to detect your ball and club motion. They should remain on the edge of the screen and you should stand facing the impact screen. Whether you're using your regular golf equipment or exploring different options, finding the best golf impact screen for optimal performance is essential.
Process and analyze data
When you hit the ball on the projector screen or net, a computer program will determine the details of your swing. It will analyze data like clubhead speed, face angle, face contact, swing tempo and the shape of your shots.
Display results
Based on the data received through several sensors, the computer program will analyze where the ball should actually land on the course. And along with the visual, the projector will project your performance data in numeric information. 
How to putt in a golf simulator?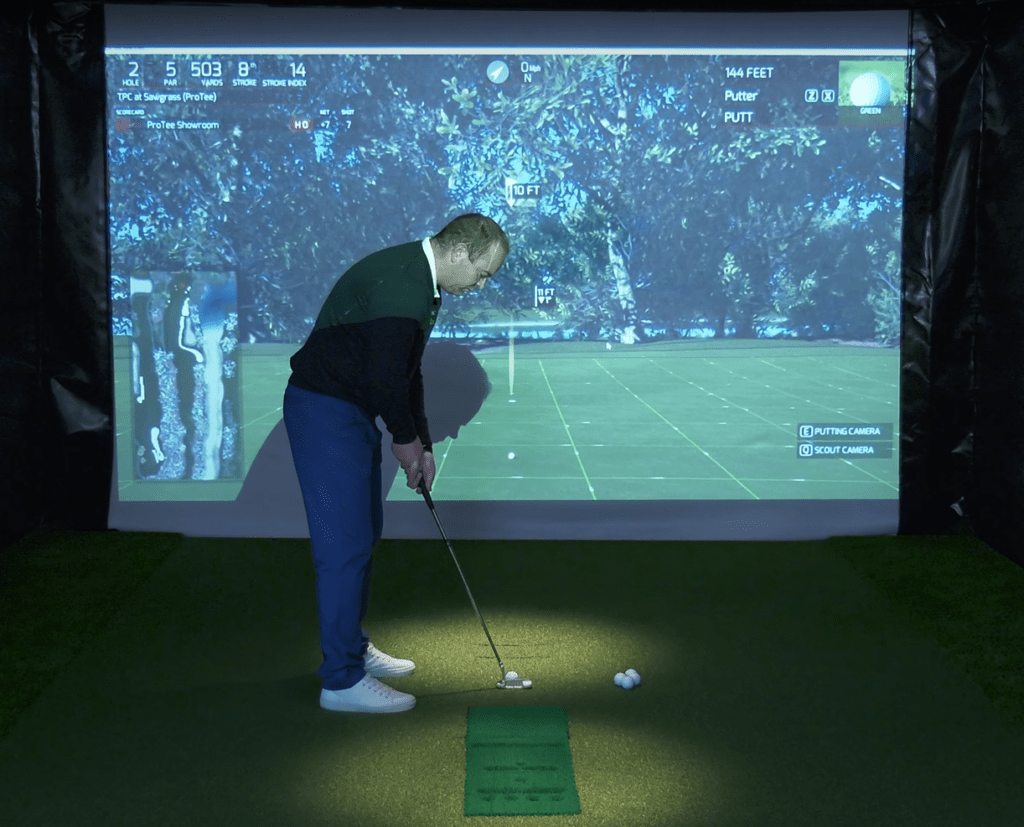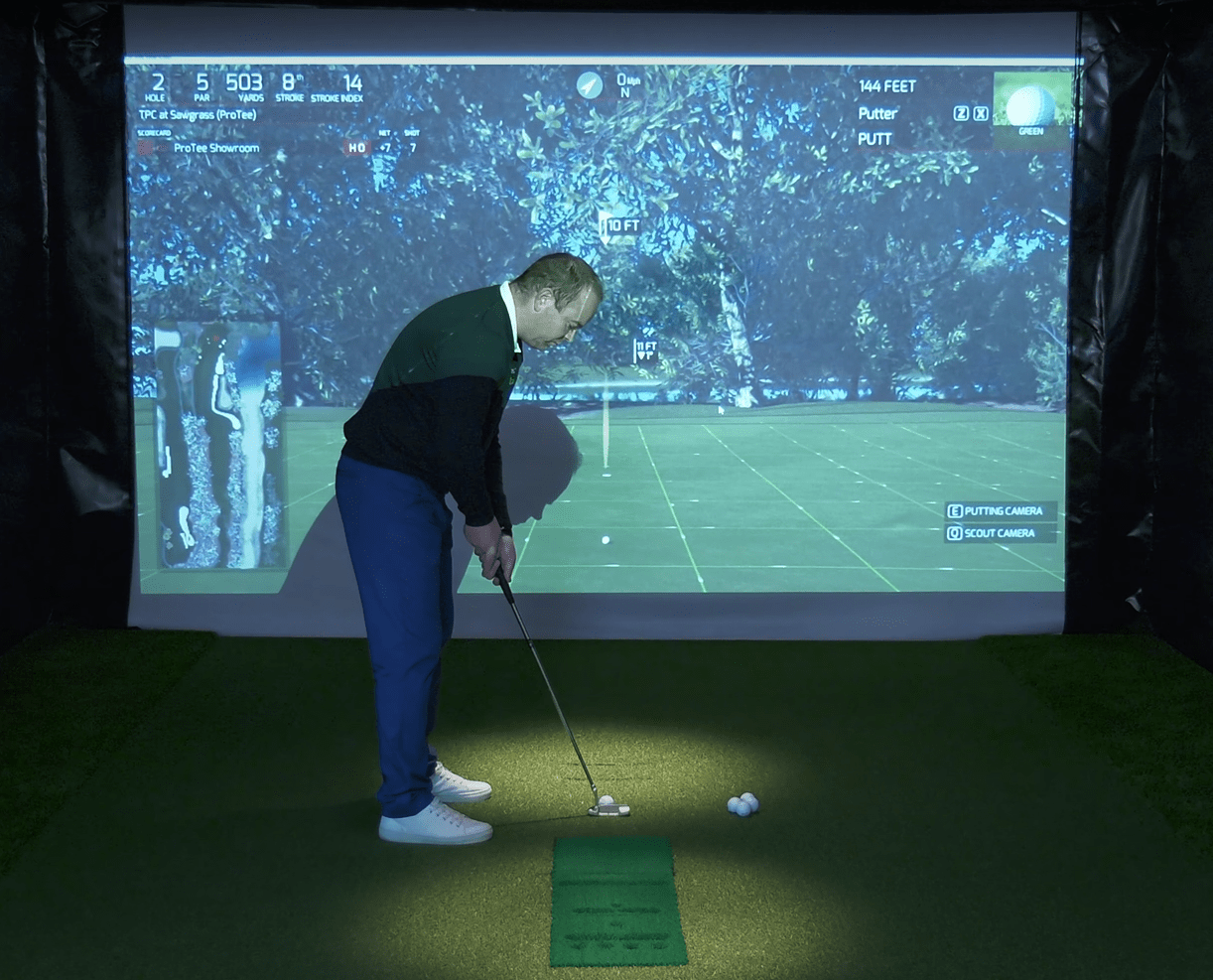 There are indoor putting greens that use sensors to let you test your putting skill. Based on the design and price, putting greens can be different. Some manufacturers use sensor kits that record everything about your putts.
Attaching a sensor in your club with the help of special software, you can use any club to practice putting greens. It will definitely help you improve your game. Because, without perfecting your putt strokes, you cannot win.
What does the golf simulator measure?
Golf simulators measure each and every movement of the ball, its possible trajectories, the club swing, and speed. In a word, a golf simulator measures all the data relevant to the ball and club. Some golf simulators track only ball data, some track club data. Most golf simulators track both. Let's see what a golf simulator can measure.
| | |
| --- | --- |
| Ball data | Club data |
| 1. Smash Factor: measures the amount of energy transferred from the clubhead to the golf ball. A higher smash factor means better energy transfer. | 1. Club Speed: speed of the clubhead at impact. More club speed equals more potential distance. |
| 2. Spin Rate: calculates the amount of spin on the golf ball immediately after impact. | 2. Dynamic Loft: the amount of loft on the clubface at impact. it should correlate with the launch angle. |
| 3. Launch Angle: the angle at which the ball takes off, it should correlate with the dynamic loft. | 3. Face Angle: the positive value indicates the club face is pointed towards the right of the target and a negative value means it is pointed left of the target. |
| 4. Carry distance: shows you how far the ball has traveled in the air. | |
| 5. Ball Speed: speed created by club speed and impact. Higher the ball speed, the greater the distance covered. | |
The number and categories of results may vary based on different brands and models of simulators. But the question remains – how does a golf simulator measure this data? Let's explain.
How do golf simulators measure?
A golf simulator uses simulator mats, sonic sound systems, optical sensor arrays, radar or camera ball tracking systems to do the measuring. From the number of input devices and output results, you can very well have an idea about the data processing or measurement systems.
Simulator mats: Golf simulator mats are specially designed with several infrared sensors and microchips. There are mostly 3 sensors in the mat. The first one monitors club speed. The second one calculates the club speed and angle of the club. Lastly, the third one traces the impact and direction of the ball.
Sonic sound systems: Can you imagine, even impact sound is measured? Simulators collect sounds produced by the hitting of the ball on the screen. And then compares the intensity of the sound with the pre-installed data by the experts.
Radar systems: A radar is placed on the side of the player to gather launch data that determines launch angle, speed, and direction. Simulators from Trackman and Flightscope are capable of using their radar system outdoors as well. The radar system is also capable of determining the spin, axis, and tilt of the golf ball.
Camera system: Several high-speed cameras are used in golf simulators to monitor the whole hitting area. It monitors and keeps a record of the downward swing path, impact, clubface angle, launches, and ball speed of your swings.
Benefits of Golf Simulators
Golf simulators are beneficial, there should be no doubt about it. Else it would not have created such a buzz among the golf lovers. Now let's have a list of what all these buzzes are about.
You can play golf any time, at your office or home even in any weather. Very much useful for practicing particularly in the winter and rainy season when golf courses are closed.
You can actually see the performance of your shots by having instant data feedback. It will keep your game fresh in the offseason.
Not have enough time to play a full 18 holes? You can have short-round golf courses in simulators. It requires significantly less time.
You can feel a little of playing at your dream golf courses like Pebble Beach, PGA National, Muirfield Village, St. Andrews, and more.
Last but not least, you can improve your performance when you know what is going wrong and how you can solve this. Because golf simulators let you see your game improvements.
Can I Trust on a Golf Simulator Output?
Our research shows that golf simulators are 85-90% accurate based on the quality and usage of materials. More than 90% accurate results can be achieved if you set up properly and ensure an appropriate setting for your simulator & concentrate on your swing. Learn more about how accurate golf simulators are.
Business Insider reported an interesting fact that American President Donald Trump has a $50,000 golf simulator in the White House. That definitely shows the impact of golf simulators on golf lovers and proves that it is worthy of owning one. Just like Computers, PlayStations, or even Telephones, golf simulators have come a long way with technological advancements. This improves the operating system making it more precise to read data.
So, yes, you can certainly trust the outputs from a simulator that has a good setup.