Golf Simulator is one of the most popular and favorite pastimes for golf passionates when they are away from golf courses. And it is gaining popularity every day.
Golf can't be played under the rain, as a result, many golfers pass a boring time in the rainy season while missing golf. They love to play in golf simulators at that time. But more importantly, most professionals, as well as beginners, use a golf simulator to record, analyze their performance so that they can improve themselves based on that output.
Not only this, What if you don't have a good course in your area or even within a short distance? What if you're stuck at the workplace and don't have time to play a full 18 holes? These are the reasons behind simulators creating a buzz among golf enthusiasts.
If you are one of us, then you may have questions like what is a golf simulator, how do they work. Is it worth buying or not and many more? You are at the right place where you find your all queries answered. In this article, we are going to inform you about golf simulators, their functionality, benefits, costs, and so on.
What is a Golf Simulator?
The golf simulators are technologically advanced machines consisting of hardware (i.e. simulator mats, sonic sound system, optical sensor system, radar, ball tracking system and cameras) and software that can sense, record, and analyze your swing and show you results like club speed, clubface angle and impact, club path, ball path, ball speed, horizontal and vertical launch angle, spin, and so on.
Wikipedia defines, "A golf simulator is a set of equipment that allows you to play golf on a graphically simulated golf course." The history of the golf simulator is perhaps unimaginable for many of us. Golf Simulator was first introduced in 1970. Since then it has improved beyond expectations.
Nowadays golf simulators are capable of representing realistic virtual graphics too. And the days might not be too far when augmented reality will be used in commercial golf simulators. Just like Computers, PlayStations, or even Telephones, Golf Simulators have come a long way with technological advancements.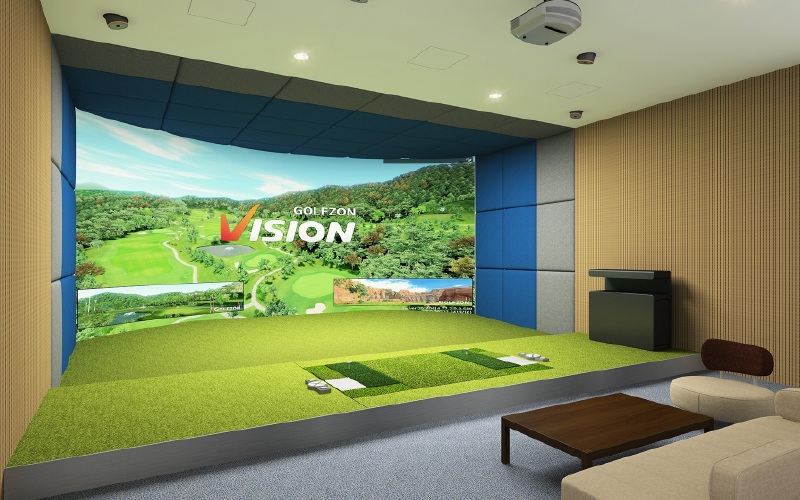 A complete golf simulator package includes
Golf Simulator is a package combining hardware and software. A complete golf simulator must include the followings:
1x Golf Hit Mat
1x Projector Screen
1x Projector
1x Golf Hitting Net
1x Simulator or launch monitor
Computer or Smartphone
Golf Simulation Software (as needed)
Top 4 golf simulators brands
There are many brands available that produce best golf simulators for home. And they are introducing technologically advanced simulators every year. Few most popular golf simulator brands are: 

OptiShot Golf offers a full line up fit for any budget, brings fun for the family and life to the party. From Golf-In-A-Box to OptiShot Pure, their technology has covered everything regardless of your skill level. Read our OptiShot 2 Golf Simulator Review.

TruGolf maintained the core programming and graphics team of Links™, the most honored and award winning of all PC sports titles, and TruGolf continues this tradition of developing the industry's finest golf simulation software. Read our. Read our TruGolf Simulator Review.

Protee-United is a specialized golf company in developing, manufacturing and distributing Best Indoor Golf Simulator products worldwide for entertainment, commercial, professional and private use. Read our Protee Golf Simulator Brand and Products Review.

SkyTrak is famous for their affordable, entertaining, portable and innovative launch monitors. They are accurate, reliable and authentic simulation of a professional-grade launch monitor. Read our SkyTrak Brand and Golf Simulator Packages Review.
How Do Golf Simulators Work?
The way golf simulators function is known as the simulation process. According to dictionary.com simulation is the representation of the behavior or characteristics of one system through the use of another system, especially a computer program designed for the purpose. A golf simulator does the same.
You will play in front of a golf simulator similarly as in the real golf play in the course except you are standing in front of a projector screen on a platform, termed as 'swing pad'. The swing pad and the projected screen look like the real-world golf course conditions.
Some simulators replicate and project the real golf course graphics and data too. It makes you feel real. You just have to hit the ball on the screen just like at a real driving range.
The screen is connected to a computer to run the software with sensors to measure the shot details, cameras to record your swing, and so on. Then it analyzes your swing and shot details and you can check the results on the projected screen or on your smartphones. Not all simulators can analyze swing data. Some simulators use infrared optical sensors that monitor your swing movement.
Process breakdown
A simulator is operated just like the same process a computer operates. It takes shot details, swing details as input, then processes, and analyzes those data, and lastly provides analyzed results as output.
Here cameras and sensors work as inputs and take data of your swing and shots and send those to software to analyze and the projector screen delivers output. You need a computer or smartphone and special golf simulator software to control a golf simulator. The courses are projected on the screen along with the information such as which hole you are playing, and the distance of the green, etc
Takes input
A set of input devices like light sensors, radar, and other motion detecting devices are placed on the sides of the projector screen. You will stand in front of the projector screen on your designated position on the swing pad, you should be facing the projector screen and swing your natural golf shot. You can use your regular golf clubs and balls or you can dedicate different clubs and balls for simulators; as your preferences. We suggest using your regular clubs and balls to improve your performance on the golf course.
Process and analyze data
While the ball hits the projector screen or net in front of that a computer program with the help of sensors will determine the details of the swing such as clubhead speed, face angle, face contact, swing tempo and the shape of your shots, as well as the distance traveled with utmost accuracy.
Delivers performance output
Based on the data received through several sensors the computer program will analyze where the ball should actually land on the course. And along with the visual, it will project your performance data in numeric information.
What does the golf simulator measure?
Golf simulators provide lots of results of your shot and swing. Most simulator basically measures the followings more or less:
Smash Factor: measures the amount of energy transferred from the clubhead to the golf ball. A higher smash factor means better energy transfer.
Spin Rate: calculates the amount of spin on the golf ball immediately after impact.
Launch Angle: the angle at which the ball takes off, it should correlate with dynamic loft.
Carry: shows you how far it has traveled in the air.
Ball Speed: speed created by club speed and impact. Higher the ball speed, distance the distance covered.
Club Speed: speed of the clubhead at impact. More club speed equals more potential distance.
Dynamic Loft: the amount of loft on the clubface at impact. it should correlate with the launch angle.
Face Angle: positive value indicates face pointed towards the right of the target and a negative value means it is pointed left of the target.
The number and categories of results may vary based on different brands and models of simulators.
How golf simulators do the measuring?
From the number of input devices and output results, you can very well have an idea about the data processing or measurement systems. The simulation process measures each and every movement of the ball, and its possible trajectories also the club swing and speed. It uses systems like simulator mats, sonic sound systems, optical sensor arrays, and radar and camera ball tracking systems to do the measuring.
Simulator mats: Golf simulator mats are specially designed with several infrared sensors and microchips. There are mostly 3 sensors in the mat. The first one monitors club speed. The second one calculates the club speed and angle of the club. Lastly, the third one traces the impact and direction of the ball.
Sonic sound systems: Can you imagine, even impact sound is measured? Simulators collect sound produced by the hitting of the ball on the screen. And then compares the intensity of the sound with the pre-installed data by the experts.
Radar systems: A radar is placed on the side of the player to gather launch data that determines launch angle, speed, and direction. Simulators from Trackman and Flightscope are capable to use their radar system outdoors as well. The radar system is also capable of determining the spin, axis, and tilt of the golf ball.
Camera system: Several cameras used in golf simulation to monitor the whole playing area. It monitors and keeps a record of the downward swing path, impact, clubface angle, launches, and ball speed of each of your swings.
Benefits of Golf Simulators
Golf simulators are beneficial there should be no doubt about it. Hence it would not have created such kinds of buzz among the golf lovers. Now let's have a list out at why all these buzzes about.
You can play golf any time, at your office or home even in any weather. Very much useful for practicing particularly in the winter and rainy season when golf courses are closed.
You can actually see the performance of your shots and keep your game fresh in the offseason.
Not have enough time to play full 18 holes? You can have a short round off golf in simulators. It requires significantly less time.
You can feel a little of playing at your dream golf courses like Pebble Beach, PGA National, Muirfield Village, St. Andrews, and more.
Last but not least, you can improve your performance when you know what is going wrong and how you can solve this. Practice more in simulators and see the improvements on your own.
Can I trust on a simulator output?
Our research shows that golf simulators are 85-90% accurate based on the quality of the simulator and its accessories like sensors, radar, camera, etc. More than 90% accurate results can be achieved if you set up properly and ensure an appropriate setting for your simulator & concentrate in your swing. So, you can certainly trust the outputs from a simulator that has a good setup.
How much a golf simulator costs?
The cost can vary based on the availability of accessories to set up a simulator. Other than this a quality golf simulator prices start from as low as $800 (OptiShot 2)and can go as high as $70000 (HD Golf Simulator Ultimate). You can build your own golf simulator which might be slightly cheaper than buying from the best of the simulators.
Conclusion
Last year, Business Insider reported that American President Donald Trump has a $50,000 golf simulator in the White House. That definitely shows the impact of golf simulators on golf lovers and proves that it is worthy of owning one. Just like Computers, PlayStations, or even Telephones, Golf Simulators have come a long way with technological advancements. And expected to go a long way yet. It certainly helps beginners and professional golfers a lot to improve golf skills. More importantly, you can play golf any time, at your office or home even in any weather. And there is no better alternative to this.