To practice putting, nothing can be a better solution than putting green. Practicing on grass may not always be possible and that is the reason golfers look for the best indoor putting greens. A good putting green can make a golf simulator great. Because, the more you can practice on the green, the more you can improve.
If the green is constructed properly, it can give you a smooth feel. Training instructors like alignment lines and distance traits can increase your swing skill. And a prevailing size with portability can give you flexible transport.
If you are in need of a comfortable, consistent and durable putting green or if you have any other demand, stay with us. We researched for days and did an analysis to make a list of the top 10. Find the most suitable one for you.
10 Best Indoor Putting Greens
1. Big Moss Augusta V2 Putting Green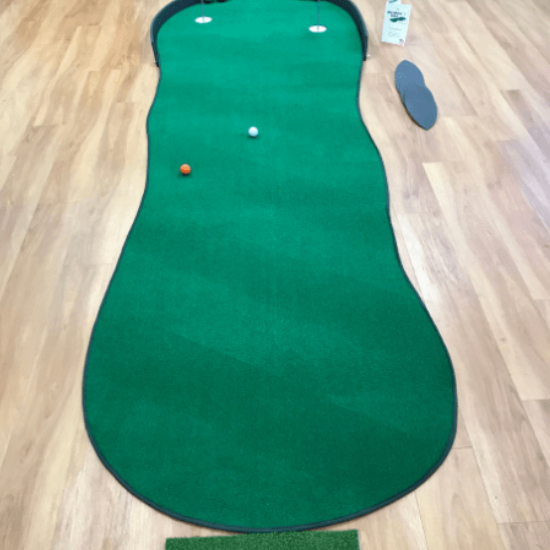 This mat is an ideal training aid for your putting stroke because of its True Tour Roll technology. The benefit of this technology is it allows you to have predictable roll and direction.
You may also like: Putting Training Aids
If you are looking for a long lasting multi-layered green, Big Moss Augusta can be the perfect solution. It requires less care as it is triple-stitched. Besides, you don't have to worry about bubbling or bunching on the surface. Because the green comes with a wrinkle free rubber backed surface.
You can easily set it up. When you roll it up, it won't lose its flatness and create an uneven roll. You can even practice in a small space using this green as the shape is 4′ x 12′.
The regulation hole looks huge because of the small holes. So you have no chance to miss it.
After unpacking, you will get the green wrapped in plastic and the accessories packed in bags. Don't forget to find out the instructions manual.
How to assemble? First, take the foams. Keep them down and unroll the green. Then put the backstop along with the tees. Assembly may take around 2 or 3 minutes. Make sure you are doing it correctly by following the instructions manual.
Things we liked
Very easy to roll up & unroll
Made of top-quality materials for better practice
Durable
Rolls like real grass
Made from a prominent manufacturer for indoor putting greens
Very flat and smooth
Large and premium putting green
Things that can be improved
As the mat is flat, the holes are not deep enough. So there is a chance to get bunched up on the carpet
A little bit pricey
Final verdict
For price and quality there are no competitors of Augusta V2 putting green. In a word, it's just like the greens on the course. Highly recommended for real grass experience and long lasting build quality.
Check Price at Shop Indoor Golf
2. Big Moss Commander Patio Series V2 Putting & Chipping Green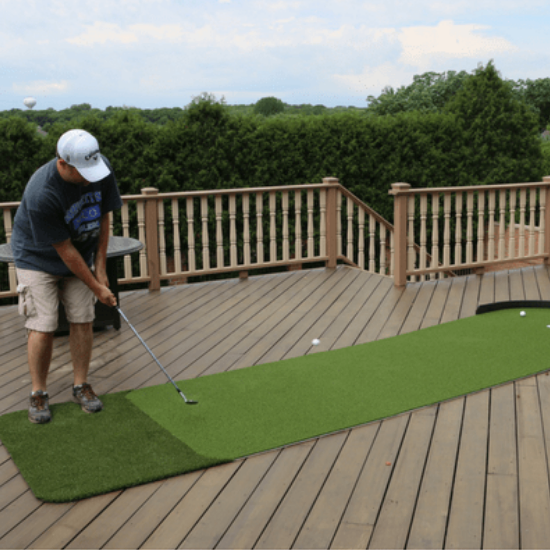 Indoor putting greens don't mean you cannot use them outdoors. Some putting greens are made for both indoors and outdoors. Big Moss Commander Patio Series V2 Putting green is one of them. It is not only great for putting, but also great for chipping.
If you are looking for a portable and realistic putting green, try the Big Moss Commander. It ensures you safety and fun as well. You don't have to set up any expensive putting green for permanent use. Anywhere you use this green, it looks perfect and works great. Just you need enough space.
You can use this green for years because it is made to last long. You know what, the most interesting thing is this green is designed by the PGA's professionals who are at the top level. Tour players also gave input on the idea of its design.
Did you ever think of an indoor putting green that has a deep hole outdoors too. And this deep hole makes the green realistic because it helps you see the ball drop like it does on a real golf course.
Things we liked
Very easy to assemble
Hand crafted in the USA
Very consistent and good roll speed
Looks perfect
Built with high quality materials
You can create a lot of angles and slopes
Things that can be improved
Chipping mat is not much different from the putting mat
Cheap cup base
Final verdict
We recommend this putting green for its portability and real feel. You will get greater consistency too. Recommended for those who can consider a fair amount of money to have a portable high quality putting green.
Check Price at Shop Indoor Golf
3. Tour Links 4′ x 12′ Premium Indoor Putting Green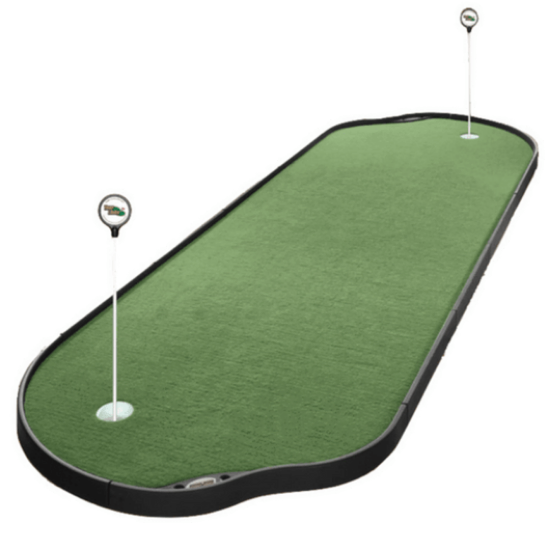 If you want a weather resistant and UV protected putting green, Tour Links Premium Indoor Putting green will be best for you. The specialty of this putting green is it provides extreme durability. You can use it for years.
Tour Link gives a real environment. That's why, while playing on this green, you can take the feel of a real putting surface. And you can place it anywhere you want because it is portable and easy to move.
Whether it is grass, concrete, dirt, basement or your home, you can put the Tour Link and practice with it without any complexity. Along with the putting, you can practice your chip shots.
What makes this green a professional quality putting green is the adjustable breaks and two regulation cups and pins. It allows you to lower your scores. Whether you are a beginner or a pro, the Tour link suits both.
Things we liked
Professional quality putting green
Quick assembly and smooth fell
Flawless and realistic roll
Suitable for both indoors and outdoors
For both beginners and professionals
Designed in such a way that you can automatically improve your putts
Gives low handicap
For both left and right handed players
Things that can be improved
Final verdict
If you want long putts, easy installation and a solid feel from an indoor putting green, try Tour Link. Recommended for its portability, looks and performance.
Check Price at Shop Indoor Golf
4. Big Moss Country Club 612 V2 Putting Green & Chipping Mat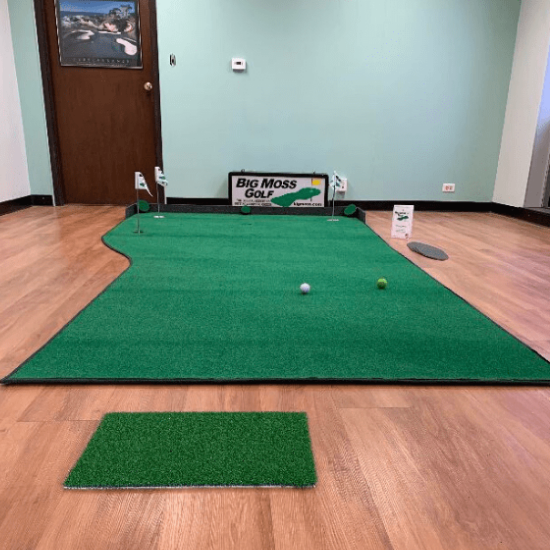 Who wants to do the monotonous task of driving to the golf course every single time? Nobody does, isn't it? If you use the Country Club 612 V2 putting green, you will probably love the idea to practice on the putting green every time. Because here you get an exclusively practical golfing area to practice putting.
This green of Big Moss lays flat always. It ensures you no obstacle in your putting. It is designed with an inch and a half piece of foam on half of the green. This foam eases the very slight uphill putt.
The Country Club rolls true, nice and runs fast. And the flat surface makes your practice easier. You can use this both indoors and outdoors as it is completely portable.
If you can consider large space, the Country Club 612 V2 of Big Moss will be perfect for you. It has three regulation cups on the edges and a reduced hole in the centre to give you accuracy in putting.
The new True Tour Roll technology ensures the most realistic putting and chipping. You need minimum care for this putting green. And each green is durable along with multi layers.
Things we liked
Rolls true, runs fast and makes it easy to practice
High quality construction
Versatility for year round practice
No tools required to setup
Quick installation and easy storage
Perfect choice for golf enthusiasts to practice with the comfort of home, office, lawn, park or anywhere else with this putting practice mat.
Things that can be improved
The bumper pad is very small and so it doesn't roll on.
Final verdict
We recommend it for its portability and for practicing swing. High quality materials can give the utmost satisfaction with a real environment experience.
You may also like: DIY Putting Green
Check Price at Shop Indoor Golf
5. Fiberbuilt 10′ x 10′ Putting Green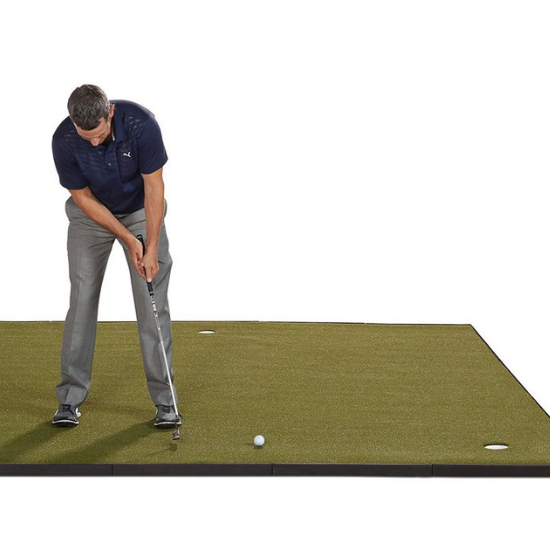 If you want the finest and the largest putting green, Fiberbuilt 10'×10′ can be your solution. You can challenge yourself to grow confidence and to have fun using this green.
You can set up this green without any tools. Yet it requires no time to install. The rubber base eases your practice on your feet and knees. It doesn't slide on the carpet while swinging. The rubber tray system ensures no slide.
If your concern is durability, try this one. It is made long lasting yet the driving surface works very smooth. You will feel easy on your hands and wrists.
The Fiberbuilt 10'×10′ provides realistic fairway turf and putting green surface. This gives you a flexible solution both at your home and out of your home.
Things we liked
Portable green
Realistic feel and accurate practice
High quality and long lasting
True-roll surface simulates real green conditions.
Very lightweight
Smooth and soft feel
Accuracy in practice
Things that can be improved
The most expensive putting green
Final verdict
We would like to recommend this realistic putting green as you can use it for a long time and carry wherever you want because of its portability.
6. Fiberbuilt Combo Golf Mat & Putting Green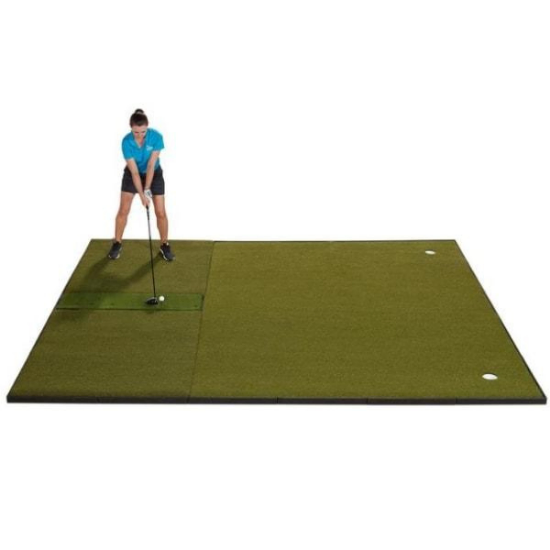 If you want to have the most unique and versatile home putting experience, you can use a Fiberbuilt golf mat and putting green. This mat provides the ability to adjust the speed of your putt because it combines the world class hitting mat with the world class putting green.
You may also like: DIY Golf Mats : The New Way to Practice
Using this wonderful green, you can practice with all types. From driver to irons, whichever you want can be used. It doesn't matter whether you are a right handed or left handed golfer, it will suit both.
You can improve your putting as well as driving by practicing on this mat. The true roll putting green surface and fairway turf are built for long lasting.
Who doesn't love to have a flexible practice area? The Fiberbuilt 10′ x 10′ Center-Hitting Combo Ma gives you that. It is easy to set up and simple to carry.
Things we liked
Combination of high quality hitting mat and putting green
Easy to assemble & disassemble
Flexible area to practice
Real grass feel
True and natural roll
Portable
The extra space of the mat can be used as putting surface
Things that can be improved
Can be too dense for some golfers
Highest price
Final verdict
This putting mat is remarkable for having the ability to work as both a hitting mat and putting green. Recommended for easy storage, durability and forgiveness.
Check Price at Rain or Shine Golf
7. Tour Links 12′ x 12′ Premium Indoor Putting Green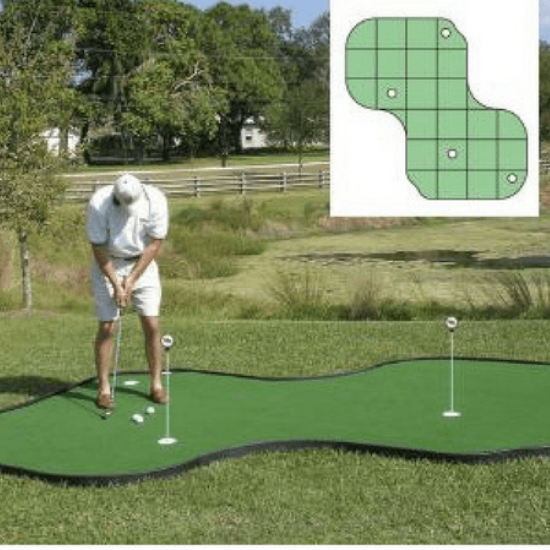 To get high quality & creative products, this golf green is the best option to choose from. You will get products providing durability and function for the whole family.
The Tour link putting green delivers both looks and performance. You get over 120 square feet of putting surface. As the green is weather resistant, you can use it outdoors too.
There are three practice green pins and tour speed for more realistic putting. The four cups are of regulation size and it is lower than the level of the turf. This size allows the ball to fall into the cup easily.
You can stand on the entire green to play. The contour pads create verifying breaks to make your practice easy. Though there are no assembly instructions, you can easily assemble the whole thing.
Things we liked
High quality construction
Fairly easy to assemble
Long lasting
Rolls out flat and smooth
Perfect for large surface
Easy transport
Perfect size for proper practice
Things that can be improved
Only offers one target and isn't reversible like some putting mats
Final verdict
To get high quality construction and long lasting mat, putting green can be your solution. In a word, if you are looking for a putting green to perfect your game, Tour Link 12'×12′ is perfect for you.
Check Price at Shop Indoor Golf
8. Fiberbuilt Flight Deck Golf Mat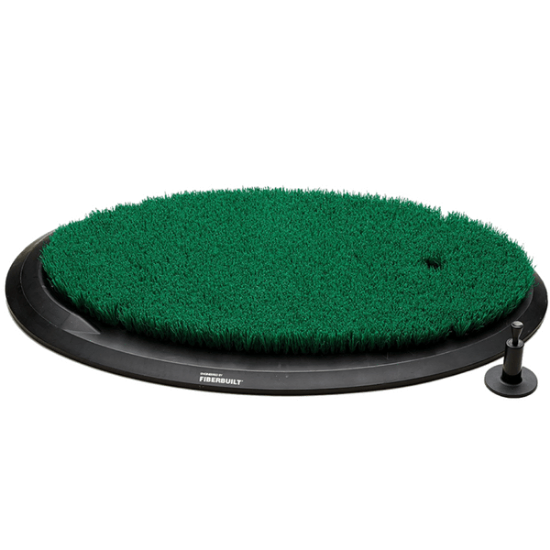 If you want a putting mat that can perform closer to fairway grass, use Fiberbuilt Flight Deck Golf Mat. Fiberbuilt gives you the longest lasting putting green along with 300,000 shot guarantee through their Flight Deck Golf Mat.
This mat is suitable for both indoor and outdoor use. The oval shape surface of this hitting mat allows you to correct your swing path and alignment for better performance.
The most interesting thing is you can avoid injuries using this mat. Your hands, arms, wrists, elbows or shoulders whatever it is, will remain safe. Because it is designed with the proprietary fiber technology that allows you to hit down easily. And thus you can keep avoiding injuries.
This mat allows you to practice with any club you want. Even if the club is oversized, it won't bother you at all. You can adjust with the tees of different heights (up to 2′). The mat is in a frame that will prevent fraying and curling.
Things we liked
Very sturdy and large
Good construction and long lasting
Works well on grass too
Real feel
High quality & weather-resistant materials
Enough forgiveness for hitting a lot of balls without being hurt
Easy to move around
Very affordable
Things that can be improved
Relatively small
Instead of oval shape, square shape would be better to cut the holes easily
Final verdict
This putting green is recommended for its forgiveness and price. You can hit the balls according to your wish and it won't hurt. You can feel if you miss hit any shot.
Check Price at Shop Indoor Golf
9. Big Moss Competitor V2 Putting Green & Chipping Mat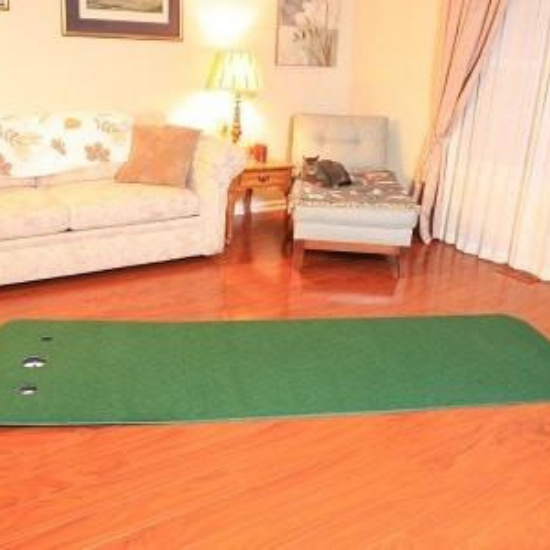 If you have golf lover friends, then the Big Moss Competitor V2 is the green you should think of gifting them. Even if they do not play golf, soon enough they will love playing golf due to the thrill of using the green.
You get both the putting green and chipping mat with the purchase. Though this green comes tightly rolled up, it is very flat and smooth even if it is on your hard wood surface.
Don't worry about the rolling feature. This green rolls out completely fast. And obviously rolls out very flat. Using this green, you can practice on the completely flat area or you can putt to a real hole the ball falls into.
It is relatively small in size. Yet you get enough space to stand comfortably to practice putting. The True Tour Roll technology ensures the most realistic feel.
Things we liked
High-quality product
Rolls out fast and flat
Ideal shape for practicing with comfort
Easy to set up
Very reasonable price
Perfect size for practicing in small space
You can practice in chipping mat too
Things that can be improved
The break snake could be bigger
Needs better ball stop
Chipping mat could be a bit bigger
Final verdict
Big Moss Competitor V2 is great for its good speed and size. It ensures you the most realistic putting and chipping situations to practice with comfort. If you want to increase your confidence, we recommend this green for you.
Check Price at Shop Indoor Golf
10. Perfect Practice Putting Mat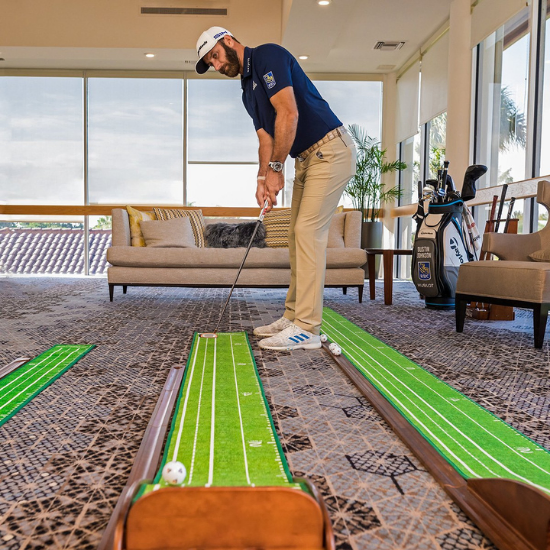 If you are at the professional level of golf, Perfect Practice putting mat can be an ideal option for you. You can practice your putt even if you are traveling. Because this mat is featured with indoor and outdoor flexibility.
Perfect Practice Putting mat was the official mat of PGA tour professional Dustin Johnson, the former world champion. This mat is designed with a Crystal Velvet material that allows the golf ball to roll identical.
There is an alignment 'train-track' that is used for training and giving a straight-back straight-through putting stroke. The auto ball return service protects the ball from getting lost.
This green is suitable for both the left and right handed players. The wood construction is nice and solid. And the alignments are also cool. What you should consider is the hole size. It is not regulation.
Things we liked
Impressive wood construction
Auto ball return technology
Looks nice and well finished
Lightweight and easy to carry
Lets you see when you push or pull your stroke
The track lines help you swing straight
Relatively less expensive
Things that can be improved
The hole is small in size
The main ramp's leading edge could be sharper
The mat is not perfectly flat
Sometimes ball doesn't return
Final verdict
This putting green is remarkable for reasonable price and solid construction. What will astonish you is that it is small yet it makes your practice better. Recommended if you are in need of having real grass feel within a limited budget.
Check Price at Rain or Shine Golf
Things to Consider Before Buying Indoor Putting Greens
Before buying mats, you need to consider some things. Because it might be a bit tough for you to choose the features that really help. And thus you might fail at selecting the best one according to your budget. We gathered some information here. You can take these as tips, instructions, suggestions or guides whatever you like. Have a look.
1. Brands
You will find several brands of high quality that may impress you to fulfill your requirements. Branded products help you have high quality materials. And you can trust buying the product of a good brand rather than buying randomly. We are not mentioning a certain name of any brand, but before buying mats, it's a matter of thought about what brand can give you good products and what you are going to use for years.
2. Design
All putting greens aren't equally designed. Some designed mats will give you specific benefits that you won't get from other designed mats. For example, some are designed to give a realistic experience, some are designed flat so that you can putt easily, some are designed to take your ball to the hole smoothly without curving away. So choose the design according to your demand.
3. Quality
We didn't recommend any low-quality products above. Obviously every green is of high quality. The question is how you can understand if a green is of high quality. Check the materials if they are long lasting and can ease your putting.
4. Price
Make sure you got what you paid for. For example, if you spend a lot but your green doesn't last long, not even a year. You should reconsider buying it. Always keep in mind that an expensive green is durable enough to work for years. If you are price conscious, it really matters if the green is well featured with an affordable price whether the green you are going to choose is affordable for you or not. If you want high quality with a bit pricey, it's all about you.
5. Size
Putting greens vary in size. You should look for one that will fit your home. Greens are available from 4' x 10' to 10' x 20'. If you have enough space, select the larger one. Because it will ease your swing and help you practice longer putts though it is more expensive. But if you have a limited room and cannot manage extra space, try from 4' x 10' to 6' x 12'. Don't consider the one that cannot make you feel comfortable whether it is indoors or outdoors.
6. Speed
Generally speed helps to improve putting skill. Some greens provide varying speed, some provide only one. Find out the one that can give more speed as well as less speed according to your needs. Which speed you need depends on which speed can improve your skill. But it's always better to play with the green providing varying speed.
7. Durability
Durability is another important feature you should look for in putting greens. Buy the one which will give service for a long time. Otherwise it might disappoint you in the half of the year when you are still in the beginning level.
8. Features
Recheck the features before considering one to buy. Look for some extra features if they offer. For example, durability, moderate speed, immediate bouncing back, perfect feedback, rolling true, multiple cups, natural putting surface feel, hole reducer to improve consistency etc.
Conclusion
Putting greens make one's game easier and enhance skill. We have discussed the best putting greens with their features in detail. Don't forget to mention the pros and cons of every product as you will require it most. We have also revealed some instructions in the buying guide. Now you can consider how you will choose and which one you are going to buy. Let us know which