Short putts are a major barrier to your breaking 100 or even 90 breaking challenges. While golf basics and techniques are essential too. What is more important is practicing regularly. It's best to putt on the different grass of the real golf course for both feel and effectiveness of practice.
But we know it is not always possible. You can't go to the golf course daily with your tight schedule. Many of us might not even have the budget to do so. That's a bitter fact. So, what's the best alternative? An indoor putting green is.
You can level up your putting game with these. Many golfers use indoor greens with a home golf simulator to practice the shots in more realistic situations. It makes the practice session effective and beneficial. However, that needs a bigger budget, which many of us may not be able to afford at this moment. Thus, today's talk is about the best indoor putting greens only.
9 Best Putting Greens Review
We have picked up 9 best putting greens to level up your putting skills. We have reviewed the products depending on different factors that include size, portability, hole positions, quality, difficulty level, durability, etc. Let's get into the review without any further delay.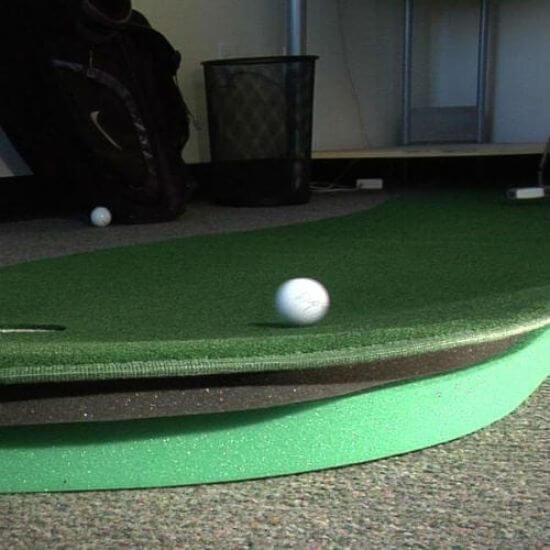 The Country Club V2 package is the first one on our list. It pretty much includes all to improve your putting skill. It's a premium option that has backstop, break snake, safety flagstick to make your experience more realistic.
You can choose from 2 different size options. Both 6′ x 10′ or 6′ x 12′ sizes have pretty much surface area for you to position the golf balls at different angles and practice.
Though the putting surface lessens in the 6′ x 10′ sized putting green, the holes number and position remain the same. They are positioned at different distances and angles to make your putting practice more effective.
The package includes break snakes for free. This allows you to create
contours to the putting green. You can practice both uphill and downhill putts with this. Or make various scenarios to increase the difficulty and improve your skill level.
Things we liked
As the base is heavier and rubber-backed, it doesn't move easily while making the shot.
While some putting green may take days and even weeks to roll out flat, it doesn't require much time.
You can practice 6′-8′ long putts too, along with the shorter putts.
The true roll technology assists in giving a realistic feel. The speed is good. It can be 10-12 on the stimpmeter.
The multi-layer and triple-stitched structure make this putting green more durable.
Things that can be improved
The bigger size and more items make it hard to move to different places. It doesn't come with any storage option like a bag for roll-up.
Final verdict
Country Club V2 is different from most other putting greens because of its more holes and variation in the hole positions. Competitor Pro V2 added to our top list has the same included items as this package. However, Competitor Pro V2 comes with 1 less cup and can't create as versatile putting situations as Country Club.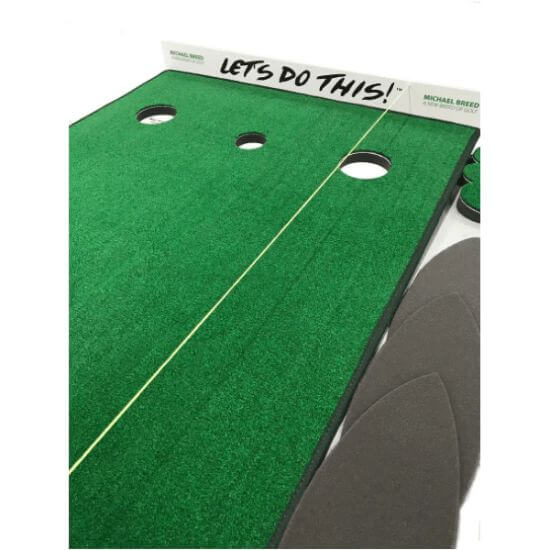 If you are new to golf, you need proper guidance and instant feedback while practicing. Having a golf coach is the best choice for that. But it's not possible to get instructions all the time. Both because of the schedule and budget. This putting green can be a good solution for that.
It's pretty obvious from the name that you can practice putts and get training at the same time with this. Michael Breed, PGA's National Teacher of the Year 2012, designed this.
It has a yellow-colored string that you can set with the backstops. This gives you the guidance to keep your body and putter aligned while making the golf swing. To summarize, it helps you make straighter putts. Thus, it's mainly for the high handicappers and average golfers.
It has 3 holes. It's like eventually leveling up your game. First, practice putting in the bigger-sized hole with the string's guidance. Then, with the smaller ones to be more focused. This helps you to be more precise while making the shots. Finally, putt in the third hole to test yourself if it was helpful for you or not.
Things we liked
You learn to square the putter face to the target line.
The 10′ feet length lets you practice both longer and shorter putts.
Included Michael's training tips and drills with the instruction manual is a big plus.
It's a very portable option.
Things that can be improved
The putting green may feel too narrow to you. It just has the space to stand and place the golf balls. You may need to stand out of it to make the shot comfortably.
Final verdict
This isn't for you if you are an above-average golfer who has already broken 90. You will need a more versatile putting green that lets you practice further varied putting scenarios like Country Club V2.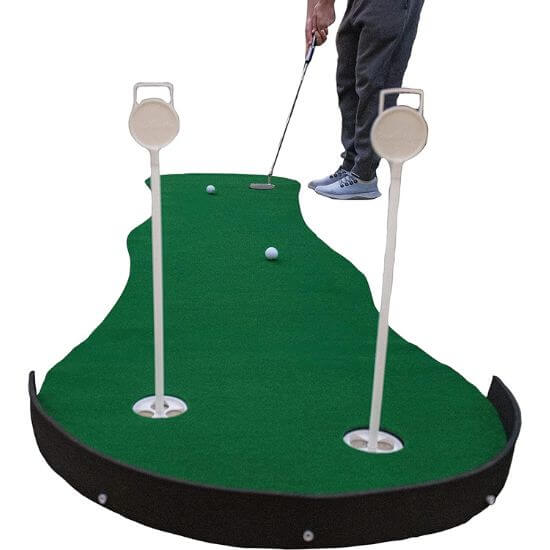 The specialty of TrueBirdie XL is its slope control feature. It comes with a foam wedge. You can add it anywhere to make practice more challenging and enjoyable for you.
It has 2 holes. They are placed at slightly different distances. That allows you to form different settings and practice on that.
The putting green flags for the holes are an attraction of this package. You get 2 flags for 2 holes. They are customized to fit in the hole. They can hold up to 4 balls. These help to give you a realistic feel.
The custom flags make it easier for you to retrieve the balls. As the sticks' height is pretty long, you don't need to bend much to get them.
Things we liked
The flagsticks save you from back pain.
It lays out flat right out of the box. That allows you to practice from the day you brought it.
It's an affordable option for putting green with 2 holes. The backstop, foam wedge, 2 flagsticks are free with the package.
You can hit the putts from different angles because of the different hole positions.
Things that can be improved
Though both Michael Breed's "Let's Do This!" and TrueBirdie XL have 3 feet in width, this TrueBirdie putting green doesn't have the same space to stand on. That's because of its wavy layout. Even if you stand on it, you might be slightly out of it.
Final verdict
Both Augusta V2 and TrueBirdie XL have 2 holes. But as Augusta V2 is wider and comes with many items, that costs more. While putting greens with 1 hole are usually the most affordable one, they are not suggested for average golfers. Average golfers need to practice on more difficult ones. As TrueBirdie XL has slope control too, it is suitable for the average golfers who are tight on a budget.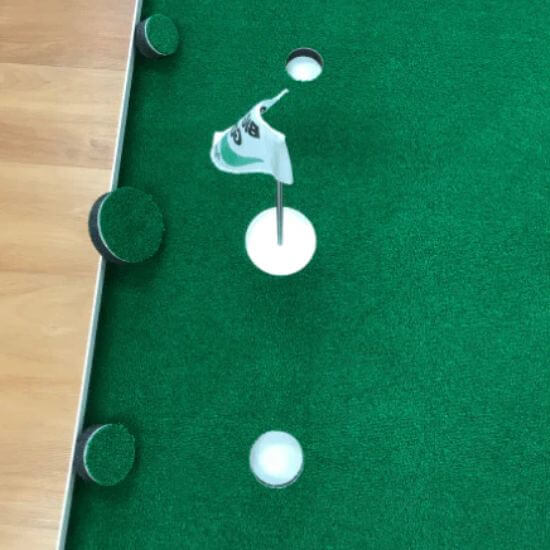 Competitor Pro V2 is similar to Michael Breed's "Let's Do This!". Both of them have a rectangle shape. They have 3′ width. Though Pro V2 has options for both 9′ and 12′ feet for length, the "Let's Do This" model is only available in 10′ length.
Both of the models have 3 holes at the end of one side. In "Let's do this" training green, the middle hole is designed small, and the other 2 are of the same size. In comparison, Pro V2 has 3 different hole sizes. They are 2″, 3″ and regulation-sized cup, which is more than 4″. Thus, you can use it to practice with the bigger one first and eventually go practicing with the smaller ones to make the putting more challenging for you. 2″ cup will make your putting more precise. This assists in increasing your accuracy.
Though it is comparatively lightweight and portable, the rubber back helps it grab the floor. Thus, it doesn't move much while you are making the stroke.
Things we liked
The sound of the golf balls hitting the back of the cup is very satisfying.
It provides a true roll.
You can add the included break snakes under the putting green to create the putting situations in uneven green. This makes the practice more challenging.
This putting green rolls out flat and smooth.
Things that can be improved
This putting green isn't much versatile. Though you can make your putts straighter with this, it doesn't allow you to practice from multiple angles.
Final verdict
The "Let's do this" model is still a better choice for complete beginners as that provides guidance to align the setup. Competitor Pro V2 is better for those who already broke 100. The different hole sizes help level up their game.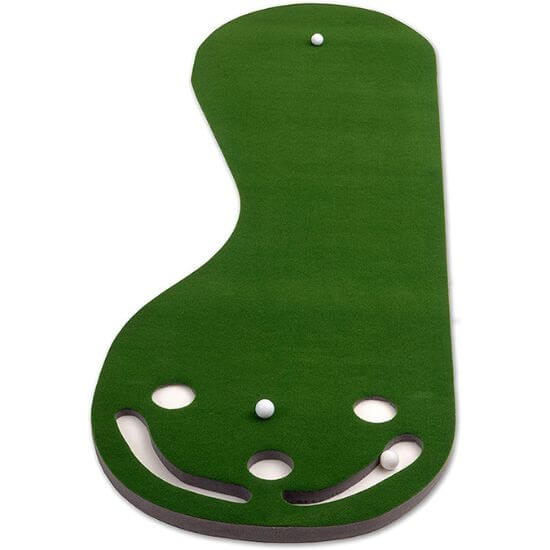 You can get it for under $70. That's the first reason to consider it. Despite the lower price, the design is more than basic.
All 3 holes are located at different distances, providing you with a chance for versatile practice sessions. To make it more challenging, it has 2 traps just beside the holes. That means you need to be very precise while making the putt. This makes it a budget-friendly option for many above-average golfers too.
It is made out of polypropylene. This helps to give a faster stimp reading with a realistic feel.
This kidney-shaped green is a lightweight and portable option. The width is not much. That means you can't really stand on it and putt comfortably. The length isn't much either. That limits your option to practice longer putts. However, this size makes it a good option for smaller spaces.
Things we liked
The holes and traps are uplifted with foam. This slightly simulates an uphill putting situation.
Along with making the practice more challenging, the sand traps stop the golf balls to an extent from rolling far away.
It has a smooth surface.
A great option for confined spaces.
Things that can be improved
There is no backstop. If the ball doesn't go in hole and sand trap, they may roll toward the end of the room. You will need to go there to fetch them. That's quite troublesome sometimes.
You may see wrinkles sometimes.
Final verdict
Competitor Pro V2 has 3 holes, and so does Putt-a-bout Par 3. Competitor Pro V2 is for the ones with a budget over $200 and it comes with a backstop, safety flagstick, break snake, etc. to make your practice session both realistic and challenging. While for Putt-a-bout par 3 putting green, you just get the thinner mat that comes under $70. You don't need to set up anything. Just roll it out and start practicing.
If you still have any confusion about PUTT-A-BOUT Par 3 Holes Practice Putting Green, you can be more clear by watching the following video.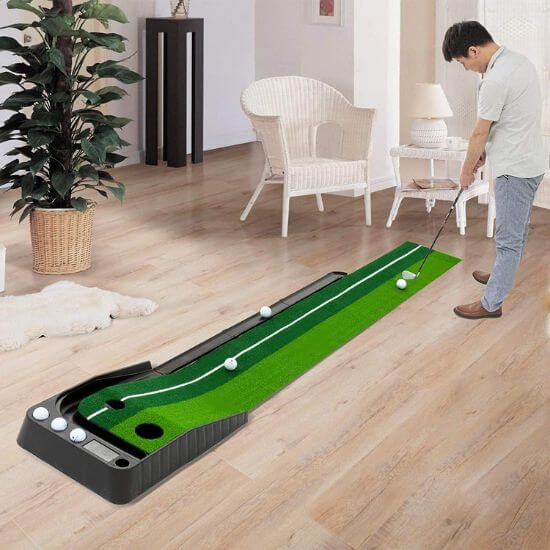 This is the only putting green with ball return feature in our 9 best putting greens list. No need to go and fetch the golf ball repeatedly. It will come back to you automatically. Even if you strike past the hole, there is space for the ball to fall in. That will eventually return the ball toward you.
There are 2 holes in this practice green. One is smaller. If you practice with that regularly, it will be easier to hole into the bigger one or on the actual putting green.
Not only that, there is a straight line that goes straight in the middle of the smaller hole. That makes it easier to square the putter's face. Your body and putter alignment get better by practicing with this.
Things we liked
It is very easy to set up and store.
This saves you from back pain.
The uphill design adds extra slope to the game. This assists in leveling up your game.
The rubber base helps to grab the floor so that it doesn't move accidentally.
Things that can be improved
It may take time to roll out flat. The wrinkles may take a few days to go.
Final verdict
It's pretty much like a budget-friendly version of Michael Breed's "Let's Do This!" putting green. But even "Let's Do This!" model doesn't have the ball return feature.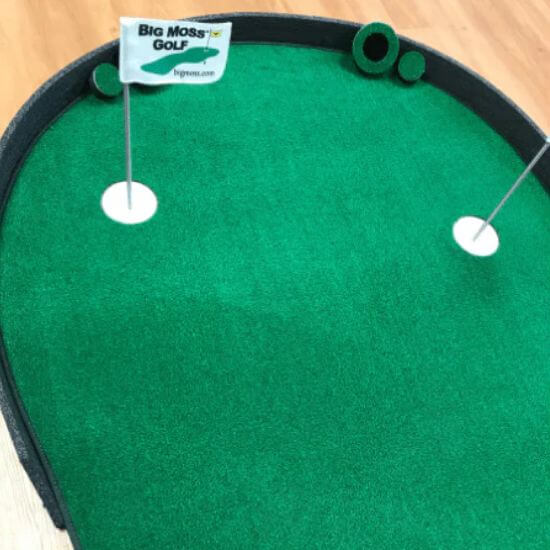 Augusta V2 is for the golfer with a mid-range budget. Not just for beginners, this layout can be used for the low handicappers' practice as well.
2 of the holes are located at different distances. That makes it easier to practice putt from different angles and distances.
The backstop makes sure that the golf balls don't roll out far away from the putting green. That saves a lot of your energy and time. You get more practice time that way.
And for the golfers who need to practice more difficult putts, they can add the included break snake to create terrain variation. Additionally, the surface is pretty dense too, which gives out a grass-like feel.
Things we liked
The backstop comes with a velcro attachment. You don't need any extra tools to attach it.
True Tour Roll technology makes the feel more realistic. The roll is pretty similar to real grass. It gives out a faster roll.
The holes can hold 4 balls at the same time.
Things that can be improved
Though there are tees to fasten, the foam backstop may become loose.
Final verdict
It's like a smaller version of Country Club V2. If you intend to get a similar one on a lower budget, Augusta V2 is a great option.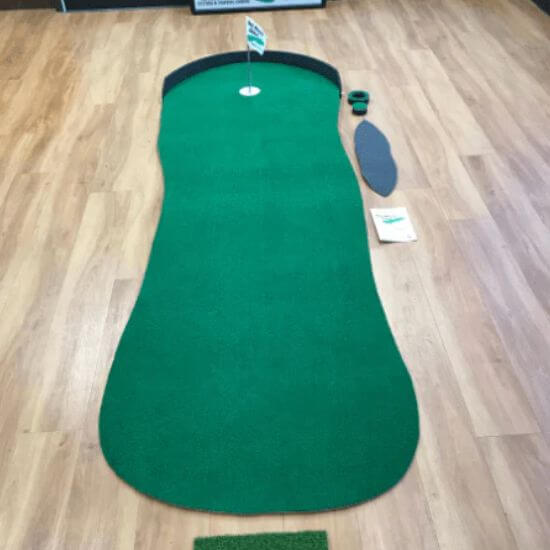 If you want good build quality, backstops, hole reducers, and break snake to make the putting practice more realistic with a reasonable budget, the Original V2 can be a good option.
It has a triple-stitched structure with a rubber back. This makes it a durable choice. Additionally, it sets up securely because of the rubber backing. You can putt without the practice green sliding away. The putting surface provides a smooth ball roll.
It has only 1 cup at the end of one side. You can add the break snakes under this practice green to practice more putting situations.
Things we liked
You can use it over the carpet too.
There won't be much wrinkles when you roll it out of the box.
The True-Roll technology helps gain a faster speed on stimpmeter.
The backstops prevent the golf balls from rolling away.
Things that can be improved
The 1 hole layout limits the versatility of putting scenarios.
Final verdict
The Original V2 and Augusta V2 have almost the same included items. The build quality is similar too. But as the Original V2 has a 1 hole layout, it comes at a lower price.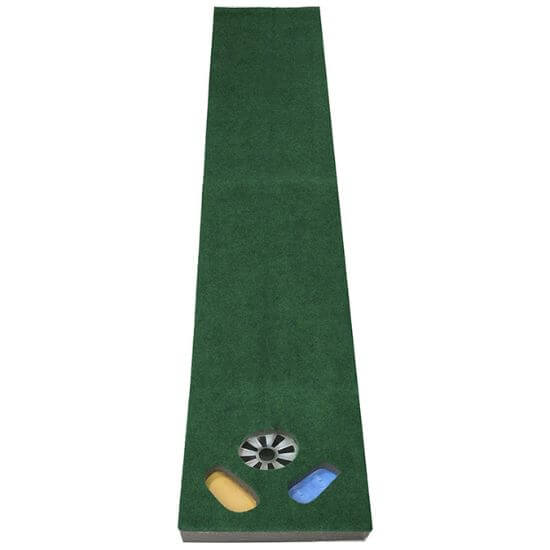 Golf is one of the most expensive sports. Not just for buying golf clubs or golf balls, You may also need to fix your golf clubs' lie angle or change the shaft. After all that, you may not have the budget for even $50 putting green. Grassroots putting green is a good solution for that. You can get it for under $30.
It is the most affordable option on our best indoor putting green list. As you can already see, it has a very basic design with only 1 hole. The size is 4″, which is slightly smaller than a regulation cup. Though the difference is only .25″, this still helps to make a more focused shot.
There are 2 traps just above the holes. They don't really make the putting challenging. They are more for catching runaway balls as there is no backstop.
Things we liked
Made of Polypropylene with urethane foam. This assists in creating a realistic feel.
Its non-skid backing prevents this practice green from sliding while hitting the golf ball.
You can set it up or store it very easily.
Things that can be improved
It is not a good choice for average or above-average golfers. The 1 hole's basic design is only suitable for beginners or junior golfers.
It requires time to flatten.
Final verdict
Both the Original V2 and this Grassroots putting greens have 1 hole at the end. While the build quality and included items are better in Original V2, Grassroots comes at more than 5 times lesser price. Additionally, Grassroots par 1 practice green will easily fit in any room of your house.
What Makes a Good Putting Green?
That depends on what you are looking for in it. Rubber backed, multi-layered putting greens with more surface area, slope control and many holes in different positions are the best ones for practicing varied putting.
Depending on your budget, you may not be able to choose the one with the best features. But by comparing the significant factors, you can still get the best one for your budget. Check out these 6 factors before getting one.
1. Length and width
It is better if the width of an indoor putting green is at least 3 feet or more and the minimum length is 8 feet or more. So that you can practice 4-6 feet putts.
In comparison, mini-putting green can be smaller and narrower than that. Of course, the more surface area, the better an indoor putting green is. That will let you practice both long and short putts. However, the available space in your house is the real determiner here.
Additionally, it is better to keep 1.5 – 2 feet of space around the putting green. That will let you make a putt or fetch the ball without walking on the putting green. Walking on the putting green too much may decrease the roll.
3. Base and portability
Thicker bases are usually more wear-resistant. They don't move easily. That lets you move on the green or strike the golf ball more comfortably. However, they are heavier. Thus, if you intend to roll it up or move it around the house, that will be comparatively difficult with a thicker base.
2. Material
In the material specification, you may see Rubber, Polypropylene, Nylon, etc. Manufacturers often use different materials for different parts. 
Polypropylene and Nylon are usually used for the surface. Polypropylene gives a more realistic feel than Nylon. That is because the stimp reading of polypropylene can be faster than Nylon.
While Rubber is usually used for backing so that the setup doesn't move accidentally while making strokes. It is not good for portability, but it provides better stability.
5. Number and position holes
The holes in the putting green is a significant factor. Putting green with 3 holes or more is a better option. That will let you practice with more varied situations. However, if you have a lower budget, those with 1 or 2 holes are preferable. They will cost you less.
You need to see the position of the holes too. It is better if they are somewhere in the middle. Otherwise, the ball may hit the border, which will hamper the shot's accuracy. It is better if the hole's position lets you strike the shot from different sides. This will allow you to create different putt scenarios.
The ones that had cup holes are even better. The sound of the ball falling on the back of the cups is satisfying. Having flagsticks makes them feel more realistic. And a ball return feature will be a plus.
6. Breaks to increase difficulty
Adding breaks to the putting green is a great way to make the practice more challenging. It gives the putting green different contours. This lets you practice downhill putts too. Many manufacturers include break snake or break pads with the putting green package. Try getting an indoor putting green with breaks included to increase the slope of the green.
How to Maintain Indoor Putting Green
Precautions
The first step is to not walk on indoor putting greens with heels or spiked shoes. Spikeless or flat shoes should be okay. However, it is better not to walk much on the putting green. That affects the roll of it. 
Also, some putting greens are not designed to last in sunlight. Because they are specially designed indoors, they may heat up absorbing sunlight and eventually get damaged. Therefore, it is suggested to set it up where direct sunlight won't fall on it.
Cleaning
The cleaning process is different for different putting greens as the material used is different. It is better to check the manufacturer's instructions about this matter. In general, you may use a brush to clean it. You may also use mild soap and water if the indoor green gets too dirty. Then, dry it properly. Keep in mind that some vacuum cleaners have rotating drums that may damage the surface material of indoor putting green.
Frequently Asked Questions
Conclusion
Our 9 best putting greens list covers for most golfers' needs. We can't specify one single putting green. That depends on your preferences. Thus, we have put comparisons to make it easier for you to choose one. So, which one matches your needs most? Share with us in the comment section.
Also, feel free to share your experience with any of these putting greens to help your fellow golfers choose the best one for them.