This post may contain affiliate links and we may earn a small commission for no extra cost to you.
This is how we keep NiftyGolf free. Learn more about our affiliate disclosure here.
If you are aiming to build a realistic and long-lasting golf simulator, you will require a top-quality impact screen along with a hitting mat, launch monitor, projector, and accessories. Getting the best golf simulator impact screen is a challenging job because there are not many options available for it.
However, there are many golf simulator packages available that include an impact screen in them. Unfortunately, these packages often lack the best quality screen, golf practice net, and others. That's why experts suggest building DIY golf simulators.
A top-quality impact screen is made with quality materials and features with reduced bounce-back and appropriate size options to fit the enclosure. Also, it should be easy to use as you are more likely to set up. Therefore, we designed this article to help you find the best golf simulator impact screen.
With a quality golf simulator projector, our experience says you will have a realistic golf simulation experience with any impact screens reviewed here. 
Review on 5 Best Golf Impact Screens
It is essential to find an impact screen made of quality materials. That allows bright projection and features reduced bounceback for a safer and better all-around experience. It improves the longevity of the screen too. You should consider these features to get the best golf impact screen.
We found the top 5 golf impact screens after reviewing dozens of projection screen models. Have a look at the reviews.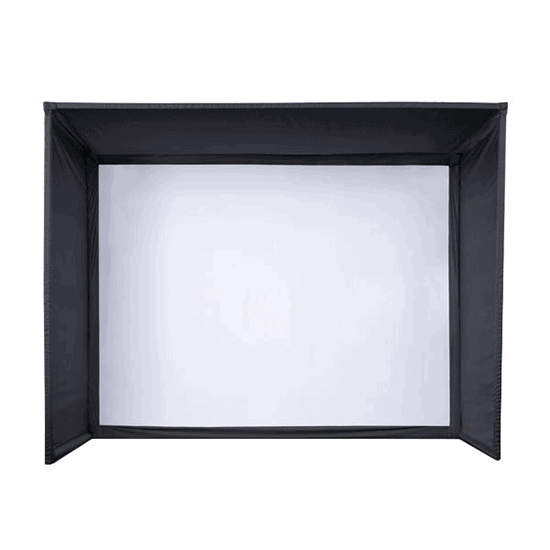 The SWINGBAY golf simulator screen and enclosure are built based on the feedback of hundreds of Rain or Shine golf simulator users. The SwingBay Golf simulator screen and enclosure rank high in our review list because of its excellent quality, good looks, and benefits.
Though the price of this package may seem high for many golfers, the performance, durability, and quality justify that. The package includes a solid assembly framing system that allows you to experience one of the best golf simulator packages possible. Apart from these, the SwingBay package includes the followings:
Commercial-grade polyester blackout side and upper walls
Bungee system for fastening the screen to frame
2x Side barriers
The SwingBay Simulator Screen is best with a projector that offers 3000+ lumens such as Optoma EH200ST, Panasonic PT-VZ580U, and so on. The reason behind suggesting such projectors is the tightly woven fiber material used to construct the screen.
It is a heavy-duty screen that can withstand thousands of shots at 250 miles per hour or less. Besides, the reduced bounce-back feature allows you to swing correctly.
Pros
Easy to set up with a bungee system
Well made and durable
Looks good
Provides bright and clear output
Cons
Expensive product
Not many size customization options
Check Price at Rainorshinegolf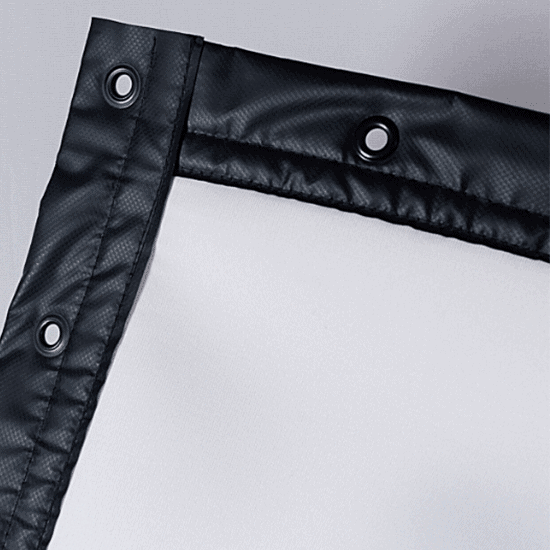 The SIG Premium is one of the most selling projector screens by Shop Indoor Golf. It costs less than $1200; even the smaller price starts from just above $500, which is a reasonable price compared to the quality it offers.
There are plenty of size options for this golf simulator screen to match your room and enclosure. Also, the screen is built with smooth spacer mesh fabric for thick, multilayer clear & crisp image (up to 4K quality). Being a thin and smooth fabric, it benefits you with low bounce back and longer lifespan even when you hit it consistently on 250 miles per hour speed.
Besides, it features double-stitched black vinyl edges and grommets finishing, which allows you to mount a breeze and can be done using ball bungees, zip ties, shock cord, etc. If you watch the screen closely, you will see foam bumper borders. This border is used to protect the gap between the screen and your frame.
Pros
Quality construction that ensures a longer lifespan
Gives clear and bright pictures.
Available at a reasonable price
Thin, smooth, and lightweight
Features a foam border to protect the gap.
Cons
It's only the screen. You need to buy even the bungees to tie it.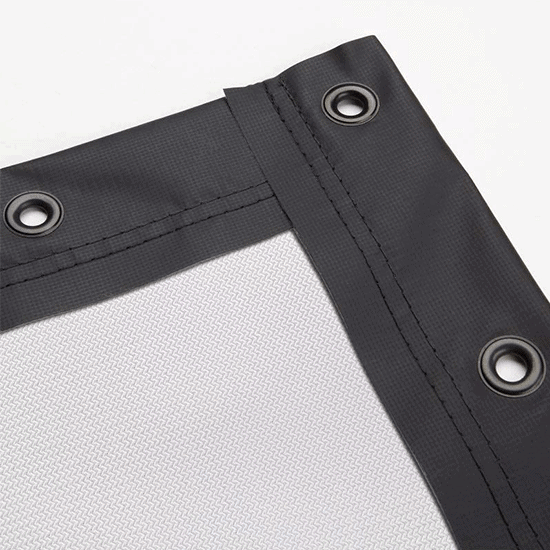 Another top-quality golf simulator impact screen we found is from Golfbays. They have many cost-effective impact screens for various budgets and sizes. We reviewed their products and found the LITE 6 model as their best model.
The Lite 6 is easy to assemble. It is made from technical hard-wearing fabrics for enhanced performance. But the hardness is a disadvantage for its durability. Apart from that, the Golfbays lite 6 is a good model. You can use this screen with any golf launch monitor and projectors, but we suggest using it with projectors that give 3000+ lumens output.
Pros
High-quality construction that enhances durability
Project a crystal-clear view
Designed to absorb high-impact shots
Cons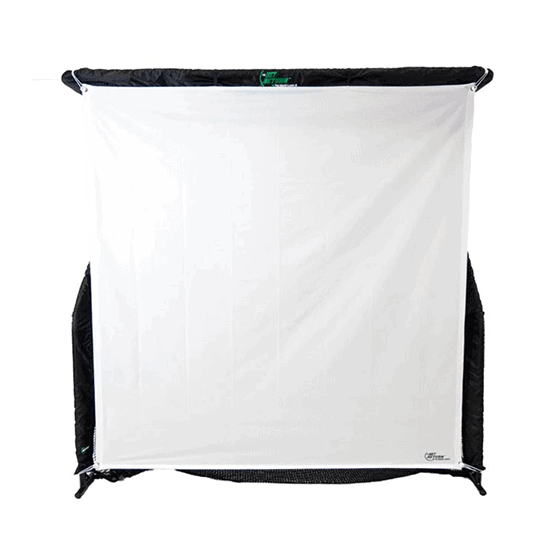 The net return produces an impact screen in 2 different series—the home series for regular indoor use and the pro series for professional golfers. We selected the home series for the golfers as it is easy to assemble and use compared to the pro models.
The screens are smooth and light that projects clear and crisp images. You can easily install this screen using bungee cords and hanging it from the top bar, though you will need to buy a stand to use this screen. Due to the hanging method, the screen can easily absorb the impact sound and return the ball automatically.
There are no options to customize the impact screen size. As a result, it is hard to use the 16:9 aspect ratio and enjoy a better view of the golf course. Therefore, an aspect ratio of 4:3 is recommended.
Pros
The Screen provides a clear image
It is easy to set up
Has low impact sound
Cons
No size customization opportunity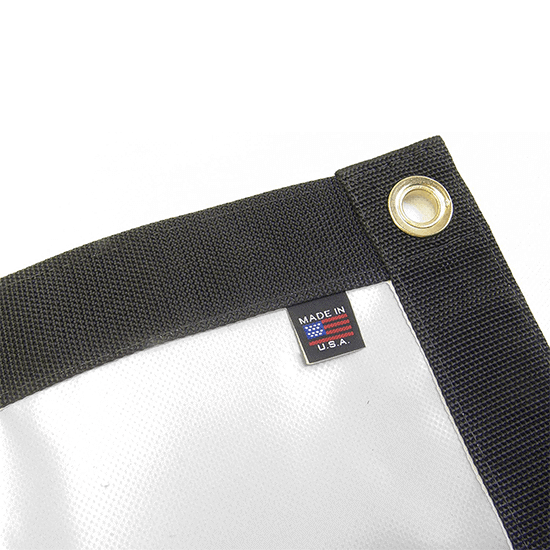 Another top quality impact screen in this list is the Northwest Tarp & Canvas Impact Screen. You will find on this screen in various colors as well as sizes. But we don't recommend any other color than white for golf simulation. The quality of the screen is excellent to last long.
Heavy-duty polypropylene webbing is ideal for weather, chemical, and abrasion resistance. A vinyl coated polyester tarp is used to make this screen which is also beneficial to make it windproof and waterproof. In addition, the vinyl coating helps the screen stand out in every weather condition and makes it durable.
It's a very lightweight (18 oz) impact screen. Besides, Grommet placement every 16″ inches helps ensure sufficient tie-down capability. You can easily set up the screen with bungees or clips.
Pros
Durable built quality
Enough size options
Very Lightweight
Easy to install and use
Cons
Colorful for golf simulation. You need to select the white screen only.
What Can I Use as a Golf Impact Screen?
The golf impact screens are a kind of fabric which are lightweight, durable, and able to provide clear images. Polyester mesh is a good fabric choice to serve all these purposes. It is affordable too.
You can use a different level of impact screens by adding layers of polyester mesh. It will strengthen the screen and prevent projector light from passing through the fabric. There are projector screens available in the market using this material. All the models we reviewed in this article are made of mesh fabric.
What Kind of Screen Do You Need for a Golf Simulator?
For a better golf simulation experience, you will need a screen that can provide clear visuals projected from a projector. In addition, you will need a screen with a minimum dimension of 9.5′ Wide x 7′ High with a 4:3 aspect ratio.
For a more realistic feel, you can have more giant screens with an aspect ratio of 16:9. The size and your golf simulator screen should also be clear to reflect clean images. And it should be strong enough to survive your hits at more than 200 miles per hour consistently.
How Long Does the Golf Impact Screen Last?
Depending on the quality of the impact screen and the quality of your swing, a golf impact screen can last at an average of 5000 shots on it. If you hit the same spot constantly, it may not be that durable. Also, the distance you are playing from can determine the screen's longevity. Playing too close to the screen can reduce the lifespan of even the best golf impact screen.
How Far Should a Golf Impact Screen Be?
At least 6-7 ft away from your hitting area. The distance between the hitting region and screen in your golf simulator should be around 6-7ft and can be up to 14ft and more extended. The tee to screen distance balances inundation, lessening impact screen bounceback and permitting maximal accuracy from your screen.
Concluding Remarks
You need to have the best golf simulator impact screen to enjoy your practice in a realistic environment and swing correctly. Because modern simulation software and the latest technologically advanced projectors can produce realistic golf simulations. Top-quality golf impact screens will better the feel.
We have reviewed lots of impact screens to find the best ones. And we came up with the five mentioned in this article. You can use any of these screens with your golf simulators. Having a complete enclosure is not necessary at times. Then you can practice with the impact screens only.
I hope this article helps you find the perfect golf simulation experience. Write back to us in the comment section with any suggestions, feedback, or queries.