Suppose you are a professional or a regular golfer. You are completely prepared for playing. The weather isn't favorable today or you are stuck at home. But you need to continue playing for refreshing mind, having fun or for other purposes. Now you are looking for another way to play. Here it is, a golf simulator for home, a technological system for you to continue your sport even in unfavorable weather or adverse situation.
A question may appear in your mind as why you should build your own diy golf simulator. Well, if you build your own golf simulator, you don't have to depend on others to play. If you cannot go out or go too far for playing, you can enjoy the game in your home with the best home golf simulator and that's why you should build your own golf simulator. You can build a home golf simulator at your home, garage, or office.
Building your own golf simulator isn't something difficult. Through this article, we are going to give some necessary information about commercial golf simulator market which included the things you will need to build your own golf simulator.
How to Build Your Own DIY Golf Simulator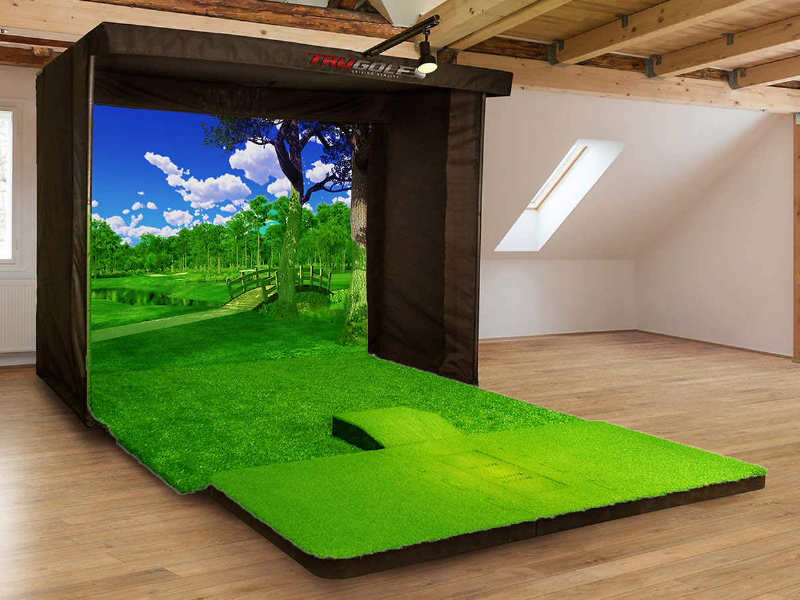 If you make your decision to build your own golf simulator and expect to have your own golf simulator, you can go through the process and make yourself introduced with the materials you need.
Building your own golf simulator based on advanced technology may seem easy to you if you look at the process. It will depend on what type of technology you want to use and how much it will cost. Consider the common things you will require to build a golf simulator such as price, graphics, features, multiplayer availability, etc. Let's check it here.
7 Materials You Will Need To Build A Golf Simulator
A man named Cory Gauvreau, President of Par2Pro in North America talked about golf simulator. He informed that there are a lot of materials to build a golf simulator. According to Cory, he has succeeded in creating this wonderful indoor system as it's a jungle out there. Now the golfers can easily continue their spot.
First of all, you will need these 6 major materials to build an home golf simulator:
Each of these materials is categorized depending on varying costs based on the quality and durability of the materials.
To be noted: You will get the materials what you want and what you pay for. If you pay for an inexpensive material, it won't last long. If you purchase something expensive, it will give you a long time service.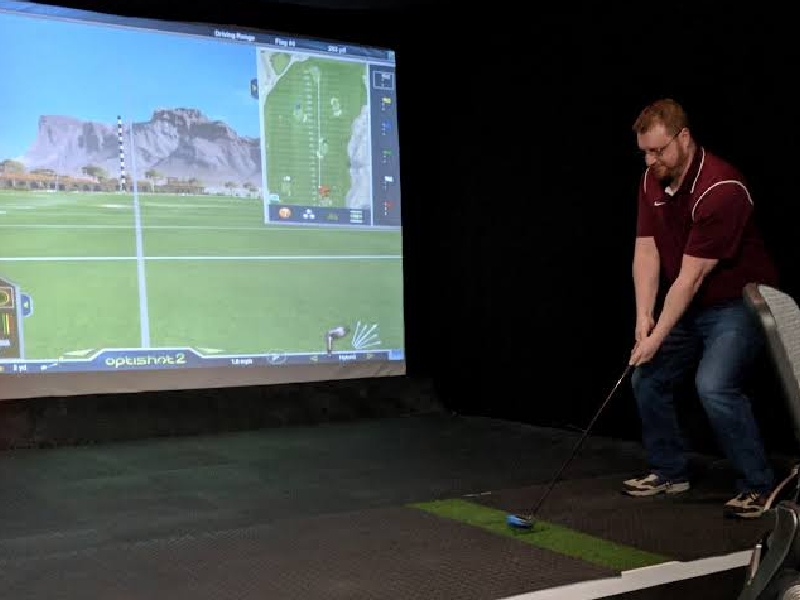 There's another thing you should consider. If you are going to build a home golf simulator as an experiment and upgrade it further, then It's okay for you to purchase inexpensive materials. But if you want a long lasting simulator, you should choose the option of using expensive materials.
Now let's look at the materials you will need:
For your own home golf simulator, you cannot use grass. You will require something to play comfortably. That's why you need a hitting mat to hit the ball and to play with comfort.
Your shots will be accurate if the quality of your mat is good enough. Golf mat will make you feel nice to play by helping you hit the ball accurately. Even you can have the experience of playing on real grass as it will work fairly and smoothly. It will also help you in improving your golf swing by giving you the ability to control and adapting your ball flight.
Don't worry about the weather or the heat of the sun. You can play anywhere when you want to. But you should keep in mind that improving golf will depend on the quality of your mat. If you want to buy an affordable mat, then consider it's quality. You can improve your golf swing training if the quality of the hitting mat is good.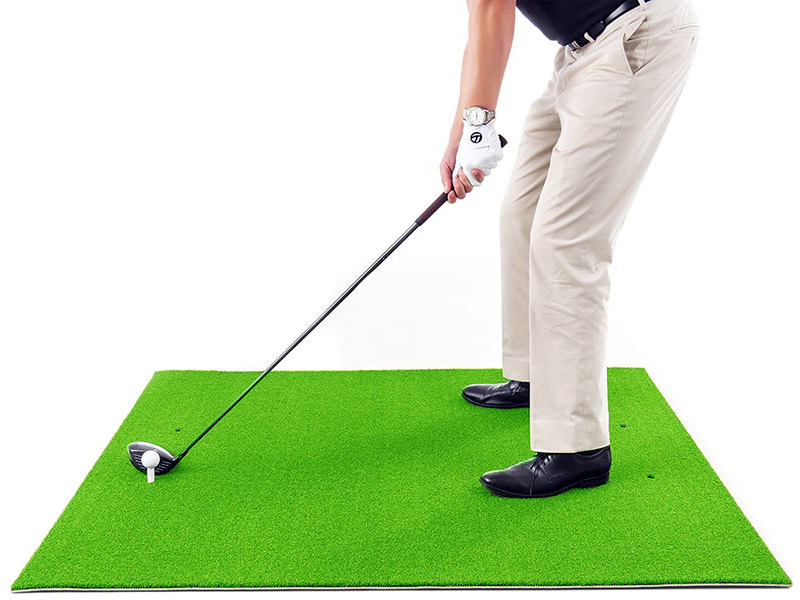 Another positive side of the hitting mat is that you can swing anytime if you want to do even without the help of simulator. That means you can train yourself in a golf swing or practice your shots without activating the simulator. The price range of golf hitting mats can be $200 to $2000
A list of some affordable mats are given below:
You may also like: DIY Putting Green
See all the other premium golf mats in here.
Things you may consider:
Some mats are affordable on a small budget. Some are expensive. You can have both. But both won't give you the same service. An inexpensive mat won't be as durable as an expensive mat.
TrueStrike Golf Mat is available from $400 to $1400. This price varies according to the quality of mats.
If you are looking for a long time durable golf mat, it will cost around $1000
You may also like: DIY Golf Mats : The New Way to Practice
Projector screens are the major parts of golf simulator. In the screen, you will be able to see where your shots are heading.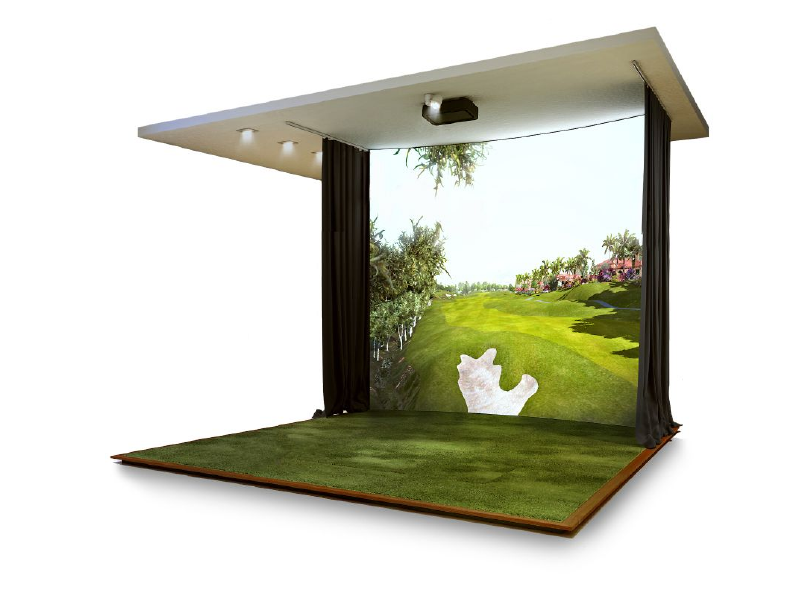 Some people paint the wall with various design to prepare a suitable surface for projection. But you can have it prepared at affordable price. The price range can be around $200 to $4000. Here you can see some projector screens.
Pul Up Screens: This screen will be within your budget. You can easily set it up. It's portable and doesn't require drilling, ceiling mounts or wall attachments. You can turn your living room or garage into an home golf simulator studio by using golf simulator screen.
Pull down screens: It can be set up with the ceiling. It can be used easily without being in anyone's way.
Home course impact screen: This Screen will easily turn your living room into a golf studio.
See all the other premium golf project screens in here.
Things you may consider:
Some simulator screens are portable, some are not. Consider it before purchasing one.
The wireless screen will allow making your stimulator studio back to its form. You can return your living room to its original form.
Different screens have different qualities. It depends on its price.
If you want to have all the features in one, it may cost within $3000.00 to $4000.00
All projectors are not suitable for a home golf simulator. Each room requires a projector according to its own needs. It will vary for the light of the room, size of the room and for the resolution, your simulator software will require.
You can have projectors with less price as low as $65 that may tempt you. But you might like to consider the quality, durability, longevity. Then you can choose more expensive projectors. The price range of the golf simulator projector may be around $100 to $1500. In a word, you will get what you want.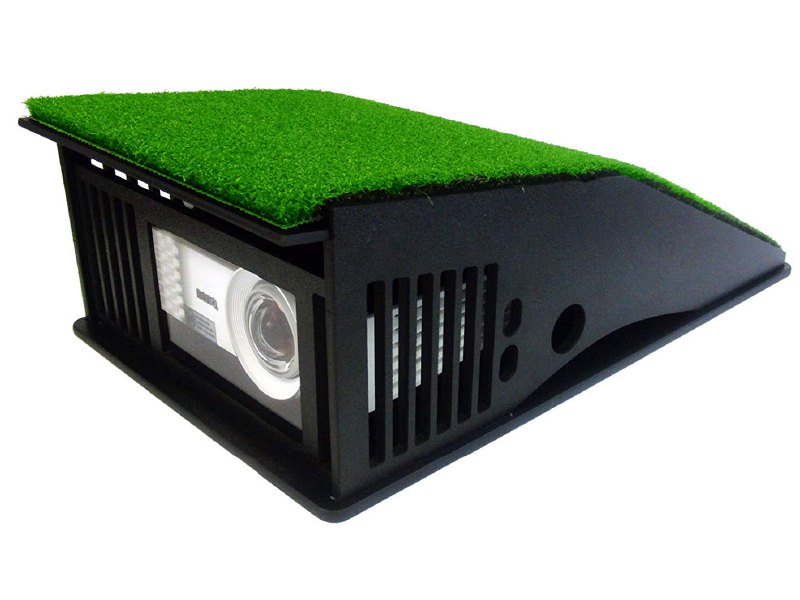 Remember the projector should be placed in such a way that will not cast the shadows of the users on the screen. You should also consider the shape of a projector according to your chosen ratio while buying it. You may consider these three amazing projectors:
Things you may consider:
All projectors don't have a long service life. Some will give you a few hours service in a day.
The durability of the projector will depend on your budget. You will get what you pay for.
A golfer would like to have an enclosure to protect the wall of his simulator from his shots. That's why they choose nets to use as protection. Nets are also necessary for preventing injury and protecting from any damage. The price range of golf hitting net is around $150 to $800
You will need a net in a golf simulator to catch your flying ball. To play golf in a confined area, you need a solid and dependable net. It will help you practice your shots and return them to play quickly.
Nets are usually set up in front of the projector screen. So do it yourself. Use a net and make sure your golf simulator is safe.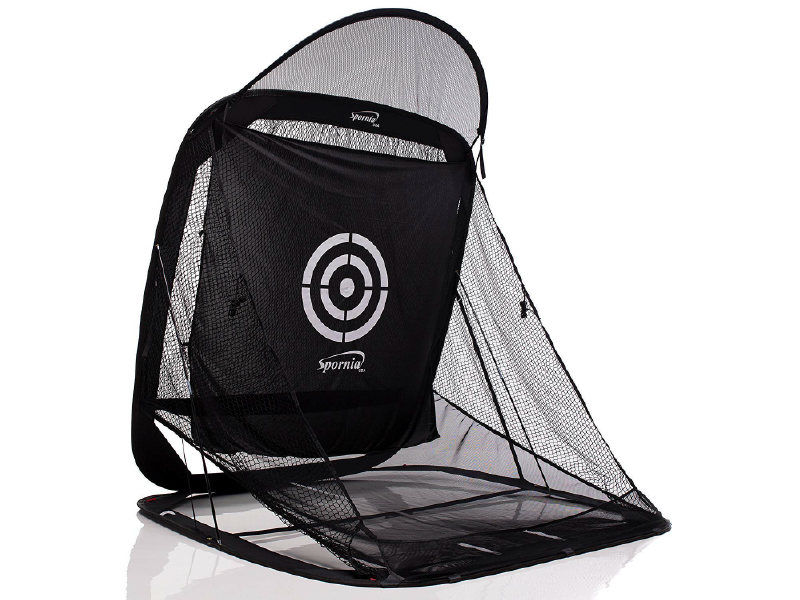 You can have within the price of $129 to $599. It will depend on your budget, the space of your room and the quality of the net. You will get different types of net with different designs. But consider the space where you will put your net as you need to keep the screen safe from any damage.
You can use a net without a projector. In that case, you can use the computer screen as an alternative to a projector. It can also be connected to a TV.
Things you may consider:
First of all, consider your space. Then consider the size and weight of the net.
If you believe that durability is the key, you should consider it before purchasing.
Ease of setup is also important to consider.
Finally, you should keep in mind that the price will reflect your product. If you are price conscious, buy within your ability. But if you want a durable and perfect net to feel comfortable, you need to consider at least $500
See all the other premium golf hitting nets in here.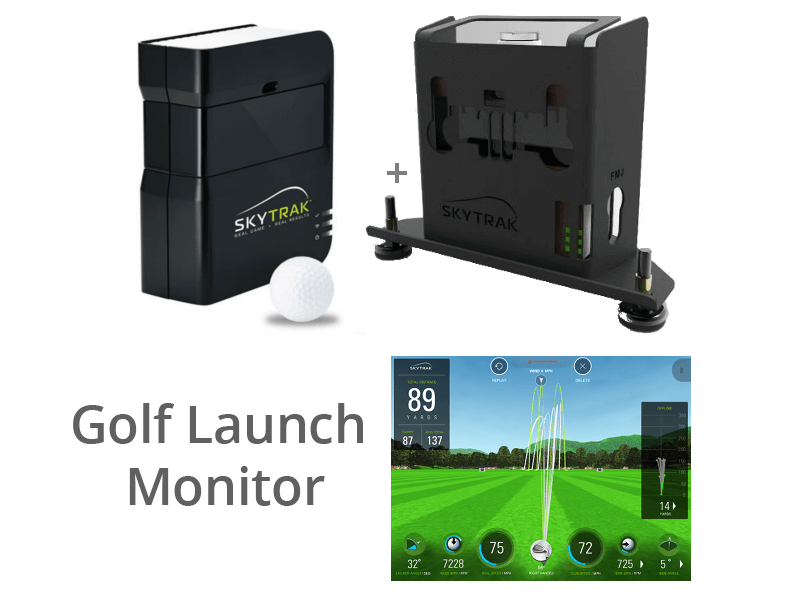 The simulator is the most crucial part of the whole system. A simulator or a launch monitor is an electronic device that measures some important aspects such as what happens to a golf ball when it is struck by golf clubs. This device can be used to improve one's golf swing.
Who can use a launch monitor?
Any serious golfer or golf lover can use a good launch monitor. If you are planning for a wonderful simulator system, you should use a launch monitor.
Why should you use a launch monitor?
You should buy the simulator considering the pros and cons of each system. Don't be disappointed after using a simulator without knowing its ability, durability, and longevity. And don't forget about your budget levels. Simulators will vary in price.
It will help you understand your ball flight better.
You can also control and improve your ball flight by using a launch monitor.
It provides detailed access to parameters such as ball speed, launch angle, etc.
How does a launch monitor work?
There are two types of major launch monitor on the market.
One follows the "Doppler radar" technology. It tracks the ball after impact using "Doppler radar" technology. And the other records the data at impact by using camera technology.
There are various types of simulators depending on what type of golfer you are, how much budget you are on, what the size of your room will be, the accuracy of your shots and many other factors. You can have a glance at these launch monitors:
SkyTrak Launch Monitor and Simulator Software (Price- $1999)
Ernest Sports ES12 Player Golf Launch Monitor ( Lowest price- $199)
Foresight Sports GC2 Launch Monitor (Lowest price guaranteed)
Ernest Sports ES15 Range Launch Monitor ( Price- $2095)
GC2 Launch Monitor Certified Pre-Owned by Foresight Sports (Price- $5400)
What type of simulator will allow you to train your golf swing and improve it? What will be appropriate for your room space? Consider these factors, understand them clearly. Remember that you will get what you pay for. Now make your decision considering all of these. Hope you will get a perfect solution.
Things you may consider:
You can have golf simulators from top brands, it depends on your needs.
You should consider graphics, features and multiplayer ability of the simulator.
If you want to try once for the experience, you can have one year or short time simulators which can't give you long service.
If you have huge plans and want a long lasting viable simulator, then consider a good budget.
See all the other premium golf launch monitors in here.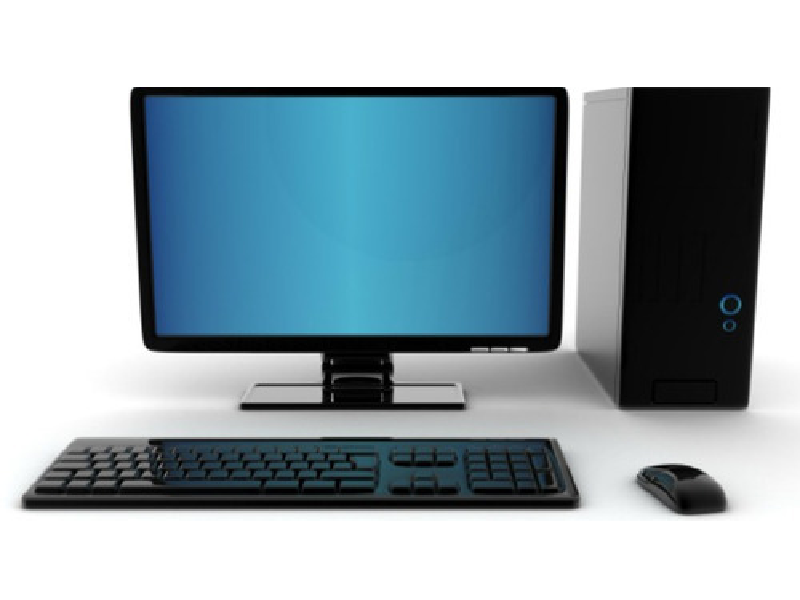 Your simulator will require software installation and for this, you need a computer or iPad. You can also do it on your smartphone. The simulator needs to contact with the various components. Your computer will help you communicate with those.
You can go to a local computer shop. Choose the company you want to buy. They will give you a warranty and may help you install some necessary software.
Things you may consider:
Consider the storage space of the computer.
Good company in the market will give you better service
The best golf simulator packages includes a simulation software. Now you may ask, "What's the use of a simulation software?" Well, let's know about it.
Golf simulation software will allow you to drive off the tee, hit fairway shots, pitch, chip and hit the ball into the hole.
It provides necessary graphics and realistic ball flight by which you can play golf courses in the comfort of your home.
Some software will allow designing your own courses. Some will help you integrate your fitness routine in between golf shots.
It will also allow you to measure some important things such as carry distance, total distance, spin rate, etc.
It will display your golf shot.
These features are not available in every simulator software. If you need these with a full golf course play, then you should consider your budget for a paid golf simulation software.
Now you may want to know about the top simulation software. You may need to consider your budget with the essential products. Names of some top simulation software are given below:
Price: Golf simulation software can be purchased at around $200. The price varies in the quality of the software.
Things you may consider:
There are a lot of options for simulation software.
Be sure of the quality before purchasing one.
How Much Does A Golf Simulator Cost?
The home golf simulator cost varies depending on the quality and durability of the materials you are going to use. At present, a golf simulator is available in the market starting from the lowest $299 to highest $10,595 price for a complete golf simulator.
But if you want a durable golf simulator with expensive materials such as turf, netting, screen, computer software, and projector, it will cost you at least $15,995 and $70,000 at upward. Prices golf simulators of top brands differ from their quality.
The most expensive component of a golf simulator is the launch monitor. If you are on a low budget, you can manage within $4995. So decide on a budget first, then start building the simulator. You can also check our reviews where we have put together the best golf simulators under $5000 and best golf simulators under $1000.
How to Set Up A Golf Simulator
If you are ready with all the products you need to build your own golf simulator, then let's know how to set up the simulator. We are going to help you introduce with some steps. Follow these.
First of all, you need to fix your installation space. Here we discussed space requirements.
Space Requirements
To play comfortably, you need enough space. Don't set up your golf simulator screen in small space. It may seem perfect to you before setting but you will regret it after playing. You can't swing freely. So try to consider the required space first, then build your home simulator.
The components important for you while selecting space are as below:
Ceiling Height: 10 feet is the safe distance for your ceiling height. Select the height according to your ability to swing clubs. If you can swing clubs freely within 8 feet height, It's okay for you. But if there are other golfers such as your friends or family members who will play there too, you should remember their height. So consider these three things :
Suitable distance for your free golf swing
Height of yours
Height of other golfers
Room Width: It's another important thing to consider. In this case, to select the room width you need to keep in mind if the room is only for a right-handed player or there will be a left-handed player too. If both of them play there, your room width should be 15 feet.
Remember that you should keep enough space for protecting your wall.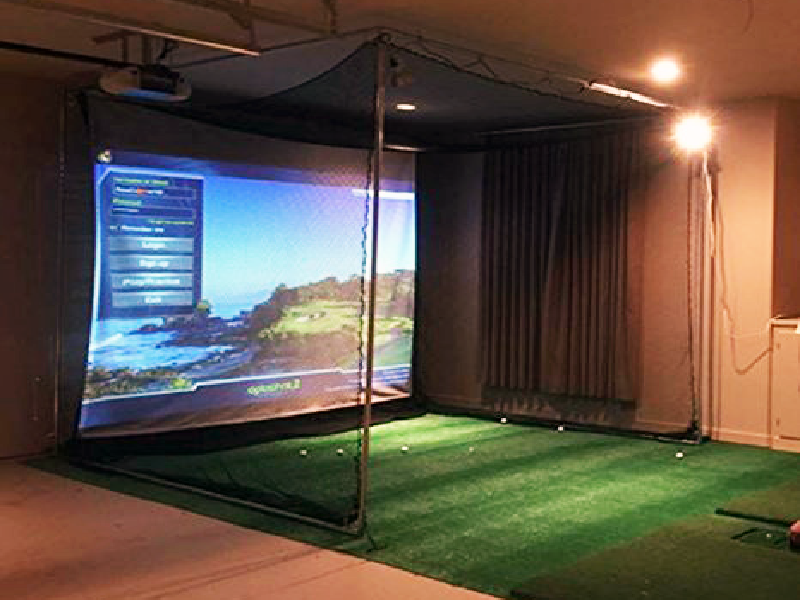 Room Depth: The depth of your golf simulator room should be at least 15 feet. But if you are going to use a radar-based system, your room will require 23 feet for depth to get accuracy.
Home golf simulator servers for various purposes. It can be used as a home theatre or children's playroom or for other purposes.
Screen Setting
For the setting of the screen, you need a screen cage. There are cages with screen and without a screen. You can have a cage without a screen at around $300. If you want a cage with the screen, you may consider more price. Some simulator package includes a screen cage.
To install the screen, at first secure one eye hook (1.25″) into strut channel specific square nuts. Then secure each eye hook with a square washer. Keep extra enough material to the bottom to build a little ramp for collecting balls. Then hit the ball into the net from about 10-12 feet with different clubs so that you can maintain the screen tension.
Projector Installation
After setting the screen, install the projector. The depth of this installation will depend on the size of your screen and the distance between the golfer and the screen. You should decide the place where to place the projector so that you can avoid casting your shadow on the screen.
Projectors also have some internal settings which will help you manipulate the image for fitting your screen. It may take time more than once. Don't be afraid and keep patience.
To be more clear about the projector installation, watch the video given below:
Computer Setup
Simulation software requires a computer. So set up the computer in a suitable place. It will work for software installation. You can use a smartphone as an alternative to the computer.
Mat Placing
Place the mat in front of your net. Put it directly on concrete to keep you safe from sliding. Set it perfectly so that you can feel comfortable with your shots.
Net Setting
Hang the nets in front of the screen to catch errant shots. Thus your screen will be safe and protected from your shots.
Customize Your Own Golf Simulator
Conclusion
Did it seem to be helpful for you to build a home golf simulator by yourself? Inform us or give us a review. We would like to know your opinion and have feedback.
Do you have anything to know or any questions? Ask us. We are always ready to provide you answers to your questions.
If you got anything wrong, don't forget to inform it too. We will consider your feedback while updating it next time.