Feel like playing in the golf course while standing in front of a golf simulator projector screen with your own made golf mat at your place.
Indoor golf mats look very real and are mostly made of nylon.
You can certainly set up a golf mat at your garage or backyard or anywhere you are planning to practice golf with your home golf simulator.
This is very easy to follow and executable.
In this article, you will be learning the easiest method of DIY golf mat with its prerequisites, benefits, and tips to get the best out of this.
DIY Golf Mats with 5 Steps
With some cutting, fitting, and carpentry jobs, you can easily make your own ready-to-use golf simulator mat. The following items will be needed to complete the task.
Assemble all these and get started with the process.
Step by Step Instructions
The process is very easy to imitate and execute. Read out the full article first to better understand the complete process.
Step 1:
Take the rubber fatigue mat first. Cut it to the size you need to make your area. Cut it in such a size so that you are able to hit the golf ball with comfort.
Scissors can be very handy in cutting the rubber fatigue mat. Be very careful about cutting. Do not cut anything else without the mat.
Use measurement tape and supporting ruler to have a straight cutting.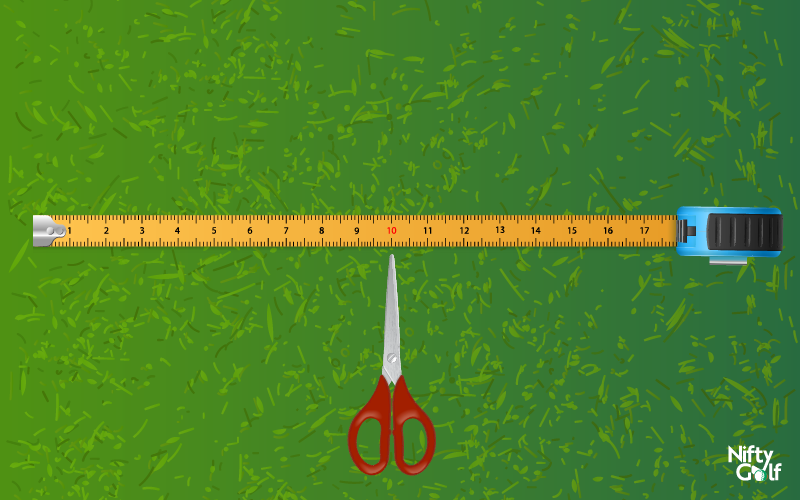 Step 2:
Take the artificial grass mat and put it under the rubber fatigue mat. You need not cut the artificial grass mat according to the size now. It can be done later.
But if it is too long and wide than the rubber fatigue, then you can cut the artificial grass mat leaving about one or two inches on all sides.
Step 3:
Now spray the adhesive on to the rubber mat. Make sure you distribute the adhesive properly and there is enough adhesive in the corners and edges.
Heavy-duty adhesive suggested for better performance. And your distribution of the adhesive will determine the durability of the mat.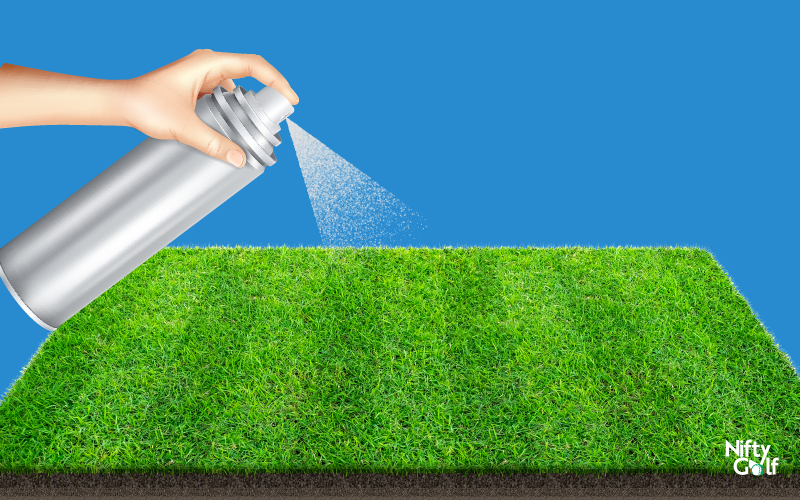 Step 4:
Put the artificial grass mat on the adhesive sprayed rubber mat. Rub your hands on the grass mat so that it can make contact with the adhesive on the rubber mat.
Try to cover every inch of the mat to make sure the better stickiness of the grass mat.
Step 5:
Your golf mat is ready now. Just cut the extra grass mat all around (if any) with a hobby or utility knife.
Once done with the aforementioned steps, now, let the grass mat set on the rubber mat for a few minutes.
You may not need to wait if you are using a heavy-duty adhesive that dries out very early.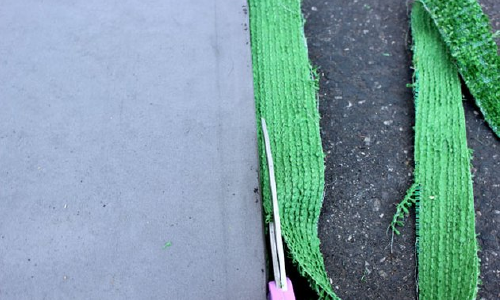 By following these simple DIY steps, you will be able to make your own golf driving mats that are easy to maintain and great to practice on.
Tips
Here are some tips that would help to make this process easier and keep your golf mat durable for a long time.
Keep the mat flat if possible even when not in use, and do not leave it rolled up for extended periods.
Keep it dry and dry wash it when needed.
Keep it away from extreme heat.
Conclusion
While installing a golf simulator, you cannot use real grass for the home. Golf mats made with rubber and artificial grass can be a great alternative and help in swing training.
You can set up the golf mat by taking help from others or do it yourself. The process is very simple and easy to execute.
Try it and let us know how helpful it is for you. Drop any queries if you have so that we can come with all your questions answered.