If you are tired of looking for the best projectors for your golf simulator, don't worry, you are in the right place. Today we will discuss some projectors that can help you make your decision. Though it is not easy to choose the best one, yet it won't be so difficult for you after going through this article.
If you have never used a projector before, it can be a little more confusing for you to make your choice. And for this very reason, we arranged this article by the specifications you need to point out in an article such as the key features. After getting the required information, you can take your decision and consider the perfect one for you. Stay with us.
10 Best Projectors for Golf Simulator
All projectors aren't equally the best for all golfers to use in their simulators. Some contain good quality, some don't. Here are the 10 best projectors that can be suitable for your own golf simulator.
1. Optoma EH200ST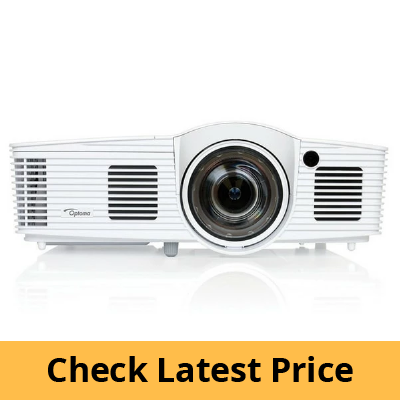 Optoma EH200ST comes at HD 1080p (1920 x 1080) resolution. This projector will provide you a bright 3000 lumens HD quality image that will help you get a life-like golf simulator experience. This Optoma projector with a 4:3 aspect ratio perfectly suits the SwingBay Golf Simulator Enclosure as the SwingBay screen is specifically designed to fit a 4:3 projection.
So don't worry, this projector will perfectly match this screen.
Features:
3000 Lumens for a bright image
0.49:1 Throw Ratio
HD 1080p (1920 x 1080) resolution
HDMI Connectivity
Advantages:
Easy to install and set up
You can practice any time of the day
Very easy to operate and figure out
Clear picture
Buy It Now From Rain or Shine Golf
2. ViewSonic PJD5353LS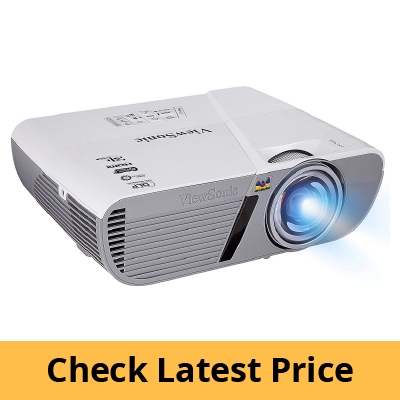 This projector provides the necessary things required for you. It will specially fit the SwingBay Golf Simulator Screen & Enclosure at a 4:3 aspect ratio. It provides exclusive SuperColorTM technology that will give you a vaster color extent for accurate picture forecast. In a word, the PJD5353LS can be an ideal option for u to use in education and elegant business grounds for its developed features, adjustable connectivity options, and reasonable price.
Features:
3200 Lumens for a bright image
0.6:1 Throw Ratio
Native XGA 1024 x 768 resolution with 4:3 aspect ratio
HDMI Connectivity
Included in the box
Industry-leading warranty
Long lamp life
Balanced color & brightness
Advantages
Easy to set up
Flexible connectivity
Big screen projection
Versatile projector
Smart design
3. BenQ MW632ST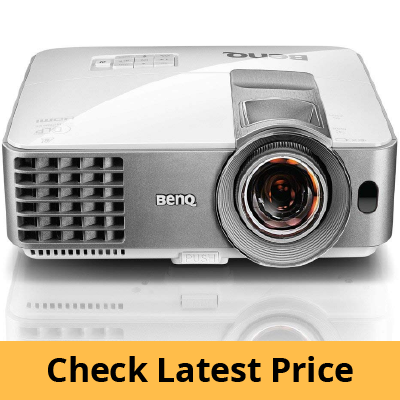 This projector can be a good choice for you as it is very popular for its bright display. It provides high-resolution for a clear image and short-throw feature that is perfect for a golf simulator.
Features:
High lumens at 3200
0.9:1 throw ratio
WXGA 1280 x 800 resolution with 16:10 aspect ratio
HDMI connectivity
Up to an impressive 10,000-hour lamp life
Advantages
High contrast for clear text
Designed for any environment
Standard connectivity
Executive quality projector
Large picture in small spaces
4. Epson EX3260 SVGA 3,300 lumens Color Brightness Projector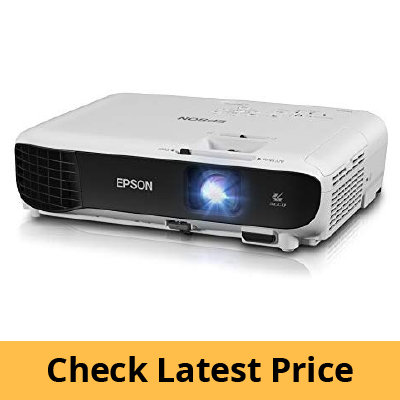 Display with comfort and assurance with the EX3260 portable projector. It will provide you easy image adjustments and allow you to get up and running in no time. It also promotes HDMI, for compatibility with laptops and media players.
Features:
High color brightness and high white brightness
SVGA resolution (800 x 600)
Fast, easy setup with Epson
Compatible with the latest laptops and media players
Lamps last up to 10,000 hours
Carrying case included
USB plug and play
Instant off
Advantages
Reliable and portable projector
Easy and simple set up
Fast performance
More accurate & vivid color
Perfect for launching everyday exhibitions and representations.
Easy image adjustments and convenient control.
5. ViewSonic PG800HD 5000 Lumens 1080p HDMI Networkable Projector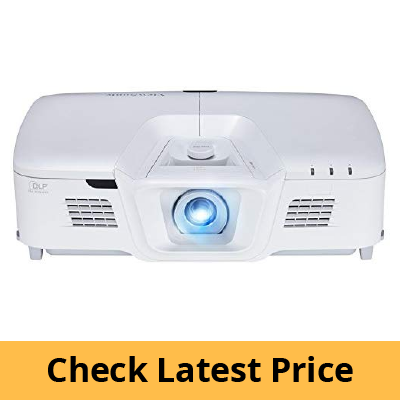 The view Sonic PG800HD is an ideal option as it provides 1920 x 1080 resolution and 5000 lumens of brightness. It is perfect for professional facilities, wide venues, corporation and education atmospheres. The PG800HD offers excessive flexibility even in the most difficult installations.
Features:
5,000-lumen brightness
Vertical lens shift with a centered lens
Full HD 1080p resolution
Network monitoring & control
SuperColor: amazing color accuracy
PortAll: discreet wireless streaming
Advantages
Versatility
Huge screen projection
Simple set up
Incredible color accuracy
Industry-leading warranty
Adjustable connectivity
Included in the box
6. VANKYO Leisure 510 HD Movie Projector
To get brighter images with better performance, VANKYO Leisure 510 is a wonderful solution. It is compatible with PC, laptop, iPad, iPhone, and other smartphones. It is also compatible with TV Stick, Chromecast, Xbox, and PS3/PS4. This projector is considered to be a true omnipotent multimedia projector.
Features:
HiFi stereo dual speakers
Brighter and crispier images
Dimensions: 5.9 x 12.8 x 13.4 inches
Omnipotent connectivity
Color name: 2-white
Advantages
Outstanding performance with upgraded features
Ideal for various entertainment choices
A true omnipotent multimedia projector
Produces a brighter and crispier visual image
7. Optoma GT1080Darbee Short Throw Projector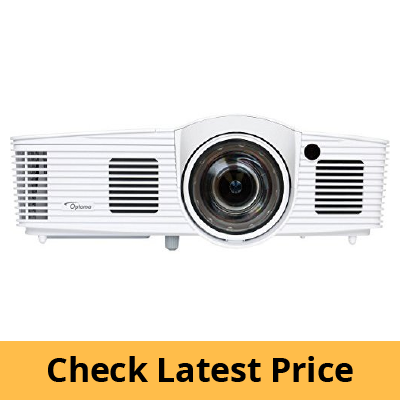 You can place the GT1080 Darbee short throw projector on a coffee table or entertainment center. It's considered to be a home entertainment projector. The 16ms Enhanced Gaming Mode stimulates an immediate reaction to keep you in the game.
Features:
Darbee vision image processor
Short throw lens
Increased gaming modes
Full 3D
8, 000 hours of lamp life
100" Image from 4' Away
Deep, rich blacks
sRGB display profile
Darbee image enhancement
Advantages
Versatility
Incredible picture quality
Flexible connectivity
Easy image set up
Included carry case
8. BenQ TH671ST 1080p Short Throw Projector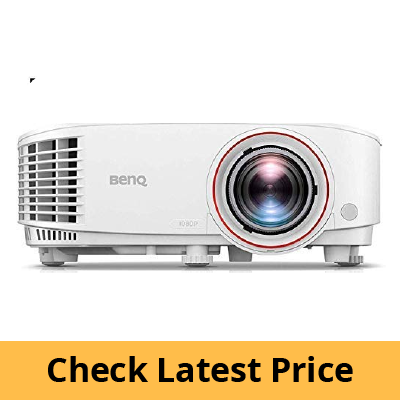 You can have a wonderful gaming experience BenQ TH671ST as it provides a larger screen. This projector acts as a home entertainment projector and it is specifically designed for video games. You will get this projector with high resolution, high brightness, low input lag, LumiExpert™, powerful 5W stereo speaker and easy setup.
Features:
Unparalleled picture quality
Ultra-fast low input lag and microsecond DMD response
Vertical keystone correction
Captivating enjoyment loud and clear
High brightness
Spectacular full HD 1080p visual performance
Advantages
Large screen
Industry-leading
Flexible connectivity
Ultra-fast response for smooth gaming
9. BenQ MW535A 1080p Projector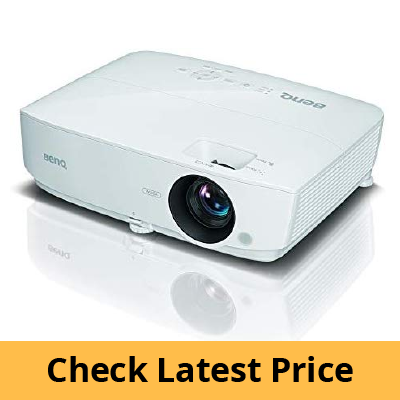 If you want a projector that allows big screen projection, you can consider Ben MW535A projector. It is suitable for bright ambient rooms. This projector is designed in such a way that you can easily install and set it up. Let's see what features it includes.
Features
3600 Lumens and 15000:1 contrast
Vertical keystone
Retractable foot
Exclusive infographic mode
Smart eco mode
Kensington lock
Dual HDMI
Advantages
Big screen projection
Perfect for bright ambient room
Easy installation
Flexible connectivity
Cost-saving & long-lasting lamps
Committed warranty
10. VANKYO LEISURE 3 Mini Projector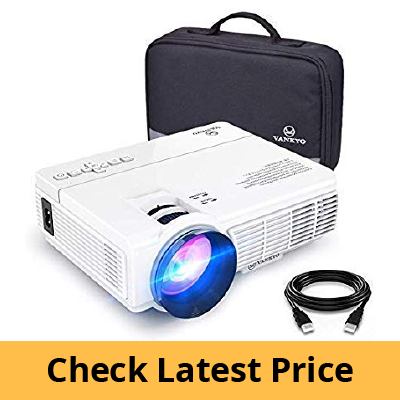 Are you looking for a simulator that will give you a superior watching experience, you can consider Vankyo Leisure 3 Mini projector. This projector is fit for playing videos, TV series, image sharing, football matches, etc. You can simply connect it with your smartphone. It also provides higher brightness and noise suppression technology.
Features:
+60% brightness
2000:1 contrast ratio
Carrying bag & tripod
Smartphone connection available
Long lamp life
Projection size: 33-170 inches
Advantages
Best choice for money
Very simple to set up
Higher watching experience
Multimedia portable projector
Large screen
Fan noise suppression system
Best Mounts for Golf Simulator Projector
You may have confusion about the place you should place your projector. Projector mounts will help you decide whether you should place your projector on the floor or hang it from the ceiling. And that's why this section is here to help you make your decision. Let's the projector mounts.
Floor Mount Enclosure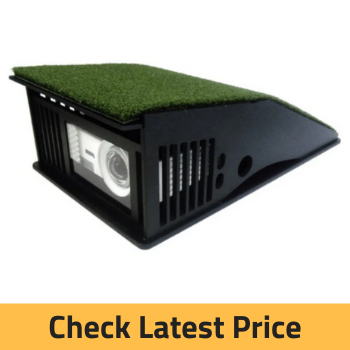 This floor mount enclosure will fit most projectors.
Very easy and quick to adjust.
Removes holes in the ceiling and wires overhead.
Turf-covered ramp will defend your projector.
Buy It Now From Rain or Shine Golf
Ceiling Mount Enclosure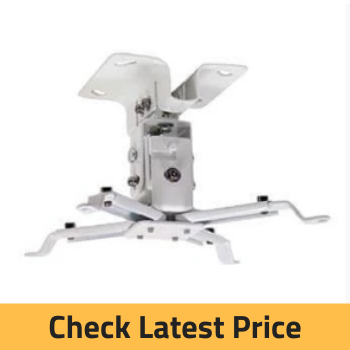 This ceiling mount is very flexible
Quick to adjust.
Easy to assemble.
The overhead mount keeps the floor open and clear of wires.
Universal mount that suits almost every projector.
Buy It Now From Rain or Shine Golf
Key Features for Golf Simulator Projector
You may have used a projector before or may not. If you haven't used it before, it is important for you to know what things you should look for in a simulator projector. These features will help you consider the requirements you need to buy a projector.
Lumens
The brightness of the pictures of your projector will be specified by Lumens. The higher you have a lumens projector, the brighter your room is. For the best simulation experience, you need a projector above 3000+ in your darkroom.
Throw Ratio
Throw ratio will inform you of the distance of the projector from the screen and the crosswise width of the screen. A short-throw or ultra-short-throw projector is needed for not showing up your shadow on your hitting screen. The ratio can be 0.3:1 to 1:1.
Aspect Ratio and Resolution
Aspect ratio is what will be the shape of the image on the screen or the ratio between the width and height of the image. And resolution is what will be the number of pixels inside the image. The more pixels, the higher the image quality.
For example, you can follow the aspect ratios & resolutions given below:
4:3 (XGA & SXGA)
Image will take more of a square shape
Lowest resolution: 1024 x 768 resolution
Lowest cost option
16:10 (WXGA & WUXGA)
Image will be more rectangular
Higher resolution: 1280 x 800 resolution
Crisper picture but more costly than XGA & SXGA
16:9 (standard HDTV, 1080p)
Image will be more rectangular
Highest resolution: 1920 x 1080p resolution
If you want to turn your golf simulator into a home theater, this resolution will be perfect for you.
Note: Remember one thing that your projector will never display a higher resolution picture than your computer is capable of. You should maintain this balance.
HDMI Connectivity
While buying a projector, make sure that it provides necessary HDMI connectivity. It is required to work in a golf simulator. So this feature is a must for your projector.
Conclusion
Choosing the best projector is important for a golf simulator. In the same way, knowing the information required for a projector is equally important. This article has already got introduced you to the requirements you will need to buy the best projector. Now it's up to you which projector you need most, which one will fit your simulator and which is the best for you.