This post may contain affiliate links and we may earn a small commission for no extra cost to you.
This is how we keep NiftyGolf free. Learn more about our affiliate disclosure here.
Practicing golf and having visual feedback simultaneously is equally significant to improving your golf skill. If you know how to swing, where to hit, and how to avoid mis-hits, you can go far to be an expert. The way a golf simulator makes us 'beginner to expert' by letting us practice is the same way a projector makes a golf simulation experience best by its projection.
Here the key is that you need to get the highest quality projection. It's possible to use one of the best projectors providing excellent brightness and crystal clear images. There are more secret things to know about a projector. Stay with us and discover those. But before that, let's go through our 10 best projectors for golf simulators we reviewed based on our long research and analysis.
10 Best Projectors for Golf Simulator
1. Optoma EH200ST Short Throw Golf Simulator Projector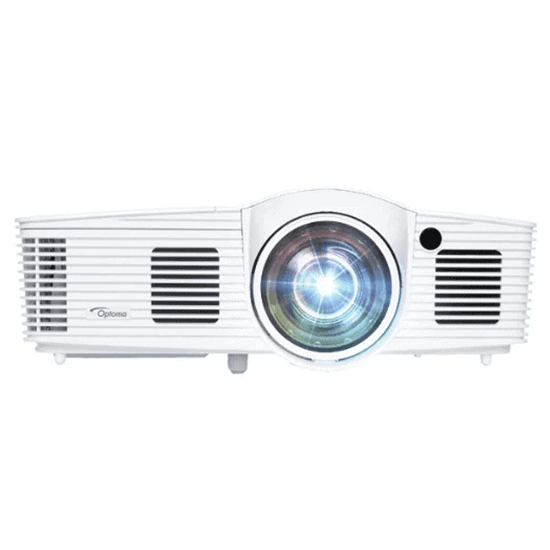 Optoma EH200ST projector is our top pick based on our research and analysis. Because, first, it's under $1000 that is affordable and within reach for all. Second, it doesn't sacrifice its quality for the price. Finally, compared to other projectors of this price range, we see this one gives brighter graphics, soundproof projection, and easy operation that help have a good golf simulation experience.
Providing 3000 lumens and 0.5:1 throw ratio, Optoma EH200ST projects a full HD 1080p quality image. 3000 lumens is good to experience crystal clear images, although some other Optoma projectors offer more than 4000 lumens and project more vibrant pictures. But for them, you have to pay much higher. We have also reviewed them in the later sections.
This projector is suitable for wall-mounted installation and desktop projection as well. It's one of the best short-throw projectors for golf simulators for home that is priced at $979. So you don't need a large room to play in your simulator. It can project images from 3.5 feet away from the screen and 40 inches to 300 inches images with good luminosity.
Sometimes golfers face troubles as they find problems installing their newly bought projectors. Optoma EH200ST impressed us in this regard. It's very easy to install, set up, and operate as well. Moreover, the integrated speaker of this projector produces good sound quality. But as it's a lamp projector, you need fans to cool the bulbs, and it may make noise.
Benefits at a glance
Optoma EH200ST gives bright projection, even in ambient light.
The projector looks more natural to look at than other branded projectors.
It's an easy-to-use and lightweight projector.
Fulfilling the commercial and personal needs, it becomes worth buying for anyone.
It has a long lamp life and costs relatively affordable.
It's a compatible smartphone and other HDMI-allowed devices.
Rich colors are available.
Drawbacks at a glance
Sometimes it takes time when switching slides to light up.
The lens ratio is low and cannot produce a high zoom view.
Switching the inputs requires a remote.
2. BenQ MX825STH Golf Simulator Projector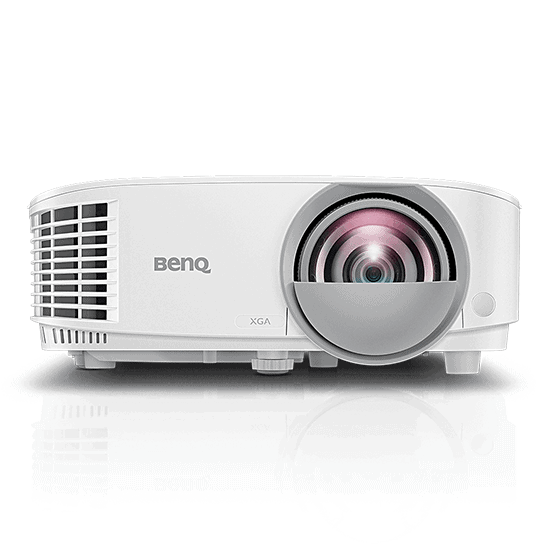 BenQ MX825STH is cheaper ($679) compared to the Optoma EH200ST ($979) but provides more lumens. It's a short-throw projector that will work in your small and middle-sized rooms. If you have limited space to use a golf simulator, it can give you a way out. But if you want a big screen projection, skip this one because it's not sufficient enough to project on a large screen.
Though BenQ MX825STH offers short-throw projection similar to Optoma, unlike Optoma, it's an XGA projector. This makes it capable of producing more quality images with 1024 x 768 pixels resolution. In addition, its 3500 lumens of brightness ensure clear images even with lights on.
It's a lamp projector having 5000 hours lamp life in standard mode and 15000 hours lamp life in eco mode. Being quite different from the traditional lamp projectors, it's a DLP-short throw projector. That makes it show a beautifully detailed view with clarified text in images.
Its 0.61:1 throw ratio means you need to set the projector 6 feet far from the 10 feet screen. The distance is 2 feet more than the previous Optoma model we discussed, but that won't actually give anyone much space to pass by and cast a shadow on the screen.
Benefits at a glance
BenQ MX825STH has long lamp life than Optoma EH200ST
It gives a higher resolution with good luminosity.
The projector can produce premium-quality pictures.
There is minimal risk of shadows on the screen for short-throw projection.
It can be set near to the screen.
It's capable of reducing color decay to deliver long-lasting images.
Being one of the most affordable golf simulators, it's worth buying.
It's a lightweight and portable projector made for carriage convenience.
Drawbacks at a glance
Like other short-throw projectors, it cannot project images from a minimal distance (within 4 feet).
Not capable of producing as much sharper images as non-DLP projectors.
3. Panasonic PT-VZ580U Golf Simulator Projector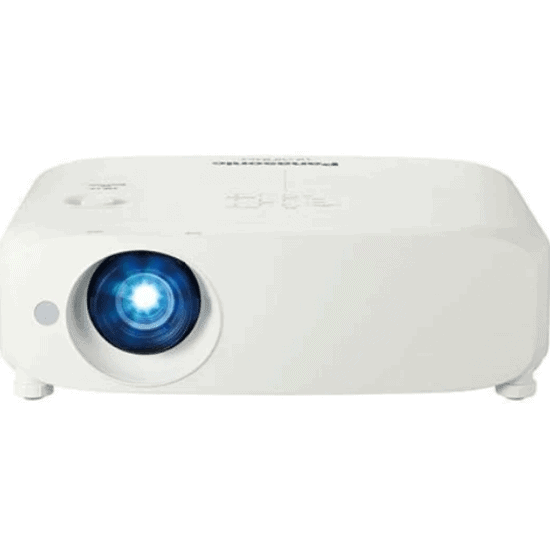 Why is the Panasonic PT-VZ580U our third pick? Is there anything special? What are the drawbacks? Let us clarify. Compared to the cost and brightness of other branded projectors, we found the Panasonic PT-VZ580U one of the best projectors golfers are using for their best golf simulators.
This projector provides 5000 lumens, whereas Optoma EH200ST and BenQ MX825STH provide less than 4000 lumens. For the higher lumens, it produces the brightest and most vibrant pictures. But it costs more than $1000, which is relatively costly compared to those two.
Panasonic PT-VZ580U is a standard throw projector where the throw ratio range is between 1.09:1 to 1.77:1. It provides WUXGA 1920×1200 pixels resolution, whereas most standard throw projectors give 1366 x 768p images. This Panasonic model exceeds this limit producing higher quality crisp pictures.
For using the bulbs as a light source, this lamp projector requires a fan to cool the bulbs down. Yet the fan doesn't make as much noise as the traditional lamp projectors. Moreover, in eco mode, the projector can run the bulbs at a lower brightness so that the bulbs can last a long.
Benefits at a glance
The pictures are bright enough, even with the sunlight.
The projector comes with a lightweight and compact design that makes it easy to transport.
It works wirelessly and provides sharp pictures with decent adjustments.
Eco mode is available to reduce fan noise.
It has a long lamp life of 7000 hours.
Drawbacks at a glance
This projector creates a bit problem with transferring video signals by VGA.
Relatively costly than Optoma EH200ST and MX825STH.
4. Optoma ZH406 Golf Simulator Projector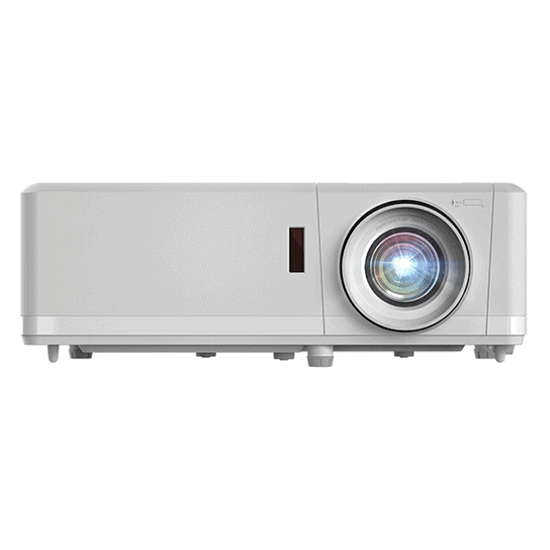 Again Optoma takes place in our top 5 picks! But now, it appears to us with a different look. First, the Optoma ZH406 is one of the best 4k projectors for golf simulators. Second, it's not a short-throw projector; it's a standard or long-throw projector that you can use in a luxury room. Then, it uses modern laser light as a source instead of the older lamp light source projection. This laser projection offers better color accuracy with long-lasting brightness. Compared to the price, it's a bit costly, priced at around $1500.
Unlike the short-throw Optoma and BenQ models, for being a standard throw projector, you can't use it while playing with your simulator in a smaller room. Because a standard throw projector doesn't project images within a limited space. It requires a larger room and the 1.4-2.24 throw ratio ensures this.
This projector uses DuraCore technology that requires no maintenance to operate. In addition, the Optoma ZH406 projector provides 4500 lumens that exceed the previous Optoma models when it comes to brightness. This will help you have a more vibrant projection and eventually a more life-like simulation experience.
It's compatible with HDMI-allowed devices and other external ports like VGA, USB, Micro USB, LAN, RS-232, and RJ45. The integrated stereo speakers(15W) produce rich sound quality. It saves you a fortune by fulfilling the needs of buying costly external speakers.
Benefits at a glance
Optoma ZH406 projects crystal clear and bright images.
As it's a laser projector, it gives better color accuracy by laser light sources.
It's compatible with multiple external devices and offers four corner image adjustments.
The 4500 lumens are more than sufficient to produce vibrant pictures.
The projector gives rich sound quality without an extra cost.
It offers long-lasting brightness as well as low maintenance.
Drawbacks at a glance
Optoma ZH406 doesn't have the long life that we see in lamp projectors.
Relatively expensive than other Optoma projectors.
5. ViewSonic PG800HD Golf Simulator Projector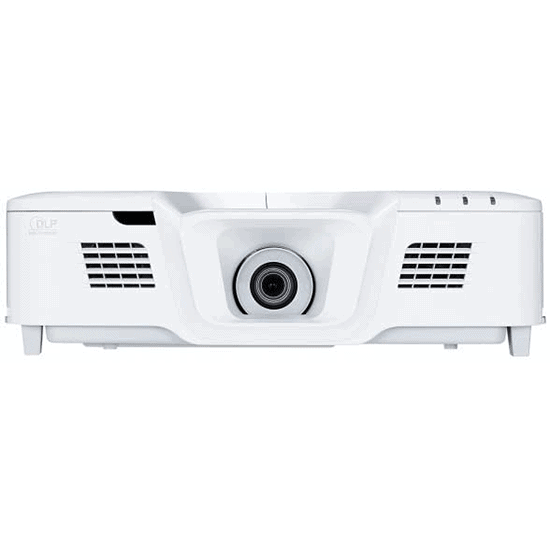 After testing the ViewSonic projectors, we see they gained 'satisfaction with reliability' by their picture quality. The ViewSonic PG800HD is an ideal option for those who have the luxury of experiencing a golf simulation in a broader area. Providing 1920 x 1080p resolution and 5000 lumens of brightness, this projector displays the sharpest images.
It's a versatile standard throw projector that can be used for multifunctions. We especially recommend the projector for professionals as it gives maximum professional facilities. It comes both in full HD (1080p) and WXGA (1280 x 800p) modes. The first one costs $1349 and the latter one $1519.
What you should consider about this projector is it has a very short lamp life that lasts only 2500 hours whereas most lamp projectors offer a long lamp life of more than 3000 hours. But yes, for its super color technology feature, it delivers a wide color range with high contrast and accuracy. The throw ratio of this projector is 1.15-1.5 that ultimately makes it an excellent projector for larger rooms.
Benefits at a glance
The projector delivers great flexibility even in the most difficult installations.
It provides crystal clear images with life-like experiences.
It has adjustable connectivity and is compatible with power cable, VGA cable, and remote control.
Providing less maintenance convenience, this projector is very user-friendly.
It has auto power on/off that ensures easy-operate capability.
Drawbacks at a glance
The lamp seems dim, which makes it unfit for well-lit rooms.
The fan is a bit louder when at full power.
6. Epson EX3260 Golf Simulator Projector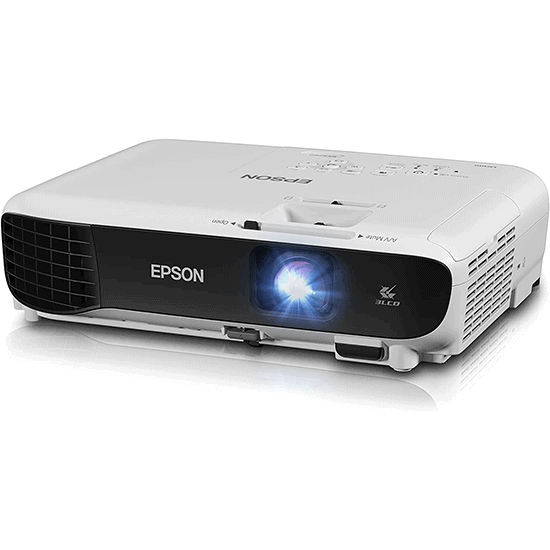 Epson EX3260 is one of the cheapest projectors in standard throw models that cost around $400. It's an entry-level projector, suitable for those who have just started playing with a golf simulator.
Providing 3300 lumens, this projector projects good quality pictures. It delivers brighter pictures compared to the OptiShot short throw projectors.
For its 800 x 600 pixel SVGA resolution, the image quality is not as good as other projectors of similar brightness. It isn't going to be HD/4K resolution. But the lamp life is relatively longer than that. Lamps last up to 10,000 hours.
The projector is compatible with VGA, HDMI allowed devices and external power ports. It's a lamp projector featuring less accurate and vivid color images than the older lamp projectors. Its throw ratio is 1.48 to 1.77 which makes it fit for larger screen simulation.
Benefits at a glance
Epson EX3260 projector is flexible to use with a portable golf simulator.
Offering fast performance, it delivers clear images in well-lit spaces.
Compatible with the latest laptops and media players.
Lamps last up to 10,000 hours.
Easy image adjustments and convenient control are available.
It's one of the most affordable projectors.
Drawbacks at a glance
It doesn't have Bluetooth support.
No 3D capabilities and no optical zoom
7. Panasonic VMZ50U Golf Simulator Projector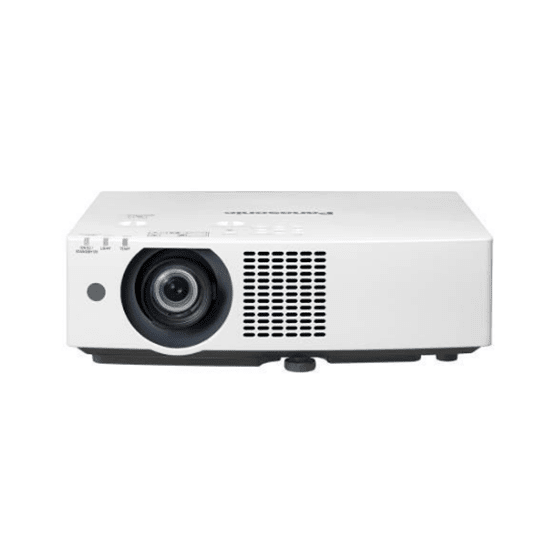 Panasonic PT-VZ580U is a relatively costly projector than the previous Panasonic models. Our third pick was the Panasonic PT-VZ580U that was around $1k, whereas this Panasonic model costs more than $2k. Is it worth buying then? Let's see.
Like the previous PT-VZ580U model, Panasonic VMZ50U is a standard throw projector providing maximum brightness with 5000 lumens. But unlike the PT-VZ580U projector, this one supports 1920 x 1200 WUXGA native resolution, almost 3 times more.
While comparing the throw ratio, we found these two projectors with similar ratios- 1.09 to 1.77:1. It's perfect for a standard throw projector to project large images from a long distance.
This projector uses a laser light source to project images, while PT-VZ580U uses a lamp source. Panasonic VMZ50U offers a longer lamp life of about 20,000 hours in full brightness. It creates less fan noise in low brightness, saving power and reducing noise.
Benefits at a glance
For its lightweight and compact design, it's easy to transport.
This projector can connect wirelessly.
It offers maximum brightness with the highest lumens.
Compared to other standard projectors, it gives sharper and cleaner images.
The projector is ideal for well-lit rooms.
Drawbacks at a glance
It creates a bit of a low sound.
It's an expensive golf simulator projector.
8. Optoma EH412ST Golf Simulator Projector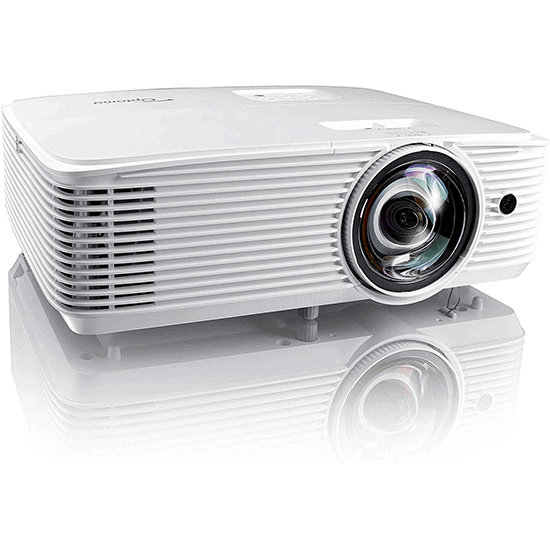 Optoma EH412ST is for those who want to experience high golf simulation within a limited space or don't have sufficient room for large image projection. With 15,000 hours of lamp life, this projector uses a lamp light source.
It has options to choose both 3000 lumens brightness that doesn't support 4k resolution and 4000 lumens brightness in 4k resolution. The first one costs around $900 and the latter costs around $1500. Compared to the Optoma EH200ST, this projector is a bit costly though both are similar from the lumens perspective.
Sometimes Optoma EH412ST is not overly bright, and it becomes a bit hard to see it in sunlight with 3000 lumens. It's a short-throw projector that can project images 4.5 feet from the screen. The throw ratio is 0.5: 1 that ensures its large image projection from a short distance.
You can use it with a multiplayer golf simulator. Featuring a 1920×1080 pixels resolution image, this projector gives good luminosity while 1280 x 1024 pixels are enough to enjoy sharper images.
Benefits at a glance
It offers a long lamp life.
Projects clear pictures in well-lit rooms.
The built-in speaker sounds good and works without any external speakers.
Has easy image adjustment convenience.
Lightweight and easy to use.
Compatible with VGA, USB, and HDMI
It's relatively affordable.
Drawbacks at a glance
It's a bit hard to see in daylight.
Has no lens shift option.
Not compatible with Bluetooth or WiFi.
9. ViewSonic PJD5353LS Golf Simulator Projector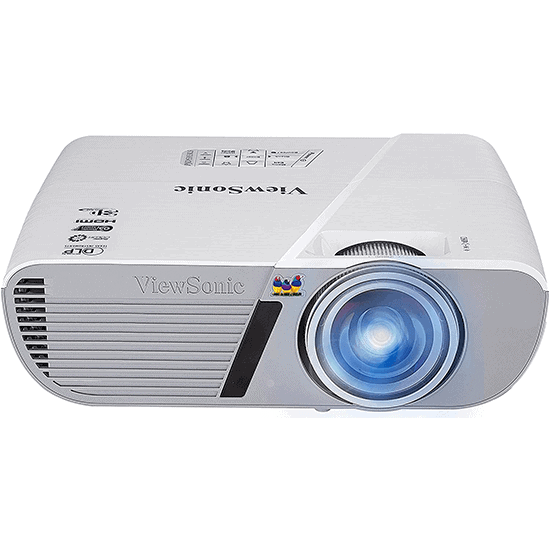 ViewSonic PJD5353LS golf simulator projector is designed with an ultra-short-throw lens that makes it fit for any smaller room. Its 0.61:1 throw ratio ensures a larger projection between 6-8 feet from the screen. For having an elegant and compact design, it requires less maintenance.
In comparison to the brightness of ViewSonic PG800HD, this projector delivers less bright images. This is because it provides 3200 lumens, whereas ViewSonic PG800HD provides 5000 lumens. But from the lamp life perspective, ViewSonic PJD5353LS lasts up to 10,000 hours in eco mode, which is 4 times more than PG800HD.
Unlike the ViewSonic PG800HD projector, it gives native XGA 1024 x 768p resolution images. But at maximum, both offer similar quality with 1920×1080 pixels resolution. Featuring flexible connectivity, it supports most media players, PCs, Macs, and mobile devices as well. We recommend this projector for the SwingBay Golf Simulator Screen & Enclosure because it fits the screen most.
There is a SuperColorTM technology manufacturer used in this projector that gives a vast color extent for accurate pictures. It's a lamp-based projector featuring DLP technology for which it projects colorful images with good contrast. However, if you want an XGA quality image, it will take $900, and for WXGA, you need to pay $500.
Benefits at a glance
Offers flexible connectivity options.
Comes with long lamp life at a reasonable price.
Can be used for multi-purposes.
Designed to be flexible to replace anywhere.
Delivers balanced color and brightness.
It's a lightweight and easy to use
Drawbacks at a glance
It's a bit difficult to adjust the picture.
10. BenQ MW632ST Golf Simulator Projector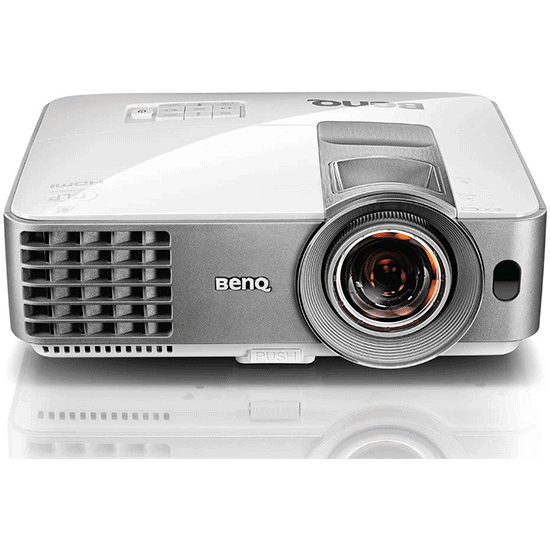 BenQ MW632ST gives an almost similar performance to BenQ MX825STH that we reviewed as our second pick. These two come with almost the same price, around $700 but different in brightness capability. This projector provides 3200 lumens, whereas the previous model provides 3500 lumens. This creates a difference in image sharpness.
We see high-quality resolution with native WXGA 1280 x 800 pixels in this projector. It's considered sufficient to project clear images and good contrast of black & white. This is a short-throw projector, the ratio of which is 0.9:1. For its short-throw ratio, it fits any small space and projects larger pictures.
It's adjustable to any environment and works from a very short distance. But for the best visibility, keep it between 6 to 10 feet from the screen. It's okay to see clearly under any light conditions. You can play by keeping the light on.
This is a lamp projector that uses a lamp light source. It's compatible with HDMI-allowed devices. You can adjust the picture's sharpness by the lens in the front.
Benefits at a glance
Delivers vivid color and accuracy in pictures.
Projects bright images, even in daylight.
For being lightweight, it's easy to carry.
Comes at a reasonable price.
Crisp images under any light conditions.
Drawbacks at a glance
Doesn't support 3D glasses
Doesn't work with Bluetooth speakers.
Key Features for Golf Simulator Projector
Whether using a golf simulator is for your entertainment or improvement purposes, you will probably want to keep the projection brighter for a good simulation experience. Not only the 'bright' view but there are also a few more features that you should know before expecting the best from a projector. Regarding this, we can help you with a detailed guide. Let's have a view.
Lumens
The first thing you should look for in a golf simulator projector is lumens that measure the brightness of a projector. The higher lumens a projector provides, the brighter images you will enjoy.
For a good simulation experience, we recommend a projector of around 3000 lumens. And 4000 or above 5000 is recommended for more vibrant pictures.
But if you are used to keeping the lights off and playing in a darkroom, 1500+ lumens are enough to make the room bright and help see things clearly. Remember, the brighter your room is, the more lumens you need to adjust with it.
Throw distance and throw ratio
The throw distance determines how far you will keep your projector from the screen and the throw ratio refers to what size images you can project from that distance. Throw ratio is the result when you divide the distance between your projector and screen by the screen's diagonal width.
If the distance is 5 feet and your screen width is 10 feet, then the throw ratio will be 0.5:1. Understanding the throw ratio will help you select an optimal projector according to your needs. So first, know your screen width and then measure the distance of your projector from the screen. The ideal throw ratio for a short projector is between 0.3:1 to 1.13:1 and a standard throw projector between 1.09:1 and 1.77:1.
Short throw or standard throw?
If you want to play in a large room where you can place the projector between 3 to 8 feet away from the screen, we recommend a long throw or standard throw projector for you. Long-throw projectors are cheaper, but they cannot reduce shadows like short-throw projectors.
On the other hand, a short-throw projector should be your choice for the smaller room because they don't need large space to produce images. In this case, you can set the projector between 0 to 4 feet away from the screen. Short throw projectors are relatively expensive. But the advantage is they can be used anywhere for their flexibility and easy installation system.
Using floor mounts requires short-throw projectors only. A standard-throw projector won't work for it. If you prefer a ceiling mount instead, both short and standard throws will work. Before going for a standard throw, make sure you have enough space behind you.
Most golfers usually deal with their shadows on the screen while playing in a simulator. In this case, if they use a short-throw projector, shadows won't appear anymore. Because short-throw projectors reduce shadows.
Image quality
How your image quality should be, will depend on the aspect ratio and resolution. The aspect ratio determines the shape of the image on the screen. Basically, it's the ratio between the width and height of the image.
Resolution determines the pixel numbers of the image. The more pixels, the higher the image quality. For example, if you want the sharpest picture with a detailed view, you need a 4k projector.
Common aspect ratios can be of four types – 1:1, 4:3, 16:10, and 16:9. If it's 1:1, the image will be square in size where width and height are the same. Projectors of a 1:1 aspect ratio are cheaper but give the lowest resolution.
On the other hand, if the aspect ratio is 4:3 (XGA and SXGA), images will take more of a square shape. These types of projectors are also affordable and give medium resolution. XGA projectors provide 1024 x 768 pixels, and SXGA projectors provide 1280 x 1024 pixels.
In the case of 16:10 (WXGA), images will be rectangular with higher resolution. The image resolution for WXGA is 1366 x 768 pixels. Here you get sharper pictures that cost a bit more than the previous ones.
Images will be more rectangular when the aspect ratio is 16:9 (Standard HDTV). This aspect ratio offers the highest resolution (1920 x 1080p). The more pixels, the higher the image quality. If you want to turn your golf simulator into a home theater, this resolution will be perfect for you.
To know what aspect ratio your projector provides, divide the width by the height. It's that simple!
Note: Remember one thing that your projector will never display a higher resolution picture than your computer is capable of. You should maintain this balance.
Laser or lamp?
Projectors need a light source to project images. Projectors can be of three types: LED, laser, and lamp based on this light source. As LED projectors are not suitable for golf simulators, laser and lamp projectors are recommended.
Lamp projectors are the oldest. They cost relatively lower but don't last long. On the contrary, laser projectors last long and give more brightness. They are modern, eco-friendly but relatively expensive.
Note: Lamp projectors use bulbs that can get hot. In the case of using lamp projectors, you need a fan to cool the bulb down.
Mount Guide for Golf Simulator Projector
Whenever it comes to talk about a projector, where it should be placed also comes into that topic. Projector mount is the answer to this question. It will help you decide whether you should place your projector on the floor or hang it from the ceiling. This section is here to bring a way out for you in this step of your projector setting. Let's have a clear idea.
First, ask yourself. Will you mount your projector on the ceiling or the floor? Mounting it on the ceiling comes with benefits, but setting up can be a bit troublesome. The ceiling mount requires more room depth. If your simulator screen is larger, the ceiling mount is suitable for it. We recommend a ceiling mount for a larger screen and laser projector.
There are special floor mounts available for people who want to keep their projector on the floor. It's the cheapest way to mount projectors. These mounts are recommended for smaller screens and limited simulation areas.
So before planning to use a floor mount, make sure that your projector fits inside. In addition, while mounting on the floor, keep a note of the location of the input/output ports. If they're on the side, you won't be able to hide the cables.
Conclusion
Choosing the best golf simulator projector is essential for a high-quality simulation experience. Similarly, knowing the key factors required for a projector is equally important. We covered both in this article from the users' practical use and experience. So if you are buying one, make sure you have gone through the key features.
Let us know how you are doing with your new projector? What's the difference between this one and the former one? If it's your first projector for a golf simulator, then what's your feedback? Share with us. We are always here to listen to you and answer accordingly.