Being passionate about the beautiful game of golf who does not want to improve his performance day by day. There is always a question of what can help a golfer improve his game or how he can achieve great success. This article is all about that.
There is a famous quote from one of the greatest players in golf history, Lee Buck Trevino, mostly known as Lee Trevino, that
"There is no such thing as natural touch. Touch is something you create by hitting millions of golf balls."
Lee Trevino is an American golfer who has won six (06) significant championships and twenty-nine (29) PGA Tour events in his career. Not only him, but any successful golfer will also agree that there are no alternative solutions than practicing the swing and hitting the golf ball as much as you can to improve your golfing skill. And the first thing that most golfers would recommend is the best golf sims to improve swing and hitting skills.
But does it really work? Will a golf simulator help your game? If yes, then how? If these questions are buzzing in your mind too like most beginners, then this article is the right place to get answers to all these queries. We are going to explain the most asked questions on using indoor golf simulators like should you buy a simulator, does it really help, what are the alternatives to simulators, etc.
What a Golf Simulator is All About?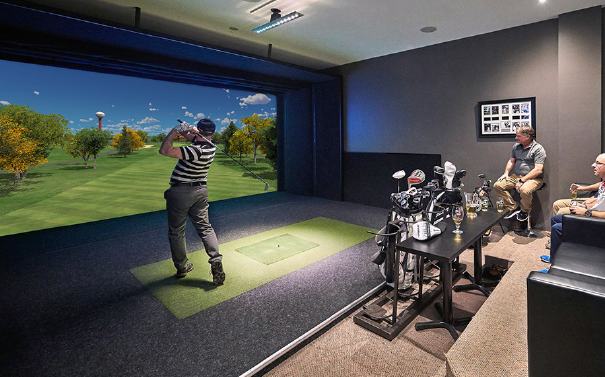 A technologically advanced machine that can sense, record, and analyze your swing and show you results like club speed, clubface angle and impact, club path, ball path, ball speed, horizontal and vertical launch angle, spin, and so on with simulator mats, sonic sound system, optical sensor system, radar, ball tracking system, and cameras.
Since 1970 when Golf Simulator was first introduced, it has evolved beyond expectations. You can play real golf, not the virtual one in the simulator. The word 'real golf' is emphasized as you need to play with the original golf ball, club, and realistic golf course. And you can play golf regardless of weather & time indoors.
In the very simple words, the Golf simulator simulates individual golfing performance. Here, to simulate means, it represents the behavior or characteristics of one's performance of playing golf with help from others, especially a computer software program designed for the purpose. The simulator with help from software and hardware like sensors, cameras, and motion detectors receive swing and shot details as input, then analyze them and represent it. So, what a golf simulator analyzes? Mostly, the simulator analyzes the smash factor, spin rate, launch angle, carry, ball speed, club speed, loft, face angle, and many more.
Will a Golf Simulator Help Your Game?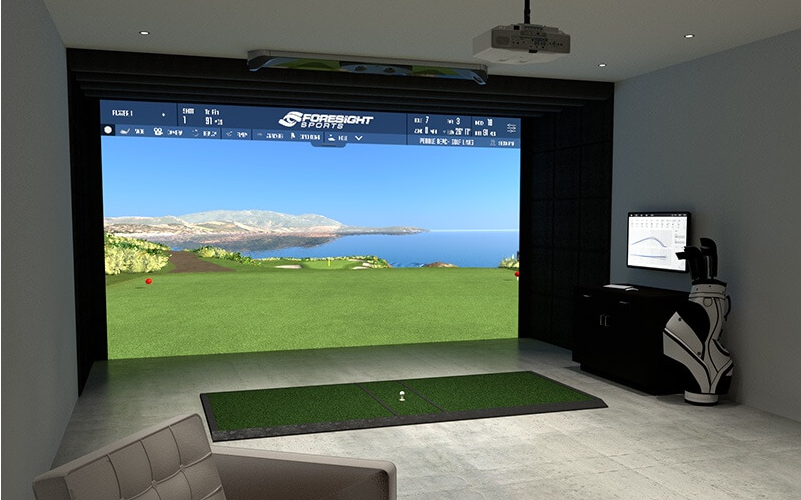 If you take the golf simulator seriously, then YES. Because as Lee Trevino and other professionals agree there is no alternative then hitting the golf balls millions of times with a proper swing. Golf simulators allow you to have a swing at the golf ball and hit it again and again within limited space along with tracking each swing and stroke. A golf simulator can assist you like a coach. Many simulators have pre-installed experts' data and opinions and the latest ones can be connected to the internet as well from where you can communicate with professionals too.
What else can improve your game?
There are no shortcuts in real success. Similarly, in golf, there is no alternative to practicing to succeed. The simulator is just another medium of doing it. Information, processes, experts opinions are available online besides you can take help from professionals and coaches. You can do a list of things to improve your game on your own. For example:
But the bottom line is you can do all these aforementioned with any best of the golf simulators as well.
How much does a golf simulator cost?
A quality golf simulator can be purchased at prices starting from as low as $800 (OptiShot 2) and can go as high as $70000 (HD Golf Simulator Ultimate). Other than this You can build your own golf simulator which might be slightly cheaper than buying from the best of the simulators. The cost of building a golf simulator can vary based on the availability of accessories to set up a simulator.
Do the professionals use golf simulators too?
Yes. Not only as part of marketing stunts they do use them personally. Different brands are popular among them. Here is a shortlist of them attached:
| Brands | Professionals found to use their golf simulator |
| --- | --- |
| Foresight Sports GC2 | Butch Harmon, Michael Breed, and Martin Hall |
| Trackman | Dustin Johnson, Francesco Molinari, Justin Thomas, Rory McIlroy, Sergio Garcia, Jason Day, Justin Rose |
| Full Swing Golf | Justin Rose, Jordan Speith, Jim Furyk, Jason Day, Brandt Snedecker |
| GOLFZON | Kevin Na and Matt Kuchar |
Conclusion
Practice makes you perfect. Practice builds confidence in you. Practice eases the challenges in crunching moments. And when you can practice all sorts of golf swing, hitting and putting with only one tool, there can not be a better alternative.
Isn't it? The simulator can be the best companion for you to help to improve your game.