One of the biggest challenges in golf is to lower the handicap score and one of the easiest solutions is to improve putting on the green. Improving putting means reducing the number of putts in each round of your golf course. Nothing can be more beneficial than practicing if you want to improve your putting. Now there are two systems in practice you can follow: 
i). Practice without any putting aids
ii). Practice with putting aids
We recommend the most effective way that is to practice with putting aids. That's why we are here with our research and analysis of the 10 best putting aids. Stick around, you will find an optimal option.
10 Best Putting Aids Review
We chose Pro Path Golf Putting Mirror as our top pick among the best putting aids because we couldn't list any item above this one. Once you use it, you will know it's the best training aid you have ever tried. We can tell you three major reasons for it before going to the review. First, it's crafted by PGA professionals and designed to fit all golfers. Second, it will give you a correct posture and stance as well as a perfect eye line over the ball. Finally, it will create consistency in the putting stroke.
Key features
It provides both the mirror and a putting arc
It has 2 stroke arc lines for both mallet putters and toe hang putters.
A curved, patent-pending mirror
Real-time feedback
Includes putting alignment guide
This is not only a mirror. It comes with a whole unit packaged in a sturdy box. It includes a carrying case and 4 different sized gates. These will help you deal with the issues that lead to breaking putts. The gates are made of firm metal that is useful for speed practice. They come in separate cloth pouches. There is a cloth bag too to protect the mirror.
Using the putting mirror, you can easily avoid the missed putts and all relevant minor errors. It will help you control your speed and bring consistency to your swing. It's designed for both right and left-handed golfers.
You can use the storage cloth bag to clean the mirror. Whether it is a blade putter or mallet, It allows both. Checking the swing path of the putting stroke is important. This mirror will help you do that. Besides improving your skill, this will make you confident. 
Pros
Easy to get perfect stance and posture
Simple and straightforward to train you properly
Almost 50% larger than most mirrors available
Includes speed adjustment holes
Increases consistency in putting stroke
Corrects shoulder alignment
Cons
Corrects the flaws in putting but doesn't help to read putts
Final verdict
If you are tired of looking for an effective putting aids that can lower your handicap and improve your game, Pro Path Golf Putting Mirror is highly recommended. Despite being a top-notch training aid, it's pretty much affordable costing $64. But before buying, keep in mind there are two options, one with gates, another without gates. Don't forget to take the one that has gates.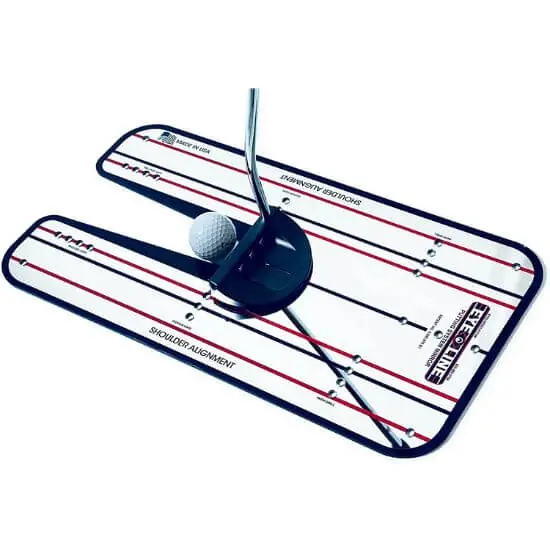 Over the past 10 years, EyeLine Golf Patented Classic Putting Mirror has been successfully helping all-level golfers to improve their skills. For those who want to perfect their stroke and consistency in practice, this mirror is for them.
Key features
The mirror has holes in front and back for placing tees
Instant feedback on eye position, putter setup, and putter stroke
Fits putting green
Immediate feedback
The mirror comes with a soft carry bag. There are holes in the mirror that will help you create a gate in front of it so that you can put the ball through it. "Gate drill" will help you reduce your putts.
You can also place tees in the back hole which will let you have back swing control while putting. Based on the design, there are two customizable options – i). Designed in arched style, ii). Designed to give a straight back-forward stroke.
This great putter is perfect to use on any golf mat sized more than 9.25 inches x 17.5 inches. And for its compact size, you can use it in any of your golf bags. Check our recommendations of golf bags.
This mirror ensures a proper start line, face angle, and eye placement. If you are aligned in the right form, you will get immediate feedback. Even if you are not aligned properly, it will provide you feedback for better stroke.
Pros
Compact size and easy to carry
For both indoors and outdoors
Simple to use
Both for right and left-handed golfers
Mirror alignment lines and mirror face help to make more putts.
Cons
Not suitable for high temperatures. The inside glue may melt in extended periods of heat.
Relatively costly
Final verdict
We highly recommend EyeLine Golf Patented Classic Putting Mirror for the average golfer to align their putts and be consistent in their strokes as well. It costs $59. Though it seems pricey at first glance, it's worth every penny. Check out this EyeLine Single 360 Mirror which is an alternative with the same price.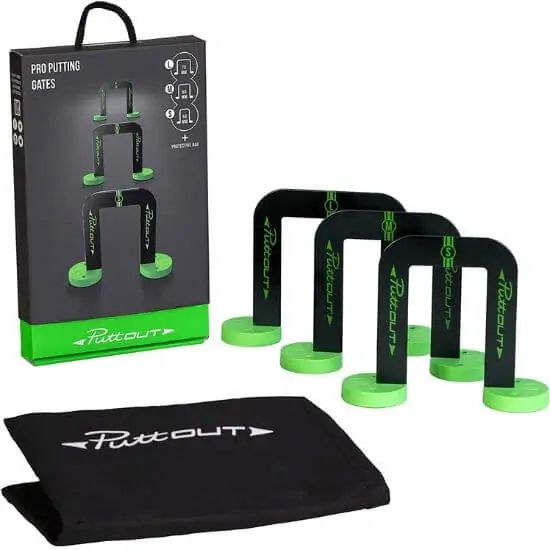 PuttOut Pro Putting Gates is here, in our top 3 picks of best putting aids because of its excellency in improving putter swing and increasing accuracy effectively. Each gate of the set makes the putting straight and helps you learn the pendulum swing properly at multiple distances.
Key Features
Portable and durable.
Designed for indoor and outdoor use.
Available in 3 sizes: Small gate (50mm), medium gate (60mm), and large gate(70mm). 
Made to use on putting greens or mats.
Comes with a handy carrying protective bag.
The set comes with powder-coated steel that is rustproof and highly resistant to any damage or scratch. So even if you play outdoors, carry it or move it frequently, it has no chance of getting damaged.
The gates are designed with different inside diameters so that you can train yourself with different putting drills and improve target line and accuracy.
There is a weighted base with spiked feet on it that is to let you practice on any putting greens or mats. You can check a list of 10 best putting greens from here that can help you in this regard.
If you are a beginner, we recommend another set of 70-80 mm putting gates that will allow you more room for error. But if you have already passed the beginning step, this is for you!
Pros
Best for both indoors and outdoors
Easy to assemble and use
Built with quality materials and long-lasting
Best for swing and accuracy
Adjustable targets
Great value for money
Cons
No tape measure is included to ensure you are playing from the exact distance you need.
Not much suitable for beginners
Final verdict
You can practice with other types of putting aids but the PuttOut Pro Putting Gates are in our recommendation because these are exceptional for offering immediate short-game improvement. You will get it at $48. It ensures a perfect start line and narrows your margin of error even in tougher challenges.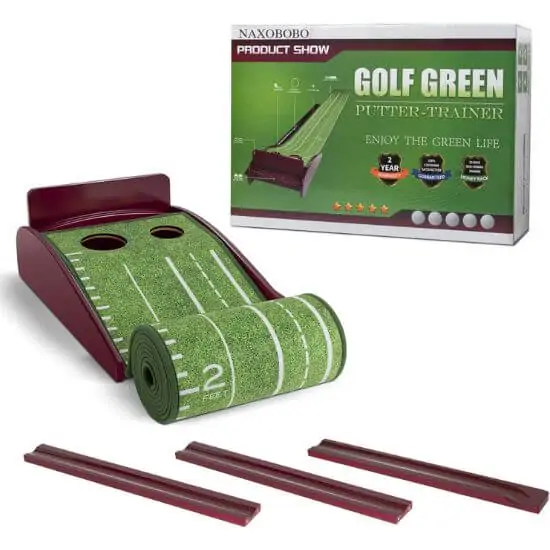 Naxobobo Golf Putting Mat obtains its place in our top 10 picks because of its easy rolling service. It's best to help you learn speed and directional control. Whether you are an amateur or experienced golfer, this great tool is designed to let you practice in any weather.
Key features
Portable, compact in size, and durable
Includes two different-sized holes with an automatic ball return feature
Provides 2 guided alignment training tracks
Designed with a crystal velvet material
True and consistent roll
This is a well-made mat that doesn't take much space like a big backyard or front yard. It can be a long straightway for your narrow hallway. The mat will let you easily track the ball curve and spin.
There is a removable heavy foam pad included with the mat. It's made with hard plastic and solid wood. There are two golf holes on each side.
According to the users' experience, the ball often gets stuck on the right smaller cup as the side hole and slope are a bit smaller. There are 2,4,6 and 8 ft distance markings so that you can improve your shot.
You can use the putting mat for home golf practice or in your backyard, lawn, or office. As it is portable, you can travel with it while keeping it in your golf bag.
Pros
Easy to fold up and store in a small space.
Very affordable
No wrinkling problem
Lies flat on the ground
Smooth putting surface
Offers true straight putt
Suitable for both rain and shine
Cons
The two side walls are not so high to prevent the ball from going out.
The side hole and slope are not as big as it needs to be.
Final verdict
We recommend the putting mat among hundreds of options because of its easy rolling and lower price. It's available for $99. Great value for the price. If you want a premium quality golf simulator mat and a better putter, try this Perfect Practice Putting Green.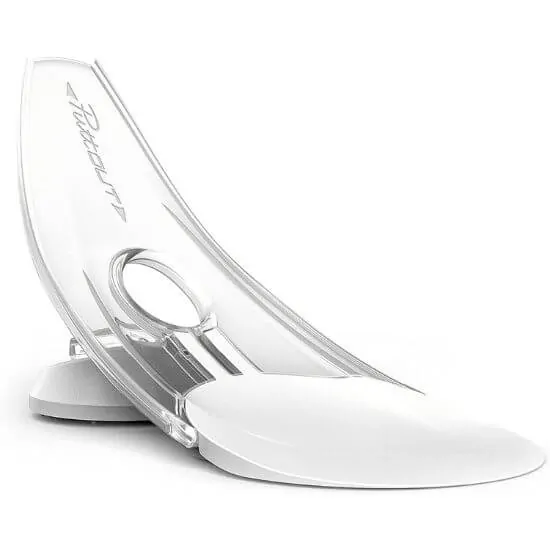 This putting aid is beneficial for those golfers who want to work on pace control and alignment. It's a good putter that will help you find the center of the cup easily. The putter will make you ask, how can such a simple design make the best practice! 
Key features
Designed with a parabolic shape to return good putts and reject bad putts.
5 colors are available – white, blue, orange, green, red, etc.
Immediate feedback
It includes repeat putt, perfect putt, match play perfect putt, and killer putting drill.
The first question about this product might be, what does the parabolic shape do? Well, it does the most important job – rejecting missed putts, targeting for perfect putts, and returning good putts. The base of the putter is made of heavy rubber.
PuttOut Pressure Putt Trainer fits any flat surface, mat and putting green as well. But we recommend the PuttOut mat for this putt trainer. You can also set it on the carpet. But we suggest not to use 70s shag carpeting.
It lets you use a golf driver, putter, wedge, and irons to take multiple shots on the course so that you can reduce the putts. You can use any golf ball except the foam balls.
It is well made of high-quality elastomer polycarbonate that makes sure it will fit your golf bag. You can travel anywhere with the aid of your training purpose. Also, it has a collapsible design that helps you fold the aid.
Pros
Well constructed
Helps to aim the center of the cup
Foldable and portable
Multiple colors are available.
Fits golf bag
Works without any batteries
Cons
Doesn't work with an indoor foam practice ball
Color options are limited
Final verdict
This putting aid is designed for golfers. Yet we especially recommend it for new golfers because it will help them hit a lot of putts quickly in the 3′-5′ range while most beginners don't practice this important range. If you want to have your strokes significantly smoother within a few weeks, PuttOut Pressure Putt Trainer will benefit you. It costs $27. There's a premium version of this trainer pricing $39, have a quick look here.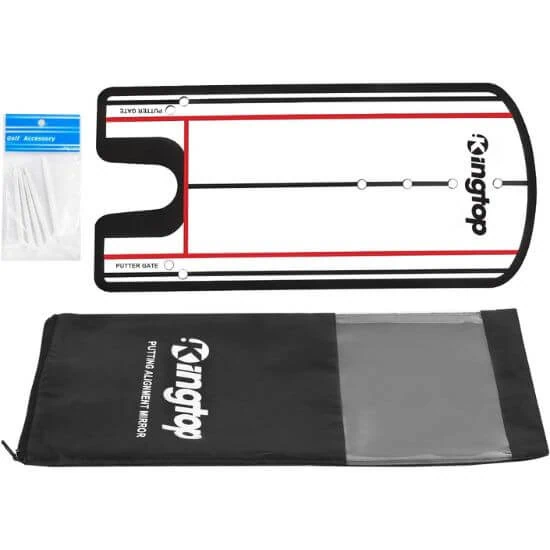 If you want the most affordable option for putting alignment mirror, have a look at this one from the KINGTOP brand. KINGTOP Golf Putting Alignment Mirror is available at $14. To improve your ball alignment, club alignment, and adjust setup position, you can check this product and go through the review.
Key features
Provides ball alignment, and club alignment and adjusts setup position
Reflective surface
Includes putter gate slots and alignment guides
It's sized 12″ x 6″
There are 5 white tees included with it
Build with sturdy acrylic material
It's a well-constructed mirror the materials of which make it a durable putting aids. The package is wrapped with a bubble sleeve and an adhesive film that prevents scratch while carrying on transport. It includes cup combo and carrying bag. 
The putter gate slots of the mirror are given so that you can find the sweet spot easily and hit on it. Also, it will give you a proper swing path. You can perfect the face alignment and eye position by using the alignment mirror. 
You can use your blade putters with the mirror easily. But with a large mallet-style putter, you should be careful because the gate is not as wide as the professional models.
Pros
Well-made and long-lasting
Improves posture alignment on the green and increases confidence as well
Very affordable
Helps ball positioning and alignment
Lightweight and portable
Fits golf bag
Cons
The gate is not much wider.
Not suitable for synthetic turf as the bottom is smooth. So it may slide.
Final verdict
It is an excellent training aid for the price. We recommend the mirror for those who want to reduce missed putts caused by poor alignment.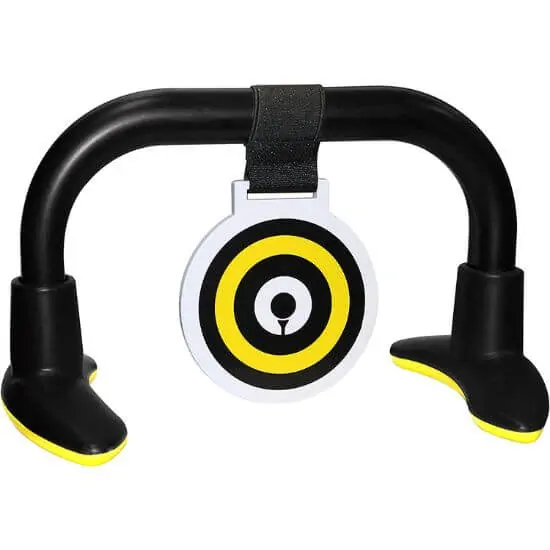 The name of this putting training aid reflects its usage. Sharp Shooter Putting aid is designed to improve your speed and accuracy. It's best to give you perfection in both indoors and outdoors. For those who want a training aid for multiple uses, it may help them.
Key features
Versatile
Portable
Includes two center targets, three balls, game instructions
Fun features
Black colored
Various competitive game formats
You can use this for gaming purposes and practice purposes as well. It's suggested for male golfers. It includes sharpshooters. This aid will help you create accurate swings. 
The included easy-to-use game instructions will help you play accordingly. As it's portable and easy to carry, you can set it at your home or take it to travel. This offers competitive game formats which will allow you to play with a competitor.
Pros
Fits all-aged golfers
Suitable for competitive game formats
Both for indoor and outdoor use
Long-lasting and easy to carry
Cons
Final verdict
We recommend IZZO Golf Sharp Shooter for only beginners who just want to practice to reduce putts, it's not for the professionals. It's priced at $31. Great value for the price!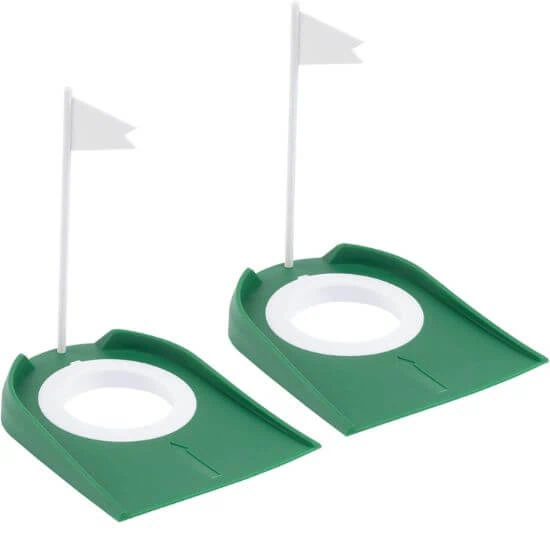 If you are looking for an affordable option to practice, WSERE Golf Putting Cup will help you. It's a good putting aid which costs $14. The price is relatively very cheaper than others. 
Key features
Built with high-quality plastic material
Improves accuracy 
Great for fun
Suitable for indoor and outdoor use
Lightweight and portable 
WSERE 2 Pack Golf Putting aid includes two pieces of putting mat with the package. You can use this in your home or office. It's perfect for use on the carpet. According to users' opinions, this aid is good for casual use.
You can use the cup for being active and having some fun. But if you are serious about improving your skill, you should try another one. 
This training cup will speed up your practice and improve your skill. The cup size is 18.2 cm x 13.8 cm/7.16 in x 5.43 in. 
Pros
Simple, handy, and easy to carry
Long-lasting
Reasonable price
Well constructed with durable plastic
Helps to make your putting more accurate
Cons
No ball included
For being too light, it sometimes moves around.
Final verdict
Though this training aid is best for indoor and outdoor, we recommend it for indoor use. GoSports Pure Putt Challenge Putting Cups 3 Pack can be an alternative with the same price range.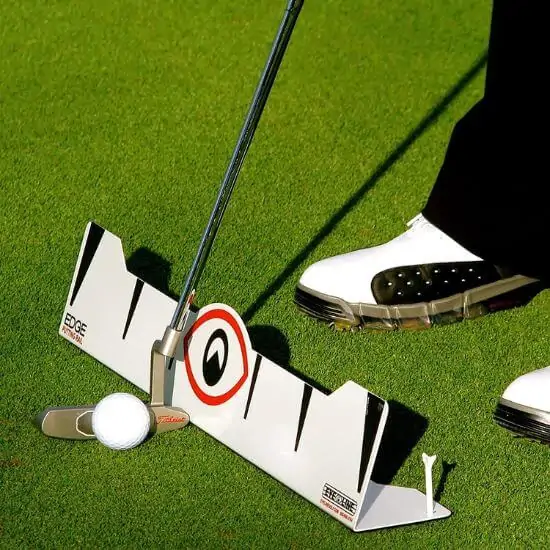 EyeLine is one of the most well-known brands. We have already included a putting mirror of this brand in our list. EyeLine 70-degree edge putting rail is best as a training aid for most golfers.
Key features
70° edge putting plane rail
There are markings on the rail's face to check the distance
Suitable for indoor and outdoor use
Build with lightweight material
This plane rail comes for both left and right-handed golfers. It won't scratch your putter. You don't have to worry anymore about the path of your putter. Instead, it will allow your putts to roll smoothly on your chosen line. 
Once you learn to read greens, this aid will help you make a lot of putts. If you practice regularly, it will improve your skill within no time.
You can make your swing path more accurate and control your swing speed by using the rail. Also, it will make your stroke consistent.
Pros
Easy to use
Lighter and durable 
Helps to make repeatable putting stroke
Increases consistency in stroke
Cons
Too lightweight for indoor use as it moves around
Some golfers prefer heavier materials for it than plastic
Final verdict
Recommended for those who want more solid and center-struck smooth putts. Yes, $59 might be a bit expensive for some golfers. Yet it's worth buying.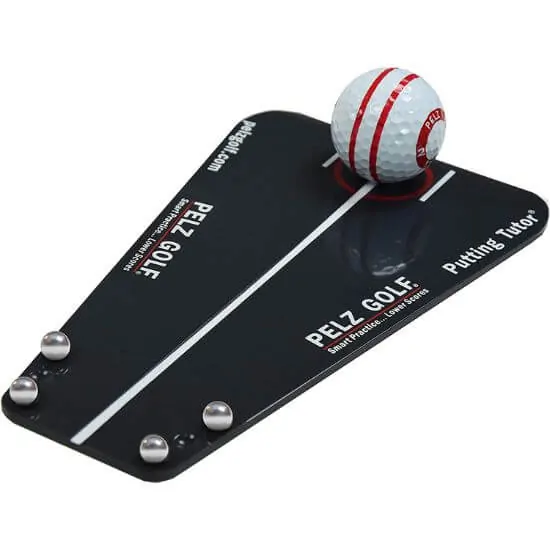 Pelz Golf DP4007 Putting Tutor is Phil Mickelson's choice. He used and endorsed it. If your main purpose is to read green properly and deal with breaking putts for increasing skill, it can be an ideal choice. It's designed to let you strike squarely so that your ball can roll on line. 
Key features
Increases green reading skills
Immediate feedback
Comes with a case
Helps both stroke and alignment
Dave Pelz putting tutor is great for all-level golfers. It will help you adjust the aim line. Practicing with this aid, you can make difficult putts as well as learn how many putts are breaking.
It will allow you to increase consistency in your putting stroke, verify eye position, and square your putter face at address. You will be able to aim your putting on the exact line. It includes no golf balls. You can find one from our reviews and resources of different golf balls.
To make great putting game fundamentals, you should correct your eye position. This aid will help you do this. It comes with a nice flat carrying case that can be kept in your golf bag. You can use it on your carpet.
Pros
Easy to use
Suitable for all skilled golfers
Improves green reading
Helps to make consistent putting strokes
Cons
Not suitable for outdoor use
No golf ball included
Final verdict
Our experience says this training aid will make you putt like pros by giving you a proper alignment allowing the ball to roll on the correct line. Recommended for indoor use.
Frequently Asked Questions
Buying Guide for Best Putting Aids
Buying putting aids might be a difficult step for you if you are not pre-prepared. Even if you have bought one before, you need to follow buying guides now. Because each aid is different from another. This variety of design makes it difficult to buy effective putting aids. To make it easy, we provided a buying guide here.
How much consistent putting results does it give?
Consistency in putting stroke is what a golfer needs most to increase his skill. If you can be consistent in your practice and hit correctly on the sweet spot, you get what you need. This is why your putting aids should be stable in performance. You should know if it is easy to have the proper posture, stance, and eye contact with the aid you are selecting for your putting. Besides the best putting aids, you can follow a step by step guide to proper golf posture.
How long does it last?
To practice all the time, you should obviously select a long-lasting aid. A durable mat or mirror or any other aid is always an ideal choice for those who want to take it and practice anywhere, anytime. Find a durable one carefully. Durability matters to make the product more preferable. Putting aids with strong materials won't be damaged. You can choose strong plastics that will serve you longer. 
Which design will deliver best to you?
You may have choices while selecting the design of a putting aid. But "the simpler, the better" – it may make your choice easier. Yet the question remains, which design in putting aids will be effective? Actually, there are different designs that do different things. To work with your stroke mechanics, you need a simple designed putting mirror. If feel and pace control matter more to you, a mat will be a good choice. This is how you can choose in accordance with your purpose.
Is it portable to carry?
Portability is important if you are one of them who wants to carry the training aid anywhere. If it's portable, you can keep it inside your golf bag. So make sure it's easy to carry and fits your bag. Here we provide you with the best golf travel bags to help you have a suitable one.
Where will you practice with it?
You should give some thought to where you are going to practice with your training aids. Whether it is indoors, on the carpet, on a wooden floor, or outdoors? You should select the model based on the place you want to practice.
How much budget should you consider?
Putting aids are available at affordable prices. Though there are multiple aids to practice golf putting, any of them won't take much penny from your bag. At the same time, different models of golf putting training aids have different prices. You should consider from $10 to $300 and beyond.
Conclusion
We provided not only the 10 best golf putting aids review but also some pros tips and buying guides. Whether you have been practicing for a long time or you have just started practicing, the above-mentioned golf putting training aids and tips will help you reduce your putts.
Don't forget to share your experience when you are on the golf course. If this article seems helpful and effective to you, you can share the recommended putting training aids with others too. We expect your feedback!