If you are looking for the best putting green to use indoors, you can make yourself sure that you are in the right place. When the weather seems unfavorable, you can't go out and continue your game and you may miss your green.
To make you feel comfortable during the rainy weather, we are here to share with you the best putting green. This article is going to inform you about the 10 best-putting greens as well as the things you need to know while buying a putting green. No more worrying.
As putting green is mostly required to play golf, it is required as well to know which one is best, which one will be perfect for you. So let's go through the article and get the answer to your query.
10 Best Indoor Putting Greens
You may look for such an indoor mat that is constructed properly. You may like to have training instructors like alignment lines and distance traits. You may also want to know the prevailing size and portability that will suit you. That's why we get you covered here by providing the necessary information.
1. PUTT-A-BOUT Grassroots Par Three Putting Green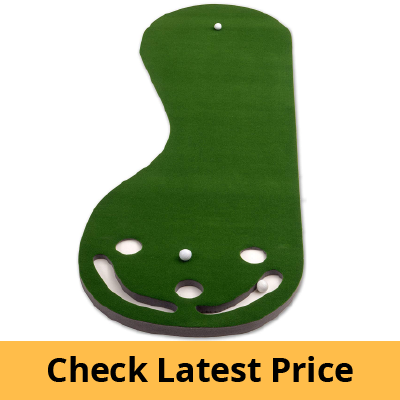 This mat will be an ideal training aid for your putting stroke. The shape you will get is 9′ x 3′ that is a kidney shape and this green will give you 3 cups to aim at. You will also get a high-quality putting surface to stay smooth.
Features
Manufactured from PET resin
Manufactured in the USA
Kidney shaped practice putting green
High-quality putting surface stays smooth
Built-in sand trap cutouts catch missed shots
3 practice cup cutouts
Measures 3 by 9 feet
Non-skid backing
Things we like
Very easy to roll up & unroll
Made of high-quality materials for better practice
Provides two built-in sand traps
Made from a prominent manufacturer for indoor putting greens.
Things that can be improved
Not perfect for professional and advanced golfers
Thin holes for putting.
Final verdict
This mat can be ideal for its high-quality materials that will help you practice more comfortably. Besides, it will give you a smooth feel for which you can keep it in your consideration.
2. SKLZ Accelerator Pro Indoor Putting Green with Ball Return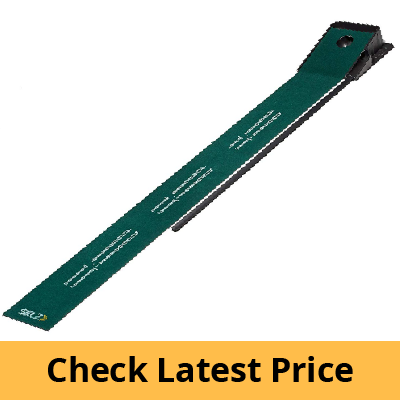 The Accelerator Pro Indoor Putting Green offers you a way to improve your game by providing a patent-pending ball return to make the putt repetition easy. You will get more consistency in less time.
Features
9 foot indoor putting green with continuous automatic ball return for developing accuracy and control
Squaring and alignment guides at 3, 5, and 7 feet help promote consistency in every aspect of putting motion
Continuous automatic ball return allows for uninterrupted training
True-roll surface and upslope at the cup emulate putts found on actual greens Measures 9 feet x 16.25 inches; great for use at home or office
Things we like
Alignment guides helps to promote consistency
Improved accuracy and incredible control on every putt
It offers more consistency in less time with an automatic ball return.
Unbelievable portability
Things that can be improved
Ball return technique is a little bit unstable
Final verdict
We recommend this putting green for its portability. You will get greater consistency too. It's great for clear putting distance markers. Overall you will have a smooth mat for smooth play.
3. JEF World Of Golf Hazard Deluxe Putting Mat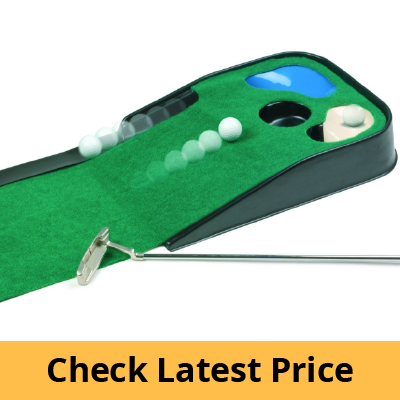 The unique ball return channel of this putting green will provide you a perfect return every time and the most precise training ground outside of a green. The mat's inclined ramp expands the actual firmness of stroke.
Features
Golf Hazard Deluxe Putting Mat with cup, non-directional turf, bunker, and water hazard
Inclined ramp develops true firmness of stroke
Unique ball return channel automatically returns the ball every time
Regulation sized cup and non-directional turf provides the most accurate practice surface outside of a green
Bunker and water hazard help increase putting accuracy
Things we like
Automatic ball return system
Factual simulated ground
Reasonable price
Improved accuracy
Things that can be improved
Some golfers found the design narrow for them
No warranty added
Final verdict
This mat is recommended for its accuracy and affordability. If you are conscious of price, you can consider this one with incredible quality and ball return channels.
4. MESIXI Indoor|Outdoor Golf Putting Green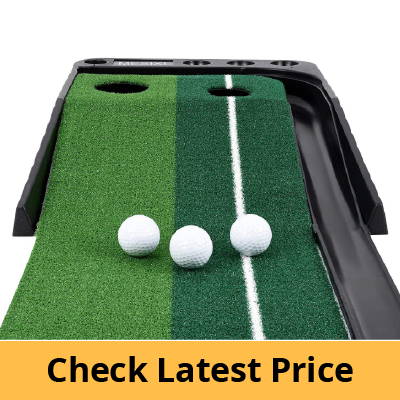 You will get an extreme fun practicing golf at your comfort. You don't have to do the monotonous task of driving to the golf court every single time. Just open the indoor putting mat, you will have an exclusively practical golfing area.
Features
Perfect choice for golf enthusiasts to practice rhythm, balance & poise from the comfort of home, office, lawn, park or anywhere else with our putting practice mat.
Unique ball return system with a baffle plate.
It provides two different holes.
Dual-color simulated green
365 days warranty
Things we like
Easy storage
Designed for vigorous play, our golf mat will take the roughest of hits
Portable golf putting mat
Fun & frustration-free
Things that can be improved
The set doesn't come with any golf club
Some golfers felt bored after a few rounds of the game but still, it's fun.
Final verdict
We recommend it for its portability and for practicing swing. The materials won't feel cheap to you and you will be satisfied with its environmental quality.
5. SKLZ Golf Indoor Putting Green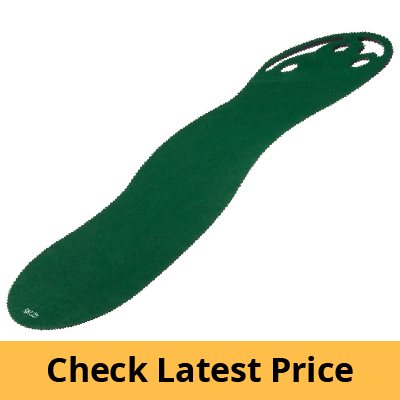 If you want to have better putting practice, you can try this putting green as it emulates a green conditions with true-roll surface. You can challenge yourself to grow confidence and to have fun using this mat.
Features
Simulate real putts. Slight upslope at the cup and true-roll surface emulates putting on actual greens up to eight and a half feet.
With three cups to choose from make your putting practice more challenging.
Practice consistency to improve your putting stroke – squaring the face, tempo, and follow-through.
True-roll surface simulates real green conditions with a similar stimp reading.
8 feet 6 inches long by 3 feet wide this indoor putting green fits in nearly anywhere.
Things we like
Portability
Putting confidence
Easy to change the slope
Very durable
High quality and cheap one
Clear putting distance markers
Smooth mat
Things that can be improved
There is some creasing wrinkling at the top when you first unroll it
The hole seems big
Final verdict
You can use this putting green for a long time as it is very durable. You can carry wherever you want because of its portability. For increasing confidence and having fun as well, this mat is a good choice.
6. VariSpeed Putting System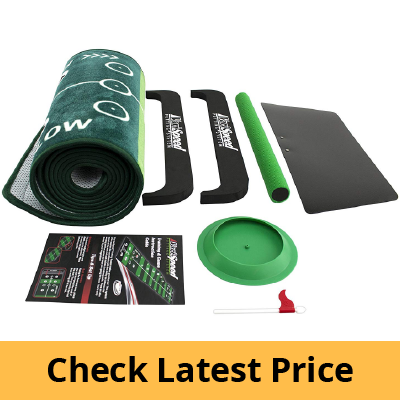 If you want to have the most unique and versatile home putting experience, you can use this mat. You will feel having several putting mats in one easy to use package. This mat provides the ability to adjust the speed of your putt.
Features
100% Polyester
Imported
ADJUSTABLE SPEEDS – Choose from 4 Stimp tested speeds ranging from 7.5-13 on one indoor putting green
Evaluate every putt by being able to see the exact path of your ball
CUSTOM BREAKS – With the included adjustable brake wedge you can set up realistic break conditions
Allow for you to perfect your putt and enable several fun games to be played
PRACTICE OR FUN – The included booklet covers pro training exercises and fun games for multiple players
COMPACT STORAGE – The 10-foot x 20-inch VariSpeed mat easily rolls up for fast, convenient storage and set up
Things we like
Visible ball traces
Smart guides
4 different speeds on one mat
Great value for money
system works brilliantly
Easy to assemble & disassemble
Things that can be improved
The traces are much lighter and almost not visible.
Final verdict
This putting mat is remarkable for having the ability to customize putting speed. As it provides smart guidelines, it will serve you well. It's also recommended for its compact storage.
7. SPRAWL Portable Golf Green Putting Practice Mat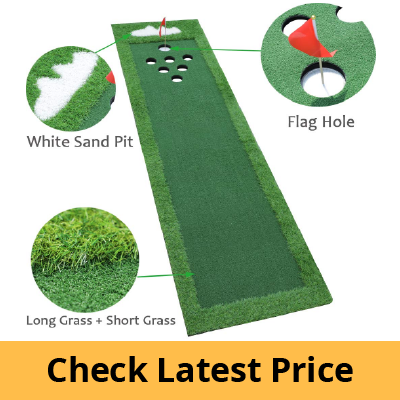 To get high quality & creative products, this golf green is the best option to choose from. You will get products providing ingenuity, durability, and function for the whole family.
Features
This putting Green has a unique design
The beautiful putting practice mat is made of quality rubber base and simulation grass
Includes 1 golf putting mat, 3 golf balls, 7 hole plugs, 1 Acrylic hole with 1 flag, 2 kinds of EVA bottom pad, 1 carrying box,1 instruction
It provides 12 months worry-free after-sales service. We take care of all quality-related issues with a replacement or refund if the customer receives a defective item
Things we like
High quality
Perfect for practicing putting
Easily transport with a carrying box
Perfect size for proper practice
A tremendous variety of products at a terrific value
Things that can be improved
Final verdict
To get high quality and variation in product, this putting green is an ideal choice. Besides, it has a unique design that can fulfill your satisfaction.
8. BOBURN Golf Putting Green/Mat-Golf Training Mat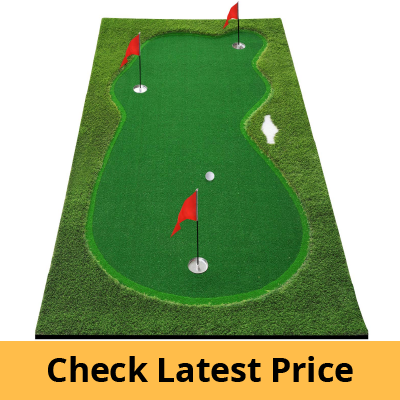 If you want to use a stylish and realistic putting green, you can keep this green in your consideration. This green is well-constructed made with high-adhesive glue to hold the grass. You can use it for 5-8 years with proper care.
Features
With one of these golf putting Green You will have the Actual feel that you are in a golf course. The true-roll surface simulates real green conditions with a similar stamp reading about 10.
☀Heavy-duty –this golf putting Mat is made of the highest quality material that you can find anywhere. It has a soft high-elastic base that helps it to adhere to any surface that you place it on indoors.
☁ Golf like holes – the three golf holes on the putting Green look like the ones you get on a golf course. They have a stainless steel flag post and the cup as well. This produces a certain sound whenever you put a ball in it.
☂ Perfect for indoors and outdoors–The golf putting mat is a perfect fit for both indoors and outdoors. You can enjoy your game of golf outside on your backyard or patio, or you may decide to stay indoors in your house or enjoy the game while at work.
If you have friends that enjoy a game of golf, then this is the gift you should think of getting them. Even if they do not play golf, soon enough they will be addicted to the game due to the thrill of Playing It.
Things we like
Comes with multiple sizes
Easy to roll
Very durable
Real feel
High quality & weather-resistant materials
Easy to move around
Things that can be improved
Final verdict
This putting green is recommended for its extraordinary quality and for having the ability to give a realistic feel. This is also perfect for indoor and outdoor use for which it will serve you better.
9. Dura-Pro Commercial Golf Mat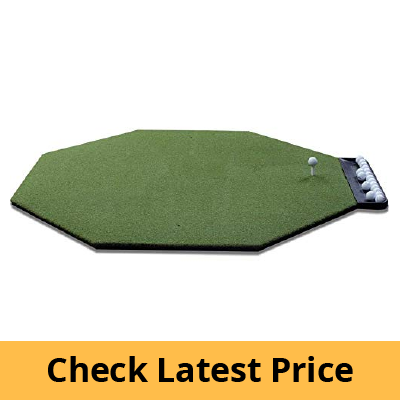 Dura-pro commercial golf mat provides golf tray and 3 rubber tees. You can easily practice hitting and chipping for Driving Range or use for home through this mat. You will have a real feel after using this putting green.
Features
Indoor / Outdoor. Absorbs Club Shock. Outstanding Feel.
100% Nylon 3D Turf Fibers absorb club shock. The Turf is thermally welded to the non-slip backing (not glued) to prevent delamination. For use on any surface.
Dura-Pro Golf Mats are rated #1 by consumers. 8 Year UV Protection! All the mats come pre-punched with holes for rubber tees. Each mat includes 3 free rubber tees, one 2 ¼ tee for fairway woods, one 3" tee for drivers & 1 Adjustable Wood Tee Holder so you can use your own wooden tees, as an added exclusive bonus we also include a FREE Golf Ball Tray.
Dura-Pro Golf Mat turf is 30% denser than ordinary commercial driving range practice mats for longevity. Easy on wrists and elbows, the nylon turf will not stain your golf clubs! This is the highest-grade turf available on driving range golf mats.
Since 1997 Dura-Pro has out-sold the competition! Dura-Pro Golf Mats out last all other golf mats!
Things we like
High-quality products
Durability
Size is perfect for practice
Real feel
Things that can be improved
Final verdict
Dura-pro is recommended for its high quality and durable products. You can have real feel whenever and wherever you practice your game. So this mat can be an ideal option to choose.
10. Club Champ Putt N Hazard System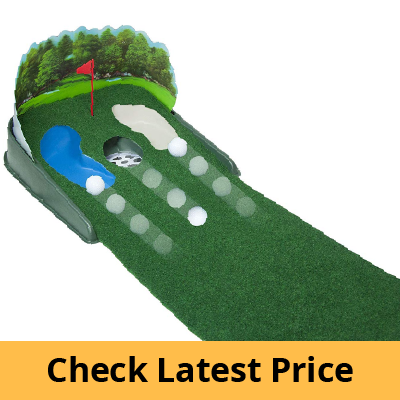 The Club Champ Putt N' Hazard is constructed to help you improve your game. This is perfect for both fun and serious practice. You will require no batteries. This putting green will be on a large surface.

Features
foam, polyester
Imported
Extra-large 9-ft. x 16-in. putting surface
Regulation -size cup is 'protected' by sand trap and water hazard
Realistic cup and golf hazards return putts electronically
High-quality, non-directional turf simulates real grass
Electronic ball return; No batteries needed
Things we like
Large 9-by-16-inch putting surface
No batteries required for operation
Electronic ball return
Turf simulates real grass
Things that can be improved
Some golfers found the products made of cheap materials
Final verdict
This putting green is remarkable for its putting surface and what will astonish you that it requires no battery. Here you get electronic ball return and really feel as well. So this is recommended for you.
Things to Consider Before Buying
Before buying putting mats, you can follow some instructions that we suggested here. Have a look.
How to select putting mats
Brands: You will find several brands of high quality that may impress you to fulfill your requirements. We are not mentioning any brand, but before buying mats, it's a matter of thought about what brand you are going to choose.
Design: All putting greens aren't equally designed. Some designed mats will give you specific benefits that you won't get from other designed mats. So choose the best one.
Quality: We didn't recommend any low-quality products and obviously every mat is of high quality. You can make your choice which one will be suitable for one and serve you well.
Reviews: By going through the reviews, you will get the fact that we mentioned the best products for you. So while buying putting greens, checking reviews is good for you.
Price: It's a matter of concern that the mat you are going to choose is affordable for you or not. If you are a money conscious customer, you can have within your limit. If you want high quality with a bit pricey, it's all about you.
What to look for in putting mats
Size: Putting greens vary in size. You should look for one that will fit your home. Choose the one that will make you feel comfortable indoor or outdoor.
Speed: Generally speed helps to improve putting skill. Some greens provide varying speed, some provide only one. It depends on you how you can improve your skill. But it's better to play with varying speed.
Durability: Durability is another important feature you should look for in putting greens. Buy the one which will give service for a long time.
Features: Recheck the features as your putting greens will depend on the features they provide. Look for some extra features if they offer.
Conclusion
Putting greens make one's game easier and enhance skill. We have discussed the best putting greens with their features in detail. We didn't forget to mention the pros and cons of every product. We also revealed some instructions in the buying guide. So now you can consider how you will choose and which one you are going to buy.