Your training aids don't fix anything. You are the one who fixes it. Then, why bother to get one anyway? The answer is getting the best golf training aids makes the process a lot easier and more effective. They give you instructions, feedback, or a structure to work on. So that you realize where you are going and in which part you are making a mistake unconsciously. Even golf coaches and instructors recommend golf training tools during golf lessons.
However, keep in mind that training aids don't do miracles overnight. You need a lot of practice and patience to improve even with the best one. Also, not all the training aids will work for you. You need to find the suitable one for better chances of improvement. There is a vast range of golf training gear in the market. Some of them are putting aids, some are swing trainers, while others are to sharpen the basics. It can be quite tough to choose one of them.
10 Best Golf Training Aids
We have come up with a list of the 10 best golf training aids that are comparatively affordable. Furthermore, we have analyzed what the specific tool will mainly help fix with a glance at their benefits and drawbacks. So that you know both sides before you invest your hard-earned money in it.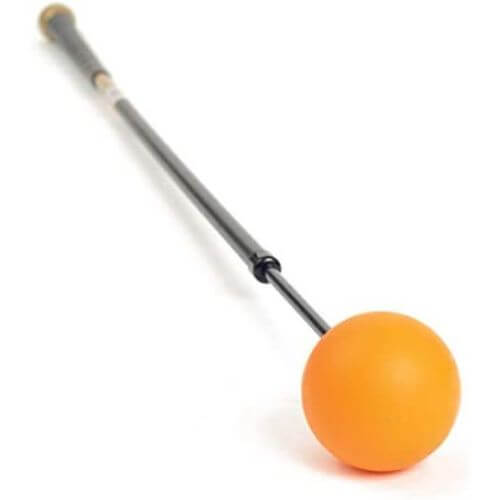 Orange Whip Trainer is one of the most famous training aids. You might have already heard its name. Even many LPGA and PGA tour professionals use it. Golf instructors and coaches often recommend students to add it to their golf lessons. Now, let's get introduced to this properly. The Orange whip trainer is a flexible shaft with an orange ball on it. The orange head helps you to stay focused on your movement. In addition, the flexible shaft increases the feel.
This training aid can add power to your golf swing. As a result, the golf balls will go a little further in the tee shot when you strike with the golf driver on your rounds. It helps create an overall harmony among the body parts to make a better shot.
Things that we liked
It can be used as a warm-up tool to stretch the muscles and loosen up.
This golf swing trainer can help with a smooth transition in the swing.
Golfers who feel stiffness in the body, it is a good option for them.
You can improve your tempo with it. That will allow you to balance the swing better.
This trainer lets you feel the movement of energy when you lag.
Things that can be improved
Because of the heavyweight, your arms and shoulders may feel sore after the first practice session.
You can't use it indoors if the ceiling height is less.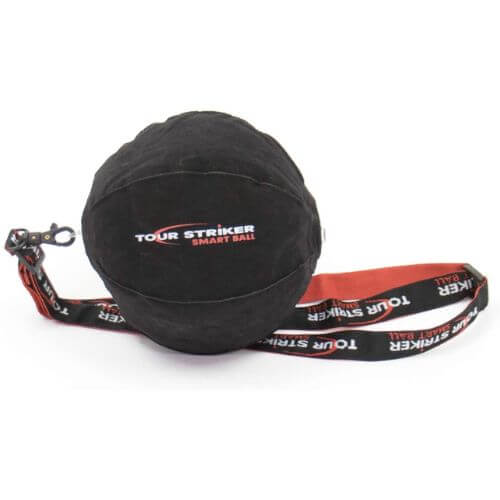 The entire golf swing sequence usually happens within 5 seconds. In this concise moment, your body needs to be properly positioned for impact, downswing, backswing, and finish. Naturally, it's hard to notice one specific body movement that might be the one having a bad effect on the swing. Tour Striker Smart Ball does that for you. This smart ball is basically an inflatable ball that helps to fix chicken winging. Now, what is chicken winging? It is when the lead elbow is disconnected from the body. It has a bad effect on both distance and consistency. This training aid assists in keeping your lead arm connected to the body.
Your elbows need to stay connected to have a higher low point control and strike consistent shots. This training tool allows you to understand the feel when your arms are in the correct position. It helps, especially with irons and putters. In addition, it makes the transition from golf driver to wedge, then golf wedge to driver better. So that you can hit consistent shots even after changing the golf club. It works for different swing types and shot shapes as well.
Things that we liked
You can easily deflate or re-inflate it to store and carry it anywhere.
This will help you keep the arms together in the downswing stage.
You can learn to get more shoulder turns. That will create a smooth swing and add extra distance.
It helps to make a proper hip turn too, which keeps the chain of the swing right.
You can use this training aid indoors as well.
Things that can be improved
The price is comparatively high considering the material used for the product.
It may leak. You may need to inflate it constantly to make it do it's job.
The lanyard attachment can be uncomfortable for some golfers.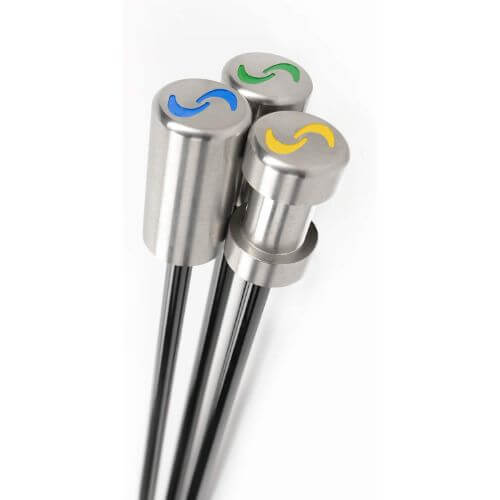 What's your farthest shot? And what's your highest swing speed? It's a way of measuring one's golf skills for many people. As the name already suggests that's exactly what the SuperSpeed golf training system is for. Although these are called weighted clubs, only the heads are specially weighed.
The main idea is to increase swing speed with a lighter club and trick your body into swinging the other clubs fast. The idea may seem stupid to many golfers. But it works. Not overnight or drastically, after 2-3 weeks, these trainers can help increase 1-2 mph in the speed.
Things that we liked
It adds up extra stamina to the golfer.
It is very easy to use. You don't need to follow any complicated instructions. Just make both right-handed and left-handed swings.
You can use it as a warm-up tool as well.
This training aid can help to increase speed and distance.
It is a suitable choice for senior golfers who are losing their swing speed.
Things that can be improved
You need to use a precise launch monitor or any other swing speed measuring device to know the difference in speed.
You need to be careful not to hit the ground with it. That may damage it or even break it.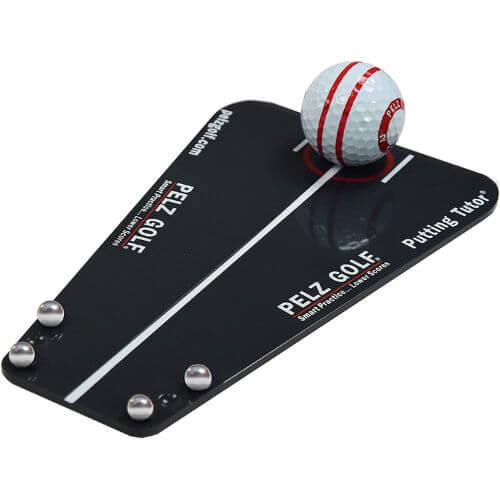 It's frustrating when the ball goes just beside the hole and doesn't go in it. It's a very common picture in golf courses. Pelz golf putting tutor is to lessen this kind of encounter in your game. This putting aid is used to adjust the aim line. So, when you square your putter and strike the golf ball, it goes straight to the hole or at least to the nearest distance by the hole. That allows you to decrease your shots eventually to gain a par and birdie. In simple words, Pelz golf putting tutor is for improving putter face alignment.
This golf training aid basically is a marked plastic board and marbles that comes with a carrying case. It is very easy to use. Align the putter face according to your understanding and strike it. If you don't strike the ball straight according to the line you set, the ball will hit the front 2 marbles. In addition, this tutor requires very little space. That lets you slide it into your golf bag on your way to the golf course. You can use it on the golf course, driving range or at home as well.
Things that we liked
This tutor assists in improving your short game.
It allows you to understand the impact of the movement of golf balls better. You will learn how much force causes a certain distanced shot.
A great choice for beginners.
You can set up the marbles differently to step up the difficulty level and test your skills.
This training tool helps to understand the eye line better. That means you understand the ball position relative to your eyes better. Eye line is a very crucial factor while putting. Thus, improving this skill will improve putting skills too.
Things that can be improved
As you need to bend repeatedly to set this up, it may cause strain in the lower back and eventually lower back pain.
It doesn't have any clear instructions to help you putt better. It just assists in alignment and strike according to that alignment.
It is too expensive considering the fact that it is just a thin plastic board with a few marbles and a carrying case.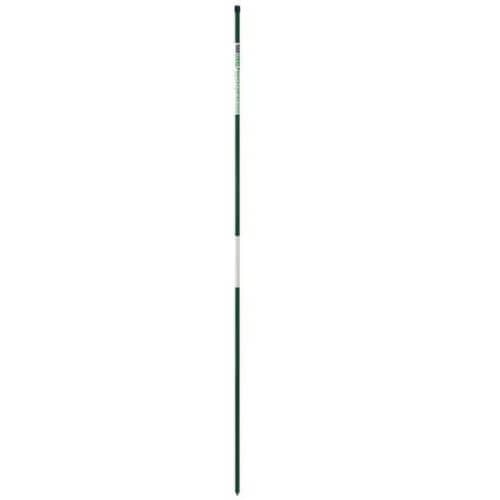 Your basics are the most important to score better, no matter what game you're playing. Golf is no different. Tour sticks golf alignment stick is to revise some golf basics like the alignment, ball position, swing plane, etc. Simply set up the sticks halfway between your feet and the golf ball to ensure you are parallel to the ball. That helps to make the ball's position and alignment correct. You can practice many other drills to improve your golf with this stick.
To put it in simple words, these alignment sticks mainly help you correct your setup. Eventually, these very basic things can make your swing and shots more consistent. In addition, it has a UV coating to save it from fading. You get a plastic storage tube with the stick.
Things that we liked
It weighs less than 1 pound. That makes it easier to carry.
This training tool also includes drill sheets and instructions.
It assists in increasing swing speed.
You can make the ball go straighter by practicing with it.
You can stick them to the ground with the pointed end. That lets you practice many different golf drills.
This stick helps you to make consistent shots.
Things that can be improved
Because of the fiberglass of the stick, it may cause minor cuts to your palm if you don't stay careful. Don't rub them with your bare hand.
This stick isn't foldable. You can not make the length any shorter to fit it in different spaces. Thus, it may stick out of your bag.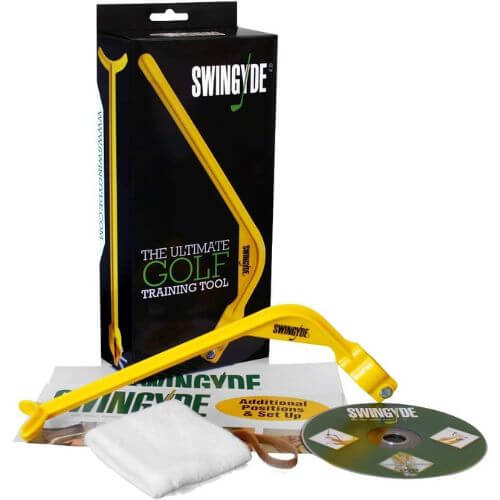 The wrist movement may not be a factor that many golfers think about. That's a common mistake, as the wrist movement is crucial for the direction of the shot and distance. Swingyde golf swing training aid works on your wrist movement. It mainly fixes the wrist hinge throughout the different stages of a golf swing. It helps to improve the clubface alignment, tempo, and impact position, too. As these are the very basic parts of golf, this trainer is suitable for beginners and average-level golfers.
It has a plastic hoop, placement cup, and rod. So, how to use Swingyde golf swing training aid? Simply attach the clip to the shaft of the golf clubs. Then, the other part of this trainer will touch the left forearm to give you proper feedback. You can use it with almost all types of clubs. You won't have to worry about that. But it may take you some time to get used to practicing with this training aid. You may even find it uncomfortable at first.
Things that we liked
It comes with an instructional DVD. That has additional tips and drills.
You get a rubber band and wristband for free.
This plastic arm assists in completing the backswing properly.
You can practice with it without even hitting golf balls.
It helps to improve overall accuracy and distance.
Things that can be improved
Though it has flex, it may break if you put too much pressure on it.
You may find the setup a bit complicated.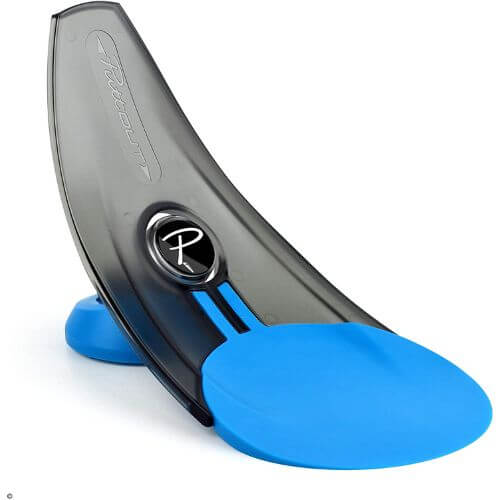 A perfect putt is the dream of most golfers. More than the longer tee shots, it's more exciting when you succeed in a tricky putt, right? Puttout pressure training aid is designed to help achieve a perfect putt. It gives instant feedback on your putt that will make you improve quickly. It especially aids in improving your short putts.
The main part of this golf training aid is a parabolic ramp. When you hit the golf ball toward this trainer, it returns the good putt. That means the balls automatically come back when the putt is good. The distance it comes back is approximately the distance it would have gone past the hole. And it rolls off the ramp when you make a bad putt. So, what does it do when you make a perfect putt? It has a micro-target feature for that. You simply need to push the plug back to test the preciseness of your putts. If you make a perfect putt, the golf ball will be stuck in the hole.
Things that we liked
It has a foldable design.
This training aid assists in improving your pace.
The micro-target makes the practice challenging and interesting for you. Many golfers usually lose interest in training aids after a few uses. But this trainer can keep golfers engaged for a long time.
The micro-target also teaches you to putt under pressure.
You can use it both indoors and outdoors.
Things that can be improved
It may not work the best with lightweight golf balls.
It's tough to make the ball stay in the micro-target. It may make many golfers lose patience.
It doesn't work well on uneven surfaces. But on the golf course, the ground will be mostly uneven with grass.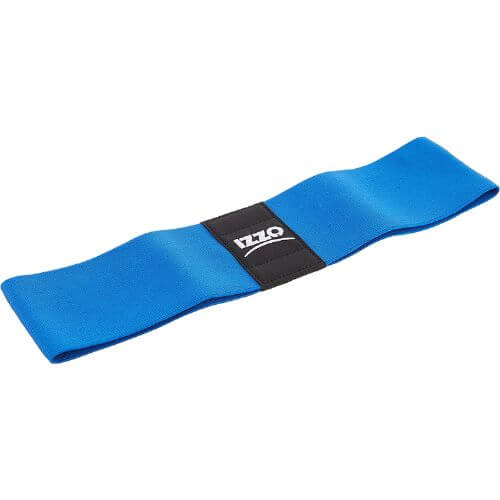 Keeping the whole body in sync is a crucial point to gaining distance, speed, and consistency. That's the basic step to making a powerful swing. Izzo golf smooth swing trainer is designed to train your body to stay in sync. It doesn't have any complicated functions. You just need to place it over your forearms and feel the golf swing. If you unconsciously disconnect any of your arms from the body, you will instantly feel that while swinging.
To put it in simple words, it aids in making a one-piece takeaway. So that you can make a smooth and powerful swing keeping the body and arm connected in the right way. When you reach the top of the backswing, it stops you from going too high, or your arms become too disconnected from the body.
Things that we liked
You can use it both indoors and outdoors.
It fixes the chicken wings. As a result, your elbows stay connected to the body, leading to better consistency and distance.
This trainer eventually helps to strike a solid shot.
This also assists in increasing speed and distance.
A good choice for beginners.
Things that can be improved
You may feel awkward using it. It only has one size.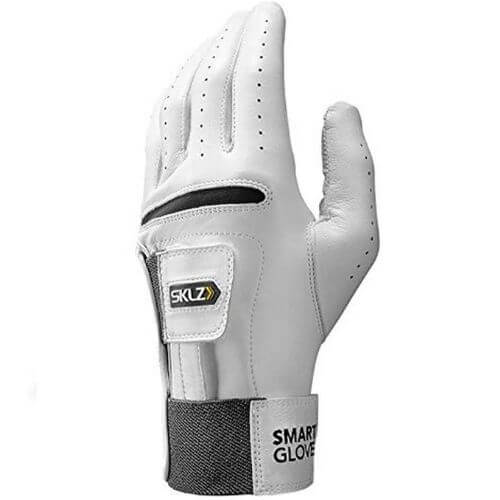 The grip and wrist movement are one of the main factors that ensure solid contact with the golf ball. SKLZ smart glove trains a golfer to have a better grip and wrist movement to get a better score. If you have built up a bad swing habit and keep repeating that unconsciously, then this training aid is a good choice for you.
This will help keep your wrist at a correct angle and firm grip. It aids in maintaining a proper wrist position at the top of the backswing and impact. In addition, it stops the wrist from flipping forward. That results in consistent contact and strong hits.
Things that we liked
You can use it as a regular golf glove by removing the wrist guide.
This glove assists in keeping the wrist straight at impact to ensure a powerful hit.
It gives support to a sprained wrist.
This training aid helps those with a sore wrist.
Things that can be improved
This glove wears on the palm easily. It wears quicker if your hand sweats more.
The glove size may run slightly small. You need to choose carefully.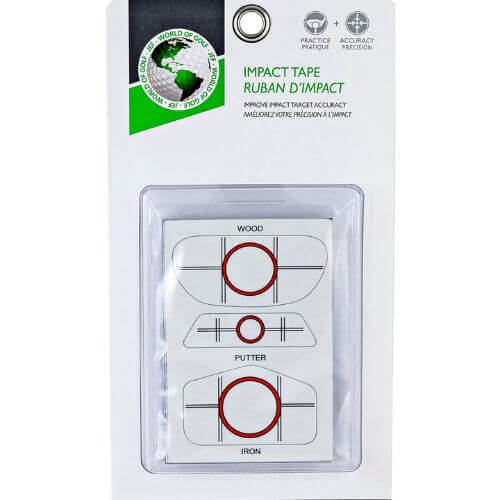 No matter how fast your swing is, that is of no use if you fail to make clean and solid contact with the golf ball. Usually, when you make a solid strike, you hear a specific sound and get the feel. But if you want a visual representation of where exactly you need to hit and where the golf club is making contact with the ball, impact tape is the simple solution for that.
This is the most affordable training aid on our best golf training aid list. It is a relatively straightforward one too. Simply put it on your golf club, and the next moment you know where to hit. It is easy to secure and peel off.
Things that we liked
Most affordable option on our best training aids list.
It's very easy to use.
This training aid helps to make precise contact with the ball.
It can assist in gaining extra distance.
You get instant feedback.
This has both right and left-handed labels.
Things that can be improved
It may come off before 6 shots.
Know The Answer to These 3 Questions to Get the Best Training Aid
Which one is the best golf training aid for you? That's a tricky question to answer. Especially when everyone requires and wants different things to be fixed by their training aids. But knowing the answer to these 3 questions will help a lot in that process. So, ask yourself.
1. What is your budget?
There is no denying that our purchases largely depend on how much we can afford. That's even truer for golf training aids. Golf simulators and launch monitors are considered the training aids of the modern age. You can check, analyze and compare your golf skills by having a golf simulator at home. Though a basic level golf simulator can be cheap , an advanced level golf simulator costs more. It may go from $5000 to 70,000 or more. While launch monitors can come at $300 or even less. Both of them are good options for improving overall golf. 
However, this amount is a huge deal for many of us, especially beginners. Since just by stepping in, they might already have bought or need to buy a set of 14 clubs, golf balls, golf shoes, golf rangefinder or GPS, and many other golf accessories.
But no worries! Most of the tools on our best golf training aids list are under $50. Only the Orange whip trainer and SuperSpeed golf training system are in the $100-$200 range. Buying a specific type of golf training tools like swing analyzers, alignment sticks, weighted clubs, etc., to improve a specific part of your golf skill will also cut down the cost.
2. What do you want to improve?
There are numerous types of training aids in the market. The first thing you need to know before buying is which specific part of your golf you want to improve. Different training aids are made to enhance different parts of golf.
For example, weighted clubs or flexible clubs are usually used to increase speed. If your swing speed is 75mph or lesser, a flexible club can be a great option to improve. Whereas, for those who hit inconsistent shots because of the poor contact at address, alignment sticks assist them in aligning correctly to strike solid and consistent shots. You can use them to make straighter shots as well. Putting mat, putting mirror or putting stick to assist in getting a par or birdie. Launch monitors and golf simulators can be used for the overall development of your game.
3. Where do you want to use it?
You can't set up a golf simulator if you don't have the minimum space required for a simulator. At the same time, you can't use some of the training aids at home like the orange whip trainer from our best golf training aids list. It is not a suitable option for practicing indoors. Even if you do, you require a specific amount of ceiling height according to the size of the whip trainer you get for yourself. Kindly keep that in mind before purchasing any training aid.
Frequently Asked Questions
Are golf training aids worth it?
Yes, a golf training aid can assist in improving your skills. Choose the right type of training aid of good quality to make it work out for you. Also, keep in mind that no miracle will happen overnight with a training aid in hand. It requires you to be patient and consistent in using it.
No training aid can fix all. Though it may solve several problems along the way, most of them are designed to solve a certain problem. For example, if you use a training aid to increase your swing speed. The distance you gain with the swing will increase too. But it won't fix your incorrect body alignment.
Are launch monitors and golf simulators considered training aids?
The simple answer is yes. Anything that assists in improving one or several portions of golf is considered a golf training aid. Launch monitors mainly help the golfer understand the ball flight better and improve it. While a golf simulator lets you review and improve your overall swing and shot, depending on the type of simulator.
Conclusion
It is crucial to find the right type of golf training gear for yourself. But as golf training aids are just some tools, you are the one who needs to make it work for yourself. The progress won't be easy. You need to use it correctly and regularly have consistent development in your golf skill. Keep practicing with patience.