This post may contain affiliate links and we may earn a small commission for no extra cost to you.
This is how we keep NiftyGolf free. Learn more about our affiliate disclosure here.
"If you watch a game, it's fun. If you play it, it's recreation. If you work at it, it's golf."

– Bob Hope
Golf is not only a game of competition, it's a source of entertainment. And that entertainment will create a mixture of your confidence and capabilities. Sounds good? Yes. But to elevate your golfing experience and unlock the perfect blend of competition and entertainment, you'll require a golf simulator for home that can satisfy your thirst for the sport. After extensive research and thorough analysis, our findings highlight the HD golf simulator as one of the finest choices for golf simulators designed specifically for business purposes.
High Definition golf simulator will perfectly increase your confidence and performance level at the same time. It offers the ability to play multiple sports in stunning graphics. If you also look for a simulator combining both the features of entertainment and accuracy, HD golf is undoubtedly an ideal option for you. Stay with us and get an idea in detail on the HD golf simulator review.
HD Golf Simulator Review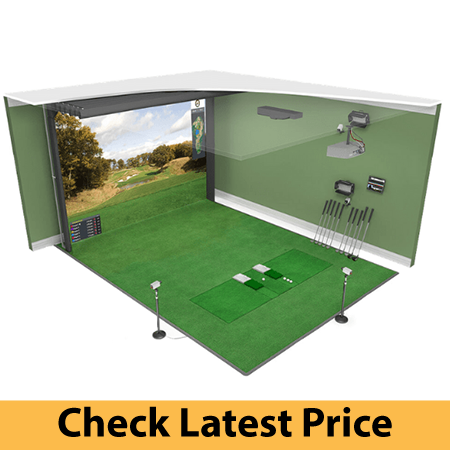 Always remember that four major things can take your game to a standard level:
Realism
Entertainment
Accuracy
Ease of use
You get an excellent combination of exactly these four things in the HD golf simulator. The versatility, multi-sport software package, fun features, and Computer Vision Technology will ensure you the feel of the mixture of entertainment and accuracy.
The real-time visual feedback and ball performance data will ensure realism. And the feature of direct-to-screen output will ease your use. The opportunity of a wide selection of practice facilities and authentic putting experience will help you gain the ability to compete in any tournament. It's a wonder to have such an all-in-one golf simulator.
You can make your HD golf a movie theatre or a sports theatre or even you can use it for music. Whatever you want can be done simply because you have a larger screen.
One interesting fact is that you cannot really see yourself on the screen while playing. If you could do that, you could have improved your swing by maintaining proper grip and posture. But usually, simulators don't give that opportunity. Here HD golf gets you covered. You get all the tools and instructions required for improving your swing skill and doing better at home.
You get three models in the HD golf simulator:
HHD GOLF™ Simulator model 16:10 curved widescreen
HD GOLF™ Simulator model 4:3 flat screen
HD GOLF™ Simulator model 16:10 flat widescreen
How much does an HD golf simulator cost?
Starting from $30,000, the highest price of HD golf simulator is around $60,000. World-renowned golf courses and championships are available for you in HD golf within this price range. Isn't it cool? "You will get what you pay for" – this simulator accurately proves that statement.
Features and Benefits of HD golf
Multiplayer capabilities
Whether it's your home, hotel, or office, you can play together with your friends using this simulator. Because here you get a performance-boosting multiplayer playing system.
Looks real and plays real
Guess, what makes a simulator more real than a video game? Why people are more likely to play on simulators instead of playing video games? Yes, there is a difference. It's the spin camera that makes it real by picking up your subtle spin on the ball.
3d model of the course
3d model and real imagery of each shot will make you feel like playing a real course. Wherever it is, you can feel the location, each pinpoint details of real.
Accuracy
99% accurate spin rate and the most comprehensive accurate data measurement in every distance, isn't that much for accuracy?
Larger playing area
Hd golf has infrared smart cameras throughout the entire screen that gives you a larger surface and allows you to play from anywhere you want. Because it covers the whole playing area.
Easy to use
It doesn't matter whether you are eight or eighty, you can make everything done on the touchscreen. It offers such a simple way to operate.
World Championship golf courses
HD golf is famous mostly for their international championship golf courses. These include Pebble Beach, St Andrews old course, etc. Yes, it's a big opportunity to access these renowned golf courses.
Expert's Opinion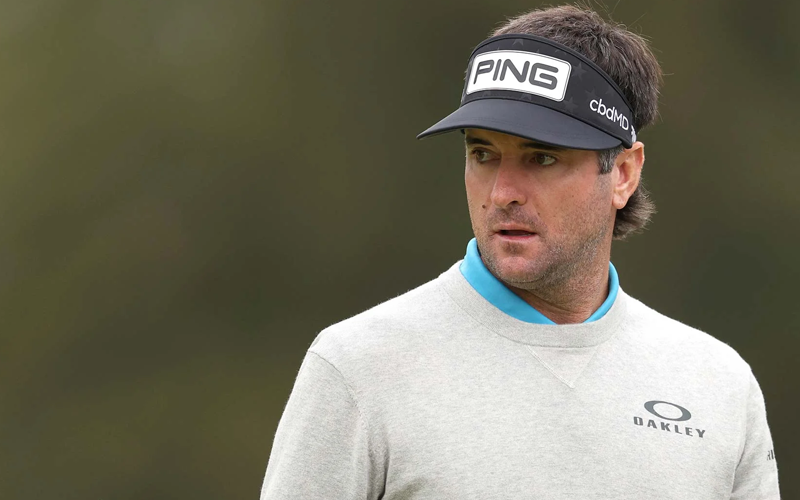 "For my home, I wanted the best golf simulator technology – so I chose High Definition Golf. When you play golf for a living you want the best tools available to keep your game sharp. HD Golf is the most realistic simulator I have ever seen."

– Bubba Watson, 2-Time Master's Winner
Dr. Pete P, a client of HD golf simulator from Alberta University shared his experience,
"We love our HD Golf sim! The accuracy and graphics are spectacular, and there is a great selection of golf courses. Chris was extremely helpful in sales. Scott and the team have always been available for questions and small servicing issues. Software updates have been seamless. Our HD Golf sim is a show stopper in our home."
Not only Dr. Pete P, Adam Scott, PGA Tour Pro also shared his experience using the HD golf simulator. He said,
"I installed the HD Golf Simulator in my office and not only can I use it, but the people on my team and visitors get to experience HD Golf Simulator fun. Everyone comments on how classy and effective the system is so strikes a great balance between relaxation and serious golf practice."
Pros
High-resolution digital images, satellite data, and geophysical data into 3D models
An experience of luxurious rolling fairways, scenic tee-block vistas, and an unprecedented level of breathtaking realism
Supreme accuracy with multiple cameras
Real equipment, cheering fans, and a dramatic stadium environment
Great for both residential and commercial use
Made with easy to use feature
Multiplayer gaming mode facility
Fabulous selection of world-famous golf courses
High-resolution images with geophysical and satellite data will create a high definition, 3D photorealistic reproduction
Cons
Expensive for some golfers
Multi turf hitting mat is missing
Check Price at Shop Indoor Golf
Final Verdict
To create a real environment with a life-like experience and to give the utmost entertainment features with quality equipment, HD golf is second to none. Also recommended for international championship golf courses. No wonder it's a package that will fulfill all your requirements without any difficulties. But keep in mind that to get the best technology, you need to consider a good amount of your budget.