Looking to take a swing at increasing your business revenue?
Consider investing in a commercial golf simulator. With indoor golf becoming increasingly popular, it's a unique way to stand out in the crowd, whether you run a golf academy, amusement park, bar, or apartment complex. But what's the best commercial simulator out there?
Our top pick is the TruGolf Vista 10, offering an advanced setup, durable screens, precise tracking, and versatile software. So, are you ready to elevate your business to a hole-in-one? Dive into our guide for the best commercial golf simulators on the market.
Presenting the lineup of commercial golf simulators featured in this post. Browse through the list and click the link below to access the complete review section swiftly.
The 10 Best Commercial Golf Simulators Reviews
Here we created a list of the 6 best commercial golf simulators with review and analysis. It will show you a comparison between our picks and other high-end commercial golf simulators on the market. Find out your revenue generator.
1. TruGolf Vista 10 Golf Simulator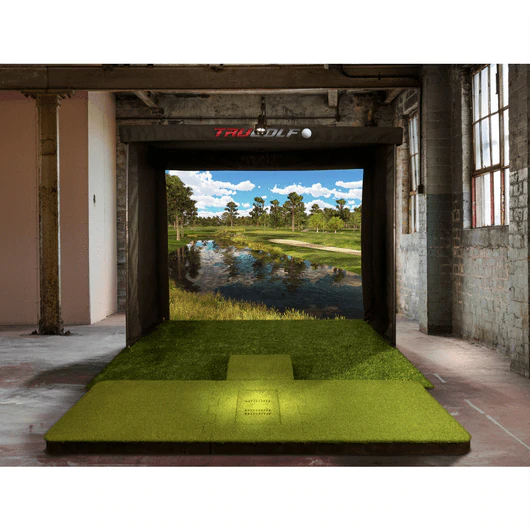 TruGolf Vista 10 can be the bang for your buck if you want a quality golf simulator on a mid-range budget. It is another renowned entry among the vista series. The accuracy, portability, and full swing option make it an ideal choice as a commercial golf simulator.
TruGolf is well known for its graphics quality. The high-definition image on a large screen makes it more appealing to golfers, even those who have never played in a simulator. It requires a minimum of 15′ in width, 10′ in length, and 20′ in height space for the whole setup.
Vista 10 golf simulator comes with an enclosure, premium fairway mat, TruGolf level (1) computer, HD projector, simulator screens, touchscreen display, TruTrack2 tracking system, overhead light bar, and E6 connect software.
It has two models. Vista 10 base unit and Vista 10 pro. The difference is the Vista 10 pro provides a level 2 computer whereas Vista 10 base has a level 1 computer. These two devices differ in the capabilities of processors. Level 2 PCs perform better than level 1. But both meet the commercial purpose well.
Advantages you are getting
Accurate tracking system
Stunning play at once
Easy to set up with a good direction
Lightweight and portable
Courses are second to none
Larger screen
Things that can be improved
Putting is not as great as most of the simulators
The package doesn't include balls
If you really want your customers to play in one of the most advanced golf simulators, TruGolf Vista 10 can be the best commercial option for you. It will definitely be worth your money.
Know more about the best TruGolf simulators.
Check Price at Shop Indoor Golf
2. Foresight Sports GCQuad SIG10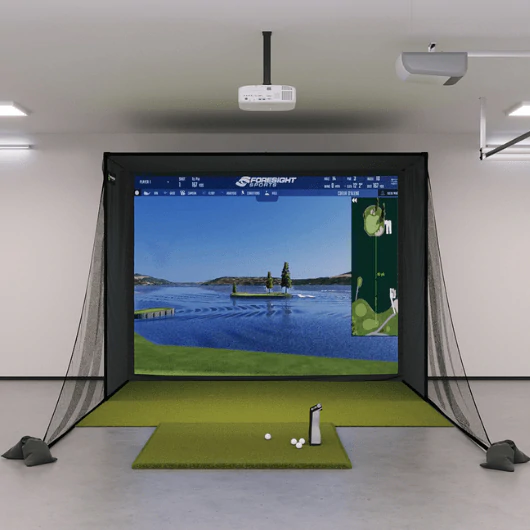 Once, buying the best commercial golf simulator like Foresight Sports GCQuad was a matter of spending over $30,000. Today it's available for around $20,000, affordable for many golfers with mid-range budgets.
This golf simulator offers enough space to swing each club perfectly. And this will make your customers or guests as happy as playing on a real golf course. If you need to relocate your business, don't worry! It's portable.
The package comes with a GCQuad launch monitor that ensures the utmost accuracy. Like anyone, letting your clients know how accurately they are playing will be a matter of satisfaction for you, isn't it? On this note, see how accurate a golf simulator is. The minimum space requirement of this simulator is 12′ in width, 9′ in length, and 18′ in height
Along with the launch monitors, you get a power adapter, alignment stick, club marker dispenser, FSX software, SIG10 enclosure, side barrier netting, landing pad turf, choice of golf mat, laser projector, AV cart, and 15′ HDMI cable.
Advantages you are getting
Portable and accurate
Versatile
Real golf experience
Premium full-screen simulation
Landing pad turf protects the floor from ball strikes
Maximum brightness
Easy to use
Things that can be improved
The hitting structure could be more well-constructed
No multiplayer playing option
A bit costly
Foresight Sports make the users comfortable by giving a realistic simulation experience. We recommend the GCQuad as a complete commercial golf simulator package.
Learn about the best Foresight golf simulators here.
Check Price at Shop Indoor Golf
3. Uneekor EYE XO SwingBay Golf Simulator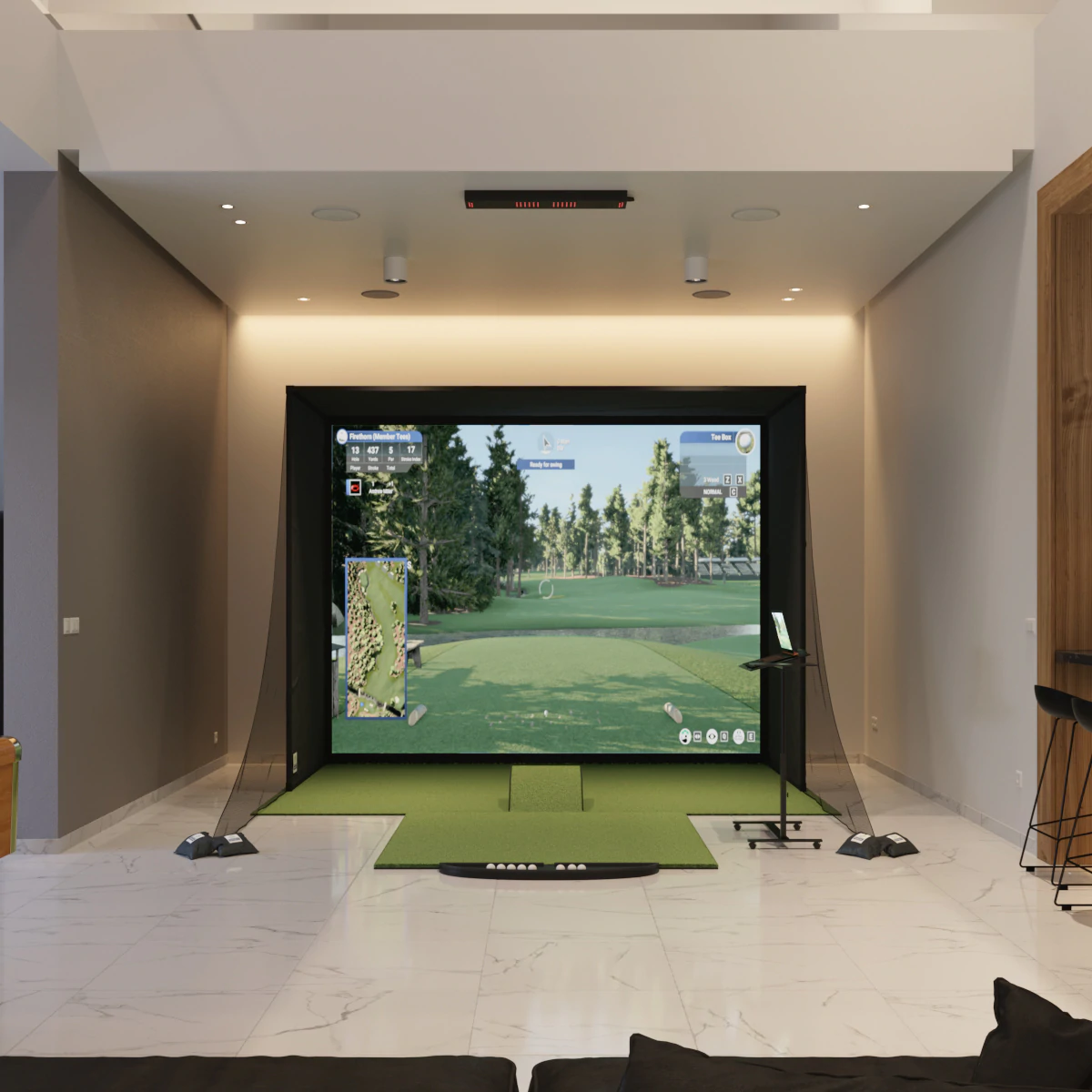 If you want a combination of multi-features in one commercial golf simulator, Uneekor EYE XO SwingBay can be an ideal pick. Here you get multiple practice ranges, multiple playing modes, various skill challenges, and many more different features.
There are over 100,000 courses to choose from. All these features come at $19,000. Whether your club members are beginners or professionals, they can play regardless of their levels. Because it's suitable for all handicapped players.
You need at least a 9′ high, 12′ wide, and 16′ long space to set up EYE XO. As it doesn't require much height, people of all heights are flexible to play with comfort. XO also accurately tracks shots from 10cm to 435 yards.
This golf simulator comes with an EYE XO bar, SwingBay screen & enclosure, HD projector, choice of hitting mat, ceiling projector mount, and Side Barrier Netting.
Advantages you are getting
Accurate data measurement
Best for indoors
Both right-hand and left-handed players swing freely
Budget-friendly
Easy to assemble
Stunning graphics quality
Built to last
For all level players
Things that can be improved
Not suitable for outdoor use
The multiplayer playing option is missing
If you want just not only to let your customers spend some quality time but also to help them improve their skill levels, you should try EYE XO. This commercial golf simulator ensures customers good value for money.
Know more about the best Uneekor golf simulators.
Check Price at Rain or Shine Golf
4. TruGolf APOGEE SIG10 Golf Simulator Package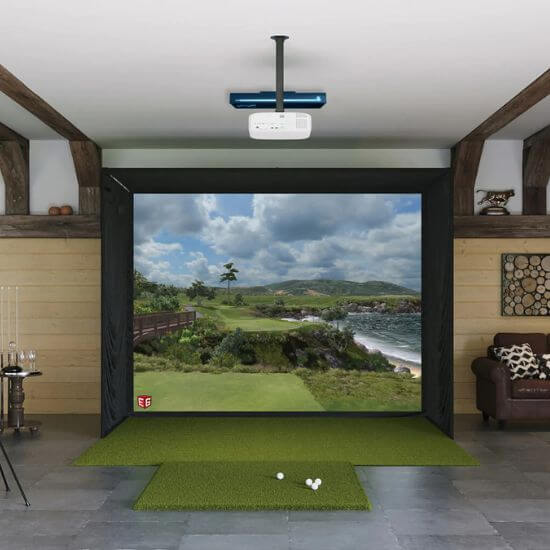 The TruGolf APOGEE is the latest addition from TruGolf releasing late 2022. The Shop Indoor Golf has already made a simulator package with this launch monitor. And the package includes a SIG10 simulator enclosure, a Panasonic projector with 1920×1200 resolution, and E6 Connect simulation software. All these are included in a less than $18,000 price tag.
TruGolf has been always known for the graphics quality they provide, the Apogee is no exception. What new this simulator offers is precise data tracking using the all-new "Instant Impact" algorithm. This new feature provides you with a slow-motion, scrubbable, video playback of your club's action through the ball. And that's an amazing feature to have especially with a 5000 lumens HD projector included in this package.
The APOGEE is an overhead launch monitor. So, it requires more space than any floor launch monitors. You will require at least 9'-10' of height from your launch monitor to your hitting surface. And to track golf ball flight-related data there must be 25 inches from the hitting position to the tracking position.
Advantages you are getting
It features precise data tracking system.
It has playback and slow-motion video options.
The APOGEE tracks more than 8 useful ball and club data.
The E6 Connect software is very easy to use and offers 90+ golf courses to play.
Things that can be improved
It requires more space than usual models.
As it is a camera-based simulator, lighting needs to be proper to track accurate data.
TruGolf Vista 12 isTruGolf APOGEE SIG10 is Recommended for you if you want the best graphics as well as a bigger screen. The stunning graphics with a Panasonic 500 lumens projector can provide better user satisfaction. A great option to attract people to your premises!
Learn more about the TruGolf simulator.
Check Price at Rain or Shine Golf
5. Full Swing KIT SIG10 Golf Simulator Package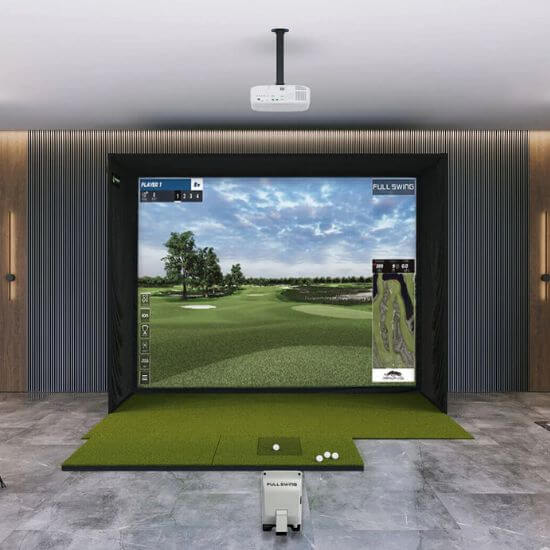 The Full Swing KIT SIG10 Bundle combines Full Swing's latest launch monitor with the SIG10 Golf Simulator Enclosure, ideal for golfers looking for a premium full-screen experience.
The Full Swing KIT Launch Monitor's creative radar technology captures 16 different data points. Carry distance, total distance, spin rate, launch angle, face angle, ball speed, club speed, and smash factor are the highlights of those 16 metrics. They are beneficial for a golfer trainer who looks to improve individual performance.
The Full Swing KIT app is excellent. It's intuitive, responsive, and does whatever you want it to do. Via the app, you can align your device, change clubs, change the onboard data display, and view numbers. The app also lets you see your entire session stats and watch swing videos. This is a free app, but only available for iOS (Apple) devices. The SIG 10 package includes a similar projector, golf mat, and accessories with this package as well.
Advantages you are getting
The Full Swing KIT launch monitor has a good selection of data parameters.
Not only that, the tracked data are reliable and accurate.
It includes a free App that is easy to use and a relatively simple setup.
Things that can be improved
The app is only for iOS users, unfortunately, there is no compatibility with Android devices yet.
This device provides all the metrics you need at a very affordable price compared to many established brands. Pro Golfers like Tiger Woods, and John Rahm appreciated the accuracy of it. So if you aim for accuracy the Full Swing KIT SIG10 is highly recommended.
Check Price at Rain or Shine Golf
6. FlightScope X3 Premium Golf Simulator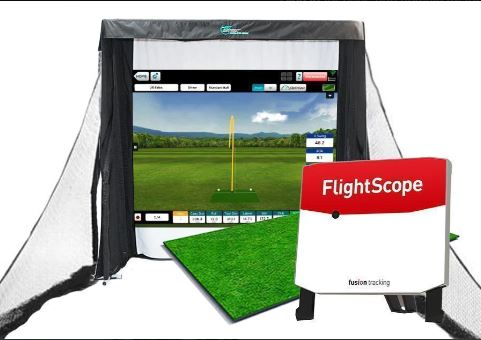 FlightScope X3 Premium golf simulator is best for both indoor and outdoor use which gives you maximum safety assurance. And it doesn't compromise accuracy. You can try this commercial golf simulator for your business and see it by yourself.
It can accurately analyze both swing and ball flight data. Whether your club members are beginners or professionals, FlightScope X3 is suitable for both.
This simulator tracks the entire ball trajectory data from impact to landing. The most interesting thing about this simulator is you can change the environment anytime you want, even without changing your location. All these come within $18,000 – $19,000.
X3 comes with a FlightScope X3 launch monitor, 5 E6 golf courses, 17 practice ranges, the net return simulator series golf net, screen, and the net return pro turf. You need at least a 9′ high, 12′ wide, and 16'deep room to set up this simulator.
Advantages you are getting
High-quality graphics
Suitable for both indoors and outdoors
Accurate swing analysis
Portable
Best projectors with maximum brightness
Things that can be improved
A bit pricey
No multiplayer playing modes
To give the customers high simulation and real experience, we recommend the FlightScope X3 golf simulator. Whether it's your golf simulator bar, country club, hotels, or shops, make your place a wonderful conference center simply by setting up this commercial golf simulator there.
7. Uneekor QED SIG12 Golf Simulator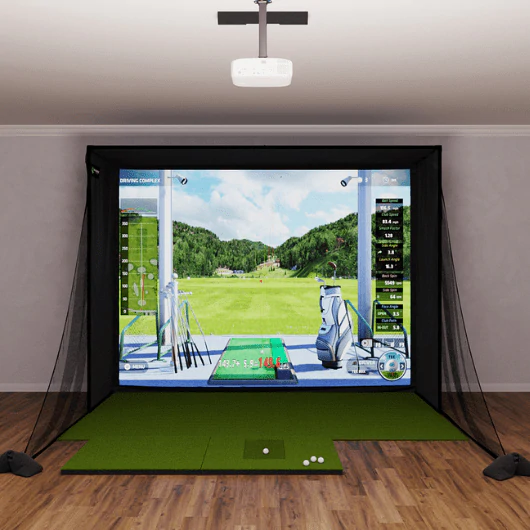 If you want both right and left-handed golfers to play in your place, you need a golf simulator based on the ceiling tracking system. Uneekor QED is a ceiling-mounted launch monitor that pairs with the SIG12 enclosure in the Uneekor QED golf simulator package. SIG12 is a bit larger and relatively more expensive than the QED SIG10 golf simulator.
Offering different mat sizes and software options, this golf simulator costs $13,199 which is not as pricey as other commercial golf simulators. Even though it is expensive in the QED SIG series, you will find EYE SwingBay more expensive than this. Of course, quality needs a price. The required room dimension of this commercial golf simulator is 12 ft in width, 17 ft in length, and 9 ft in height.
Along with the QED launch monitor, SIG12 screen, and enclosure, the whole package includes a choice of simulation software, side barrier netting, landing pad turf, choice of golf hitting mat, and Panasonic VMZ50U projector.
Uneekor QED is one of the most accurate launch monitors that measure both ball and club data. QED Ignite, QED Refine, QED succeed, and the combination of QED Ignite with TGC software is included in the package offering more than 100,000 golf courses. Different sizes of golf hitting mats of Fairway Series and SIG PRO series are available to choose from.
Advantages you are getting
Premium full-screen simulation experience
Accurate ball and club data
Real-time visual feedback
Different mat sizes
Over 100,000 golf courses with TGC software
Maximum brightness giving projector with 5000 lumens
Multiplayer game mode
Things that can be improved
Requires larger space to set up
Setting up might be difficult for some users
Let your customers have a high-quality simulation experience with a large screen. We highly recommend this golf simulator for those who want multiple software and durable mat options.
Check Price at Shop Indoor Golf
8. HD Golf Simulator Ultimate Entertainment Package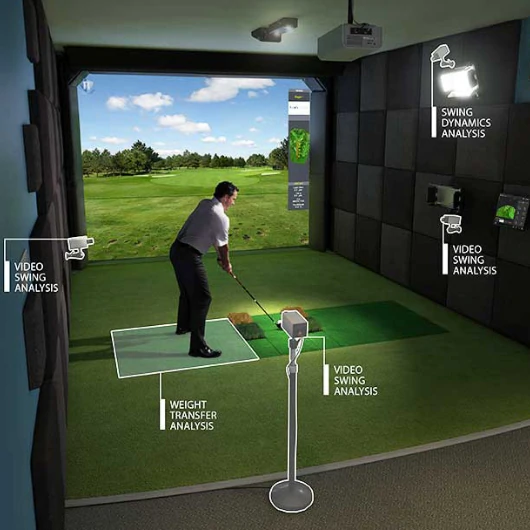 A golf simulator becomes the top choice of golfers when it combines accuracy with entertainment. HD golf simulator is a top of the line golf simulator. This makes the PGA tour champions like Bubba Watson or Bryson Dechambeau more interested to play with the HD golf simulator.
Using high-speed cameras, this golf simulator accurately measures ball and club data and gives realistic visual feedback. There is also a video analysis editing tool with this golf simulator. The Ultimate Entertainment package costs $69,035 and requires a 15′ in width, 20′ in length, and 10′ in height room to set up.
This golf simulator package includes a flat standard system, Frame/screen, Sony laser projector upgrade, 22 inches LCD touchscreen monitor, HD golf software Deluxe package, HD Multi-Sport software package, and Rear Stereoscopic cameras with Mount/Lens.
Advantages you are getting
Multi-sport software package
Real-time feedback
Crystal clear images
Multiplayer play mode
Satellite and geophysical data in 3D view
Dozens of real golf courses
Things that can be improved
Requires a lot of space to fit indoors
Very expensive
We recommend this golf simulator to give your customers the utmost entertainment with high-resolution digital images in stunning graphics.
Know more about the HD golf simulators.
Check Price at Shop Indoor Golf
9. Full Swing Pro Series Golf Simulator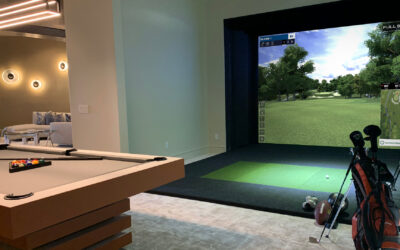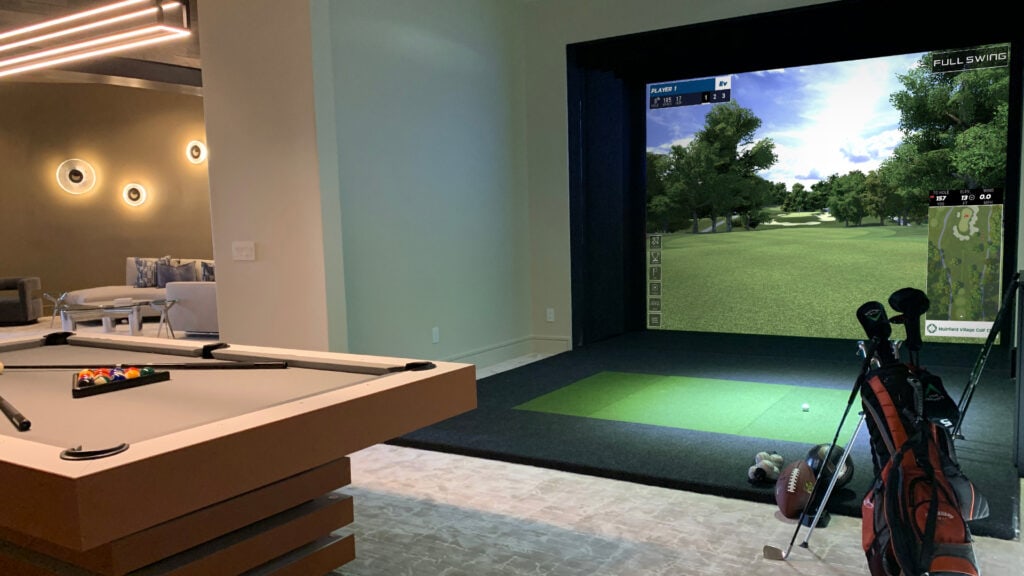 To offer your client something different, our recommendation is the Full Swing Pro Series. It is one of the top leading golf simulators that helped Tiger Woods to be back to his Championship form. Starting at $55,900, the Full Swing Pro Series golf simulator can cost beyond that.
There are over 93 authentic golf courses with multiplayer gaming modes. Using the quickest and most accurate technology, this golf simulator ensures advanced features like versatility, realistic ball flight, widescreen simulation, multisport gaming, and so on. Whether your purpose is to entertain, train or improve your customers' game, it can successfully do this.
Starting from 12′ in width, 20′ in length, and 9′ in height, there are 60 different size configurations. Full Swing Pro Series golf simulator includes a Solid wood enclosure and platform, 360° infrared tracks, ION3 High-speed camera, an Energy-absorbing diffuser screen, a cinema-quality projector, industrial-grade carpet, and hitting mats.
Advantages you are getting
Accurate spin, trajectory, and distance measurement
Over 80 golf courses
Ability to hit and see exactly where you lie on the course
Very easy and fun to play
A realistic view of each shot
Immediate feedback
Things that can be improved
Full Swing Pro Series golf simulator can attract a wide range of audiences who will love to play in your place again. Recommended to delight your guests and increase business profit.
10. aG Curve Golf Simulator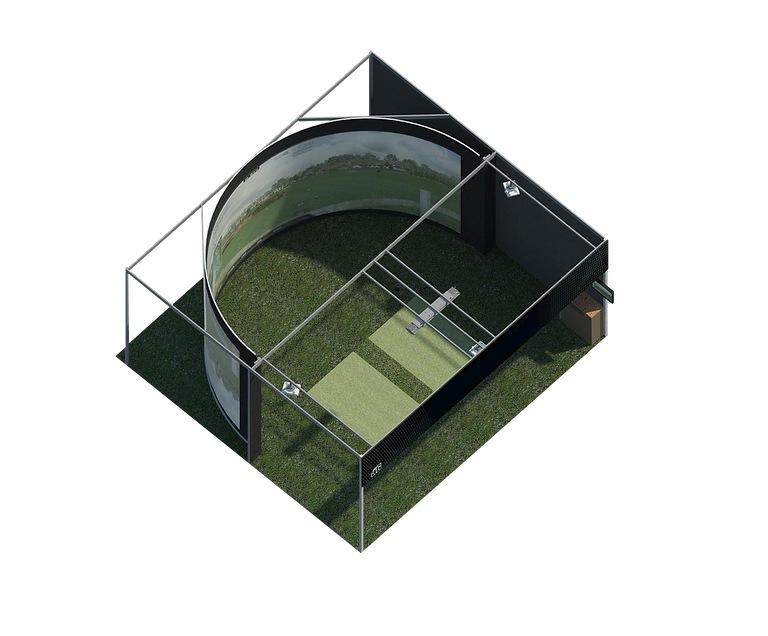 Everybody wants to profit as much as possible from their business. aG Curve golf simulator is one of the most renowned commercial golf simulators that will help you make your business profitable. It lets golfers have detailed data feedback and understand how they are playing or what to do for better improvement.
You can customize the aG curve golf simulator for any space. Providing an exceptional curve screen, it is very flexible to fit any place. It requires 18′-30′ wide, 18′-20′ length, and 9′-11′ long. Like Full Swing and HD golf simulators, this one costs more than $60,000.
The included software offers a skill-building game mode with the world's top golf courses like Pebble Beach, St. Andrews, and TPC Sawgrass. It's designed with so many advanced technologies like 3Trak, aG Flix, aG balance pro, and picture-in-picture technology.
Advantages you are getting
Up to 4k resolution in the projector
High-performance 23″ touchscreen
Accurate ball and club data measurement
Integrated hitting and stance system
Things that can be improved
One of the most expensive golf simulators
Among aboutGolf's products, the aG Curve golf simulator is the most dynamic and versatile option. Great for giving consistent swings with amazement. We recommend it for its immersive simulation experience.
Buying Guides for the Best Commercial Golf Simulators
A commercial golf simulator costs more than $10,000. That's a big investment. Still, that's a profitable option to add to your business portfolio. Let's talk business right away followed by the best options to consider.
Earnings projections of a commercial golf simulator are most affected by the number of rounds played and the rate calculated. If there are 2 commercial simulators in your store operating 8 hours a day, in total, they have a capacity of 112 simulator hours per week. The average charge for playing in a golf simulator is $30 per hour. That's $3,360 per week and more than $10,000 in a month. Now obviously you know the business better than us.
The main reason you are here is to make more customers and increase your revenue. It's not that hard to give them a great simulation experience or pick the most demanding commercial golf simulators. Yet being careful is the safer option before going for a large investment. Here this guide will help you do this before buying one.
Launch monitor
Golf is an entertaining game. You need to ensure this entertainment hooks your customers. There are a lot of things you can do. But first, make sure the launch monitor with the simulator package has fun features besides measuring raw data. Because the launch monitor is the major part of a golf simulator that detects what you are experiencing. Let your customers have fun experiences as well as game improvement training. Here is a list of the best launch monitors we reviewed in our other blog.
Software
The second thing you should do is to combine a good launch monitor with good software. It will tell you what game modes, practice features, and activities you are going to have in your commercial golf simulator business.
You will have many software options. From our experience, we recommend having E6 Connect, QED Ignite, EYE XO View, FSX, The Golf Club, Creative Golf, or Fitness Golf for your commercial golf simulator software.
E6 Connect with a 1-year subscription will be a great option if you are looking for multiple course options, tournament play, training features, or minigames. Also, you can customize it. There are options for a basic subscription or three years expanded subscription. TruGolf is an example of those golf simulators that always include E6 Connect software with their package.
QED Ignite and EYE XO View are Uneekor's own software. Offering utmost accuracy, Uneekor QED and EYE XO launch monitors come with these two software. They are also compatible with E6 CONNECT and TGC software.
The two above-mentioned software are pricey to have. If you want a more affordable option, we recommend SkyTrak's three software plans – Basic Plan, Game Improvement Plan, Plan and Improve Plan. Basic Plan comes with a driving range to practice.
Game Improvement Plan has advanced features like closest to the pin, multi-color shot tracer, target practice, numeric display, long drive competition, and so on. Play and Improve Plan offers 12 WGT courses, closest to the hole challenge, full course play option, and so on.
Golf simulator dimensions
After selecting a launch monitor and software, the golf simulator room dimension is one of the most important factors. Whether it's your hotel, bar, club, restaurant, or any other business place, you should have a clear idea of how much room you need to place the golf simulator.
First, measure the width, length, and height of the location you intend to set up. Then check the minimum space requirement and compare it to your room dimension. We can give you an idea of the minimum room dimension for a commercial golf simulator. It's 14 ft in width, 20 ft in length, and 9 ft in height. The size varies depending on the size of the commercial golf simulator enclosure and screen.
Wall vs. floor mount
You might wonder – why is a wall or floor tracking system important to selecting a golf simulator for commercial purposes. The answer is, to be safe. Yes, your safety depends on your wall or floor mount. Let's explain.
If your customer is well-experienced, he can make good contact with the ball. But what about a beginner? A beginner can risk hitting the launch monitor, projector, or any other thing. There's always a chance of accidents.
Floor tracking is much more at risk than ceiling track. Because in this case, a beginner can damage the launch monitor or floor-mounted projector.
Besides, you need to reposition the launch monitor on the ground for your left-handed clients. The ceiling option is permanent that allows both right and left-handed golfers to play. Hence it is safe.
Yet in both ground or overhead positions, you should take pre-steps to reduce the chance of damage.
Accuracy
The next thing you should consider is the accuracy of the tracking system. Once your customers become satisfied with your golf clubs, they will come again. Make sure the simulator you are going to buy is accurate. That means it requires accurate data tracking systems or accurate launch monitors. You can learn, how accurate golf simulators are by reading our blog.
Features
The features that ensure not only game improvement but also a fun experience can really help your clients. They will probably love to play with their friends together. So a multiplayer golf simulator is better. They may want to have various practice modes and skill challenges. Look for these too.
Portability
Portability is an alternative feature for commercial golf simulators. Yet it's considerable if you need to move your simulator. So first ask yourself – do you need to reposition it? If yes, then go for a compact and lightweight one that you can easily carry while changing location. Portable golf simulators don't cost as much as expensive units.
Quality
Always remember, first a commercial golf simulator is for your customers' satisfaction. Then customers' satisfaction will automatically bring your satisfaction. So your satisfaction mostly depends on your customers' feedback.
If the simulator lacks quality, it won't make them satisfied, which will hamper the commercial golf simulator business profit. That will ultimately disappoint you. Think twice or more than that before deciding on a new golf commercial investment.
How to find a quality golf simulator? Is it possible to find out the best commercial golf simulator in the world? Well, the answer is, you can find the best one for your needs and that can be the world's best commercial golf simulator for you. But it might not be the same for another businessman. Depending on his needs, the quality of a golf simulator will be different for him.
Yes, there are some specific features that make a golf simulator the best. Let's have a glance.
High-quality graphic
Accurate data measurement
Large screen and enclosure
Advanced technologies
Lifelike projection
Durable mat, net, and projector
To make your golf simulator bar attractive to the members or customers, prioritize quality. It will cost more though, you can make more profit.
Budget
Budget is the factor that is both your and your customer's concern. Keep a balance between these two. First, you should look for the one that goes with your budget. Now ask yourself if it will be worth buying for your customers too. We recommend more than $10k for a commercial golf simulator. There are some options for you to choose a budget-friendly golf simulator or a cheap golf simulator. But keep in mind that those are not for commercial purposes.
Wrapping up
Having the best commercial golf simulators can change your life within days. But the question is, "which ones are the best?". And that's why we arranged this review to help you in your navigation. Hope the commercial golf simulator comparison will be helpful for you. You can make a revenue-generating powerhouse by utilizing every commercial facility. Just put yourself in the customers' shoes. You will know how. Don't forget to leave your feedback in the comment section below.
This post may contain affiliate links and we may earn a small commission for no extra cost to you.
This is how we keep NiftyGolf free. Learn more about our affiliate disclosure here.