This post may contain affiliate links and we may earn a small commission for no extra cost to you.
This is how we keep NiftyGolf free. Learn more about our affiliate disclosure here.
When you think of an overhead launch monitor for a better golf simulation experience, Uneekor is one of the top brands in this segment with Foresight and TruGolf.
The QED is the first dual camera-based launch monitor from Uneekor that can track plenty of ball, club, and swing data by just taking photos of your swing. It also records your movement and can display it within a few seconds. But you will require a complete simulator set up to use the Uneekor QED.
If you are interested to learn more about the Uneekor QED, this article is the right choice. We will be discussing the pros and cons, considering the features and benefits of the QED launch monitor. And try to find out whether it is right for you or not.
Uneekor QED Launch Monitor Review
Since Uneekor introduced its first QED launch monitor in 2019, it has been one of the best golf launch monitors for its excellent ball and club data accuracy, lots of software features, compatibility, and simultaneous usability for left and right-handed golfers.
The QED launch monitor package includes a ceiling mount, simulation software developed by Uneekor, 2-dozen marked Bridgestone balls, and reflective dots for the clubface. All these costs are between $7,000 to $9,000 based on your choice of simulation software. Without these add-ons, you can't use the launch monitor properly. It is one of the significant disadvantages of QED.
Another disadvantage of the Uneekor QED launch monitor is the challenge of using it outdoors. QED is not made for outdoor use. Yet only if you can ensure a permanent setup in your garage or basement, then you can use it outdoors. Because it's not portable to carry with you when you are going to the range. But when it comes to indoors, it is one of the best golf simulators.
If you're considering transforming your basement into a golf haven, finding the best basement golf simulator can provide you with the ultimate indoor golfing experience. And if you're considering using a golf simulator in your garage, the Uneekor QED is a fantastic option for creating an immersive indoor golfing experience.
The Uneekor QED has two hyper-speed cameras with more than 3000 fps or equivalent. With the help of marked balls and reflective clubface dots, these camera sensors read both ball and club motions directly and provide real-time footage.
Here are the data that Unekor QED can track:
Carry, run, total distance,
Flight time,
Distance to apex,
Land angle, side angle, launch angle,
ball speed,
Sidespin, Backspin
Smash factor,
Club speed, club path, clubface angle
Space requirements
Being a ceiling mount launch monitor, the Uneekor QED requires some space so that you can swing freely with a ceiling mount implementation. The Uneekor engineers suggest mounting the QED on the ceiling at a height between 9′ and 10.5′ based on your comfort of swinging correctly. As the QED uses photometric technology, you must play your shot within the camera frame.
Is Uneekor radar-based?
No.
The Uneekor uses Photometric technology in its launch monitors. Both the QED and the EYE XO launch monitor have it, though the radar-based golf simulators are suitable for outdoor use and tracking. Trackman uses radar technology in their launch monitors. On the other hand, photometric technology is suitable for indoor golf simulators.
How accurate is Uneekor QED?
Uneekor QED is more than 95% accurate in ball and club data reading.
We found the table published by Uneekor illustrating the margin of errors the QED can have very accurately. You can have a look at the table below as well:
| | | |
| --- | --- | --- |
| Measurement | Accuracy | Until Of Measurement |
| Backspin | +/- 100 | Revolutions Per Minute (RPM) |
| Topspin | +/- 100 | Revolutions Per Minute (RPM) |
| Sidespin | +/- 50 | Revolutions Per Minute (RPM) |
| Club Speed | +/- 0.5 | Miles Per Hour (MPH) |
| Ball Speed | +/- 0.3 | Miles Per Hour (MPH) |
| Spin Axis | +/- 0.2 | Degrees |
| Ball Launch Angle | +/- 0.5 | Degrees |
| Ball Launch Direction | +/- 0.25 | Degrees |
| Club Path | +/- 0.3 | Degrees |
| Club Face Angle | +/- 0.25 | Degrees |
Based on the software you use, the results may differ slightly. For example, the Uneekor authorities suggest using their Ignite simulation software rather than any 3rd party software. However, the QED is compatible with different software.
What is QED ignite?
QED Ignite is the simulation software that Uneekor produces itself to use with the QED launch monitor. This software is free in the Uneekor QED launch monitor package. Uneekor has other variants of simulator software as well. But you need to pay for them.
You can also use different simulation software like TGC, GSPro, and Succeed with the QED launch monitor. This simulation software costs between $500 and $2,000.
Best Golf Simulator Packages with Uneekor QED
Uneekor QED launch monitor requires the club sticker and marked balls for tracking the data. Besides, the launch monitor needs a computer or laptop connected to it to provide the tracking results. Since the QED is a ceiling mount launch monitor, a complete enclosure comprising a hitting mat, side barrier netting, and, most importantly, the best impact screen for your golf simulator is required to ensure optimal performance and enjoyment.
In short, you need to have a golf simulator set up to use the QED. Several golf simulator packages are available, including the Uneekor QED launch monitor. But all of them are not a good match.
For a better simulation experience with the QED launch monitor, you should have a projector with a top-quality impact screen that displays clear images. In addition, the best uneekor simulator package should have options to choose a variety of simulation software and an option to buy a laptop simultaneously. Here are our top picks: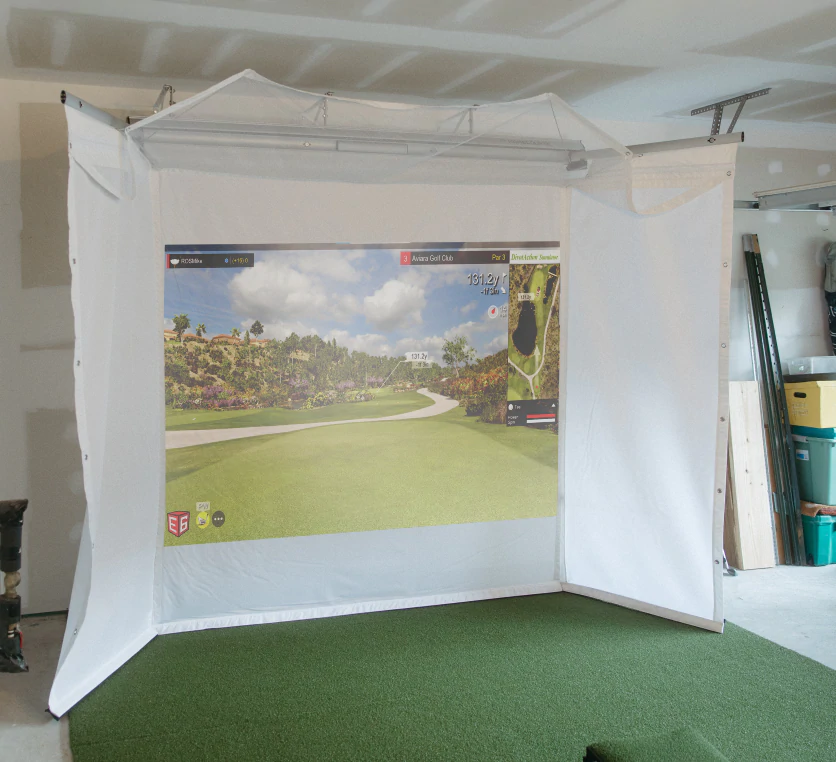 The Uneekor QED Retractable Golf Simulator package from Rain or Shine includes TGC2019 simulation software with the QED launch monitor. Besides, you will have a retractable screen and enclosure with Optoma EH460ST Short Throw Projector.
Moreover, you will get all the accessories like hitting mat, side netting, landing pad, etc., in this package. Not only that, if you want to include a laptop and laptop stand to operate the launch monitor, you can have it for an additional $2,000.
Depending on the various add-ons customizations such as Turf, Projector, and Tech item, the price varies from $13,000 to $17,000.
Check Price at Rain or Shine Golf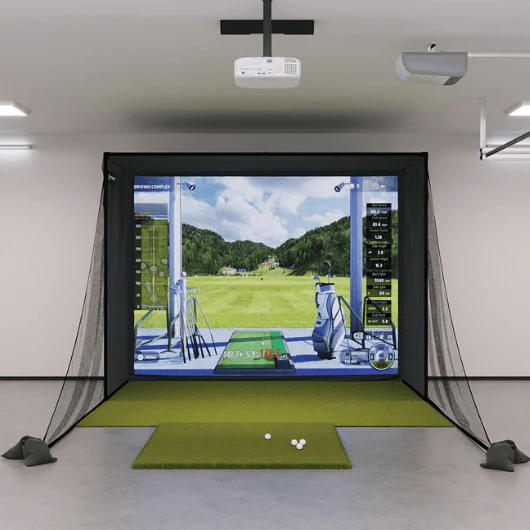 Shop Indoor Golf is very popular for assembling the best golf simulator packages. The Uneekor QED SIG10 is another example of their top-performing golf simulators. This package will get a Panasonic VMZ50U Projector, SIG10 golf simulator enclosure with side barrier, landing turf, and hitting mat.
The package includes the Ceiling mount accessories alongside the Uneekor QED Launch Monitor itself. The best feature of the SIG10 package is the choice of golf simulation software. You can take the Ignite software for free or buy other simulator software such as GSPro, Succeed, TGC 2019, and Refine. The QED is compatible with all this software.
The Uneekor QED SIG10 package will cost you between $12,999 and $18,699 based on your golf mat and software choices.
Check Price at Shop Indoor Golf
Final Verdict
Suppose you are looking for a mid-range budget overhead golf launch monitor for an indoor golf simulator. In that case, the Uneekor QED is good. Due to its photometric technology, you will have precise club and ball data. But there are a few limitations as well for this launch monitor.
Like most other golf launch monitors, you will not use this launch monitor without a complete simulator setup. Installation of this launch monitor is complex too. And you need to use the clubface sticker and the marked golf balls every time for better results.
These limitations are too many for golfers who love to play golf for fun and practice outdoors occasionally. And suppose you are not very fancy about an overhead launch monitor. In that case, it won't be an excellent decision to buy the Uneekor QED and take all the hassle of installation and maintenance.
Hopefully, you have got all your queries answered by now. If we missed out on any information, let us know in the comments. Also, please share your experience using the Uneekor QED launch monitor with your fellow golfers and us here.