This post may contain affiliate links and we may earn a small commission for no extra cost to you.
This is how we keep NiftyGolf free. Learn more about our affiliate disclosure here.
Uneekor is now one of the top golf simulator brands. They have made it into the top chart based on their product quality. So if you are looking for an expert opinion about Uneekor golf simulators, you are at the right place.
With just two overhead golf launch monitors and a couple of golf simulator packages, including their software and accessories, Uneekor has drawn the attention of millions of golfers. In addition, the QED and EYE XO launch monitors from Uneekor have already gained much appreciation from golf experts.
But how about the golf simulator packages? We will be reviewing them in this article. By the end of this article, you will be able to decide whether you should consider buying Uneekor golf simulators or not.
Let's start with the Uneekor Golf Simulators first.
7 Best Uneekor Golf Simulators Reviews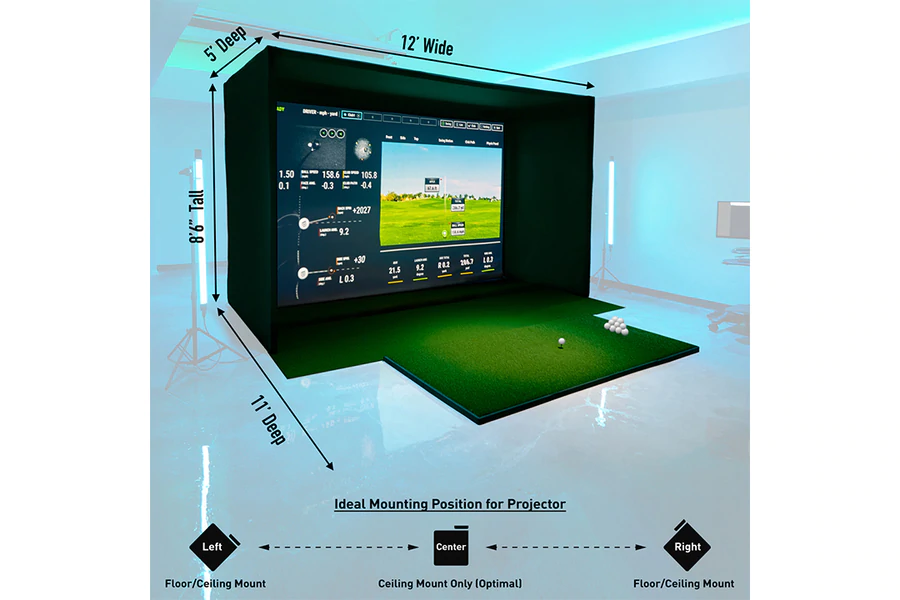 Uneekor designed this golf simulator package for the best performance with their QED launch monitor. The package includes a QED launch monitor with QED Ignite simulation software. Besides, the all-in power suite offers a commercial enclosure with an impact screen, hitting mat, and landing turf.
The QED launch monitor works best with the club sticker and marked balls provided by Uneekor. These accessories are also included in this package. As a result, you have access to almost everything you need to set up and start practicing.
You'll get the Ignite simulation software in this package. It is free software made for the QED launch monitor. Next, buy the All-In Power Suite package. Finally, you will get access to upgrade it to another paid simulation software called Refine. Uneekor also develops this software with five training modes.
All the technological benefits may not please you if you don't have one of the best projectors. But the All-In Power suite includes a premium LCD projector that you can mount on the ceiling and the launch monitor. The inclusion of these items enhances your simulation experience.
This package will cost you about $18,000. The most significant advantage of this package in this price range is the high-performance gaming PC with a workstation. Very few golf simulator packages have an offer. Still, it can be a disadvantage if you already own a laptop or PC.
Apart from the pros we talked about, there are some cons. Firstly, there is no choice to select a different enclosure, best hitting mat, or projector. Other packages from 3rd party sellers have variations.
Secondly, the size of the enclosure is not usual. It's a 14′ wide and 9′ tall enclosure. Make sure it matches your golf simulator room dimension. Finally, if you wish to buy this package, you will need to buy everything in this package. Even if you need a gaming PC, you will need to buy that.
Overall, we only recommend this package if you have the demand for all the items included in the package and are looking for a complete simulator package. Else we have other simulator packages listed in this article where you have the choice to customize a little.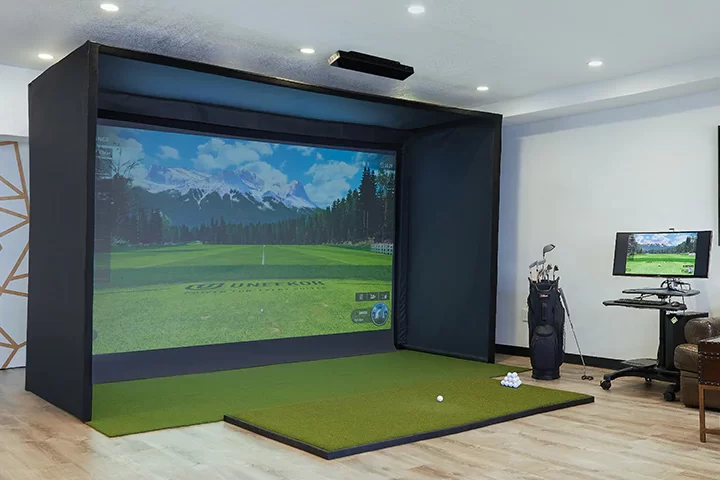 Another complete golf simulation solution from Uneekor is the All-In Power EYE XO Suite. This package is built with an EYE XO launch monitor and View simulation software, which you can upgrade to the Succeed package.
The All-In Power EYE XO Suite features a commercial enclosure and impact screen with a hitting mat, landing turf, and a premium LCD projector. All these accessories are heavy-duty. For example, the impact screen can withstand 200+ MPH ball speed. Besides, the package includes a gaming PC too. However, there is no monitor included in it. So you need to use the 16:10 Full-HD projector instead.
All these benefits cost $20,999. However, the significant difference in this package from the earlier model is the launch monitor itself. The EYE XO is a better launch monitor as it can track more data and doesn't require the marked balls like the QED.
The lack of portability and installation complexity are still concerns of this Uneekor Golf Simulator package. However, if it doesn't bother you, or you can overcome it, then the Uneekor All-In Power EYE XO Suite is an excellent option to own.
---
Till now, we reviewed the golf simulators produced by Uneekor themself. These simulators include simulation software manufactured by Uneekor and do not offer any other software in the package. Also, there was no option for customization. But several sellers offer such benefits while using the Uneekor launch monitors.
Here are the top 5 golf simulator packages with the Uneekor launch monitor that you can also look at before deciding.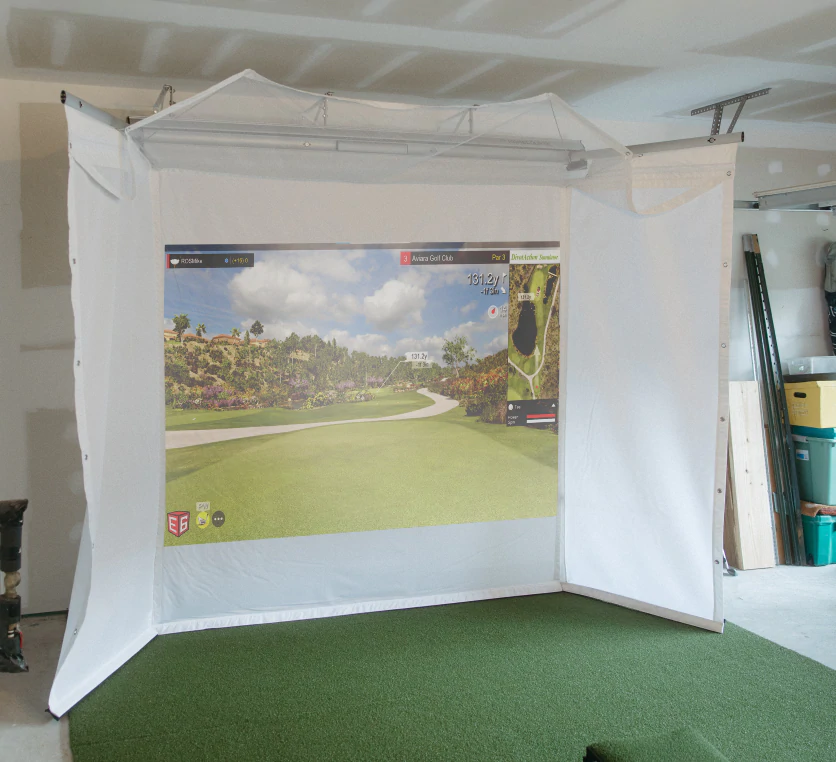 It is a golf simulator package from Rain or Shine that includes TGC2019 simulation software with the Uneekor QED launch monitor. In addition, the package includes a retractable screen and enclosure with Optoma EH460ST Short Throw Projector. And this combo works fine for a golfer who aims to improve his golfing skills.
This package has at least two size options to choose between the hitting mat and landing pad turf. You can select only hitting mats as well. Depending on the various add-ons customizations such as Turf, Projector, and Tech item, the price varies from $13,000 to $17,000.
Check Price at Rain or Shine Golf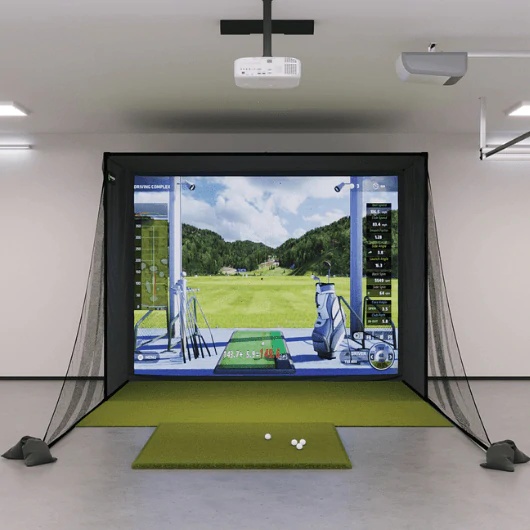 Shop Indoor Golf is another popular source for golf simulator packages. Their Uneekor QED SIG10 is another example of their top-performing golf simulators. It includes a Panasonic VMZ50U Projector, SIG10 golf simulator enclosure with a side barrier, landing turf, and mat hitting.
The best feature of the SIG10 package is the choice of golf simulation software. You can take the Ignite software for free or buy other simulator software such as GSPro, Succeed, TGC 2019, and Refine. The QED is compatible with all this software. The Uneekor QED SIG10 package will cost you $13,000 and $19,000 based on your golf mat and software choices.
Check Price at Shop Indoor Golf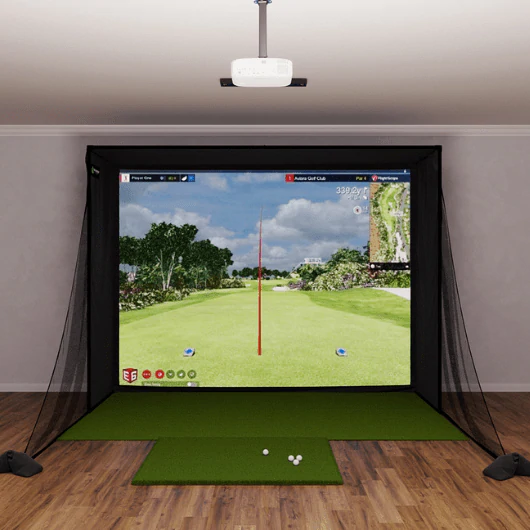 The Uneekor SIG12 package includes a Panasonic Projector and SIG12 Golf Simulator enclosure, Uneekor EYE XO launch monitor, and several options for simulation software.
Unfortunately, there is no laptop or PC included in this package. So if you don't have any laptop or other device to operate the Uneekor EYE XO, you will need to buy one besides this package.
You need to have a minimum of $16,400 to buy this SIG12 golf simulator package. But SIG12 flooring enclosure and view+succeed software will cost you $22,500.
Check Price at Rain or Shine Golf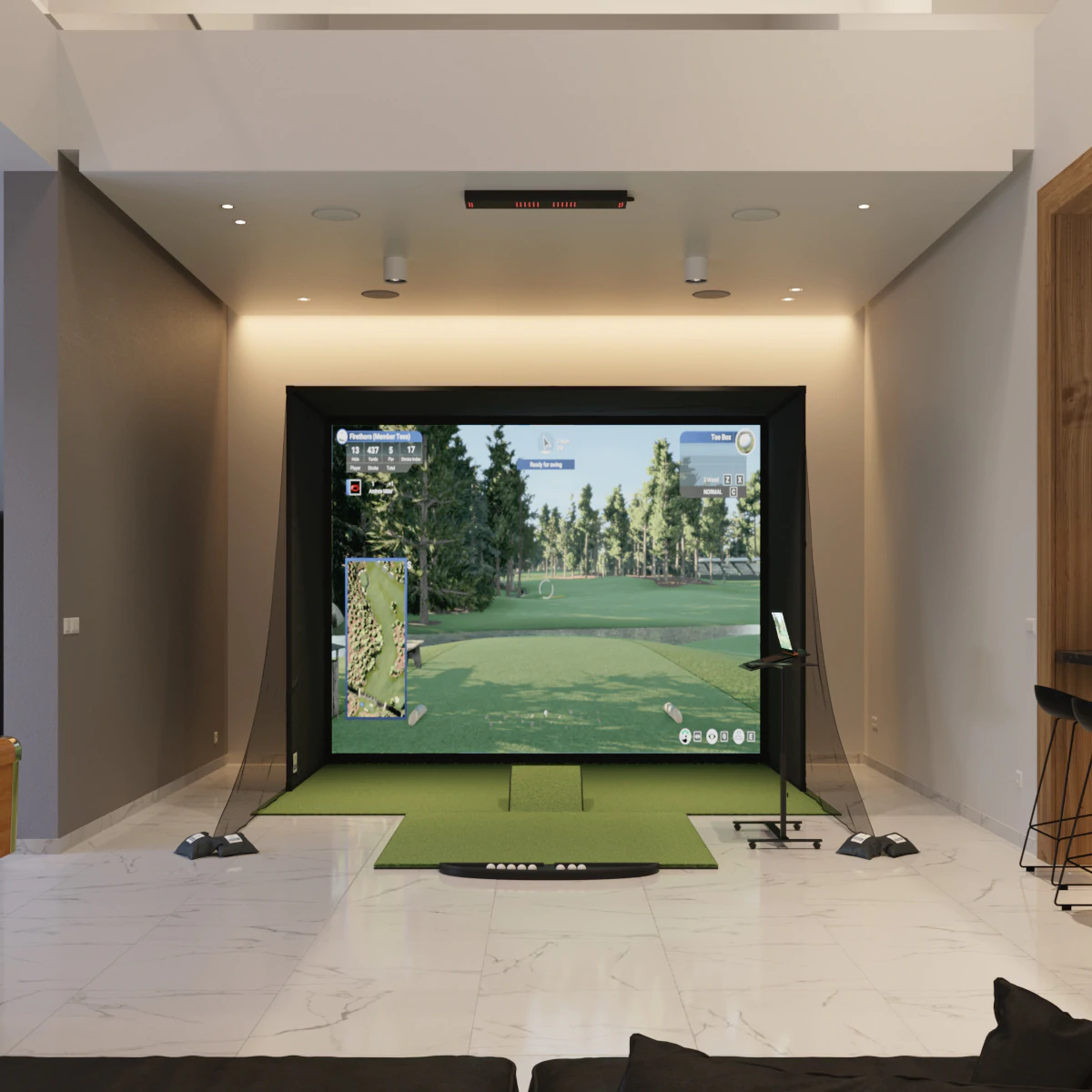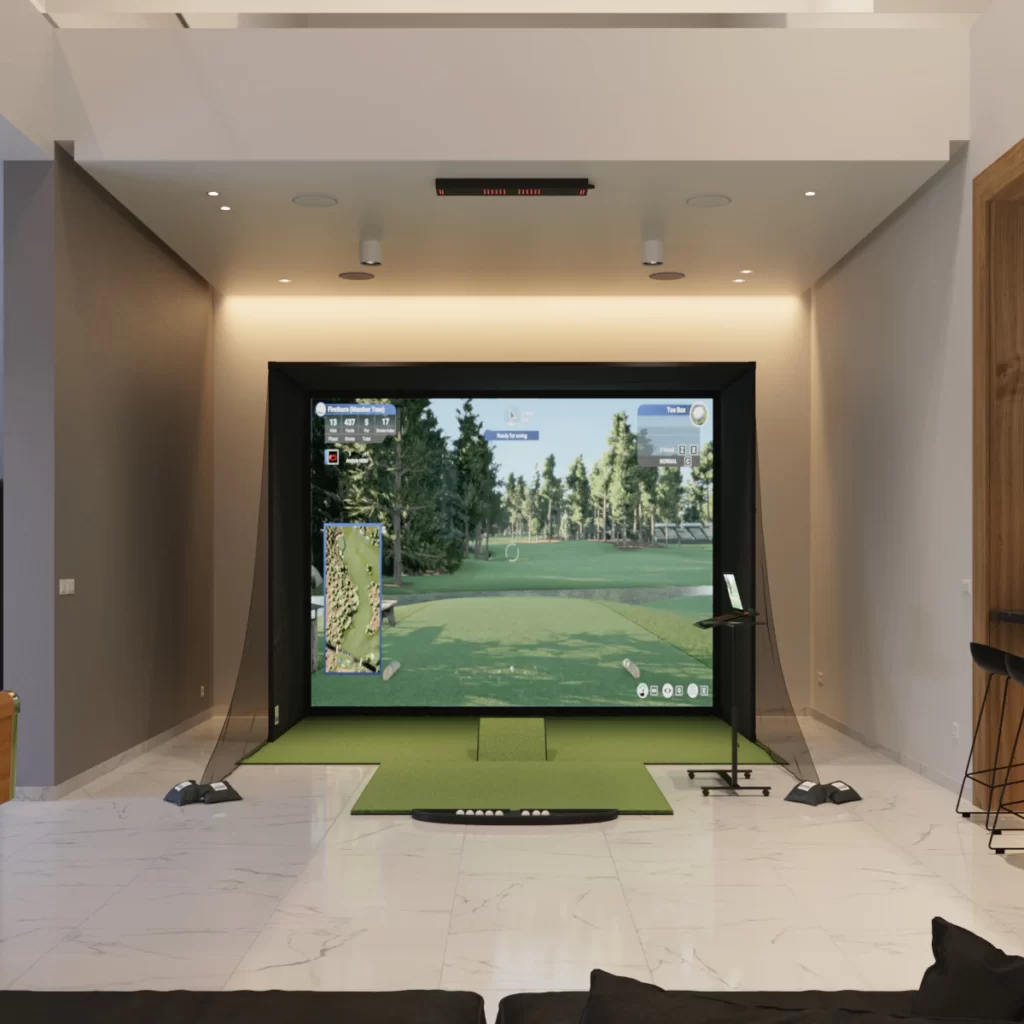 The package includes a Uneekor EYE XO Launch Monitor with a choice of golf simulation software, SwingBay hitting enclosure, Optoma 1080p HD Short Throw Projector. Besides, you will get a golf mat, side netting, and other accessories to install the launch monitor properly.
You can also include a compatible laptop and laptop stand to connect and operate the eye xo launch monitor. Based on your choice of software and hitting mat, this package can cost you between $16,700 and $20,000.
Check Price at Rain or Shine Golf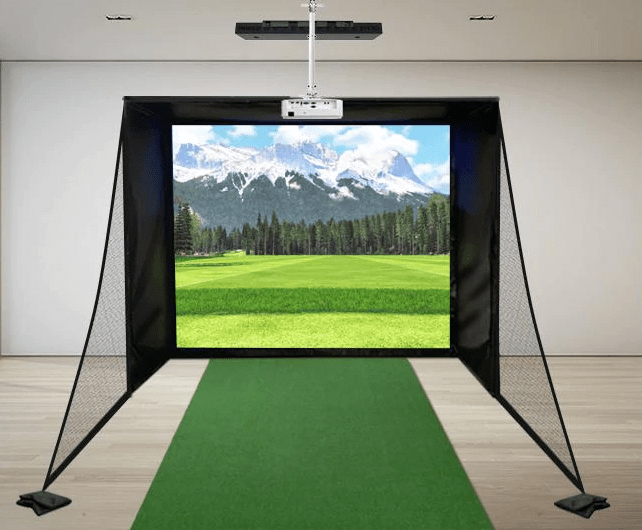 Suppose you are a pro golfer and expecting a uneekor golf simulator package that is the best match for you. In that case, this uneekor perfect bay golf simulator could be your right choice. This package has the top choices to customize your golf simulator apart from the launch monitor. You can enjoy the Uneekor EYE XO launch monitor with this package.
Everything has multiple options, from the simulator software to mat, screen, and projector, and build your uneekor golf simulator. The minimum cost for this package is $13,000.
How Accurate are Uneekor Golf Simulators?
Uneekor golf simulators are very accurate compared to the other models in a similar price range. It provides nearly 90-95% accurate readings using photometric technology. Learn how accurate golf simulators are.
However, the accuracy may differ due to several reasons such as inappropriate installation, lighting problems, and many more. Uneekor EYE XO is more accurate than Uneekor QED among the two launch monitor models.
How Much Do Uneekor Golf Simulators Cost?
Based on the launch monitor model and other accessories, a uneekor golf simulator can cost between $12,500 to $24,000. At the same time, the price of a launch monitor starts from $7,000 for QED and $10,000 for EYE XO.
It's a mid-range golf simulator. And SkyTrak, Foresight is performing better for accuracy and portability. However, as all the models consist of overhead launch monitors, you can hardly use them outdoors.
Final Verdict
Uneekor as a brand has been performing well in recent days. Their launch monitors are more popular than their simulator packages. We reviewed both launch monitors and simulator packages. And we found the simulator packages lack customization opportunities.
Let us know your favorite golf simulator in the comments. And share your experience of using uneekor golf simulators if you already have them. Of course, you can check our review on uneekor golf launch monitors.