This post may contain affiliate links and we may earn a small commission for no extra cost to you.
This is how we keep NiftyGolf free. Learn more about our affiliate disclosure here.
Top PGA professionals like Butch Harmon, Michael Breed, and Martin Hall are big fans of foresight launch monitors. They appreciate the accuracy and number of data it tracks.
Not just them, the PGA officials also love the performance of foresight launch monitors. As a result, Foresight Sports was selected as the official Supporter of PGA Education in 2019. As a result, the PGA installed a foresight sports golf launch monitor at their National Training Academy. Experts love and suggest different foresight sports launch monitor models based on features to various users. But it also makes it challenging to choose the right launch monitor for individuals.
If you plan to own a foresight launch monitor, we recommend you go through this article before making any final decision. In this article, we will be reviewing all the launch monitors by them and figuring out whether it would be a good purchase for you or not.
Introduction of the Foresight Launch Monitor Models
Foresight Sports started its journey with golf simulators, launch monitors, and other gaming software in 2010. They are a pioneer brand in this industry now and offer the most advanced performance analysis solutions in the golf industry every year.
They introduced the GC2 golf launch monitor first with two stereoscopic cameras only. Its accuracy was top-notch and soon was appreciated by the users. Before the introduction of GC2, most other brands offered single-camera launch monitors. That's why foresight sports named this model as 'Game Changer.' But the GC2 was limited to providing ball data only.
To improve the GC2 performance, Foresight Sports introduced Head Measuring Technology (HMT) that added club performance data alongside the ball data. The inclusion of HMT brought two more cameras and an add-on with the GC2 launch monitor. It added some valuable metrics to analyze your performance but carrying and setting up both devices was a disadvantage of this model.
In 2017, Foresight Sports introduced the GCQuad launch monitor. Another popular golf launch monitor after the GC2. The GCQuad delivers unprecedented ball and club performance data and a spectrum of professional features in a compact, ergonomic design.
The latest foresight sports launch monitor is the GC3 with three precision cameras. And it offers plenty of ways to connect. Besides, the FSX simulation software by foresight sports is also very popular among golfers. Let's look at the detailed review of each of them.
Foresight Sports GC2 Launch Monitor Review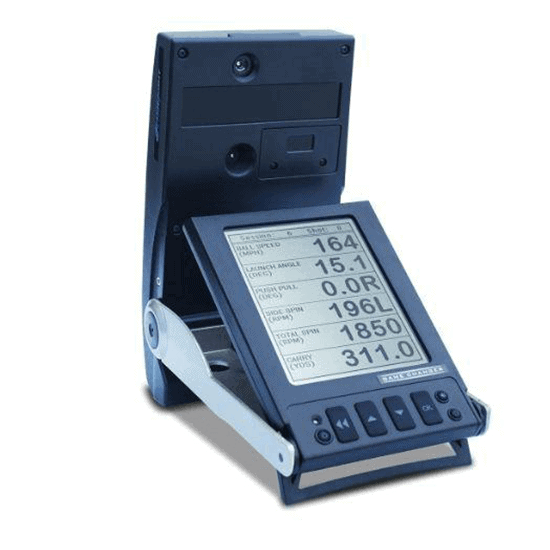 The GC2 is a complete package itself. The launch monitor does not need to connect to any computer or laptop to get the performance metrics because the device comes with a bright LCD screen. And the display screen is used as a stand for the launch monitor. So you can stand tall, have your golf swing, and watch the data easily from there, even in sunlight.
The GC2 golf launch monitor looks good in black and ash color combination indoors and outdoors. It is a portable launch monitor with a pre-installed NiMH rechargeable battery. The battery can give about 6 – 8 hours back up. So, you can easily play a round of golf with a fully charged battery. And the battery doesn't add much weight to the device either.
You can expect very accurate ball data from the GC2 as it has 2 Stereoscopic high-speed camera systems looking at the ball simultaneously. These cameras are capable of producing more than 5000 frames per second. Therefore, you can estimate the accuracy level from this specification.
Getting the results is very easy with the GC2. The monitor shows real-time data. So, you can see it on the display screen right after playing your shot. Besides, it is compatible with FSX 2020 Simulation Software. You can connect your iOS or Android devices with the launch monitor and get the results there.
The price of the GC2 launch monitor is $10,000 with the FXS2020 included with it. And if you like to add the HMT it would cost $6000 extra. As it is an older model of a golf launch monitor, it will be hard for you to find this launch monitor in the market. Rather, getting the best golf simulator package that has the GC2 launch monitor would be a better choice.
We found the Foresight Sports GC2 SIG10 Golf Simulator a useful one. The package includes a SIG10 golf simulator enclosure with side barrier netting, landing pad turf, and four different choices of golf mats alongside the foresight sports GC2 launch monitor. This golf simulator package includes a remarkable golfing experience display (Panasonic PT-VZ580U Projector) and FSX 2020 Software (golf course play, skills challenge, club fitting) are also included in this package. And you can get this golf simulator package for under $17,000. 
You can learn more from our dedicated article on GC2 Launch Monitor Review for more.
Benefits and drawbacks of GC2 launch monitor
Benefits
Provides accurate ball data.
It is easy to use. Android and iOS devices can be connected using Bluetooth.
It provides real-time data.
Looks good both indoors and outdoors.
Portable
Drawbacks
It weighs heavier than other foresight launch monitor models.
Features like portability, compatibility with several devices, easy setup, and consistent and accurate results of the GC2 make this golf launch monitor loved by the golfers.
Check Price at Shop Indoor Golf
Foresight Sports GCQuad Launch Monitor Review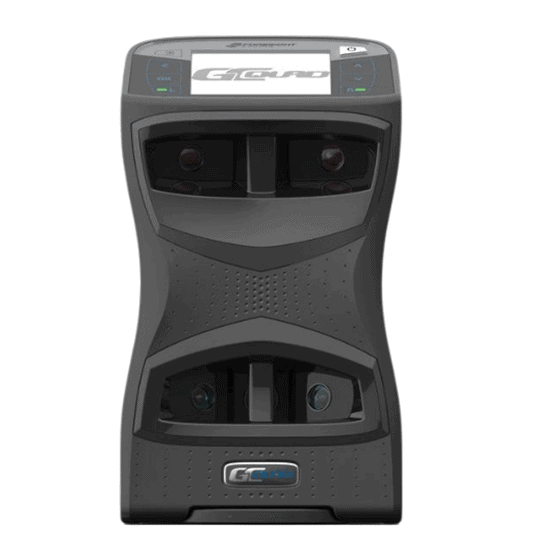 Foresight Sports very well manage the challenge of positioning four cameras in a 12 inches launch monitor. The GCQuad looks good with its stylish ergonomic design. It has a black and silver color combination. It gives a premium feel too.
Technologically, the GCQuad golf launch monitor can accurately analyze the most precise visuals taken from its four high-speed, high-resolution cameras. Experts after several tests suggest that with proper setup and swing, you can expect more than 95% accurate output with this launch monitor.
The GCQuad provides results like carrying distance & total distance, ball speed, launch angle, spin rate, club head speed, smash factor, and many more. You need not connect any add-on to get the club data.
The GCQuad launch monitor can be discoverable and connected to multiple WiFi and Ethernet devices. You can use it both indoors and outdoors. The longevity of the GCQuad is remarkable. The shock-mounted and die-cast aluminum frame provides excellent image stability and long-term durability.
Compared to the GC2, Foresight Sports have provided a replaceable long-life Lithium-Ion battery feature. As a result, you can expect to use the launch monitor for over 10 hours once it is charged fully.
The GCQuad will cost you $14,000 with the FSX2020 simulation software. Besides you can add putting analysis and clubhead measurement features with $6,000 extra. And if you look for a golf simulator package using the GCQuad launch monitor, the best simulator package we suggest is the Foresight Sports GCQuad SIG12 Golf Simulator which will cost nearly $28,200.
Benefits and drawbacks of GCQuad launch monitor
Benefits
It provides real-time data. And the readings are very accurate.
It is easy to use. Android and iOS devices can be connected using Bluetooth.
You can use this launch monitor both indoors and outdoors. And it looks good on the green surface.
Drawbacks
It's stylish, premium, and easy to carry, and the accuracy and consistency of data are unmatchable to other launch monitors.
You can take help from our dedicated article on GCQuad Launch Monitor Review for more.
Check Price at Shop Indoor Golf
Foresight Sports GCHawk Launch Monitor Review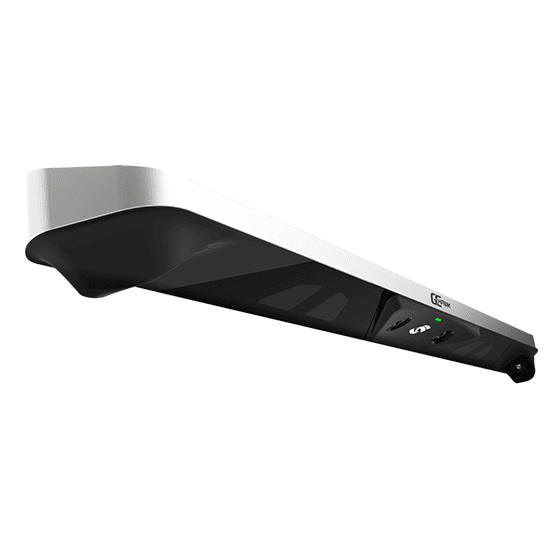 The GCHawk is one of the most advanced and powerful launch monitors on the market in recent years with the latest technologies in it. Being so, it's the most expensive launch monitor from Foresight Sports too. It costs nearly $5000 more than the GCQuad launch monitor.
The GCHawk has the same high-speed quadrascopic camera system as the GCQuad. So, you can expect a similar kind of accuracy from GCHawk while using it indoors. However, you will require a complete setup (covered setting) to use it properly, which is challenging to execute when you go outdoors. You will need experts' help to install this launch monitor.
The significant benefit that the GCHawk offers is the multi-sport functionality. 2 players can play under this launch monitor simultaneously. However, apart from the multi-sport capability and accuracy, the GCHawk has hardly any offers that match the high price.
The GCHawk doesn't feature advanced putting analysis (with ball and club putting data) like the GCQuad. The GCHawk still reads putts just as well, but there's no option for data analysis nonetheless.
If you decide to buy the GCHawk launch monitor, it would be a better decision to buy a simulator package with it. Because the GCHawk needs to be installed using the ceiling mount and the enclosure to use it outdoors. The Foresight Sports GCHawk flex space golf simulator package by shop indoor golf features all the required equipment.
You can have a Foresight GCHawk Launch Monitor, HomeCourse Pro Retractable Screen, Optoma 1080p HD ST Projector, and Projector Shield Floor Enclosure, all in the simulator package worth $28,000.
Benefits and drawbacks of GCHawk launch monitor
Benefits
Capable of producing accurate readings.
The launch monitor has a multi-sport feature.
Drawbacks
It is hard to set up outdoors.
Overpriced
It can not track club data.
Foresight Sports GC3 Launch Monitor Review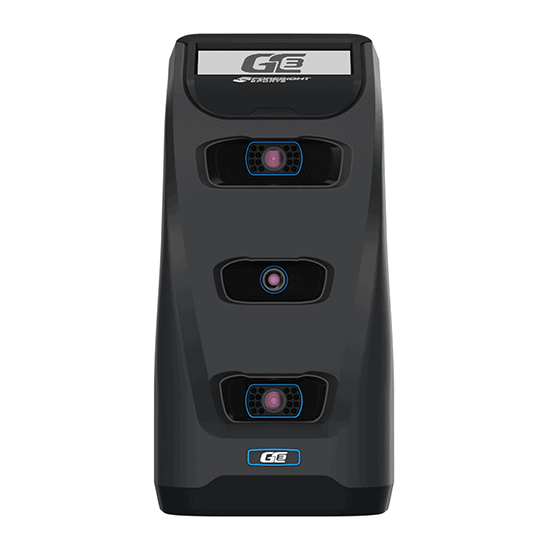 The GC3 is the latest addition to the foresight sports golf launch monitor portfolio. From the outlook, the GC3 looks a lot similar to the GCQuad. The launch monitor offers a display screen on top and a black and silver color combination.
Though they have a similar outlook as GCQuad, it features three cameras with a Barometric Sensor. This sensor is even better than the quadrascopic cameras offered in GCQuad because it can adjust the distance readings based on air density, temperature, and altitude.
You can use the GC3 as a golf simulator connecting it to a computer and using simulation software. It is compatible with FSX2020 golf simulation software. And you can expect precise club and ball data reading using the GC3.
The GC3 is a complete package to produce club data, ball data, and many more. Unfortunately, the price is on the higher side. If the price bothers you, an alternate of the similar model named Bushnell Launch Pro. It costs half the price but requires a subscription and offers options to customize the club data feature.
Also, the GC3 features a non-removable battery that gives 6-7 hours backup. Therefore, the GCQuad is the best from Foresight sports based on battery performance.
Benefits and drawbacks of GCHawk launch monitor
Benefits
It can track almost all the necessary club and ball data.
The barometric sensor enriches the accuracy of the data readings.
Bright outlook with a handle to carry the launch monitor.
Compact in size.
Drawbacks
Expensive compared to other models.
Features a non-removable battery
FSX: Golf Simulation Softwares by Foresight Sports
FSX is a simulation software developed by foresight golf. It allows you to have the most sensible golf experience. The FSX includes the world's ideal and most restrictive courses to practice your abilities on the reach. You can play with players all over the planet, all in excellent 4K goals using the live feature of this software.
FSX 2020 Golf Simulator Software is the most recent golf simulation software from Foresight Sports intended for their launch monitors, like the GC2, GCQuad, and GCHawk. As the models are constructed for iOS, Android and Windows, the FSX2020 offers a wide scope of ability challenges, game modes, and online occasions. Moreover, it additionally offers a large number of virtual greens from around the planet for you to play on.
How Much is a Foresight Sports Launch Monitor?
From $7000 to $19000
All the foresight sports launch monitor prices range between 7,000 to 19,000 dollars. The price may vary based on the add ons like software, subscription, club data tracking system, and many more. Check the latest price before making any final decisions. It may change in different periods. Besides, you will find golf simulator packages within $17,000 to $29,000 that include foresight sports golf launch monitors.
How Accurate is the Foresight Launch Monitor?
More than 90%
Several experts have tested the foresight sports golf launch monitors and suggest that these launch monitors provide more than 90% accuracy. In addition, the GC3 is the most accurate golf launch monitor among all the models due to the barometric sensors. Compared to the accuracy of TruGolf and SkyTrack launch monitors, Foresight Sports provides similar results.
Final Thoughts
Foresight Sports has undoubtedly done well in producing top-quality golf launch monitors over the years. We have reviewed all the models in this article. Each model has shown its worth among the golfers from the GC2 back in 2010 to the GC3 in early 2021.
Considering the price and the performance, the GCQuad would be the best choice for golfers who love to use launch monitors for training. And we won't recommend the GCHawk if you are not fancy using an overhead launch monitor.
The GC3 proves to be a commendable option in terms of performance, but it may be worth exploring alternatives in the category of affordable launch monitors.
If you want to learn more about golf launch monitors, we suggest you read our review on the best launch monitors as well.