This post may contain affiliate links and we may earn a small commission for no extra cost to you.
This is how we keep NiftyGolf free. Learn more about our affiliate disclosure here.
Not long ago, it was once a beyond imagination product that a launch monitor that gives very consistent and accurate results can be carried in your pocket anywhere and it will be very much affordable. Imagination has turned out to be a reality now. The Rapsodo MLM Launch Monitor has all of these features. And it has earned much appreciation from a lot of PGA golfers.
Portable Launch Monitors are often appreciated by golfers as they tend to practice both indoors and outdoors. Due to this market demand, there are many renowned manufacturers like VoiceCaddy, FlightScope, Garmin who introduce portable launch monitors quite often these days. But what's so special about the Rapsodo MLM?
In this article, we will find out what our experts had to say about the Rapsodo MLM Launch monitor. Is it that much accurate to help you improve your golfing skill? Is it worth $500? Should you have it or not all these questions will be answered in this article by our experts along with their opinions on Rapsodo MLM launch monitors looks, feel, features, performance, pros, and cons.
Rapsodo Mobile Launch Monitor Review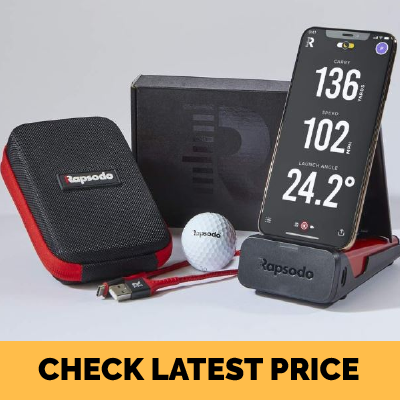 The first impression of the Rapsodo Mobile Launch Monitor (or MLM for short) is very appealing. Especially the price point and the features are certainly lucrative and give an initial thought of buying it right away, but we would recommend you read the complete article in detail first, then decide.
The size of the Rapsodo mobile launch monitor is just the same as a smartphone or perhaps a little thicker than the smartphone. The devices are operated by a rechargeable battery. The device offers a very dynamic app with it. Basically, the app is the major element of the launch monitor. Because with the help of the app the launch monitor actually uses your mobile device as a display screen. The rapsodo mobile launch monitor has no display screen in it.
The app can be connected via Bluetooth. But you need to download the app first. Connecting to the device with the app is as easy as you like. Just hit the connect button and it will get connected. But note that, This app can only be operated on iOS devices only. So the launch monitor can be connected to an iOS device only.
What is in the package?
You will get the following items with Rapsodo mobile golf launch monitor package apart from the launch monitor:
USB-C Cable
Carry Case
Quick Start Guide
Storage For 100 Videos
Free App For Mobile Device
What Rapsodo MLM can track?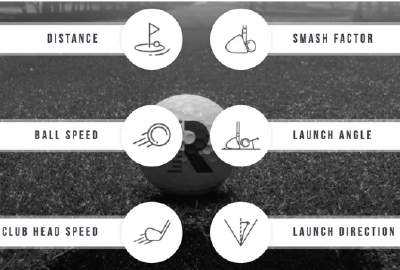 You will get the following results using the Rapsodo mobile launch monitor.
Shot distance
Ball speed
Club speed
Launch angle
Launch direction
Shot shape
Rapsodo MLM at a glance:
Let's have a look at the summary of the Rapsodo MLM:
| Specifications | Features |
| --- | --- |
| Technology: Radar Doppler Tracking | Video Playback |
| Dimension: Height: 1.6″ x Length: 5.3″ x Width: 3″ | Shot Tracer Technology |
| Weight: 10.2 oz | Satellite Range Mapping |
| | Bag Mapping |
| | Smart Club Recognition |
Review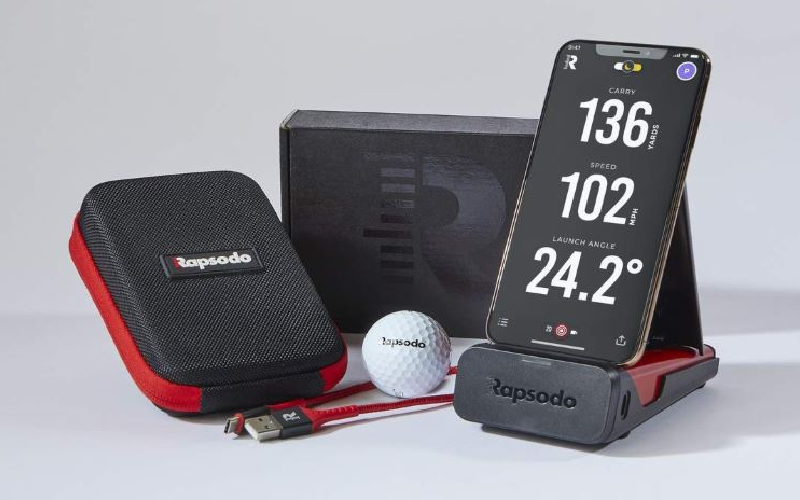 Now you know the features and details about the product. Let's find out how these features of the MLM works and helps to improve your golfing skills. In this section, we will be sharing the reviews by our experts and users who have shared their opinion with us. We have reviewed the launch monitor on 3 major points. Looks, performance in measuring several factors and accuracy.
Looks
The red and black color combination mobile-size launch monitor looks great in hand and on the grounds as well. The device is designed in a way that it can hold your mobile phone easily. It has a dedicated position to place your phone too. You will get a mini bag to keep your launch monitor safe and clean. The bag looks as good as the device and color combination is the same.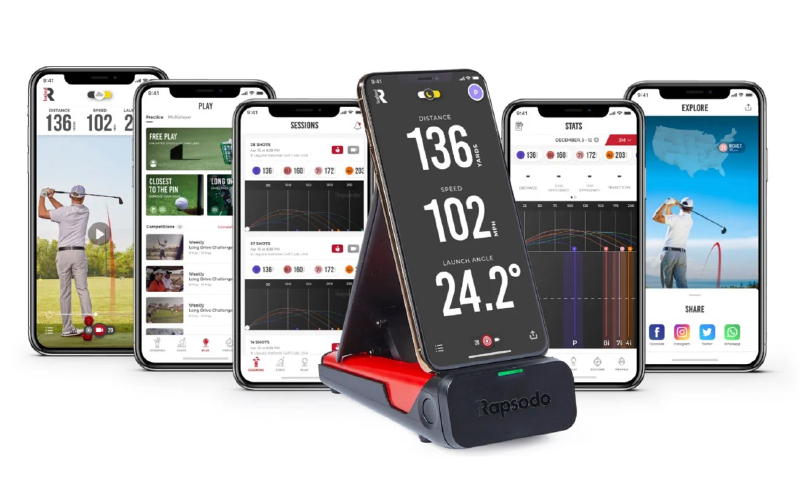 Apart from the device, the app interface is also a user-friendly one. The latest version of the app offers a dark theme too.
Performance
Coming to the most important factor to review, we would say that our experts were satisfied using the device. The metrics were consistent and accurate. Our experts compared the same shot tracked by GC2 and the Flightscope Mevo to see whether it differs at all or not. The biggest negative that our experts found is there are hardly any metrics on spin found using the Rapsodo MLM.
The accuracy was satisfying. There were hardly any differences with GC2 and FlightScope Mevo. Rapsodo MLM is capable of keeping 100 shots data that you can see and analyze later. As the device uses Radar Doppler technology. You can use this device in the outdoors only. In front of an indoor net, this device won't work much.
You can review your results of each shot and share those videos as well with your friends or other experts to seek help or show your skill especially when you bomb a drive or pinpoint an iron.
Pros
Easy setup
Shot Tracer and Data Overlay
GPS Satellite View
Instant Video Feedback
Professional Level Accuracy
Cons
Outdoor Use Only
Compatible with iOS devices only
Check Price at Shop Indoor Golf
Final Verdict
The Rapsodo mobile launch monitor is one of the best portable launch monitors you can get in the under $500 price point. But be aware of the conditions first.you can use this launch monitor in the outdoors with iOS devices only. If you don't have an iOS device then this MLM is of no use to you.
Also, if you want a launch monitor to use indoors only, then this device is no good to you as well. But if there is no such condition. Then, this Mobile Launch Monitor is one of the most accurate portable launch monitors you can have. 
Let us know your review if you are using this wonderful portable golf launch monitor. Drop your questions (if you have any) here and our team will get back to the best answers.