This post may contain affiliate links and we may earn a small commission for no extra cost to you.
This is how we keep NiftyGolf free. Learn more about our affiliate disclosure here.
The most portable launch monitor might be in your searched list. As a beginner, you might not understand that the launch monitor you are going to buy will be portable or not. Or as a pro golfer, you might not be enjoying your old launch monitor as you can't carry it anywhere you want to play.
To help you solve your problem, we arranged this article after long research. Here you will know about the Flightscope Mevo, the best portable launch monitor available on the market. We discussed the launch monitor, features, and the benefits you are going to enjoy in this launch monitor.
There's something more interesting you are going to know about the Flightscope Mevo launch monitor. Stay with us and you can know it after going through the whole article.
Flightscope Brand
Before going to choose a launch monitor, you may prefer to know its brand properly. All brands don't equally appear on the list of people's demand. Some are most wanted for their quality products and features even if they are costly. Some aren't preferable by the golfers in spite of being cheap. So first, you need to know about the Flightscope brand.
Quality of Flighscope brand
This brand is one of the most popular brands on the market. The most extraordinary feature of this brand is that the launch monitors manufactured by them are designed with advanced technology.
Flightscope became the global leader in the field of the golf launch monitor. Any space can be turned into your simulator room and you can use the launch monitor in the comfort at your own home. Products of this brand will give you the ability to have the best simulation experience.
The founding date of Flightscope brand
Flightscope started their journey in 1989 and since then they have become a world-leading company in the field of golf launch monitors. Henri Johnson founded it and he became successful in this field as Mevo got a remarkable place in the golf industry as well as in tennis and baseball. Now Flightscope is a well-known and very popular name to the golfers.
Flightscope Mevo Launch Monitor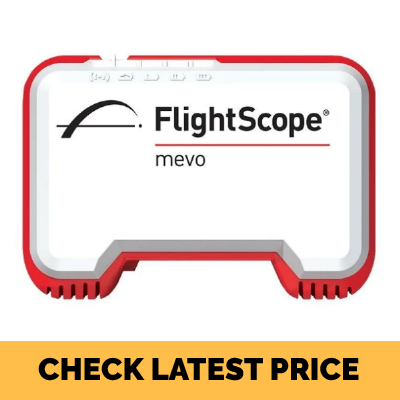 This launch monitor is designed with 3D doppler technology to help golfers increase their skills. You are getting the opportunity of enjoying complete swing as well as the metrics of ball flight.
The Flightscope brand appeared with this Mevo launch monitor applying their doppler radar technology. You will be able to measure every data of your requirement including ball trajectory, distance, club swing speed, etc.
What you will get in this purchase
Mevo Launch Monitor
USB Charging Cable
50 Metallic Stickers*
Carrying Pouch
Free App For Mobile Device
What's special in this launch monitor?
Radar Doppler Technology
Action Video Clips With Data Overlay
8 Accurate Performance Data Parameters
Dial-In Distances Indoors & Outdoors
Lightweight & Portable
Save, Upload, and Share Each Practice Station
Rechargeable Battery – up to 4 Hours Continuous Use
What benefits are you going to enjoy using it?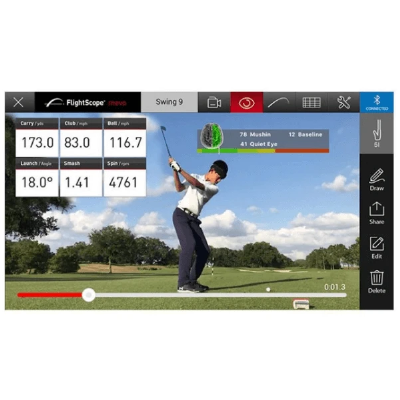 Provides every data:
Flightscope Mevo will complete every measurement required for your game improvement. You are really going to enjoy your game with real-time performance data.
Most trusted:
What can be more beneficial than to have a product that you can trust anyhow? This is the most trusted launch monitor in the market.
Evaluate your game:
Your game will be evaluated as Flightscope Mevo will enable you to save your practice sessions. You can upload and share them after saving.
Ability to see your improvement:
Won't it be beneficial to you if your Launch monitors have the capability to visualize your improvement? Yes, this one will show how much you improved after practicing.
Optimize your performance:
It doesn't only visualize your improvement, also optimizes your performance by providing video clipping (automatic) and storage.
Training:
Mevo will train you with your clubs of golf bags so that you can quickly improve. And that's why it provides real-time performance data.
Mevo golf app:
Mevo golf app will capture the automated video on your phone or tablet. If you want to see only the video or only the data, your display will show you using this app. (To download click here).
Instant feedback:
This launch monitor will give you immediate data, video, and feedback. Through this, you can track your performance after the practice sessions.
Incredible accuracy:
Flightscope launch monitor will provide you every pinpoint data with accuracy. You can practice with more interest if you get accurate data.
Affordability:
This launch monitor is remarkable on the market for its reasonable price. Which can be more decent to have a quality simulator within a limited budget?
Portability: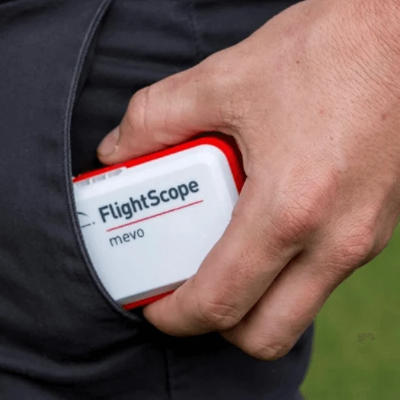 Flightscope launch monitor will allow you to play both indoors and outdoors. You can carry it anywhere and anytime you want to play.
What big benefit does it provide?
We told you that we have something interesting for you about this launch monitor. The fact is you can use this launch monitor by connecting it to your personal phone or tablet and this connection will allow you to track your data measurements. Isn't it a big benefit for you?
Besides, by using the free Mevo app included in this launch monitor, you can save your results after your practice session to review further. So here you get big benefits of affordability, portability, and enjoying a trusted launch monitor.
Specifications
Dimensions: 3.55″ x 2.76″ x 1.18″
Weight: 0.4375
Color: White/Red
Sensor: Doppler Radar Sensor
Battery Type: Li-Polymer
Battery Life: Up to 4 hours
Positioning: Place approximately 4′-7′ behind the ball
Wedges: Place Mevo 4′ behind the ball
Driver: Place Mevo 7′ behind the ball
Measurements
Carry Distance
Club Head Speed
Smash Factor
Apex (max height of ball flight)
Flight Time
Ball Speed
Spin Rate
Launch Angle
What people are saying about this launch monitor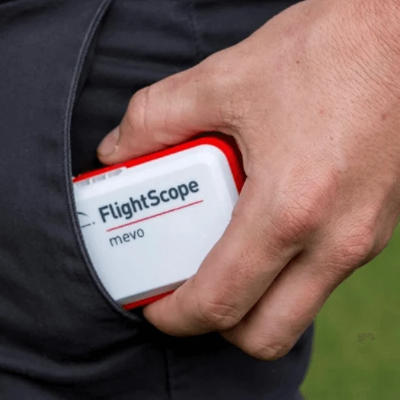 People are satisfied with this launch monitor as they can play it both indoors and outdoors. They gave their opinion that they found it very simple to set up and easy to use. Everything they could do with this excellent launch monitor. They got exactly what they wanted including pinpoint accuracy. They compared it with other launch monitors on the market and found better.
A renowned golfer recommended Mevo for both the beginners and the pro golfers as he believed that it will improve their skill. Some golfers informed that this launch monitor helped them get their mistakes in hitting the ball and make corrections of them with the video playback.
Things We Liked:
Accurate result
Compact and lightweight
Very portable
Reasonable price
Easy to set up and use
Pinpoint data measurements
Instant feedback
Video playback
Mevo app
Things That Can Be Improved :
Without using the metallic dots, the result is inconsistent
Should be more accurate like an expensive one
Price
If you are a price-conscious customer, nothing to worry about. The most interesting thing is that you get this unique launch monitor at a very affordable price as it costs $499 with good quality and features. We would like to recommend it especially for beginners who have just started their game.
Check Price at Shop Indoor Golf
Conclusion
This article is arranged for you to recommend a quality product which will help you choose the perfect one. We would like to say that Flightscope Mevo is such a launch monitor that can fulfill your desire and give you accurate data. You won't be disappointed using this launch monitor while playing in your own golf simulator.