This post may contain affiliate links and we may earn a small commission for no extra cost to you.
This is how we keep NiftyGolf free. Learn more about our affiliate disclosure here.
If you are unsure whether a golf simulator really improves your game or not and look for a low budgetary entry-level best golf simulator packages rather than spending big on best launch monitors used by professionals, the Ernest Sports ES14 Pro Golf Launch Monitor might position itself to your top favorite list. The Ernest Sports ES14 Pro Golf Launch Monitor can provide vital metrics like ball speed, carry distance, total distance, spin rate, and vertical launch angle, along with clubhead speed, smash factors, and skills challenge. 
Sounds good? Read our complete article to find out how good this ES14 Pro Golf launch monitor can be as an entry-level launch monitor. In this article, we are going to review the ES14 Pro Golf launch monitor based on its features, performance, pros, and cons. And we will be comparing its performance with another similar level launch monitor prior to sharing our final thoughts on this launch monitor.
Ernest Sports and Their Golf Launch Monitors

With a goal to provide every golfer an affordable and reliable product line, regardless of a novice or pro, Ernest Sports have been introducing launch monitors since early 2012. And in 2020 they are pretty successful in their goal. There is some golf launch monitor for every budget in Ernest Sports. They are one of those companies that makes golf launch monitors for as low as $200. And quality is up to the standard too. Their most expensive launch monitor costs nearly just under $11,000.
So, there is something for everyone in Ernest Sports. At present they are marketing 5 models in the ES series and they are ES12, ES14, ES15, ES16, and ES2020. Their latest edition ES2020 is best on the lot for a bigger budget. And ES 14 being the best for entry-level.
ES14 Golf Launch Monitor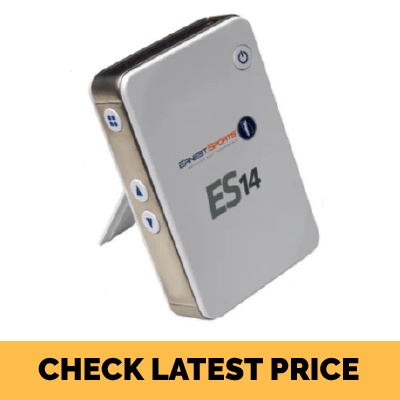 When you are thinking about building your own indoor golf simulator at a reasonable cost, you need to ensure that you get a quality launch monitor within your budget. Because the launch monitor is probably the most expensive item required to build an indoor golf simulator. ES14 launch monitors from Ernest Sports can be a good fit in this category.
ES14 may not provide you results like what SkyTrak, Foresight Sports, or TruGolf does. But for the price you pay, you will get an above-average simulator performance. The ES14 has Doppler radar technology that captures club speed, launch angle, ball speed, smash factor, spin rate & distance and immediately displays these data points on a clear LCD screen. The data it shows is quite accurate. You might not be able to find a more accurate launch monitor at this price point on the market.
What is in the package?
Here is the list of items included with the ES14 golf launch monitor package:
ES14 Pro Launch Monitor
Activation Code
9V Battery
Carry Pouch
AC Power Adaptor
ES14 User Manual
App for ES14
The app needed to operate this launch monitor and see output for this ES14 is a free one. You can simply download the app from the Ernest Sports website. The app is compatible with Windows, iOS, and Android too. The app provides you visual data feedback on each shot and you can also get audio feedback. The audio feedback allows you to continue your practice as you need not get back to the simulator each time you play a shot.
What ES14 can track?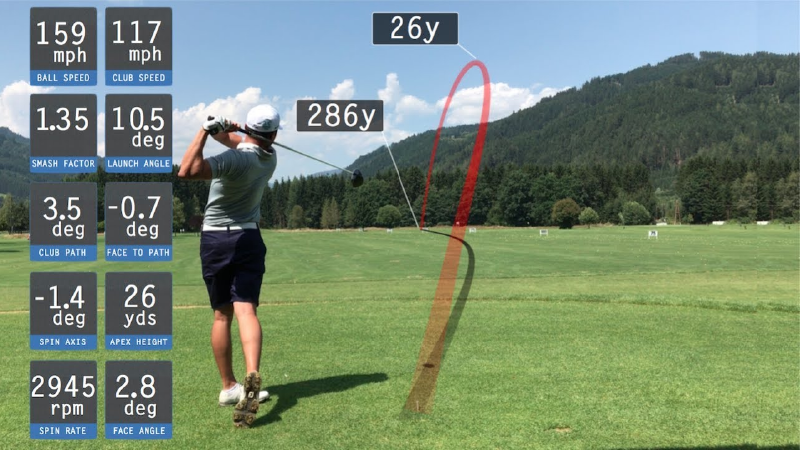 You will get the following results using the ES14 launch monitor and the app with it.
Ball Speed
Distance
Club Speed
Launch Angle
Smash Factor
Spin Rate
ES14 at a glance
| What it can track | Specifications | Features |
| --- | --- | --- |
| Carry Distance | Color: White or Charcoal with silver frame | 14-hour battery life with 9V battery. |
| Total Distance | Dimensions: 8.25″ (h) x 5.5″ (w) x 1.85″ (d) | Free Compatible app for Windows, iOS, and Android |
| Ball Speed | Weight: 2 lbs, 4 oz. | 2 Doppler radar sensors |
| Vertical Launch Angle | Standard 9V Battery; Duracell preferred of AC/DC Adapter | It provides instant feedback. |
| Spin Rate | Display: 1.5″" (h) x 5″ (w) | Bluetooth Compatible with iOS and Android Devices. |
| Clubhead Speed | Operating Temperature: 32 – 110 degrees (F) | |
| Smash Factor | | |
ES14 Golf Launch Monitor Reviewed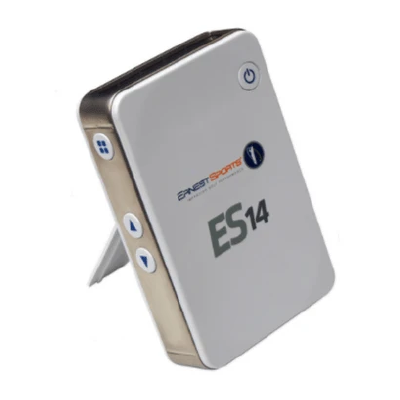 Being an entry-level launch monitor the Ernest Sports ES14 is offering quite some features and tracking results. To be honest, it's beyond expectations at this price point. Apart from the features now let's check out its looks, performance, pros, and cons of this launch monitor.
Looks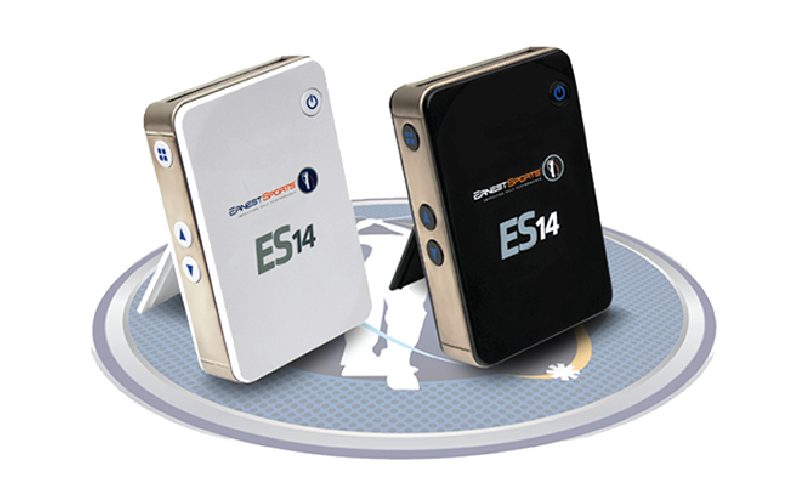 The size of the launch monitor might be just the proper size that you are looking for. Its dimension is 8.25″ of height x 5.5″ of width x 1.85″ of depth. Available in 2 classic colors variants of black and white. Both look stylish and fantastic. LCD screen display on top fits the design though a more visible screen would have been preferred. But the audio feedback restrains you to bend over and look at the screen too often. It stands slightly bending on the back but keeps its balance and doesn't fall over too soon.
Accuracy
Our study shows that the ES14 is quite accurate with its tracking and calculating. Its accuracy is impressive. Here is real data from 2 different launch monitors of the same shots played. One is tracked using ES14 and the other one is with the same setups with Trackman.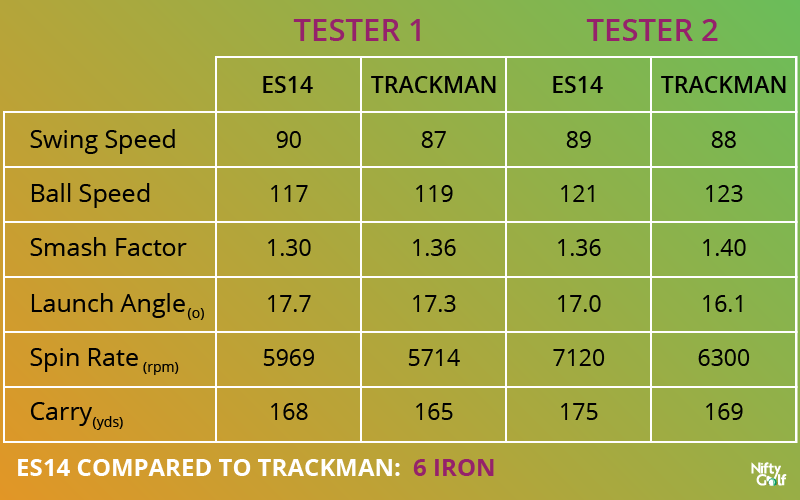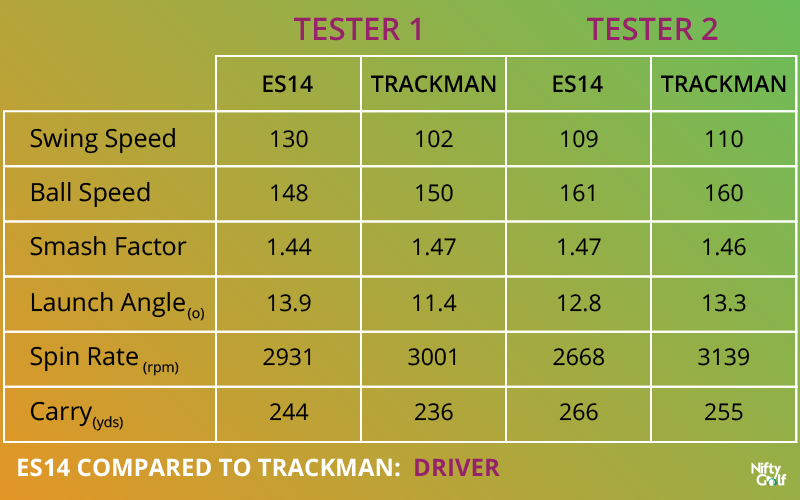 Note: we are displaying only the results that both launch monitors track in common.
You can see in the image the difference is very narrow. And the results are pretty consistent in both tests. And the results were displayed quickly enough.
Pros
Access to more data such as clubhead speed, spin rate, and smash factor.
Skills Challenges also installed
Portable and Lightweight.
Bluetooth Compatible with iOS and Android Devices.
Simple and easy to use.
Cons
Lacks single or multi-players golf simulation
Can not track horizontal launch angle
Not weather resistant
Endorsed by
Ben Crane, a PGA Tour Player said, "The ES14 is my favorite launch monitor on the market. I enjoy using it on the practice range and on the golf course during the offseason. The ES14 is easy to use, provides accurate data, and helps me prepare to play against the best in the world." He is the winner of the 2014 FedEx St. Jude Classic. Besides the following reviews are collected from the Ernest Sports official website.
Check Price at Shop Indoor Golf
Conclusion
We have reviewed the ES14 launch monitor based on its features, performance, pros, and cons in this article. And the outcome is visible to you. The ES14 offers very useful features and they are of very good quality. The results are accurate enough to trust and consistent at the same time. The free and compatible app is very easy and simple to use and analyze your performance to improve. Professional golfers found this launch monitor helpful too.
ES14 may not provide you results like what SkyTrak, Foresight Sports, or TruGolf does which asks for higher prices. But for the price point which is under $500 you pay for, the ES14 is a value for money launch monitor.