This post may contain affiliate links and we may earn a small commission for no extra cost to you.
This is how we keep NiftyGolf free. Learn more about our affiliate disclosure here.
Who doesn't like to have two quality technologies in a single launch monitor while building his own golf simulator? Everyone loves this, don't they? Especially at the price point of under $4000, when a launch monitor features two (02) technologies like Doppler Radar & Photometric Tracking in one (01), it can't get better than this. Ernest Sports have combined exactly these two technologies and introduced their ES16 launch monitor.
Doppler radar is the most accurate technology for speed measurements, on the other end, Photometric technology excels in spin and directional measurements. If you are curious too to know how these two features work together and whether ES16 from Ernest Sports is worth buying at this price point or not, this is the article that will guide you to these quests. In this article, we are going to review the ES16 Golf Launch Monitor based on its features, performance, pros, and cons. And we will be sharing our final thoughts as well as what users have responded to on this launch monitor in the end.
Ernest Sports and Their Golf Launch Monitors

Ernest Sports have been developing quality launch monitors for the best golf simulators constantly since 2012. ES12, ES14, ES15, ES16, and now ES2020 each of them are successful in business and creating an impact in consumers' minds. Their primary goal was to provide every golfer an affordable and reliable product line, regardless of their skill set and budget.
Till now they are successful in their objective. Ernest Sports are one of those companies that makes golf launch monitors for as low as $200 and even as high as $11,000. The quality and performance of each model are satisfying. The Ernest Sports ES16 is truly a revolutionary product in the golf launch monitor and simulator world.
ES16 Golf Launch Monitor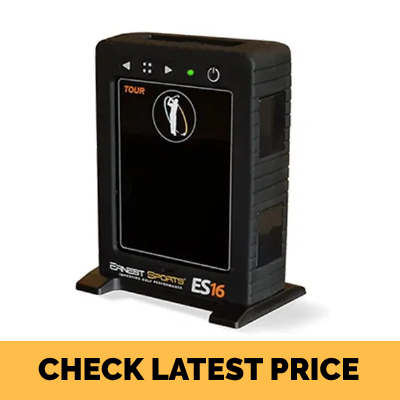 The ES16 from Ernest Sports is the first hybrid launch monitor on the market that combines two (02) unique features at an affordable price. With the ES16 launch monitor, you will get quad doppler radar and dual photometric technologies into one for increased accuracy and detailed spin and directional measurements. The app needed to operate this launch monitor is absolutely free, as it was in the earlier models like ES12 and ES14. You will find the app on their official website and it is compatible with Windows 10 too. The ES16 can track a wide range of data and provide very accurate results like Club Head Speed, Ball Speed, Smash Factor, Launch Angle, Spin rate & loft, Face Angle, Club Path, and many more.
What is in the package?
Here is the list of items included with the ES16 golf launch monitor package apart from the launch monitor:
E16 Tour Demo – Ernest Sports App
E16 Tour Demo – Golf Club Simulation
Software
User manuals
App for ES16
Like the previous models from Ernest Sports ES16 too offers a free app to use with it. The best thing from the ES16 app is, it is compatible with Windows 10 along with iOS. The App can connect your smartphone or tablet directly to the ES16 via Bluetooth. So, no need for an internet connection to use it. You can visualize live ball flight and save shot details to keep your data separate from your friends and watch your game improve over time. This golf launch monitor app provides comprehensive visual and audio data, and it even allows you to export and analyze your data in Excel format.
What ES16 can track?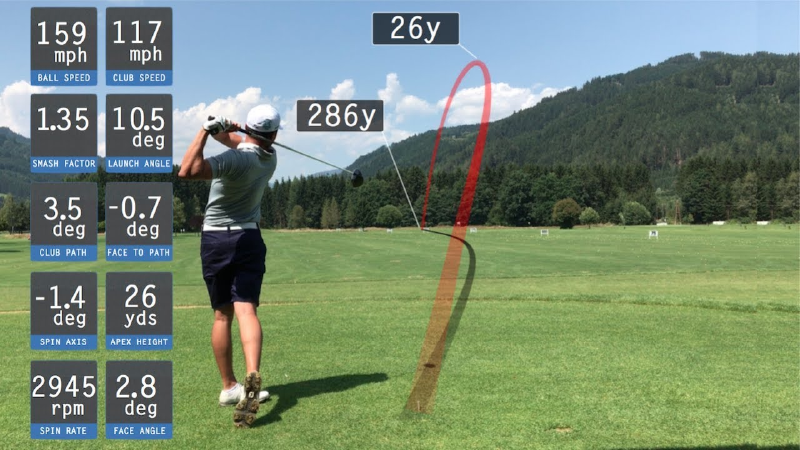 The ES16 launch monitor and the app can track:
| | |
| --- | --- |
| Carry Distance & Total Distance | Hang Time |
| Roll Distance | Shot Dispersion |
| Ball Speed | Club Head Speed |
| Lateral Carry Distance & Lateral Total Distance | Smash Factor |
| Launch Angle (Launch Direction Angle, Landing Angle) | The angle of Attack |
| Spin Rate | Face Angle |
| Spin Axis | Club Path |
| Maximum Height | Dynamic Loft |
ES16 at a glance
Let's have a look at the summary of the ES16 launch monitor in the following table.
| What it can track | Specifications | Features |
| --- | --- | --- |
| Carry Distance, Roll Distance & Total Distance | Color: Black | It provides a wide array of statistical information. |
| Launch Angle (Launch Direction Angle, Landing Angle) | Dimensions: 10″ (h) x 7.8″ (w) x 5″ (d) | Tracks and analyzes practice sessions. |
| Lateral Carry Distance & Lateral Total Distance | Display: 1″ (h) x 4.5″ (w) | Bluetooth is compatible with iOS and Android devices. |
| Spin Rate, Spin Axis, Spin Loft | Power: 7.4 Volt Lithium-ion rechargeable battery or AC/DC Adapter | Compatible with full simulator gameplay option with putting. |
| Club Head Speed, Ball Speed and Smash Factor | Operating Temperature: 32 – 110 degrees (F) | Waterproof and portable. |
| Dynamic Loft, Hang Time, Maximum Height | Weight: 3 lbs | |