Garmin is a well-known name in golf. However, the Garmin Approach R10 is their newest offering. It helps golfers of all skill levels improve their game by tracking key metrics and providing instant feedback. The Garmin Approach R10 Launch Monitor is a powerful tool that can help you take your game to the next level.
We will review the golf launch monitor in-depth in this article, considering its accuracy, usability, golf simulation capabilities, and how it compares to products of a similar price. First, let's find out if it's a good match for you.
Garmin Approach R10 Launch Monitor Review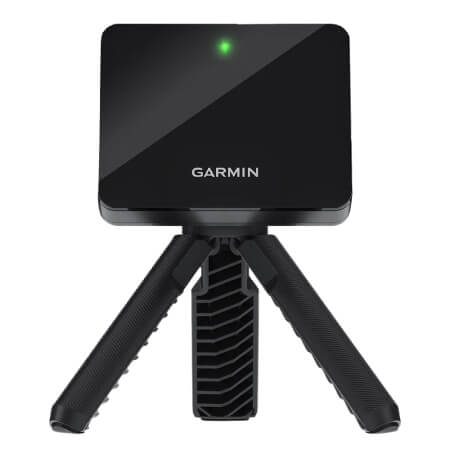 The Garmin Approach R10 launch monitor is a small, portable device that can track essential metrics for a golfer's shots, such as ball speed, launch angle, spin rate, and more. The Garmin Approach R10 launch monitor provides real-time information, allowing golfers to adjust their swing, ball flight, and overall approach, leading to better shots and lower scores.
In addition to tracking key metrics, the Garmin Approach R10 Launch Monitor is easy to use. Its compact and lightweight design makes it easy to carry on the course. Besides, the device also features an intuitive interface, making it simple even for golfers who need to be tech-savvy.
How Accurate is The Garmin R10?
Garmin promotes an accuracy range of +/- 3 MPH for club speed, 1 MPH for ball speed, 1 degree for launch angle and launch direction, and 5 yards for carry distance. Our analysis found the statement accurate throughout an entire range session.
It is one of the biggest challenges for Garmin R10. The R10 will produce more occasional errors compared to more expensive launch monitors. Additionally, the device can be prone to interference from other electronic devices. But when averaged over a bucket of balls, the Garmin will unquestionably provide trustworthy data averages.
If you're familiar with $10,000+ units like the Foresight golf simulator or Uneekor, you'll likely find the Garmin R10 unimpressive. However, if you're new to the launch monitor field or just an amateur golfer, the Garmin R10 will undoubtedly impress! To sum it up, the R10 won't replace launch monitors like Trackman or the GCQuad, but it's an incredible launch monitor for less than $1,000.
Using the Garmin Approach R10 Launch Monitor in Simulators
The Garmin Approach R10 Launch Monitor is versatile. Due to software compatibility, you can use it with golf simulators too. It can provide valuable insights and feedback that can help you improve your game.
1. Garmin Approach R10 Bronze Package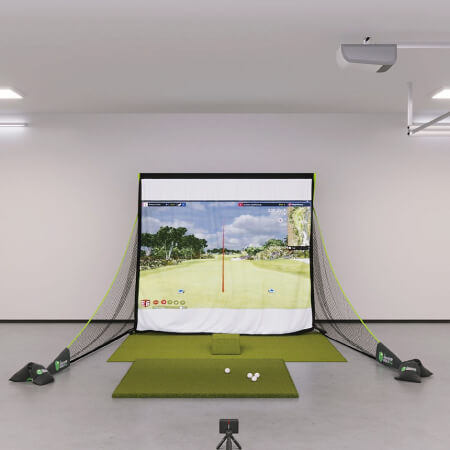 This comprehensive package is optimal for golfers seeking an affordable golf simulator solution priced under $5000. It will effectively enhance their game. It includes the R10 launch monitor, E6 software, projector, netting, and a lightweight and transportable screen.
One of the most impressive features of the Approach R10 is its capability to track a dozen of metrics, delivering golfers instant feedback on their technique and swing. The Garmin app allows you to easily store, upload, and share your data, tracking your progression and comparing your performance over time. Moreover, this package offers access to over 42,000 virtual courses with a subscription and the capability to connect to the E6 Connect platform.
The SIGPRO Golf Net is thoughtfully crafted for straightforward assembly, and its reinforced net catches actual golf balls quietly and gently, enabling you to swing away confidently. While it may not encompass all of the features of more expensive simulator packages, this package is still an excellent option for budget-conscious golfers seeking a comprehensive solution to improve their game.
Check Price on Shopindoorgolf.com
2. Garmin Approach R10 SIG10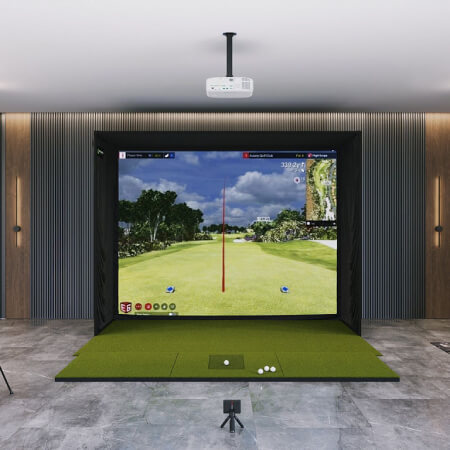 Being a golf enthusiast, you'll be pleased to know that the Garmin Approach R10 SIG10 Golf Simulator Package is an excellent investment for improving your game. The setup process will be easy, as the package has everything you need to start. Once it is up and running, you'll be impressed with the simulator's realism. You'll find that the ball flight and spin data is spot-on, and the graphics are impressive.
In addition to the launch monitor, this package includes a hitting mat and a net, a great way to protect your walls and floors from errant shots. The mat is high-quality and durable, with a nice feel underfoot, and the net is easy to assemble and disassemble.
The user-friendly and intuitive software makes setting up and customizing your practice sessions easy. You'll have access to various game modes, adding fun and variety to your practice sessions. The skill-building games are delightful, as they challenge you to work on specific aspects of your game.
While the Garmin Approach R10 SIG10 Golf Simulator Package has many great features, one potential downside is the accuracy of the launch monitor. Some users have reported that the monitor's measurements could be more consistent and accurate. This could be an issue for severe golfers who rely on precise feedback to improve their swing and performance.
Despite the potential issue with accuracy, the Garmin Approach R10 SIG10 Golf Simulator Package is still a great way to improve your golf game and have fun. It's essential to remember that no launch monitor is 100% accurate, and the measurements provided by the Garmin Approach R10 SIG10 Golf Simulator Package may still be helpful for many golfers.
Check Price on Shopindoorgolf.com
Conclusion
The R10 is an excellent option to stay at a three-figure price level. It measures plenty of data points you would typically get from higher-priced monitors. Its accuracy is generally good, but indoor performance could be improved. Garmin continuously updates the R10, making it an excellent investment for years.
Your Garmin R10 Approach experience will vary based on your expectations and experience with other systems. However, if you're financially indifferent to spending $2000, using the higher-priced SkyTrak or Mevo+ systems for more reliability and direct measurements is best.
We'd love to hear about your experiences with the Garmin R10 launch monitor and any simulator packages you have used. Let us know if you found it accurate and helpful in improving your game. Or have you encountered any issues? Your feedback can help other golfers make informed decisions when considering a launch monitor or simulator package.