A golf club grip is one of the accessories that creates a connection between your hand and the golf club. Golf grip plays a significant role, swinging the golf club comfortably in all rounds–all seasons and protecting the club from slipping. Therefore, When you go to reset the grip in your clubs, you might want to look for such grips that you can hold comfortably. And you should also find a grip that matches the size of your hand.
We can help you decide which grips you can choose and determine which you should select. Our expert team has compiled the ten best golf grips on the market after a lot of research. So stay with us and know about our top picks. Then, select the grip as per your choice.
10 Best Golf Club Grips Review
1. Champkey Traction-X Golf Grips Set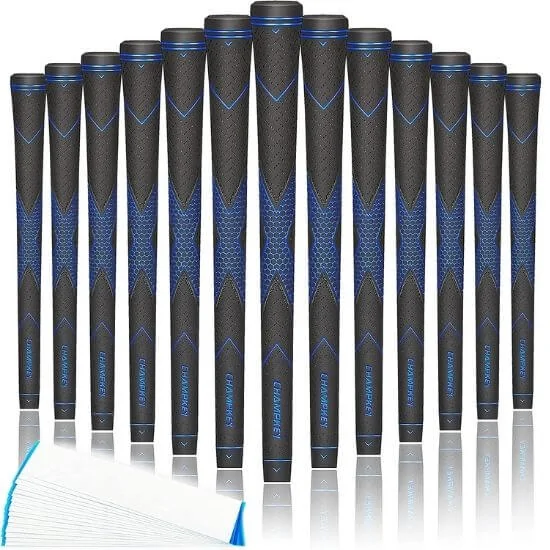 The Champkey Traction-X golf grip is one of the most versatile and solid options on the market. It is made of solid rubber, which makes the grip durable while absorbing moisture. If you want a soft grip within the affordable price and excellent X traction, this is for you.
Its diamond traction uses three types of micro-textures so that you can easily control the golf club. As well it will give you a comfortable feeling in any condition. The grip has a traditional taper profile that encourages light grip pressure and increases swing efficiency.
Things we liked
Looks excellent and tacky.
Easy to put on the head of the club.
Responsive material.
Fit in any golf club.
Offers control the club in all situations.
Things that can be improved
It may be necessary to replace the tape.
Re-gripping takes some time.
Final verdict:
The solid rubber grip will protect the club from slipping off your hand. It is also not a very difficult process to set. The Champkey Traction-X golf grip may be the ideal choice for you if you want to get a great swing.
You May Also Like: Best Golf Towel
2. Zenesty Golf Putter Grip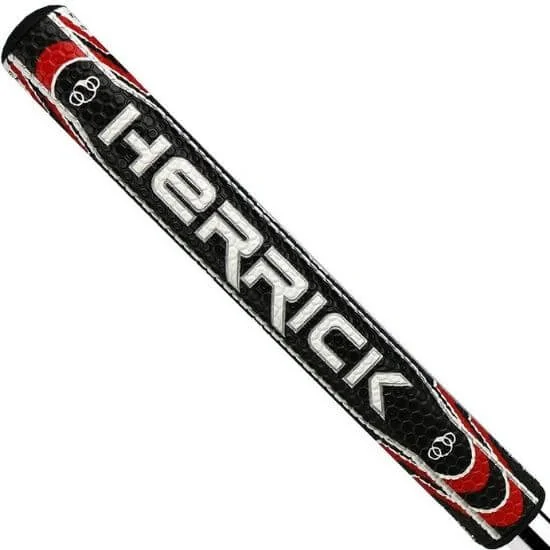 Zenesty golf putter grip tries to breathe new life into a golfer's putting performance. While hitting a golf ball, most golfers have to deal with the problem of sliding the grab of the club's hand grip. And Zenesty grip can be a great choice to avoid sliding issues effectively. The Wosofe brand(Zenesty) grip is a classic 3.0-inch grip that can fit all brands of putters.
It is famous for its weight (about 60 grams), non-slip, and shock absorption features. The grip of hexagonal concave surface design can eliminate the anti-skid problem, which will give you a comfortable feel and a pleasant experience. Made with Pu and EVA material, the grip is more stable and environmentally friendly. This grip is made in a mixer of three colors which shows grace towards the court.
Things we liked
Easy to set.
It is a midsize golf grip.
Excellent feel and control.
Slip-proof and Water-resistant grip.
Things that can be improved
The grip did not come with a tapered profile.
Zenesty Golf Putter Grip is not for women.
Final verdict:
When golfers go to select a grip, they first look at the quality of the grip. So we will recommend you if you want a good quality grip, you can consider it.
You May Also Like: Best Golf Ball Retriever
3. SuperStroke Traxion Tour Golf Club Grip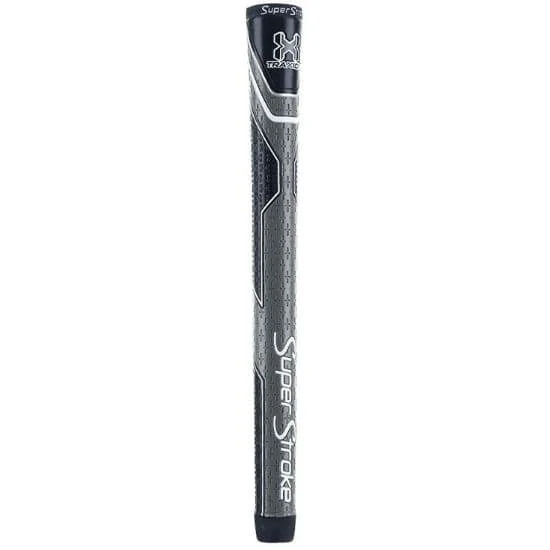 SuperStroke Traxion Grip is made with advanced swing grip technology that provides great performance. The grip has become very popular for golf tours. Based on the SuperStroke company's putter knowledge, Dingman says, "Even if it is made with PU, it will not be a problem to get great performance. There used to be problems, but we have been able to fix them using experience."
It has a wide design which means wet weather or humid days do not affect the grips. In addition, the grip has a taper control technology to increase the swing speed quickly. The shape of this grip is a lot like the "pentagonal profile" that more or less all golfers use.
Things we liked
It has spyne technology, which makes it easy to square the face of the club.
It is a thicker grip so that you can use it for your standard diameter shaft.
The grip is durable and tacky.
Things that can be improved
It does not fit over a driver shaft.
Final verdict
If you want to boost your confidence, then this grip is for you. It is soft, comfortable, and performs excellently in competition. You can try this grip to speed up your clubhead.
4. SAPLIZE Golf Grips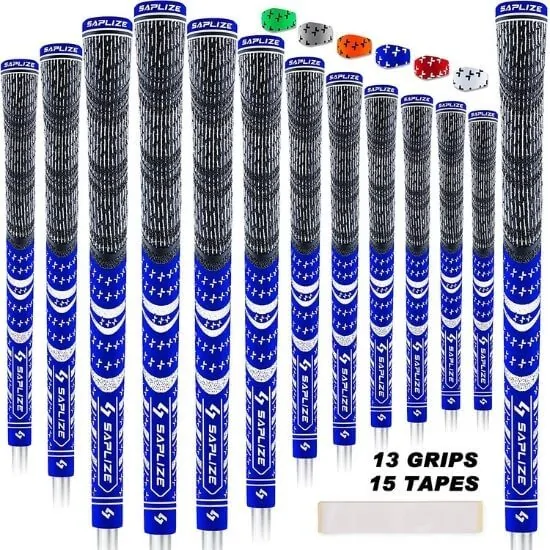 SAPLIZE Golf Grips are specially designed to increase the confidence of professional and avid golfers while playing. You will get it in both standard / midsize formats. So you can take it according to the size of your hand. The color of this grip is Royal Blue. So you can use the blue grip with the head of any color club. The grips are made of compound material so there are no obstacles to control your club.
The upper part of the grip is made of brushed cotton so that the club does not slip from your hand. And the lower part of the club is made of high-feedback rubber material that can absorb the shock and gives a comfortable feeling while holding the club. It is less expensive to buy a 4oz grip solvent, a golf hook blade, and a rubber vise clamp than paying someone to regrip. Although it takes a bit of time to do it.
Things we liked
It gives an outstanding performance in all weather.
High-quality materials give anti-slip technology and shock absorption.
All kits are included to regrip your club.
Things that can be improved
Installation takes longer.
It needs to be upgraded for the driver. Because if someone uses it for a driver, then he feels stiff and slippery.
Final verdict
A rubber grip is softer than a corded and wrapped grip, and rubber grip causes no problem holding the club. So if you want to get a 360° tacky grip for your club, this SAPLIZE grip might be an excellent choice for you. Now the decision is yours.
You May Also Like: Best Golf Umbrella
5. Champkey MCS Hybrid Golf Grips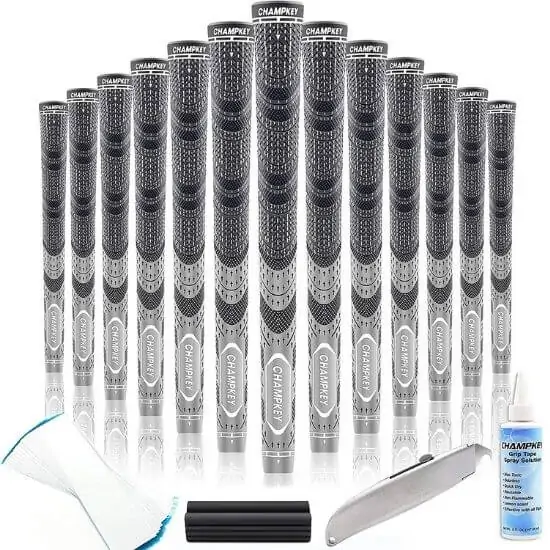 Champkey MCS Hybrid Golf Grips is currently the top choice of famous golfers. The price of this grip is much lower than the price of other grips in the market. So you can choose it as the best quality grip within your reach. The grips come in different colors, so you don't have to hesitate to select the color of your choice.
The MCS Hybrid grip is used exclusively for hybrids, but you can use it for other clubs too. Two types of rubber material are used in the grip to make your swing great. And its brushed cotton material will protect the club slipping from your hands.
Things we liked
There is a kit attached to the regripping.
You can use it in all weather.
Things that can be improved
Takes some time to regrip.
Standard and Midsize are available.
Final verdict
You can select this grip if you want to get great feedback. Because the grip is made with responsive material. The grip helps you to reduce the pressure on your hands.
6. Golf Pride MCC Plus4 New Decade MultiCompound Golf Grip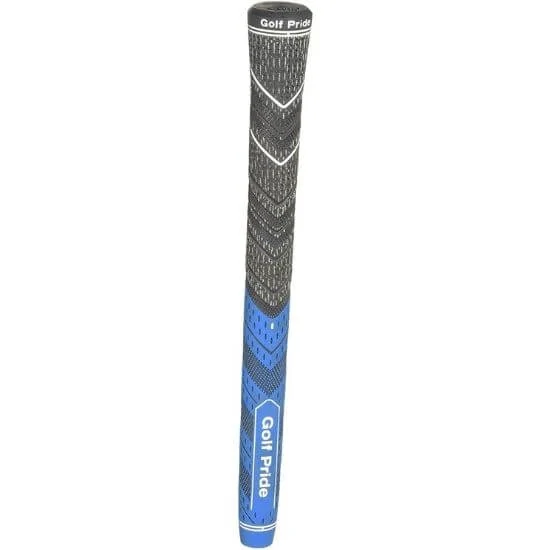 The MCC pride brand has released the MCC Plus4 golf grip to eliminate the need of wrapping extra grip tape. It looks like a new decade multi-compound that will give you a distinct feel. The grip is almost the same as the classic new decade multi-compounds but the only difference is the white outline around the Golf Pride logo.
You will get it in standard and midsize form. It is made of new softer rubber, which is thicker in the lower half. Holding the upper part will give you the feeling of a classic multi-compound. It will help you apply light grip pressure and reduce the tension in your hands when you swing.
Things we liked
Tour-proven grip and non-slip grip.
Multi-color options.
It has an outside diameter (4.6%).
Works great in different weather.
Things that can be improved
The Midsize version is heavier.
It does not come with tape.
Final verdict
The grip of taper-free size is an excellent choice for those who like lower hands. You may want to consider these grips if you want to strengthen your swing significantly.
You May Also Like: Best Disc Golf Bag
7. Karma Velour Junior Black 13 Piece Golf Grip Bundle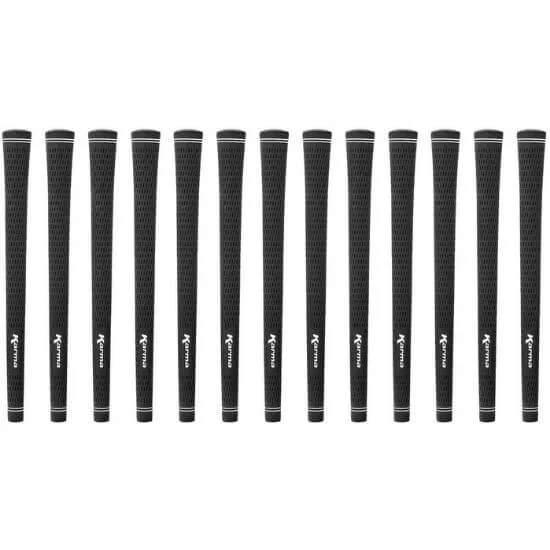 Karma velour junior grip is an incredible quality classic grip. It is a great budget-friendly grip. If you are just about to start your golf journey, it may be best to start with this grip. You can get these grips in standard, midsize, standard ribbed, undersize, and Jumbo with Junior.
It has a round-shape that gives a great performance in wet weather. Its material is soft rubber. The black grips have countless lightning bolt-shaped treads that can optimize friction. The grips give you comfort while holding the club. There are more than 400 positive reviews of this grip.
Things we liked
Weight is much lighter.
It has a familiar and proven pattern.
It can be easily cleaned with warm water and Dawn dish soap.
It is tacky.
Things that can be improved
It might not last as long as others grips.
There is no grip tape or solvent attached to it.
Final verdict
Karma velour junior is a cheap golf grip, but it is not far behind in quality. If you want to regrip all your iron, you can use this bundle of Karma velour junior golf grip.
8. Golf Pride Tour Velvet 360 Golf Grip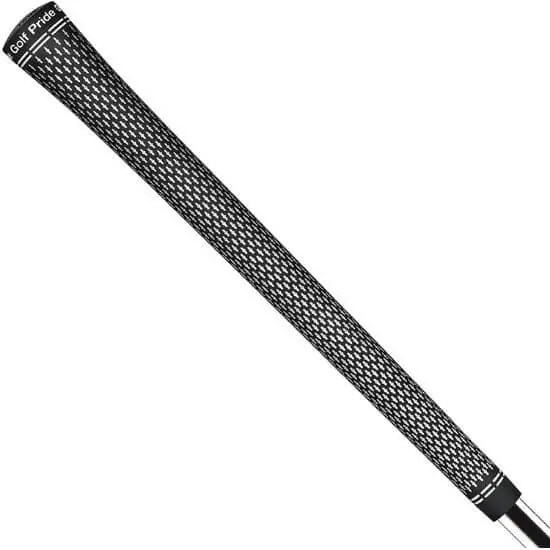 Grip Pride Tour Velvet 360 Grip is one of the popular names in the world of golf. The grip is designed to give golfers a classic feel. It is made in a mix of black and white colors, and can increase your clubface awareness.
The grip is made of soft rubber, so you will feel comfortable when you touch it. You can use it in any weather -hot, cold, wet or dry. And you will find it in standard and midsize.
Things we liked
It has a non-slip surface pattern.
Reasonable price on excellent grip.
You do not need to overpay for it.
Durability is longer than others.
Things that can be improved
Being white, it is more likely to be slightly dirty.
Final verdict
This grip is within your reach. And you can also use it as a Calaway golf grip. Then you decide now!
9. SuperStroke Traxion Tour Golf Putter Grip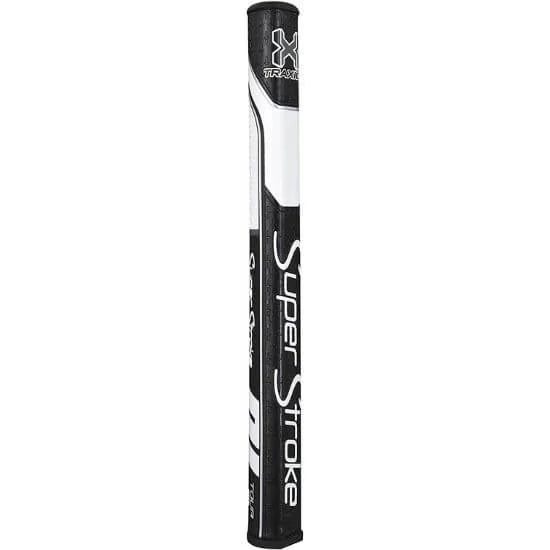 Traxion tour golf putter grip is one of the most successful model grips in the SuperStroke brand tour series. So if you want to make your stroke more stable and reliable, you can start with this grip. It can be from 3.0 to 5.0 inches long putter grip.
The grip is made in a combination of spine and traction technology. As a result, it reminds you to consistently hold your club. In addition, you will feel soft, smooth, and comfortable as it is made with synthetic material.
Things we liked
It shares a lot of cosmetic similarities.
Minimize grip pressure.
The grip enables proper hand placement.
Things that can be improved
Doesn't fit an unusual shaft.
There is no tech port of this size.
Final verdict
Traxion tour golf putter grip is primarily designed for seniors, but professionals and women can also use it. The feel you get to hold the grip is different from the traditional grip. We recommend, if you want to try something different from the usual grip, SuperStroke traction tour grip is suitable for you.
10. Champkey STP Comfortable Golf Grips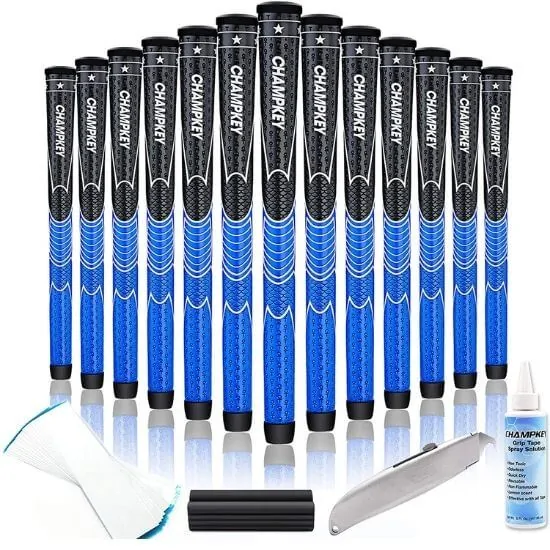 The Champkey STP Comfortable Golf grips are at the top of golfers' favorites when it comes to golf grips. The inside is made of rubber, and the outside is made of Polyurethane which improves your shot. Its STP technology gives you a comfortable feel. Made in a mix of blue and black, it will match any of your golf bags. If your hand gets sweaty, it can be slippery. But it's STP can do better shock absorption.
Things we liked
It has a repair kit attached.
Exclusive tacky material.
Easy to install.
Things that can be improved
They are kind of slippery when sweating.
There is no solvent included.
Final verdict
The grip gives you a tacky feel and overall comfort. It helps reduce stress on your hands and body. You can consider this grip to make your swing better.
Things to Consider Before Buying Golf Club Grips
Golf grips are more important than what you realize because wrong grips can negatively affect your game and make it much harder to score well. If you choose the wrong grip, it can have a harmful effect on your golf. Besides, it can be challenging for you to score well. So before you purchase a grip, there are some things to consider so that the grips can give you more confidence.
Types of golf grips
Before choosing a golf grip, you must know the type of grip. Because a golfer controls his club with a grip. There are four main types of groups – rubber, cord, multi-compound, and wrapping.
Rubber grips:
Rubber grips are made of solid PVC and silicone, so they are anti-slip and durable.
If you don't want to feel rough after holding the club tightly, you can choose a rubber grip. Due to the texture on the surface, the grip is very soft, removes moisture. Studies have shown that most senior golfers generally prefer a very soft rubber grip to get a great feeling.
Corded grips:
Corded grips are made of cord material that are strong and long-lasting. The surface of the cord grip is slightly rough, which gives you excellent performance even if your hands get sweaty or wet. Many golfers do not like rough grip. But if you want extra grab and traction, then a corded grip will be a great choice for you.
Multi compound golf grips:
It is made of rubber and a cord material which provides positive performance. If you don't want to get pain in your hand then you can use this grip. Because it gives you a soft feeling as it has rubber. Again you can choose this grip if you want to keep the club under your control in any weather. Because it also has cord material.
Wrapping grips:
The wrapping grip is made in the original style of leather grips. As a result, the grip can be easily grabbed. This grip is like a rubber grip because modern materials are used for soft surface texture. It does not perform as well as cord in wet conditions and is also expensive. But you can feel a lot of comfort while swinging with this grip.
Golf grip size
Grip size is the most crucial factor when selecting the grip. Because if you can't choose the size of your hand, you can face the problem of swinging. So you need to choose a grip size that can limit your wrist pronation and suppress the shot distance.There are four sizes of grip – Standard, Midsize, Oversize, and Undersize.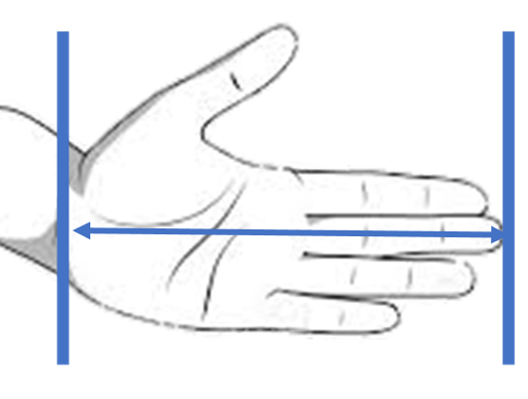 | | |
| --- | --- |
| Grip Size | Hand measurement |
| Standard | 7 to 8 ¾ inches |
| Midsize | 8 ¼ to 9 ¼ inches |
| Oversize | >9 ¼ inches |
| Undersize | 7 inches |
Grip material
In the old days, everyone just liked the grip made of leather. But now grip is made with many kinds of high-quality material. So before choosing a grip, it is better to check the quality and durability of its components. Grips made of rubber and synthetic rubber are highly durable and available in a variety of colors. The cord grips feel rough on the hands but suitable for wet weather. Grip mixed with rubber and cord feels soft in hand but less durable. And leather grips are available in limited colors and require more maintenance. But these are durable and traditional looking. So now you can choose according to your needs.
Frequently Asked Questions On Golf Club Grip
Should I use standard or midsize golf grips?
You should choose the size of the grip depending on the size of the golf glove. For example, if your glove's size is XL, you can use a Midsize Grip in your club. And if the size of your glove is L or M, then the standard size grip will be perfect for you.
Final Words
We've tried to get you the most up-to-date information about golf club grip and which grip would be best for which club. We also talked about which grip you can use to improve your golf swing. So now you can decide which grips are perfect for you according to your needs. If you have any questions or comments after reading our article, leave them in the comment box.