A wrong golf club grip can be the reason for poor contact with the golf ball. That results in taking more strokes for each hole and worsens your golf score. As you will end up holding the club too loose or too tightly, that might get you stressed thinking of your golf club slipping away or your hands may go sore. It can even cause blisters. All of these things make it too uncomfortable to focus on the game. You might not notice these things if you are new to golf and already have a golf club grip that suits you. But those who have faced it know.
Yes, club grips don't make drastic changes overnight. However, it assists in paving the way if you intend to keep your score lower. Thus, today our discussion is about the best golf club grips that will pave your way to success. It's for those going to buy the grip separately for the first time and golfers looking for something better to enhance their performance.
How we picked
While choosing our 10 best golf club grips, we have kept traction, comfort, feel, size, availability, price, etc. in mind. In addition, the latest releases and customer reviews of the products have been a significant part of our search.
We have added rubber, cord, multi-compound, wrap-style, etc. grip types. So that you can choose the comfort and traction according to your preferences. Some of them have a softer grip to give out a more comfortable feel. In comparison, some are comparatively firmer to let you feel the vibrations of the shot.
You may skip to the buying guide section to learn the benefits and drawbacks of different grips. It will help you decide which one is the best golf club grip for you.
10 Best Golf Grips Reviews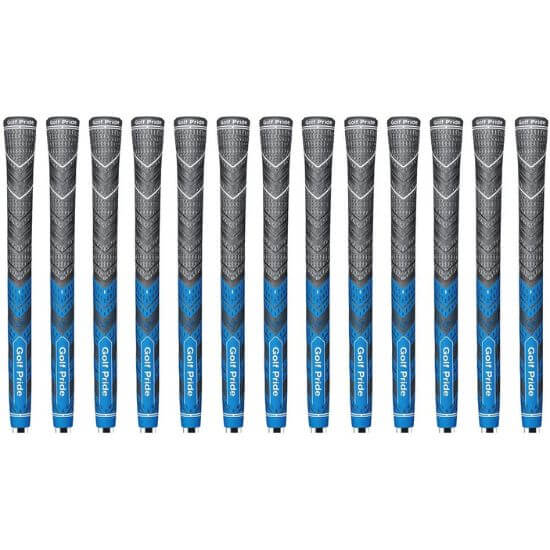 MCC Plus 4 is the first grip on our list, as it provides a combination of comfort and traction. That helps to make better contact with the golf ball and make a good hit.
It has a multi-compound structure combining the design of rubber and a cord grip. To ensure comfort, it has a rubber compound for the lower-hand part.
While the other part has brushed cotton cord to provide traction. It's also beneficial for those with sweaty hands.
This grip is pretty similar to the MCC swing grip. But Plus 4 has a larger lower hand diameter, making the grip slightly heavy than the original version. This new feature lessens grip pressure. That means it assists in squaring the clubface at impact to make a powerful shot.
Pros
This grip helps to relax your lower hand.
It has a good amount of tackiness, meaning you will have better contact with the club.
Suitable for different kinds of lies, including higher rough.
It helps to have more control over shots, especially on wedge shots.
Cons
You may find the installation process slightly tricky.
Final verdict
Many golfers like getting extra tape on the grip to get the right hand out of the swing. It helps to reduce hook shots. As this grip comes with a lower-end grip already, it eliminates the need for tape.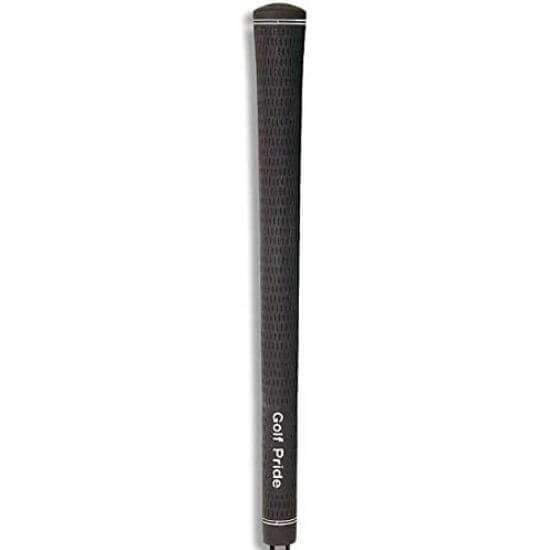 Tour velvet is pretty much a classic golf club grip of Golf Pride. It has been in the bags of 30 tour pros.
It comes with a rubber-blend compound. This gives out a soft feel when you make a swing. It is not too rough or too soft.
Along with that, it has a surface pattern that assists in ensuring enough traction to make better shots.
The surface pattern also helps to make the club non-slip. This makes it a better choice in the rain than rubber grips.
But if you are a beginner or want an updated version, you may like the Tour Velvet Align version more. Both of them come in nearly the same price range. But the Align version has an alignment strip. It helps you to square the clubface with the setup.
Pros
It is easy to install.
It has a slightly tacky surface to combine traction and soft feel.
It is suitable for blades or higher-end golf irons too.
Cons
It is comparatively less durable.
You may not like the slightly spongy feel.
Final verdict
For those who like classic and want a rubbery feel without the worry of slipping the club away, Tour Velvet is a great choice. In comparison, golfers who want something more stylish may also check out Tour Velvet 360. It has the same feel as Tour Velvet but comes in a stylish white textured finish.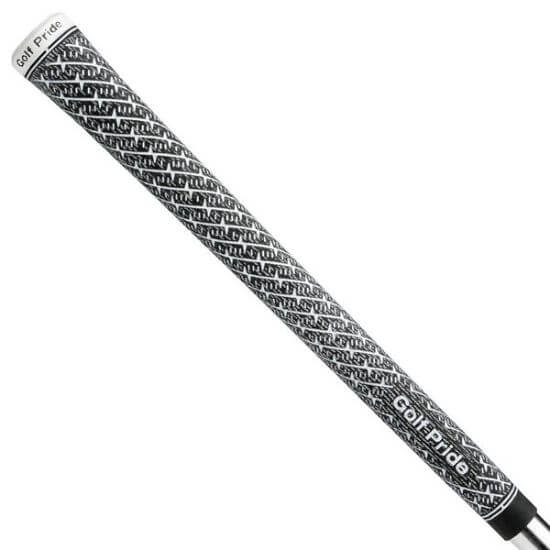 This one has been in the bags of more than 4 tour players from 2021-2022. As its name says, it is a cord grip, which will provide comparatively more traction than rubber grips. That's what all cord grip does. What's different about it?
The difference is that it has a 'Z' shaped pattern on the surface. This offers added traction and control while making the swings. It also ensures moisture management if you play in a humid area or have sweaty hands. So that your hands stay connected and you can make a better shot.
Apart from that, the firmness of the grip lets you have more feedback at impact. This eventually helps you to enhance your game.
Pros
It provides more traction than MCC Plus 4.
It's suitable for all weather, including dry, humid, hot-humid, rain, etc.
It offers good consistency.
It is easy to install.
Cons
If you habitually tighten your hand comparatively strongly on the club, this grip may not suit you.
Final verdict
For those who like the grip to have the most traction, cord grips are the better choice. And among them, the Z-Grip Cord grip is one of the best. You may also like MCC Plus 4 as it has a cord design for the upper hand. But still provides a soft feel to the lower hand with the rubber compound.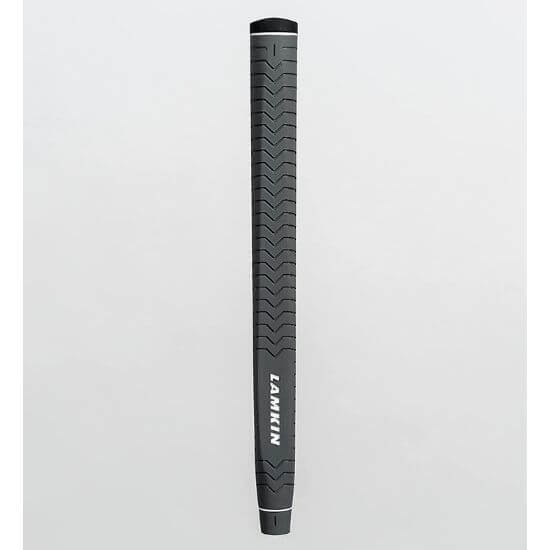 The horizontal deep etched pattern is its specialty. What does that do, actually?
It mainly helps to give out a firmer feel. That's good for golfers with higher swing speed as it won't twist much while swinging. This will eventually result in a straighter shot. In addition, it helps to get more precise shot feedback.
The surface texture provides good traction to hit the golf ball without thinking about slipping the club.
However, if you are habituated to using smooth grips, this one might not be a good choice. You may like Champkey Polyurethane grips with a softer feel and good feedback.
Pros
The build of the grip is solid.
It gives out a soft feel.
The shaping of the grips helps in proper hand placement.
It is easy to install.
Cons
It is comparatively smaller in size. It may not be an ideal fit for golfers with bigger hand sizes.
Final verdict
For those golfers who prioritize shot feedback, this grip is an ideal choice. The deep etched design provides both traction and feel. But if you like densely spaced surface patterns more, the Lamkin crossline grip might be a better choice.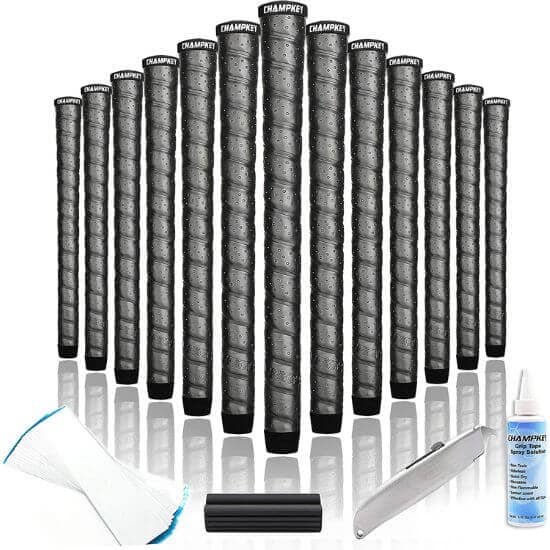 This one is one of the most budget-friendly grips. It is a wrap-style grip that has a soft surface texture to give out a soft feel. Its feel and performance are similar to Winn excel wrap. Winn Excel requires more than $100 for 13 grips. While this wrap-style grip from Champkey comes under $70. 15 taps, solvent, hook blade, rubber vise clamp, and instructions are included in this price.
As for the feedback of the shot, this Champkey grip has a rubber inner tube to help provide precise feedback.
The shaping is made to adjust the hands and reduce pressure. These grips save you from getting blisters on your hands.
Pros
It goes with sweaty hands.
These grips don't wear at high swing speed either, making them a good option for fast swingers who prefer a softer feel.
It doesn't twist on deep rough shots.
These can be used during the rainy season too.
Cons
It may not be a good choice for stiff golf shafts.
Final verdict
This Champkey grip is for those golfers looking for an affordable grip and like the soft feel of polyurethane.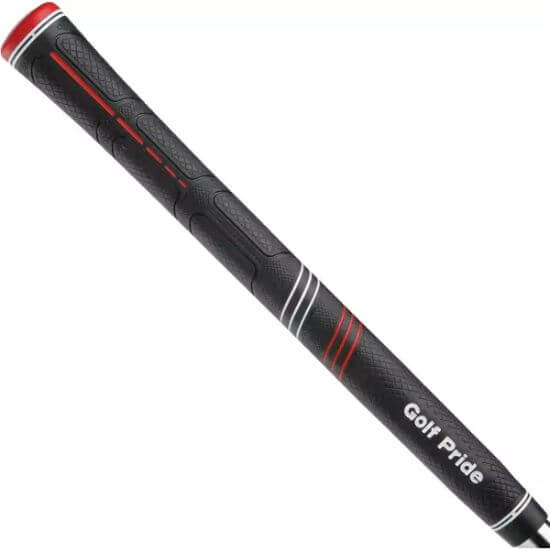 The main attraction of CP2 Pro is the control core stabilizer. What is it? It is a firm rubber compound placed at the very place, we are most likely to put swing pressure. It helps to reduce the torque, meaning more controlled shots.
While for the outer part, soft rubber has been used, meaning a softer feel on the hands. Reduced taper design provides added comfort by distributing grip pressure in both hands.
However, the surface pattern has comparatively less traction, making it not an ideal choice for wet conditions.
Pros
It helps to ease joint pain and puts less pressure on fingers and forearms. Thus, it is a suitable choice for those with arthritis.
It comparatively twists less.
It provides more control, especially with the long irons.
You can use it without golf gloves as well.
Cons
Not suitable for sweaty hands.
Final verdict
CP2 Pro is for those who want a softer feel and less torque in their golf clubs. If you are more into wrap-style grips, you may like the CP2 wrap version better. Features are pretty similar. For those who like to have comparatively more traction, Golf Pride MCC Plus 4 or Z-Grip Cord are better choices.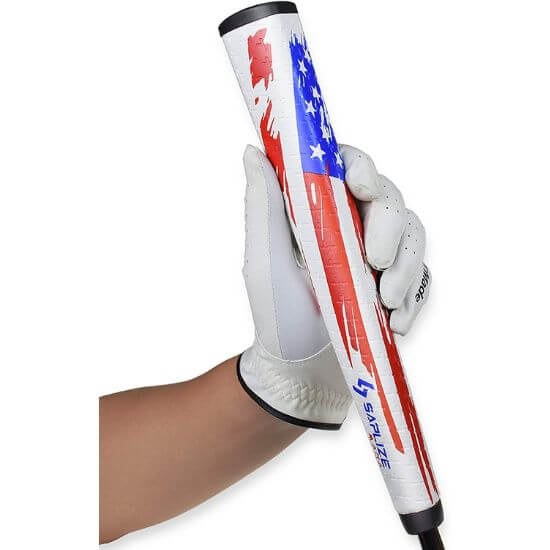 If you are looking for an affordable putter grip, this one is a good choice. It comes under $15 with 2 strips of paper tape. The stylish and eye-catchy design makes it more attractive to golfers.
The edges are rounded, and the overall shape of this grip helps to fit it in your palm.
Coming to the feel of the grip, it provides a soft feel. So that it becomes easier for you to make a shot comfortably.
While the pattern on the surface helps to provide traction and lessen slip accidents.
Pros
It lets golfers take a light grip.
Suitable for golfers with arthritis.
The lightweight of this grip helps you swing faster.
Cons
You may find the installation method a bit difficult.
Final verdict
For golfers with slower swing speeds, it is an affordable standard-size putter grip. In comparison, Fatso 5.0 is a better choice if you want to lessen your wrist action while putting.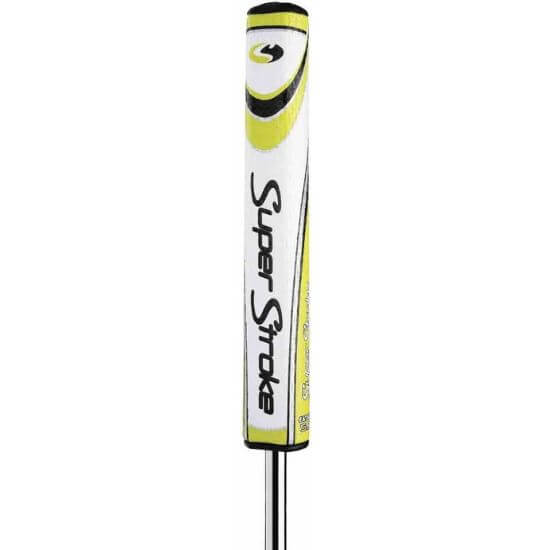 For those who want a larger grip to lighten the grip pressure, this one is an option. As its name says, Fatso 5.0 is for those who are into oversized putter grips. It is thicker than the 1.0, 2.0, and 3.0 versions. That means it is comparatively more effective in reducing tension in the hands for a better score.
It maintains the same width throughout the grip, meaning both of your hands will have even pressure.
In addition, the surface texture works to make it non-slip. But that isn't enough to work best in wet conditions.
Keep in mind that it can be difficult to fit into the putter slot of your golf bag.
Pros
It helps to control the putter more precisely.
It lessens extra wrist action for better shots.
This grip assists in lessening the pulling and pushing of putts.
Cons
You may need a round or 2 to get used to its oversized structure. It will be harder to get used to longer putts if it's your first oversized grip.
Final verdict
Fatso 5.0 offers comfort and improvement in your game. But if you have a smaller hand, it can be too big for you to swing comfortably. In that case, it will be better to go at least with the 3.0 version of this grip.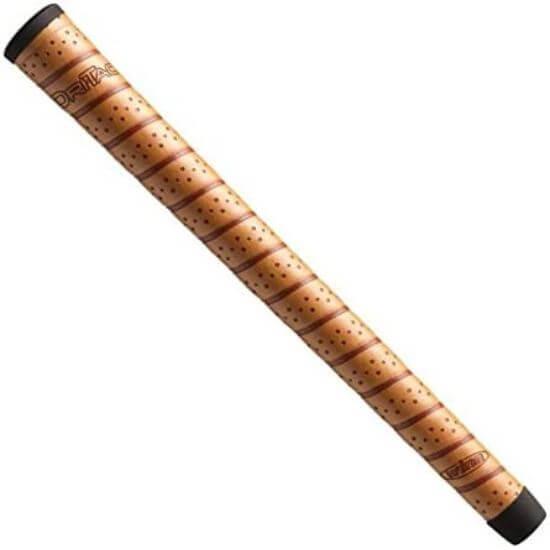 The vintage look of the grip makes it different from the other grips. It pretty much looks like a leather grip.
It is a wrap-style grip. The shaping of this style helps in comfortable hand placement.
While its surface softness offers added comfort and shock absorption. This makes the grip suitable to use without gloves as well. Though the feel is soft, it isn't squishy.
Pros
It goes well with both the summer and winter seasons.
It provides more control over the club.
Good for golfers with arthritis.
It holds up well.
Cons
It's comparatively difficult to install. It may come apart during installation. You need to be careful about that.
Final verdict
This Winn New Dri-Tac grip is for senior golfers and those with arthritis. You may also like Dri-Tac Wrap Grip, which comes at a similar price range with a soft feel. However, if you prefer a firmer feel, Winn Dri-Tac 2.0 might be a better choice.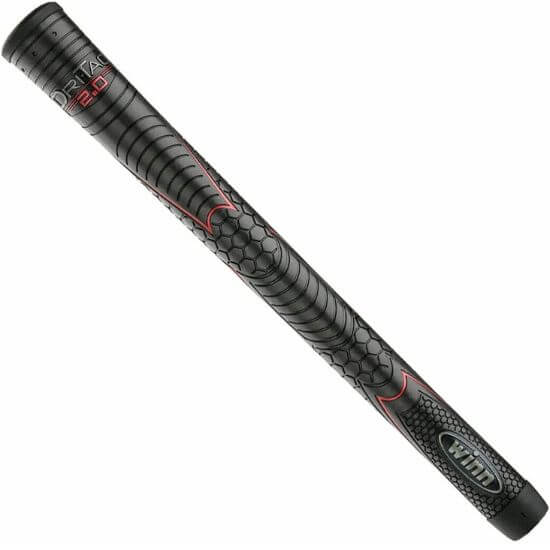 This grip has mid-firmness with a soft feel. The lightweight of these grips makes it more comfortable to swing them. In addition, it can be used without gloves as well.
This doesn't mean that it wears out quicker. The durability is better than the previous model.
The tapered profile of this club makes it easier to swing the club without worrying about slipping the club.
Pros
It provides a better feel around the green.
This grip works well in wet conditions too.
It helps to control the shots.
Cons
It can be difficult to install on your golf driver shaft.
Final verdict
If you easily get blisters or have arthritis but still prefer a comparatively firmer grip, this one is a good option. However, for a softer feel and less damage to your hands, Winn New Dri-Tac Wrap Copper Grip might be a better option.
How do I choose golf grips?
First, you need to find out which golf grip size you want to go for. If you don't intend to use your grip as an aid for push or hook, go according to your hand size. Then, the choice is between relatively more traction and less. Cord grips are for those with sweaty hands or living in a humid area.
Choose firmer grips if you prioritize the raw feel of shots. The other way around for softer ones. Finally, getting the same grips for all the clubs will offer consistency.
That's the summary. Now, for those who want to know in more detail, let's dive in.
1. Grip size
The grip size needs to be compatible with your hand size. Though it is easier to go according to your glove size, measuring your hand size will help you have a better-fit golf club grip for yourself.
For hand size, measure from the crease of your hand to the tip of your longest finger. Depending on this measurement, you can choose one from undersized, standard, midsized, or jumbo grips.
Along with the hand size, your swing style, finger wrapping technique, and hand muscles are the factors that change the answer for which grip size you need. Besides, manufacturers also have slightly different diameter sizing, meaning the standard size for different brands can be slightly different. But in general, the table below can help. Have a look-
Grip Name
Grip Size
Hand Size
Glove Size
(Men)
Glove Size
(Women)
Undersized
1/64 or 1/32
smaller than standard
7 inches or less
S
S, M
Standard
0.58 to 0.60 in diameter
6.5- 8.5 inches
M, ML
L
Midsize
1/16 larger than standard
8-9.5 inches
L, XL
—
Jumbo or oversized
1/8 larger than standard
9 inches or more
XL, 2XL
—
As you can see, for some hand sizes, there will be 2 options. It can be undersize or standard, standard or midsize, midsize or jumbo. In that case, it depends on which grip you feel more comfortable with. Your hand muscles, how you hold the golf club, and your swing style are essential factors when choosing between them. Here the suggestion is to try both of them to find out which one goes best with your style.
Many golfers even use tape to increase grip size to an optimal size for their specific hand size. PGA tour golfer Bubba Watson was seen using tape too.
2. Traction: Cord grip is the better choice
The traction of the grip mainly depends on the surface texture. And the surface texture depends on the type of grip and patterns on it. The rougher the surface is, the more traction you get. That helps you grip the golf club more confidently and lessens the possibility of slipping away.
Rubber Grip
Rubber grips are comfortable for your hands. They come at a lower price. But they tend to slip in rain, humid conditions, or if you have sweaty hands.
Cord Grip
The rougher texture of this kind of grip helps to give comparatively more traction to the golfers. It works pretty well, even in the rain. They are comparatively durable too. But the downside is they are not suitable for playing barehand, and they might damage your golf gloves too.
Multi-compound Grips
The bottom part of this kind of grip is made of rubber to help you feel comfortable. The other part is like a cord grip to ensure enough traction and stability while making the shot. It is a bit of both worlds, different for each hand. Your top hand will be on the cord part.
However, some golfers may not be comfortable with this kind of grip because of the different feel at the same time.
3. Feel: Firm grips give better shot-feedback
The choice here is mainly whether you want the vibrations to be absorbed or want to feel them to understand your shot. Choose according to your preferences.
Firm grips
Firm grips let you have better feedback on your shots. It gives away a satisfying feel when you hit good shots. It also helps to understand what went wrong with the shot. It goes well with the higher golf swing speed as it produces less torque. That means less twisting and straighter shots.
Soft grips
While soft grips absorb the vibrations to an extent. This one is for golfers who prefer comfort over the feel of the shot. It is a suitable choice for senior golfers and those with arthritis.
4. Comfort
The comfort of the club grip is pretty much a combination of all the 3 factors above. Golf clubs that have rubber grips or soft grips offer more comfort. While you also need to choose the right size to have comfortable wrist pressure. The fingers on top of the hand should barely touch the palm. In addition, too rough surface texture can hurt your palm if you hold the club too tightly.
5. Consistency: same grips on all clubs or different?
It is better to get the same grips for all your golf clubs. It helps to give out a consistent feel while making different shots throughout the round. That's the choice of most golfers out there. It is especially suggested for your wood, driver, iron, and wedge. You may go different for putters. As you don't need to hit as hard as other golf clubs with that, you usually don't need the same firmness or texture.
What Size of Golf Grip Do I Need?
The size that makes it easier to wrap your hand around the club is the best golf club grip for you. Usually, golfers with Men 'M', 'ML', and Women 'L' glove sizes are good to go with standard grips. And bigger gloves sizes go with mid-size or oversized grips. In comparison, undersized grips are for smaller glove sizes than the standard size.
Golfers with smaller hands usually find it harder to wrap around the oversized grips or even midsize grips. At the same time, undersized grips often make you hold the grip tightly as that's easy to hold for smaller hands. That causes pain and tension in the wrists and arm. In these cases, going for a bigger grip is more comfortable or beneficial.
Thus, you may go for a different size than your hand size and still can keep your golf score low. We have stated the usual size that goes with different hand sizes or golf sizes in the buying guide section. The goal of this section is to help you explore.
Undersized golf grips
Benefits
It helps you have a strong grip, making it easier to strike hook shots.
Drawbacks
There can be comparatively more grip pressure, which hinders the ease of a smooth swing sequence.
Standard size golf grips
Benefits
This size works for most golfers.
It's the grip majority of golf clubs come with. So, if you are comfortable with the standard size, it will cut down a lot of costs.
Drawbacks
If you have a smaller hand size, this may slow down the hands. This means lower swing speed. While if you have a bigger hand size, it will put much pressure and tension on your wrists.
Oversized golf grips
Benefits
Lessens the grip pressure, which encourages a more relaxed and better shot.
It's a suitable choice for senior golfers and those with arthritis as it reduces the stress on joints.
It helps to eliminate wrist action, which results in straighter shots.
Drawbacks
It isn't a good choice for golfers with slow swing speed, as this kind of grip slows the hands.
Frequently Asked Questions
Conclusion
Every golfer naturally has a slightly different club-holding technique that requires them to use different types of grips to play better. Also, because of this very holding technique, the grip wears out after different times. It's essential to clean golf club grips after every round to make them long-lasting. Sometimes even when you don't get a slippery feel from the grip surface, you may need to change it for increased traction.
Hope our best golf club grips list will help you choose the best one. Among them, for a combination of comfort, traction, and overall performance, you may go for MCC Plus 4. If you want a classic option, Golf Pride Tour Velvet is the choice. In comparison, the Z-Grip cord is a good one for more traction.
Let us know in the comments section if you have used any of the grips from our top golf club grips list. Share your experience with fellow golfers.